The Halloween season is a time for frights, yes, but it's also a time for frivolities. At least, that's what I need to say when I'm about to hock boxes of spooky nonsense.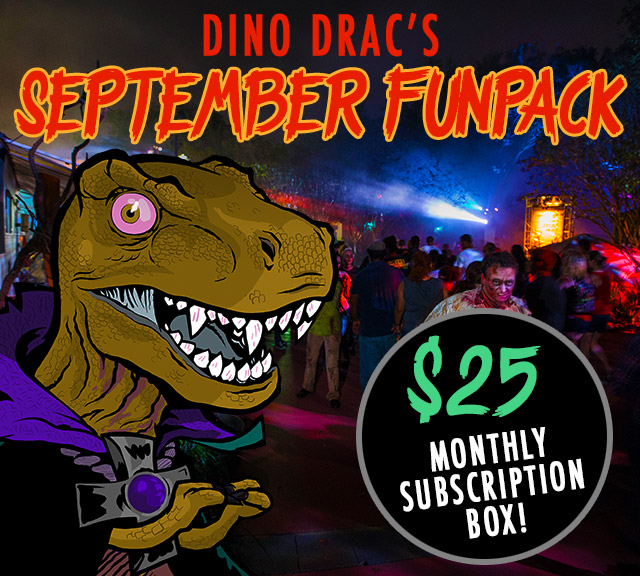 Available in the United States only!
Dino Drac's September Funpack is (finally) here!
If you don't know the drill, I run a monthly subscription box service. For as long as you stay subscribed, you'll keep receiving new boxes of mostly-old collectibles and assorted fun stuff! The boxes are $25 a month (including shipping), and you can cancel at any time without penalty.
The Funpacks are of critical importance during this time of year, when I'm not only putting out more content, but spending much more money to do so. Remember, this is site's only true revenue stream! The meager ads I run don't even come close to covering Dino Drac's assorted costs. So on top of getting neat boxes of weird stuff every month, you're also helping to ensure that I can keep doing this strange thing!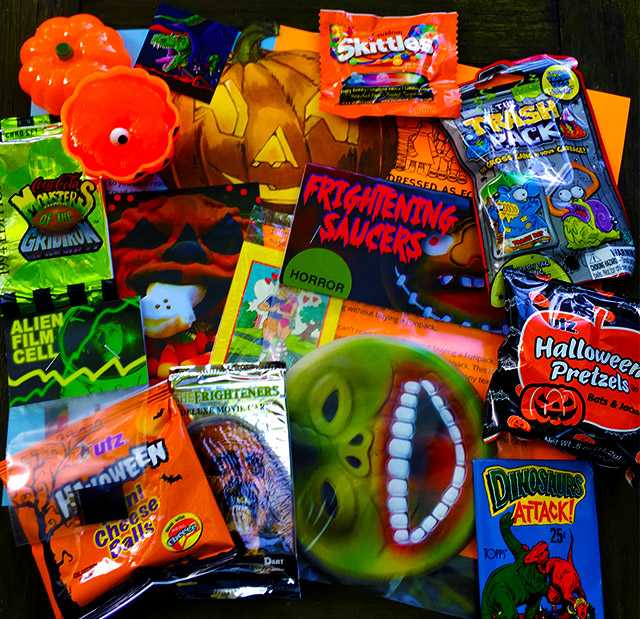 The Spooky September Funpack is loaded with more than a dozen items, ranging from ancient collectibles to brand new novelties, snacks, an exclusive essay, artwork and more!
If that image alone is all you need to see, scroll to the bottom for ordering info. Otherwise, keep reading to learn about EVERYTHING you'll receive in this month's box!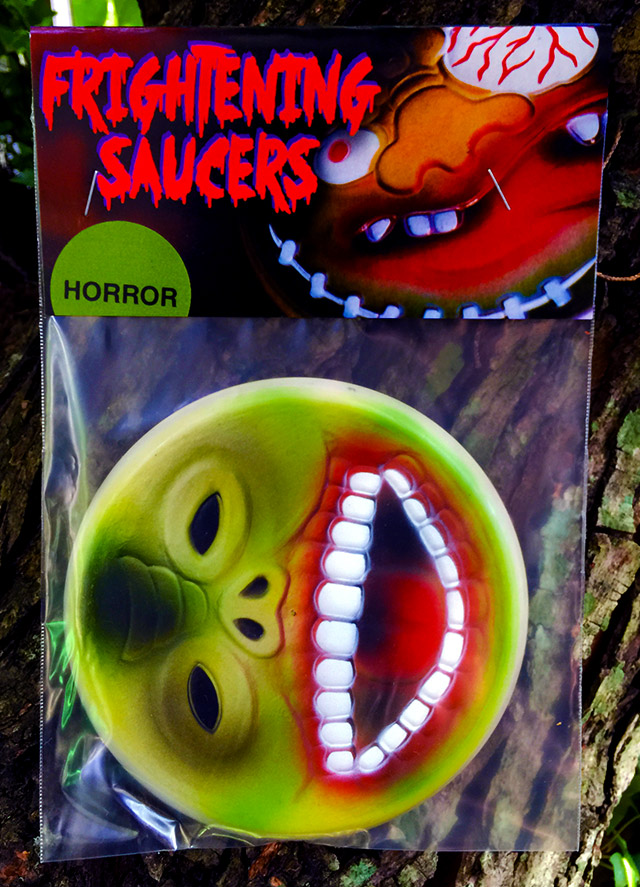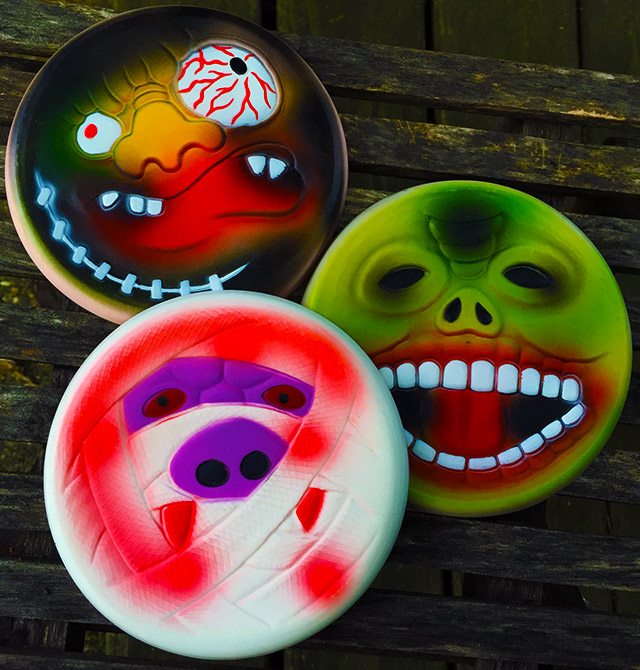 ONE Frightening Saucer Per Funpack!
First and foremost, you'll each receive one of these amazing FRIGHTENING SAUCERS, which is my special nickname for an obscure line of rubber frisbees that totally ripped off Madballs! OMG, I LOVE THESE.
Each FRIGHTENING SAUCER is a little over five inches wide, which makes them sound smaller than they'll feel in your hands. Madballs fans should recognize these creatures, since they're fairly shameless imitations of the monster balls we grew up loving. You will get ONE of the three shown here. Each comes in super cool Dino Drac packaging, too!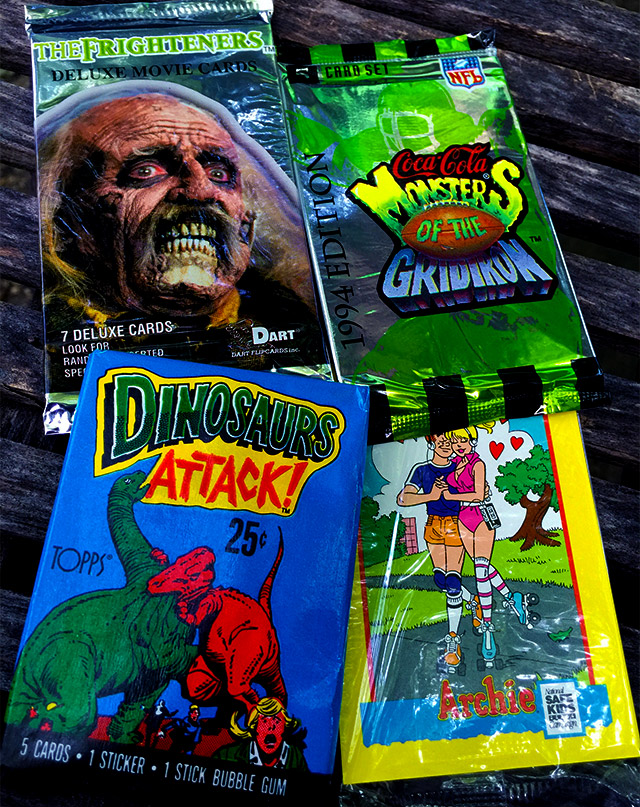 Next is a generous pile of vintage spooky-themed trading card packs, mixing old Funpack favorites with a couple of never-before-included treats.
Have fun tearing into packs for Dinosaurs Attack, The Frighteners and Monsters of the Gridiron, plus a mini-pack of Archie Comics Trading Card Treats, which was originally intended to be handed out to trick-or-treaters!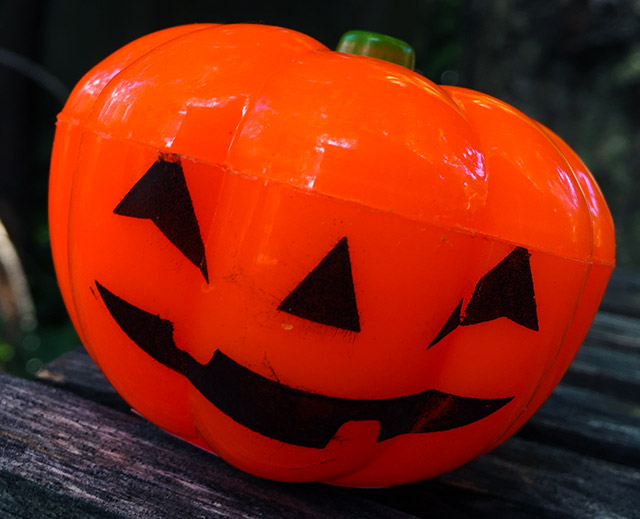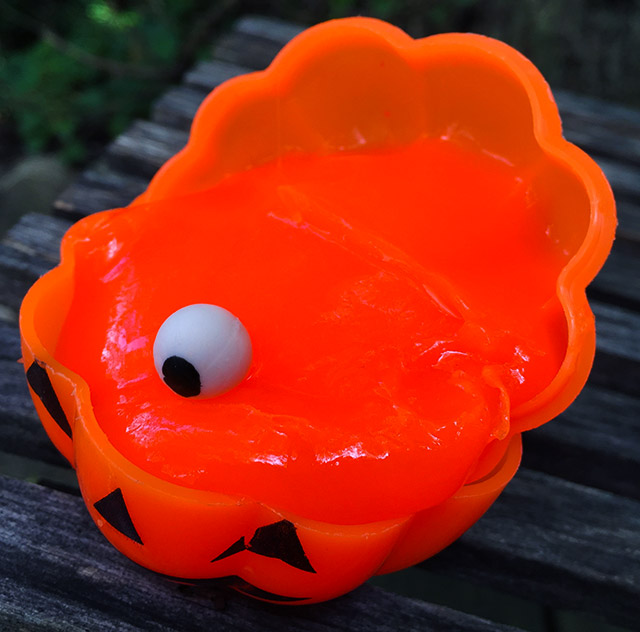 AND THEN WE HAVE THIS THING. The Slime-O'-Lantern!
These are some of the weirdest toys I've ever come across. Each plastic pumpkin container is filled with a big gob of orange slime. For whatever reason, each container of slime also includes one lone fake eyeball. It's like the pumpkins are shells and the slimes are oysters and the eyeballs are pearls. Somebody make a song out of this.
Your Slime-O'-Lantern will arrive still shrinkwrapped with untouched slime, but I'll warn you that some of them have tiny bits of dried slime on the outside (easy to wash off) as well as some fading to the crude jack-o'-lantern features. I've decided to present both flaws as charming plusses.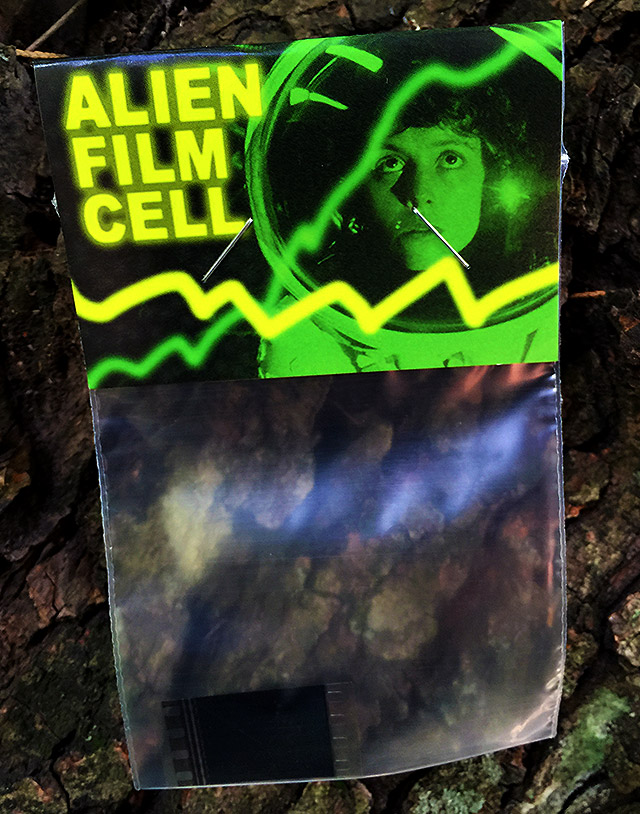 Next up is this month's Dino Drac Specimen — an honest-to-goodness Alien film cell! Yes, from the movie! Each comes protected in custom Dino Drac packaging.
Please note that while these are all legitimate Alien film cells, I can't exactly account for where they came from. Could be from film reels, might be from trailer reels… so just consider them novelty items and we'll be okay.
Alien was a (literally) dark movie, but I'll work hard to pick the best of the cells so you'll be able to kind of see what's going on!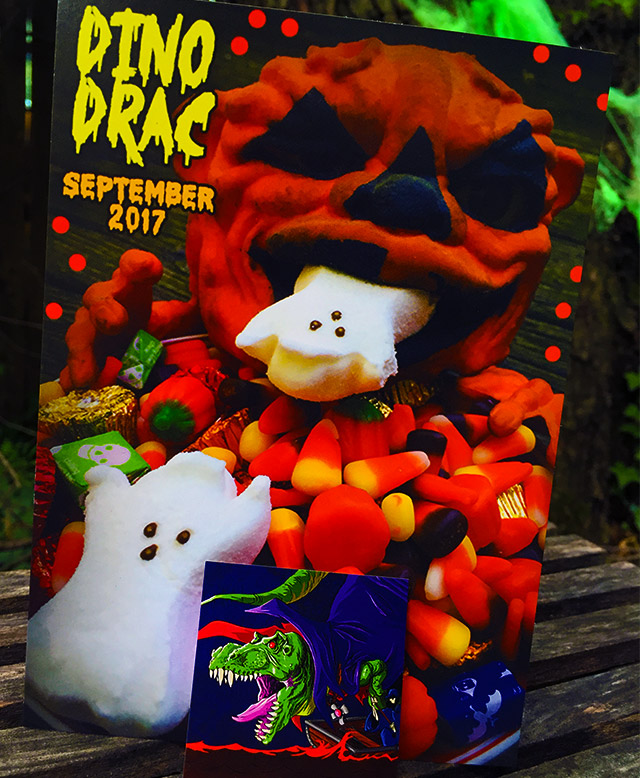 And then we have this month's Dino Drac Mini-Poster, starring one of the old Halloween Boglins! Poster is 5×7" and printed on cardstock. You'll also receive this month's exclusive Dino Drac sticker, which is equally as appropriate for the season!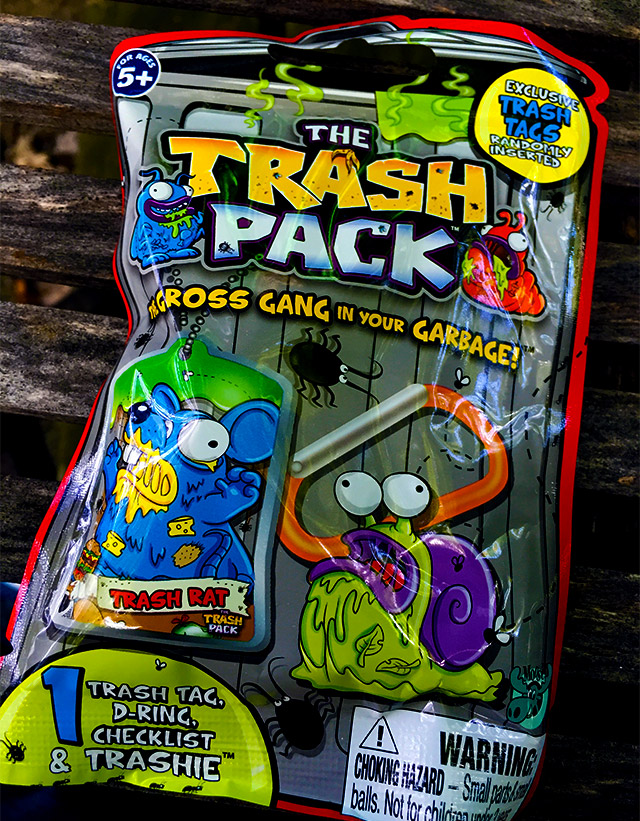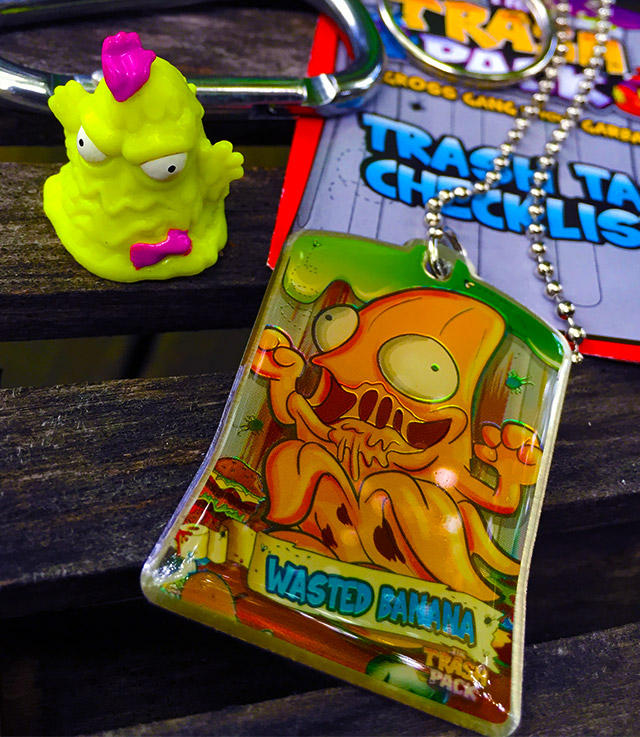 Yes, there's more! Tear into an official Trash Pack "Trash Tag" blind bag, which includes one random Trash Tag, a d-ring AND a random Trashie figure!
("Trash tag" basically means dogtag. Don't act like you're not willing to wear an official Trash Pack dogtag all season long. I know you are.)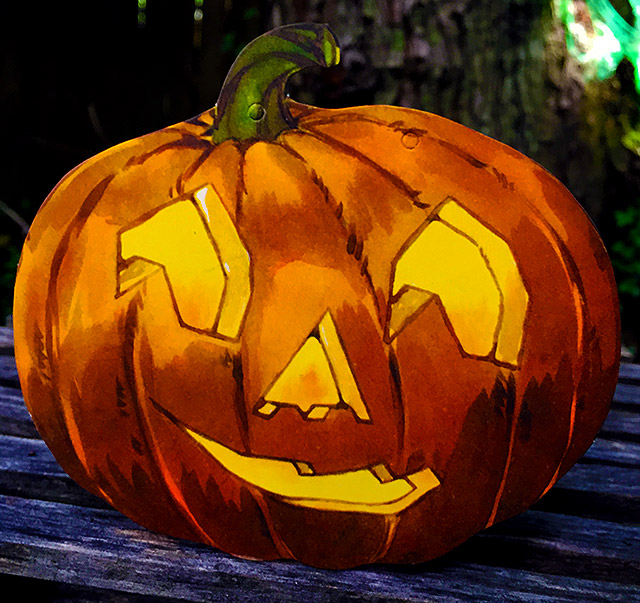 You'll also receive this cute little diecut pumpkin decoration, which is SUPER CRAZY VINTAGE. It's probably older than you are, even if I can't prove it. This little guy will bring back fond memories of decorated elementary schools and the Octobers of yore. Or something.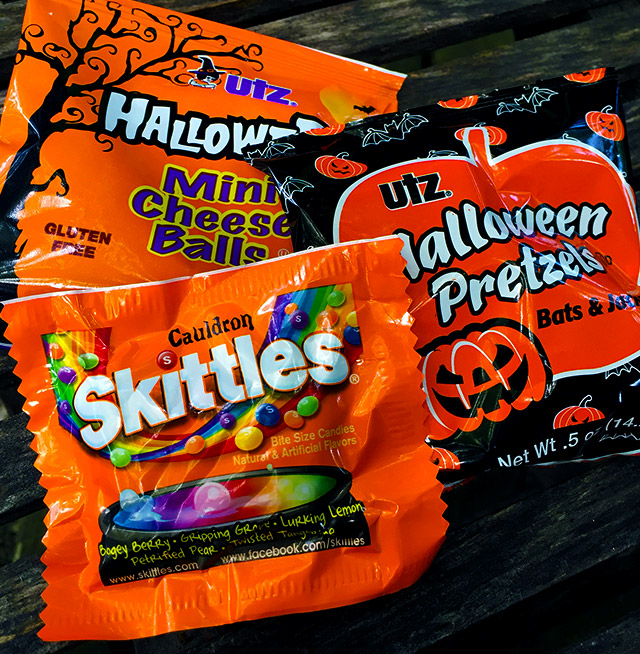 Pretend you've gone trick-or-treating with a small PILE of snacks, including a tiny bag of Halloween pretzels, an even tinier bag of Halloween cheese balls AND a mini-bag of Cauldron Skittles! Yes, you will get all three bags with your Funpack!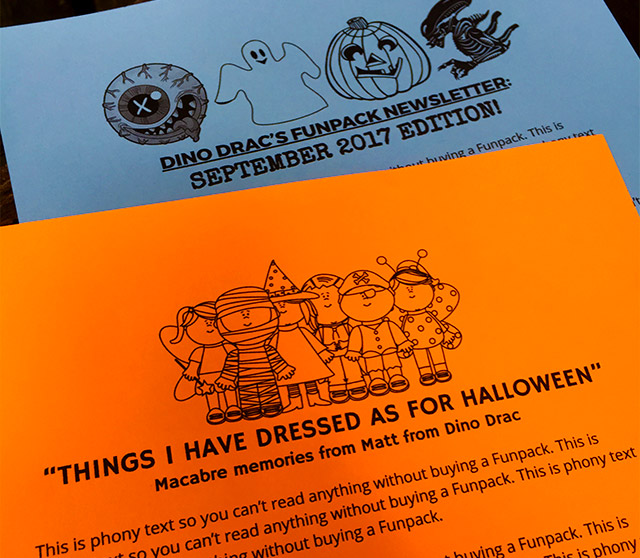 Capping things off, you'll receive this month's Funpack Newsletter, plus an exclusive essay that will NEVER be reprinted on the site. This month's essay details some of the best and weirdest Halloween costumes I've ever worn, and the memories that go with them!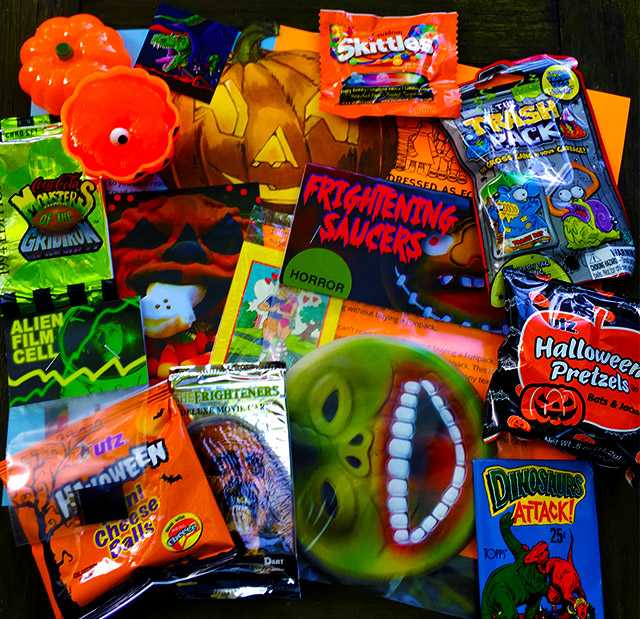 Yep, you'll get EVERYTHING shown above for $25, shipped!
If you're already a Funpack subscriber and you'd like to stay that way… do nothing! You're all set!
If you want to subscribe, please read the following, and then click the button at the bottom of this page!
1. Funpacks are available in the United States only. Sorry!
2. Subscriptions are handled via Paypal. If you don't have an account, it's very easy to make one!
3. Funpacks will be shipped to the address listed on your Paypal account. If you need to change your shipping address, or if you'd like for your Funpacks to be shipped to someone else, simply email me!
4. You will be automatically billed $25 every month. (Yes, that price includes shipping.) If you subscribe today, you'll pay today, and then again in exactly one month. For as long as you remain subscribed, you'll keep getting Funpacks!
5. You can cancel at anytime. (You could subscribe today and cancel today!) If you cancel after you've already been charged for the following month's Funpack, you'll of course receive it just the same as any current subscriber would. (You can cancel via Paypal, or by emailing me.)
6. The September 2017 Funpacks will ship on or before 9/20!
Remember, the Funpacks allow me to keep doing the site… thanks so much to all who help to keep it/me going!
To get your subscription started, click the button below!
SOLD OUT!