Anyone catch The Goldbergs last night? Oh boy.
Set in the late '80s, I'd been aware of the series, but somehow never bothered to watch it. Then, last night, my email and Twitter accounts blew up with stern demands that I check out the newest episode as soon as humanly possible.
And I'm glad I did, because holy shit. That kid's bedroom. Oh my God.
Nutshell summary: 7th grader Adam Goldberg misfires on an attempt to woo his crush, Dana. Instead of flowers or a note or whatever, he tries to impress her by showing off his toys.
Hol. Lee. Cow. Adam (based on the series creator of the same name) had to be the luckiest kid on the planet. He had EVERYTHING. I'm only being hyperbolic in the slightest sense. This was UNBELIEVABLE.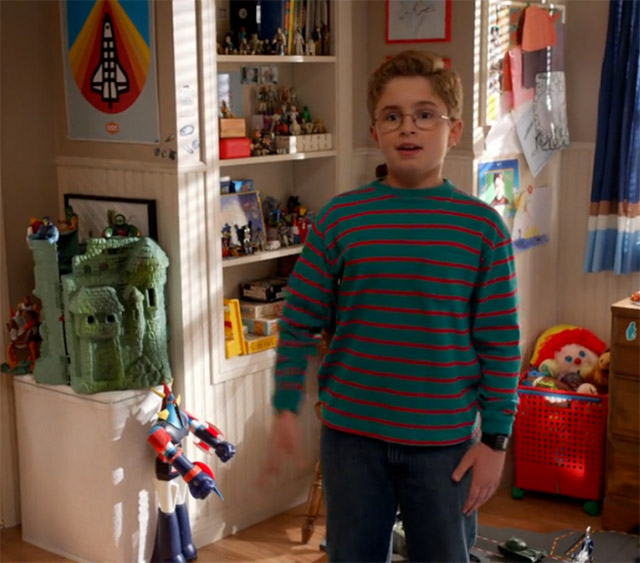 If you're anywhere near my age, there's no way that you didn't have a few of the things seen in Adam's bedroom. No chance, no how. It was like the showroom version of the 1987 Sears Wish Book. I don't know if they borrowed some super-collector's stuff or actually hunted everything down on eBay, but whatever the case, kudos to the production team. Every last touch felt incredibly genuine.
Of course, while most of us had several of the things in Adam's bedroom, I don't know anyone who had ALL of the things in Adam's bedroom. If you're able to catch this episode, the nine-year-old still buried deep inside you is going to SCREAM with envy.
This obviously called for a dissection. Below are most of the toys I spotted, even if I had to cut some loose to avoid writing about this for the next five years. Not since I explored Fred Savage's bedroom from The Princess Bride have I seen such an impressive and familiar bunch of toys. Enjoy!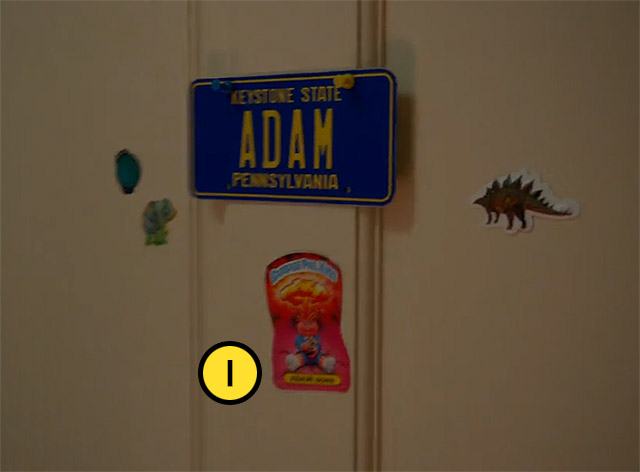 #1: Garbage Pail Kids "Adam Bomb" Sticker!
The fun starts on Adam's bedroom door, with a Garbage Pail Kids sticker. I guess you could argue that Adam Bomb was a little too on-the-nose for a GPK reference, but he was the star of that series.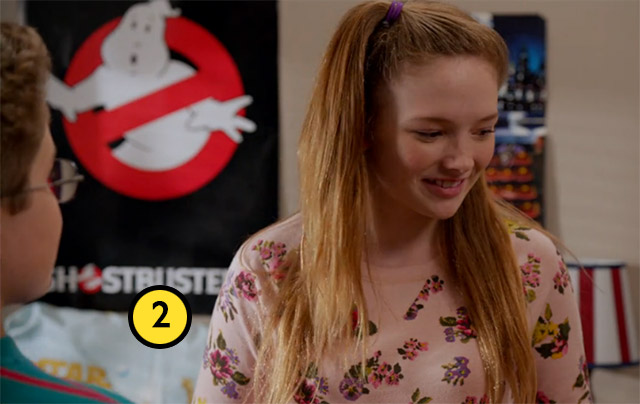 #2: Ghostbusters Poster!
This was just one of Adam's posters. Others included Back to the Future and Time Bandits. As for the calendar that's semi-obscured by Dana's head, I believe it was Muppets related.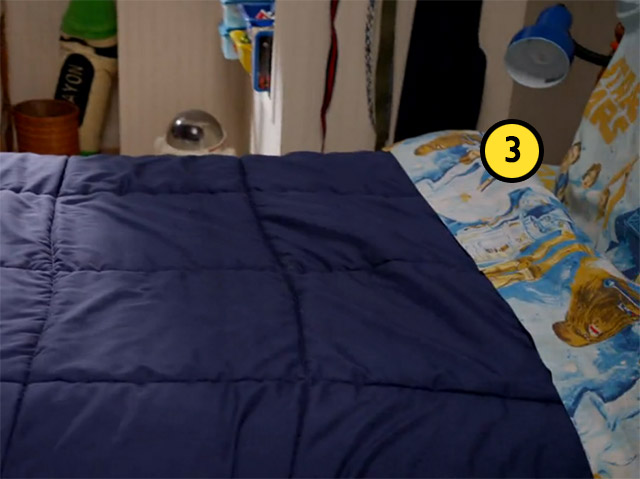 #3: Star Wars Bedsheets!
I had a similar set as a child, but mine was Return of the Jedi themed. I was always confused by how Jabba was colored blue on those sheets. Adam's set is much older, but I'm not counting that as a faux pas. They could've easily been hand-me-downs from his older brother.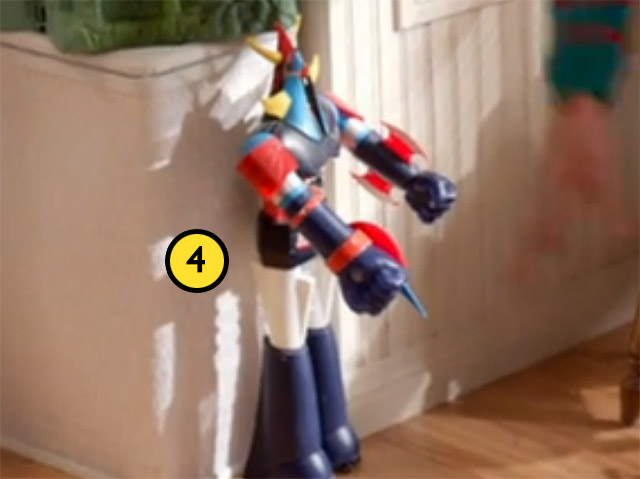 I've already confessed my lack of knowledge about Brave Raydeen, but now that I see this giant figure, it does seem awfully familiar. Hmm.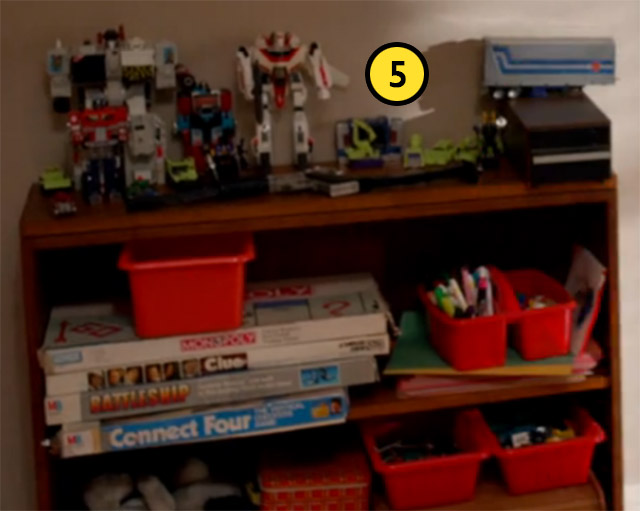 #5: Loads of Transformers!
Adam had plenty of Transformers, including Optimus Prime, the Constructions, and one of my personal favorites, Metroplex.
Most notable is Jetfire. He's the white-and-red guy next to the yellow circle. Adam took good care of his collection, but laws are laws, and there's no way that his Jetfire was 100% complete. NONE OF THEM WERE, EVER.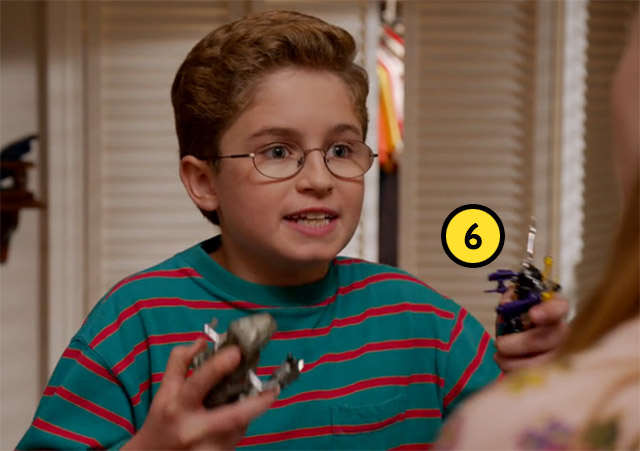 #6: Grimlock and Shrapnel!
More Transformers. Sharpnel is one of our beloved Insecticons, but the top act in this frame is Grimlock, leader of the Dinobots. I imagine that Grimlock served as a Transformers gateway drug for many kids. Even if you never watched the show, how could anyone not want a high-tech Tyrannosaurus that transformed into a robot warrior?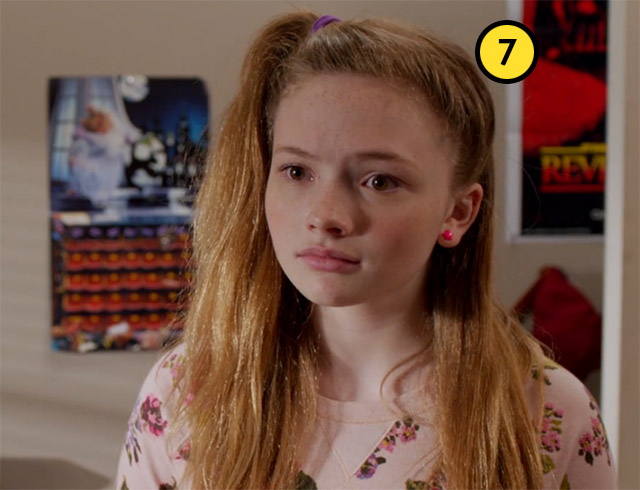 #7: Revenge of the Jedi Poster!
Okay, this one floored me. "Revenge of the Jedi" was the working title for Return of the Jedi. I believe George Lucas has claimed that the film was never going to be called that, and that the "Revenge" name was only used to weed out bootleggers or rats or something. Another story says that George changed it to "Return" at the last minute, since a Jedi would never seek revenge.
Star Wars merch with that title is impossibly rare. Probably too rare for Adam Goldberg. I'm not counting this as a mistake, because you wouldn't toss in a REVENGE OF THE JEDI reference unless it was to specifically wink at the few people who'd get it.
So awesome.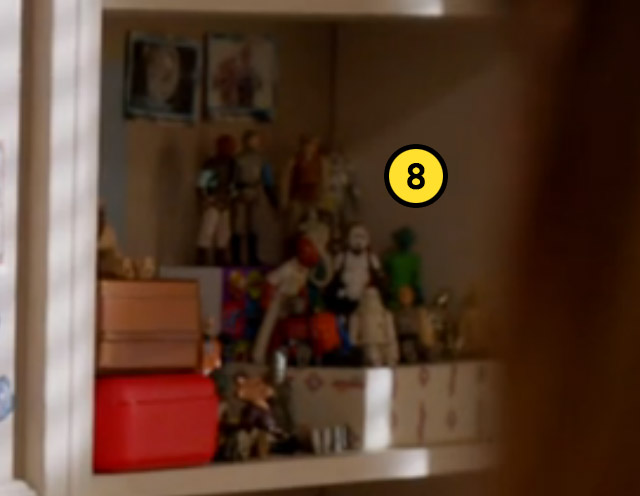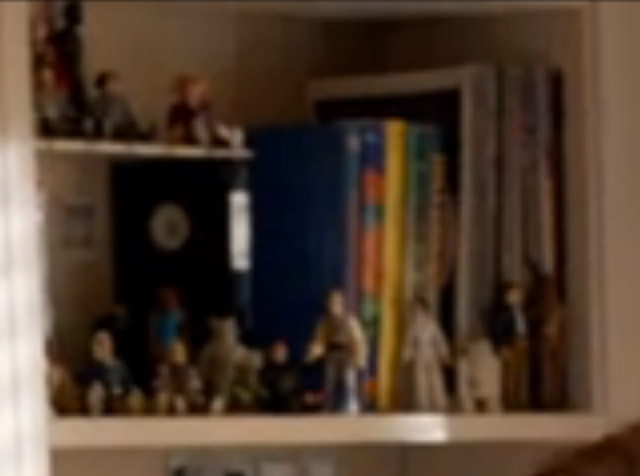 #8: Star Wars Figures!
They're a little tough to see, but Adam had an impressive amount of Star Wars action figures. (I had every single one of those guys.)
I mentioned the show's genuine flavor. Well, look no further than Adam's makeshift shelves, fashioned with boxes and videotapes. THAT'S attention to detail. You don't come up with those kinds of things on the fly. You had to live it.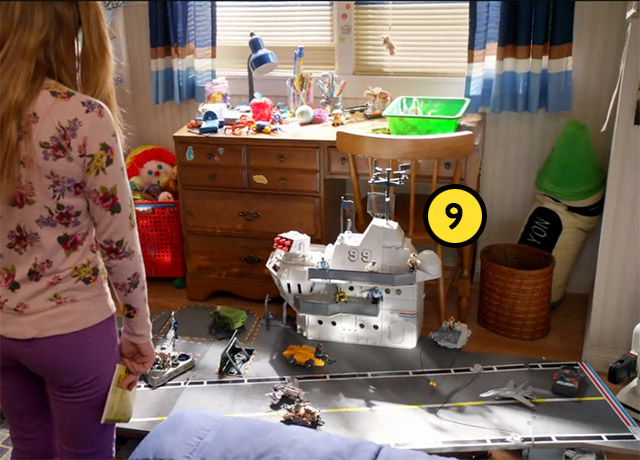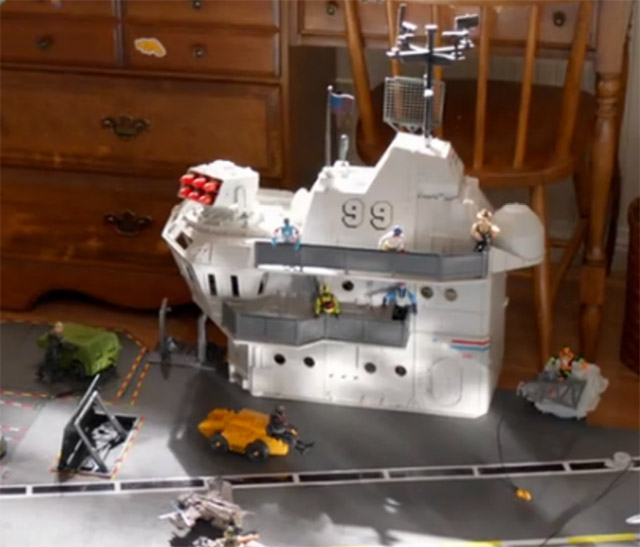 #9: The G.I. Joe U.S.S. Flagg Playset!
And here's where things go way over the top.
Part of the G.I. Joe line, the U.S.S. Flagg may have been the ULTIMATE action figure playset. Obscenely huge, obscenely expensive, and wanted by EVERYONE. I've still never seen one in person. The Goldbergs gave me my first real impression of just how IMMENSE the thing actually was.
It's of course topped with oodles of G.I. Joe figures, including Sgt. Slaughter. (Later in the episode, Adam would sing Slaughter's praises, forever making me a fan.)
The U.S.S. Flagg is so big that I'm sure some of last night's viewers thought it was some fictitious thing made up for the show. Nope! All real! An aircraft carrier that was literally bigger than the kids that had it.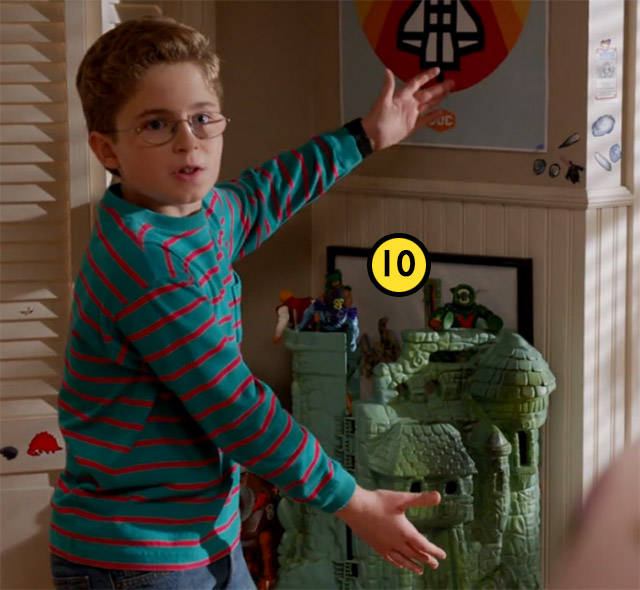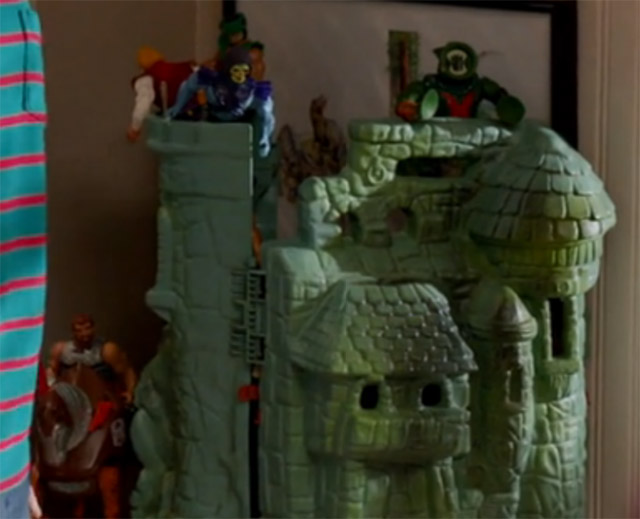 #10: Castle Grayskull!
Adam was especially proud of his Masters of the Universe collection, which included the Castle Grayskull playset and an army of action figures. The structure of Adam's room meant that he had to display the castle backwards, but in his position, I'd have done the exact same thing. And I probably would've given Leech the same position of prominence.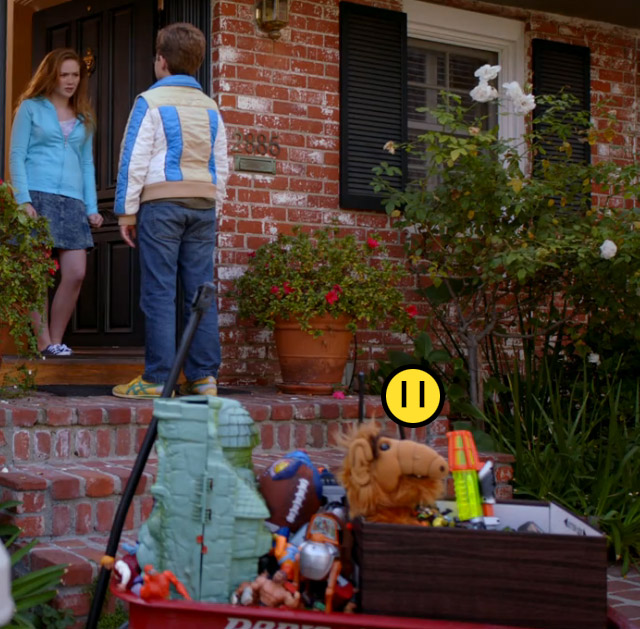 Later in the episode, Adam tries to fix things with Dana by pretending that he isn't into toys at all. He offers all of them up to her little brother, who of course acts like he's won the lottery. This scene gives us great shots of playthings that were tough to spot in Adam's bedroom piles.
#11: The ALF Plush Doll!
Yes, ALF! Years ago, I wrote a little thing about how ALF was one of my best Christmas presents ever. Even as I'm writing this now, there's an ALF doll on my desk, inches away. It's by far my favorite plush doll in history. I say this with all confidence. I don't need to see the rest of them.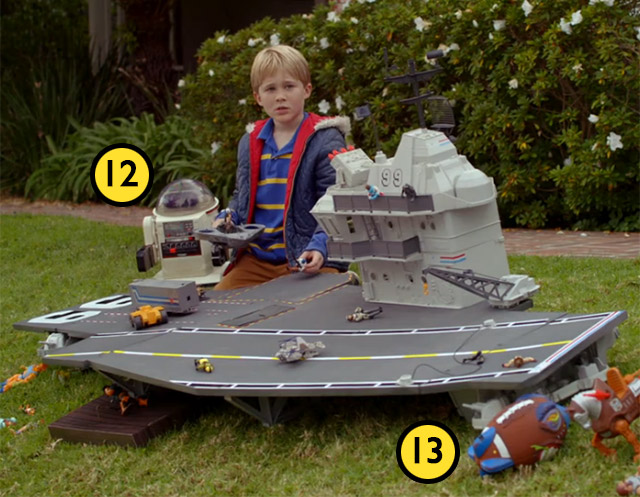 #12: Tomy Omnibot!
Oh for Christ's sake, are you kidding me? He had the OMNIBOT?!! Granted, his version wasn't as cool as the later, larger edition, but that was still a MAJOR score. In its day, the Omnibot was as close to a real-life R2-D2 as a kid could get.
#13: Madballs!
Adam had plenty of Madballs, and not just the "normal" ones. Shown here is Touchdown Terror, one of the larger "Super Madballs."
Did this kid win one of those old Post Cereal Toys "R" Us shopping sprees or something? I CAN'T GET OVER THIS.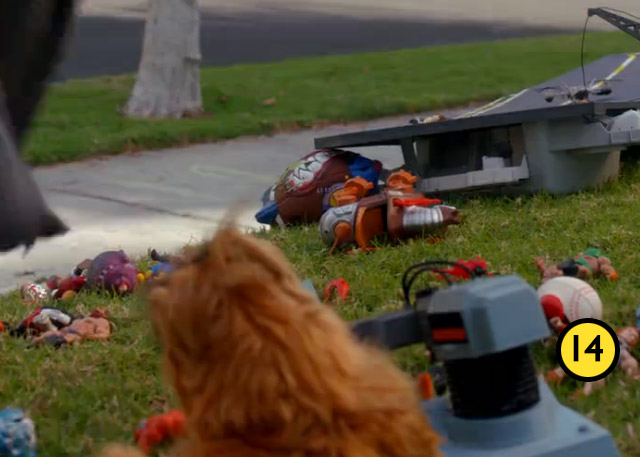 #14: Armatron!
Armatrons were crane-like robot things that could pick up objects. They looked like crosses between a sewing machines and the opening credits to WCW Saturday Night.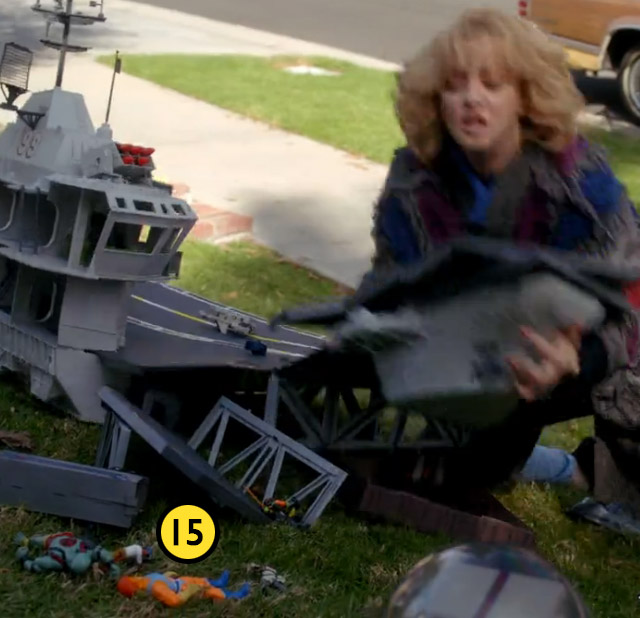 #15: Thundercats Figures!
Mumm-Ra and Lion-O were just some of Adam's Thundercats figures. It looks like Mumm-Ra lost his headgear, which is fitting, because everyone who had that figure lost the headgear, too.
(If you're wondering what's going on in this scene, Adam's mother is attempting to reclaim her son's collection, first with a bribe, and then by outright thievery. Nice!)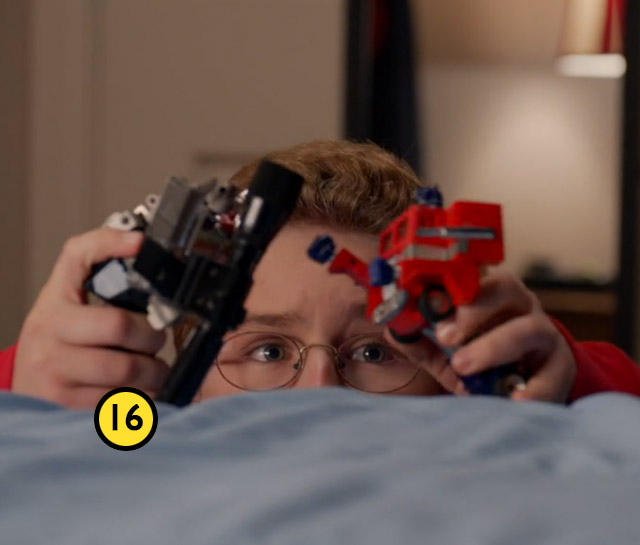 #16: Optimus Prime and Megatron!
In the end, Adam learns that Dana wasn't offended by his toy collection. She was just nervous about kissing him. Once again free to enjoy his toys without shame, the episode closes with Adam recording a battle between Optimus Prime and Megatron. Yeah, the bastard had Megatron, too. Still with the cannon and everything.
UNREAL.
ALL OF THIS.
SO GOOD.
Also, for what it's worth, The Goldbergs is a pretty adorable show. I guess I was expecting it to be a bunch of exaggerated '80s cliches, and while that's part of it, the nuances are so on-point that anyone who grew up back then has to admire the effort. You couldn't dress a series up this way unless you truly experienced what it's trying to recapture. I came for the shots of old toys, but I think I'm gonna stick around.
Oh, and early on in the episode, I saw a box of Pac-Man Cereal on their kitchen table.
Yep, DVR -> Record Series.
[stextbox id="info"]UPDATE: Series creator Adam Goldberg wrote in with a detailed response about the toys seen during this episode and on the show at large. Click here to check it out![/stextbox]