Well, the good news is that I'm finally ready to unveil Dino Drac's April Funpack. The bad news is that this one is already sold out, and is for existing subscribers only!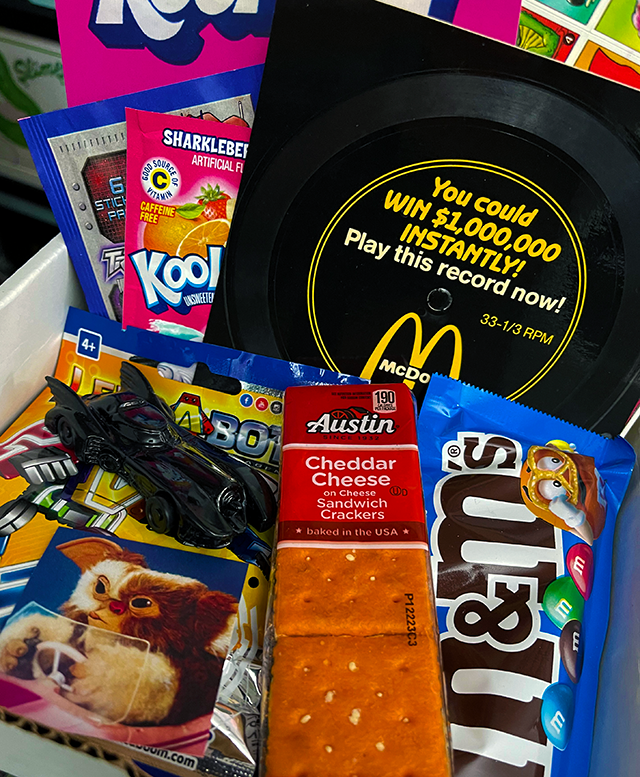 ALREADY SOLD OUT! SORRY!
Hey, this is the advantage of being a monthly subscriber – you're guaranteed a slot! This post is really just to show current subscribers what they'll be receiving. To everyone else, hopefully I'll have room to reopen subscriptions soon, but even if not, I should at least have additional spares to sell next month!
Okay, subscribers – let's see what's inside this month's box!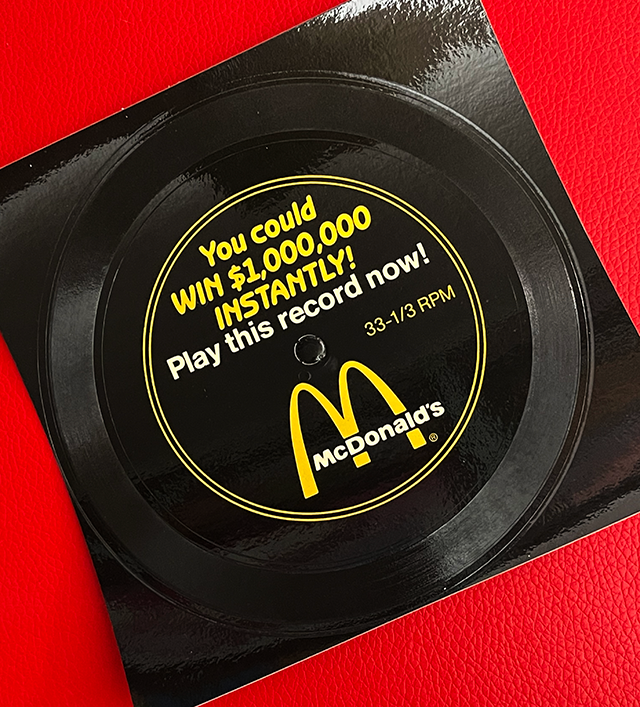 We're kicking things off with a definite "wow" item. Each of you will receive a case-fresh, never-played McDonald's Million Dollar Menu Song record, which was given away by McD's back in 1988.
If you're around my age, you gotta remember these. That contest was HUGE! Hell, they even gave the records out in Sunday newspapers! The idea was that if your record played the McDonald's Menu Song the whole way through, you'd win a million dollars. Of course, 99.9999999% of them didn't play all the way through. (Well, technically they all did, but the "practice round" didn't count.)
These records were never distributed and are coming straight from a factory case. They're a little curved from storage (not bent), but I tested one and they do indeed still work on record players!
This is one of my all-time favorite McDonald's promotions, and I'm thrilled to be able to share it with you!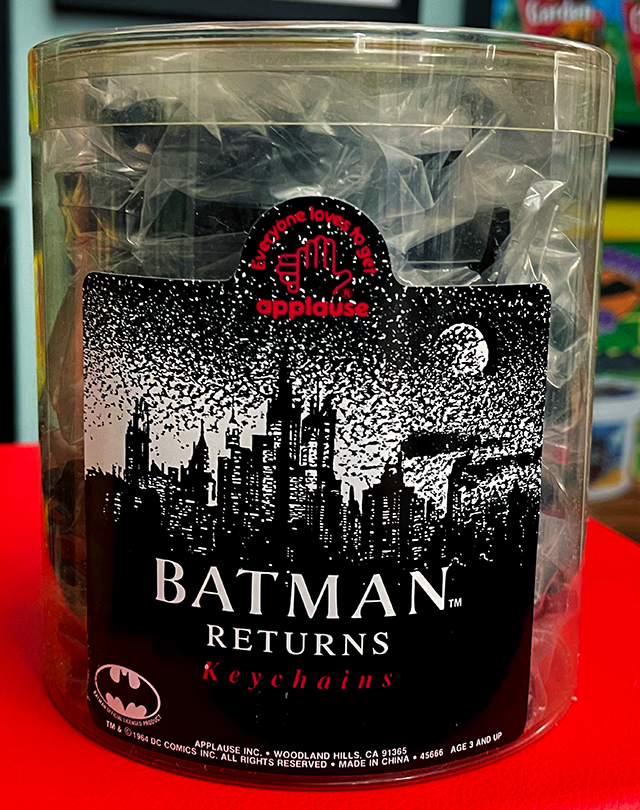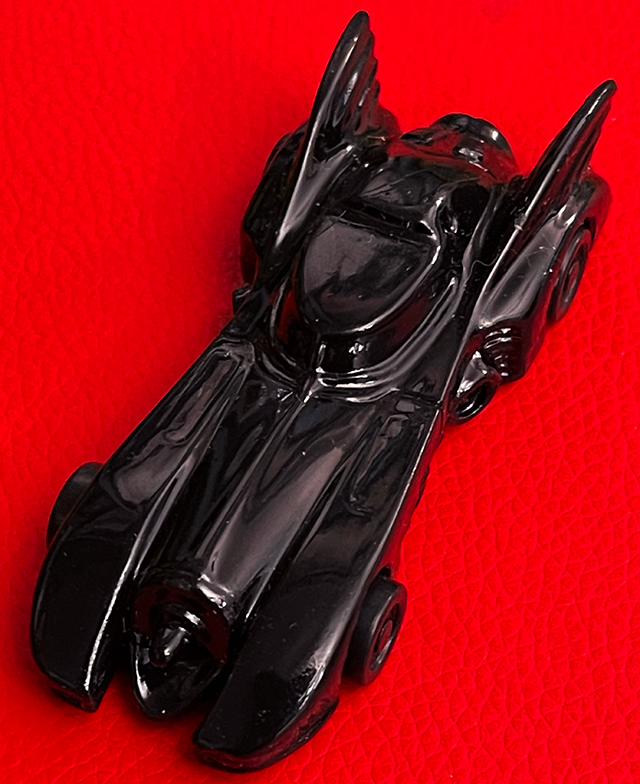 Next up, you'll each receive a diecast metal Batman Returns Batmobile, made by Applause back in 1992. These are so great! While made by Applause, the hefty metal reminds me of all of the Batmobiles Ertl used to put out.
These Batmobiles are in unused condition, though most of them do have price stickers on the undersides. They're easy enough to remove, but I'll leave that up to you!
While they were available in toy stores, you were far more likely to find them in card and gift shops. Really nice Batmobile in the classic Hot Wheels scale!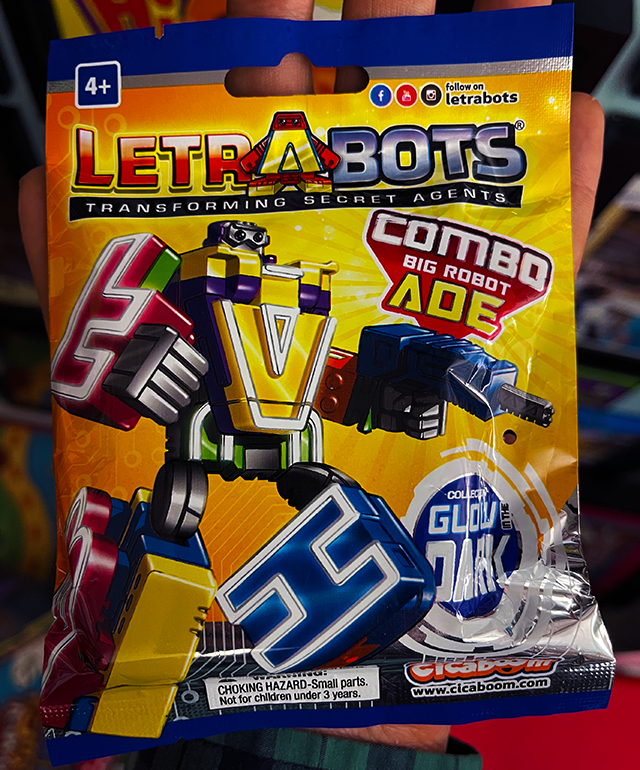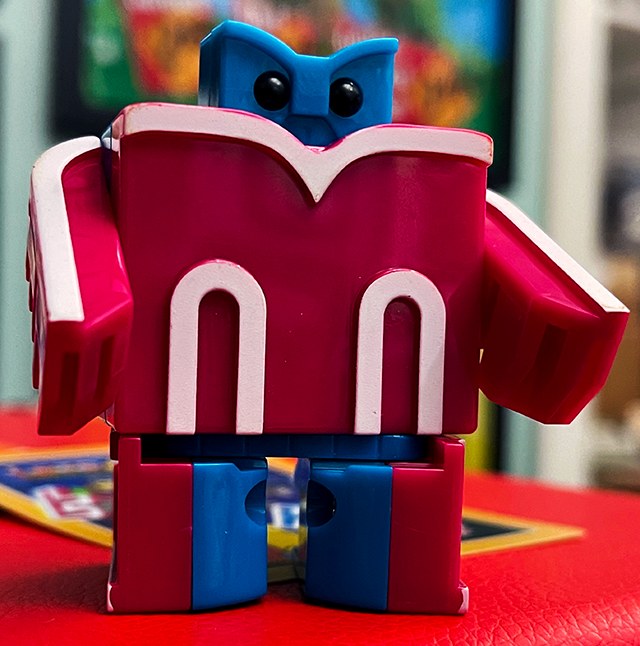 You'll also receive a Letrabots blind bag, containing some random plastic letter that transforms into a cute little robot. These are only a few years old, but they're already pretty tough to find.
Your bag will contain one Letrabots figure with glow-in-the-dark touches. The whole alphabet is in play, so there's no telling which you'll end up with!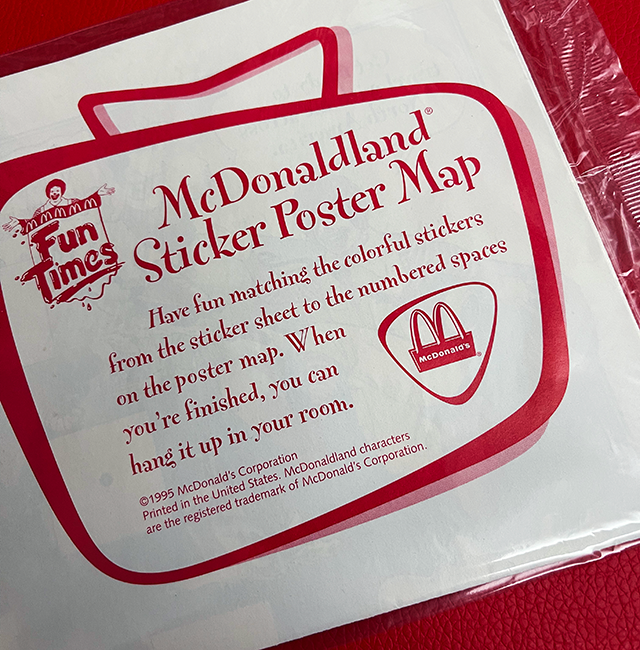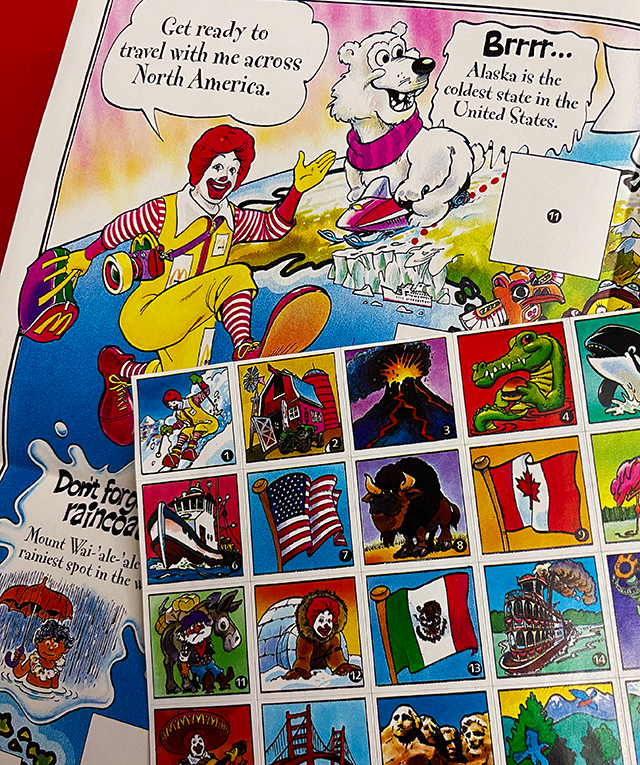 Ah, and here's something interesting. The McDonald's fun continues with a McDonaldland Sticker Poster Map from 1995, still sealed in its factory baggie. I don't know if these were Happy Meal prizes or what, but they've very cool and should keep you busy for a while!
Each set includes a sheet of stickers and a big, foldout map of various landmarks across North America. Join Ronald, Grimace and pals as they travel the country, and mark all the places you visit with the included stickers. Or just throw the whole thing in a desk drawer and forget about it. It's up to you!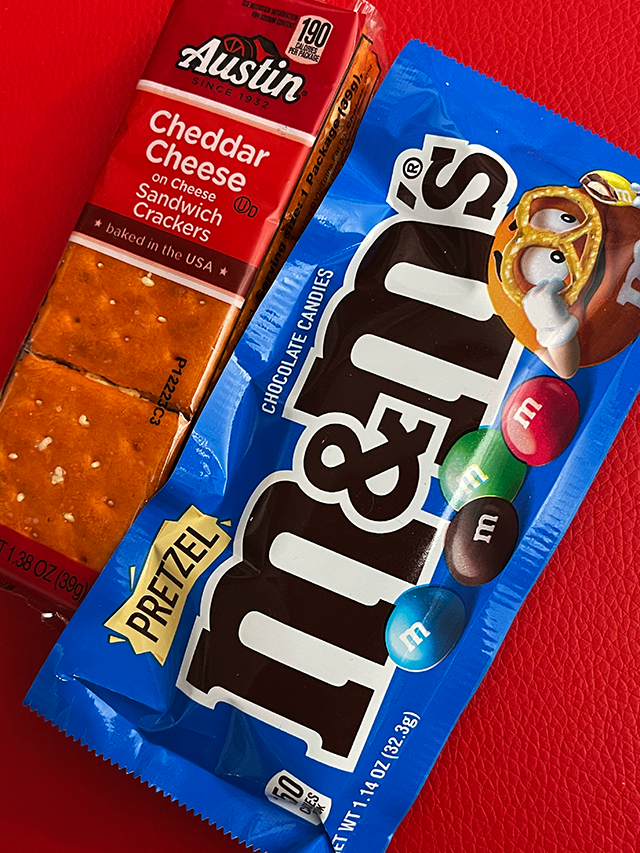 What's a Funpack without some fun snacks? Each of you will receive a retail-sized pack of Pretzel M&M's, and if you've never tried those before, I can vouch: They're very good, and once you eat them, you might have a new go-to variety when it comes to M&M's.
I'll also toss in a pack of cheddar cheese crackers, because I think the 45 seconds of utter cheesy bliss is more than worth the three hours of guilty bloating that'll follow.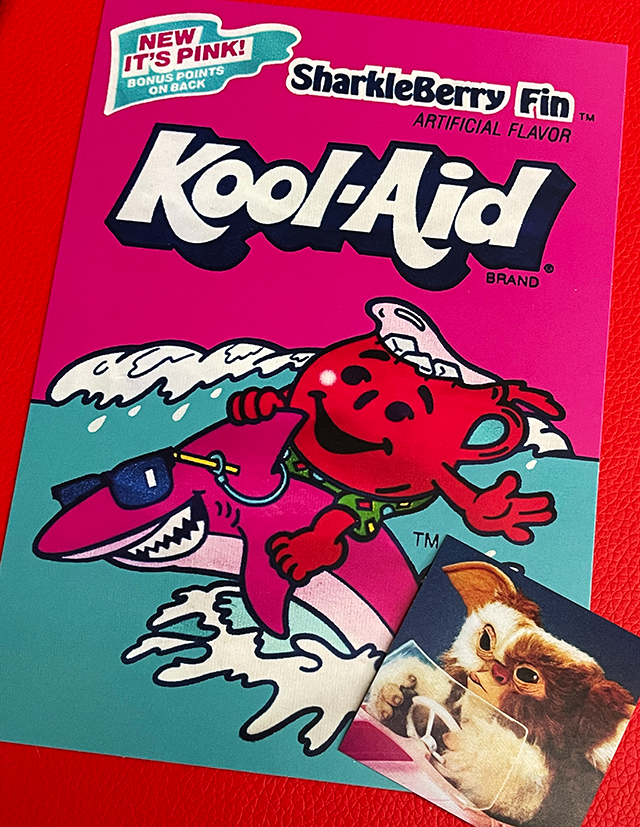 IT'S ART! This month's 5×7" cardstock mini-poster features a scan of the first-ever pack of Sharkleberry Fin Kool-Aid, which is probably my all-time favorite Kool-Aid packet design. I just love that pink shark! You'll also receive this month's exclusive 2×2" sticker, featuring Gizmo in his Barbie car.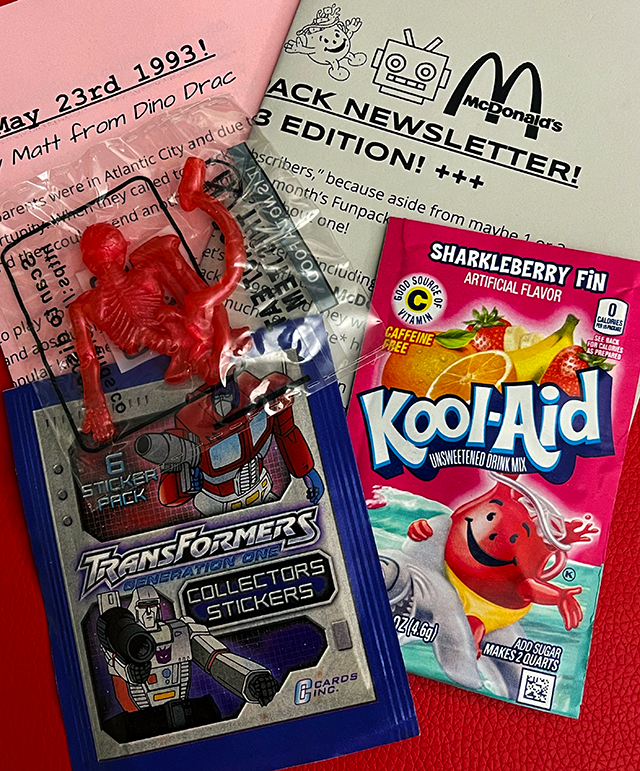 And then this pile of goodies to round things out!
You'll get all of the above, including this month's Funpack Newsletter, plus an exclusive essay that will never be reprinted on the site. (This month's essay is kind of a retroactive diary entry for a hot May day back in 1993, when I ordered a wrestling pay-per-view and ordered Chinese food. No, seriously, that's what it's about.)
Along with those, you'll also get a fresh pack of modern day Sharkleberry Fin Kool-Aid, a teensy tiny stretchy skeleton, and a pack of Transformers stickers from, I dunno, 2003 or something? They're old.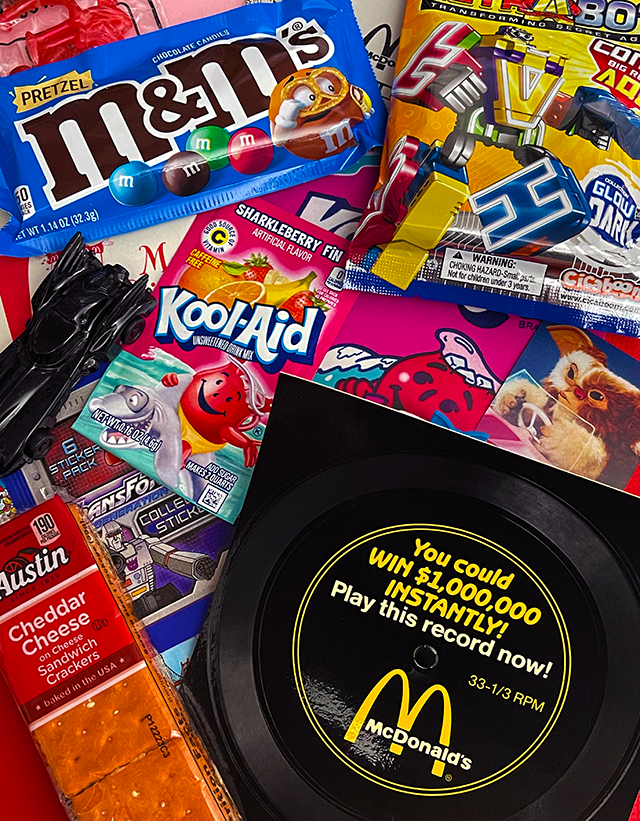 So yep, you'll get everything above for $25 shipped – but since you're a subscriber, you already knew that!
I'll be mailing out all of the April Funpacks no later than Tuesday 4/24. Yeah, that's cutting it a little close, but I'm a one-man show over here. Cut me some slack! I'm confident that they'll get there before the month is through!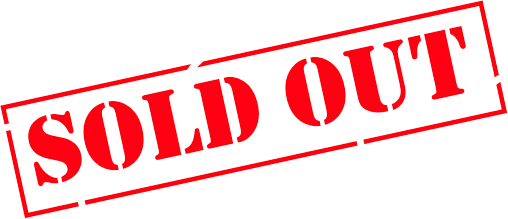 Thanks as always, and I'll see you next month!