It might not be the Halloween season just yet, but I bet you're ready to pretend that it is. With this month's Funpack, it'll be a whole lot easier!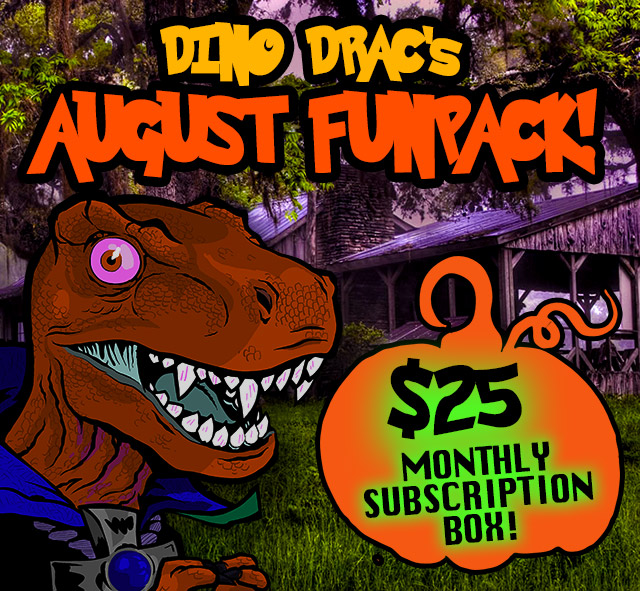 Ease into the spooky season with Dino Drac's August Funpack! Along with the usual bunch of retro bric-a-brac, this month's Funpack includes a serious dose of macabre wonders!
Usual spiel: For those who don't know, I sell monthly Funpacks. Without them, there'd be no Dino Drac! The Funpacks are $25 per month, and you can cancel at any time without penalty. For as long as you stay subscribed, you'll keep receiving packages of awesome nonsense every month!
Scroll to the bottom of this post for more information, or keep reading to hear about everything you'll receive in this month's Funpack!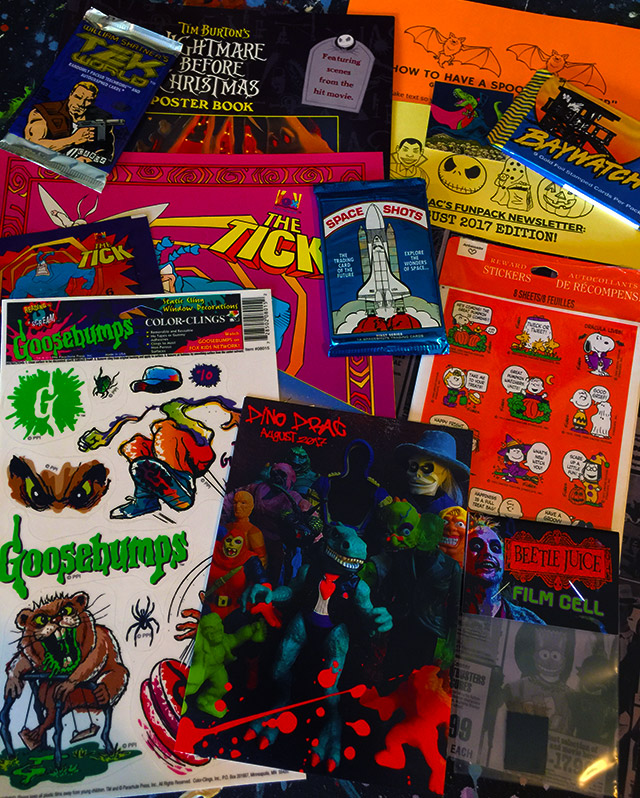 In a departure from the norm, the August 2017 Funpack will be shipped flat in a protective cardboard envelope. (It was the only way I could get these babies to make weight… there's a lot in them!)
There are more than a dozen items in every package, and almost everything included is pretty darn vintage. I aimed to give you just enough Halloween goodies to satisfy those August cravings. Here's the full breakdown: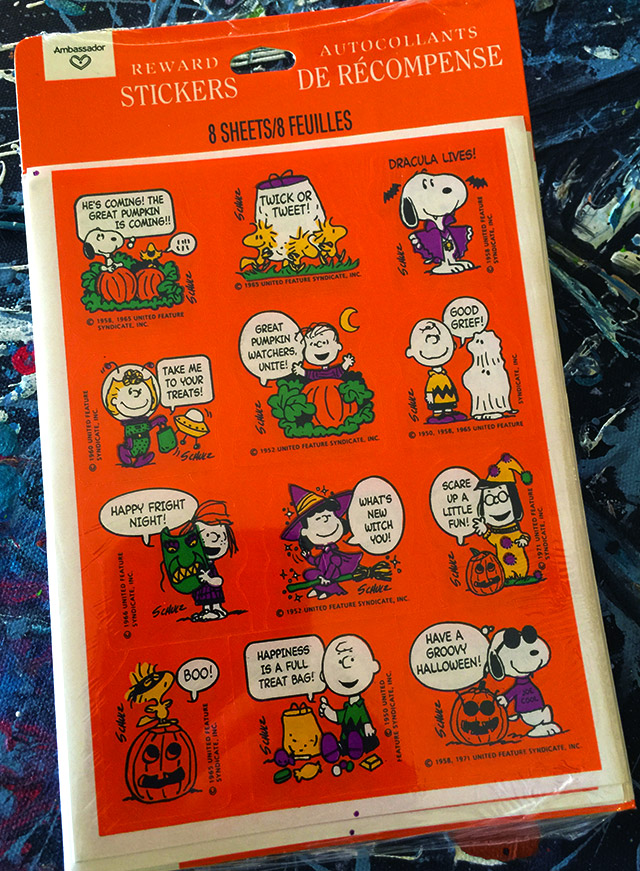 First up, a vintage pack of Peanuts Halloween stickers! These are SO GREAT, and I distinctly remember owning a pack just like this as a kid. (It's what kicked off my still-going tradition of buying packs of spooky stickers every October.)
Each sealed package includes a generous 8 sheets, which by my math means that you'll receive no less than 96 stickers — enough to cover the whole season!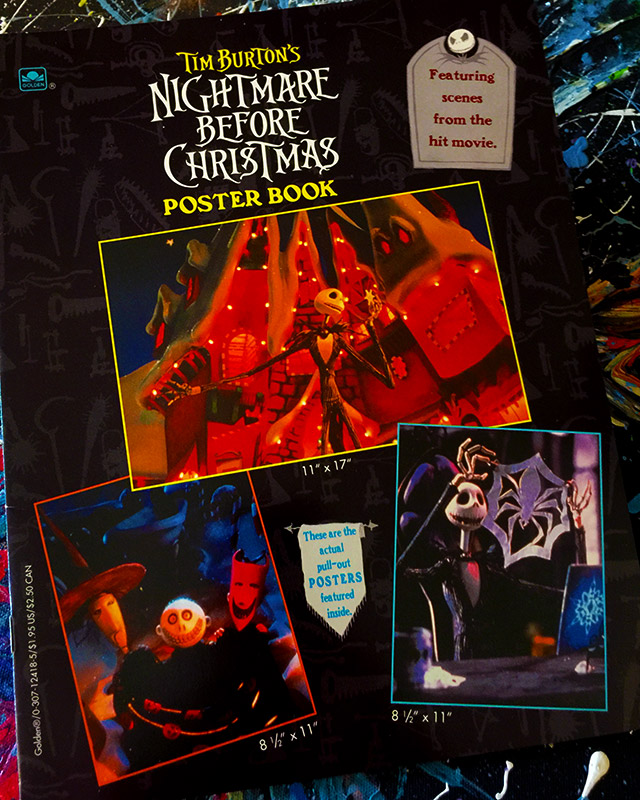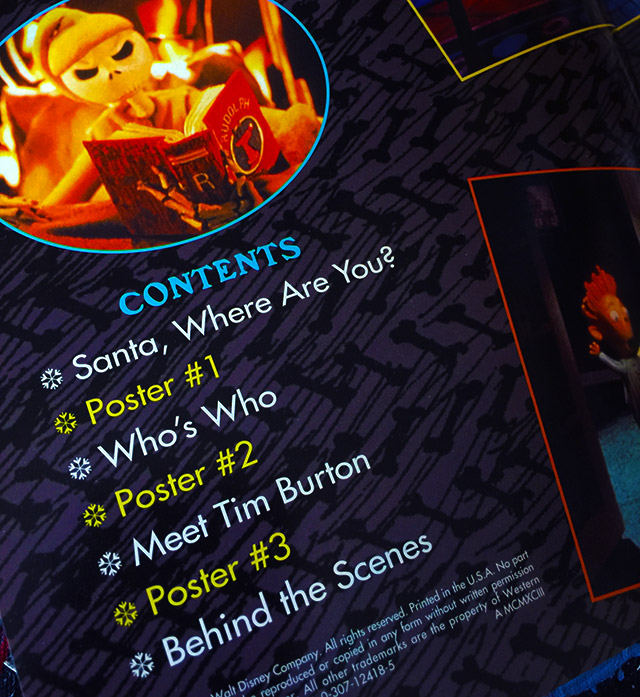 Next up, your very own copy of the 1993 Nightmare Before Christmas Poster Book!
These books only have a few pages, but they're gorgeous. Each contains three tear-out posters. Two might be a little more appropriate for December, but the third one is jusssst right for the Halloween season.
If you're a fan of the movie, there are a couple of extra pages about it, too! These books are in really nice shape. Minty fresh!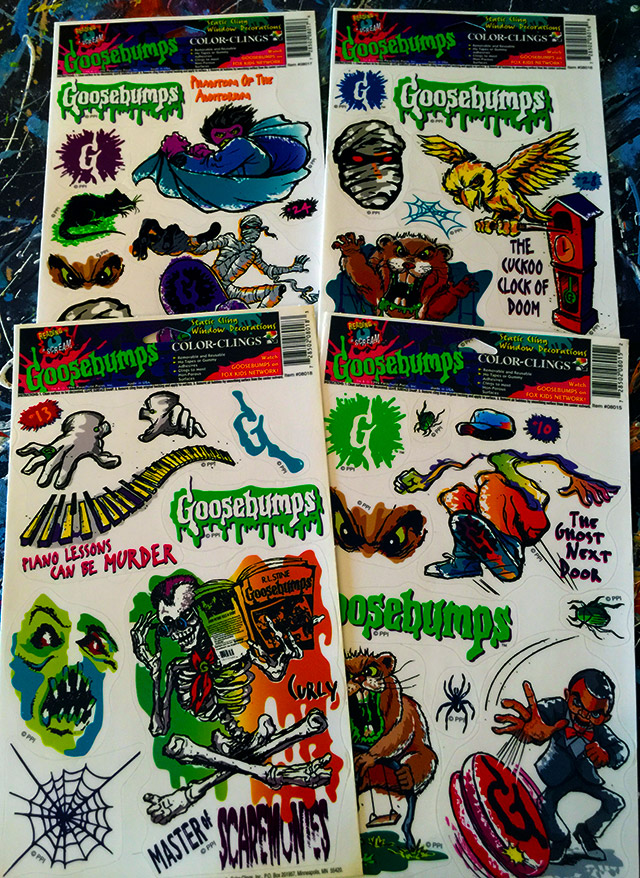 (ONE sheet per Funpack!)
Ooh, these are sweeeeet.
You'll each receive ONE vintage sheet of Goosebumps Window Clings. Each sheet includes at least one of the majorly famous Goosebumps characters. No matter which one you receive, you'll get enough clings to effectively saturate one window. (Okay, maybe half a window.)
Sorry, no picking! You'll get one of the four shown.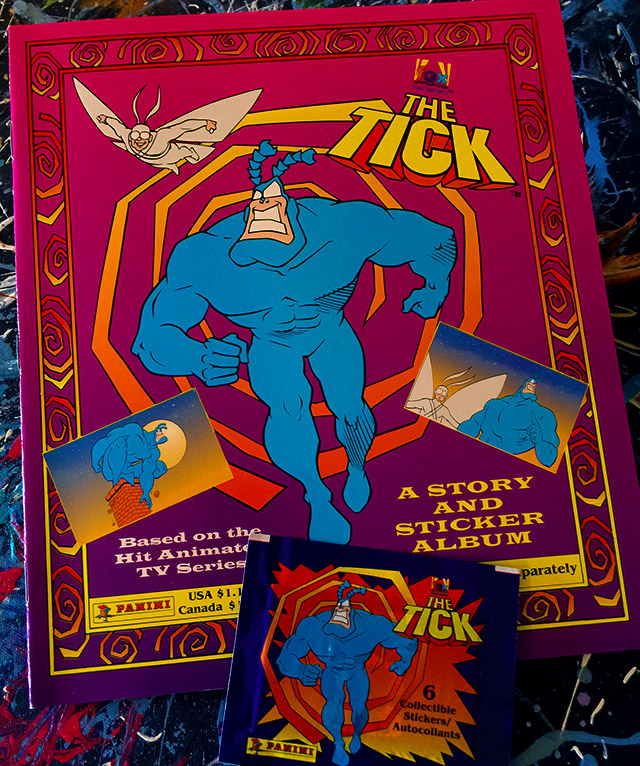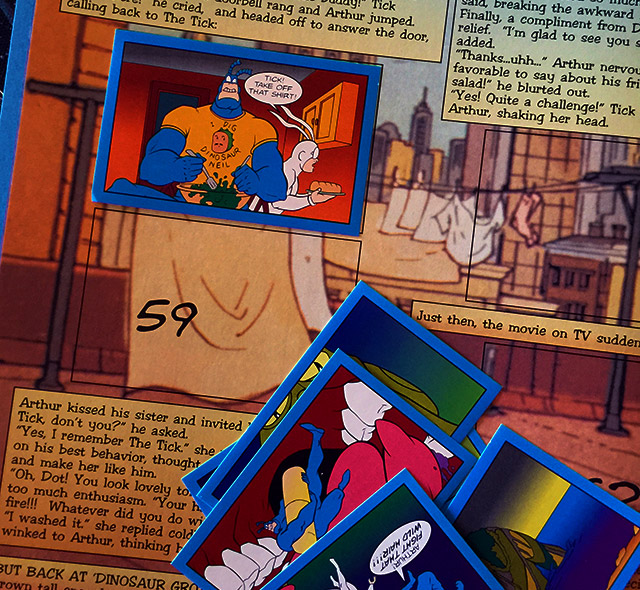 If you're not quite ready for Halloween, then at least admit that you're ready for a vintage The Tick sticker album, made in 1995 by Panini!
Granted, the albums aren't much fun without the stickers… which is why I'm tossing in one vintage pack of album stickers, too!
These albums are in great shape, which is extra nice since they're more than 20 years old!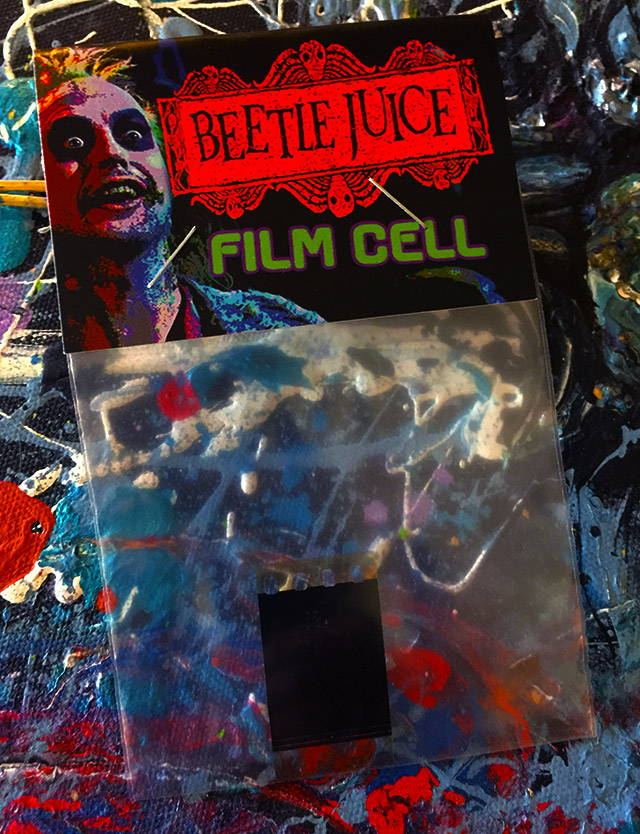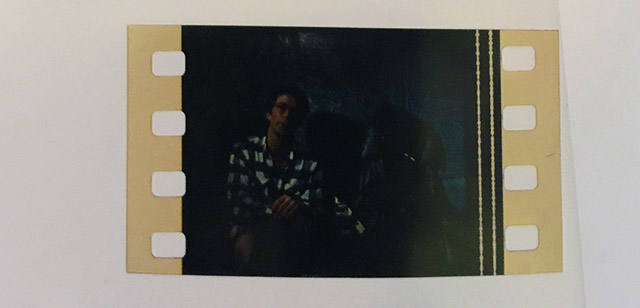 And then there's this month's Dino Drac Specimen: An honest-to-goodness Beetlejuice film cell, in custom Dino Drac packaging!
The cells are legit, but since I can't account for where they came from, please consider these more as "novelties" than serious film memorabilia. (They may have come from actual film reels, but it's also possible that they're from trailer reels.)
Some of the cells are on the darker side (literally), but I'll do my best to pick ones that you'll be able to identify. Really, so long as you're mostly in it for the cool header card, we'll be fine!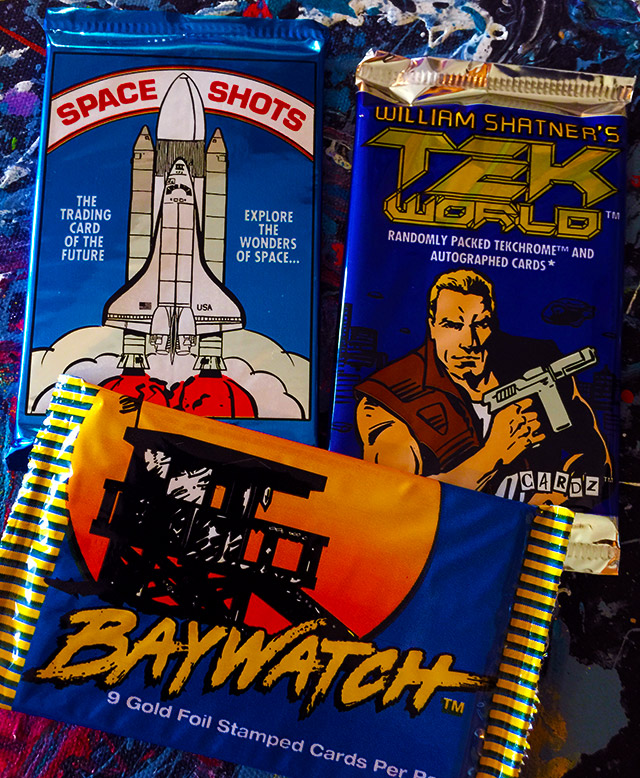 No Dino Drac Funpack is complete without old packs of trading cards. This month, you're getting three! Have fun tearing into packs for Baywatch, Space Shots and Tek World.
(PS: Those Space Shots packs have some of the nicest wrappers I've ever seen. They'll make you feel like you just hit the gift shop at Kennedy Space Center.)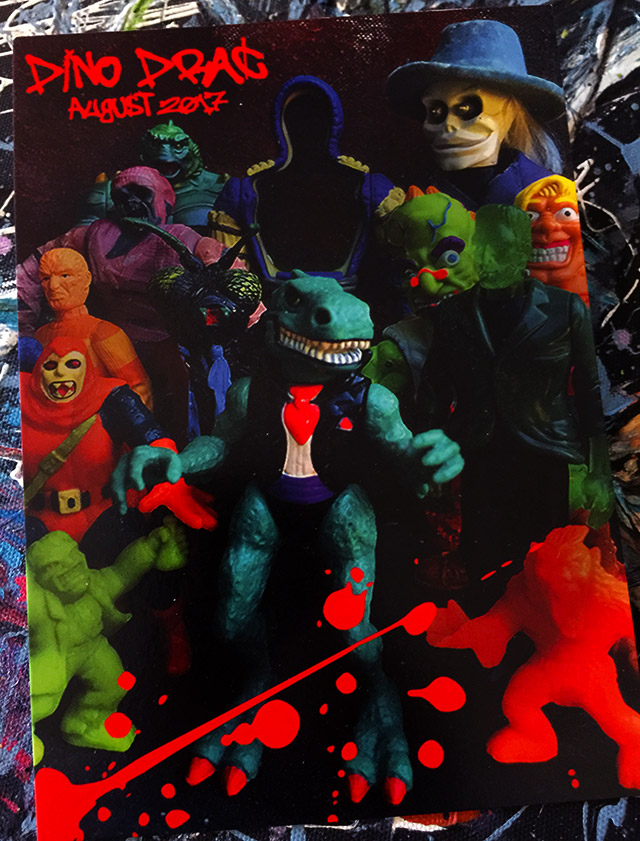 For this month's Dino Drac Mini-Poster, our hero (well, my hero) is surrounded by Halloween monsters! Will he survive?!
Each is printed on 5×7" cardstock.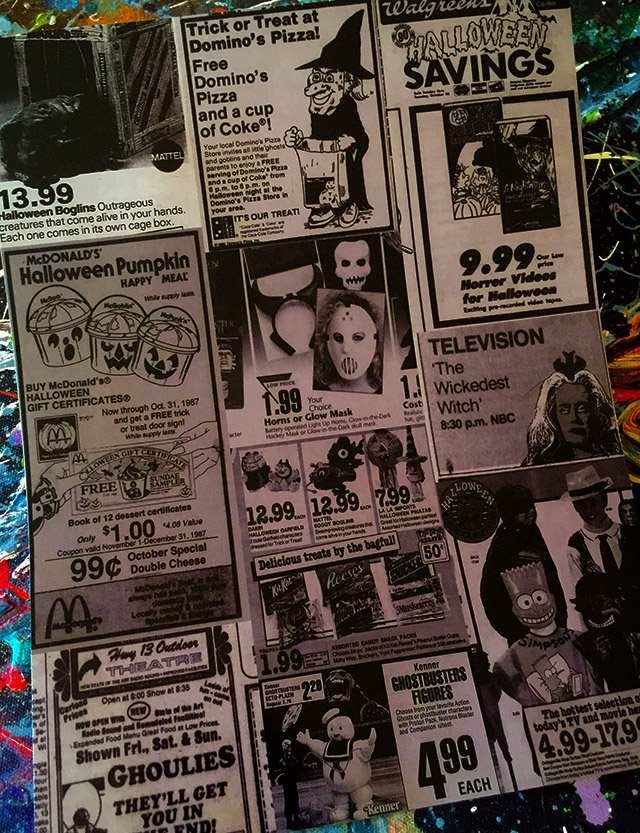 But wait! You're also getting a BONUS poster this month!
It's a berserk collage of ancient Halloween-themed newspaper ads, printed on 8×11" glossy paper. These'll look so good on your refrigerators, guys. (FWIW, all of the ads featured are ones I've written about in prior Dino Drac articles!)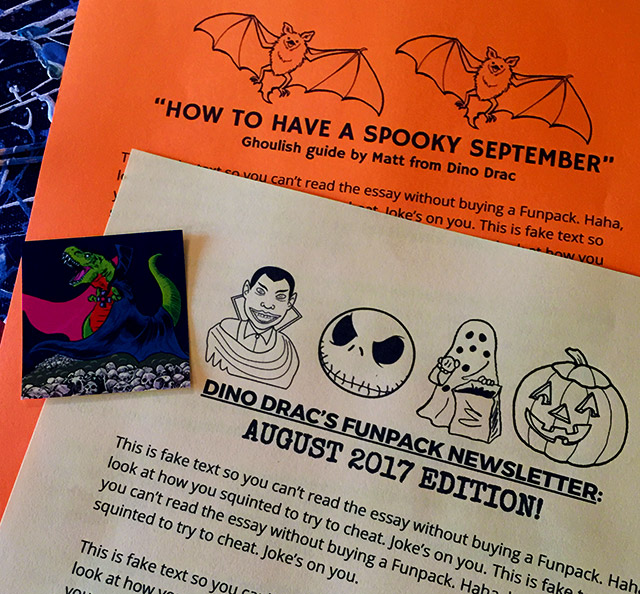 Rounding things out is this month's Dino Drac Funpack Newsletter, plus this month's exclusive Dino Drac sticker, AND this month's exclusive Dino Drac essay!
My latest essay will tell you about many things you can do to celebrate Halloween effectively during September. Essay will never be reprinted on the site!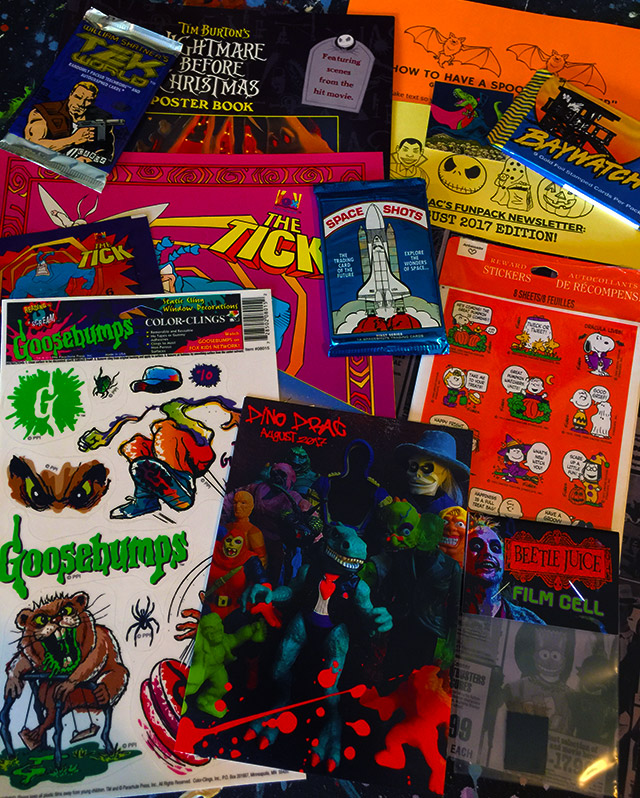 Yes, you'll get EVERYTHING shown above, all crammed into a large, sturdy, cardboard envelope, for $25 shipped!
If you're already a Funpack subscriber and you'd like to stay that way… do nothing! You're all set!
If you want to subscribe, please read the following, and then click the button at the bottom of this page!
1. Funpacks are available in the United States only. Sorry!
2. Subscriptions are handled via Paypal. If you don't have an account, it's very easy to make one!
3. Funpacks will be shipped to the address listed on your Paypal account. If you need to change your shipping address, or if you'd like for your Funpacks to be shipped to someone else, simply email me!
4. You will be automatically billed $25 every month. (Yes, that price includes shipping.) If you subscribe today, you'll pay today, and then again in exactly one month. For as long as you remain subscribed, you'll keep getting Funpacks!
5. You can cancel at anytime. (You could subscribe today and cancel today!) If you cancel after you've already been charged for the following month's Funpack, you'll of course receive it just the same as any current subscriber would. (You can cancel via Paypal, or by emailing me.)
6. The August 2017 Funpacks will ship on or before 8/21!
Remember, the Funpacks allow me to keep doing the site… thanks so much to all who help to keep it/me going!
To get your subscription started, click the button below!
SORRY, THE AUGUST FUNPACKS ARE SOLD OUT!
If you'd like to get on the backup list in case any slots open up, email me!