I have good news and bad news!
The good news is that I'm finally ready to show ya the Eerie August Funpack — the first of three Halloween-themed Funpacks for 2020!
The bad news is… it's already sold out. Subscriptions definitely are, though I may have a few spares left to sell on an individual basis once I finish my counts. (I'll get to that at the bottom of this post.)
For all intents, this post is really just to tell current subscribers what they'll be receiving. If you're on the list, I hope you dig the goods!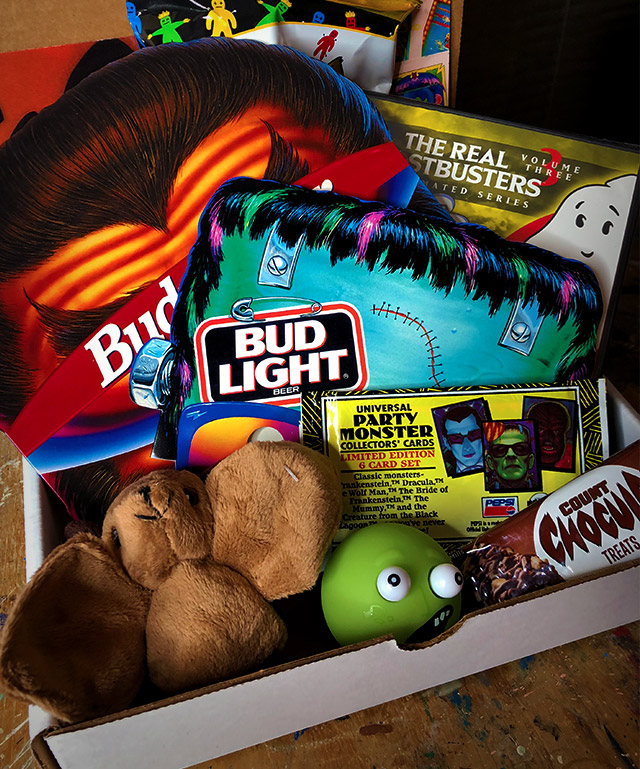 The Eerie August Funpack is sure to help you kick off the Halloween season in a big, scary way. It's loaded with old school spooky collectibles, haunted snacks, macabre art and maybe even a cute plushie bat!
Let's look at what you'll be receiving…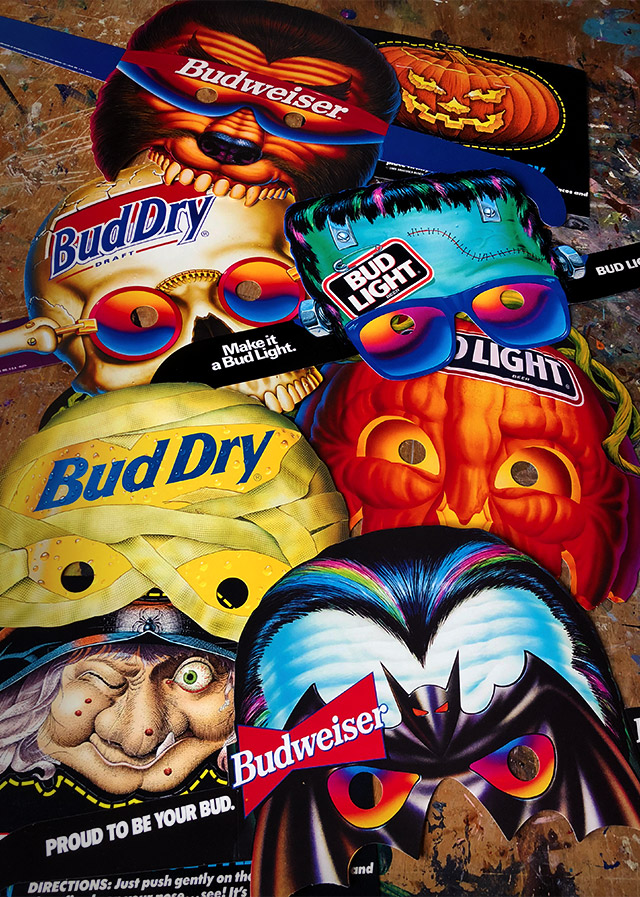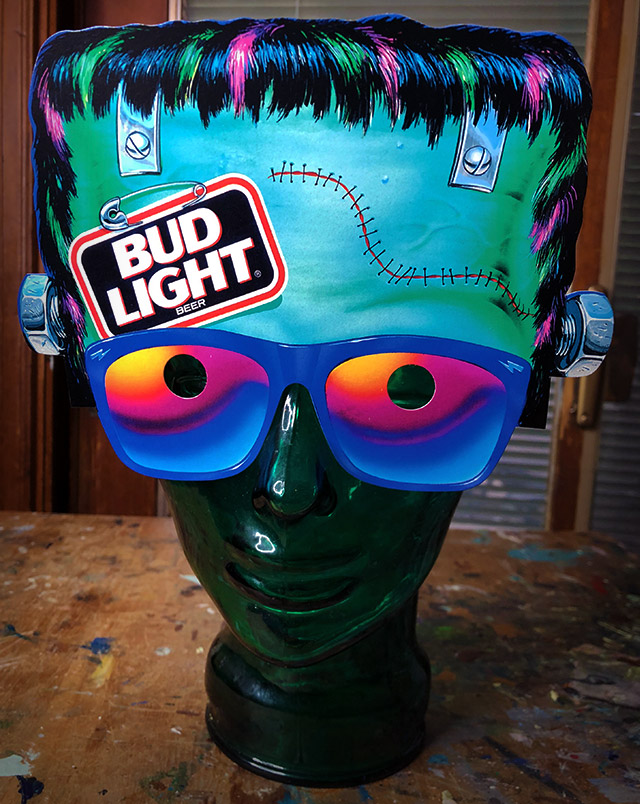 First up, you'll get TWO different vintage Budweiser Halloween promo masks. Yes! These are from 1994 (or earlier) and are absolutely amazing. Full of bright colors and bold monsters! All are in unused condition.
I'm carefully curating pairs from a mix of the following masks:
– Budweiser Werewolf (1994)
– Bud Light Frankenstein (1994)
– Bud Dry Skeleton (1994)
– Budweiser Dracula (1994)
– Bud Light Pumpkin (1994)
– Bud Dry Mummy (1994)
– Bud Fright Night Nose Masks (Various styles from 1989)
You're guaranteed to receive two different masks, and I know you're gonna love these. Just think of the Instagram selfies!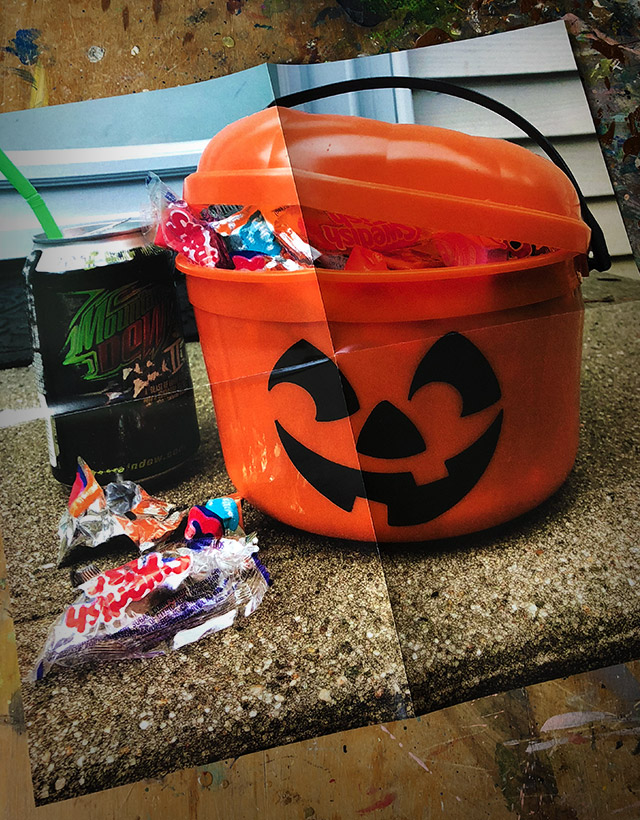 Break out your blackest thumbtacks! Next up is a 13.25" x 13.25" fold-out poster featuring a vintage McDonald's Halloween bucket! (And a can of Mountain Dew Pitch Black II, for kicks.)
These awesomely anachronistic posters are bright and cheerful, with just enough hints of gloom to satisfy all of your Halloween-related emotional needs. I even paid extra to have them professional folded, just to make the creases as clean as possible. Each will arrive protected in a plastic sleeve, too!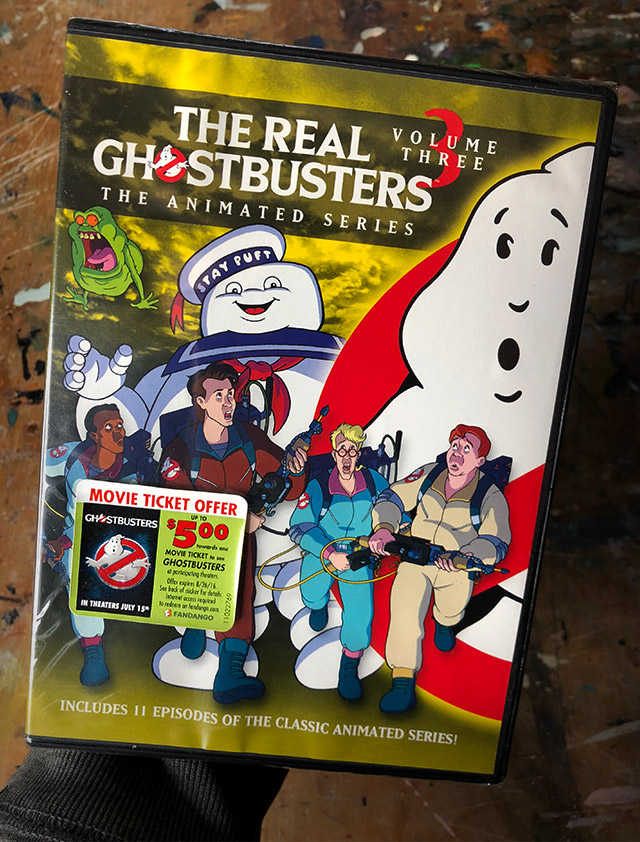 Ah, I bet you thought I was gonna throw another Asylum film at ya. NOPE. This month, you'll each receive a sealed copy of The Real Ghostbusters: Volume 3 on DVD!
Yeah, I know DVDs aren't exactly in fashion anymore, but surely we can make an exception for Slimer? Released back in 2016, this set features eleven episodes of the classic series. I don't know if RGB is streaming anywhere these days, but I'm quite certain that if it is, it doesn't hit the same without a cheesy DVD menu to lead you in.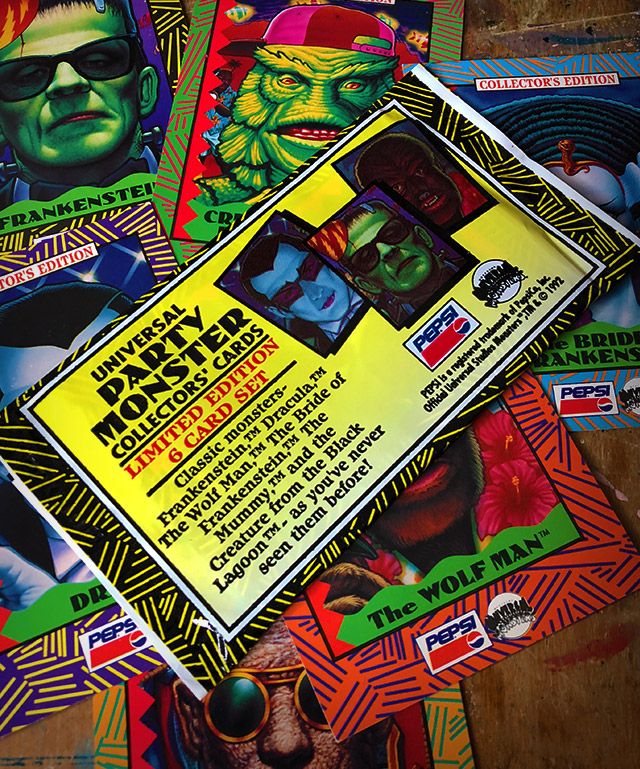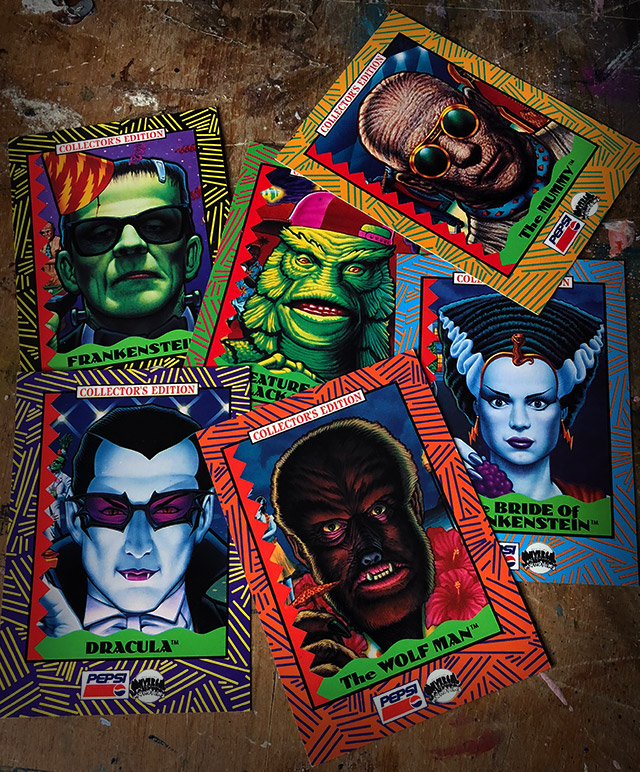 And then we have… wow, this! You'll get a RARE pack of Universal "Party Monster" Collectors' Cards, released by Pepsi back in 1992. These promo packs were never sold on the retail market, as far as I know.
I'm a huuuuge sucker for Pepsi's old Halloween promotions, and this was one of their best. Each pack includes a complete six-card set, featuring the Universal Monsters dressed for a rockin' party. (I believe the same art was used on Pepsi's 12-pack boxes that year!)
Easily the coolest and rarest trading cards ever featured in a Dino Drac Funpack. I know you're gonna flip over these.
NOTE: A few packs may have $5 price stickers on them, from their previous lives at flea markets. I'm trying to avoid using those, but mentioning it just in case!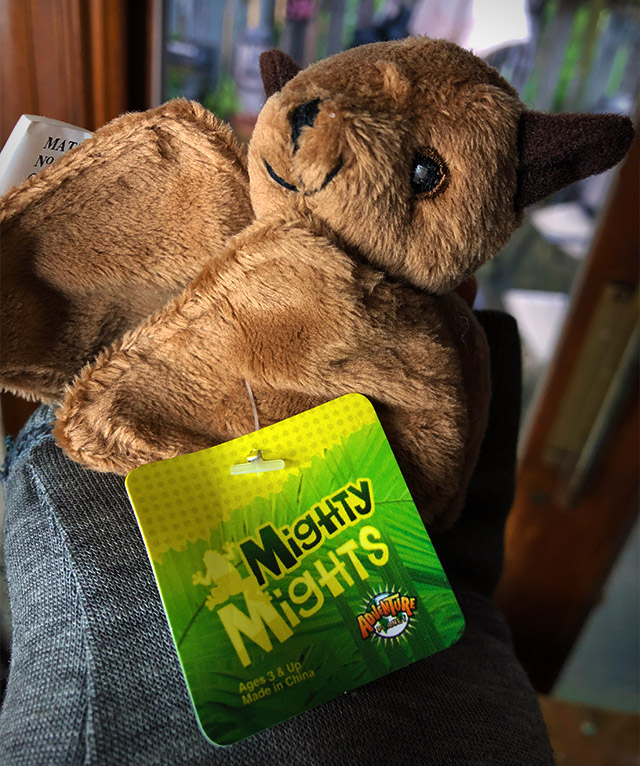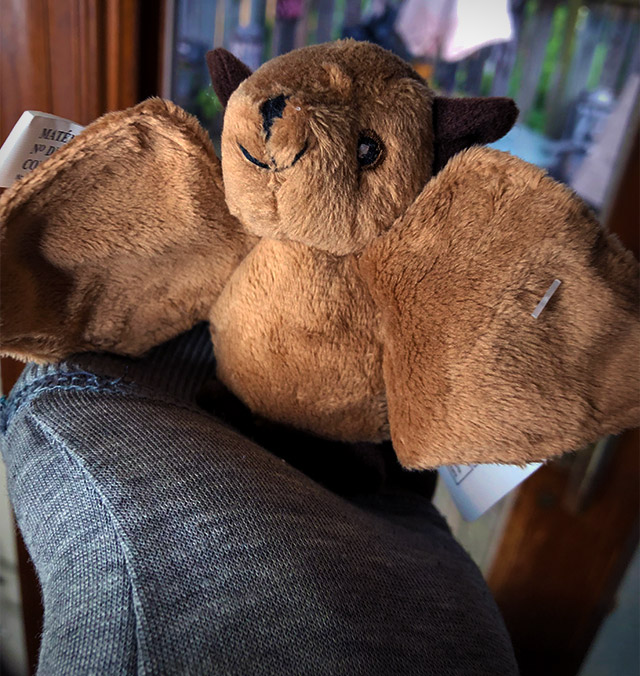 Every Halloween season needs a mascot, so I'm ready to adopt out my army of BATS. You'll get an adorable Mighty Mights Plush Bat doll, unused and still-tagged, just waiting to be named and scratched!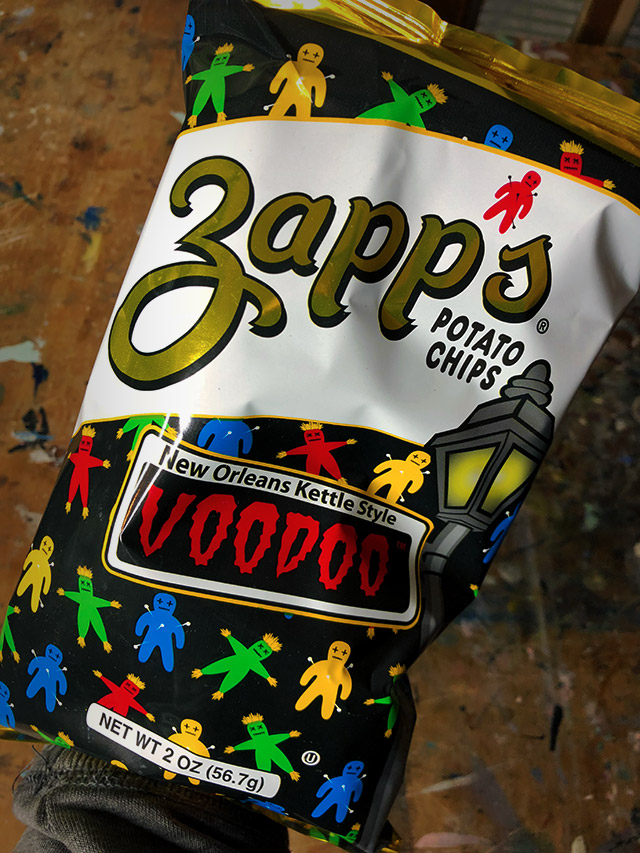 Going big on this month's snack! Prepare to fall in love with Zapp's Voodoo Chips! If you've never had 'em, the "New Orleans kettle style" chips are completely godly, and, on the stretch, perfectly Halloweeny. I'd describe them as something like high-end barbecue chips, but that doesn't really do them justice. They are SO good.
These are hefty bags, too — two ounces of chips in each!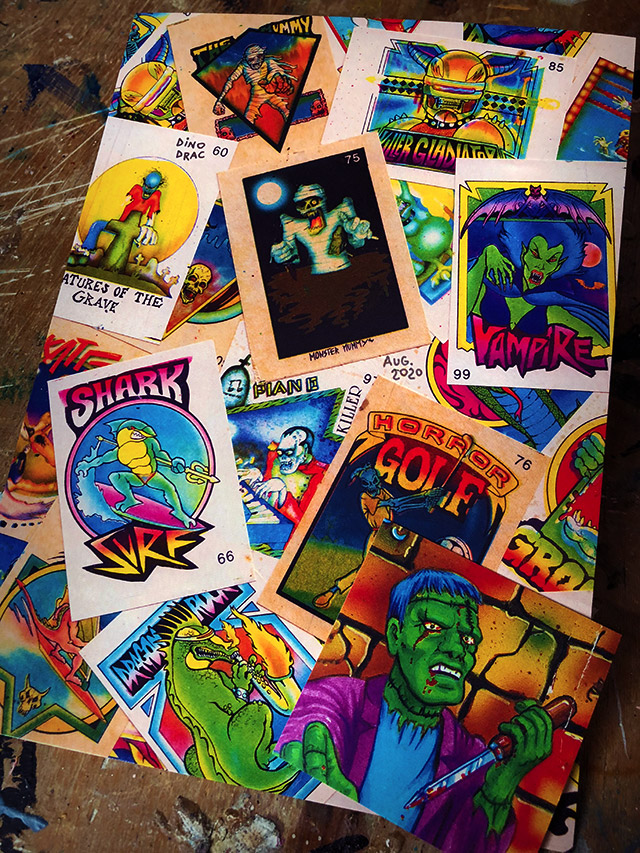 This month's 5×7" Mini-Poster features a collage of rare "Terror" stickers that were released in Venezuela back in the '80s. The stickers are terribly hard to find nowadays, but no worries, this poster shows off many of the set's best — from a surfing shark to a sax-playing Godzilla!
You'll also receive a 2×2" sticker featuring a murderous Frankenstein, swiped from the package art from Sungold's infamous collection of Monster action figures.
Poster is printed on something resembling cardstock. Sticker is just a sticker!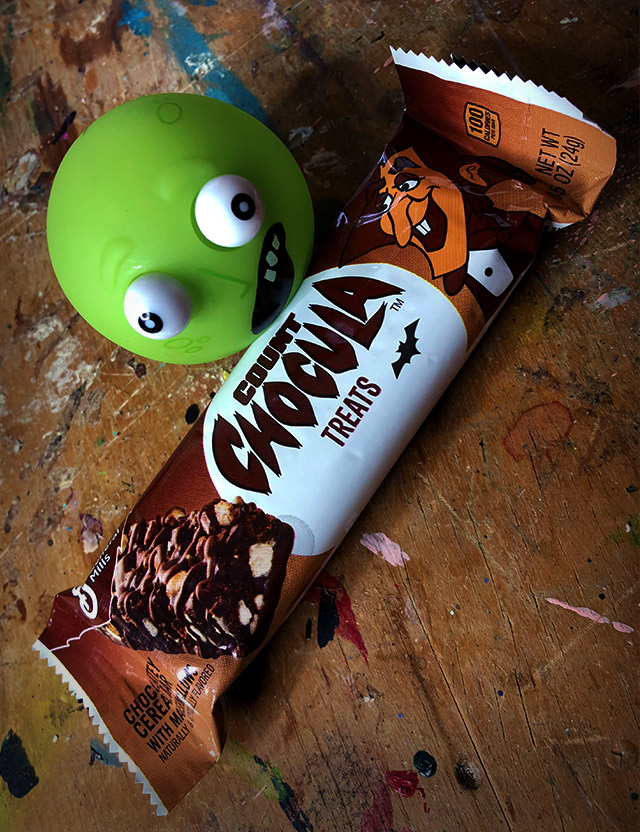 Okay, fine, I'll also toss ya some tricks and treats. Enjoy a little zombie ball with pop-out eyes as you munch away on a Count Chocula Treats bar. (In new-for-2020 retro packaging! As soon as I saw those, I knew they were destined for the Funpack.)
Some of the bars are a little misshapen (that's just how they're made), but they all taste the same: Like Count Chocula!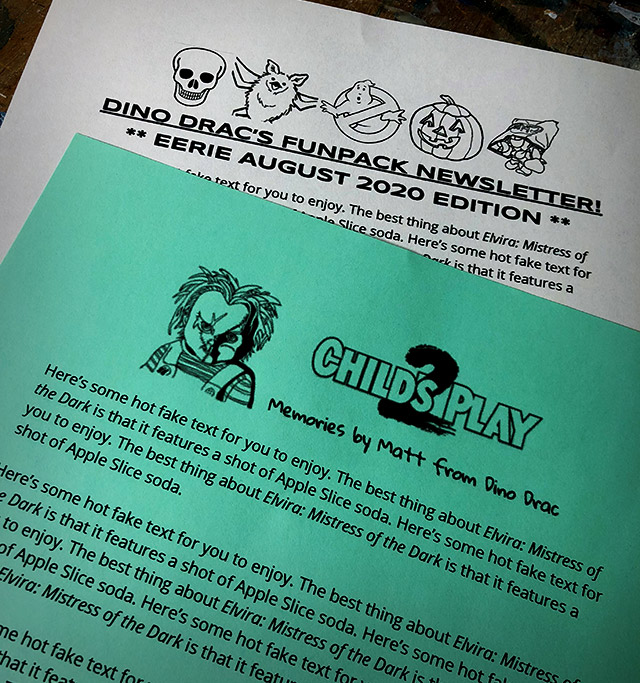 Rounding things out, you'll also receive this month's Funpack Newsletter, plus an exclusive essay that will never be reprinted on the site!
This month's essay is about my childhood obsession with Child's Play 2. It's not so much a movie review as a tribute to being infatuated to the point of distraction. I don't know what it was about that flick, but it ruled my world. I think you'll relate to it, whether you're a Chucky fan or not!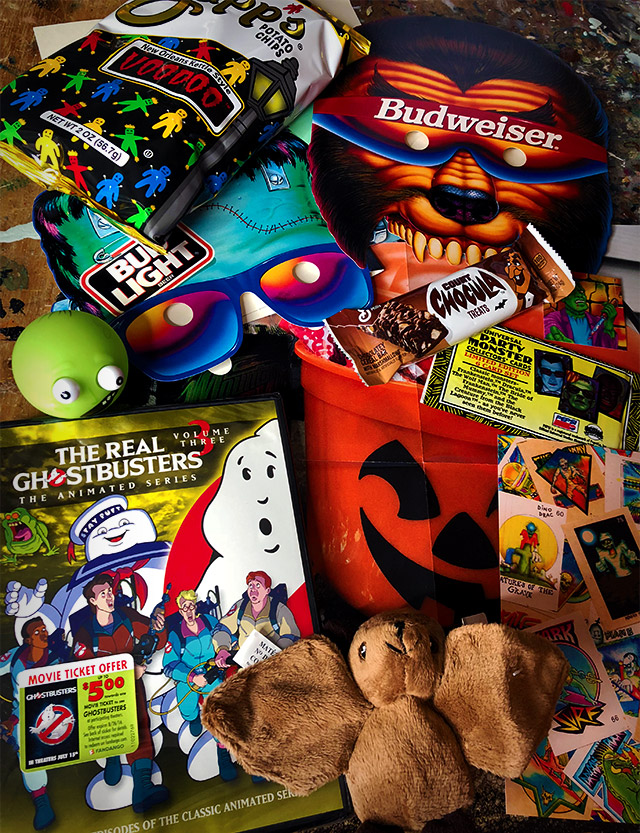 And there ya have it. All of that for $25 shipped!
I will be shipping these out no later than Tuesday, 8/18. Please allow a few extra days for delivery this month, as the USPS is in turmoil and I have no idea how that'll affect shipping times. I will keep a close eye on the boxes as they move around the country, so don't worry, if there are any snags, I'll catch them.
This Funpack is effectively sold out. I *may* have a few spares leftover once I do my final counts, but if so, we're talking about 2 or 3. If you'd like to get on a waiting list for those, you can email me (dinosaurdracula on gmail), but no promises!
If you're curious about what that means for September: If nobody cancels, then, yeah, September's is already sold out, too. However, I'll have substantially more spares available for September's box than I do for this one, so hope is not lost!
The Halloween Funpacks are always the most popular of the year, which is why I always remind people to get onboard during the summer if they're sure they're gonna want in. Thanks so much to all current subscribers — your Eerie August Funpack will be there soon enough!