Okay guys, it's time. Dino Drac's Eerie August Funpack is the first of three Halloween-themed Funpacks, and if you're already a subscriber, good news: You're locked in for all of them, assuming you don't cancel!
The rest of you will need to act quick, but hey, I've been warning you about that for months!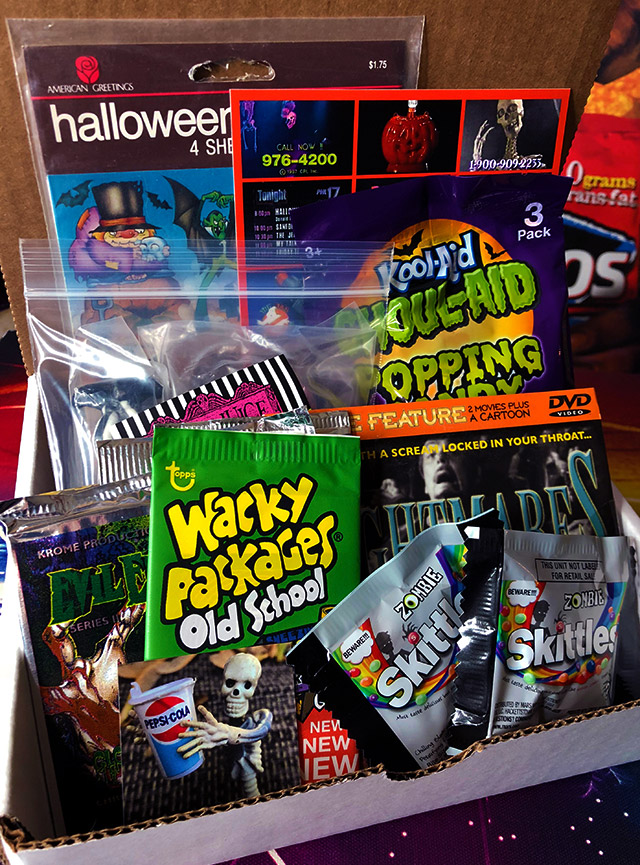 AVAILABLE IN THE U.S. ONLY!
The Eerie August Funpack is loaded with spooky goodies that'll kick off your Halloween season in style. You'll find a bunch of vintage treasures along with some of this year's hottest Halloween candy, and also a pack of Street Fighter: The Movie cards for some reason.
You know the score by now. The Funpacks are sold on a subscription basis. It's $25 a month (shipping included), and for long as you remain subscribed, you'll keep getting new boxes of old nonsense each and every month!
Scroll to the bottom for ordering info, or keep reading to learn about *everything* you'll receive in the Eerie August Funpack!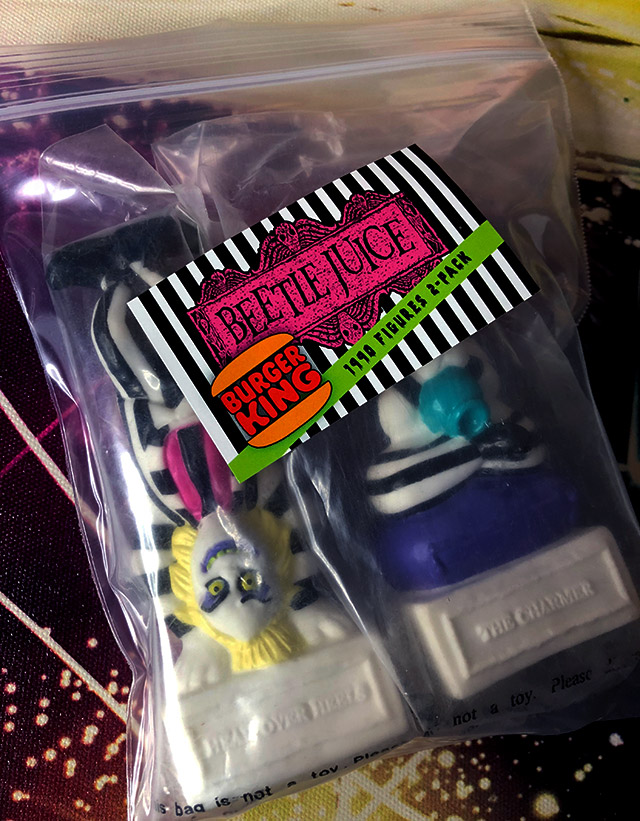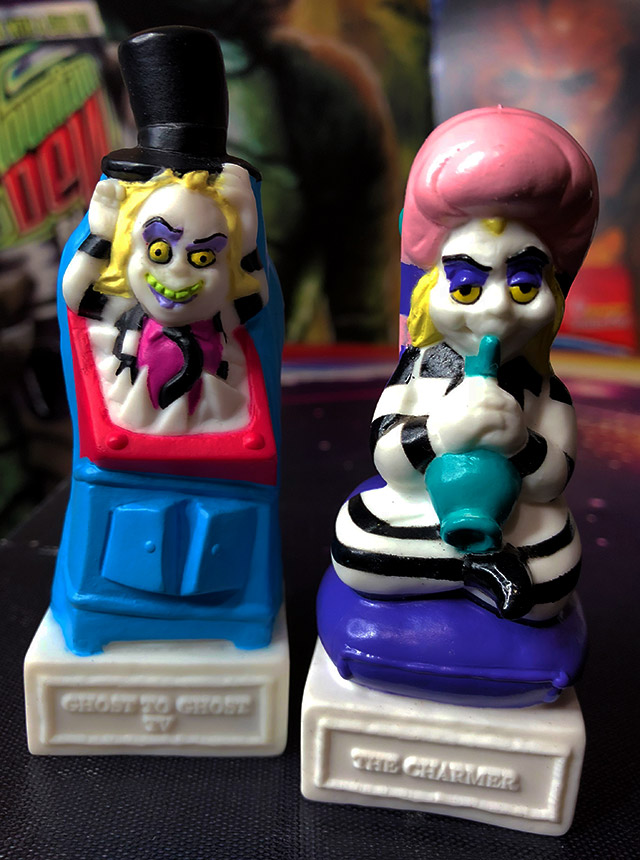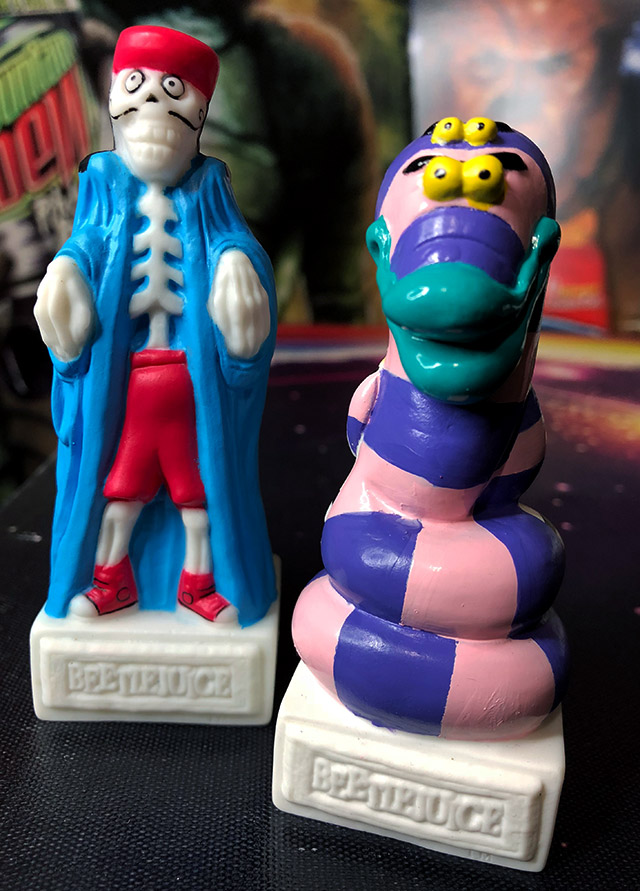 Leading the charge this month is a special two-pack of Burger King Beetlejuice figurines, from 1990! These figures were given out in special Kids Club Meals way back when, and while you only received one in every Kids Club Meal, I'm gonna give you TWO!
There are six different figures in the set. You'll receive a random pair. Each figurine is double-sided, so it's kinda like you'll be getting four figures. (If you couldn't tell, these toys were based on the old Beetlejuice animated series.)
Your figures will still be in their Burger King factory baggies, and then tucked into a custom Dino Drac bag. The factory baggies are dusty after all of these years, but the figures inside are in unused condition! (They will look SO GOOD on your Mood Table!)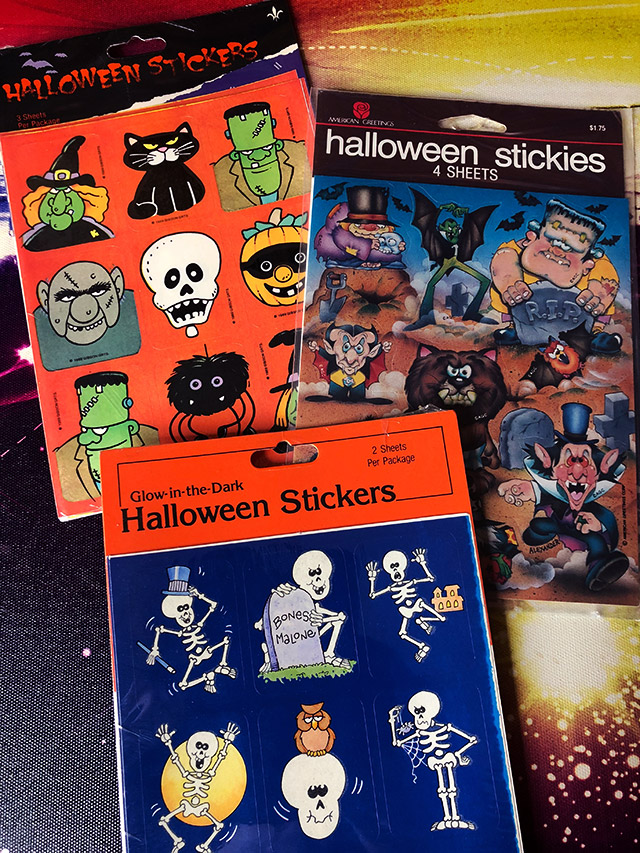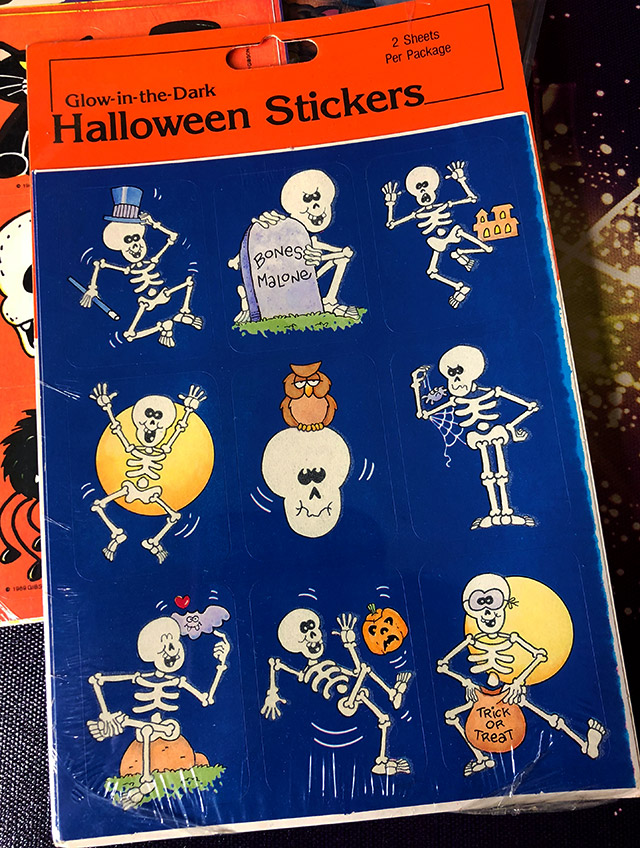 *ONE* PACK OF STICKERS PER FUNPACK!
Few things make me as nostalgic for the Halloween seasons of my youth as old spooky sticker packs, and I'm happy to report that you'll each receive a whole sealed pack in this month's box!
You'll receive one of the three packages shown above. (None have ever appeared in a prior Funpack, by the way.) All three are so awesome, it's hard to pick a favorite! Two are from Gibson, while the third is from American Greetings. No matter which you get, rest assured that it'll be a truly vintage pack. These stickers are from the late '80s and early '90s!
Condition note: All packs are still shrink-wrapped, so the sticker sheets are in phenomenal condition. The shrink-wrap itself may be a little discolored from storage, but that's to be expected!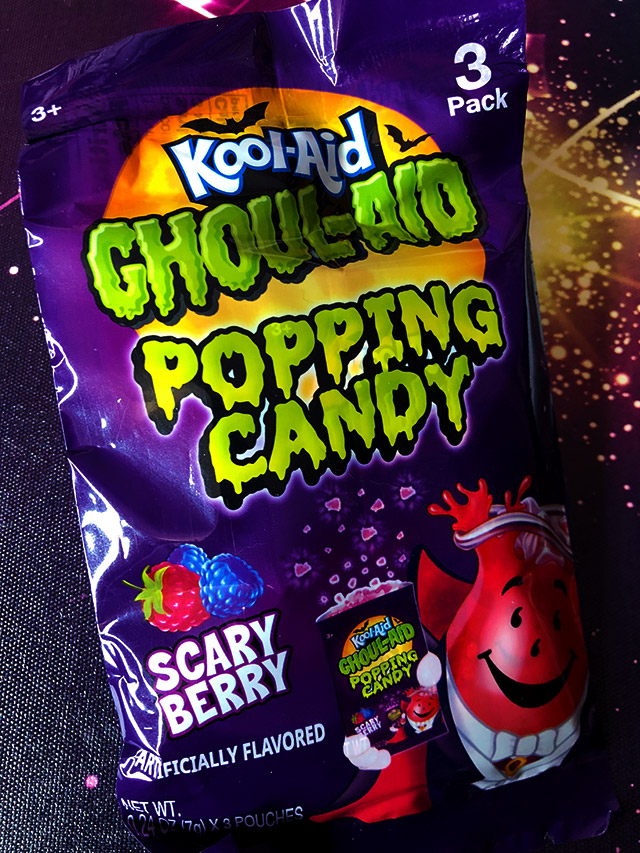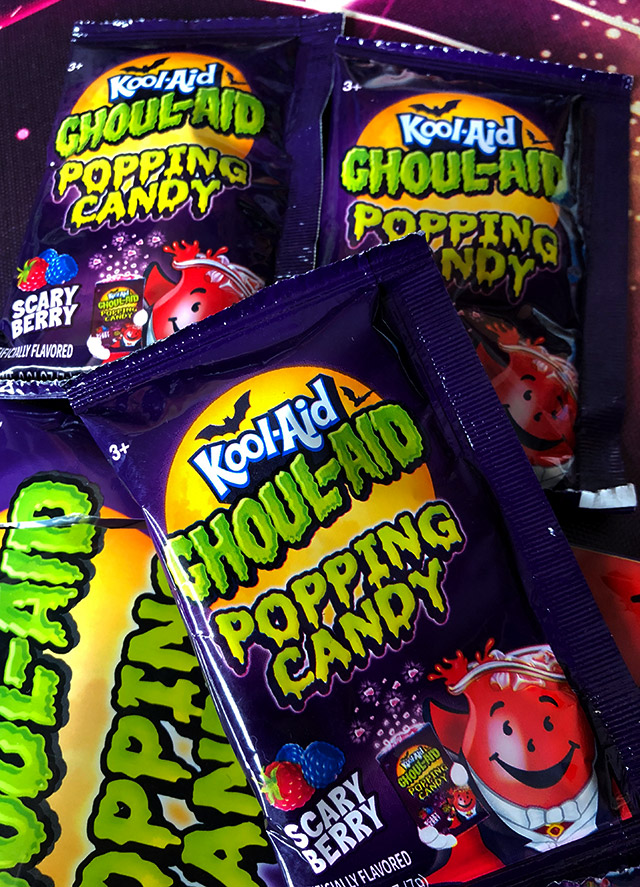 Oh, what's this? That's right folks, you won't have to wait, OR hunt! One of this year's hottest new Halloween candies is in this month's Funpack! You'll each receive a whole damn sealed three-pack of the brand new Ghoul-Aid Popping Candy!
Yes, this is a real thing that really exists, because the world isn't always as awful as we keep hearing. Ghoul-Aid Popping Candy is already a contender for the best new candy of the 2019 season, and you'll get a full three-pack in your Eerie August Funpack!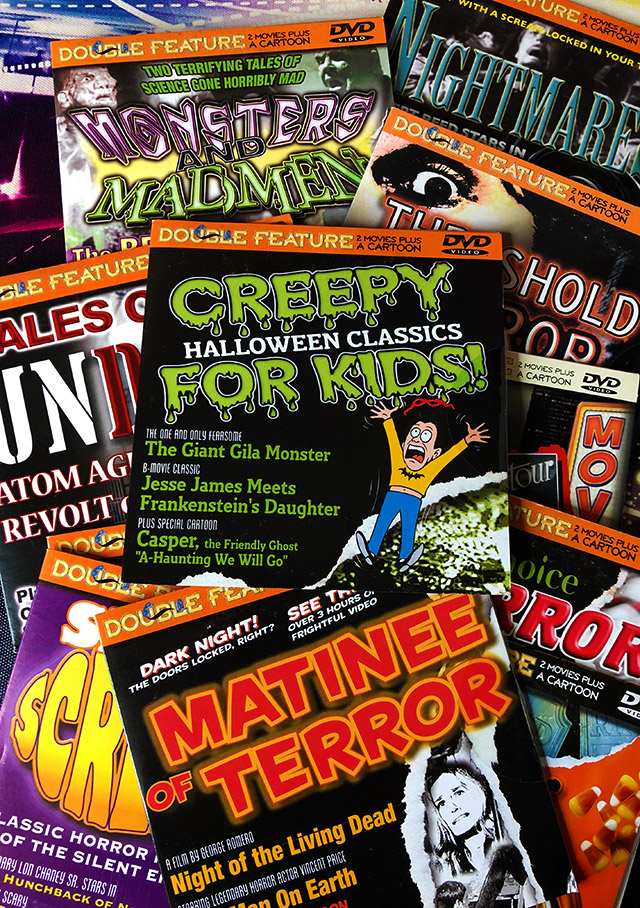 *ONE* DVD PER FUNPACK!
Okay, so these are quirky, but I love them. You'll each receive ONE of these super cheesy horror DVDs. They were produced like fifteen years ago, and the cover art is just INCREDIBLE. It's like every Halloween webpage from 1995.
Shown above are just some of the ones I have to work with, though all of them are in this vein. Each disc includes two movies and a cartoon, but let's be real: I'm sending you these because they look weirdly gorgeous, and because I want you to display them all season long. If you actually watch what's on the discs, hey, that's just a bonus.
These small "sleeve" DVDs are still sealed, so for what it's worth, these are all unused!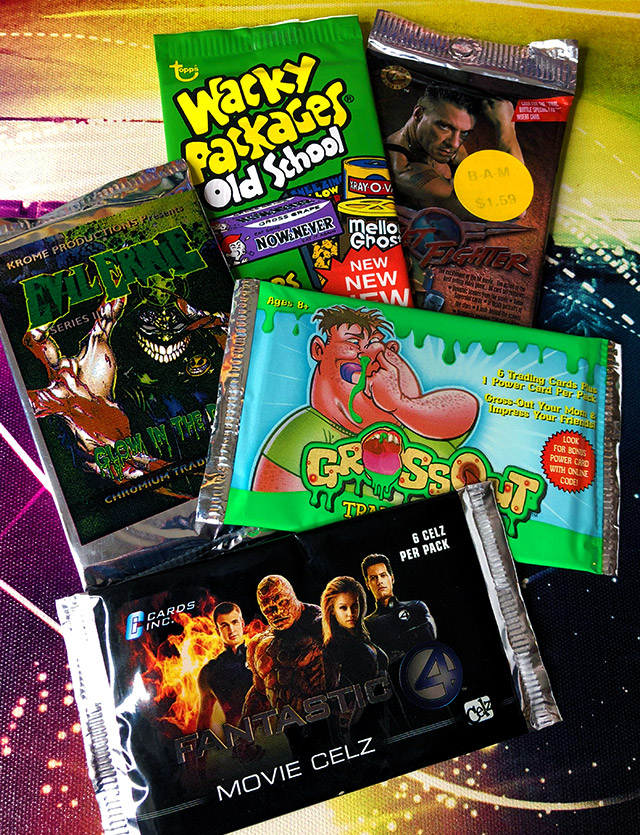 You knew there would be some old trading card packs included, but I bet you weren't expecting FIVE. Yep, you'll get ALL FIVE of the packs shown above, including:
– Evil Ernie (1994)
– Wacky Packages Old School (2012)
– Gross-Out (2006)
– Street Fighter: The Movie (1994)
– Fantastic 4 Movie Celz (2005)
Have fun tearing 'em open! (Full disclosure: Some of the Street Fighter packs have old price stickers on them, so apologies in advance if Guile's biceps are partially obscured on yours.)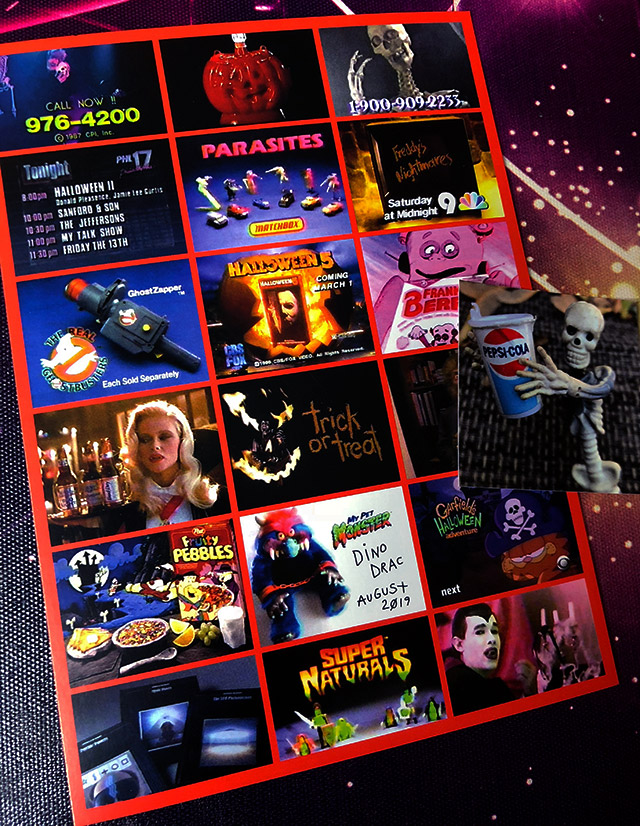 This month's exclusive Mini-Poster collects random screenshots from various vintage Halloween commercials, and I know you'll f'n love it. It's one of my favorite Dino Drac Mini-Posters ever. Consider it your spooky vision board for the season!
Poster is 5×7" and printed on something resembling cardstock. You'll also receive this month's exclusive 2×2" sticker, which features a skeleton drinking Pepsi. I don't know, I just thought you'd like it.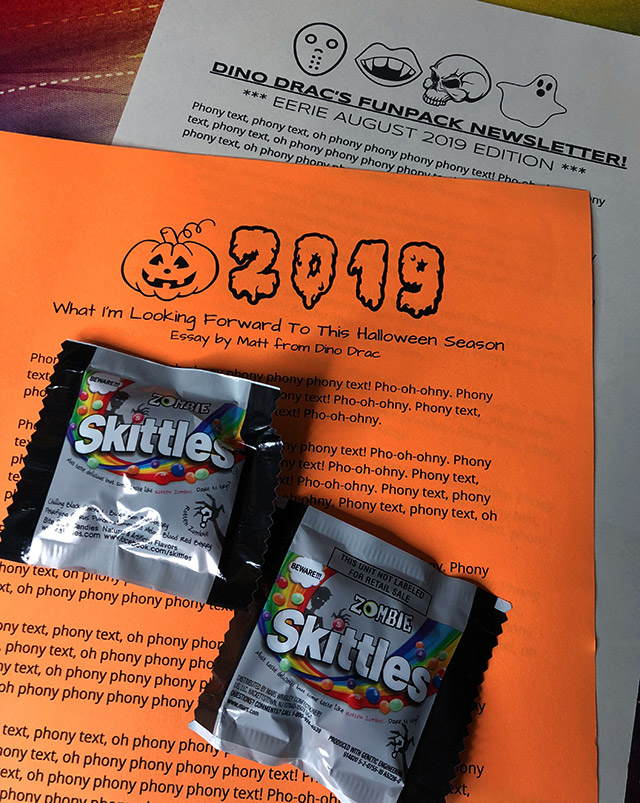 Rounding things out, you'll also receive this month's Funpack newsletter, plus an exclusive essay that will never be reprinted on the site. (This month's essay goes into detail about several specific things I'm looking forward to this season, from movies to soda and beyond!)
Oh, and what's that? Yep, you'll also receive two fun-sized packs of the brand new Zombie Skittles, so if you were driving yourself nuts trying to find those, cross 'em off your list. (Warning, though — there are actual "zombie-flavored" Skittles mixed into those bags, and everyone says that they're truly disgusting. What fun!)
Yep, you'll get everything mentioned above, for $25 shipped!
If you're already a Funpack subscriber and you'd like to stay that way… do nothing! You're all set!
If you want to subscribe, please read the following, and then click the button at the bottom of this page!
1. Funpacks are available in the United States only. Sorry!
2. Subscriptions are handled via Paypal. If you don't have an account, it's very easy to make one!
3. Funpacks will be shipped to the address listed on your Paypal account. If you need to change your shipping address, or if you'd like for your Funpacks to be shipped to someone else, simply email me!
4. You will be automatically billed $25 every month. (Yes, that price includes shipping.) If you subscribe today, you'll pay today, and then again in exactly one month. For as long as you remain subscribed, you'll keep getting Funpacks!
5. You can cancel at anytime. (You could subscribe today and cancel today!) If you cancel after you've already been charged for the following month's Funpack, you'll of course receive it just the same as any current subscriber would. (You can cancel via Paypal, or by emailing me.)
6. The August 2019 Funpacks will ship on or before Wednesday 8/21.
Remember, the Funpacks allow me to keep doing the site… thanks so much to all who help to keep it/me going!
To get your subscription started, click the button below!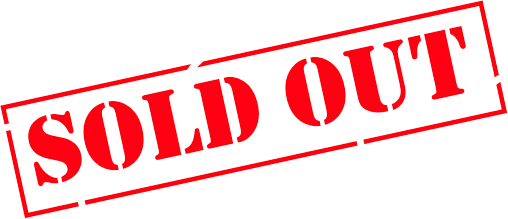 Subscriptions are now sold out, but you may be in luck! I should have a few Funpacks to sell on an individual basis once I complete my counts. If you're interested, please email me (I'm dinosaurdracula at gmail) and I'll get back to you ASAP. First come, first serve!