The time has come! Dino Drac's Eerie August Funpack is here, marking the first of three all-spooky Funpacks for the 2023 Halloween season!
Subscriptions are maxed out, but I have a fair number of spares that I can offer on an individual basis. I should warn you, the spooky Funpacks have *always* sold out fast, and I'm not expecting this one to be any different. If you're interested, the link is at the bottom of this post, and I'd advise acting fast!
Otherwise, keep reading to learn about everything in this month's box!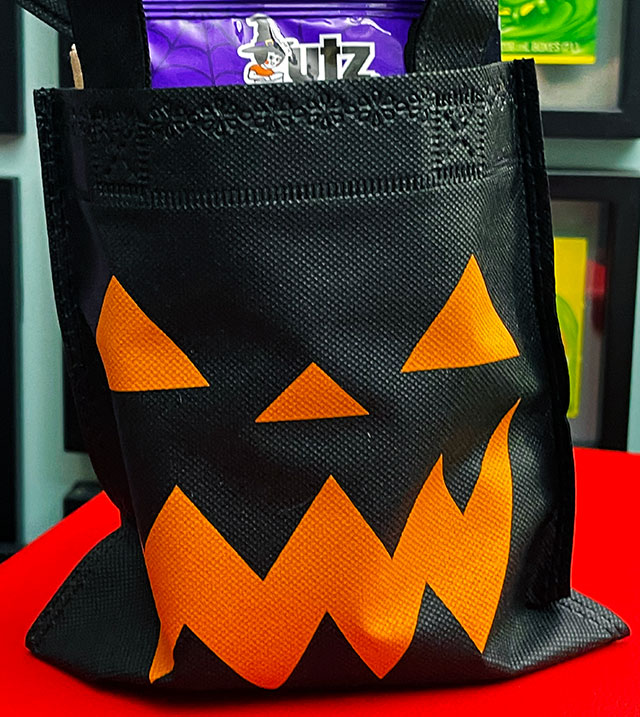 Forget about "easing into" Halloween! Nah, we're diving in headfirst. Every box will contain one of these swank fabric treat bags stuffed to the brim with haunted collectibles, spooky snacks and more!
(There are many styles of bags in the mix, in all different colors and with different designs. But they all contain the same stuff!)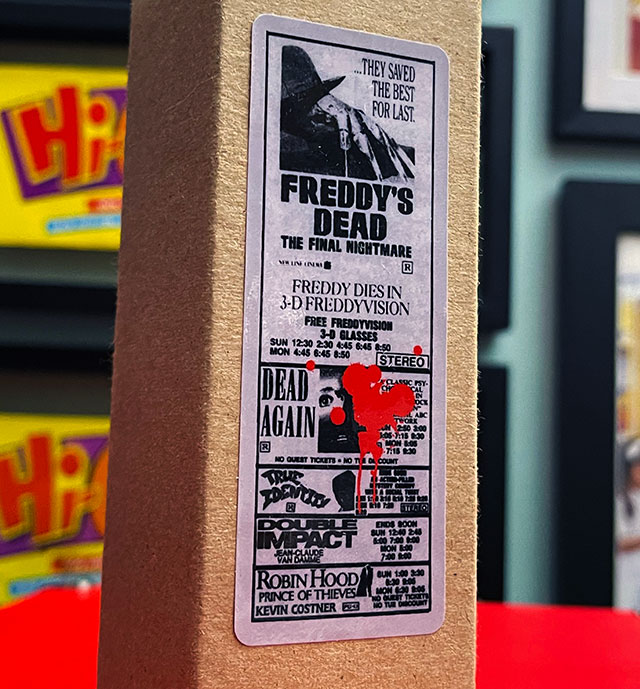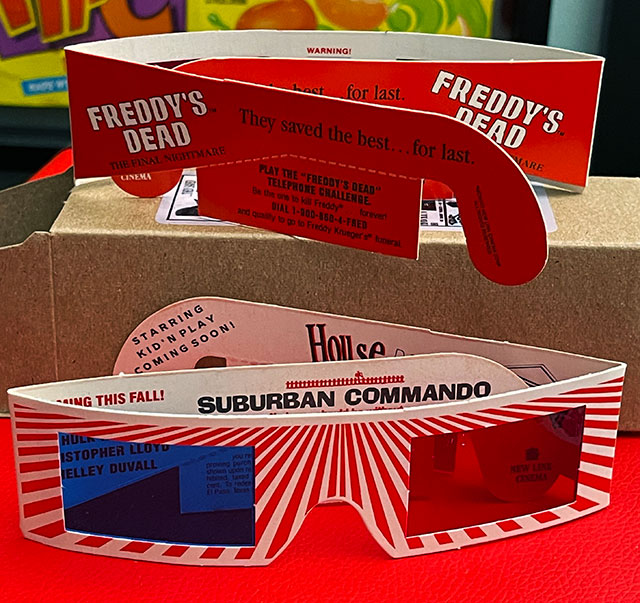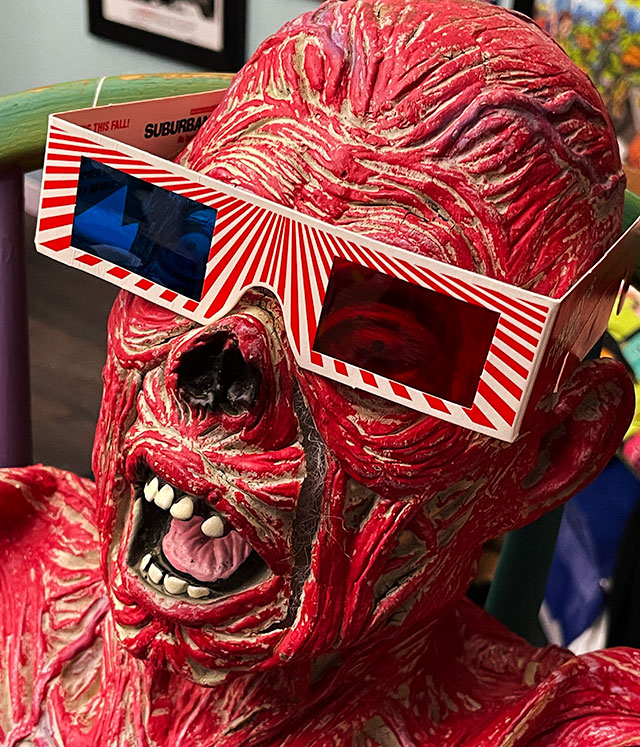 Leading the charge is this gorgeous thang. You'll each receive a PAIR of vintage Freddy's Dead 3D glasses, from 1991! Those of you who follow me on social media know that I lucked into a large collection of these glasses, which were distributed to theatergoers for the film. Some of you hoped they'd turn up in a Funpack. Well, here we are!
These glasses have NEVER BEEN WORN and are coming straight out of their old factory case. In fact, they were only ever *folded* prior to me packing the Funpacks. To that end, each pair has been safely tucked into a special cardboard box (complete with custom Freddy's Dead sticker) to protect them in transit!
These are the real deal THEATER VERSIONS of these glasses, complete with the old promo tabs attached. (Look for references to everything from Barq's Root Beer to Suburban Commando.) What a score, and remember, you're getting TWO!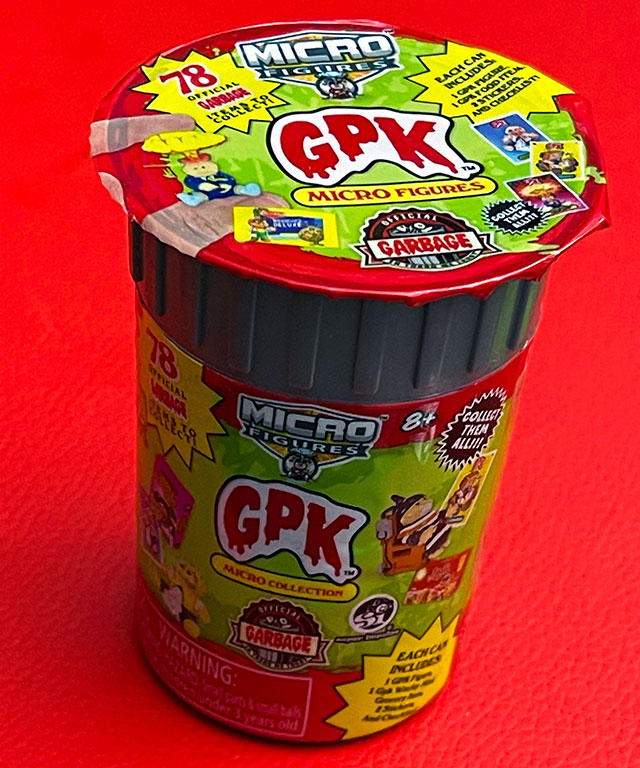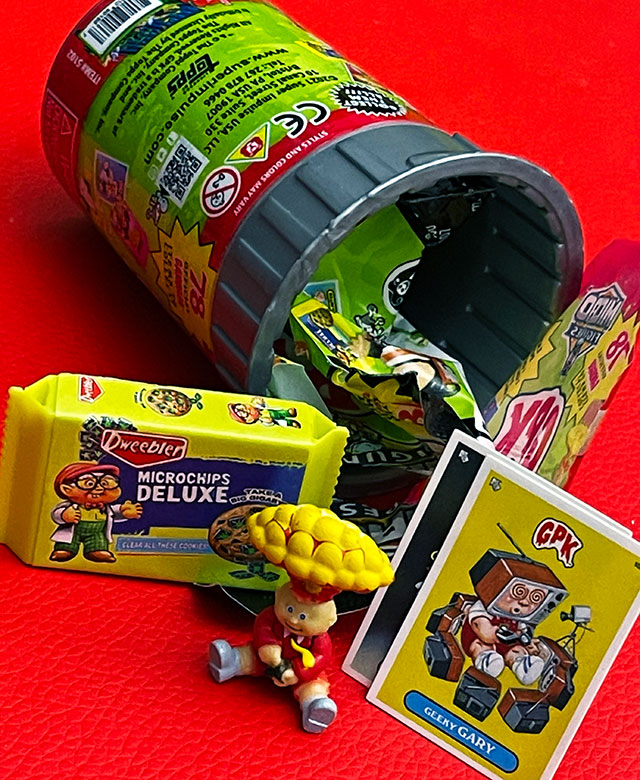 Next up is this awesome Garbage Pail Kids Micro Trash Can. These modern toys are a big blast of nostalgia for anyone who grew up collecting GPK cards, and are kind of like a Funpack within a Funpack.
Each can contains a GPK micro figure, 2 micro cards and 1 micro GPK grocery item. There are so many possible mixes of items, I have absolutely no clue what's in each! These are all coming straight out of their factory cases, too, so if there are any rare figures or cards in the mix, there's at least a chance that you'll land 'em!
Please note that the peel-away lid on these cans do tend to become slightly unsealed over time. At great expense, I've made sure that every can I've packed is 100% sealed. However, if they arrived just slightly unsealed, please roll with it as that's out of my control.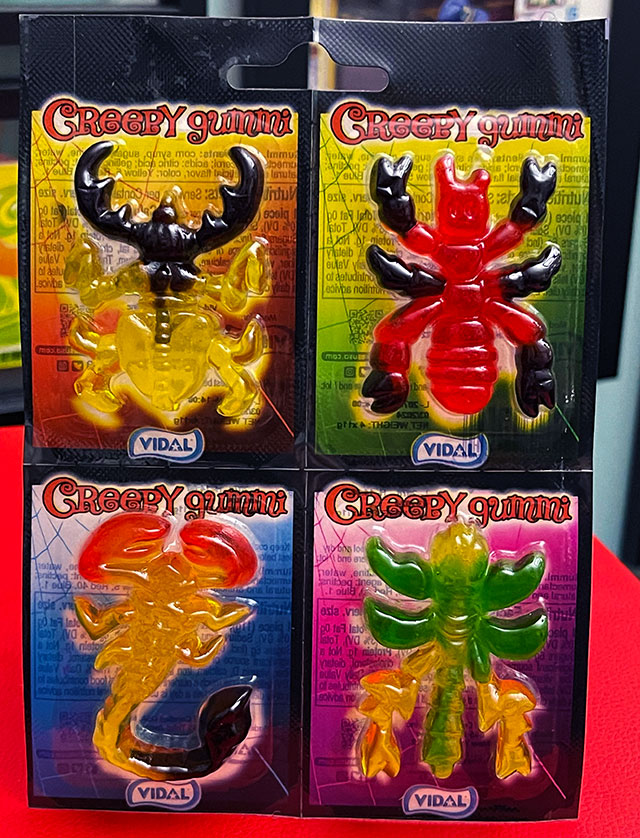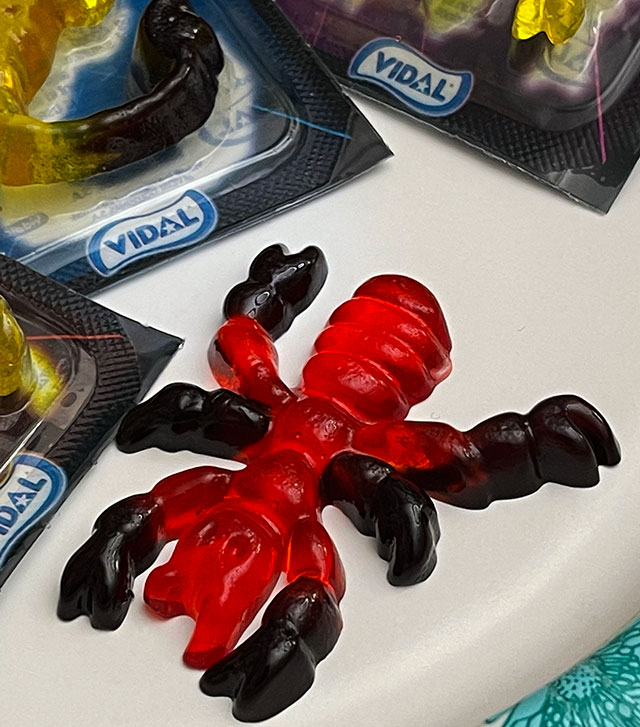 Next up is a four-pack of Vidal's Creepy Gummi candy, and guys, these are great. If they feel weirdly nostalgic to you, it's because they're very similar to those old school "Slime Slurps," right down to the same sort of packaging.
You'll each get a perforated pack including four individually-packaged gummi bugs. I can vouch for their deliciousness, because I cannot stop eating them. Actually, it's become such a problem that I'll be glad to finally have these things out of the house!
These are pretty hefty candies, too. If you eat all four, prepare to be full!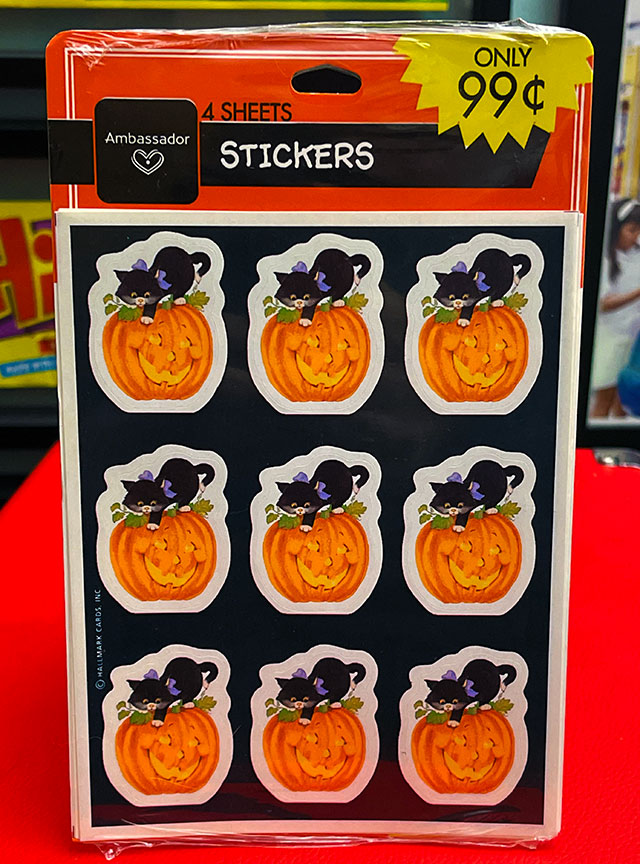 You'll also receive a sealed, vintage pack of Hallmark Halloween stickers, sold under their "Ambassador" moniker way back when. I don't have an exact date on these, but they're probably from the '80s and certainly from no later than the early '90s.
Each package contains four sheets, for a total of 36 adorable "cat on a pumpkin" stickers. Decorate your notebooks, letters, face, whatever. I'm a big believer in the power of stickers during the Halloween season, so I've little doubt that you'll find some use for these!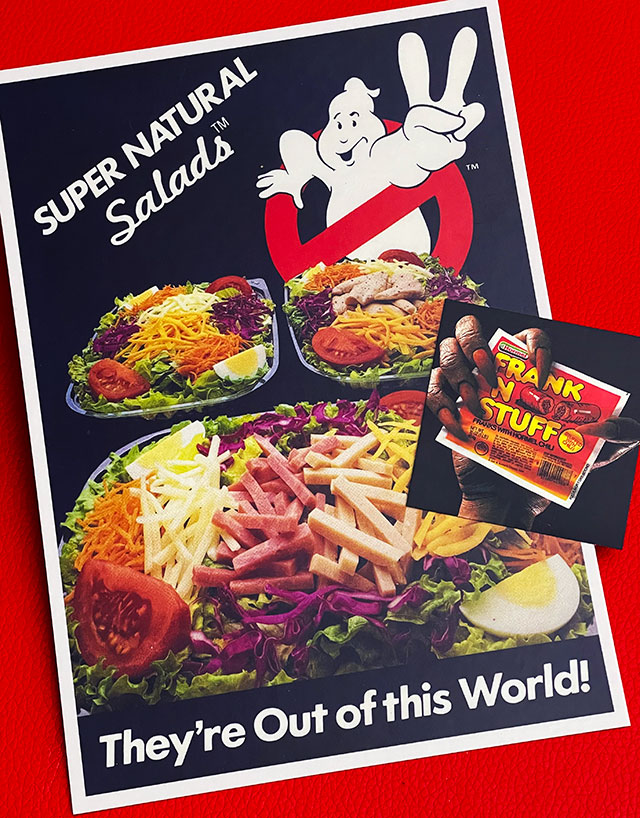 This month's 5×7" cardstock mini-poster is an absolute banger, and one of the best in Funpack history. Everyone remembers the big brouhaha at Hardee's for Ghostbusters II back in 1989, what with the noisemakers, Slimer Sundaes and thematic burger containers. But did you know that in at least one ad, they actually rebranded their SALADS to fit the theme?
In addition to this "Supernatural Salads" poster, you'll also receive a 2×2" sticker celebrating the world's spookiest hot dogs, Hormel's Frank 'n Stuff.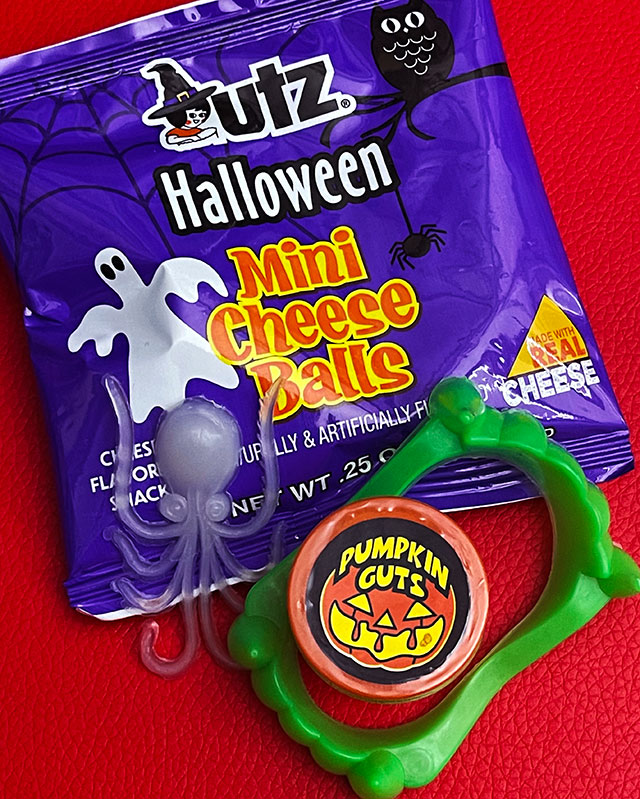 I'll also toss in some frightening filler, because this is a Halloween treat bag, after all. Mixes may vary, but you can expect a handful of nonsense like this. (And yes, you'll all get that cute little tub of "Pumpkin Guts" slime. Don't worry.)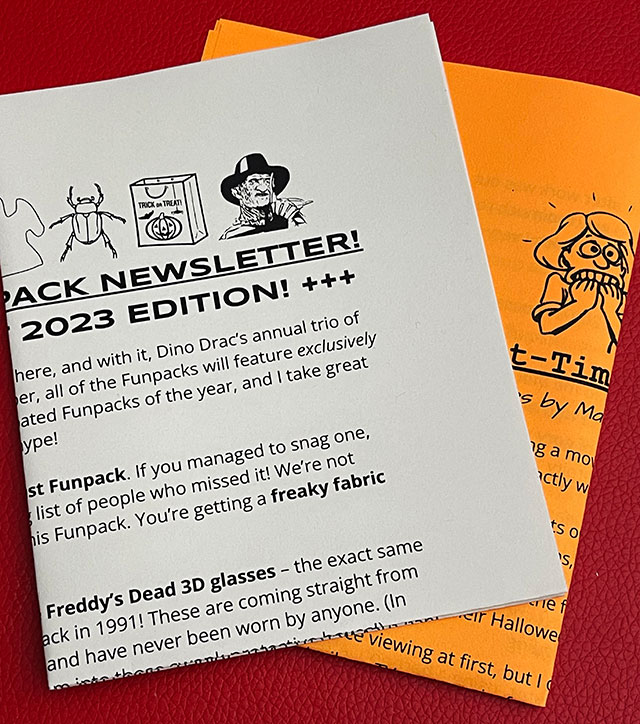 Rounding things out, you'll also receive this month's Funpack Newsletter, plus an exclusive essay that will never be reprinted on the site.
This month's essay goes into detail on how I first saw five different horror movies, from Dream Warriors to Arachnophobia. I hope it stirs up some memories for you, too!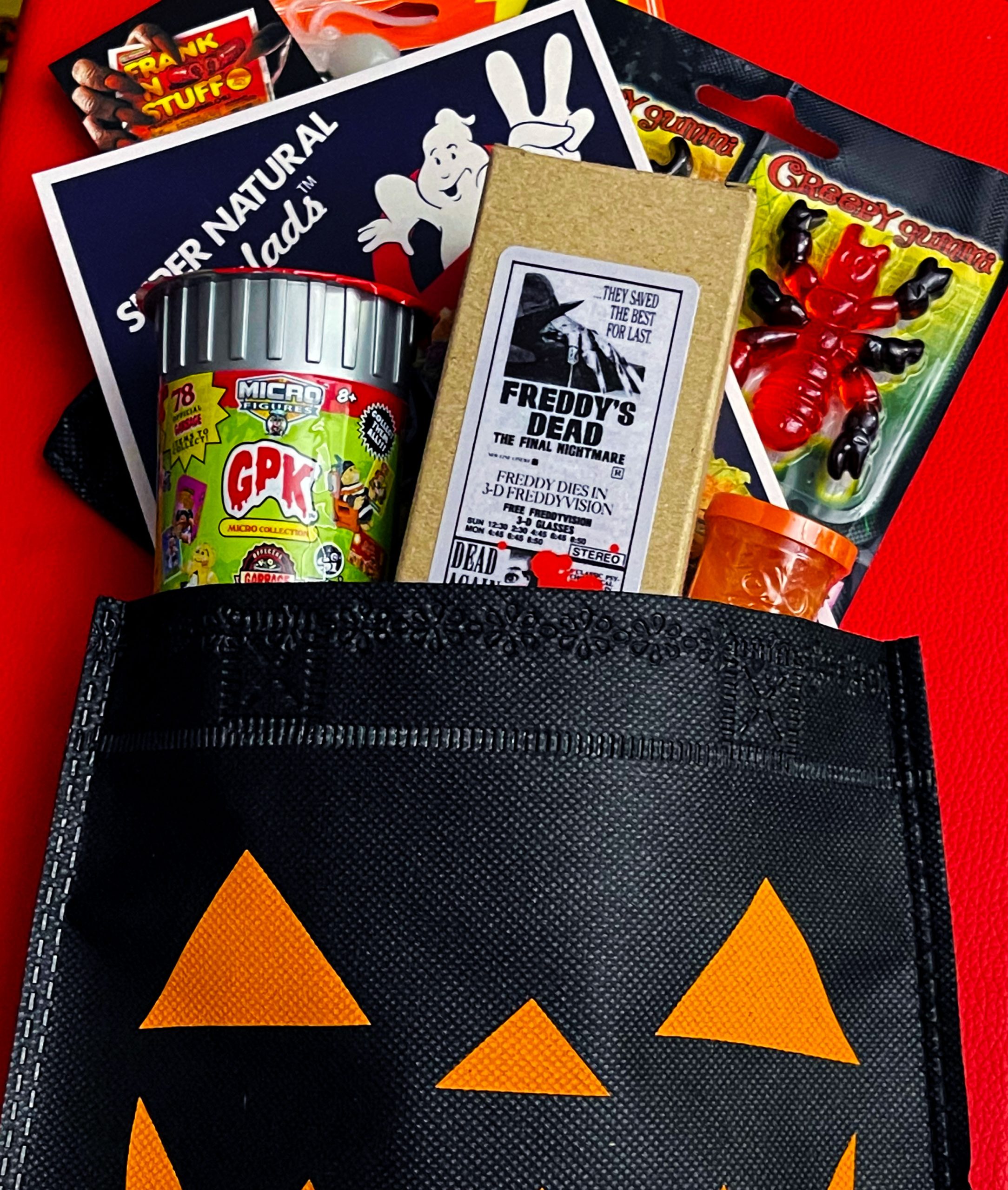 So yep, you'll get all of the above, crammed into an awesome reusable treat bag, and then packed into an extra-sturdy box, for $25 shipped!
United States ONLY, please!
If you're already a Funpack subscriber and you'd like to stay that way… do nothing, you're all set!
If you're not a subscriber, the good news is that you still have a chance to buy just this one Funpack. Click the button below to grab one. (I'll update this post if/when they sell out!)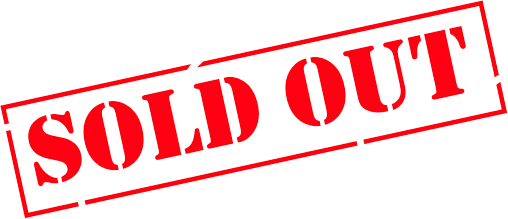 These are being shipped out immediately, so please be careful to include the right address! All of the Eerie August Funpacks will be out the door no later than Wednesday, August 23rd.
Thanks so much! Remember, this is just the first of *three* spooky Funpacks. I have such sights to show you!