It's here, it's here! The first of three Halloween-themed Funpacks for 2021! If you're already on the subscriber list, good job, because you're locked in for all of them!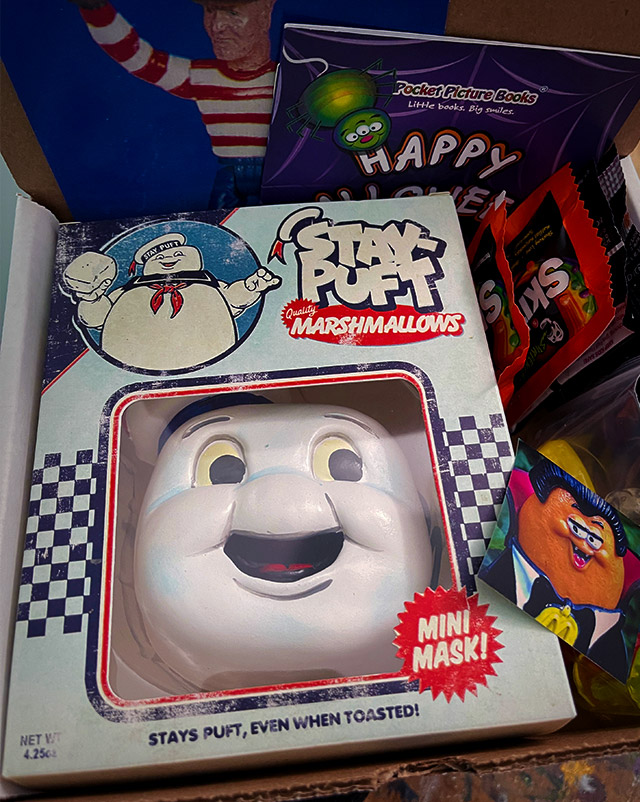 VERY LIMITED SUPPLY! U.S. ONLY!
The Eerie August Funpack mixes random spooky collectibles with one special knockout item, and I think you're gonna be thrilled with it. If any non-subscribers want in, I'll warn you that potential spares are going to be in short supply, and it's waitlist-only if you want one of them. Scroll to the bottom for more info, or keep reading to learn about everything in this month's box!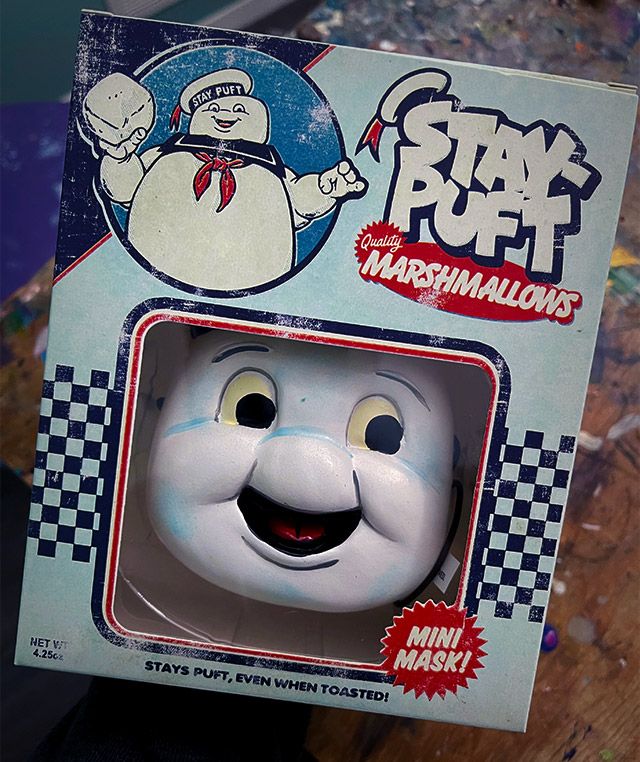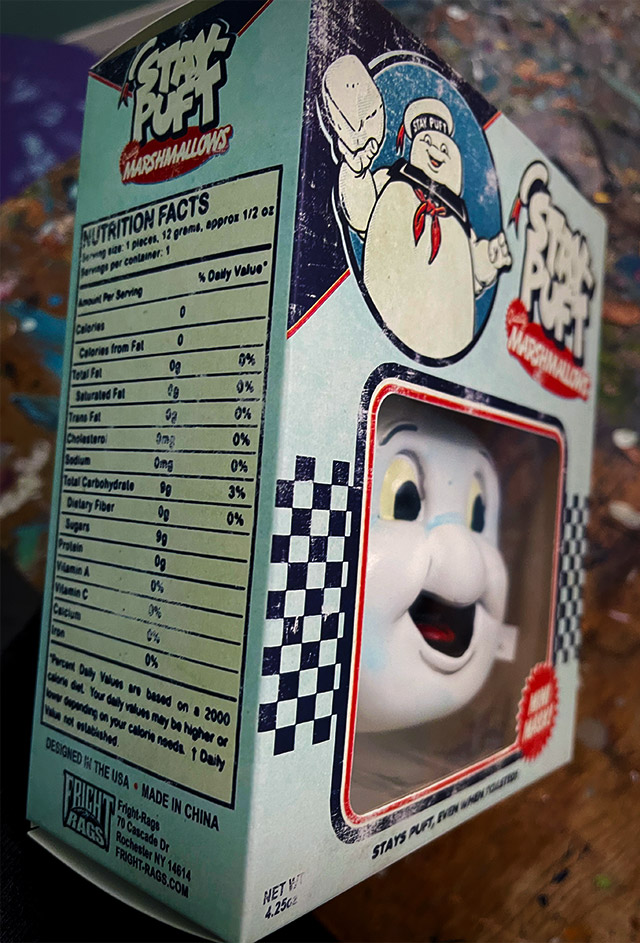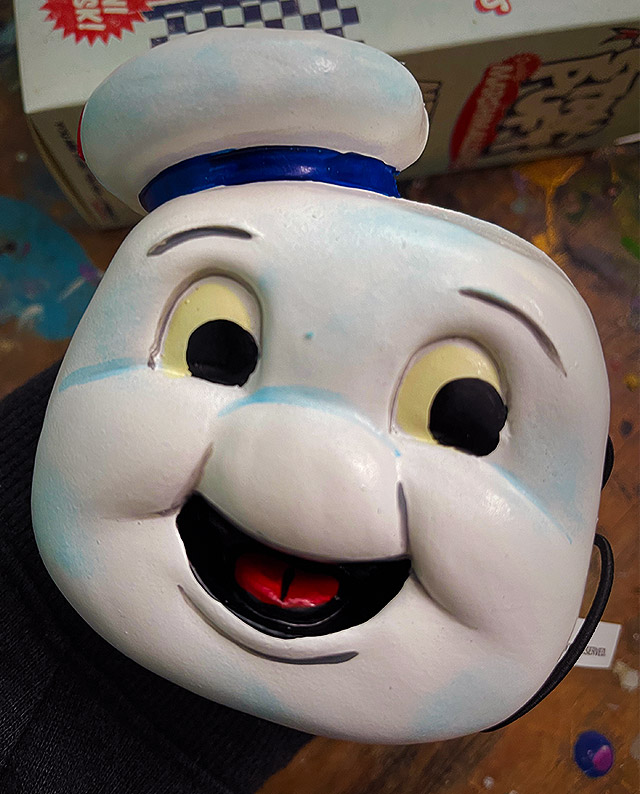 Oh boy, oh yes, this is happening! You will each receive this gorgeous Stay Puft Marshmallow Man Mini Mask, in an equally gorgeous window box, in case-fresh condition! These were produced exclusively by Fright-Rags several years ago, and have long been out of production. Save for any that turn up on the secondary market, they aren't sold anywhere else, and AFAIK, won't be again.
This six-inch mini mask originally retailed for $20 on its own! They won't fit your face, but they'll probably fit over your favorite plush doll's head. Course, you'll probably leave them in their pretty boxes. What an amazing collectible, and such a good decoration for the 2021 Halloween season! These mini masks are completely unused and untouched, and are being pulled straight from factory cases. HUGE thanks to Fright-Rags for working out this deal with me. I don't often get to include such hoity-toity items in my Funpacks, and man, if this one is anything, it's hoity-toity.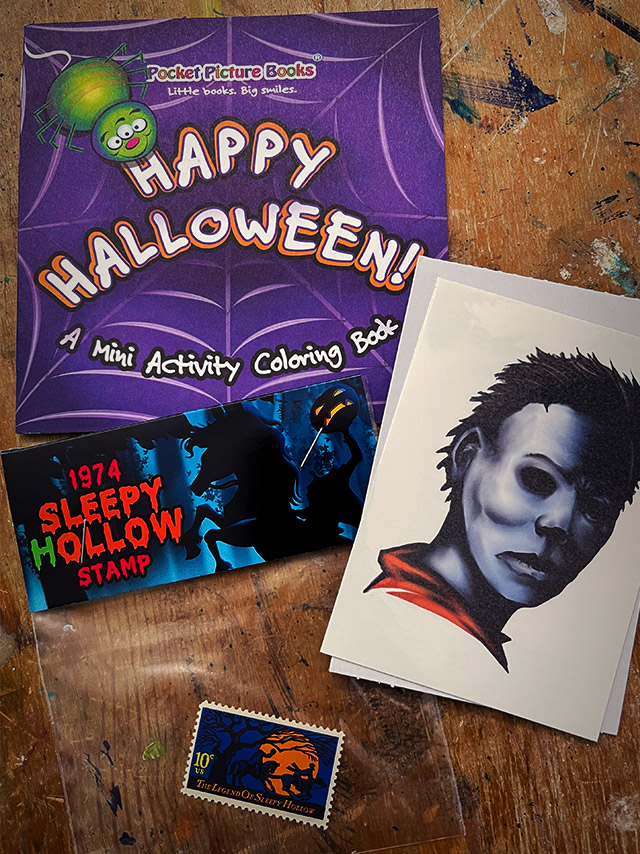 Next we have a pile of assorted spooky goodies, including…
– A 1974 Legend of Sleepy Hollow stamp, in custom Dino Drac packaging! Yep, the USPS issued HEADLESS HORSEMAN stamps back in the '70s! While you'll probably leave them in the custom package, I should note that these stamps are all unused and *are* still usable as regular stamps! (Course, their face value is just ten cents, so you'll have to pair it with another stamp.)
– One of those swank "Terror Tattoos" that were all the rage in vending machines during the mid 2000s. There are many styles available, from multiple sets, with characters ranging from Jason Voorhees to Chucky to, um, the Joker. You'll get one at random, still tucked in its cardboard vending sleeve!
– A Halloween mini activity book, which is just a few pages long, but they're especially cute pages. I've long considered the Halloween season a time for crayons, so I hope this book inspires you to break 'em out!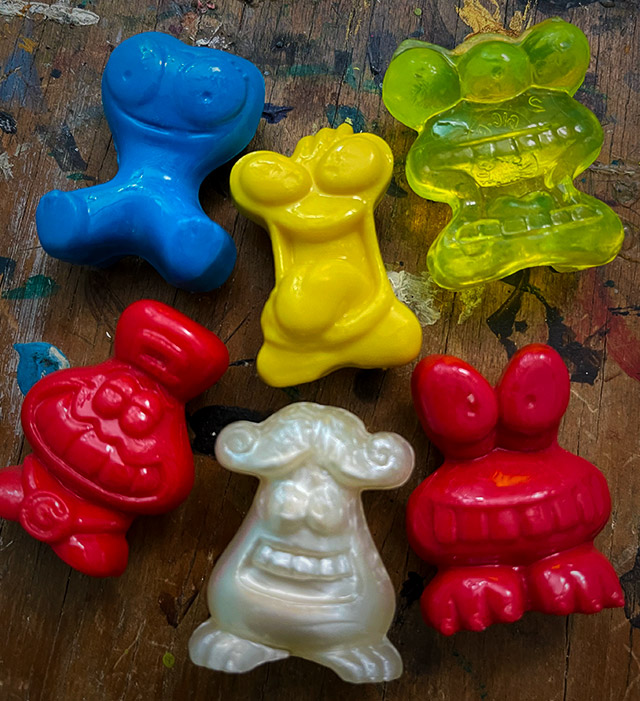 You'll also receive a baggie containing six vintage jumbo-sized Crazy Bones. These are much larger than the typical ones, and were only available in some obscure sub-set. You don't need to know much about Crazy Bones to appreciate these, as at heart, they're just a bunch of little plastic monsters that absolutely deserve prominence during the spooky season. Throw 'em on your Mood Table!
I'm doing my best to give everyone a great mix of colors and characters. Figures are approximately 1.5″ each.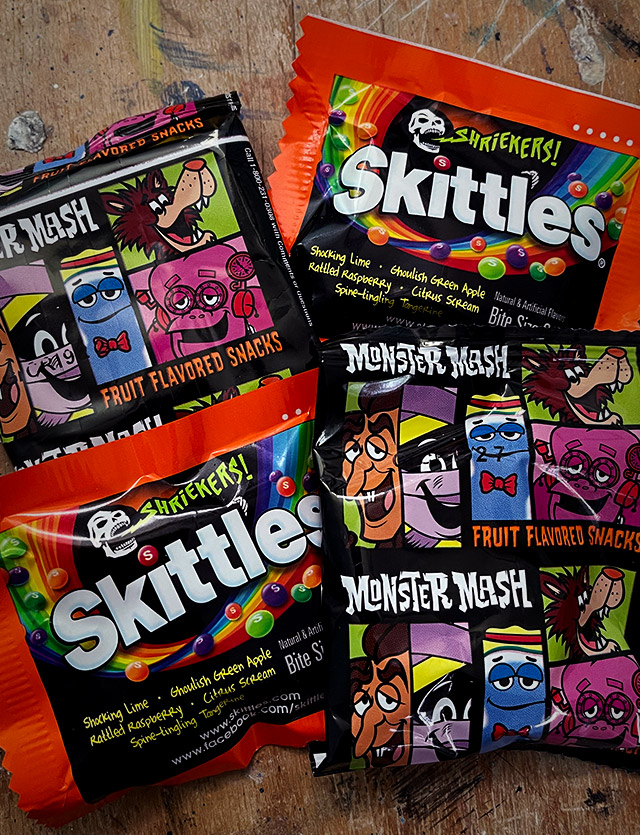 If you've had trouble tracking down this year's hottest new Halloween candies, here are two that you can cross off your list! Everyone will receive a pair of Skittles Shriekers packages, and a pair of the hard-to-find Monster Mash fruit snacks bags!
Skittles Shriekers are sour candies, with the gimmick being that some mystery pieces are super EXTRA sour. The Monster Mash fruit snacks include pieces for every single Monster Cereals character, and yes, that includes Fruit Brute and Fruity Yummy Mummy!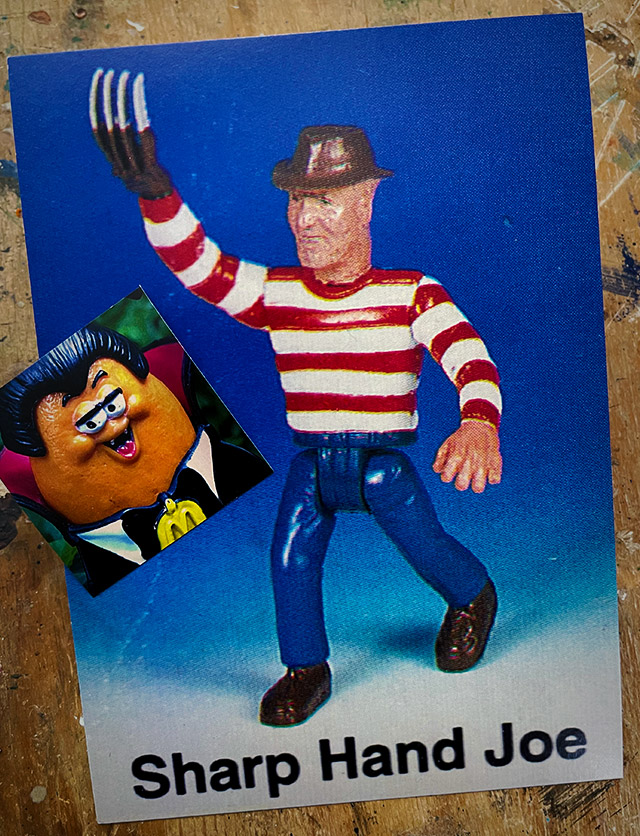 This month's exclusive Mini-Poster is sure to be a crowd-pleaser. Yep, it's the famously infamous Sharp Hand Joe! I recently purchased one of the rare packaged figures, and this image was made by scanning the back of it. It's a little fuzzy because the on-package image is so small, but I think that just adds to its charm. Poster is 5×7″ and printed on something resembling cardstock. (I usually mark the date on the Mini-Posters, but I decided to leave this one clean so it would be as close to the original packaging as possible.)
Oh, and I'll toss in that 2×2″ sticker of a Halloween McNugget, too. Please put it on your Trapper Keeper.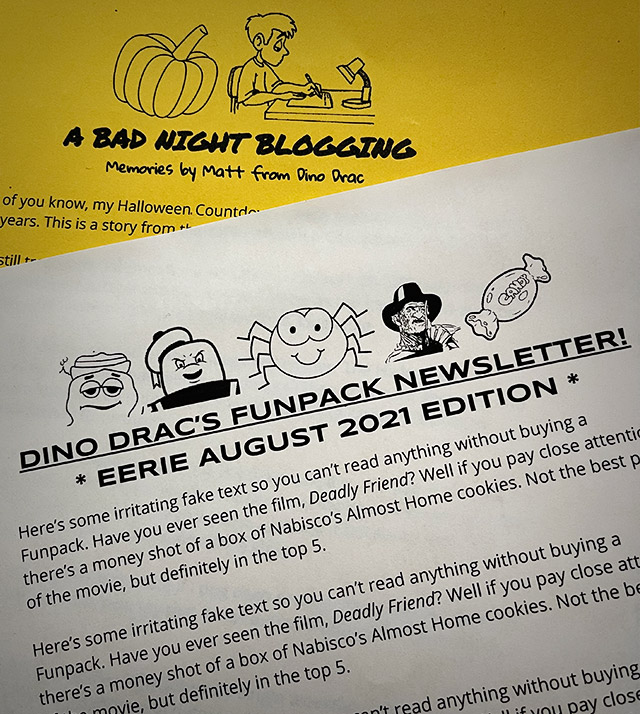 Rounding things out, you'll also receive this month's Funpack Newsletter, plus an exclusive essay that will never be reprinted on the site!
This month's essay is weird, but I really like the way it came out. It's about a "bad night blogging" during the 2009 Halloween Countdown, which actually predates Dinosaur Dracula. In it, I try to figure out why the lack of feedback on one lone dumb article got to me so much. Definitely pulling the curtain back a bit for this one!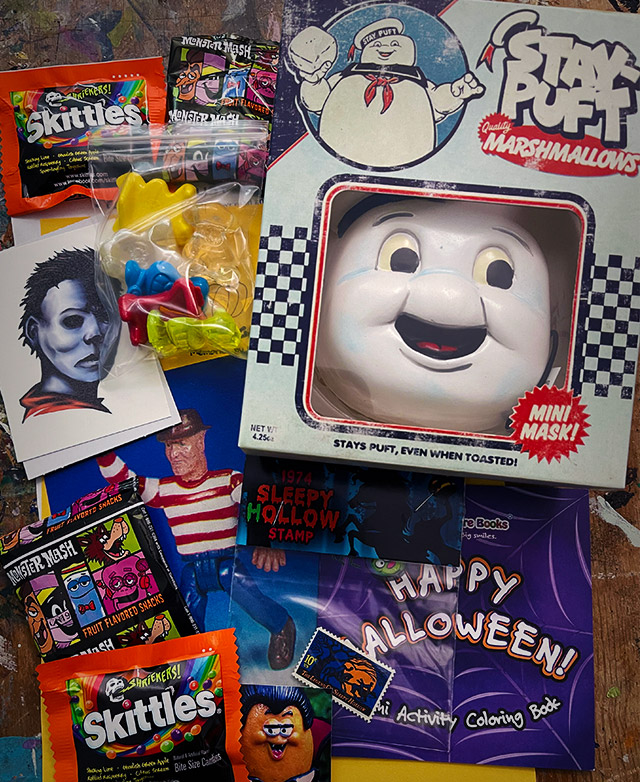 Okay, so you'll get everything above for $25 shipped!
Here's the deal:
If you're already a subscriber, do nothing, you're all set!
If you're NOT a subscriber, I may have some spares leftover after I do my final counts. There won't be many, but there should be a few. To get on the waitlist, email me. (dinosaurdracula on gmail) If there are any left when I'm done with the initial packing, I'll reach out!
The Eerie August Funpacks will ship on or before Monday, August 23. (Most likely before, but just wanted to manage expectations!)
Thank you!!