Welcome to Dino Drac's Daily Holiday Diary! Check back for teensy little updates every day between now and Christmas!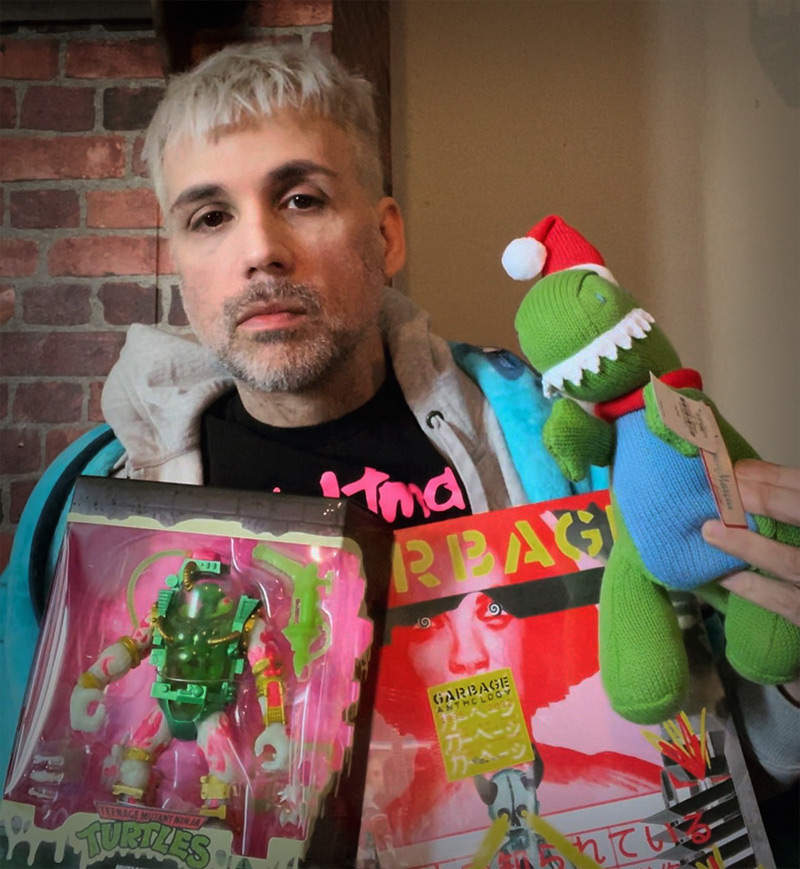 Sunday, December 25th:
Merry Christmas! I just woke up from a food coma. As most of you know, Xmas Eve is the big one in my family, and Christmas Day is very low-key. I love it that way, actually. Gives me a chance to sit, settle and really feel the season in its final moments.
I didn't have time to do more than a token entry yesterday, but yes, it was the usual insane Christmas Eve party. This one was long even by our standards, beginning at 5PM and going past 1AM. And yet it only felt half that long, because between the seventeen courses, the white elephant swap, a few heated rounds of Left-Right-Center and the rush to be the first one to grab coffee from that 46-cup brewer that takes forever to finish, there was never any downtime.
I had fun, and I scored some nice presents, too. Some of them are pictured above, including the Garbage Anthology and Neiman Marcus's bootleg Dinosaur Dracula Xmas doll. And Mutagen Man, tho I admit that I bought that one for myself.
Today was spent lazily. I watched some of the Christmas Story marathon, lounged with the cats and drank nearly an entire 12-pack of Zero Sugar Peach Snapple. As I understand it, that's how the first Christmas was celebrated, anyway.
It's been a season of quiet ups and downs, but it ended on a high, like it usually does. I hope you all had a nice Christmas, or just a nice Sunday, depending on where you land. Also hope you've enjoyed Dino Drac's Daily Holiday Diary, which I admit wasn't meant to be a swing for the fences, but rather just a pleasant little holiday "extra" for y'all. (I do really like this format though, so you haven't seen the last of it!)
We're now entering that weird week between Christmas and New Year's, but I think the calendar is on everyone's side. Many people have off tomorrow, and then again the following Monday for New Year's. I assume that a fair portion of you are grabbing next Friday, too. That's ample time to work some figurative chilling in with all of the literal chilling. (Seriously guys, it's f'n cold outside.)
For the last time this year: Merry Christmas! Feel free to share stories about how your weekend went, in the comments. Now if you'll excuse me, I'm gonna go chug caffeine and see if I remembered to buy Jello cups. Much love and well-wishes to you all!
PS: Would it be incredibly inappropriate to watch Deadly Friend tonight? I'm really in the mood for it.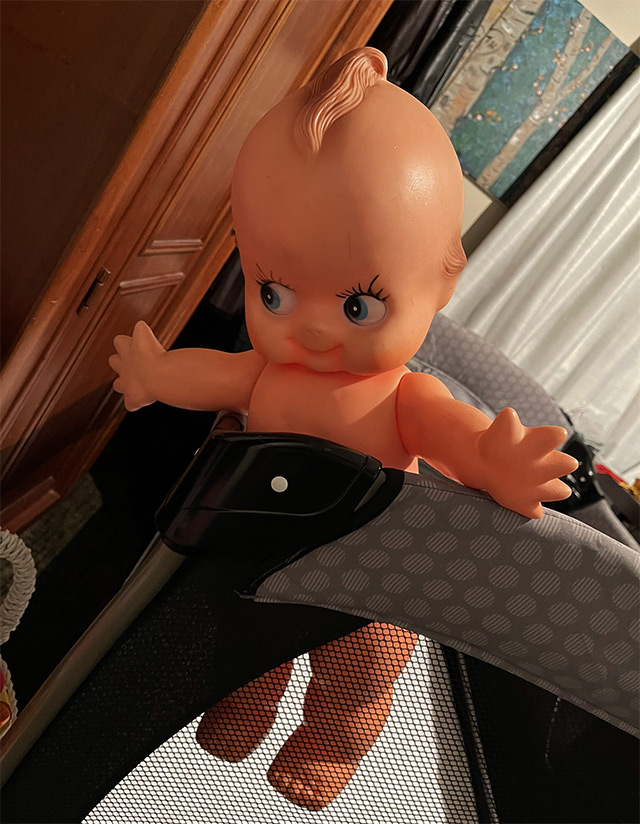 Saturday, December 24th:
Merry Christmas Eve! I'm still at the party so I only have a moment, but I just wanted to share than during our annual white elephant gift swap, I ended up with this giant, frightening baby doll. It's from, I dunno, 1963 or something. No clue how that ended up in a pile of sushi kits and quesadilla makers, but I knew I had to have it.
I'll have a longer update to wrap up the season tomorrow, but for now, just wanted to say that I love y'all and I hope you're having a nice holiday. 🙂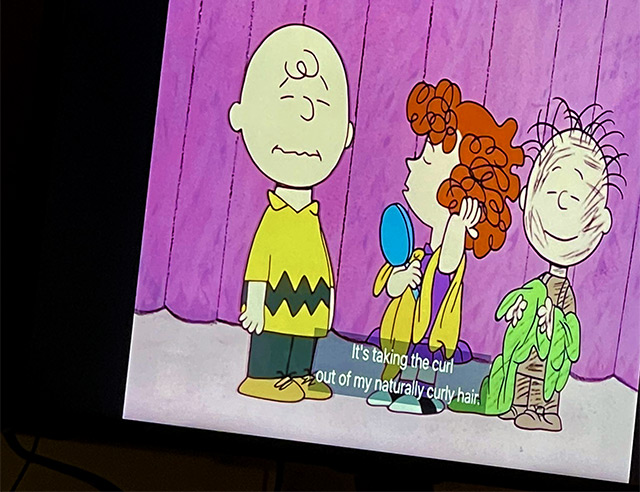 Friday, December 23rd:
Just got back from an impromptu family get-together, since a few relatives came into town early to beat the winter storms. It ended up being a really nice night. Like a teensy tiny Christmas.
We played Uno, and only narrowly made it out of three games without killing each other. Seriously, Uno was made for enemies, not friends, but it was still a blast… mainly because I won the first game.
Then it was time to flip through a bazillion streaming networks to find Christmassy things to watch. Now keep in mind, I don't have a "hey let's all sit on the couch and watch something" kind of family. I haven't since I was a kid. So this was a rare kind of bonding.
We started with A Charlie Brown Christmas. I managed to sneak one pic of the television before my phone died, womp womp.
After that, we watched the last half of National Lampoon's Christmas Vacation. Man, I'm so used to watching that when I'm alone and half-asleep that I'd forgotten what a truly funny movie it is. We were cracking up every other minute… probably because the chaos reminded us of our own Christmases.
It was an unexpectedly nice Christmas Eve Eve, in a season that I'd mostly written off as a wash. It's extremely cold and tomorrow is supposed to be even colder, but after so many unseasonably warm Christmases over these last several years, I'm not mad about it.
I can't believe that Christmas Eve is tomorrow. Actually, Christmas Eve technically starts in like an hour. It's been a whirlwind season that feels like it lasted ten seconds, but even on an off year, there's always something magical about the finale. I hope you all have a great holiday weekend!
PS: Yes, I will still be updating the diary through Christmas, so check back tomorrow and the next day!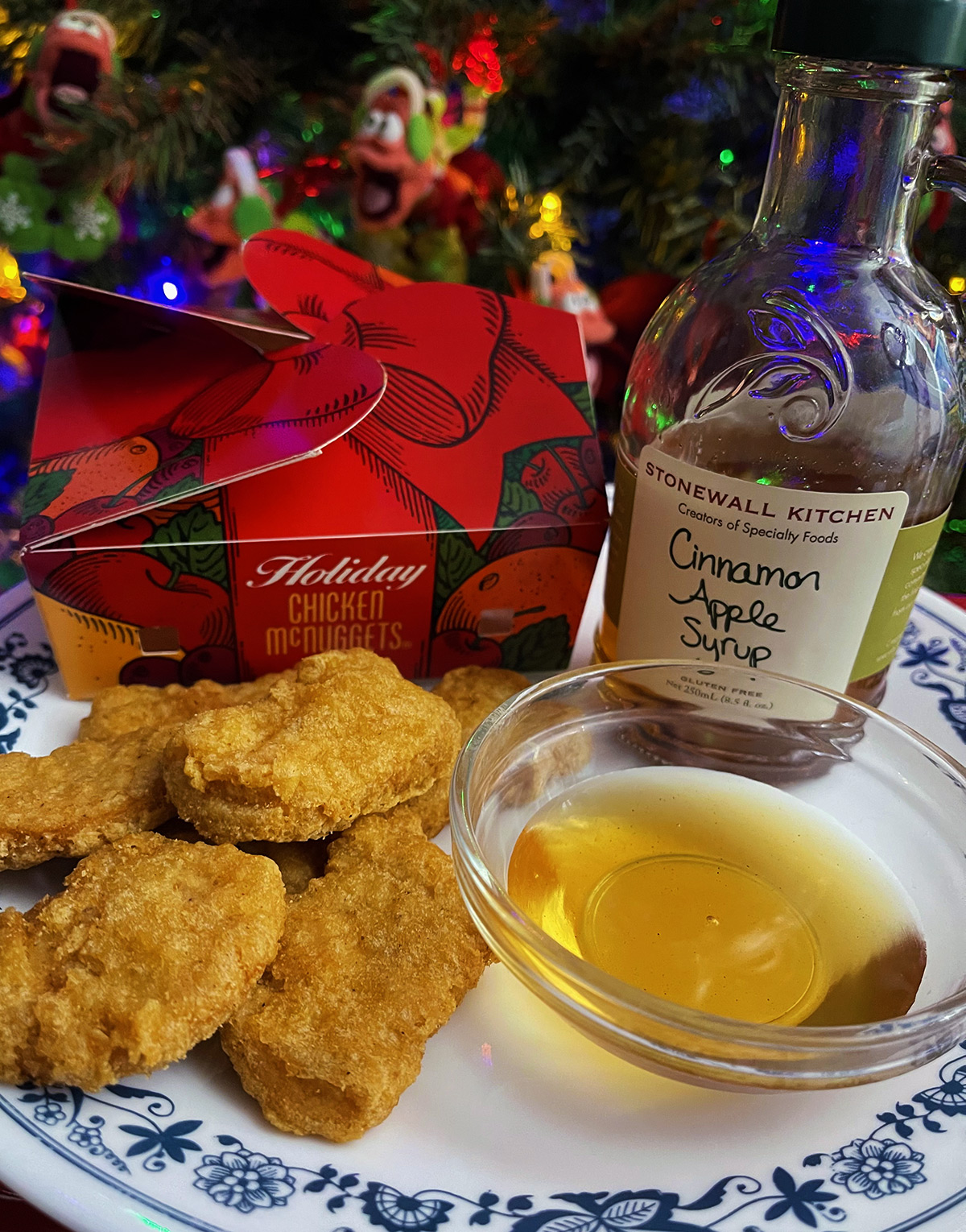 Thursday, December 22nd:
If you listened to the latest episode of the podcast, you heard us talk about McDonald's apple cinnamon dipping sauce, which was introduced with Holiday Chicken McNuggets in 1987, and then brought back in 1998 as part of – of all things — a promotion for A Bug's Life.
I just needed to reiterate a point I made. Stonewall Kitchen's Cinnamon Apple Syrup is impossibly close to that old McDonald's sauce. If it was just a teensy tiny bit thicker, I'd call it exact. Even as-is, it works insanely well with Chicken McNuggets, so if you're looking for a way to make fast food more festive, go see if you can find a bottle.
(I mean, you can buy it online, but it'll never get here before Christmas. Maybe Macy's has it in that weird side room with all of the wooden salad bowls, I don't know.)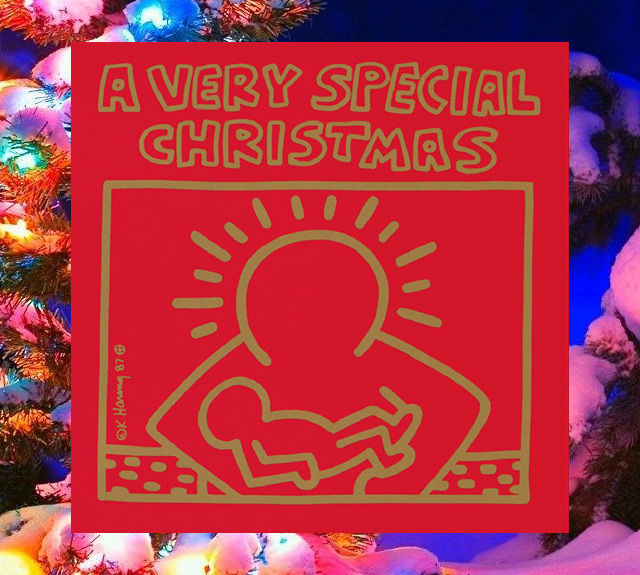 Wednesday, December 21st:
Quick shoutout to A Very Special Christmas, one of my all-time favorite albums. Many of the best holiday songs ever live on this compilation, from the Eurythmics' Winter Wonderland to Run-D.M.C.'s Christmas in Hollis. It's just fantastic from start to finish.
Aside from that, I have mad nostalgia for the album simply because EVERYBODY HAD IT in 1987. Everybody! I wasn't even really listening to music at that point – unless you count the Star Wars score – and even *I* noticed.
It wasn't until my nostalgia blogging years when I started going through old VHS tapes that I realized just how big A Very Special Christmas was. With so many stars and so many songs, this thing was all over television during the '87 holiday season. It was huge!
Tuesday, December 20th:
I only have a minute because we're finalizing the next podcast (which needs to get here before Santa does), so I'm gonna leave the heavy lifting to Alpha 5.
Chillax with Alpha's Magical Christmas, a completely bizarre direct-to-video special from 1994, which features very little of the Power Rangers but a metric fuckton of Alpha 5.
Watch with wonder (and confusion) as he leads children through various carols, and try not to get too freaked out over the weird dimensional portal he shoves 'em through in the final minutes.
I can't call it "good," exactly, but as a fan of all things strange, I still love this.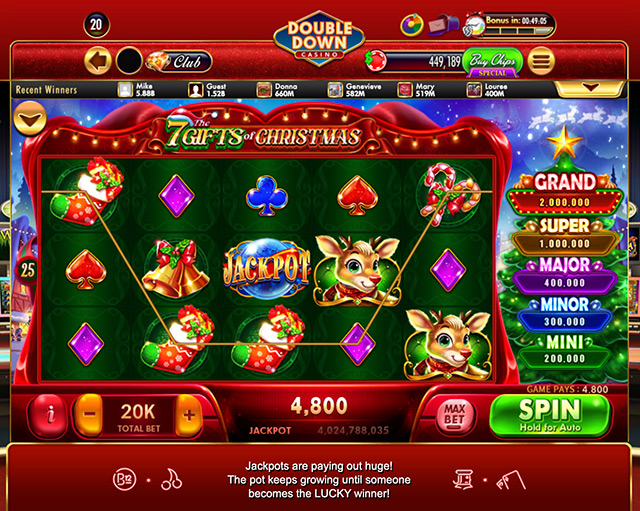 Monday, December 19th:
Yeah, I'm the dummy who still plays slot games on Facebook. Everyone else stopped like ten years ago. Old habits die hard, and besides, it comes in handy when I need to turn my brain off.
I forget about these games for long stretches of time, but I always come back to them during the holidays, when the various apps decorate for Christmas. Sometimes they even bust out Santa-themed slots, like the one shown above.
I have to keep playing until I hit the bonus round, because that's the only way to get the animation of Santa dancing with sunglasses on. I'm sure you understand.