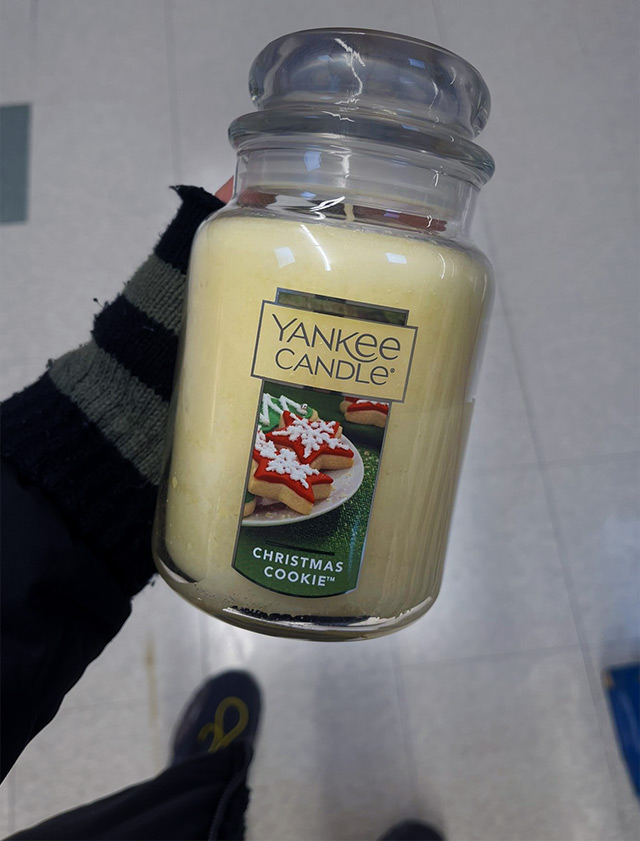 Tuesday, December 6th:
I found it. The special ingredient that's been missing from my Christmas season. THAT CANDLE!
Picked this baby up while out grocery shopping, because apparently you can buy Yankee Candles in the string cheese aisle now. It was way too much money for what's assuredly an old overstocked candle, but whatever, it smells fantastic.
It lives up to its "Christmas Cookie" title, but it more specifically smells like a tub of Pillsbury cake frosting. I adore it. I love Christmas candles, but they're way spottier than the Halloween ones, with many of them being too soapy or pungent. This one is just right.
It's the greatest thing I could've found today, because between podcast prep and Funpack prep, I'm basically going to be living in my little office for the next week. At least it'll smell like cookies in there, now.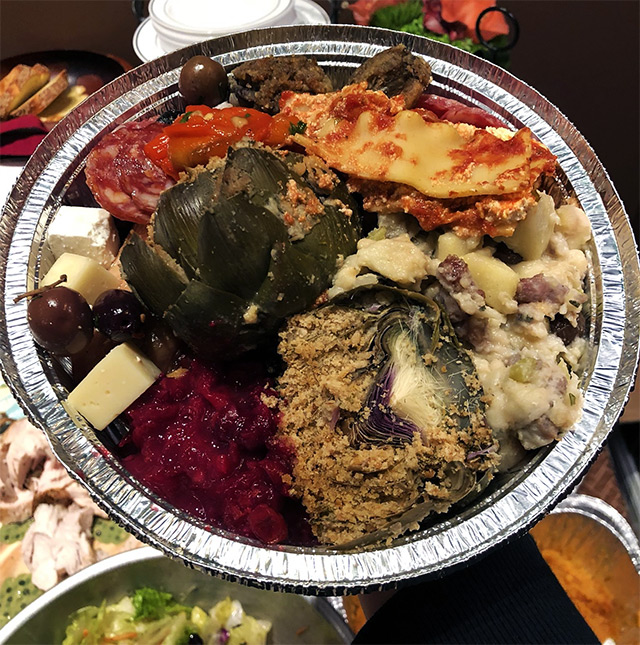 Monday, December 5th:
By now you might be counting down to Christmas, but real ones are counting down to Christmas leftovers. It's the secret weapon in combating the post-holiday blues.
I took the above photo after Thanksgiving a few years back, so while the foods will be a little different at Christmas, the idea is the same. Our parties always involve way too much food, so it's become customary for everyone to stuff take-home tins with as much as they can reasonably carry.
There's a certain art to it. It's like filling your plate at a Chinese buffet, but way grosser.
The next day, I like to eat the cold leftovers straight out of the tin. Just me, the couch, the cats, and a big foil box full of cold ricotta, hard bread and yesterday's olives. It's great. Might be my favorite part of Christmas.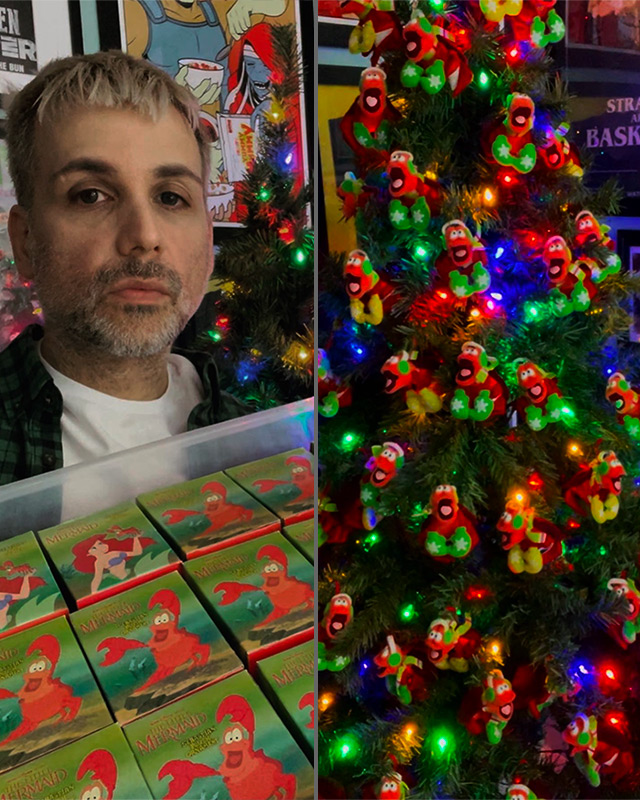 Sunday, December 4th:
This year's bizarre Christmas experiment involved gathering 50 (!!!) Sebastian ornaments from McDonald's 1989 Little Mermaid promotion, and decorating my tree with nothing but those.
I'm not sure I'm gonna let it ride (I actually like the tree bare), but for the moment, it's pretty interesting to have 50 (!!!) wide-eyed crustaceans staring at me.
I like to think of it as Sebastian's family reunion. Fifty crabs laughing and hugging at their big holiday shindig. Course, the further I take that thought, the less inclined I am to remove the ornaments. How could I break them up now?
Saturday, December 3rd:
Here's NBC's Sunday Night Movie intro to Batman Returns, which remains my favorite Batman-related thing ever. (And yes, it 100% counts as a Christmas movie.)
This broadcast is from February of '95, which was the film's network television premiere. Network premieres were still huge events back then, so despite already owning Batman Returns on VHS, I absolutely watched along that night.
It's funny. While both Batman '89 and Batman Forever feel like products of their respective times, Batman Returns doesn't. It's an impossibly unique film that logically shouldn't exist in the form that it does, but don't count that as me complaining, because I ain't. It's beautiful, it's weird, and it's still the best.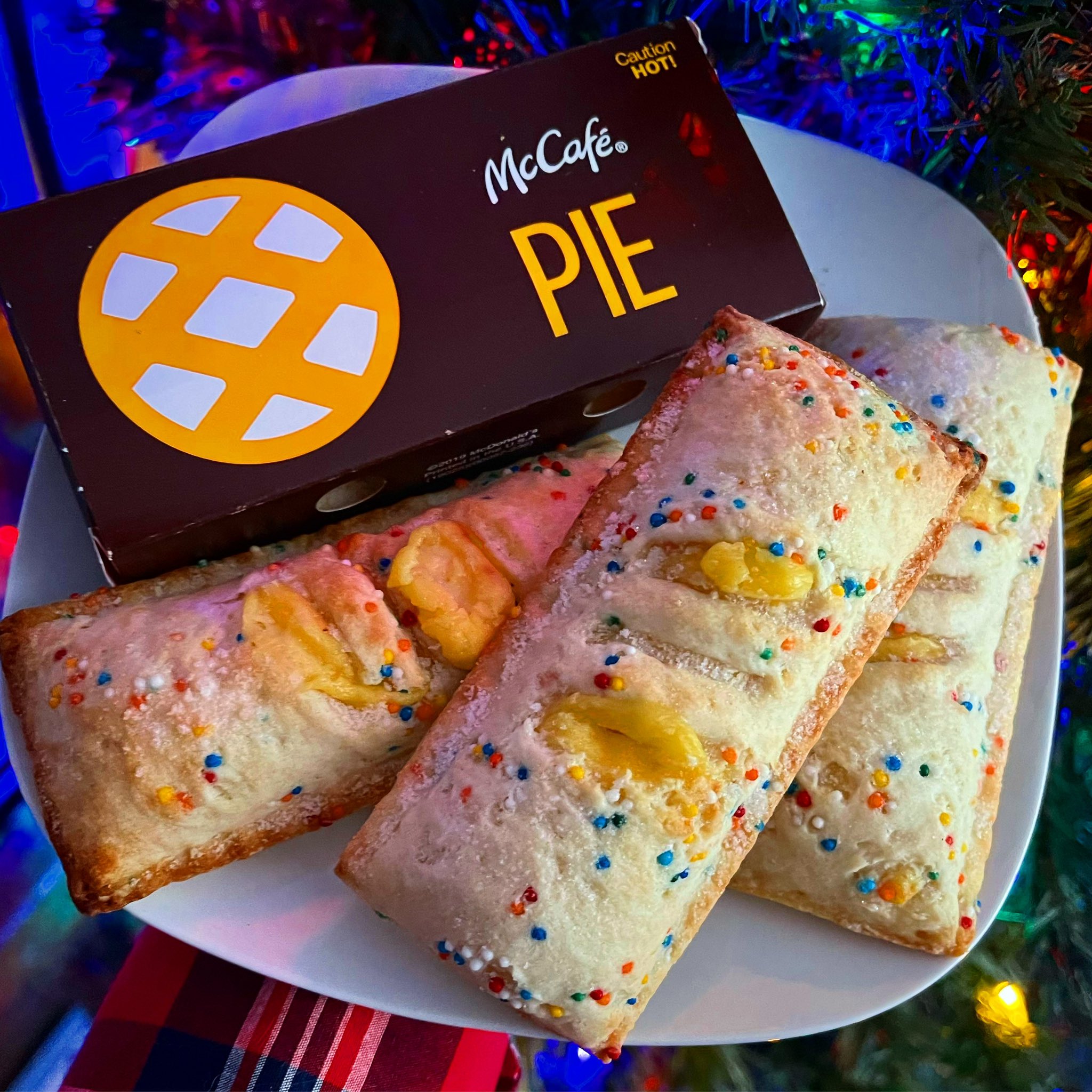 Friday, December 2nd:
The Holiday Pie is back at McDonald's! Warm vanilla custard in a sugar-glazed pastry, topped with rainbow sprinkles. It's sugary as hell, and not completely unlike a Hostess Ninja Turtles Pudding Pie.
The rollout on these is spotty. My advice is to use the McD's app to toggle through nearby locations until you find one that has 'em. That's what I did last night, leading to a longish drive to a Strip Mall Mickey D's that I hadn't previously visited since they still had lacquered Fry Guy statues attached to the walls.
They must've just baked a batch before I got there, because the telltale stink of Holiday Pies smacked me as soon as I walked inside. The pies are sickly sweet in a mostly-great way, but it's really the scent that puts them over the top.
I'm now very interested in buying three dozen Holiday Pies to drag to my family's Christmas Eve party. Nobody will eat them, but they'll still make the place smell like the Main Street Bakery in Disney World. That's worth 20 bucks.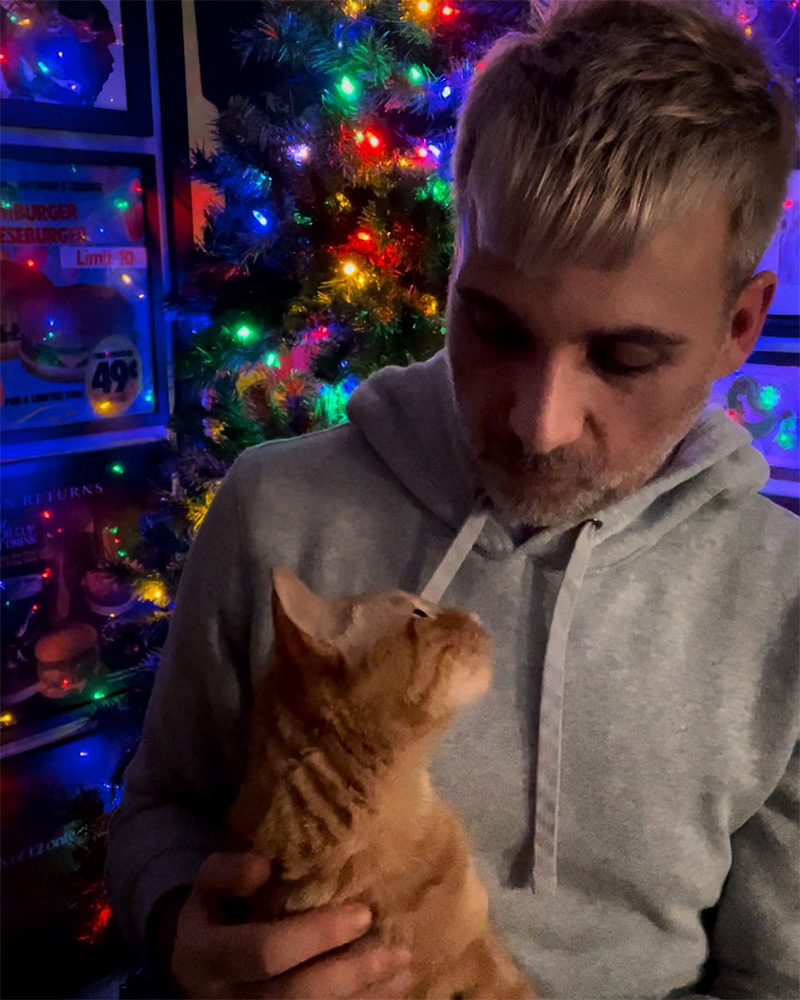 Thursday, December 1st:
Surprise! After a mostly-dead November, you probably thought I'd tossed the idea to do a Christmas version of Dino Drac's Daily Halloween Thing. In truth, I almost did. It's been a nutty few months with a thousand things in flux. Still, I knew I'd be mad at myself if I didn't do something, so here I am, with absolutely no fanfare!
The idea is to add one small holiday-related thing every day between now and Xmas. This will all be super laid-back and chill, so imagine me writing these entries in pajamas with one hand in a bag of Doritos. I won't be plugging the Daily Holiday Diary often on social media, so it'll be on you to check back for updates!
(And let's use the comments section as a General Holiday Thread, too. Whether you've eaten some new holiday junk food or had a weird run-in with a Mall Santa, feel free to share those stories, all month long.)
Keeping it simple for today's entry, here's me and Halloween the Cat, in front of our Christmas tree. It's one of those inexpensive pre-lit trees that take two minutes to assemble and only look real from a mile away, but I like it. (And I love the way the light bounces off my frames!)
PS: In case you didn't notice, Dino Drac's Christmas Jukebox has been reactivated for the season.