The first Funpack of 2023 is here, along with one of my all-time favorite inclusions. We're starting the year off strong and salty.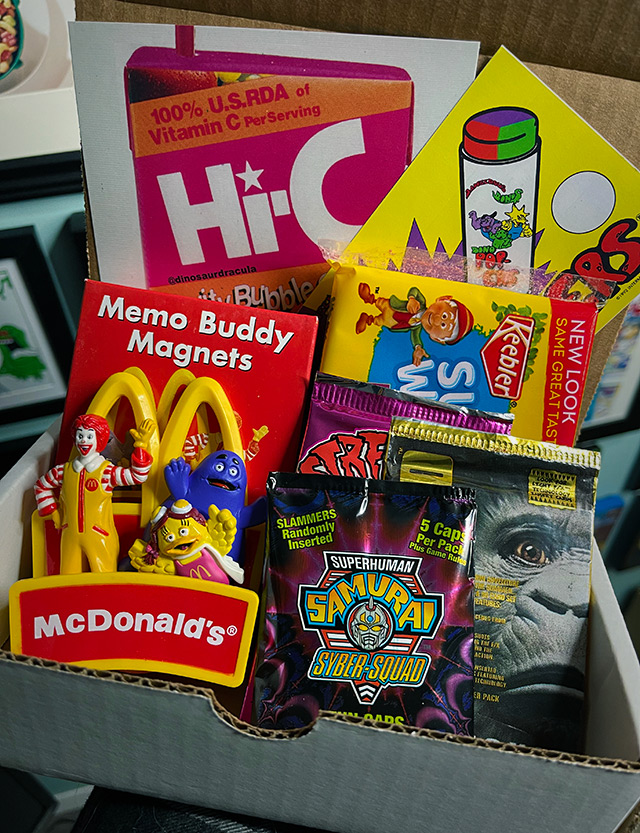 Dino Drac's January 2023 Funpack has everything from McDonald's magnets to Congo trading cards, and it can be yours for $25, shipped anywhere in the United States.
Monthly subscriptions are currently maxed out, but I have a solid amount of spares for the January box that I can sell on an individual basis. Once these are gone, they're gone forever! Jump to the bottom for ordering info, or keep reading to learn about everything in this month's box!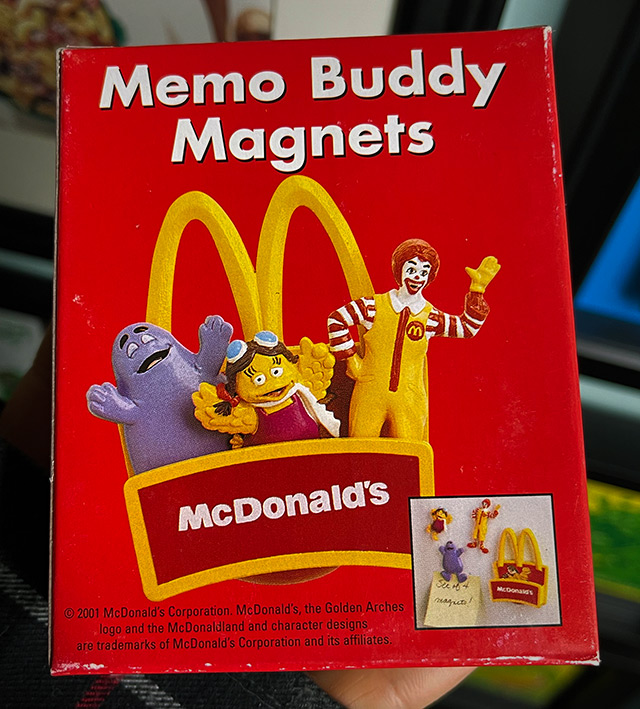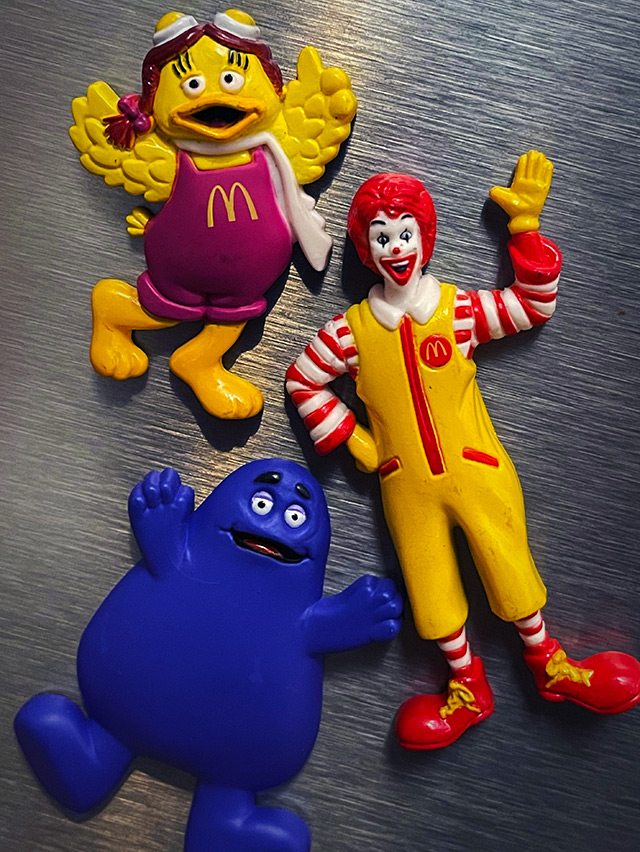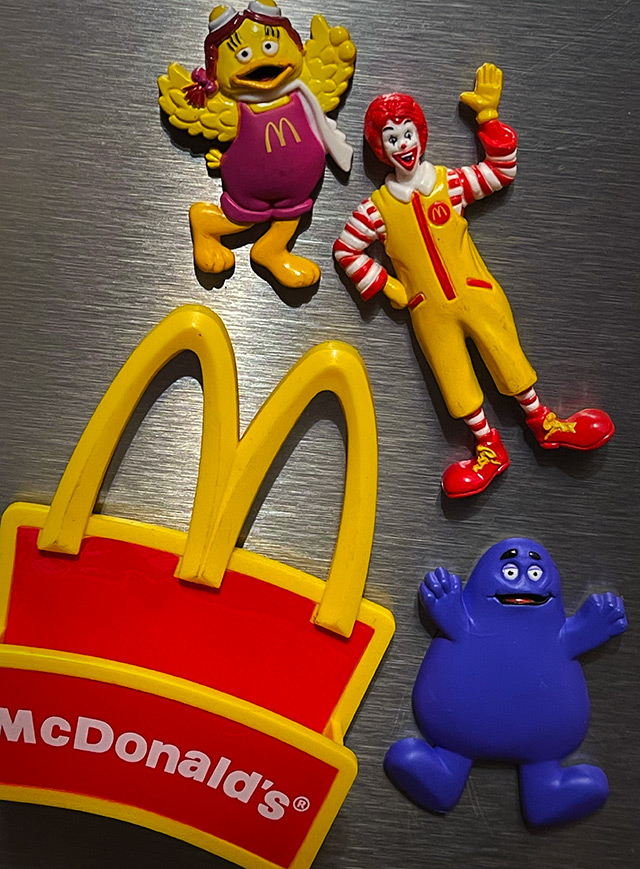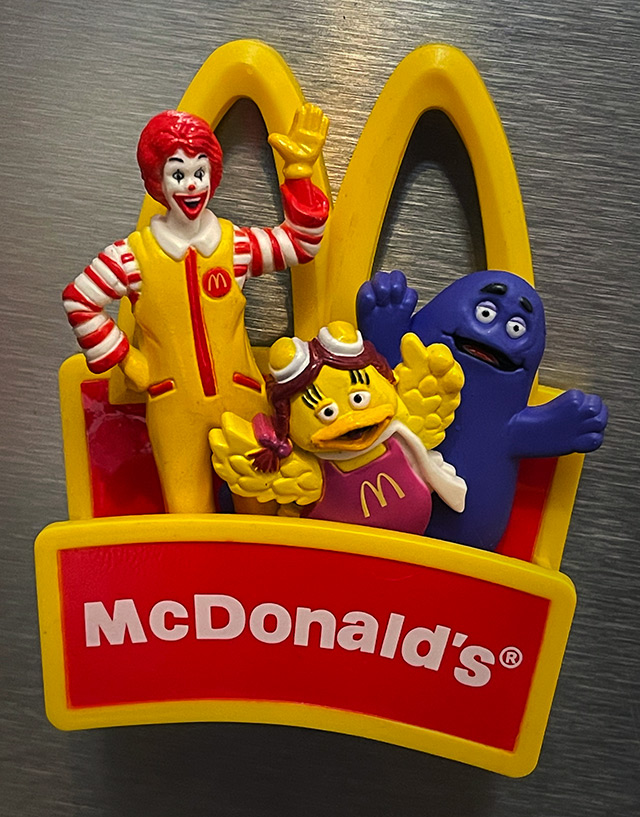 The star of the January Funpack is this sexy McDonald's Memo Buddy magnet set from 2001, in never-used condition, still in its original box, and coming straight out of the factory case! MY GOD. McMY GOD.
Calling this a "set of magnets" is selling it short. It's more like an action figure playset where all of the pieces just so happen to be magnetic. You get Ronald, Grimace and Birdie figural magnets, PLUS a magnetic McDonald's restaurant that they all fit right into!
McD's nostalgia is sky high right now, thanks in no small part to those three characters. This is such a wonderful set! I can't imagine that there's a single Funpack subscriber who won't immediately throw these on their fridge.
All magnets are untouched, unused and still in their original boxes. Boxes are in good shape – some may have a dent or two from storage, but nothing major. What a score!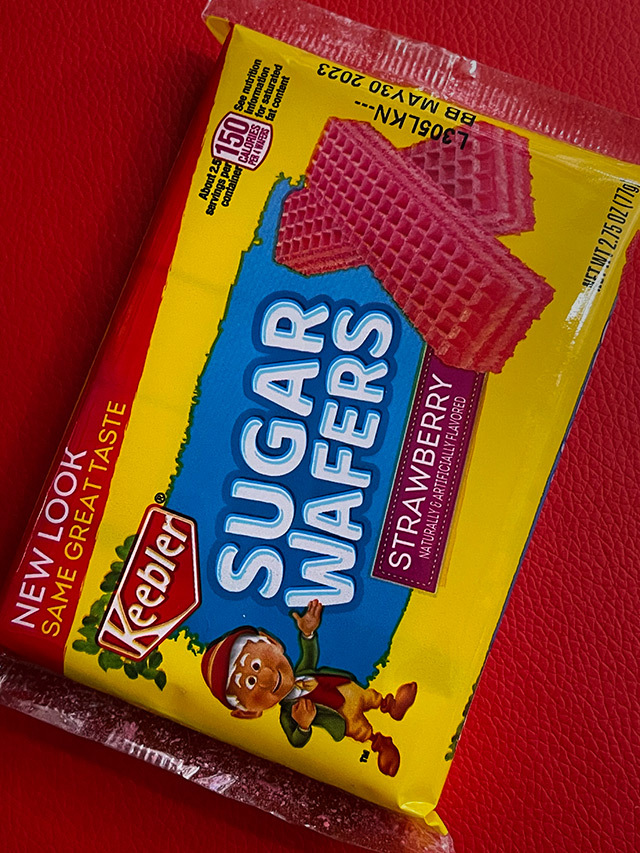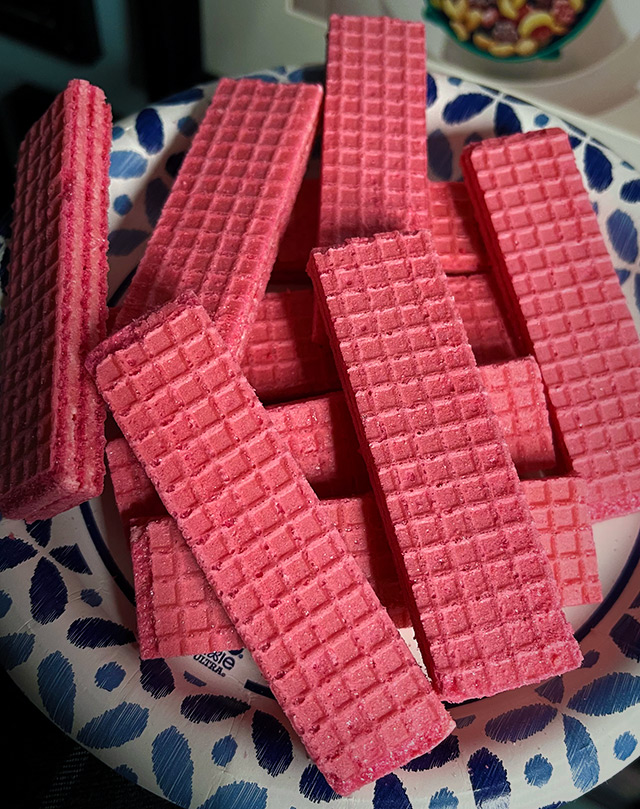 January's the month where everyone gets the blues, and the quickest way to chase blues away is with a giant pile of strawberry-scented cookies.
In every Funpack is this *big* 2.75-ounce package of Keebler's Strawberry Sugar Wafers. There's a DOZEN wafers in every package, which is way more than an individual serving. It's enough to work as a "movie snack" if you're out of popcorn or would just prefer to eat something that tastes more like cake.
You're going to be so full, but so happy. Ernie the Elf doesn't mess around. These are delicious.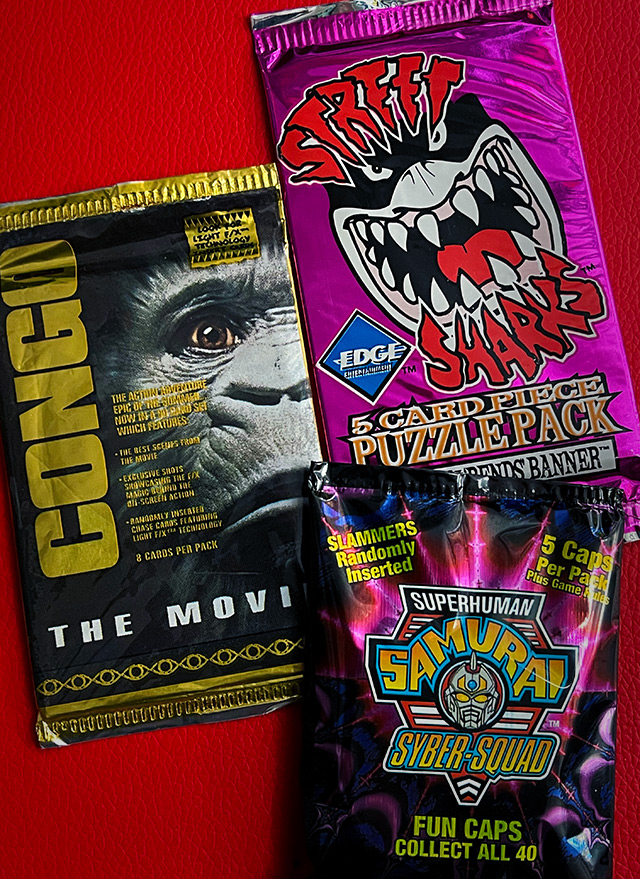 Then we have this trio of vintage trading card packs, which by total coincidence all happen to have been released in 1995.
First is a truly rare pack of Congo trading cards, and yes, that movie really did have a trading card set. Pray you get Amy's rookie card. (I've been trying to work these Congo cards into the Funpacks for years now, so this is a big moment for me!)
You're also getting a Street Sharks Puzzle Pack, which comes with enough cards to create a giant rendition of one of the show's characters. If you're extra lucky, you'll get the "Slobster" puzzle.
And lastly is a set of five Superhuman Samurai Syber-Squad Fun Caps, which I concede are not actually trading cards, but y'all like pogs, so settle down.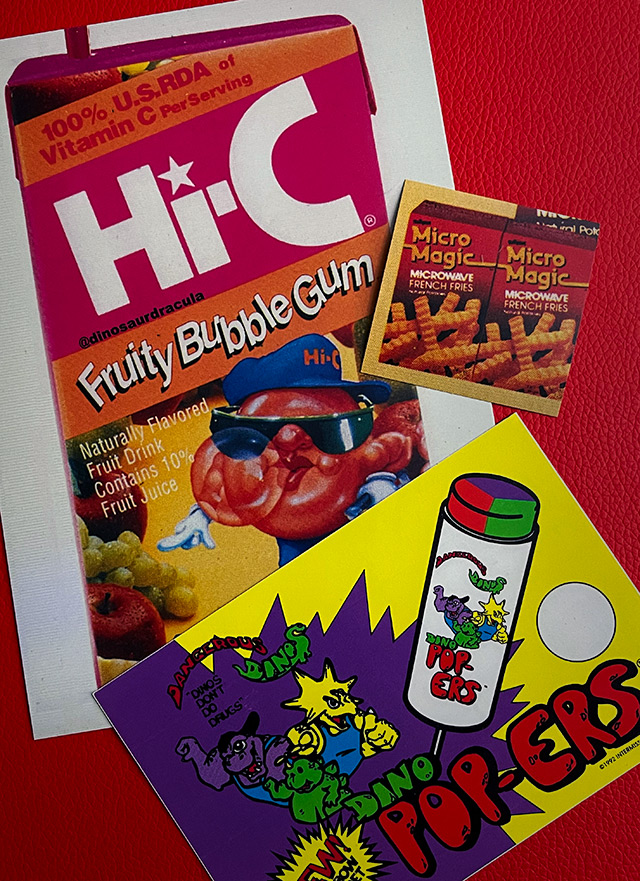 Several pieces of HIGH ART are also coming your way, starting with this month's 5×7" cardstock mini-poster, which shows off a glorious box of Hi-C Fruity Bubble Gum, one of their most famous fallen flavors outside of Ecto Cooler.
Then there's a five-inch reproduction of the truly bizarre "Dino Pop-Ers" ice cream truck decal from 1992. These vinyl repro stickers are slick and bright, and will remind you on the reg that dinos don't do drugs.
Oh, and this month's exclusive 2×2" sticker features a shot of Micro Magic french fries, because I'm weird and I really wanted to make a Micro Magic sticker. Just go with it.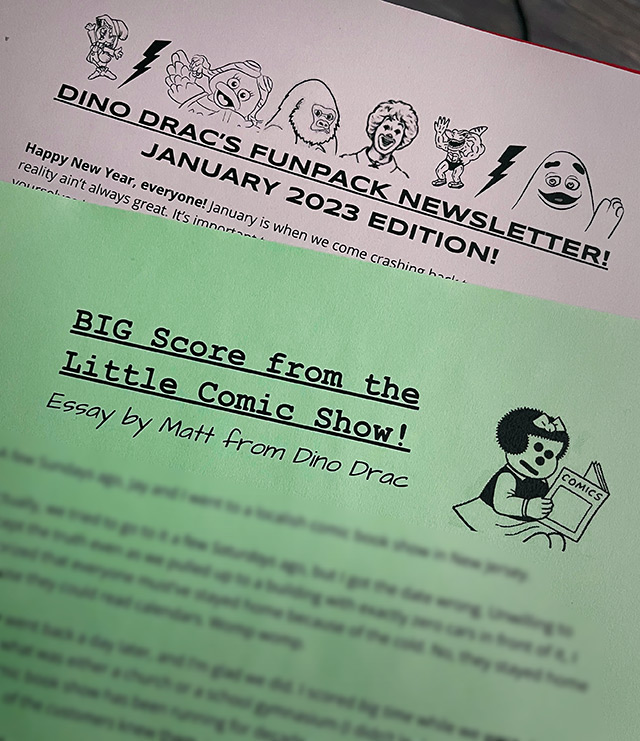 Rounding things out, you'll also get this month's Funpack Newsletter, plus an exclusive essay that will never be reprinted on the site!
This month's essay goes into detail about my recent score from a local comic book show, where I picked up a gazillion movie promo buttons for a song. If the thought of eating sugar wafers while reading about someone else's trip to a tiny comic book show sounds like a good time, this is the essay for you.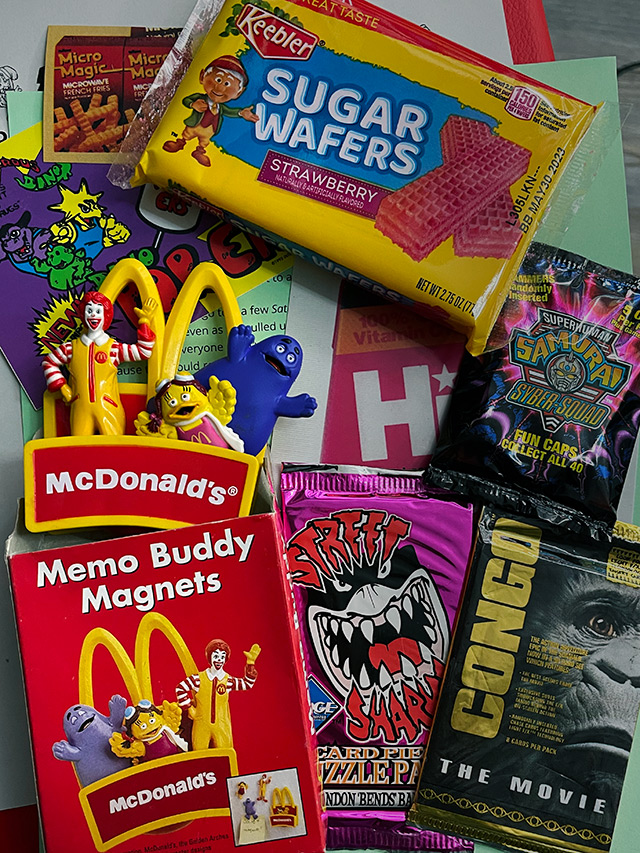 So there ya have it. You'll get everything above shipped to your door for $25!
If you're already a subscriber and you'd like to stay that way, do nothing! You're all set!
If you're not a current subscriber, I have some spares of just this one Funpack that I can offer on an individual basis. You will not be starting a monthly subscription; you'll just be purchasing this one Funpack. If you'd like to do that, click the button below! (United States only, please!)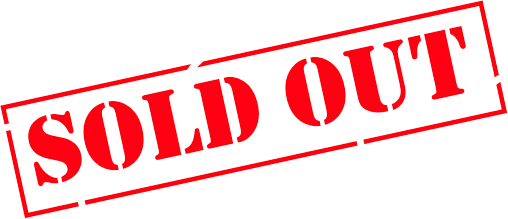 (While supplies last. Once they're gone, they're gone for good!)
The January 2023 Funpacks will ship by Tuesday, January 24th. Thank you tons!
UPDATE: The Funpacks are sold out! I might have a few more once completing my final counts. If you'd like to get on the waitlist, please email me. (dinosaurdracula on gmail is best.)