If you're already a Dino Drac Funpack subscriber, good news: You're among the only people locked in for the December Funpack!
For the rest of ya: Subscriptions are maxed out for this month, but I will have a few spares to sell once I finish the first shipments. Skip to the bottom for info on how to get on the waiting list — it'll be first come, first serve!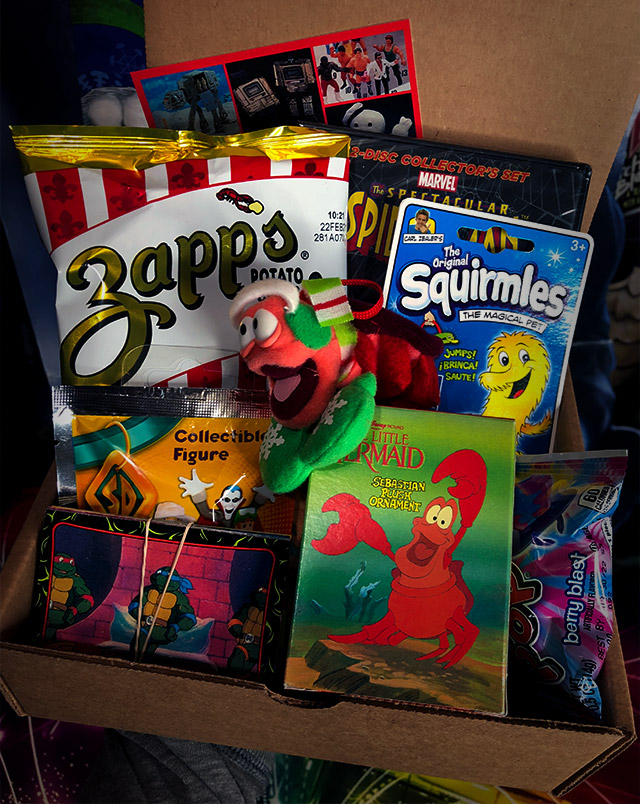 (AVAILABLE IN THE UNITED STATES ONLY!)
Soooo, ALL THAT SAID, here we are! The December 2020 Funpack, where I tried to create the perfect Christmas morning and fit it inside a hefty brown box.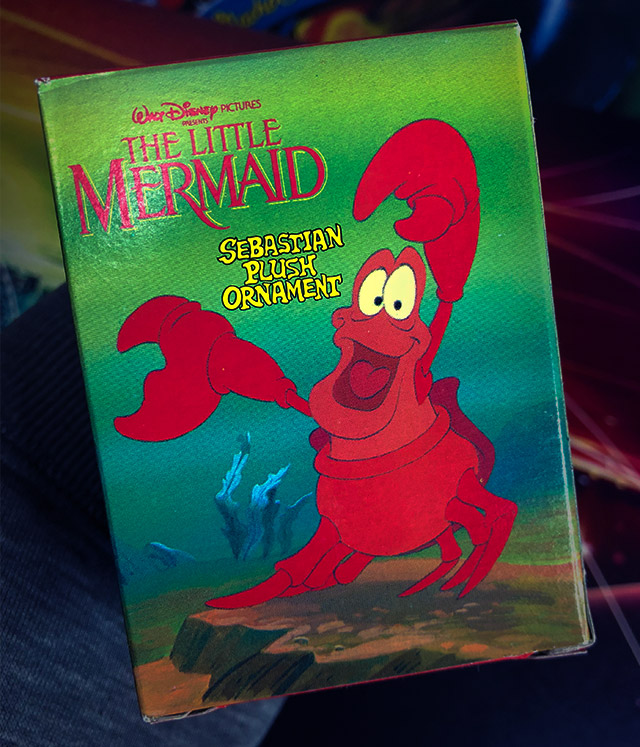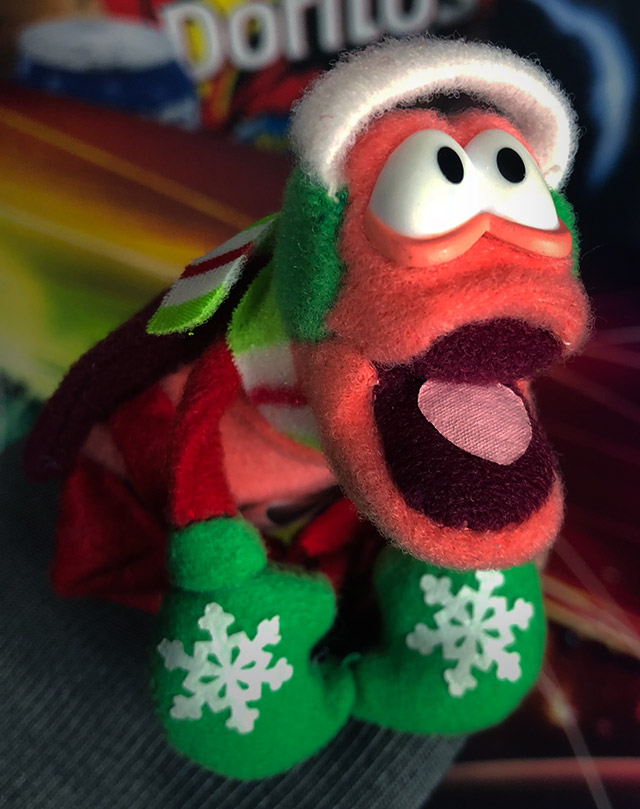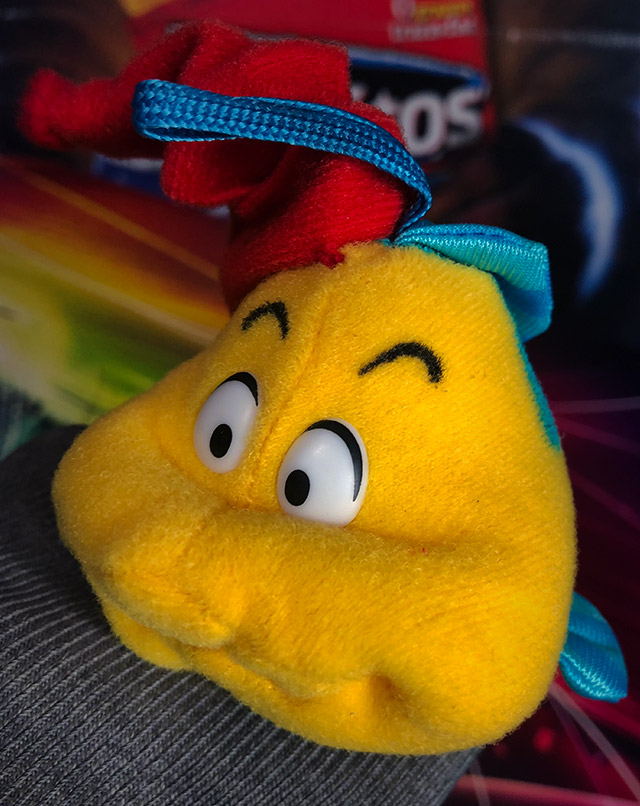 (*ONE* OF THESE TWO ORNAMENTS PER FUNPACK!)
First up, you'll each receive *ONE* of these two gorgeous Little Mermaid holiday ornaments, which were famously given away at McDonald's back in 1989. (They were used in a promotion to solicit sales of McD's gift certificates, and thus were a few steps beyond any normal Happy Meal toy!)
You'll receive either Sebastian or Flounder. These tree ornaments double as adorable plush dolls, and each will arrive in its original McDonald's box. I am absolutely thrilled to share these with you — this was one of the biggest holiday promos of its time!
The ornaments are in great shape. In fact, most of the boxes have never been opened. Do note that the condition of the boxes ranges. Some are in perfect shape, others may have a dent or two. I made sure to collect only the best ones available. Whichever character you get, I know you're gonna love him!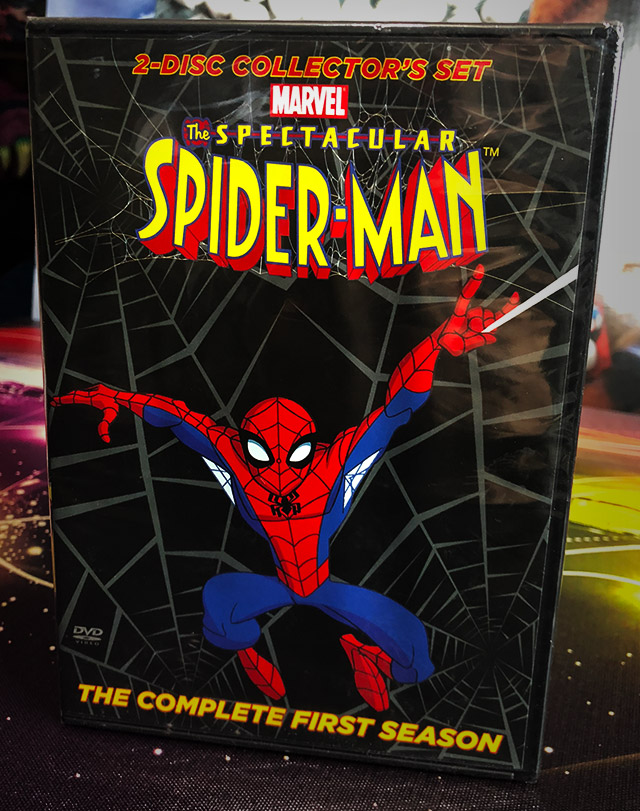 Next is a two-disc DVD set containing the entire first season of The Spectacular Spider-Man. From 2008, this much-beloved animated series is one of the rare Marvel cartoons that *isn't* on Disney+. So yeah, it's actually a useful DVD!
One of my favorite things to do during the week after Christmas involves picking a show and brainlessly binging on it while I eat leftovers on the couch. Maybe this can be that show for you?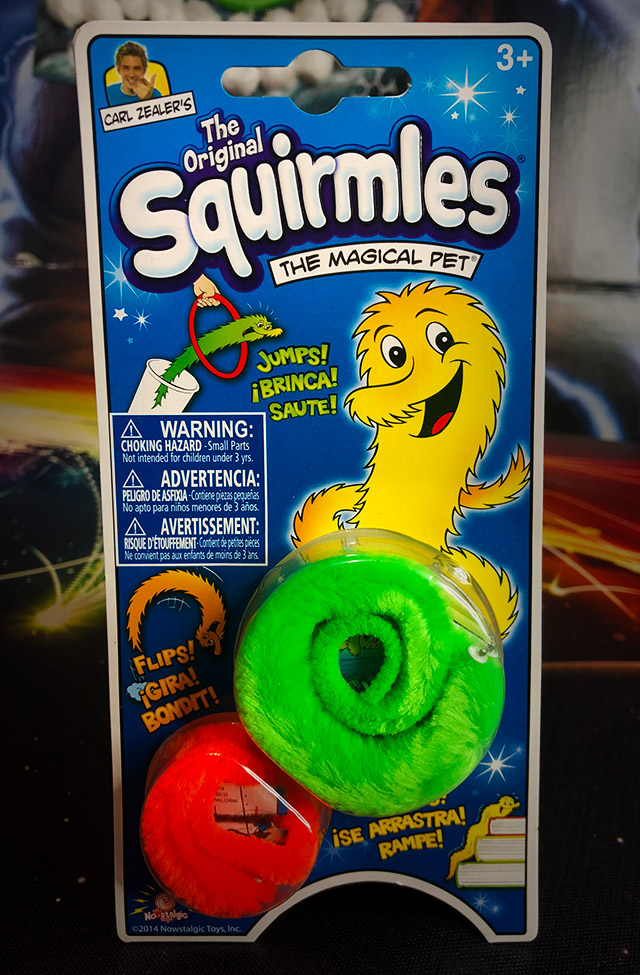 And then we have an *official* Squirmles two-pack, featuring both regular-sized and miniature Squirmles! These "magic worms" have become quite an internet sensation in recent years, but the truth is that the Squirmles brand began before many of us were even born!
When I was a tiny child in the early '80s, I was totally obsessed with these toys, which are connected to "invisible" strings to allow for "magic" movement. I used to pretend that they were living, breathing pets, and these modern versions are pretty much exactly the same as the ones I grew up loving!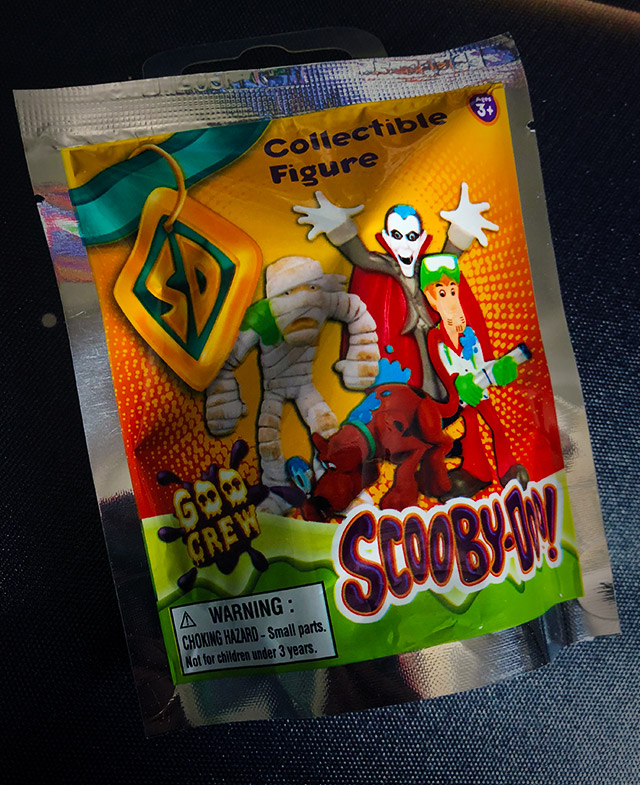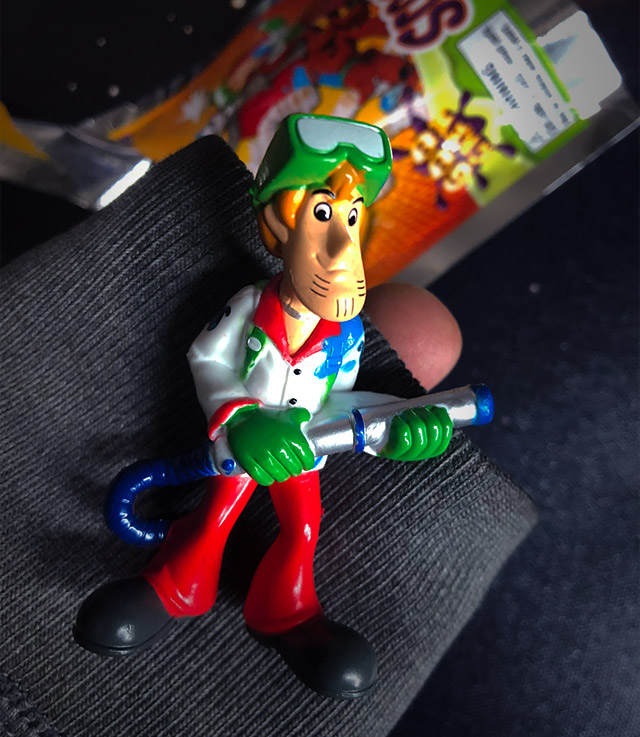 Feelin' lucky? Good. Tear open a Scooby-Doo Goo Crew blind bag, which contains a random "oozy" figure from the Scooby-Doo universe. The regular cast of characters is accounted for, of course, but if you're especially fortunate, you'll end up with one of the way-cool MONSTER figures.
From what I can tell, there are fourteen different possible figures hiding in these bags, from Daphne to Fred to… *checks notes* …the Beast from the Bottom of Goo Lake. Hope you get your favorite, but don't worry, they're all neat!
PS: These blind bags came out almost a decade ago, and haven't been sold in stores for years!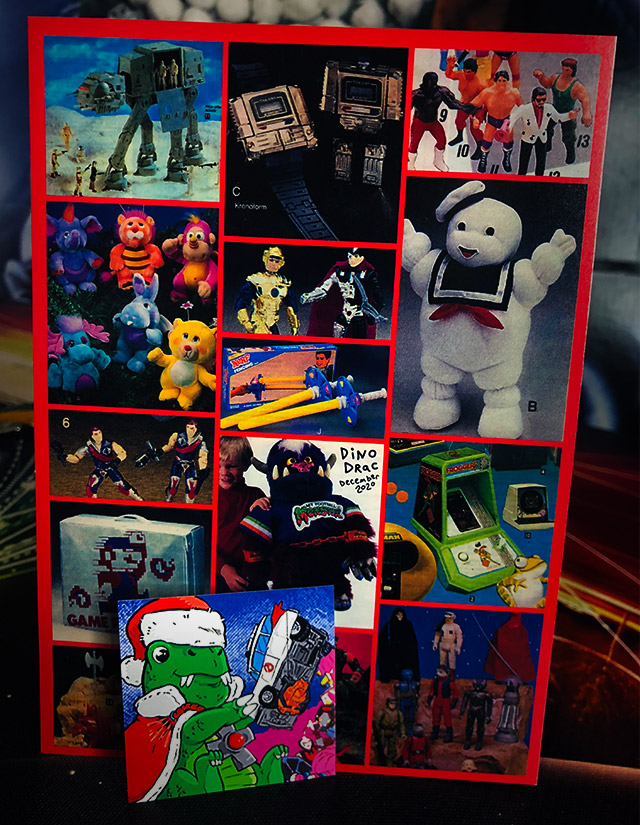 This month's Dino Drac Mini-Poster collages some of my favorite product shots from a giant pile of ancient Christmas catalogs. Lose yourself in memories of everything from robot watches to the Cobra twins!
You'll also receive this month's exclusive sticker, featuring a baby Dino Drac in all of his Christmas morning glory. Sticker is 2×2". The cardstock mini-poster measures 5×7".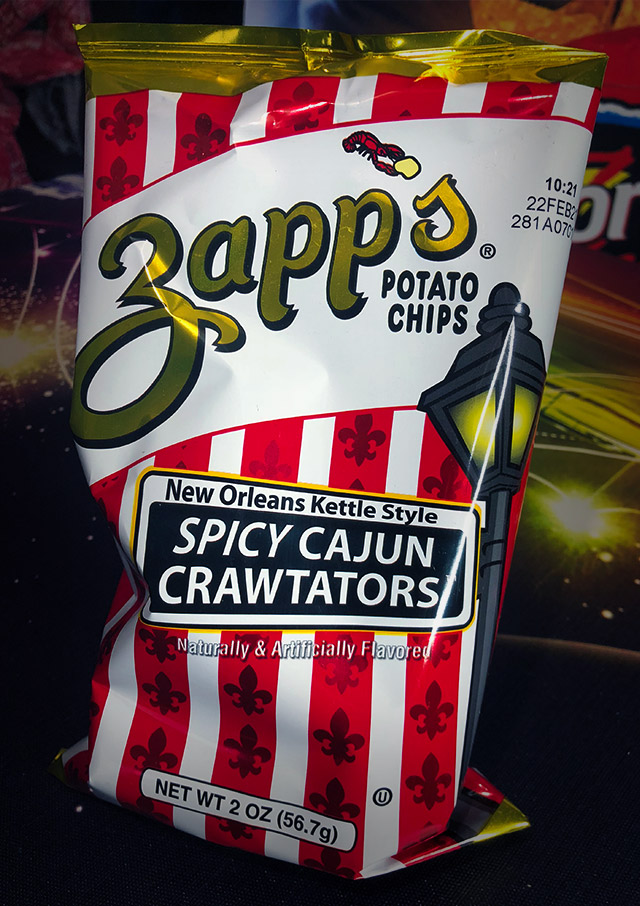 I'm including these because the red-and-white striped bags seemed right for this time of year, but also because they are goddamned delicious. Enjoy a generous two-ounce bag of Zapp's Spicy Cajun Crawtators potato chips!
Don't worry, no actual crawdads were harmed in the making of these chips. Their flavor is meant to mimic crawdad spices. These are so good! In the area of Old Bay-flavored potato chips, but not quite as severe.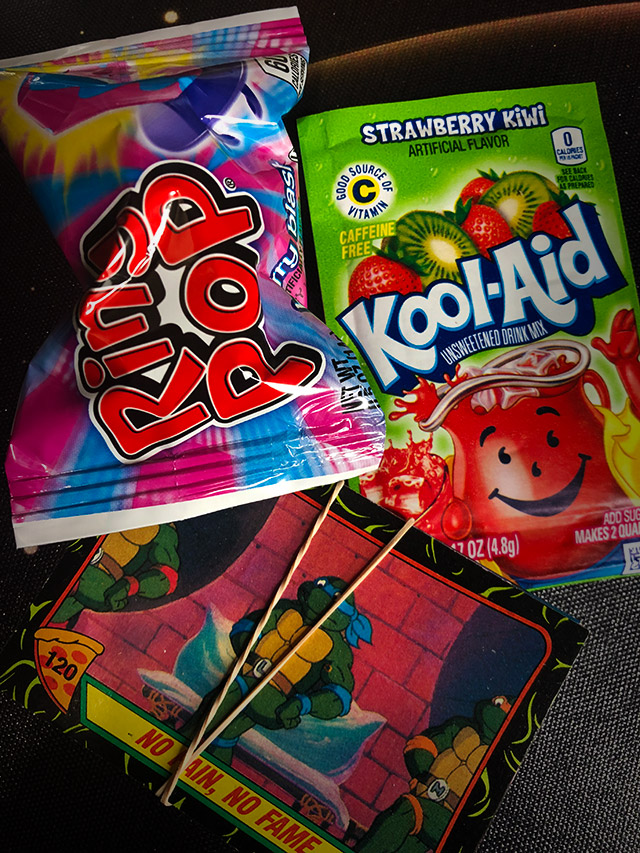 A few more surprises for ya! Each Funpack will include a Ring Pop (assorted flavors), a packet of Strawberry Kiwi Kool-Aid, and 10-12 vintage trading cards from various collections!
NOTE: I've tested the weight of these boxes ten times, but just to give myself a little wiggle room, please consider these three items "bonuses." I'm 99.9% everyone will get them, but if I hit any weight snags, I may have to leave something out. (VERY doubtful, though.)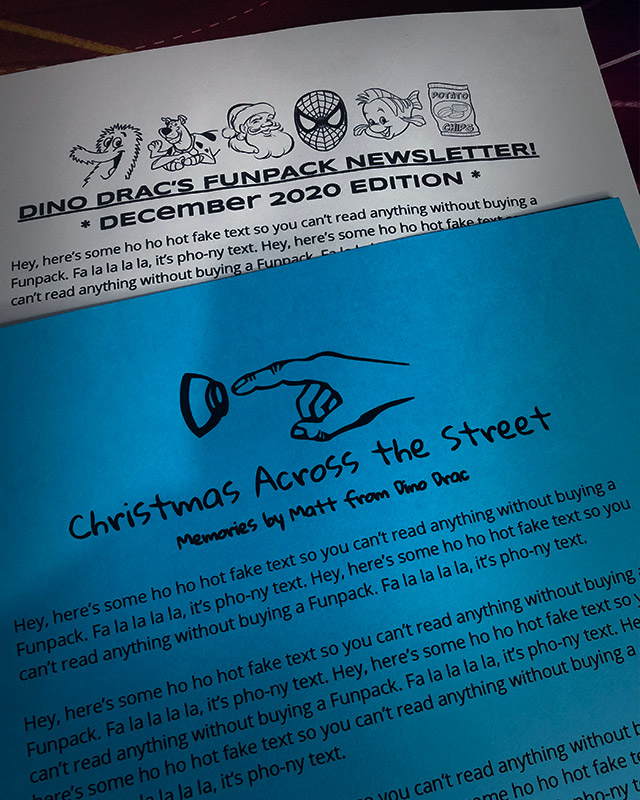 Rounding things out, you'll also receive this month's Funpack Newsletter, plus an exclusive essay that will never be reprinted on the site!
This month's essay is a good one. I go into detail about what it was like spending Christmas Day at my old best friend's house, as I very often did as a kid. Didn't realize how much those old visits meant to me until I started writing this, but yeah, those were major holiday experiences for me!
So there you have all. You'll get all of that stuff for $25 shipped!
If you're already a Funpack subscriber… do nothing! You're all set!
For everyone else, here's the deal: Subscriptions are sold out for this month. I will definitely have some leftovers to sell after I complete my counts, so if you'd like to get on the waitlist, please email me. (dinosaurdracula on gmail) Once I'm ready, I'll email you back with a link to purchase.
The December Funpacks will ship on or before Tuesday, December 15th. Please note that while this is well within the USPS guidelines for Christmas delivery, this is an especially busy year for them, and I have no way to guarantee that. It should get there well before Christmas, but please understand that it's out of my hands if it doesn't arrive until a day or two after!
Thanks so much, I hope y'all dig the goodies!