Hey! It's time to show ya Dino Drac's December Funpack. It's ho ho hot.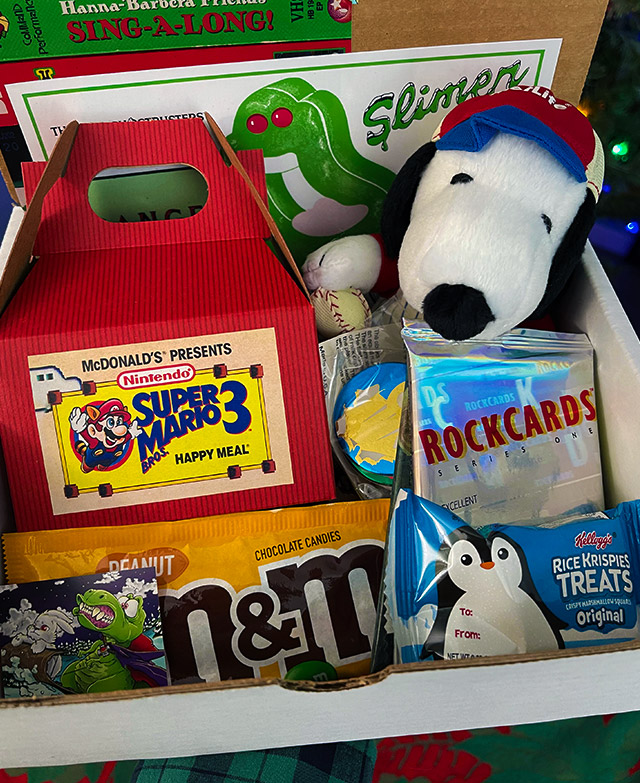 U.S. ONLY! LIMITED SUPPLY!
Maaaan guys, this is a good one — a great mix of stuff that's perfect as a holiday gift to yourself!
If you're already a subscriber, good news, you're locked in!
If you're not a subscriber and you want this Funpack, here's the deal: Subscriptions are currently closed, but I do have a small amount of extras that I can sell on an individual basis. These are very limited and may not last long. Scroll to the bottom to grab one, or keep reading to learn about everything in this month's box!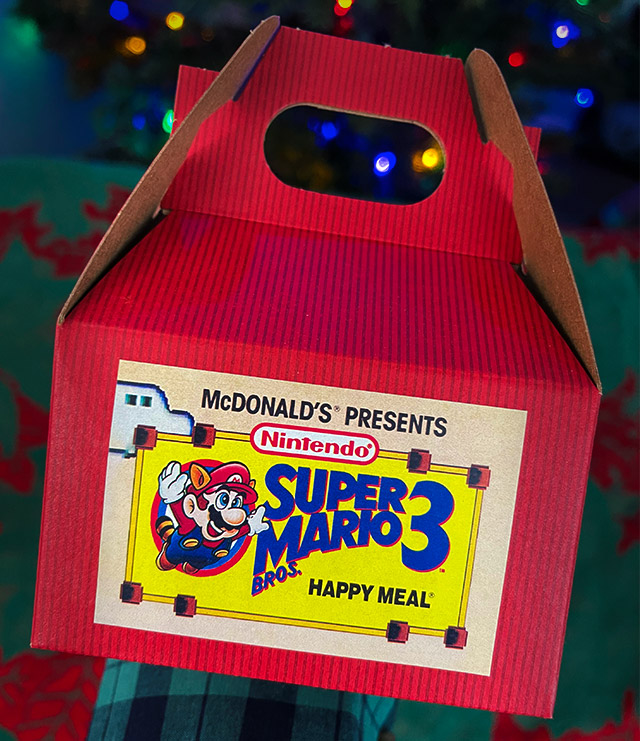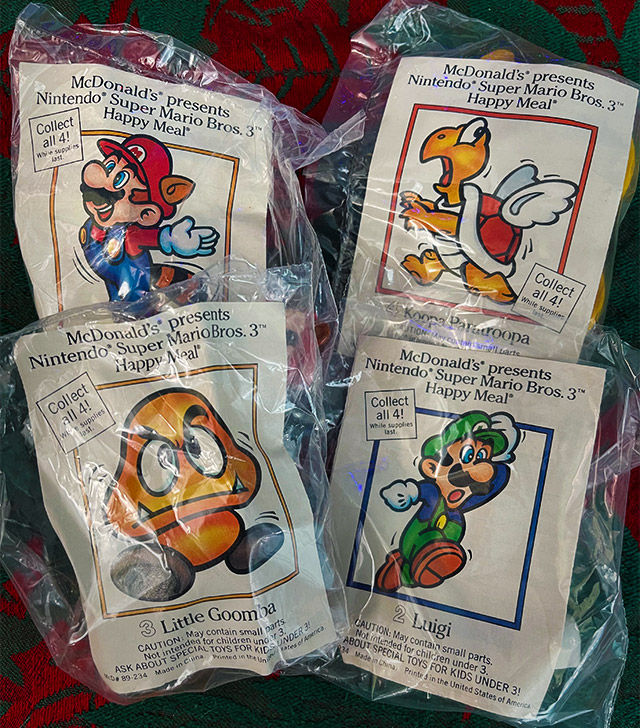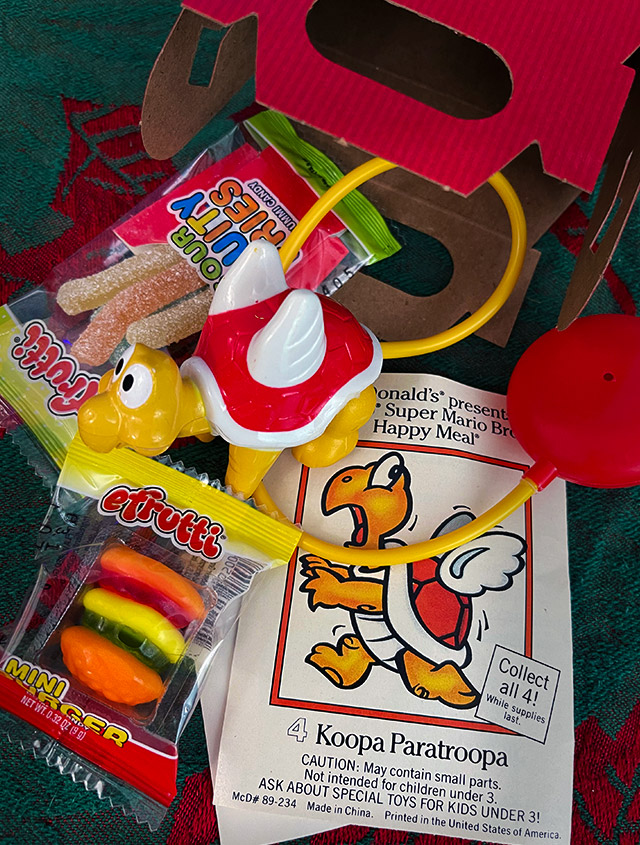 *ONE* SUPER MARIO TOY PER FUNPACK!
BOOM. We are DOING THIS! Everyone will receive a fully-recreated Super Mario Bros. 3 McDonald's Happy Meal. Each custom "lunch box" contains an honest-to-goodness vintage toy from that promotion, still sealed in its factory baggie.
You'll get one of the four original toys that were part of that promotion: Mario, Luigi, Little Goomba or a Koopa Paratroopa. These are *such* great toys, from back in an era when there weren't a whole lot of Nintendo playthings available, even at retail.
It's one of the most beloved Happy Meal sets of all time, and to help create the right vibes, every box also contains a gummy burger and gummy fries!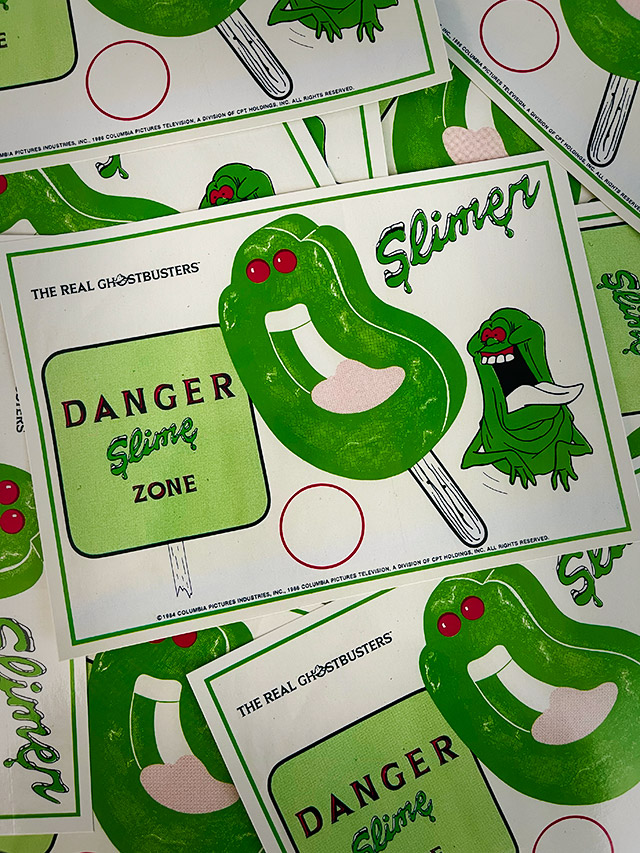 Okay, now this is awesome. I had an old Slimer popsicle sticker in my collection, and used it to create these stunning reproductions that are only a wee bit smaller than the originals. These high-quality vinyl stickers measure 7.25" x 5.25" and couldn't look better. There's one in every Funpack!
Use it like a sticker, frame it, or just hang it on your fridge with a magnet or two.
The Slimer popsicles were available from ice cream trucks during the late '80s and very early '90s, and to my knowledge were not sold any other way. The original sticker would've hung on an ice cream truck. To reiterate, these stickers are repros, not originals, but they look exactly like the originals did!
I'm so happy with how they turned out, and I know you'll be, too.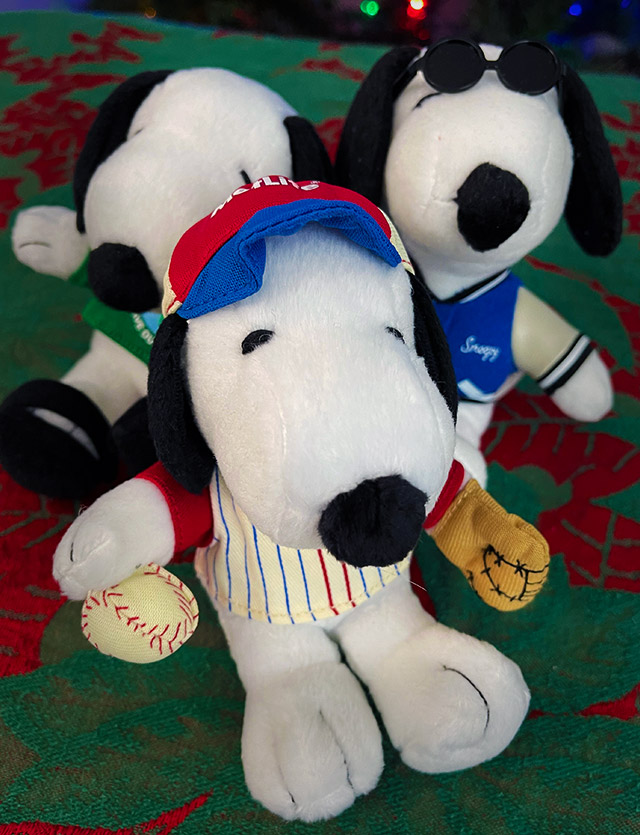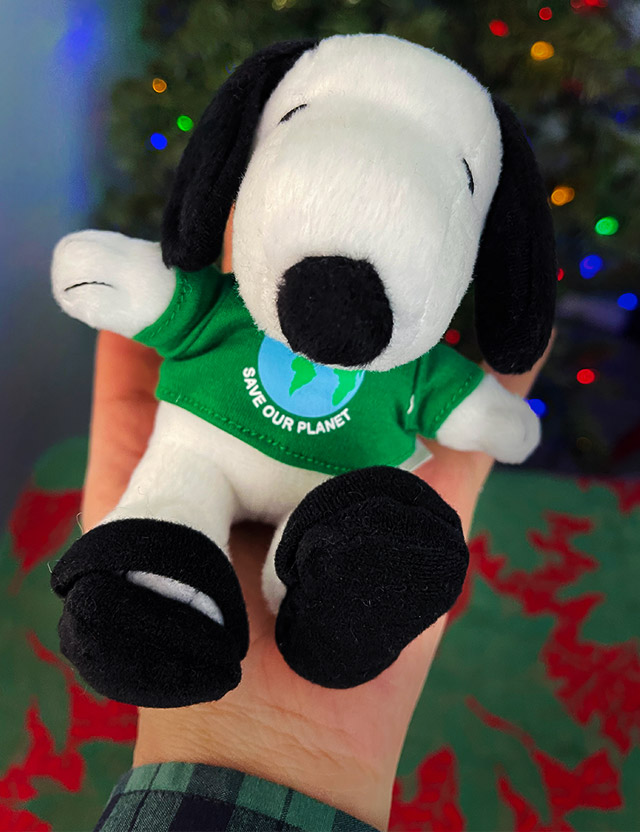 *ONE* SNOOPY DOLL PER FUNPACK!
The hits keep on coming! Last month's batch of Snoopy dolls got rave reviews, so I decided to scratch that itch one more time. This month, there's an all different trio of Snoopy dolls available. You'll get one of the three shown above.
These dolls were part of a MetLife promotion from several years back. They're ridiculously cute palm-sized plushies. You'll get one of the following dolls: Save Our Planet Snoopy, Joe Cool Snoopy or Baseball Snoopy.
Bonus points: The doll in your Funpack will still be sealed in its factory bag, untouched by human hands! Despite their age, these are in brand new condition!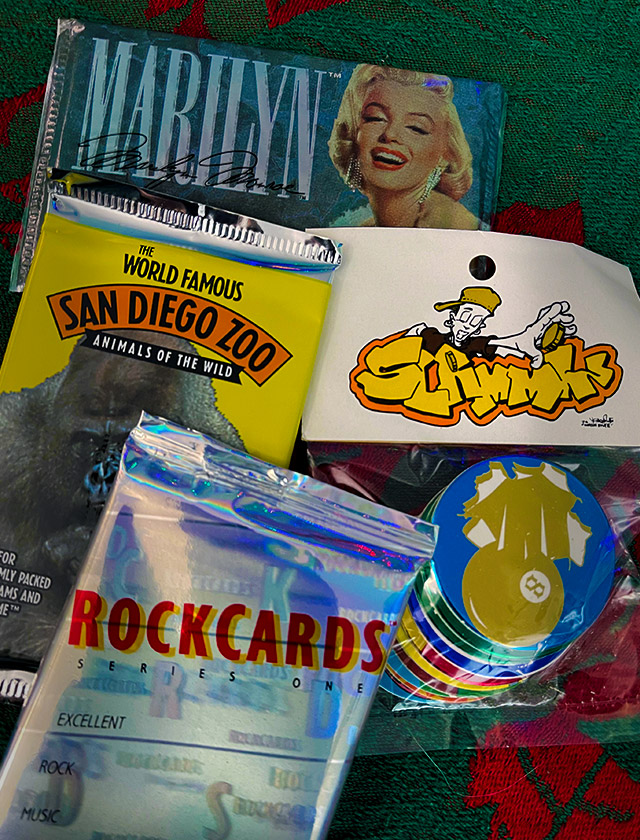 And then we have this generous pile of vintage trading card packs, all from the 1990s. You'll get all four items shown above, including:
– RockCards Card Pack (1992)
– San Diego Zoo Card Pack (1993)
– Marilyn Monroe Card Pack (1993)
– Random Pack of Pogs (1990s)
Pretty eclectic mix! Have fun tearing everything open — preferably under a Christmas tree, with your free hand dipping into a bowl of candy. Speaking of which…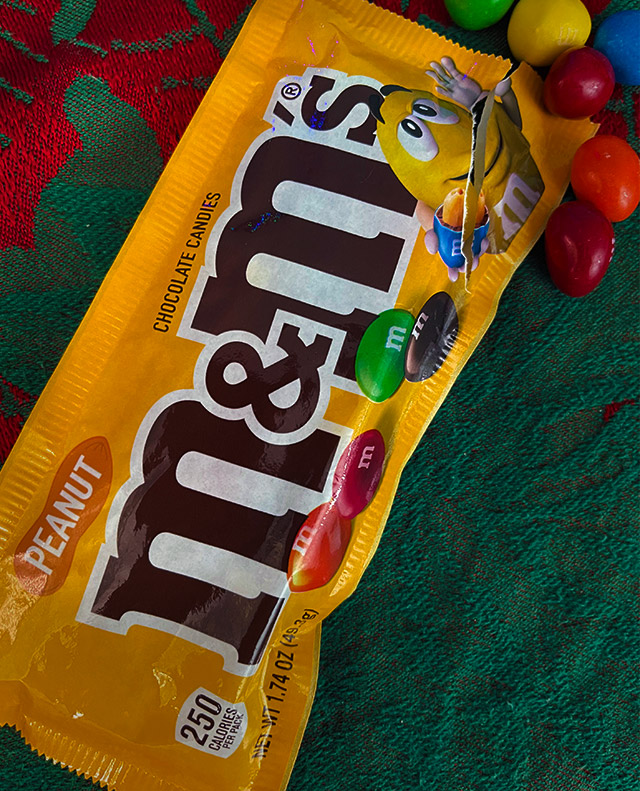 Each of you will also receive a full-sized retail pack of Peanut M&M's, because the holidays are a time to indulge!
PS: I can't tell you how hard it's been to resist eating my supplies. I love Peanut M&M's. Especially the blue ones, which don't taste any different no matter how many times I swear they do.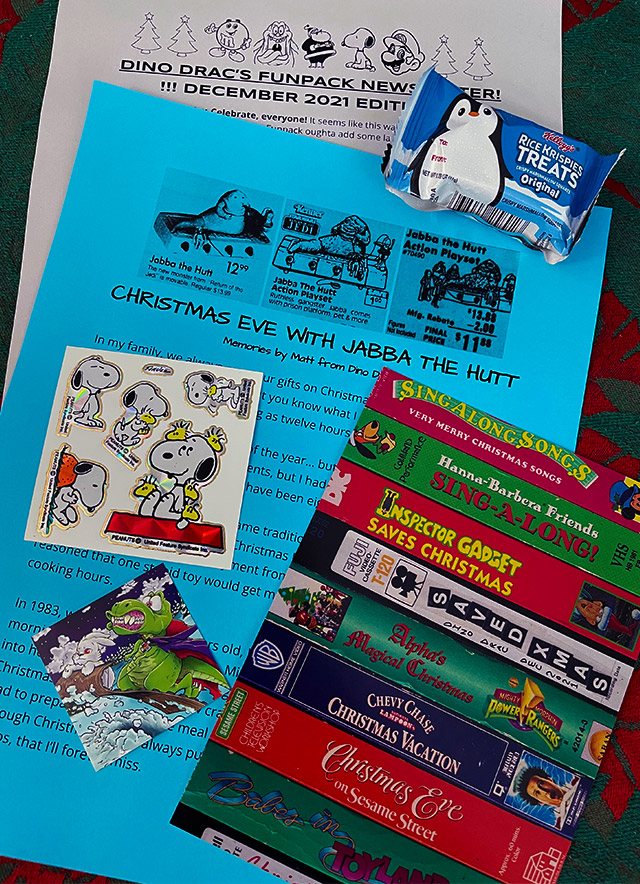 Rounding things out is… well, all of this stuff!
You'll get this month's Funpack Newsletter, plus an exclusive essay that will never be reprinted on the site. This month's essay is about how I got Jabba the Hutt for Christmas in '83. Yeah, I'm old enough for that to be the essay subject.
Then there's this month's 5×7" cardstock mini-poster, starring a pile of Christmas-themed VHS tapes. It pairs nicely with this month's 2×2" sticker, featuring Dino Drac and Leviathan sledding to their doom.
I'll even toss in an ancient sheet of Snoopy vending machine stickers, and, if you're lucky, a super tiny Rice Krispies Treat.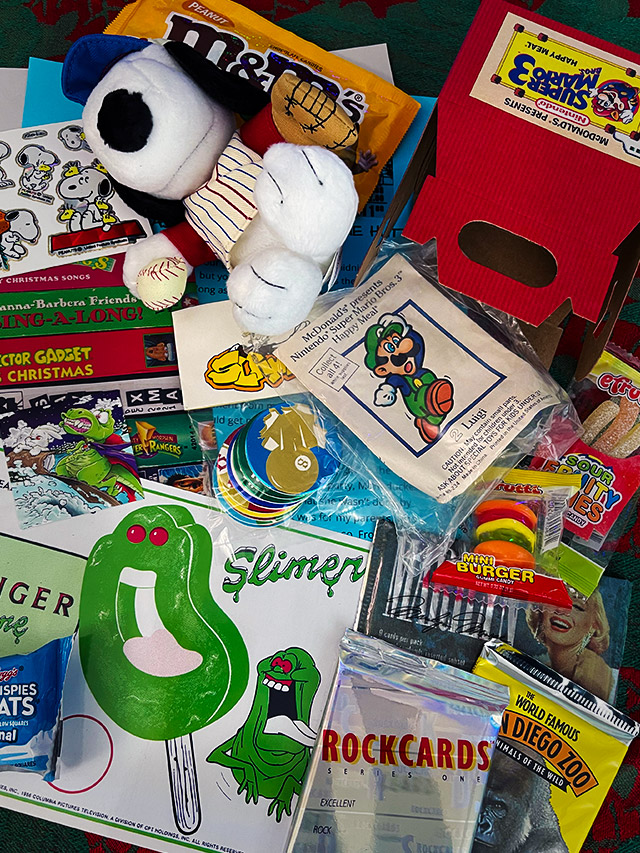 So you'll get ALL OF THAT for just $25, shipped anywhere in the United States!
If you're already a subscriber, do nothing, you're all set!
If you're NOT a subscriber and you want this box, click the link below to purchase one. Keep in mind that you'll only be purchasing the December Funpack. Subscriptions for future months are currently closed, though I hope they'll open back up in January!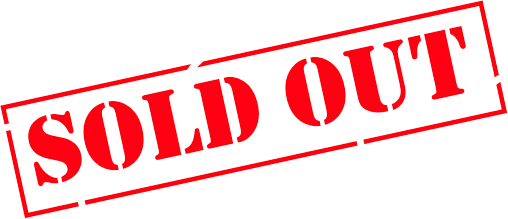 SOLD OUT! That was fast! If anyone wants to try getting on the wait-list, you can email me. (dinosaurdracula on gmail) No promises tho, as I'm not sure I'll have any left after completing this initial run!
Thanks so much! The December Funpacks will all ship on or before Tuesday, December 14th, which according to the USPS is ample time to arrive before Christmas. I can't guarantee that, obviously, as it's out of my hands, but I'm hopeful that you'll see this box *before* you see Santa!