I'm kicking myself for not getting the February Funpack on the site earlier than this, because man, it's a good one. Oh well. That just means you'll need to be EXTRA FAST if you want in. (Please be extra fast.)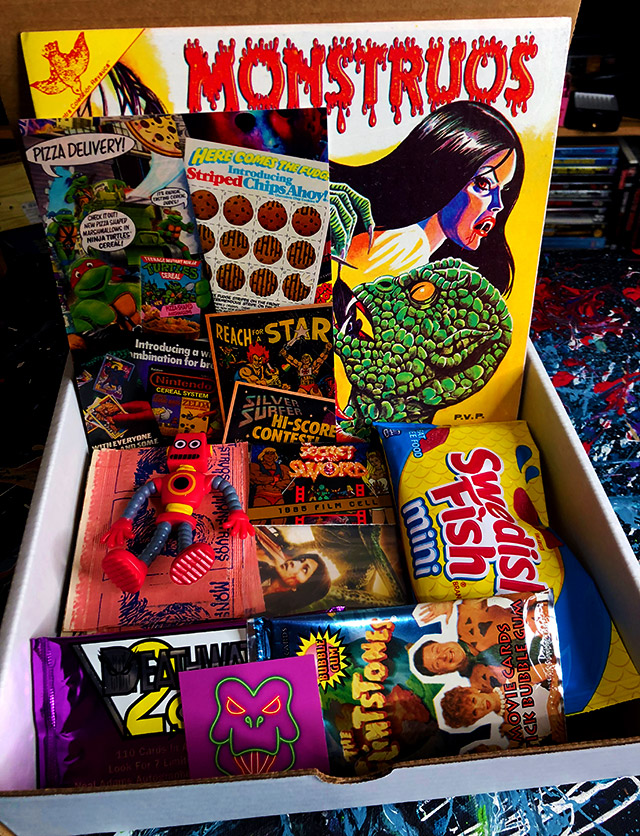 AVAILABLE IN THE UNITED STATES ONLY!
Dino Drac's February Funpack is here, with some of the all-time coolest items that I've ever put into these boxes!
Y'all know the score by now. The Funpacks are available on a subscription basis, and you can cancel at any time without penalty. The cost is $25, and that includes shipping… which dramatically increased in price last month, so lucky you!
For as long as you remain subscribed, you'll keep getting awesome boxes filled with old-and-new toys, trinkets, snacks and nonsense. Scroll to the bottom for ordering info, or keep reading to learn about everything you'll receive in this month's Funpack!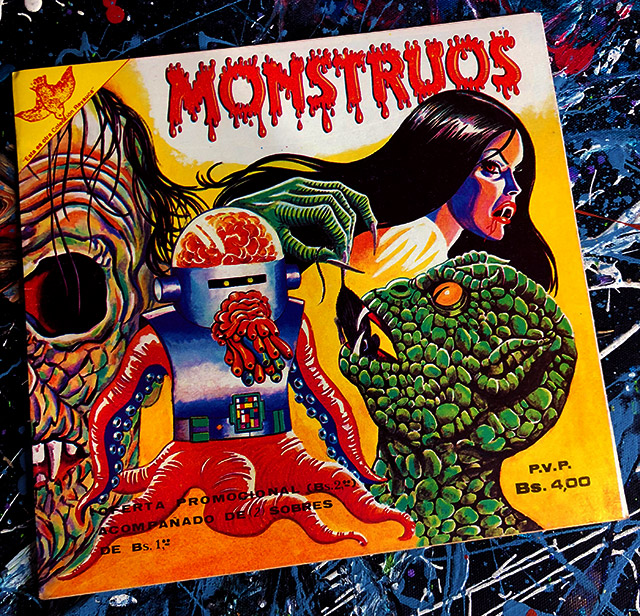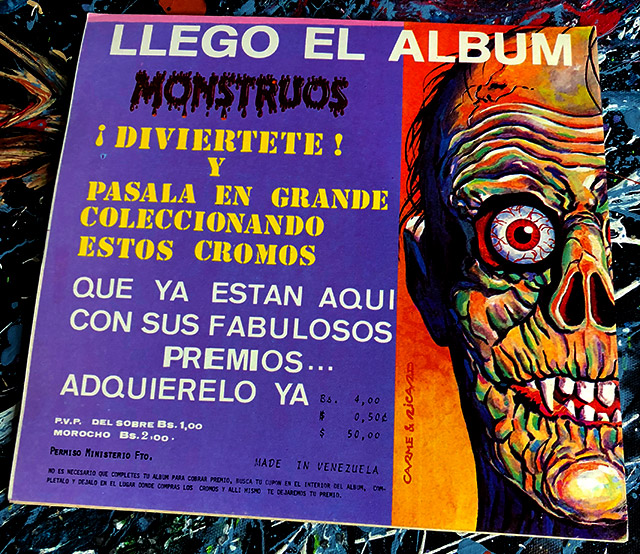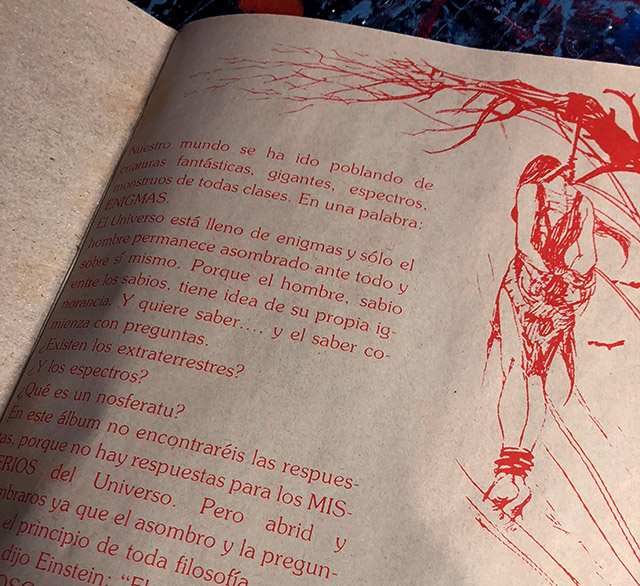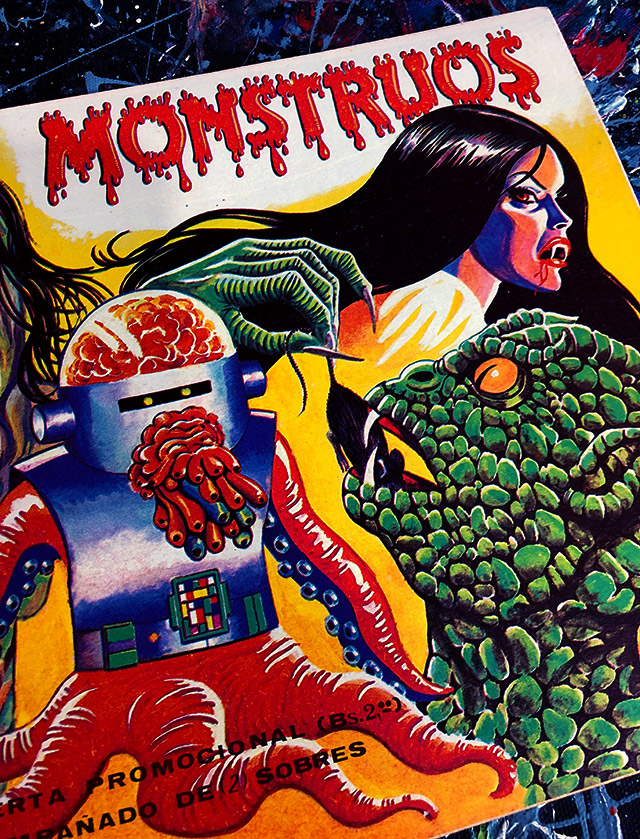 Okay guys, this is a big one. You'll each receive this amazing MONSTRUOS horror sticker album, made in Venezuela at some point in the '80s. These were never available in the United States and the books are now over 30 years old!
These albums were meant for a series of spooky stickers that were also available in Venezuela. The pages are mostly just empty sticker boxes covered in writing you probably can't read, but the real treat is THAT COVER. Just look at that gorgeous art! It's like the best-ever foreign movie poster, in book form.
I'm so excited to share these with you. The books are definitely aged, but they're remained in nice condition. SO cool.
Quick note: There is a pretty ghoulish image on the first page, which I've shown a snippet of in one of the pics above. Just warning ya!
But wait, there's more: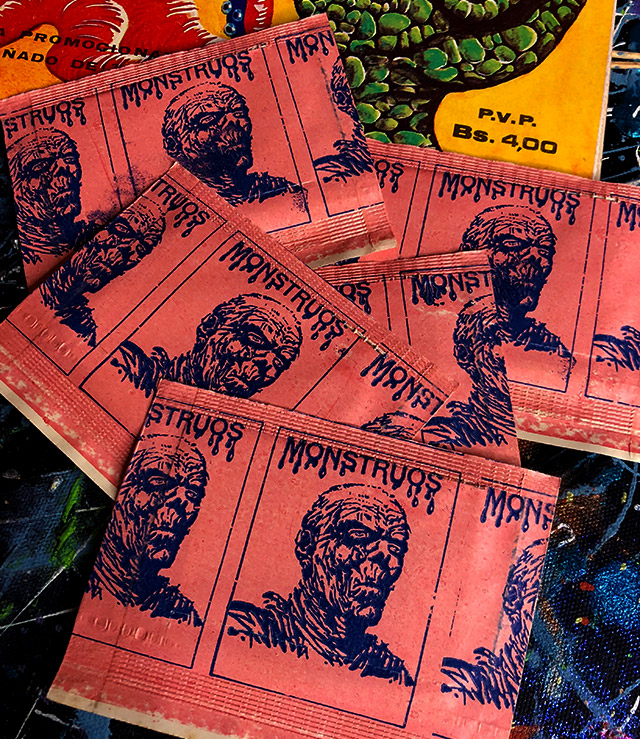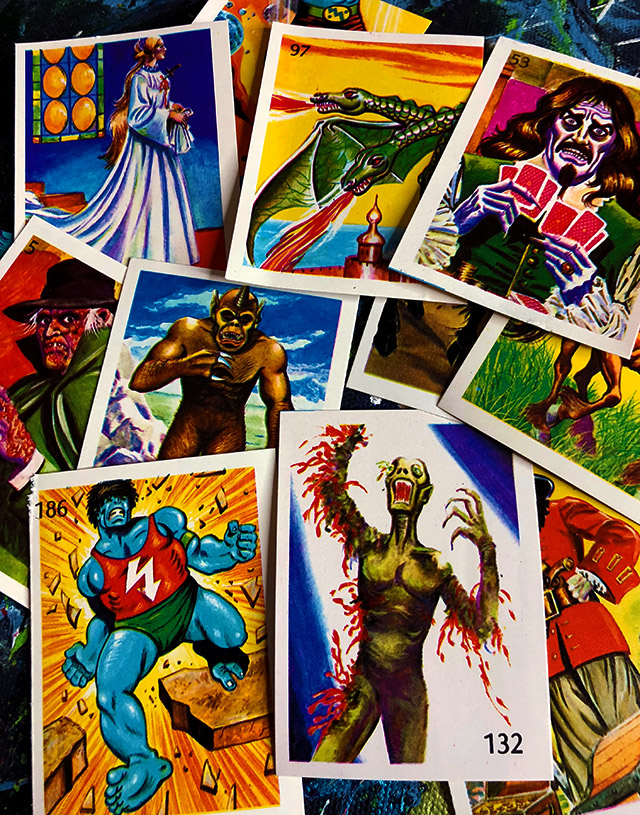 You'll also receive FIVE of the vintage 1980s sticker packs that go along with those Monstruos albums! Each pack contains a couple of little "stickers." (I'm putting "stickers" in quotes because I'm not entirely sure that they are stickers. Maybe stamps? They don't seem to peel apart, but they sure are pretty. And WEIRD!)
The art on these "stickers" is just amazing. So many tattoo inspirations! The concepts range from the macabre to the just plain strange. I have no idea what you'll find in your batch, but with five packs to rip into, I'm sure you'll find a few stickers that will seriously charm you.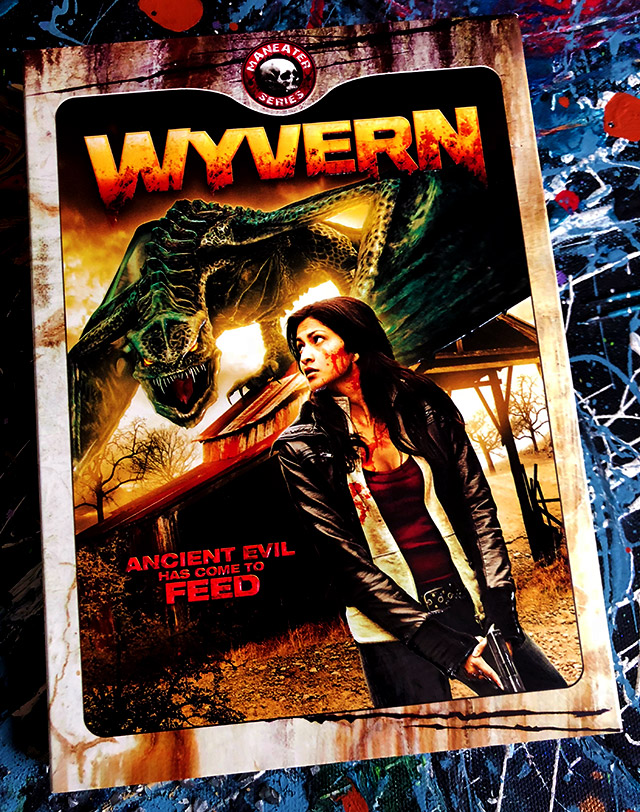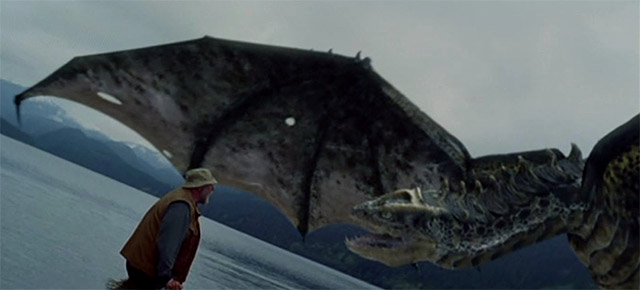 Next up, you'll each receive a copy of Wyvern on DVD. It's one of those movies that's so perfect at 2AM when you have one last slice of frozen pizza. A 2.5 star treasure! Check out this stolen synopsis:
"A creature from Nordic mythology arises out of melting ice and terrorizes the residents of a small Alaskan town."
Um, yes. Count me in. These DVDs are in absolutely brand new condition, sealed and gorgeous. Hell, even if you never watch the thing, the box art is so cool that I doubt you'll mind owning it, anyway.
Content note: This movie is not rated, but I suspect that it has some gory moments. It's about some kind of man-eating dragon, after all!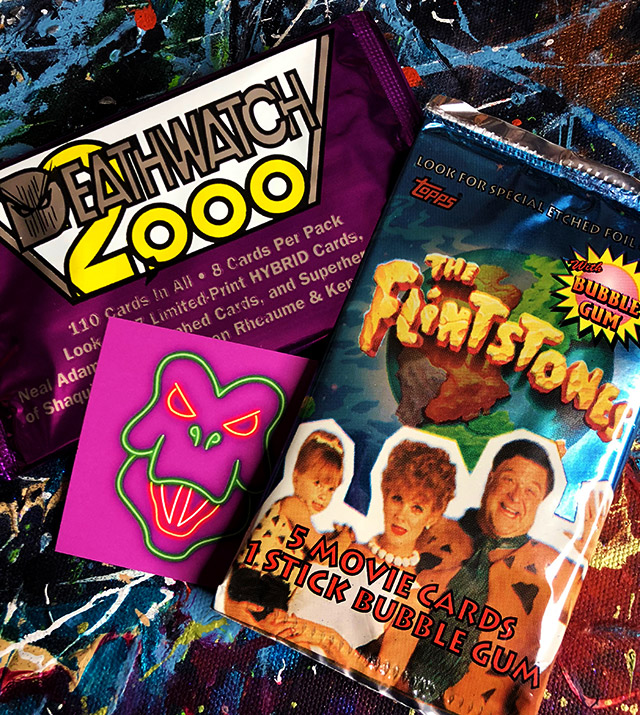 This month's Funpack is seriously pushing the weight limit, so I only had room for a couple of trading card packs this month. Have fun tearing into vintage packs for The Flintstones movie and Deathwatch 2000! Your two favorite things!
You'll also receive this month's exclusive Dino Drac sticker — a purply spin on the site's After Dark logo!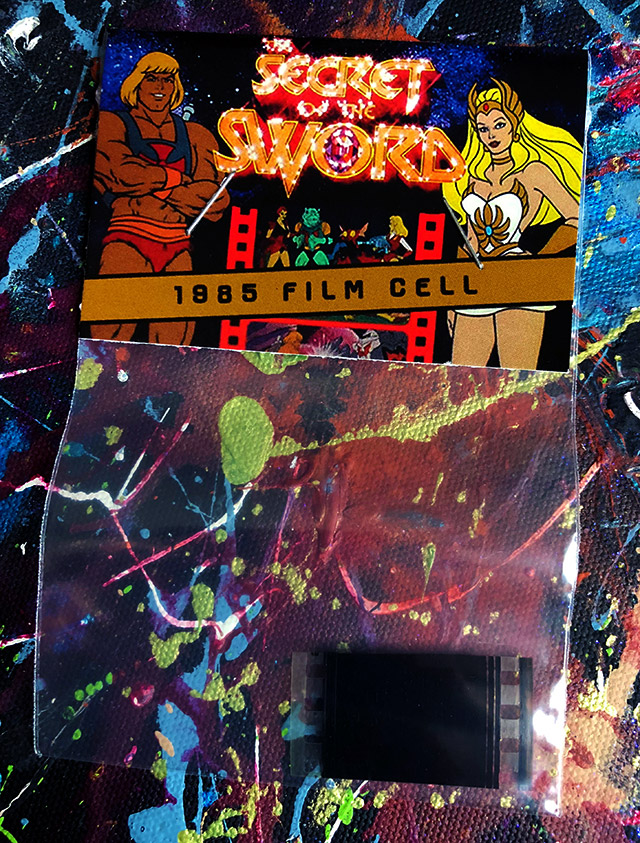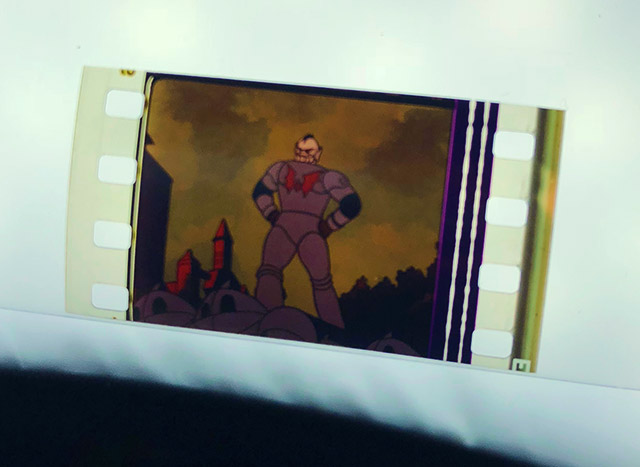 Then there's this month's Dino Drac Specimen — an honest-to-goodness Secret of the Sword film cell! Yes, He-Man's first big screen foray from 1985, which introduced She-Ra and Hordak. That film is one of my favorite Masters of the Universe "things," and if you've never seen it, please change that!
Cells aren't exactly museum quality, and I have no idea if they're from actual film reels or just trailer reels. Whatever, they look cool and they're in sweet custom packaging. You'll dig 'em. You better!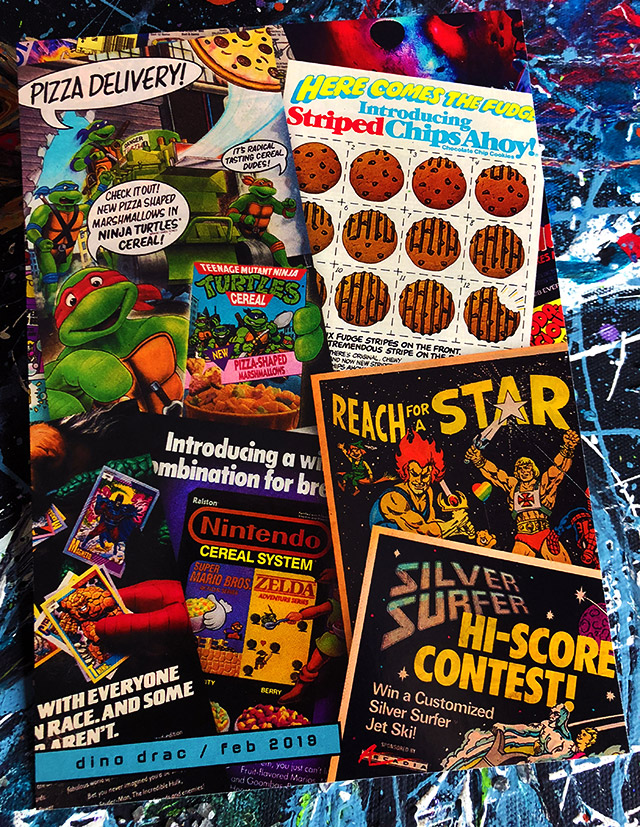 This month's exclusive Dino Drac Mini-Poster is one of my favorites. It's a collage of vintage comic book advertisements that I scanned eons ago, printed on 5×7" cardstock. Everything from TMNT Cereal to Striped Chips Ahoy is in the mix, and if there was ever a Funpack Mini-Poster that deserved a frame, it's this one!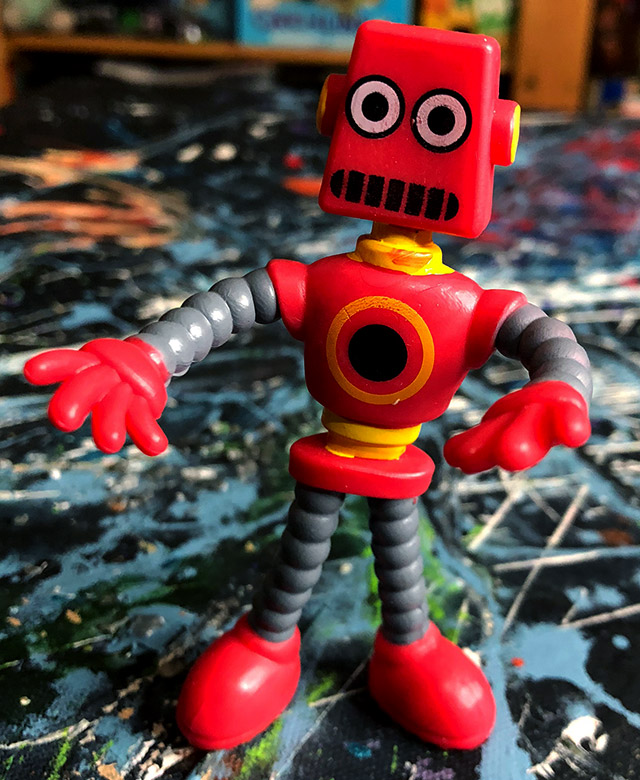 Yes, there's still more! You'll each receive a cute little bendy robot figure, which can serve as your surrogate best friend. I have a bunch of robots in different colors with different facial expressions, but they're all basically in this style. You'll get one, randomly picked!
(Bonus points if you sit him on the couch next to you while you watch Wyvern. Please send pics if you do.)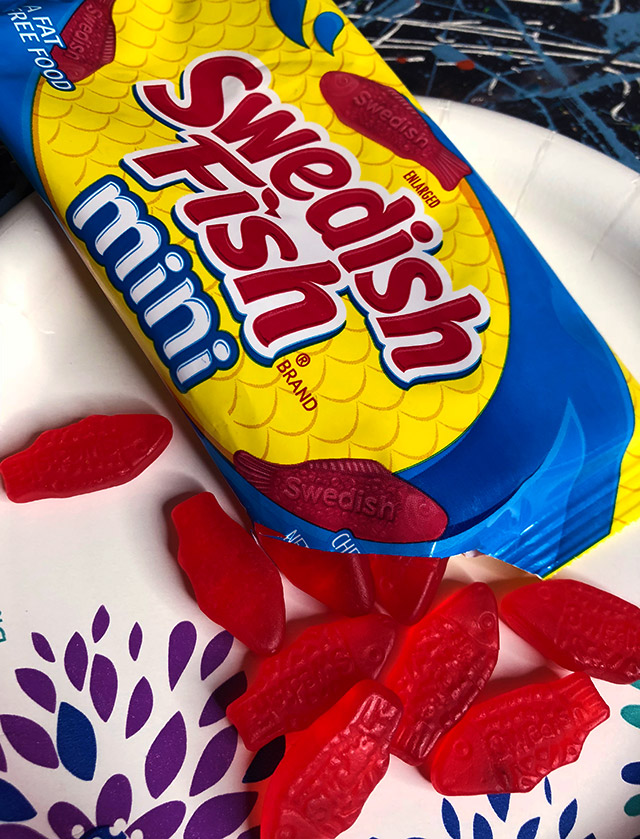 No Funpack is complete without something to much on, so enjoy a retail-sized pack of Mini Swedish Fish!
I had not eaten Swedish Fish for years before grabbing them for this Funpack, and I can now confirm that they're still delicious. Like, too delicious. I need this Funpack to sell out, because it's really dangerous for these to be in the house.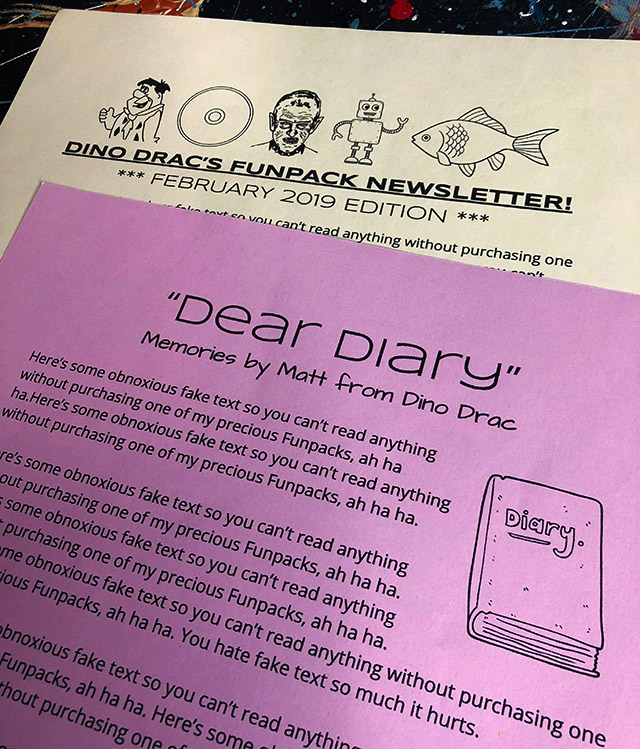 Rounding things out, you'll also receive this month's Funpack Newsletter, plus an exclusive essay that will never be reprinted on the site!
This month's essay is all about my "diary" years, particularly in middle school, when keeping a journal absolutely kept me sane. The essay cuts deeper than the title suggests!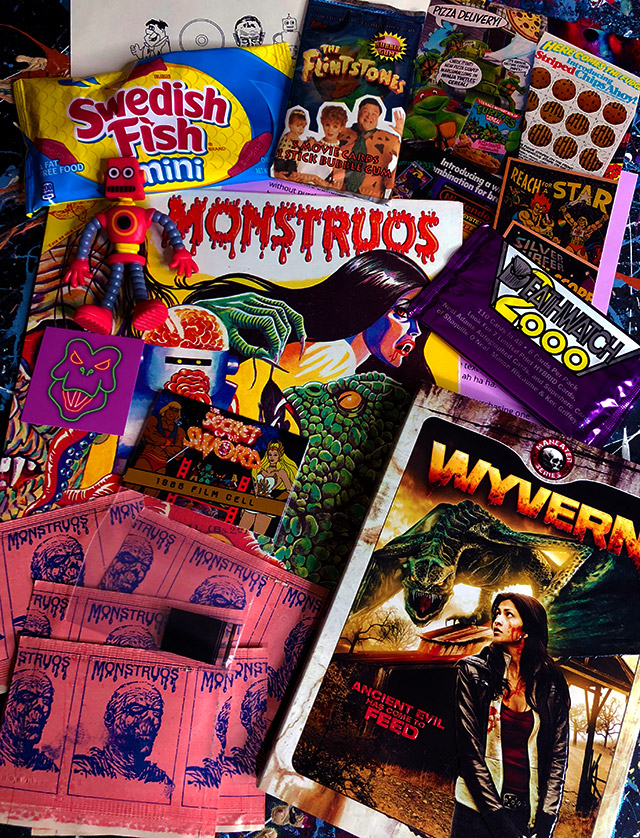 Yep, you'll get EVERYTHING above for $25 shipped!
If you're already a Funpack subscriber and you'd like to stay that way… do nothing! You're all set!
If you want to subscribe, please read the following, and then click the button at the bottom of this page!
1. Funpacks are available in the United States only. Sorry!
2. Subscriptions are handled via Paypal. If you don't have an account, it's very easy to make one!
3. Funpacks will be shipped to the address listed on your Paypal account. If you need to change your shipping address, or if you'd like for your Funpacks to be shipped to someone else, simply email me!
4. You will be automatically billed $25 every month. (Yes, that price includes shipping.) If you subscribe today, you'll pay today, and then again in exactly one month. For as long as you remain subscribed, you'll keep getting Funpacks!
5. You can cancel at anytime. (You could subscribe today and cancel today!) If you cancel after you've already been charged for the following month's Funpack, you'll of course receive it just the same as any current subscriber would. (You can cancel via Paypal, or by emailing me.)
6. The February 2019 Funpacks will ship on or before Wednesday 2/20.
Remember, the Funpacks allow me to keep doing the site… thanks so much to all who help to keep it/me going!
To get your subscription started, click the button below!
SOLD OUT!