Yeah, here's me, posting a new Funpack on a Friday night that also happens to be Valentine's Day. Not exactly the wisest rollout plan, but we'll see how it goes!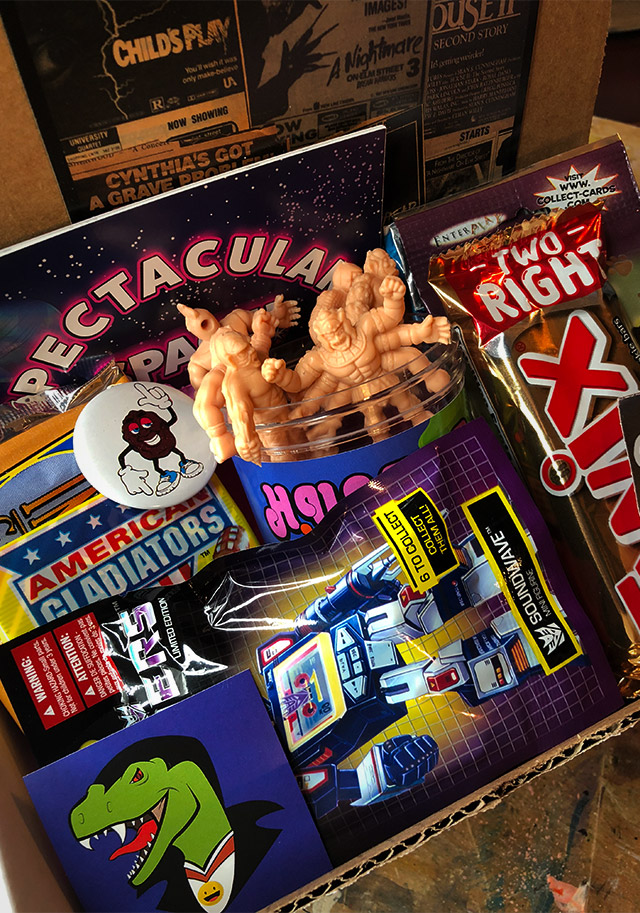 UNITED STATES ONLY! LIMITED SUPPLY!
Dino Drac's Freaky February Funpack is here, and features what I think is an all-time item as far as Funpacks go. There's a load of old-and-new nonsense in this one, from toys to stickers to candy to a little tiny coloring book. I think you're gonna dig it!
You know the score, right? Funpack subscriptions are $25 a month (including shipping), and for as long as you remain subscribed, you'll keep getting more of the good stuff each and every month. (You can cancel at any time without penalty, of course!)
Scroll to the bottom for ordering info, or keep reading to see everything you'll get with this month's box!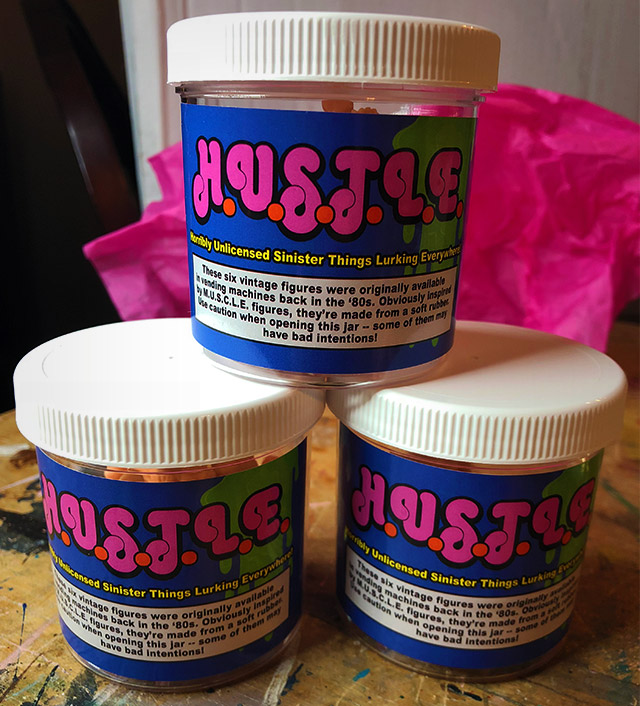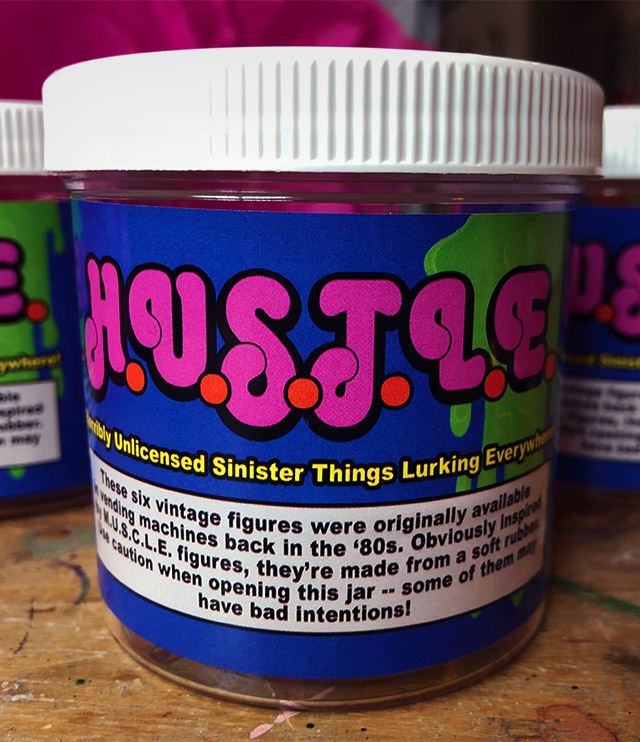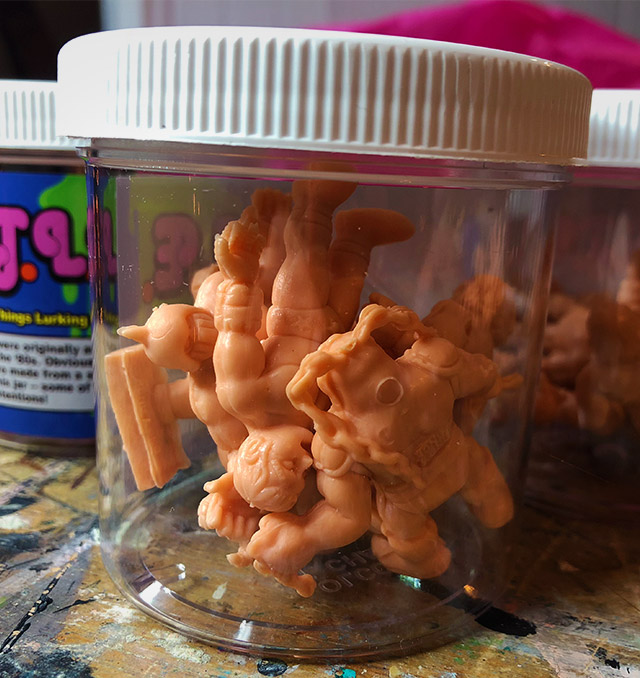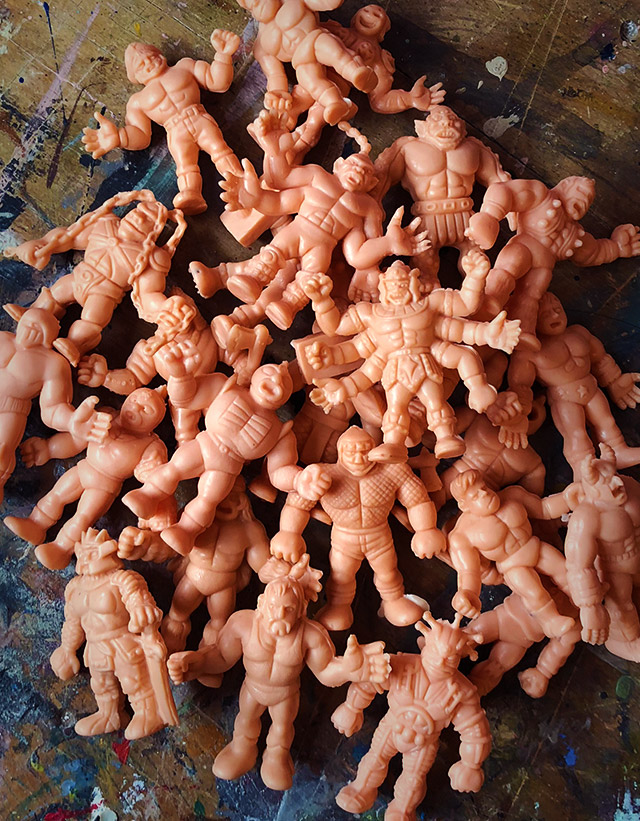 *SIX* FIGURES IN EACH JAR!!
Hooooo boy. Where do I start? Okay, so y'all remember M.U.S.C.L.E. figures, I'm sure. Well, back in the '80s, it wasn't uncommon to find knockoff versions  inside vending machines. They strongly resemble true M.U.S.C.L.E. figures, but were a wee bit smaller and made of a softer rubber.
This month, you will each receive SIX of those vintage knockoff figures, beautifully presented in my screwball H.U.S.T.L.E. jars. (Because they're Horrible Unlicensed Sinister Things Lurking Everywhere!)
This is an unreal, once-in-a-lifetime find, guys. I'm so happy to share these with you! Each H.U.S.T.L.E. jar contains six different figures. Bonus points: My stock of figures was never circulated, so they're CLEAN and in great shape.
There are around two dozen different figures in the set, including many that old M.U.S.C.L.E. fans will immediately recognize. Which ones will you get? Only one way to find out!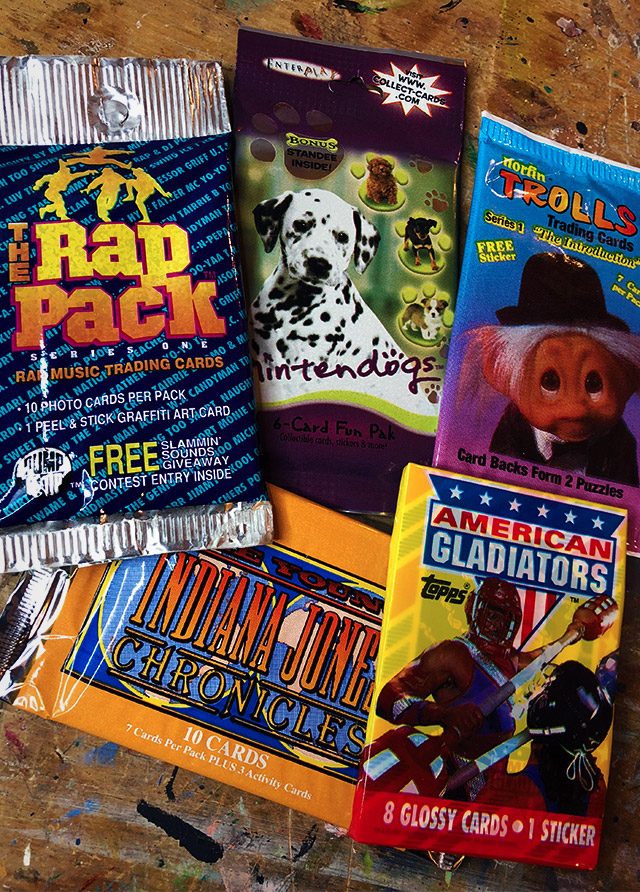 Next up is a pile of vintage trading card packs, featuring old Funpack favorites plus others that have never hit one of my boxes before. You'll receive ALL FIVE of the packs shown above, including:
– American Gladiators (1991)
– Indiana Jones Chronicles (1992)
– The Rap Pack (1991)
– Norfin Trolls (1992)
– Nintendogs (2007)
Tear 'em open and lose yourself in everything from TV shows to video games to yesteryear's biggest rap stars. Oh, and Troll dolls, too!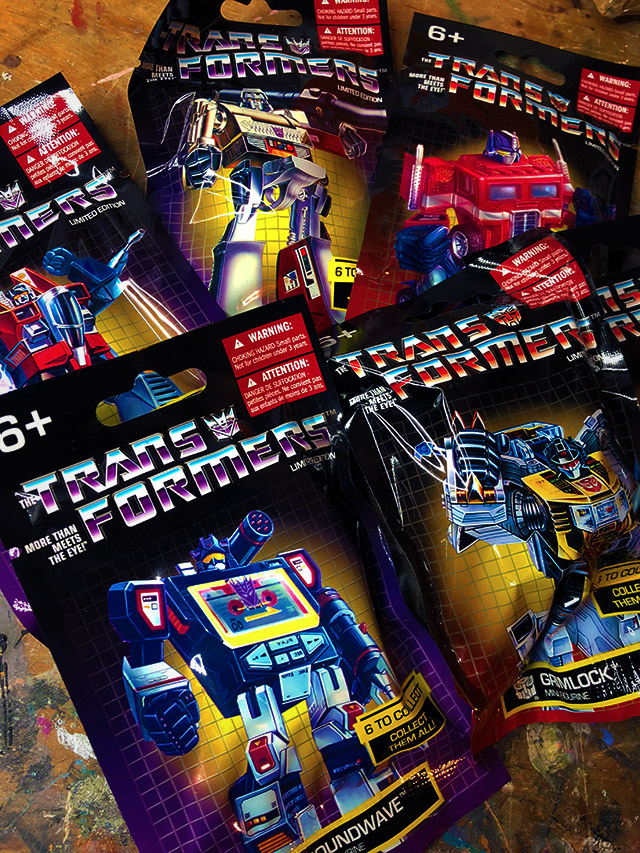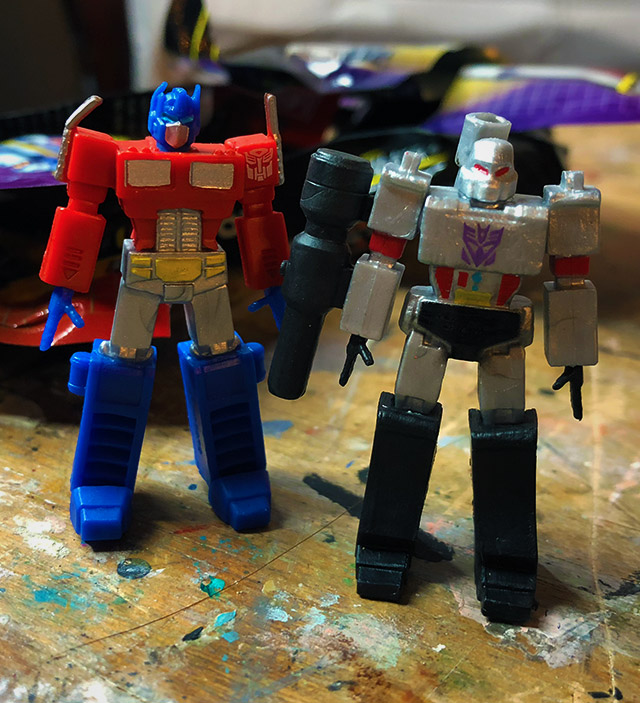 *ONE* TRANSFORMERS FIGURE PER FUNPACK!
You'll also receive ONE of these super cool Transformers mini figures, made by Prexio. God I love these. I openly admit that they're dollar store toys (if you can find them, at least), but I couldn't resist including them even despite my negative profit margin.
These tiny figures represent some of the most popular G1 Autobots and Decepticons. Everyone from Megatron to Optimus to Grimlock to Starscream is in the mix. You might even end up with a Soundwave, assuming I don't keep them all.
You'll get one at random. Hope it's the robot you wanted most!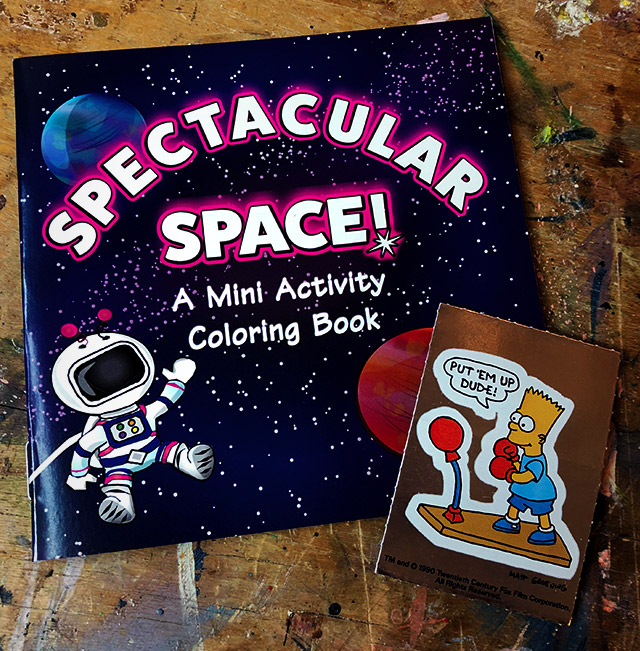 Ah, and then I'll slide you an adorable miniature coloring book, covering outer space. There are some goofy aliens inside, so I know you'll dig it.
And to keep our vague "vending machine" theme going, I'll also toss in a vintage Simpsons foil sticker. These came out in the early '90s and were usually crushed into plastic capsules. Yours, thankfully, were never folded. There are various styles in the mix, so if you don't like the one with Bart up there, there's a strong chance you'll get a different sticker anyway.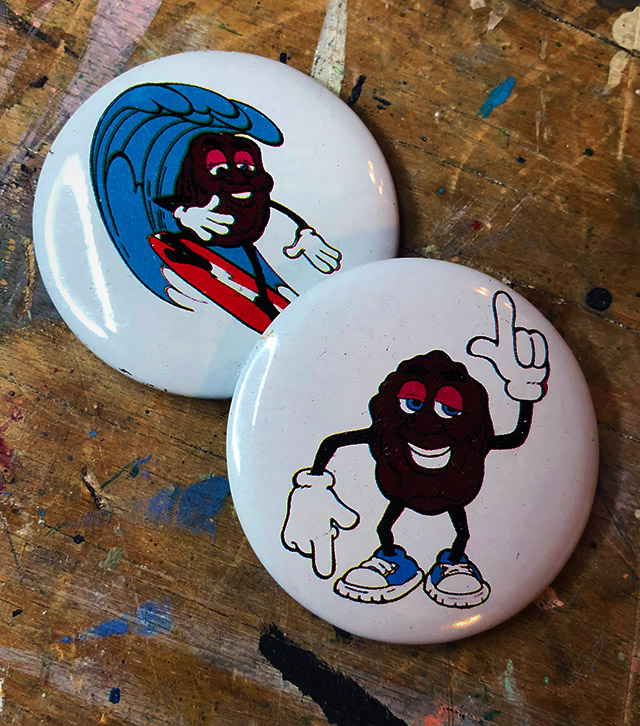 Acting as this month's Dino Drac Specimen, the vending machine nostalgia continues with a pair of vintage California Raisins buttons. These were "cheapo" buttons once sold inside of vending machines. (Like, cheap enough to where the fasteners on the backs are literally just safety pins. Let's call that part of their charm?)
You'll each receive two different California Raisins buttons. I have many styles available, so you may end up with a completely different pair. Don't worry, they all have anthropomorphic raisins on them.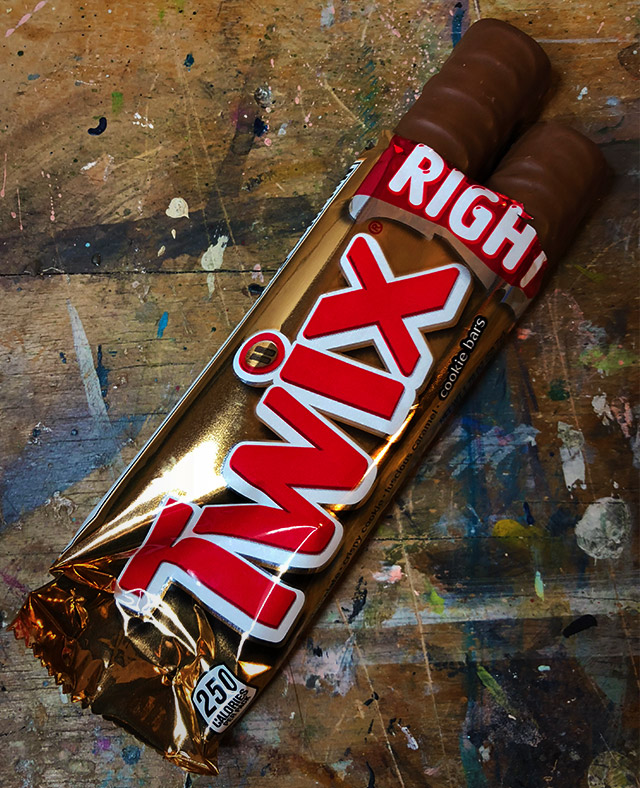 Is February the coldest month of the year? I think it is, right? I figured, if I'm ever gonna send you a full-sized pack of Twix bars, this was the right month. Chocolate doesn't melt in February; it's a rule.
Yeah, this is the full-sized real deal. The same Twix you made Ma buy you a thousand times. None of that "fun-sized" nonsense. We're talking about 250 calories' worth of pure cookie ecstasy. Get ready!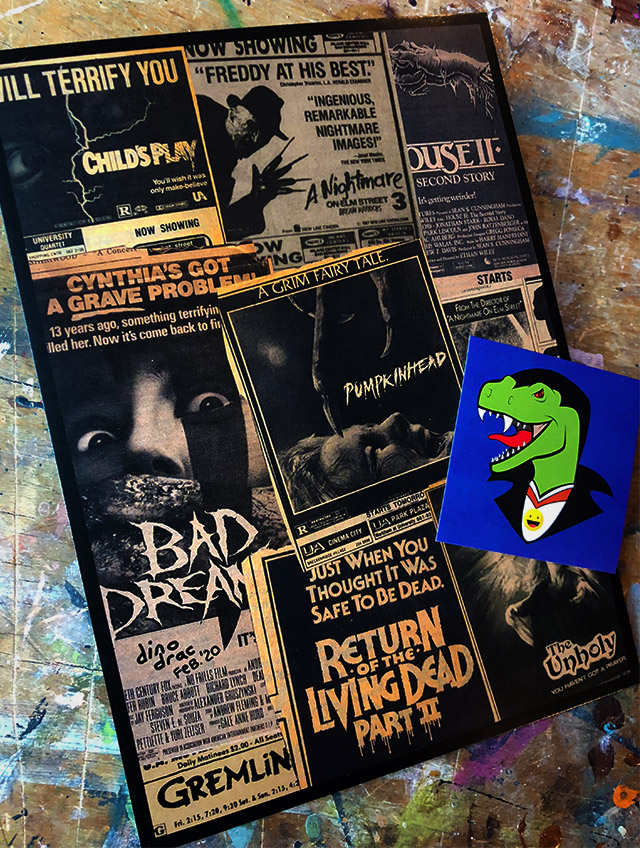 This month's Dino Drac Mini-Poster is all kinds of awesome. I made a collage with my collection of ancient horror movie newspaper ads, and it worked out even better than I imagined. This one is slick. It also features Freddy Krueger and Pumpkinhead, so you'd want it even if it wasn't.
You'll also receive this month's 2×2" Dino Drac Sticker — this time celebrating a never-before-seen prototype design that was under consideration before Dino Drac officially launched!
Poster is 5×7" and printed on something approaching cardstock. Sticker is just a sticker.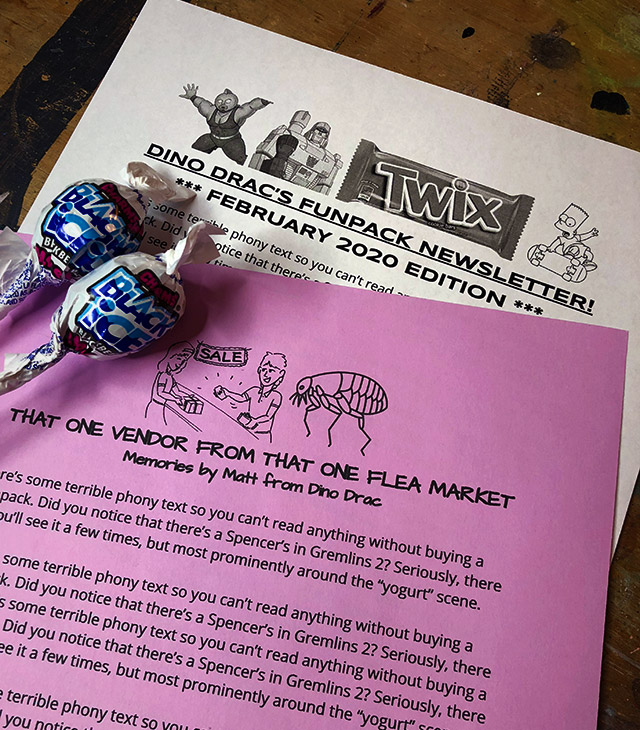 Rounding things out, you'll also get this month's Funpack Newsletter, along with an exclusive essay that will never be reprinted on the site. The February 2020 essay covers one particular dealer from a long-gone indoor flea market, and how my love for old things and random ephemera was practically born there.
Oh, and I'll also toss in a pair of Black Ice Blow Pops. Yeah, Black Ice. That's one of their flavors now. You know you're dying to try it.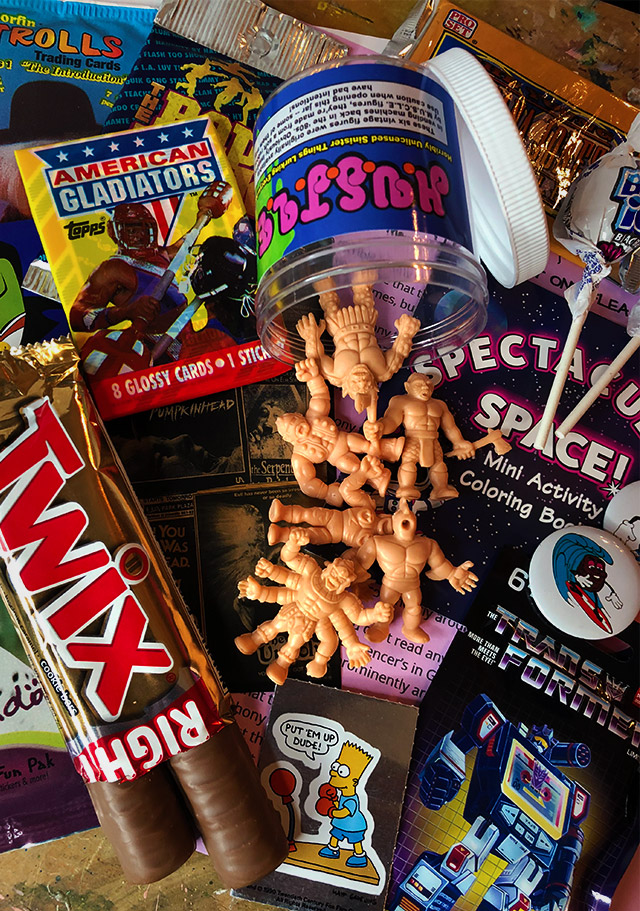 Yep, you'll receive everything shown above, for $25 shipped!
If you're already a Funpack subscriber and you'd like to stay that way… do nothing! You're all set!
If you want to subscribe, please read the following, and then click the button at the bottom of this page!
1. Funpacks are available in the United States only. Sorry!
2. Subscriptions are handled via Paypal. If you don't have an account, it's very easy to make one!
3. Funpacks will be shipped to the address listed on your Paypal account. If you need to change your shipping address, or if you'd like for your Funpacks to be shipped to someone else, simply email me!
4. You will be automatically billed $25 every month. (Yes, that price includes shipping.) If you subscribe today, you'll pay today, and then again in exactly one month. For as long as you remain subscribed, you'll keep getting Funpacks!
5. You can cancel at anytime. (You could subscribe today and cancel today!) If you cancel after you've already been charged for the following month's Funpack, you'll of course receive it just the same as any current subscriber would. (You can cancel via Paypal, or by emailing me.)
6. The February 2020 Funpacks will ship on or before Friday 2/21.
Remember, the Funpacks allow me to keep doing the site… thanks so much to all who help to keep it/me going!
To get your subscription started, click the button below!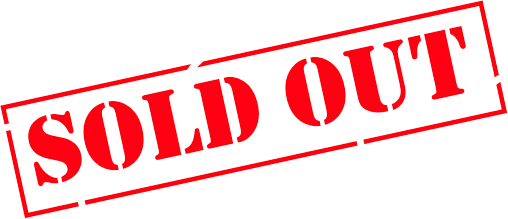 Subscription slots are now filled, however I may have a few extra February Funpacks left to sell on an individual basis. To get on the waiting list in case there are any left, shoot me an email — I'm dinosaurdracula on gmail. Thanks!!