Augh, it took me longer than I would've liked, but I'm finally ready to show you Dino Drac's February Funpack!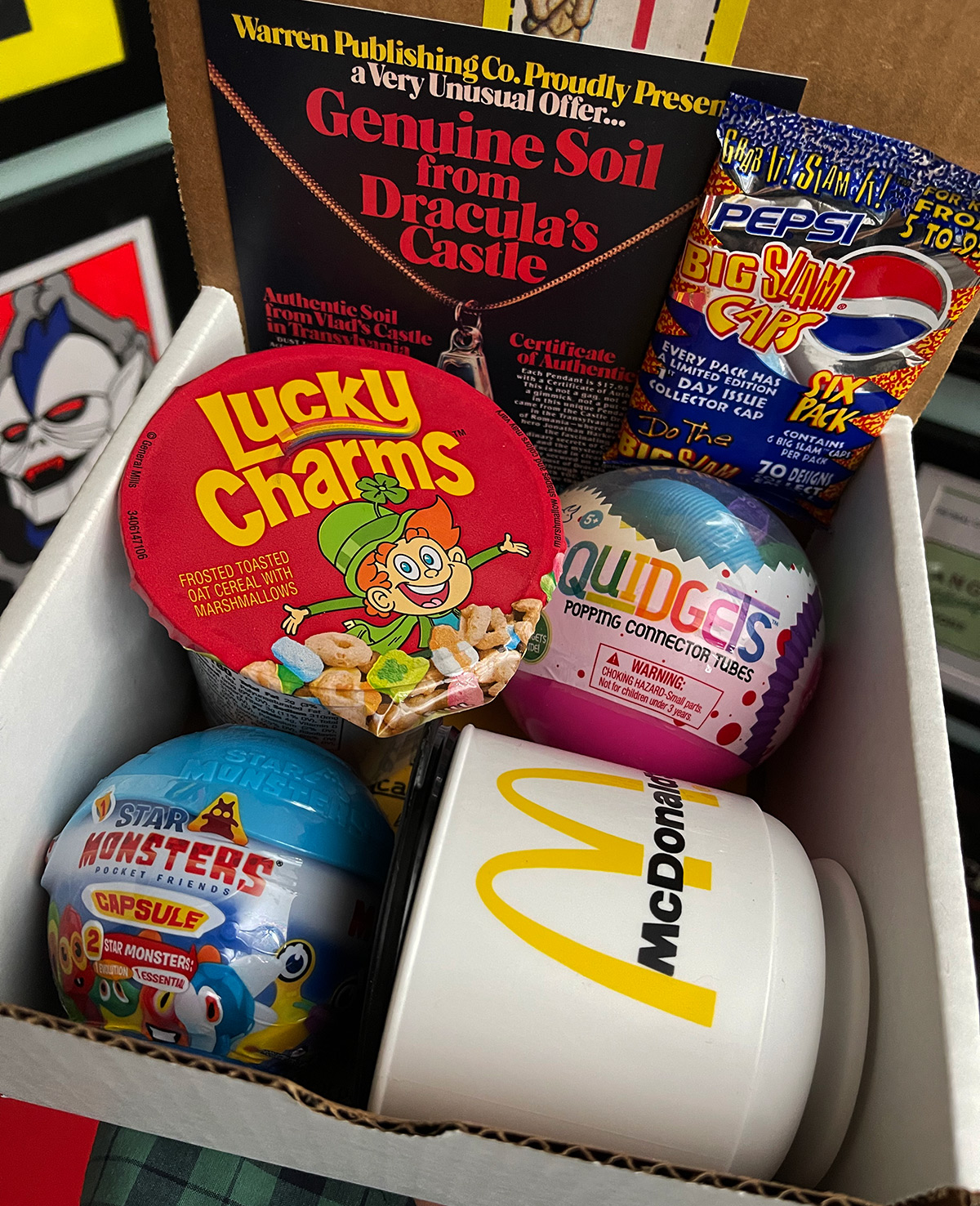 This is one of the largest Funpacks ever, or at least the tallest, stuffed with jumbo-sized items that will make you feel all demure by comparison.
Subscriptions are currently closed, but I do have a fair number of spares that I can sell on an individual basis. They're $25 shipped to anywhere in the United States. Jump to the bottom for ordering info, or keep reading to learn about everything in this month's box!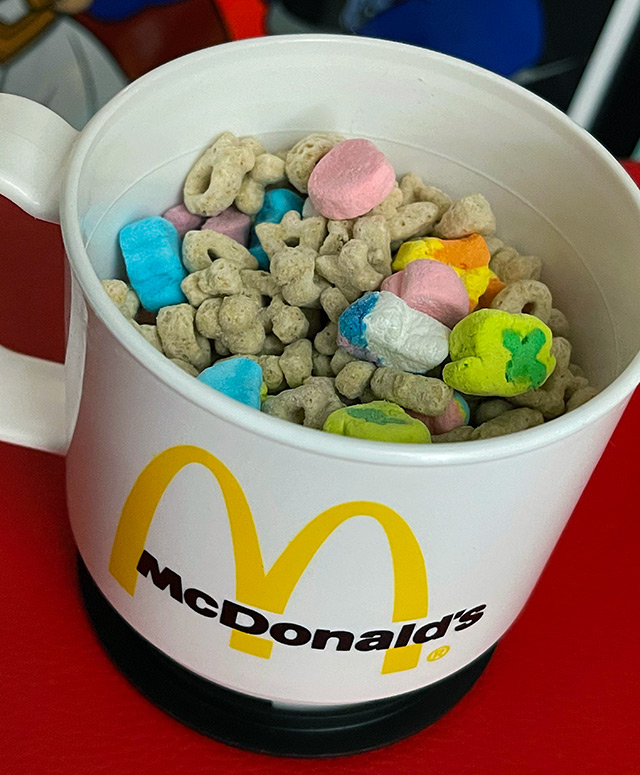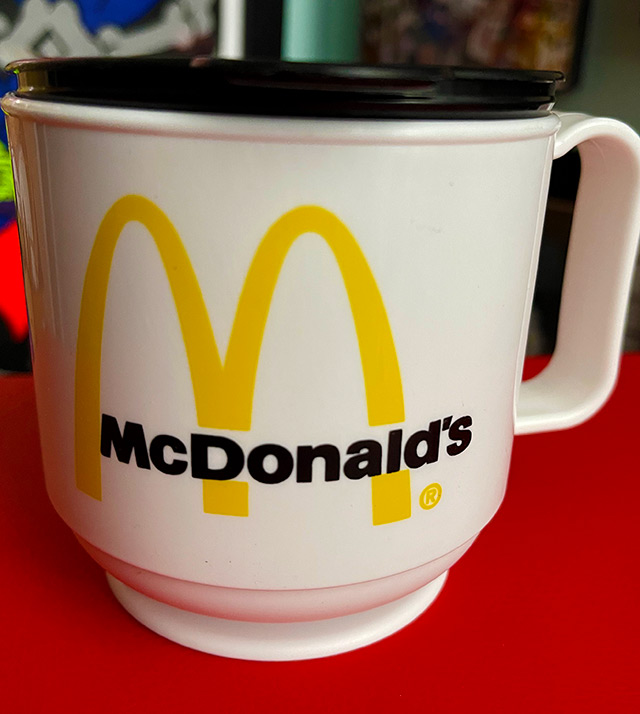 Oh, this is amazing. The star of the February Funpack is this vintage McDonald's travel cup, probably from the '80s, or the early '90s at latest. These are incredible! A nostalgic collectible that's still perfectly usable!
As far as I know, these cups were never available to the general public, and were instead sold only to franchisees in corporate catalogs. They were meant to be given away as gifts or at team meetings. These cups are COMPLETELY UNUSED and are coming straight out of their old factory cases!
They're big, lightweight cups that stand at around 3.5" tall. Each McD's logo cup comes with a plastic lid and a little coaster thingy. Don't worry about them getting damaged in transit – the cups are made of plastic and are virtually indestructible!
Whether you use the cups for coffee, soup or Lucky Charms, you're gonna love these. Oh, and speaking of Lucky Charms…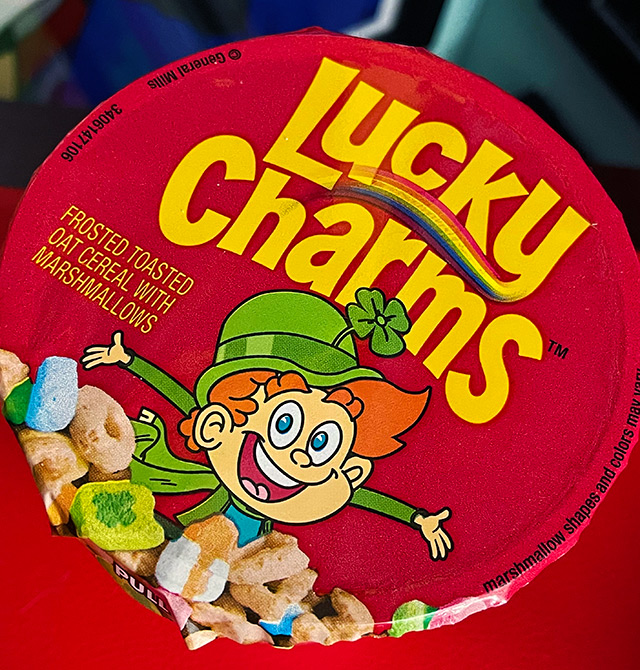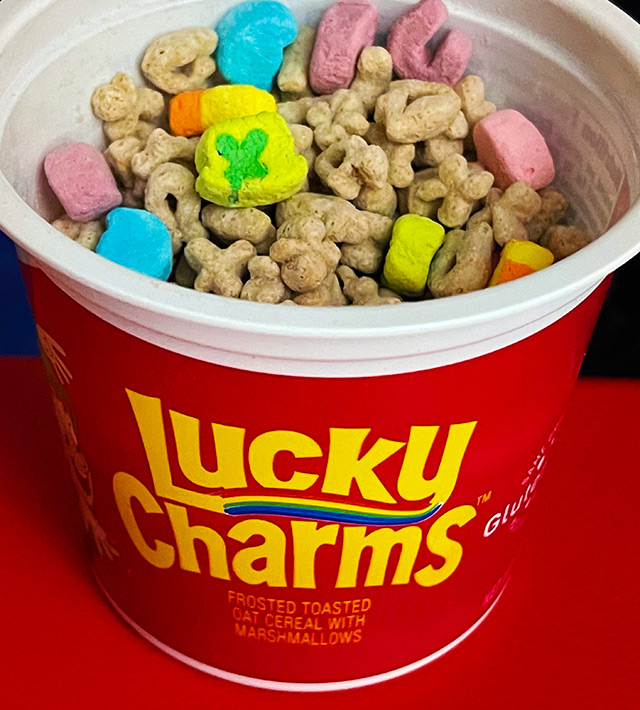 You'll also receive a super-sized cup of Lucky Charms! Each cup is stuffed with 1.7 ounces' worth of cereal, which counts as one (very generous) serving.
Having now eaten 5 of these, I can confirm that there's an excellent marshmallow-to-cereal ratio, so expect lots of pretty colors when you peel that lid off!
Everyone loves Lucky Charms, but I bet it's been years since you bought any for yourself. Get reacquainted with Lucky in this month's Funpack!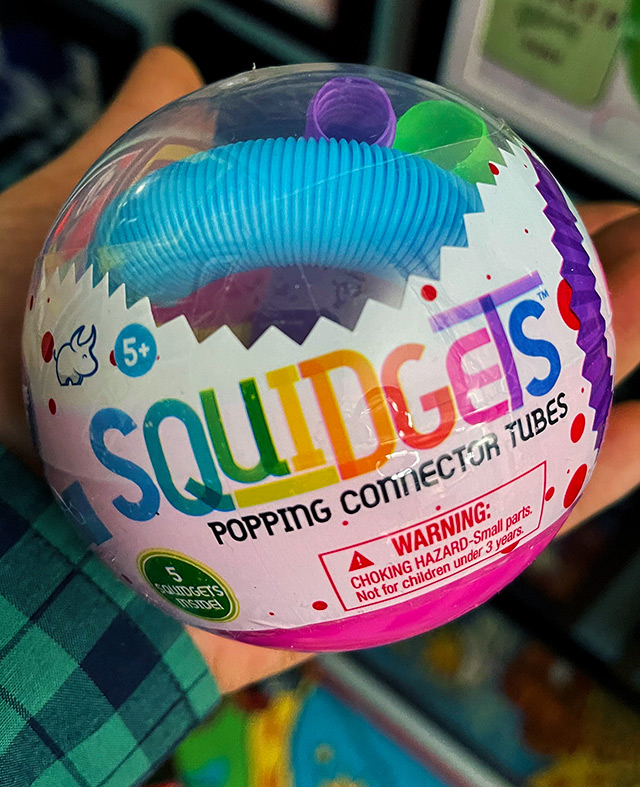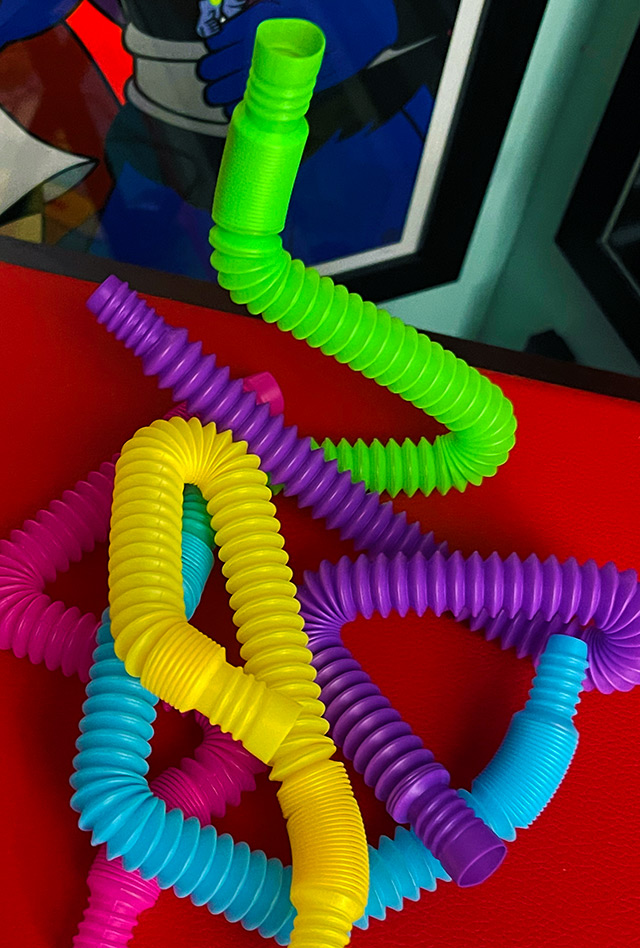 Okay, now I have a couple of weird toys to occupy your hands and brains, starting with this giant-sized capsule of Squidgets!
Squidgets are um…. tubes? Yeah, tubes. Tubes in various neon colors, that can be stretched to obscene lengths, twisted into innumerable shapes, and/or connected together, all while making kickass ASMR-worthy noises as you mess with them.
Each capsule contains five tubes, and while it's hard to articulate why fiddling with colorful plastic tubes is fun, I hope you'll trust me when I say that it is. Perfect for those times when you need to relieve stress.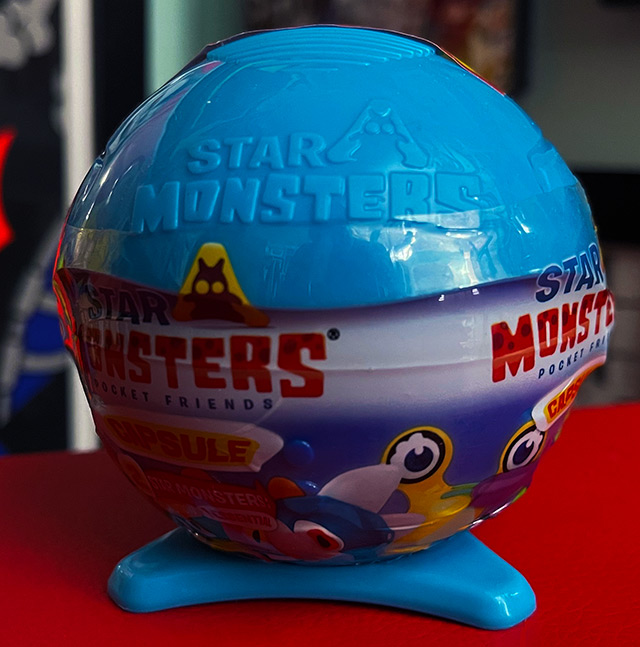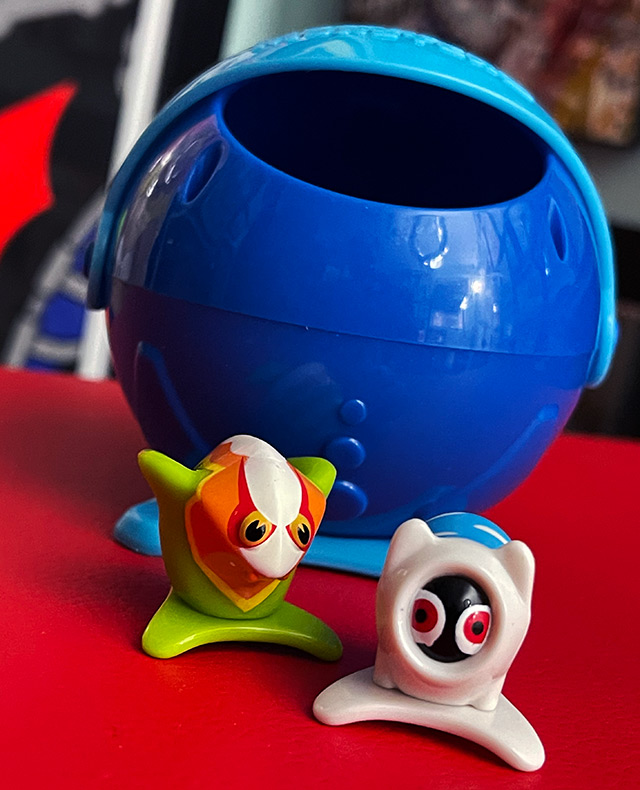 And then we have this spaceship-themed capsule of Star Monsters! I included some Star Monsters in a prior Funpack, but never packaged like this!
Each capsule twists open to reveal two different Star Monsters inside. There are roughly ten billion of them to collect, so God knows which two you'll get. When you're done admiring their strange looks, put 'em back in their spaceship and let them traverse the universe. Or your office. Whichever.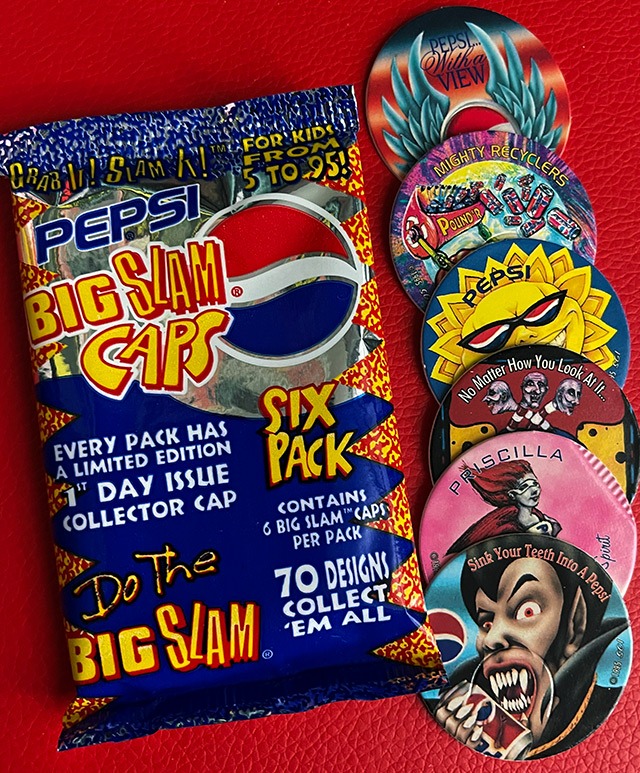 We're still not done! You'll also get a very rare pack of Pepsi Big Slam Caps, from 1995! I'm not sure if it's possible for anything to be more "1995" than a marriage between Pepsi Big Slam and pogs.
Each pack contains six milkcaps, and the art is INSANE. There's tattoo inspiration left and right in this set. Hell, even the wrappers are cool. If you open yours, open it carefully because these are truly hard to find!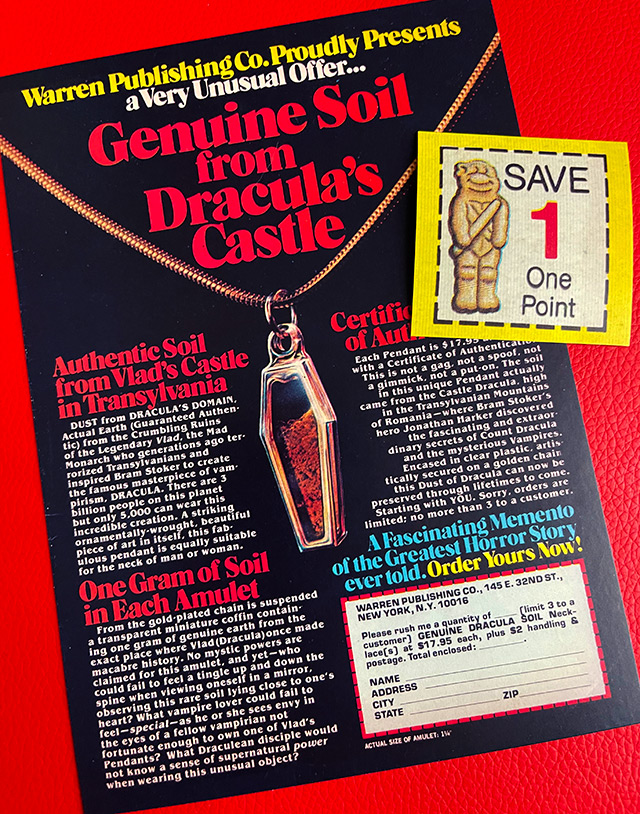 This month's 5×7" cardstock mini-poster is easily among my favorites ever, featuring a scan of the classic "Soil from Dracula's Castle" magazine ad from the late '70s.
You'd have to spend a small fortune to get one of the actual coffin-shaped pendants filled with Dracula's dirt, but at least now you'll have the famous ad! Suitable for framing, or at least for magneting up on your fridge.
Oh, and you'll also get this month's 2×2" sticker, featuring a proof-of-purchase from a vintage box of Ninja Turtles Cookies. You never knew you wanted one, but you do.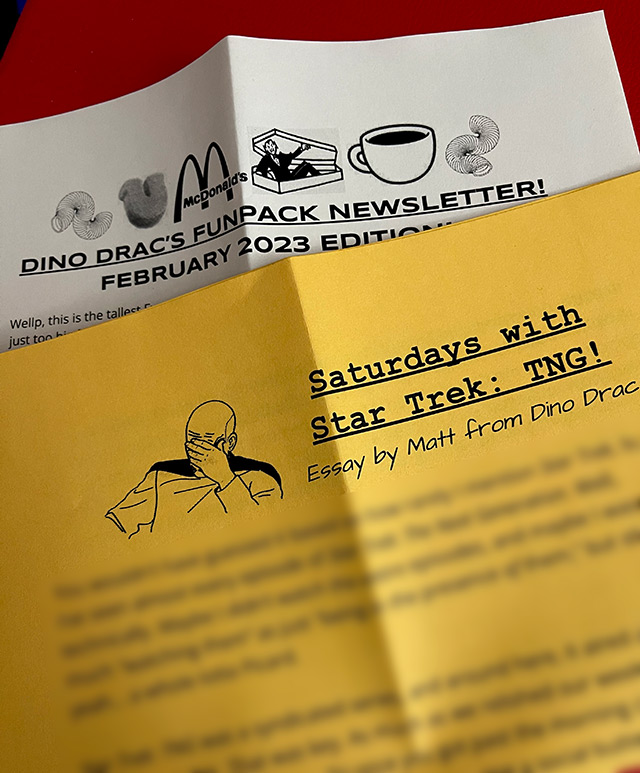 Rounding things out, you'll also get this month's Funpack Newsletter, plus an exclusive essay that will never be reprinted on the site.
This month's essay is about my youthful experiences watching Star Trek: The Next Generation, and how even despite not being a Trekkie, it was an oasis in the desert during the Saturdays of the early '90s. If you're not in Star Trek, don't worry, because the essay really isn't about that.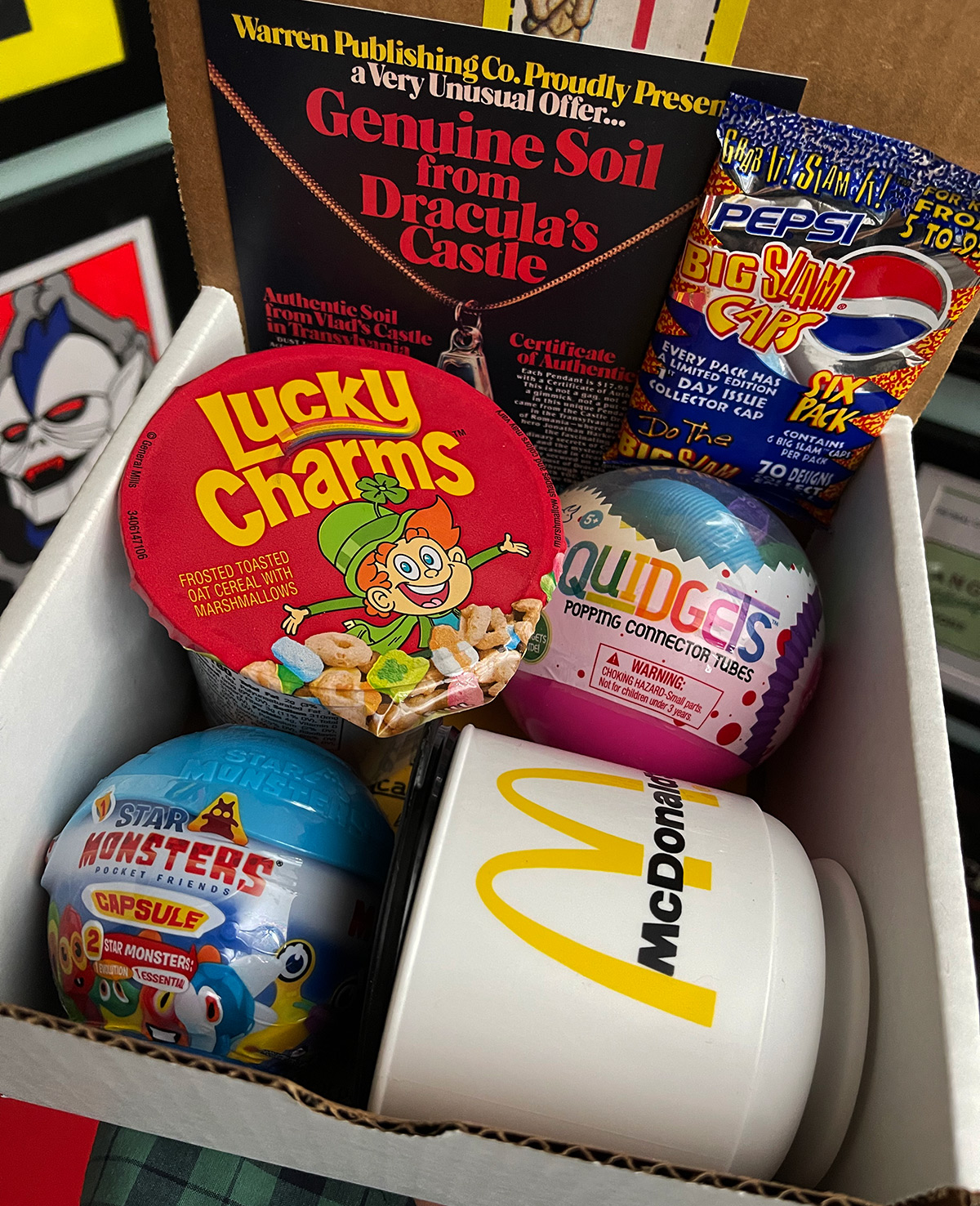 So yep, you'll get everything above, shipped to your door for $25!
If you're already a subscriber, do nothing, you're all set!
If you're NOT a subscriber and you want just this one Funpack, I have a limited number of spares I can sell. Click the button below to purchase one. Please note that I may need until Saturday 2/25 to ship some of the spares, which means your Funpack may not arrive until the first week of March. (Subscriber boxes will all be shipped by Tuesday 2/21.)
United States only, please!
Thanks so much, and I hope you all enjoy this month's box!