I'm finally ready to unveil Dino Drac's 2018 Halloween Funpack! Sadly, there's a catch!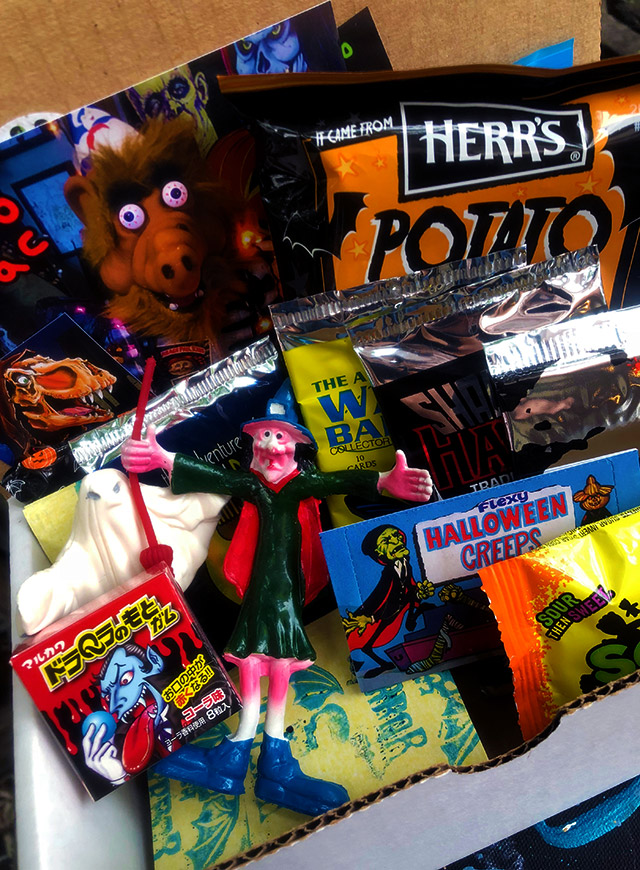 UNITED STATES ONLY!
This one is already sold out! At least, it will be by the time most of you see this! (Sorry, but I warned ya… the best way to guarantee yourself a Halloween Funpack was to make sure you subscribed to a previous one!)
If you're already on the list, I think you're gonna be happy about that. The 2018 Halloween Funpack is an international affair, with spooky collectibles from all across the globe!
There are 10+ items in every box, from toys to snacks to trading cards. If you're hoping to get one of the last boxes available, scroll to the bottom to see if any are left. Otherwise, keep reading to learn about everything you'll receive in this month's Funpack — it's a Halloween party in a box!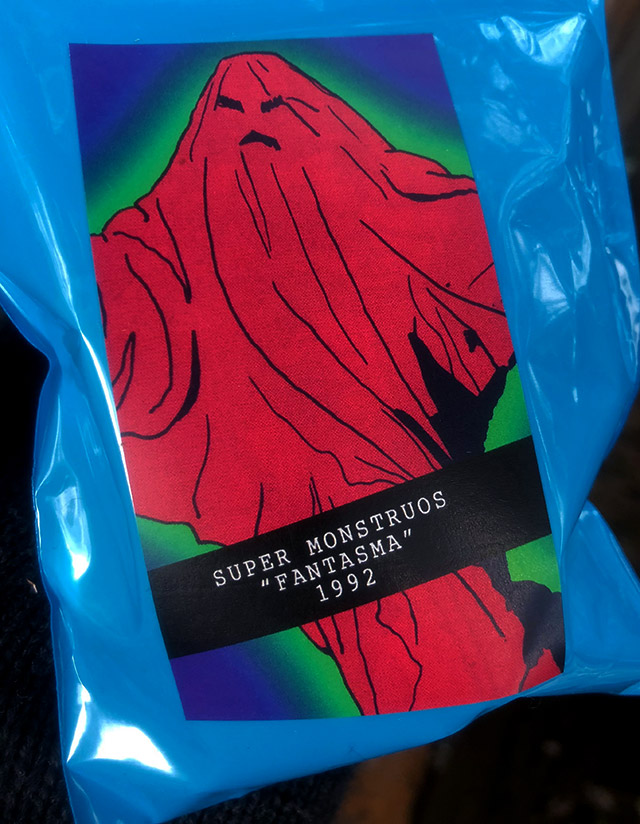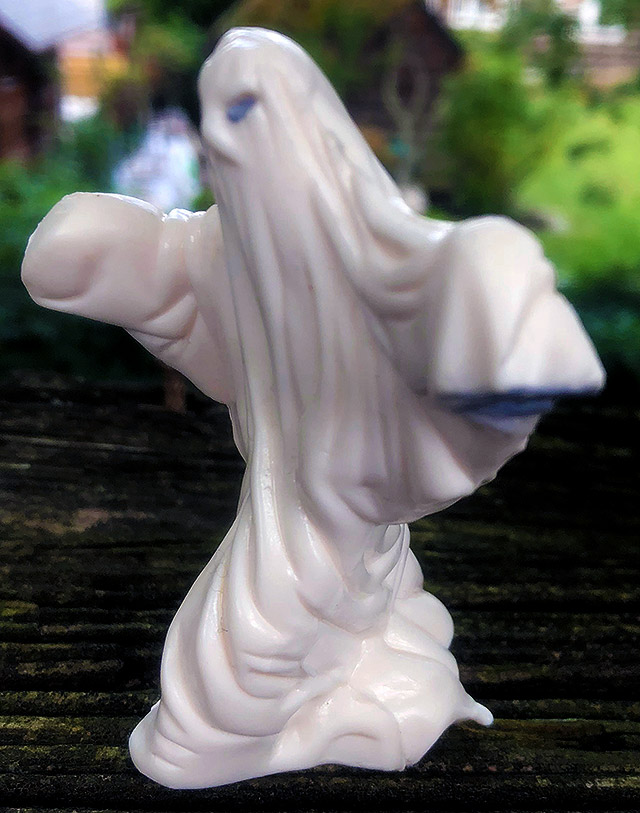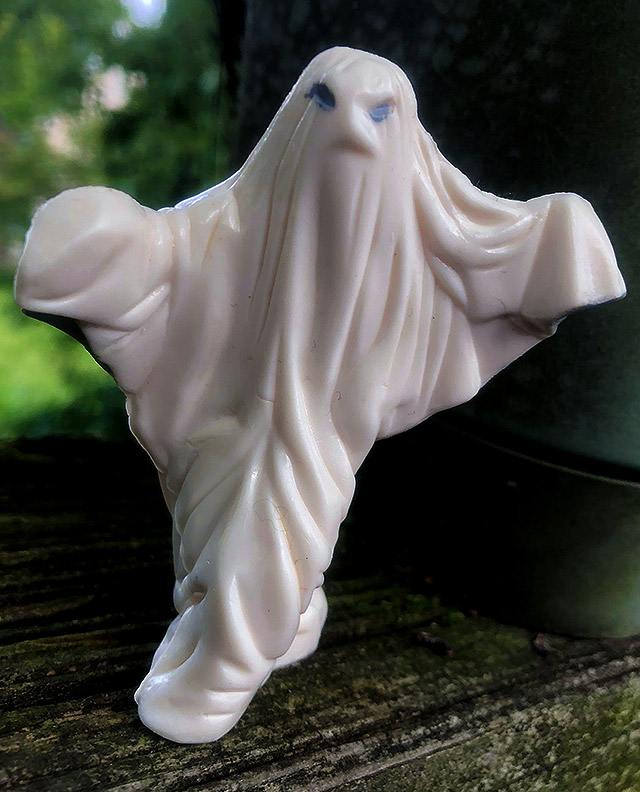 First up, it's the last Super Monstruos figure of the season! Made in Spain back in 1992, get a load of Fantasma — aka The Ghost!
This is easily one of the coolest figures in the whole Super Monstruos collection. An extra-spooky sheet ghost with mean purple eyes! Sheet ghosts are woefully underrepresented in the action figure world, and I'm not sure you'll find one cooler than this! (Or older, either! This dude is almost 30!)
Note: Figures are in nice, unused condition. Some may be a bit sticky due to the type of plastic used to create them. I'm personally cleaning them all prior to shipping. Each comes in its own custom Dino Drac baggie!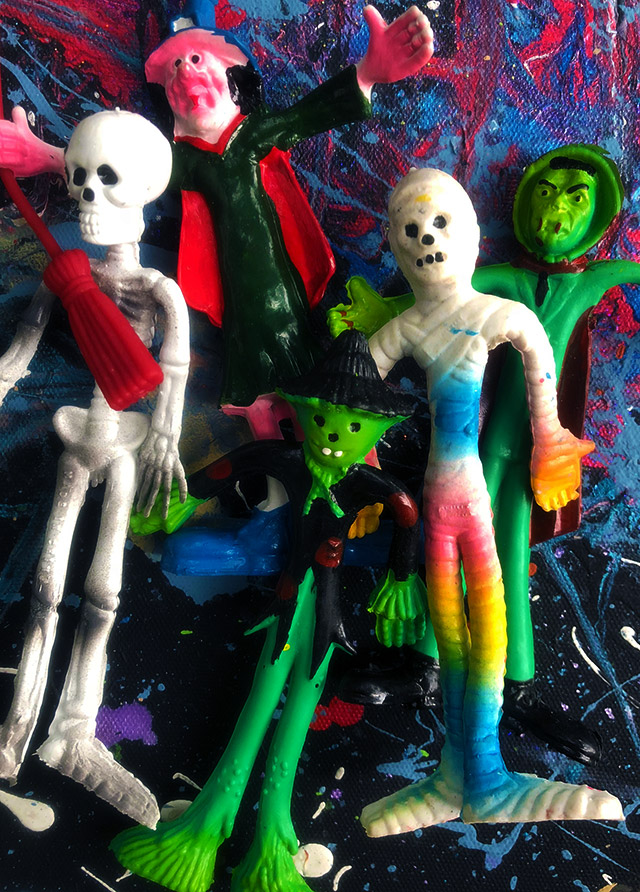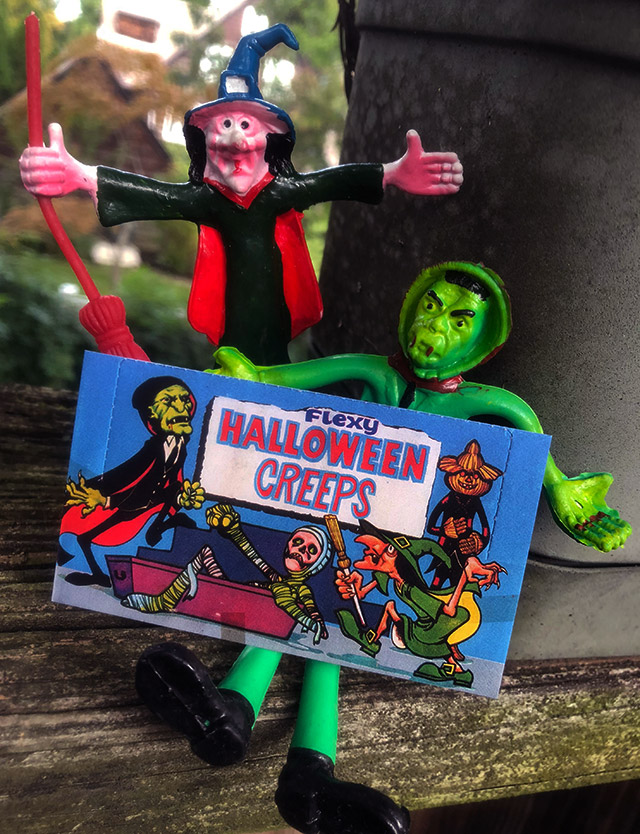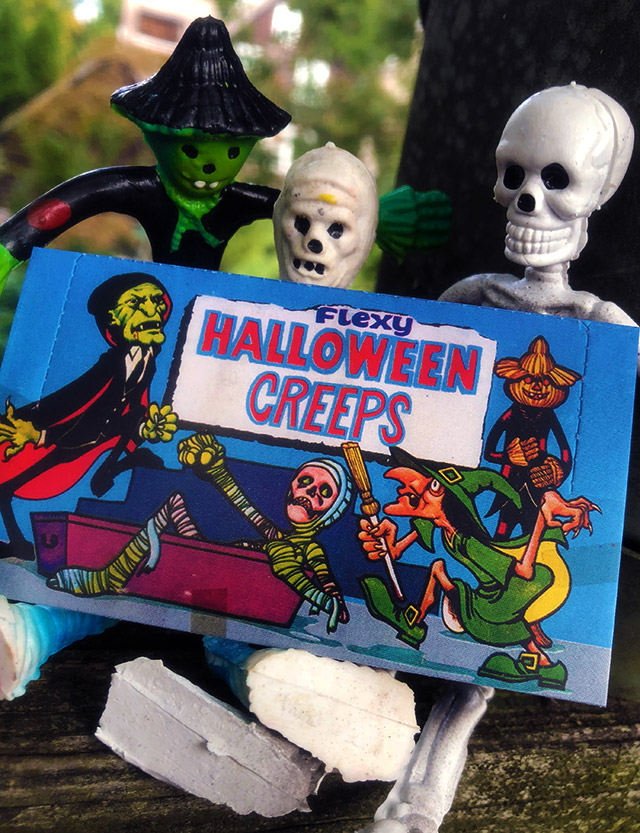 ONE FIGURE PER FUNPACK!
Next up, you'll each receive one of these amazing vintage Flexy Halloween Creeps bendy figures! I imported these from the United Kingdom, but I'm sure many of you in the States remember them, too. They used to be sold everywhere during the Halloween season, from gift shops to costume stores.
I don't have an exact date on these — they're likely from the '80s, but possibly from the '90s. The figures are in great condition considering their age. Might have some paint smears, but that only adds to their charm!
You will get one of these five figures at random. Each is bagged with a little card I had printed up, which is actually a scan of their original display box!
You'll receive one of these figures: Tall Skeleton, Hooded Vampire, Green Scarecrow, Rainbow Mummy or Ugly Witch. They're all so crude, adorable and cool. Really happy to include these in the Funpack!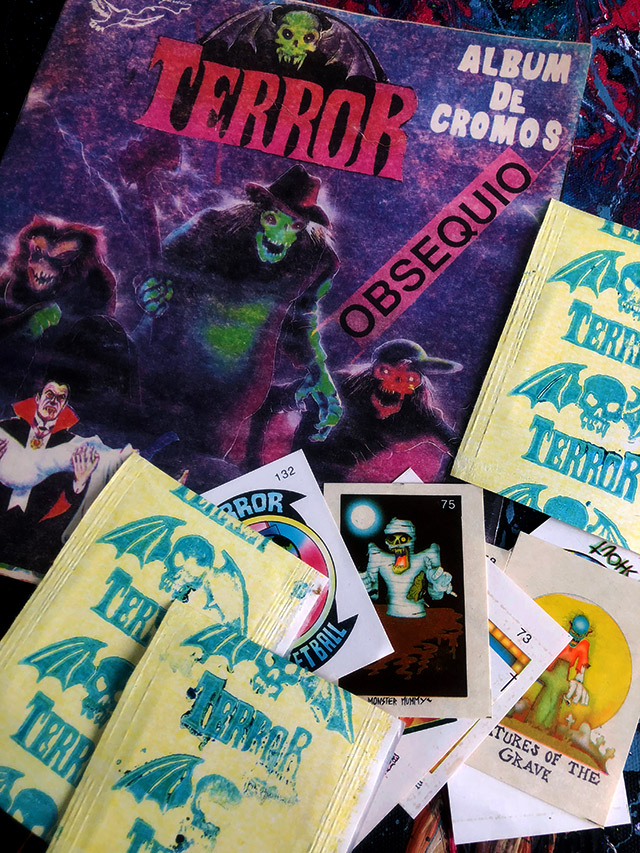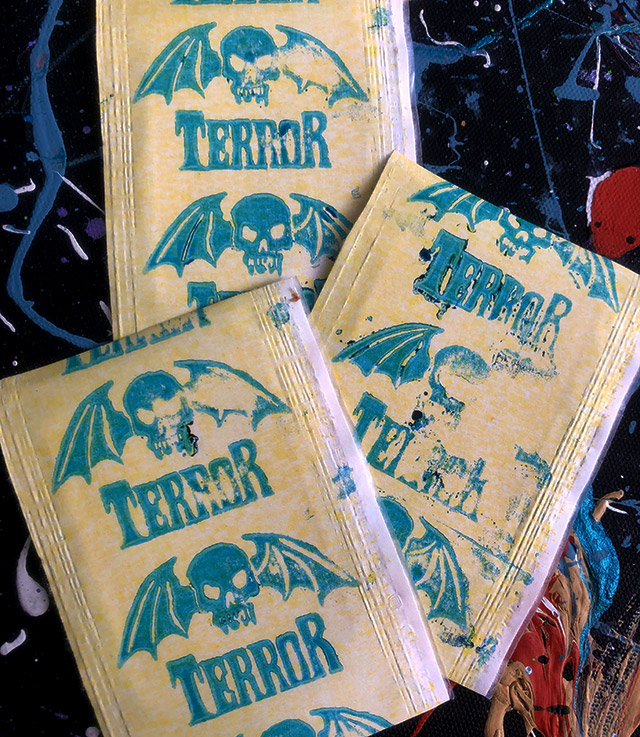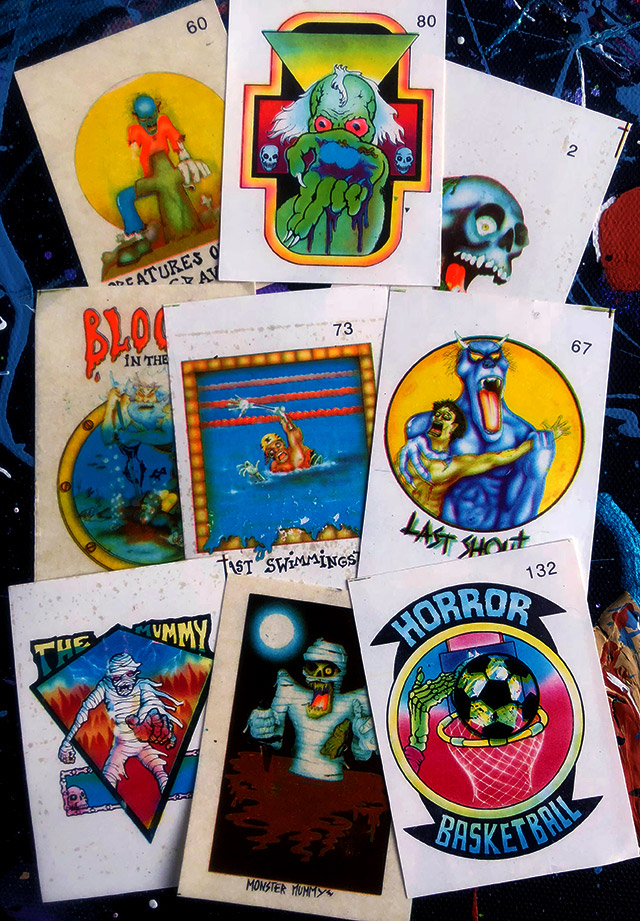 THREE PACKS PER FUNPACK! ALBUM NOT INCLUDED.
Our trip around the world continues with these vintage packs of TERROR stickers, released in Venezuela in the 1980s. These things are RIDICULOUS, guys. The "stickers" (actually lick-and-stick stamps) were meant to fill horror-themed sticker albums (shown above but not included), but they're worth collecting even without the books.
You'll each receive THREE packs. Each pack includes 2-3 stickers. The quality control with this set was almost nonexistent. Some of the stickers will have faded colors; others will be outright misprints. Still, with three packs to open, I'm sure you'll get a few winners!
Check out some of the available stickers in that final photo. SO weird and interesting! The concepts are always macabre and often nonsensical. I think you'll have a blast with these — there's really nothing else like them!
Remember, each Funpack will include 3 packs with 2-3 stickers in each pack. You're so gonna use one of these stickers as the basis for your next tattoo.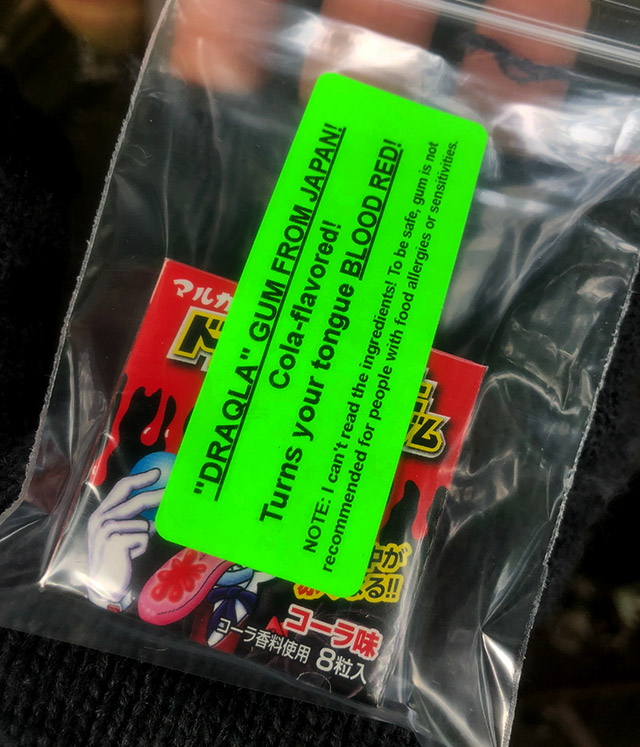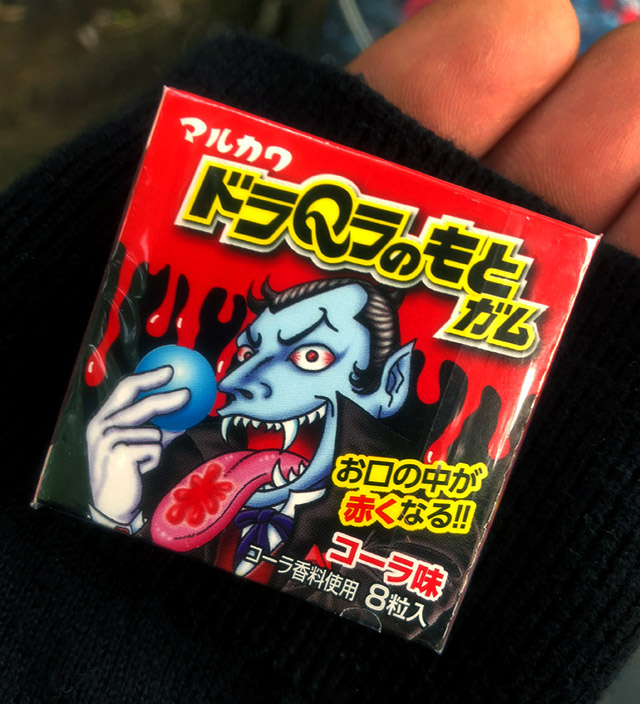 Oh, and before we head back to the States, let's make a pitstop in Japan. Each of this month's Funpacks will include a sealed box of still-fresh DraQla Gum, which isn't available anywhere in the U.S.!
Each tiny box contains six cola-flavored gumballs. The blue gumballs "magically" paint your mouth red as you chew them, so by the time you're done, you'll look like a well-fed vampire. What fun!
(Gum aside, this is worth getting for the box art alone!)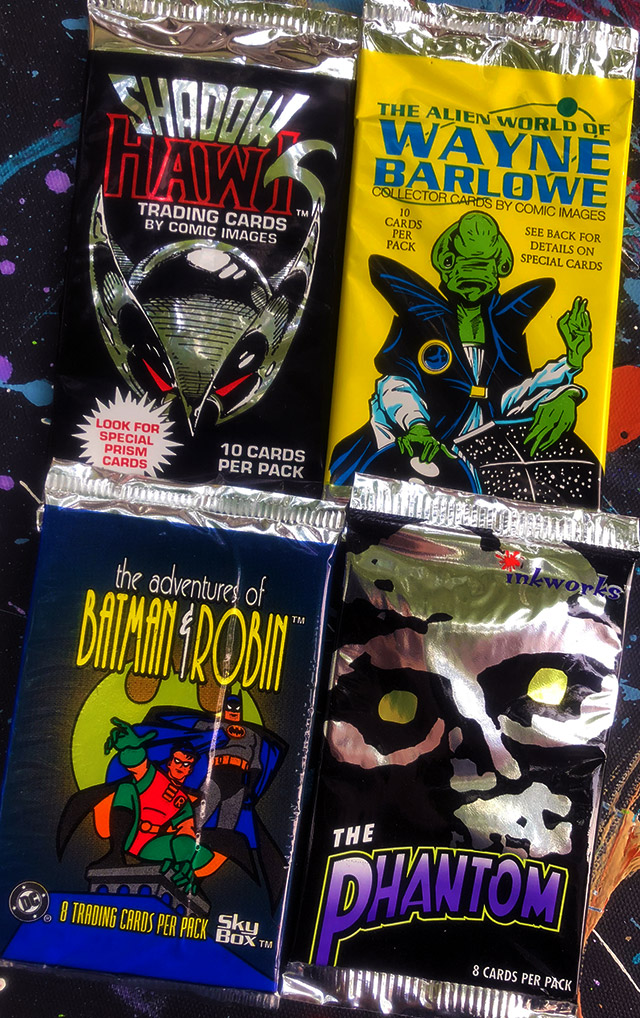 …then there's the usual assortment of vintage trading card packs. You're each getting FOUR this month, all with some tangential tie to the Halloween season!
Included in the batch are packs of:
– The Adventures of Batman & Robin Cards (1995)
– ShadowHawk Cards (1992)
– The Alien World of Wayne Barlowe Cards (1994)
– The Phantom Movie Cards (1996)
Have fun tearing them open… or just admiring the pretty wrappers!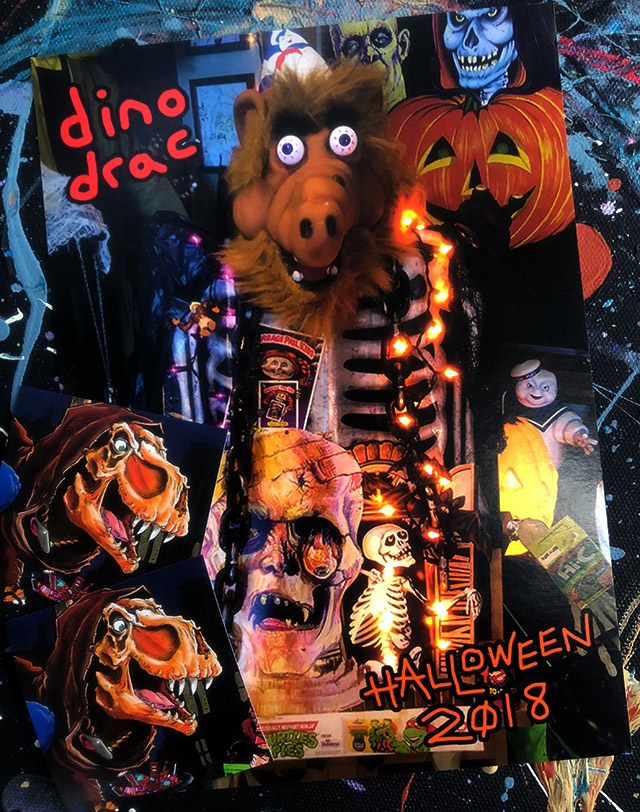 This month's exclusive 5×7" Dino Drac Mini-Poster commemorates this year's Halloween Mood Table. You'll also receive this month's exclusive 2×2" Dino Drac sticker. (Actually, you'll receive two of those!)
Mini-Posters are printed on something resembling cardstock. Stickers are printed on whatever stickers are printed on. Both look nicer in person than they do in that photo!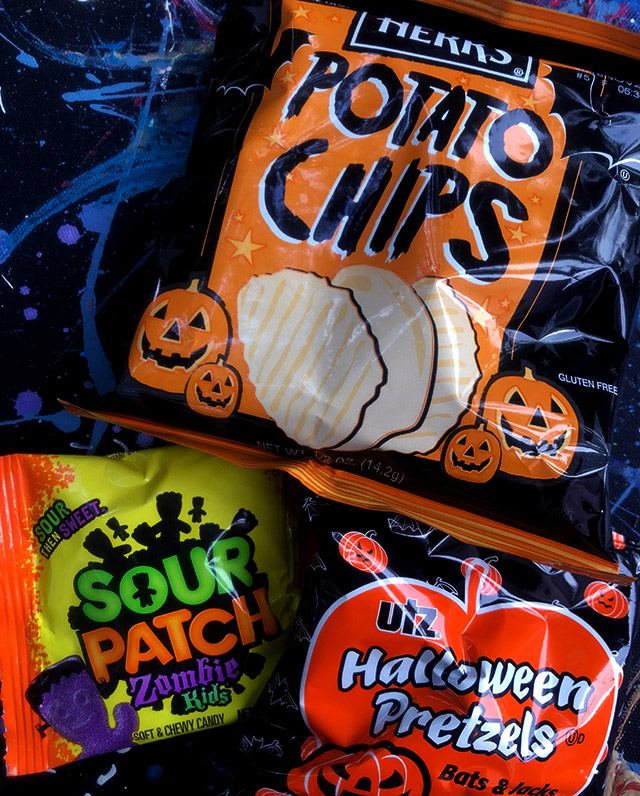 It wouldn't be a Halloween Funpack without a bunch of snacks and candy! Pretend you went trick-or-treating with a spooky bag of Herr's Potato Chips, a mini-bag of Utz Halloween Pretzels, and a teensy bag of Sour Patch Zombie Kids!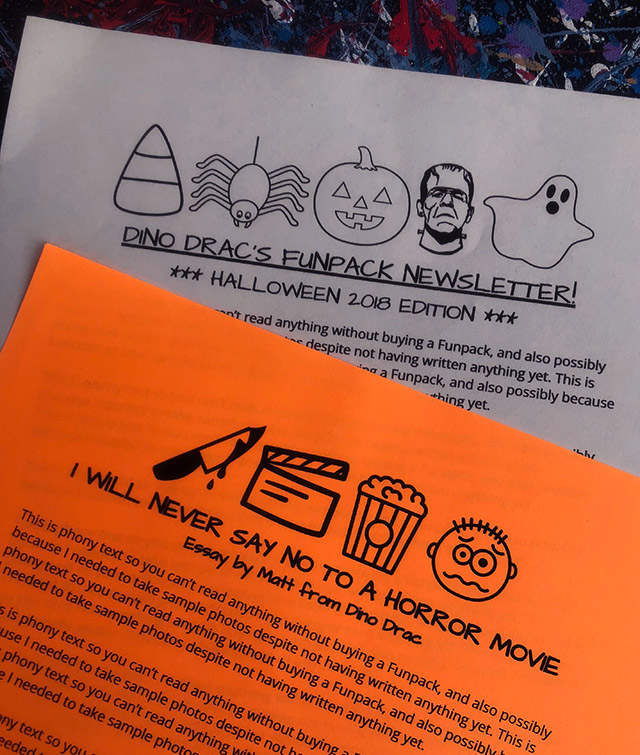 Rounding things out, you'll also receive this month's Funpack Newsletter, plus an exclusive essay that will never be reprinted on the site!
This month's essay is about how I'll never turn down a chance to see a horror movie in theaters. I wanted to examine why that is. Come for the horrific hypotheses, stay for the Coke Freestyle references.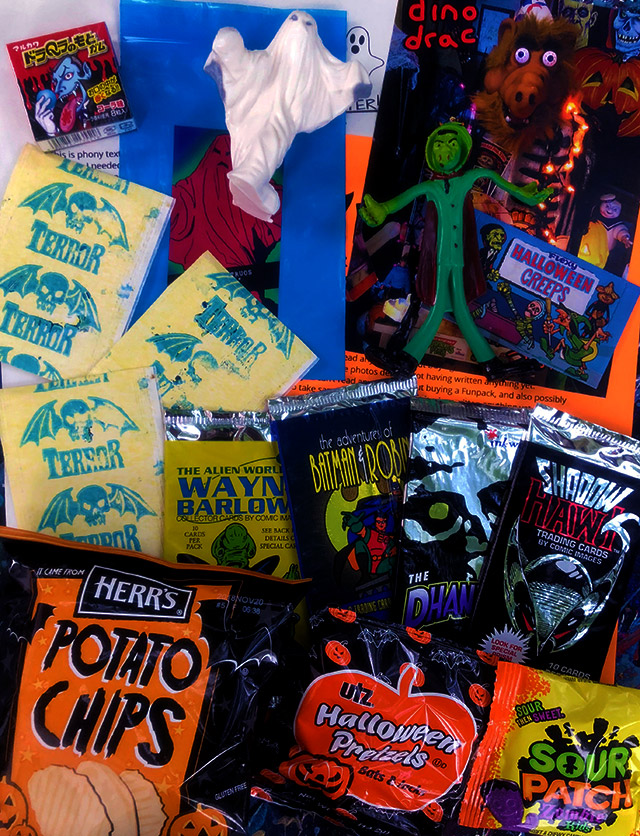 Yep, you'll get EVERYTHING above for $25 shipped!
If you're already a Funpack subscriber and you'd like to stay that way… do nothing! You're all set!
If you want to subscribe, please read the following, and then click the button at the bottom of this page!
1. Funpacks are available in the United States only. Sorry!
2. Subscriptions are handled via Paypal. If you don't have an account, it's very easy to make one!
3. Funpacks will be shipped to the address listed on your Paypal account. If you need to change your shipping address, or if you'd like for your Funpacks to be shipped to someone else, simply email me!
4. You will be automatically billed $25 every month. (Yes, that price includes shipping.) If you subscribe today, you'll pay today, and then again in exactly one month. For as long as you remain subscribed, you'll keep getting Funpacks!
5. You can cancel at anytime. (You could subscribe today and cancel today!) If you cancel after you've already been charged for the following month's Funpack, you'll of course receive it just the same as any current subscriber would. (You can cancel via Paypal, or by emailing me.)
6. The October 2018 Funpacks will ship on or before Monday 10/22!
Remember, the Funpacks allow me to keep doing the site… thanks so much to all who help to keep it/me going!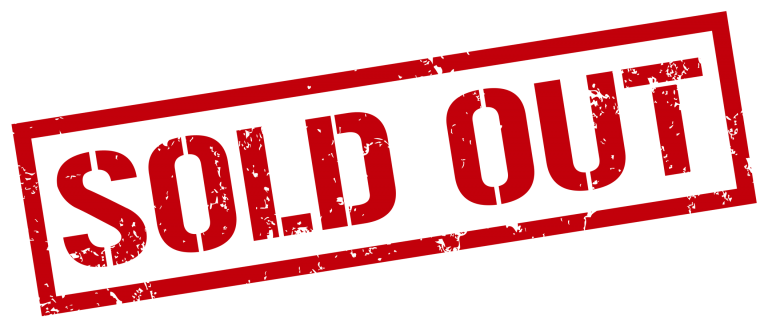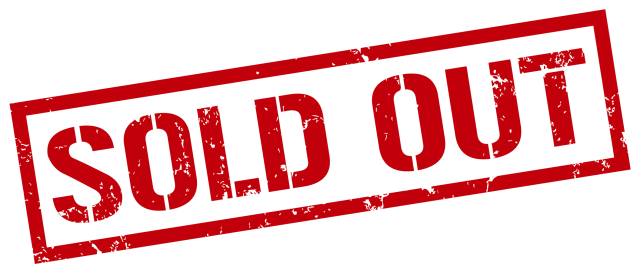 Currently assessing quantities! I will update this post if more become available. Thanks!