IT IS HERE, guys. Time to unveil the super spooky September Funpack!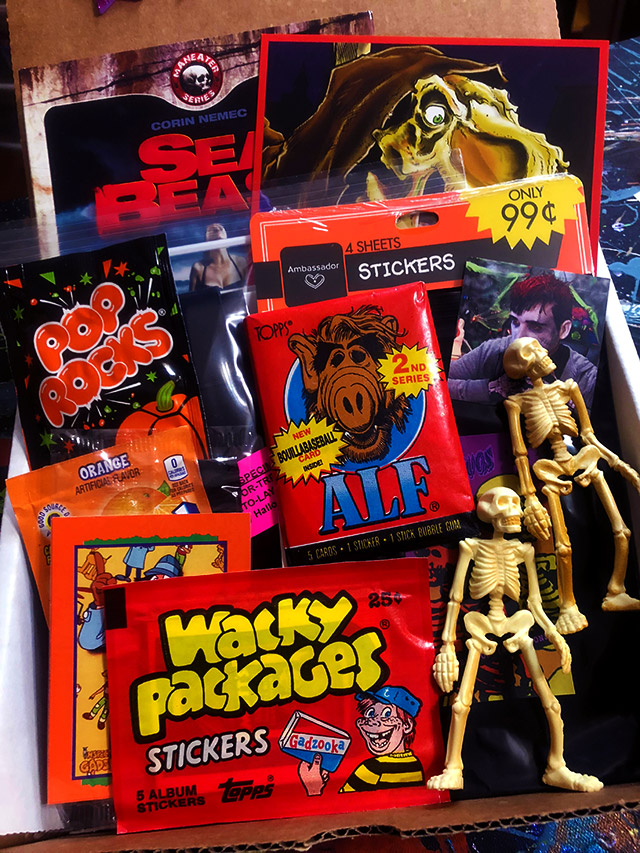 UNITED STATES ONLY! LIMITED TIME! LIMITED SUPPLY!
I'm extremely happy with how this month's box came out, and I think you will be, too. It's the Halloween Countdown around these parts, so naturally, the September Funpack is 100% Halloween-themed, with around a dozen haunted/awesome items.
I'm sure you know the deal by now. Without these Funpacks, there'd be no Dino Drac. Your patronage is extra important at this time of year, when the site is at its busiest and most expensive. Subscriptions are $25 a month (including shipping), and for as long as you remain subscribed, you'll keep getting boxes and old-and-new goodies every single month!
The September Funpacks have historically sold out quickly, and once these are gone, they're gone forever. Act quick if ya want in!
Scroll to the bottom for ordering info, or keep reading to see EVERYTHING you'll get in this month's Funpack!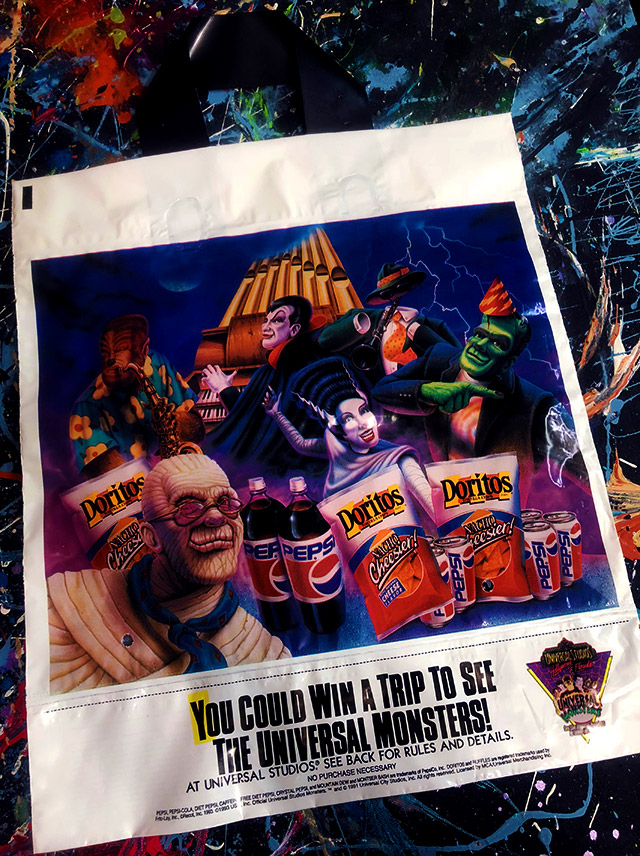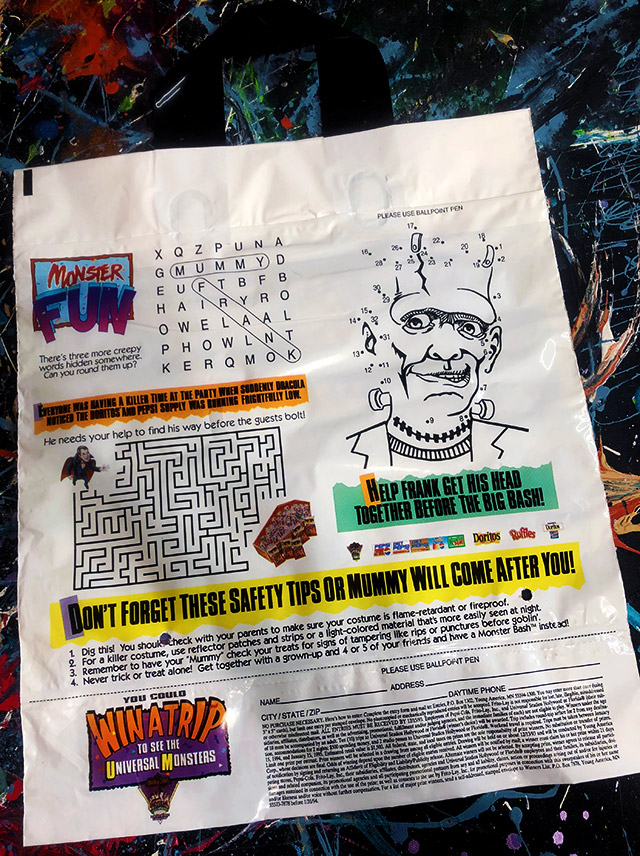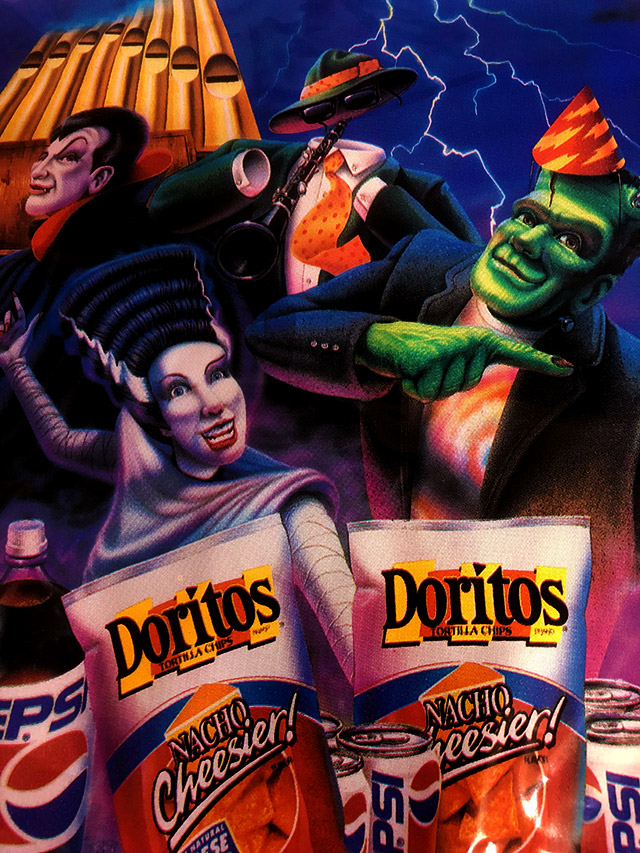 Okay, this is it. One of the best items I've ever included in all of these years spent building Funpacks. Are you ready for this?
You will each receive an honest-to-goodness 1991 PEPSI/FRITO-LAY TRICK-OR-TREAT SACK! Oh my GOD, guys — this bag RULES. It comes from the era of those classic Doritos/Pepsi Halloween commercials, and it's LOADED with spooky imagery of the Universal Monsters partying with their preferred chips and soda. SO FREAKIN' GOOD.
The bag even includes the elusive Invisible Man, who was meant to represent Crystal Pepsi! Then there's more fun on the back of the bag, with a puzzle, maze and trick-or-treating tips!
These promotional bags were never sold at retail. I assume they were given away at select grocery stores. Yours will arrive in never-used condition, complete with the tear-off sweepstakes entry form still attached to the bottom!
The bags have light staple holes on the handles, but are otherwise in great shape, with bright, bold colors. Due to their size, I'll need to gently fold the bags to make 'em fit in the Funpack boxes. For added protection, each bag will be placed inside another bag prior to shipping.
I'm calling this the Dino Drac Specimen of the month, and it's absolutely one of the coolest items I've ever included in these boxes. Hardcore nostalgia and hardcore Halloween fun!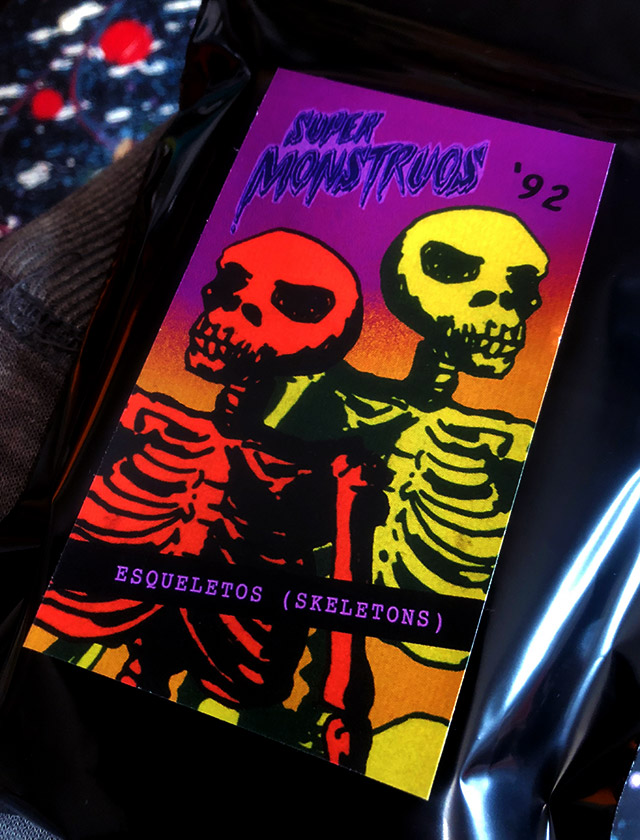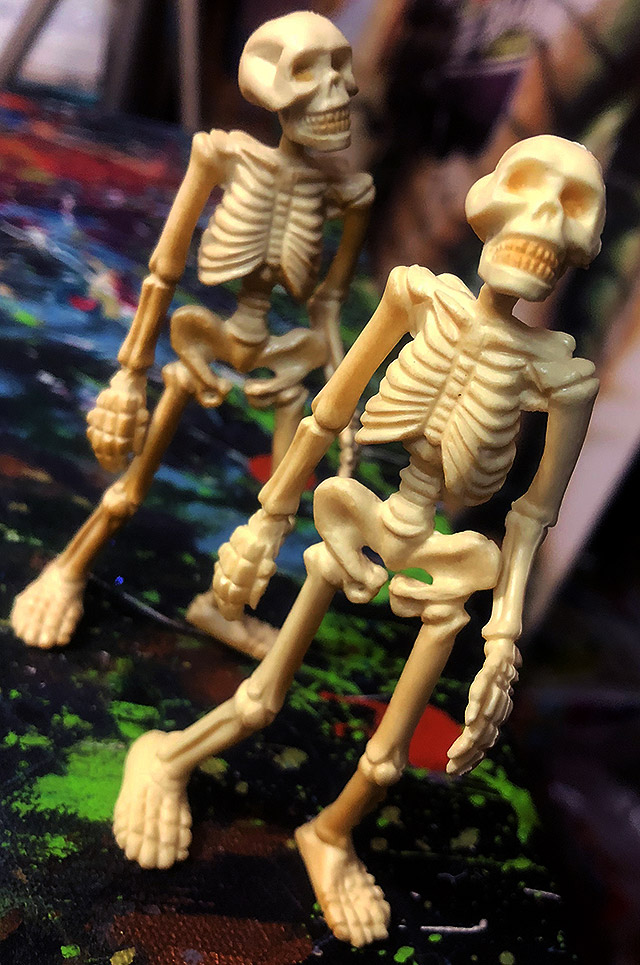 Oh, and you didn't think I'd let one of the Halloween season's Funpacks slip by without another Super Monstruos figure, did you? Of course not! This month, you'll be be receiving TWO vintage 1992 Super Monstruos ESQUELETO figures, packed in a custom Dino Drac baggie. Yes, you will get TWO!
Esqueleto is the lightest and thinnest figure in the Super Monstruos collection, which is why I've decided to give y'all two of 'em. (Besides, don't skeletons always work better in pairs?) These little guys are over 25 years old!
Note: Esqueleto figures have many talents, but standing isn't always one of them. Yours may have trouble on that front, but I've been able to bend their legs into agreeable positions after a little futzing.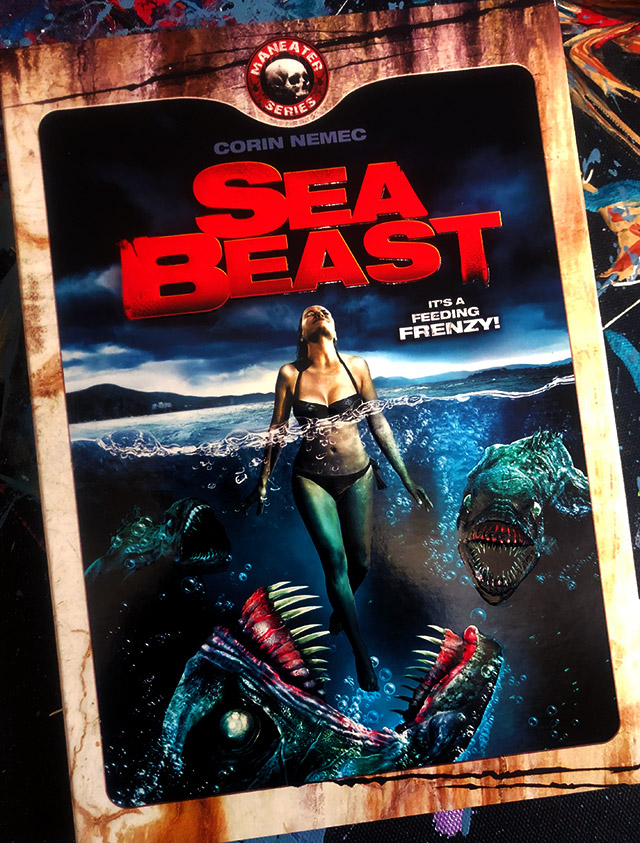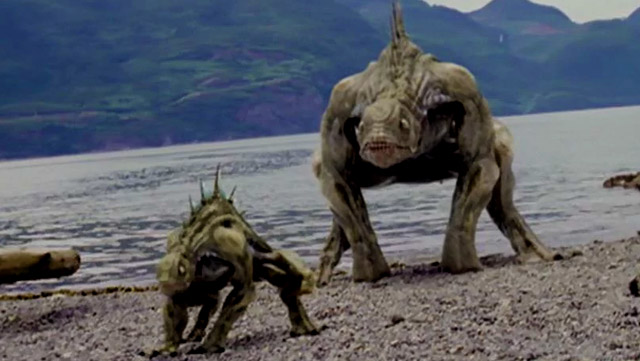 Next up, you'll each received a totally sealed, brand new copy of Sea Beast on DVD! Yes, Sea Beast — your favorite movie! Starring Corin Nemec of Parker Lewis fame!
I believe the film (also known as Troglodyte) premiered on Syfy back in 2008. So yeah, it's that kind of movie. Expect some gore, some iffy CG and a whole lotta cheese. These DVDs are in 100% new condition. The hard cases are sealed, and the cardboard slips over them have way-cool three-dimensional highlights.
Sea Beast is unrated. If you're sharing this Funpack with your kids, you may want to review this one for content first. I'm fairly sure that it's nudity-free, but it definitely isn't bloodless!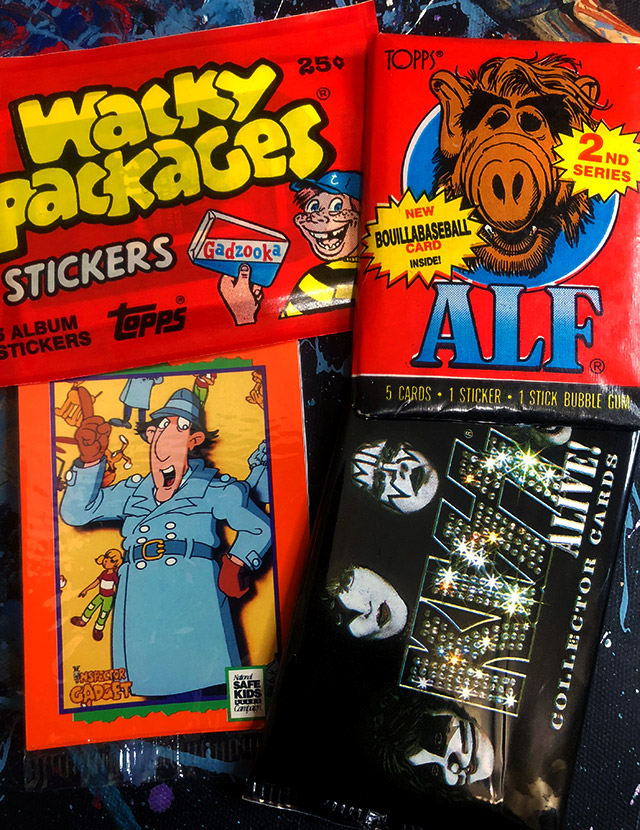 Then there's the usual batch of vintage trading card packs, all with some tangential tie to the Halloween season!
You'll receive all four of the packs shown above, including:
– ALF Trading Cards (2nd Series, 1987)
– Inspector Gadget Trading Card Treats 3-Card Pack (1991)
– KISS Alive Collector Cards (2001)
– Wacky Packages Album Stickers Pack (1986)
Mix 'em all up and pretend that ALF, Inspector Gadget and Gene Simmons are in some kind of creepy crossover movie. Or leave them sealed and display the packs on your shelf. Your call, dudes.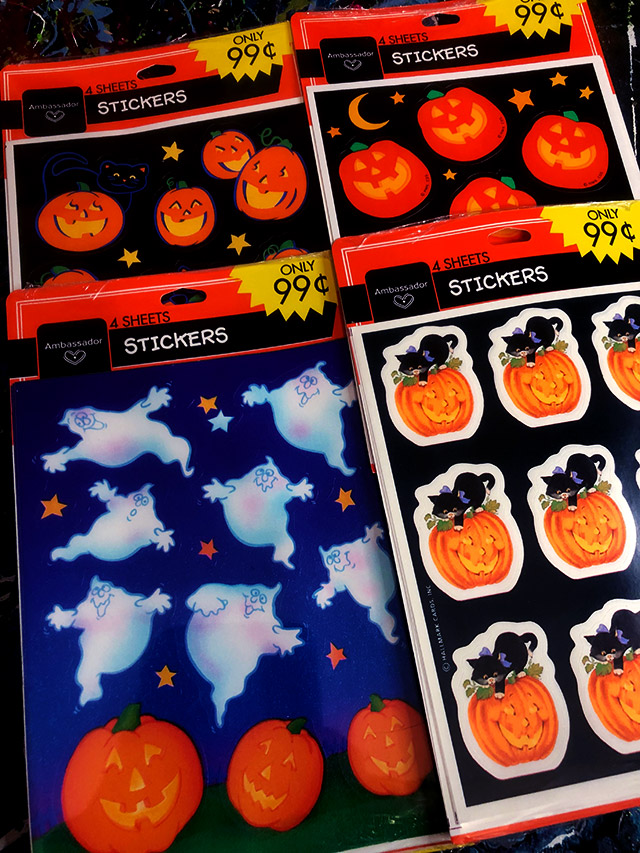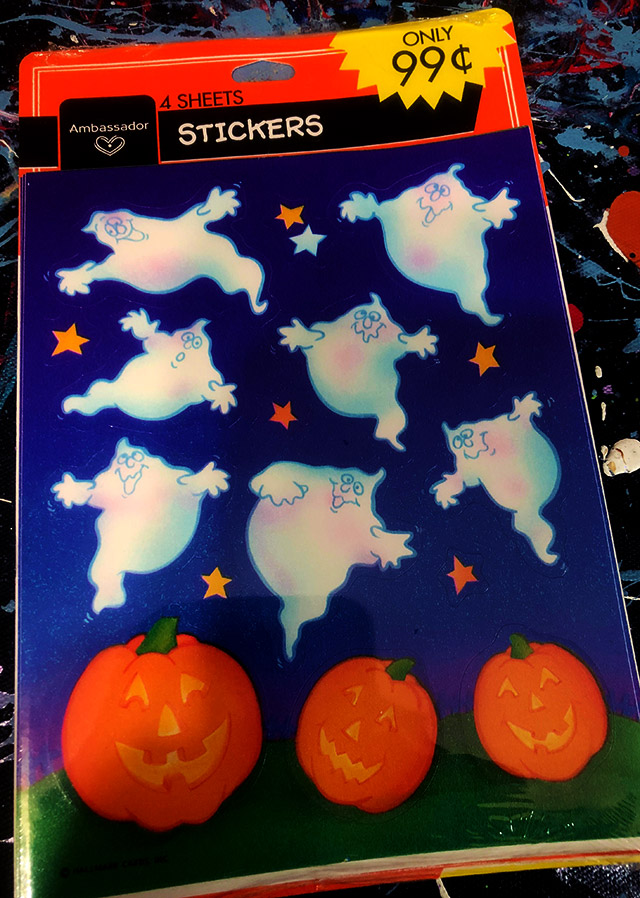 ONE PACKAGE OF STICKERS PER FUNPACK!
THERE'S STILL MORE!
You'll ALSO receive ONE vintage pack of Hallmark Halloween stickers! The packages aren't dated, but they're definitely from the '80s or '90s — and probably no later than the early '90s.
Sold under Hallmark's "Ambassador" label, each sealed package contains four sheets. You'll receive one of the four designs shown above, at random. (Don't worry, they're all spooky!)
Considering their age, these sticker packages are in amazing shape. Even the plastic seals are totally clean. Maybe they will inspire you to write spooky letters to your friends this season?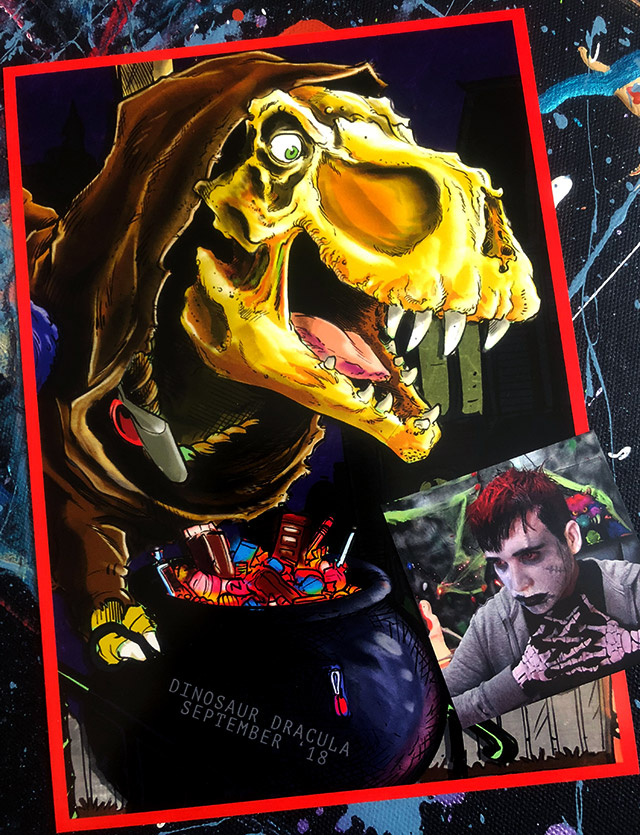 This month's exclusive 5×7" Mini-Poster borrows art from the Halloween Countdown's amazing header, designed by the equally amazing Jason Week! It's Dino Drac as the Crypt Keeper, ready to share his candy!
The Mini-Poster is printed on something approaching cardstock, and since it's such a beaut this month, I went in the complete opposite direction with this month's exclusive 2×2" sticker. Have fun picking the right spot to stick Madd Matt's rotting face!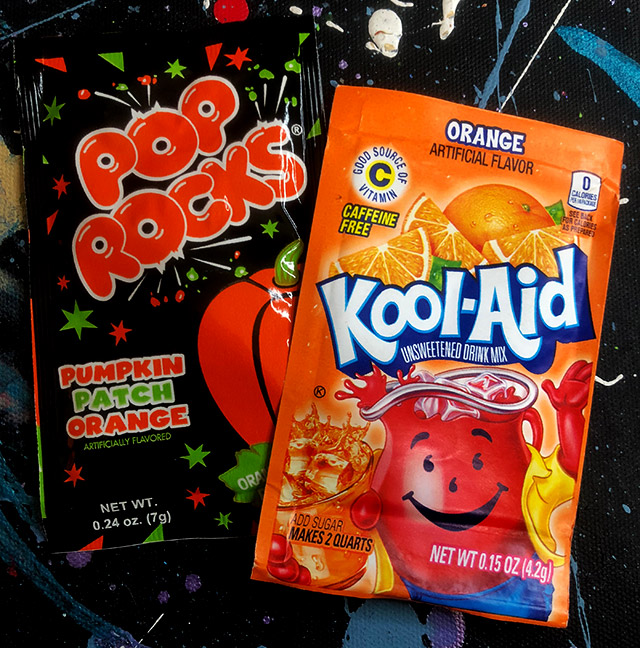 OH GOD THERE'S STILL MORE.
Spooky snacks, yo! Every Funpack will include a package of Pumpkin Patch Orange Pop Rocks and a pack of orange Kool-Aid! (Okay, so orange Kool-Aid technically isn't Halloweeny… at least, not until you make it. A pitcherful of glowing orange Kool-Aid is pretty on-point, if you ask me.)
PS: I'm not going to suggest that you mix the Pop Rocks and the Kool-Aid, but I'm not going to advise against it, either.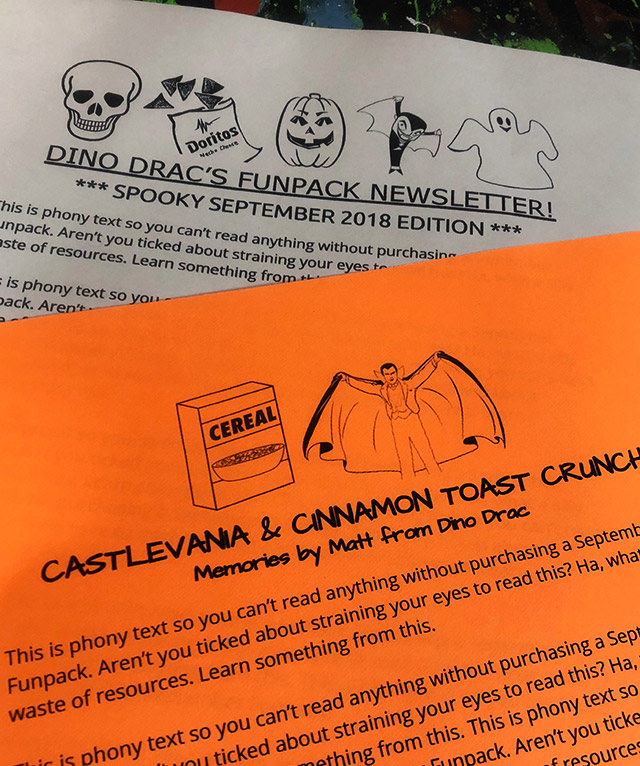 Rounding things out, you'll also receive this month's Funpack Newsletter, along with an exclusive essay that will never be reprinted on the site!
This month's essay goes into detail about those old spooky sleepovers me and the neighborhood kids used to have, where we'd stay up way too late playing Castlevania while eating Cinnamon Toast Crunch. Trust me, it's way more appropriate for the Halloween season than it sounds!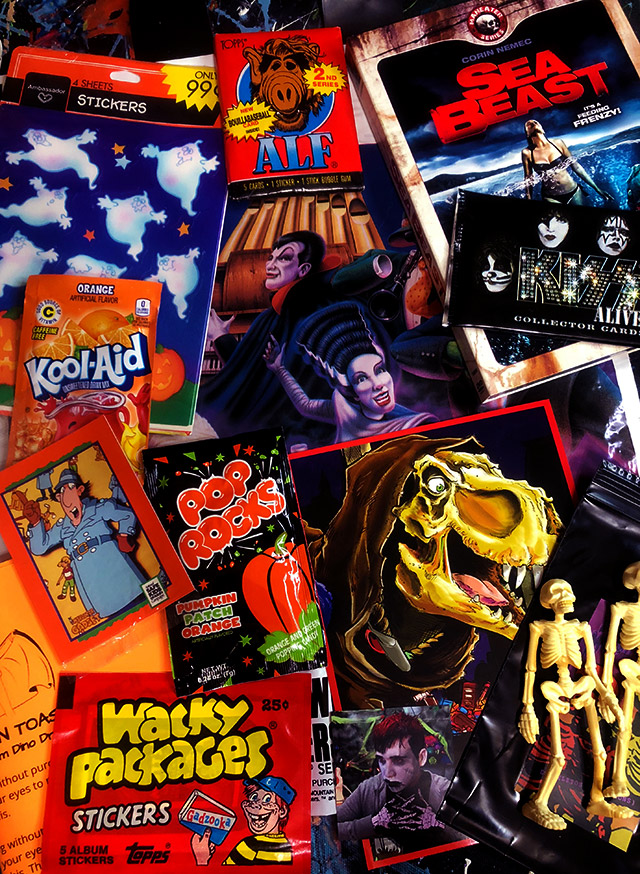 Yep, you'll get EVERYTHING above for $25 shipped!
If you're already a Funpack subscriber and you'd like to stay that way… do nothing! You're all set!
If you want to subscribe, please read the following, and then click the button at the bottom of this page!
1. Funpacks are available in the United States only. Sorry!
2. Subscriptions are handled via Paypal. If you don't have an account, it's very easy to make one!
3. Funpacks will be shipped to the address listed on your Paypal account. If you need to change your shipping address, or if you'd like for your Funpacks to be shipped to someone else, simply email me!
4. You will be automatically billed $25 every month. (Yes, that price includes shipping.) If you subscribe today, you'll pay today, and then again in exactly one month. For as long as you remain subscribed, you'll keep getting Funpacks!
5. You can cancel at anytime. (You could subscribe today and cancel today!) If you cancel after you've already been charged for the following month's Funpack, you'll of course receive it just the same as any current subscriber would. (You can cancel via Paypal, or by emailing me.)
6. The September 2018 Funpacks will ship on or before Tuesday 9/18!
Remember, the Funpacks allow me to keep doing the site… thanks so much to all who help to keep it/me going!
To get your subscription started, click the button below!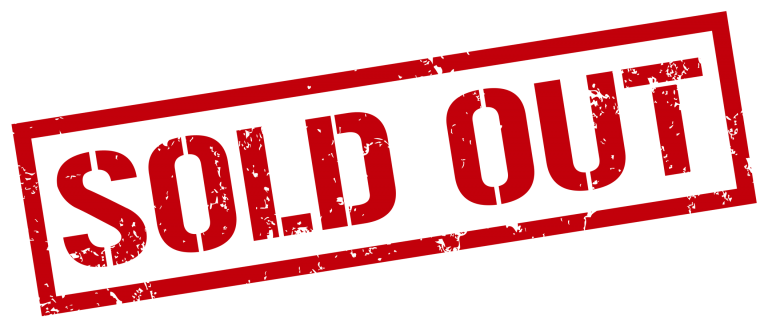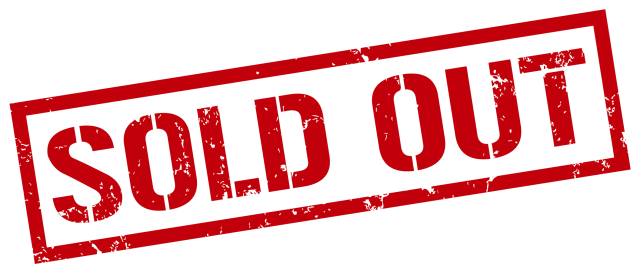 The Funpacks are close enough to sold out that I need to pull them to check quantities. Mad that you missed out? There might still be a chance! Shoot me an email – matt@dinosaurdracula.com – to put yourself on the waiting list! If more Funpacks become available, I'll email you with details!