If you dig what I do here on Dinosaur Dracula, the best way to make sure that I keep at it is by subscribing to Dino Drac's monthly Funpacks. If you're new to the game, you picked the right month. March's Funpack is killer!
Be warned, though — there aren't many to go around this month, so if you want in, don't delay!

(AVAILABLE IN THE UNITED STATES ONLY!)
Subscriptions are $25 a month (and that includes shipping), and for as long as you stay subscribed, you'll continue to receive new boxes of fun junk, each and every month. You can cancel at any time without penalty. In trade for helping to keep the site afloat, you'll get boxes of awesome stuff!
Skip to the bottom of this post for additional subscription details and notes on how to order. Or keep reading, to see what's in store for the March 2016 Funpack!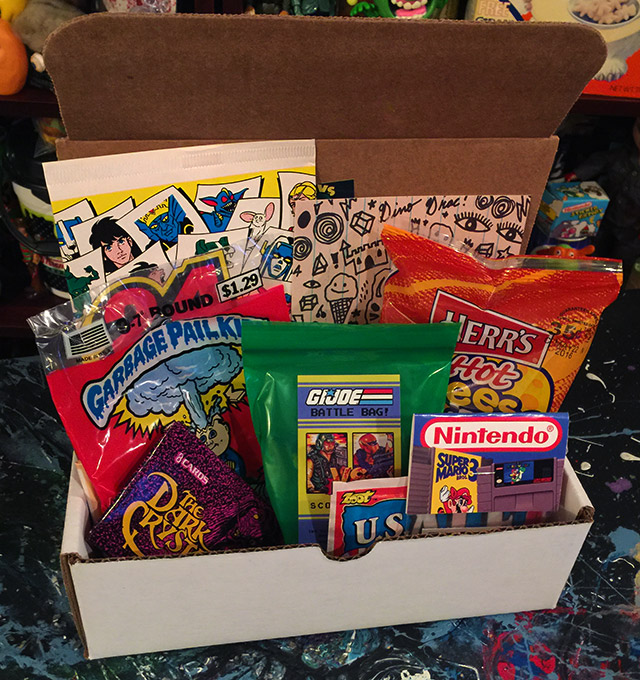 There are more than a dozen items in this month's Funpack, featuring all sorts of vintage '80s and '90s goodies. It's one of my favorites yet. Read on for the full scoop!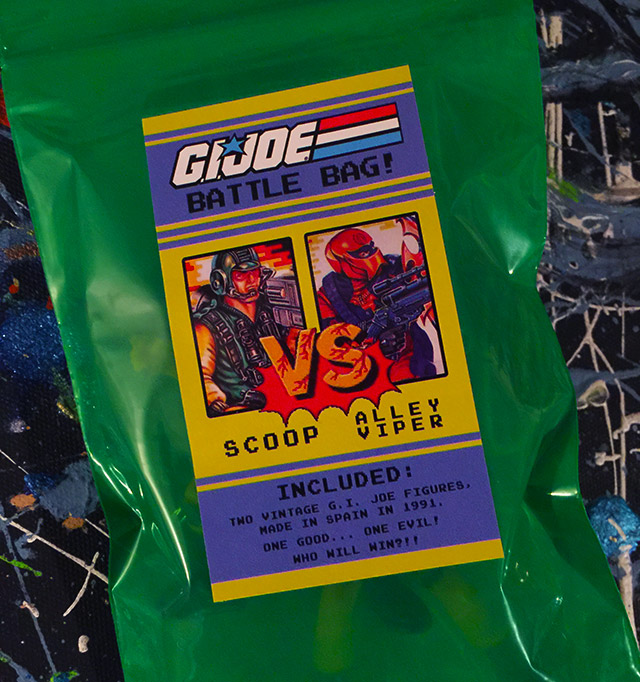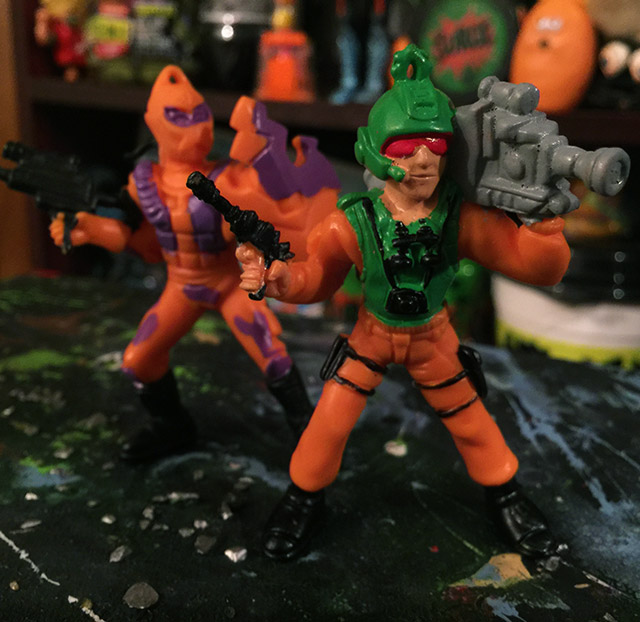 This month, every subscriber will receive Dino Drac's custom G.I. Joe Battle Bag, stuffed with two vintage figures! These crude figures were made in Spain back in 1991, and despite appearances, they're totally licensed and legit G.I. Joe toys. Your Battle Bag will include the heroic Scoop and the evil Alley Viper. (Look close and you'll notice that they were clearly based on the vintage Hasbro figures.) So cool!
And, wow, you'll ALSO receive a sealed bag of vintage Garbage Pail Kids balloons! Guys, these are from 1986! Every package includes nine balloons, each imprinted with the image of a different Garbage Pail Kid. The packages are in nice condition considering their age, but since we're talking about thirty-year-old balloons, I must stress that I'm selling these for collectible purposes only. After all this time, God knows if they'll still inflate correctly!
You're probably gonna want to keep the packaged sealed, anyway. Look how HOT it is! What a great collectible for GPK fans!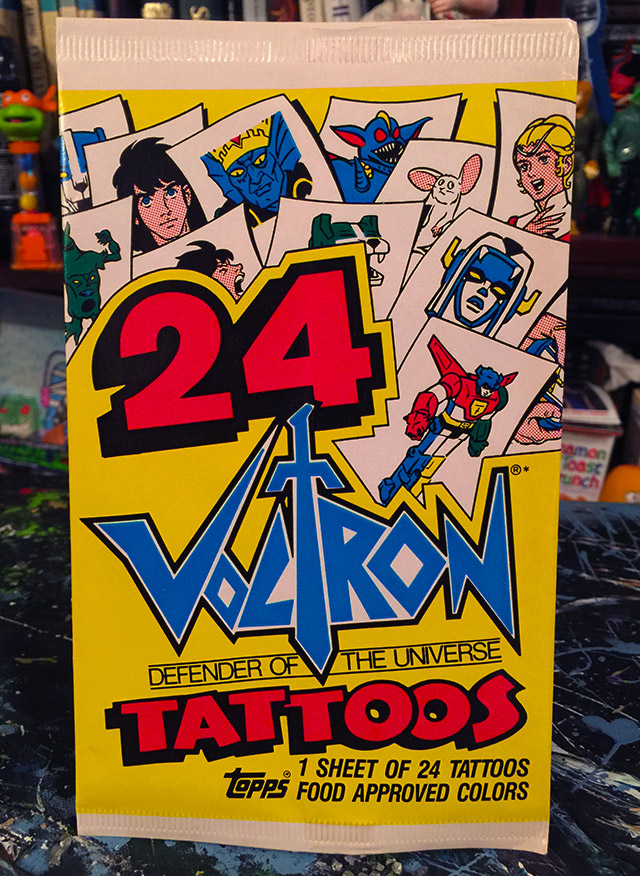 And the hits just keep on comin'! Next we have a sealed pack of Voltron Tattoos, made by Topps back in 1984!
Each pack contains a pristine sheet of temporary Voltron tattoos, and from what I can tell, they'll work just as well now as they did back in '84. Course, the real treat is the wrapper. Just look at that thing! These packs are LARGE, too. (In fact, at around 8″ tall, they necessitated the use of bigger-than-usual shipping boxes for this month's Funpack!)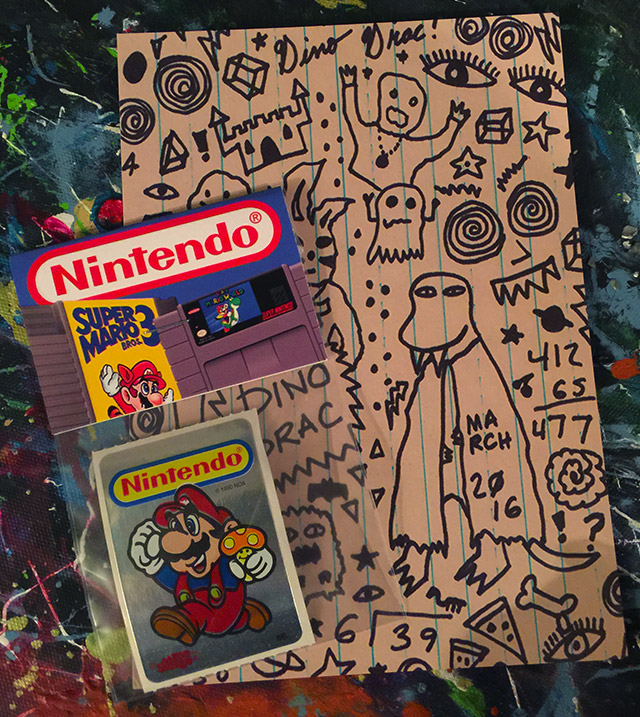 And then we have this month's SPECIMEN! Each of you will receive one vintage Nintendo sticker in custom Dino Drac packaging. (Because hey, assuming you don't want to "waste" the sticker, you might as well have something nice to display it in!) Sticker styles and characters vary! Some will look like the one shown here, others might be sweet puffy Zelda stickers. Trust me, ALL of them are cool, and all of them are vintage. Nothing more recent than 1992!
This month's Ugly Mini Poster is a departure from the norm — it's a wild sketch starring Dino Drac, Leviathan, Larry, random bones and what appears to be arithmetic. Printed on pro-quality cardstock, whatever that means!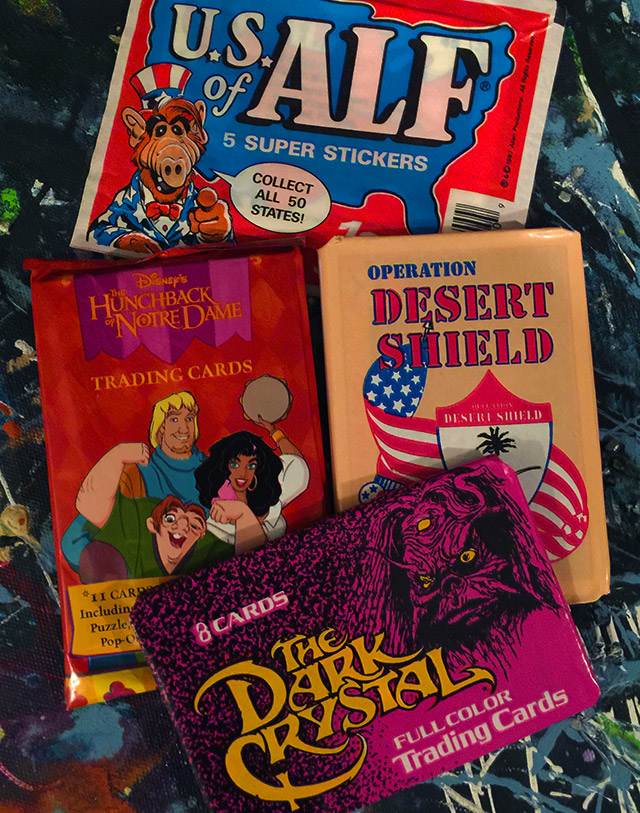 What, you thought I forgot the vintage trading cards? Of course not! Have fun tearing into FOUR packs, including an absolutely awesome pack of vintage Dark Crystal cards! Joining that is a pack of U.S. of ALF stickers, a pack of Disney's Hunchback of Notre Dame cards, plus a pack of Operation Desert Shield cards! (Oh, the weird things we used to collect!)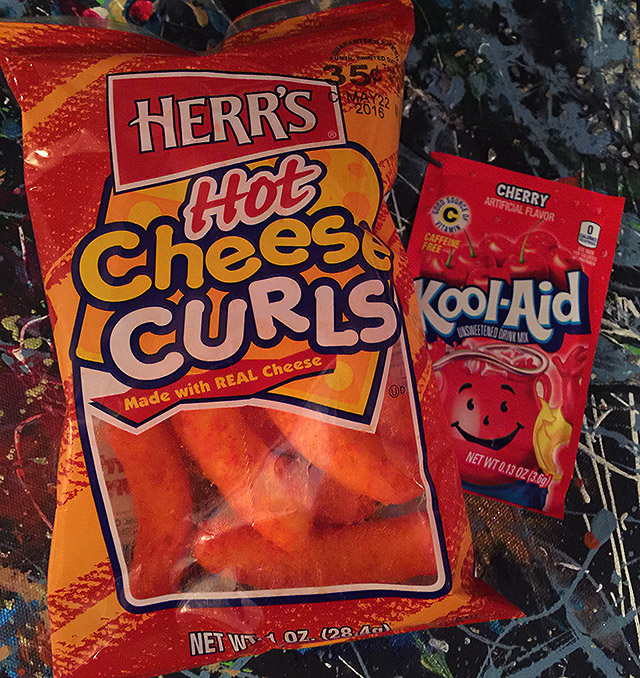 …and if fiddling with all of those toys, cards and knickknacks makes you hungry, I have you covered with a packet of cherry Kool-Aid and a mini-bag of Herr's Hot Cheese Curls. (They're made with real cheese! It says so right on the bag!)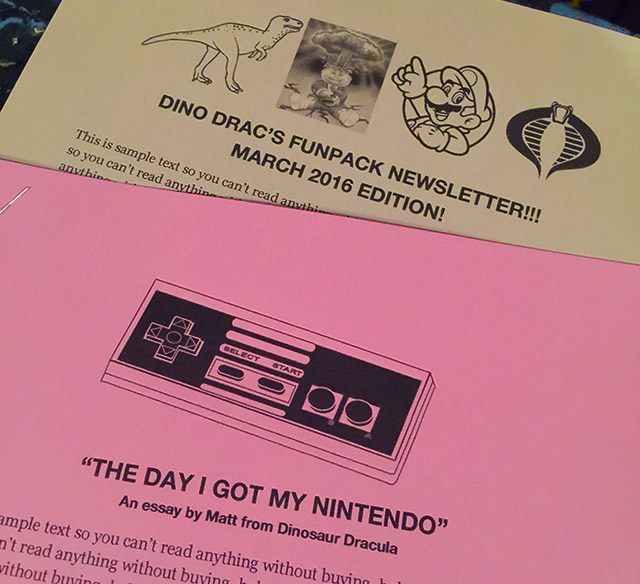 Oh, and how about some reading material? In addition to Dino Drac's Funpack Newsletter, you'll also receive a multipage essay telling the story about how I got my Nintendo Entertainment System back in the '80s. The essay is completely exclusive to this Funpack and will never be reprinted on the site!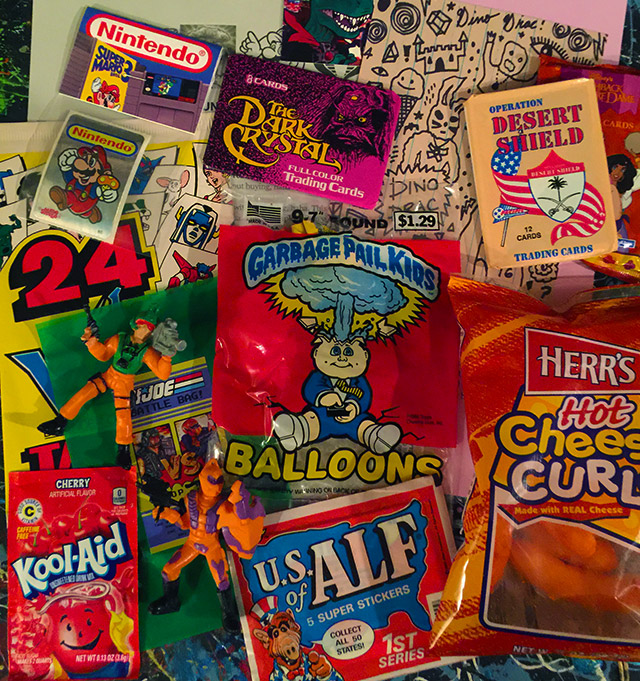 Yep, you'll get EVERYTHING shown above for $25 shipped!
If you're already a Funpack subscriber and you'd like to stay that way… do nothing! You're all set!
If you want to subscribe, please read the following, and then click the button at the bottom of this page!
1. Funpacks are available in the United States only. Sorry!
2. Subscriptions are handled via Paypal. If you don't have an account, it's very easy to make one!
3. Funpacks will be shipped to the address listed on your Paypal account. If you need to change your shipping address, or if you'd like for your Funpacks to be shipped to someone else, simply email me!
4. You will be automatically billed $25 every month. (Yes, that price includes shipping.) If you subscribe today, you'll pay today, and then again in exactly one month. For as long as you remain subscribed, you'll keep getting Funpacks!
5. You can cancel at anytime. (You could subscribe today and cancel today!) If you cancel after you've already been charged for the following month's Funpack, you'll of course receive it just the same as any current subscriber would. (You can cancel via Paypal, or by emailing me.)
6. The March 2016 Funpacks will ship on or before Thursday, 3/17!
Remember, the Funpacks are what allow me to keep doing the site, so if you like all of these giant articles about old toy catalogs and TV commercials, subscribing to Dino Drac's Funpacks is the best way to guarantee more of them!
Supplies are very limited this month… once they're gone, they're gone!
To get your subscription started, click the button below!
THANK YOU!!