Dino Drac's March Funpack is here! Finally! I got delayed waiting for a few special ingredients to arrive, but now everything's here, and I'm ready to take $25 from you, you and you.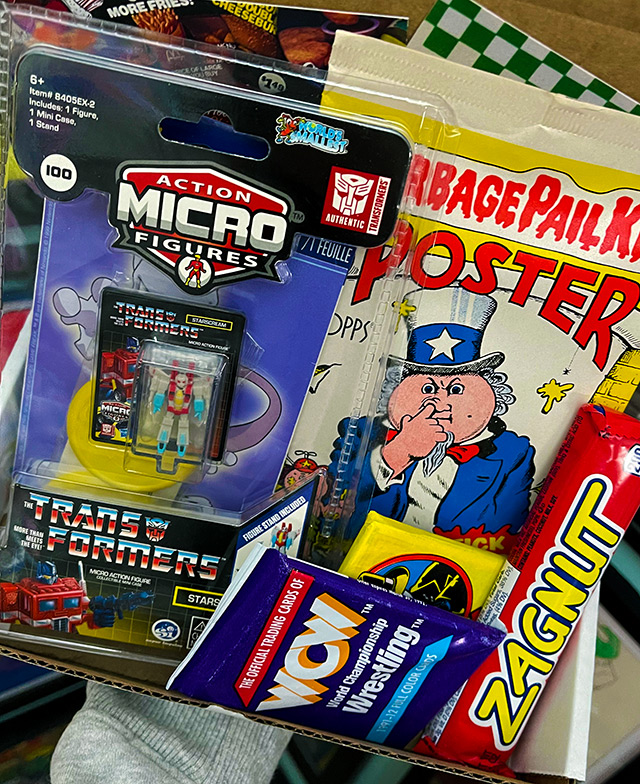 UNITED STATES ONLY! LIMITED SUPPLY!
Monthly subscriptions are currently maxed out, but I have a solid number of spares that I can sell on an individual basis. The cost is $25, shipped anywhere in the United States. Skip to the bottom for ordering info, or keep reading to learn about everything in this month's box!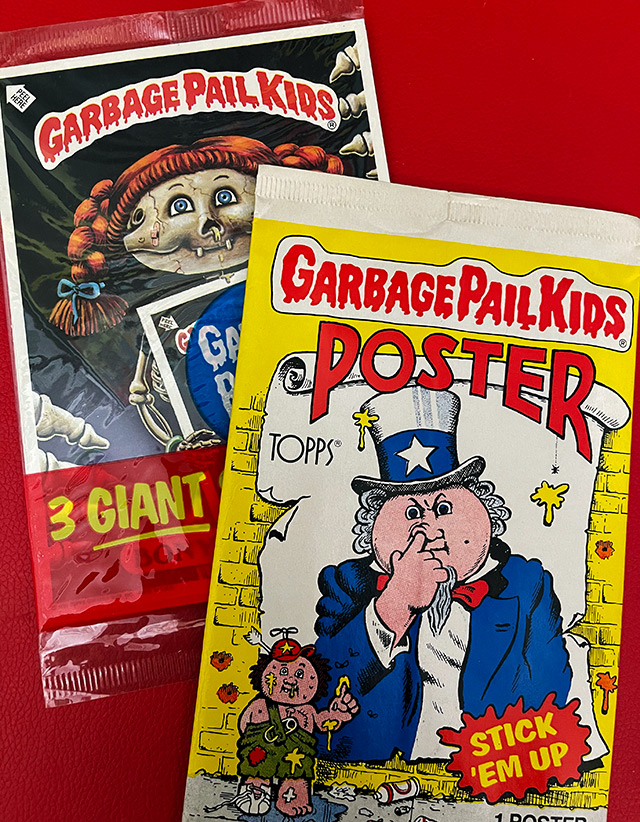 YOU'LL RECEIVE *ONE* OF THESE TWO PACKS!
Let's kick things off with a vintage mega-score. From 1986, you'll either receive a pack of Garbage Pail Kids Giant Stickers *OR* a Garbage Pail Kids Poster pack.
Remember, you'll receive one or the other, not both! These packs have grown rare and desirable, and the prices for 'em these days are not cheap. It's pretty major to be able to include these in the Funpacks in 2023, so I gotta thank my bud "PB" for helping me to secure the bag. Such cool collectibles!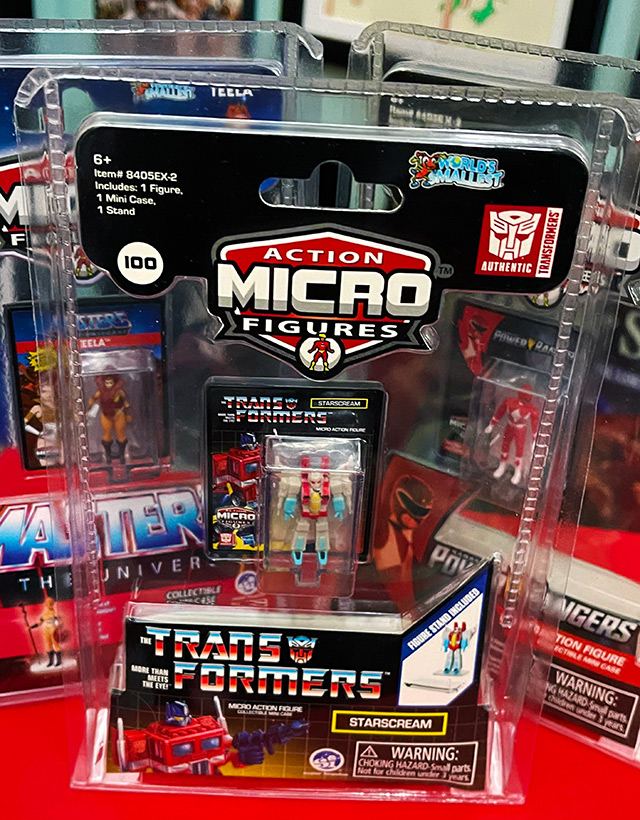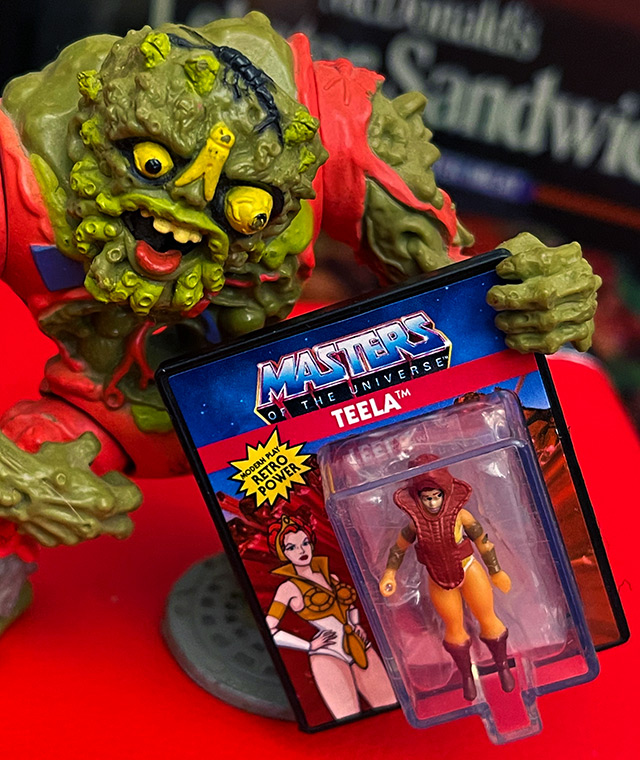 YOU'LL RECEIVE *ONE* MICRO ACTION FIGURE!
Next up, you'll each receive ONE of these awesome Micro Action Figures from the World's Smallest toy line. These are modern, but the tiny-sized action figures are meant to resemble classic lines from the '80s and '90s.
I have a big assortment of these on-hand, and you'll each receive one at random. The included lines are Transformers, Masters of the Universe, and Mighty Morphin' Power Rangers. You'll receive a figure from ONE of those lines. (I have them in roughly equal amounts, so no matter which you'd prefer, you've got a 1-out-of-3 chance to get it!)
These tiny-sized figures are super cool. They're articulated, and some even have accessories. Best of all, their small packaging is reusable, so you won't have to destroy it to get to the figure.
NOTE: These are all unused and the figures are in mint condition. Some of the outer plastic hanger cards may have small superficial dents along the edges, but nothing major at all.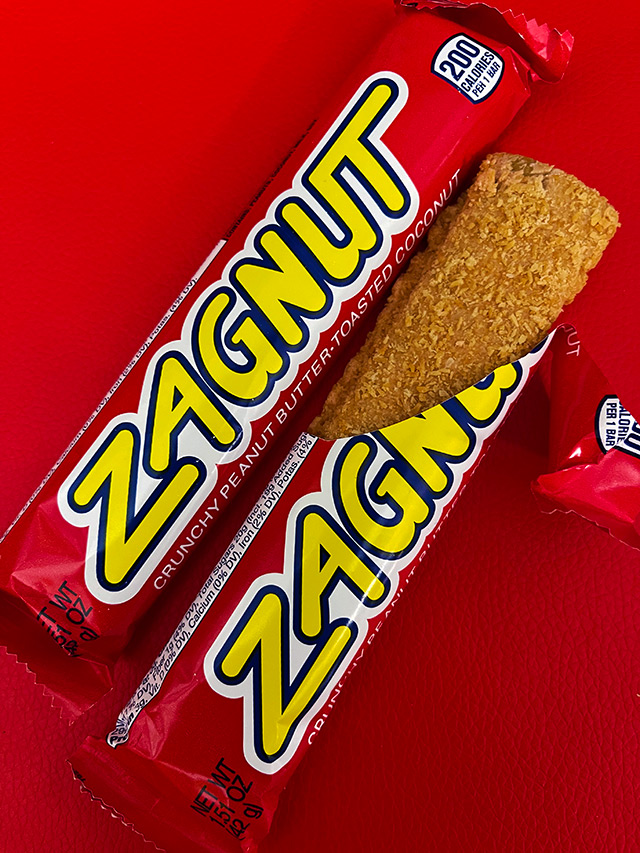 Oh hey, remember Zagnut candy bars? The ones from Beetlejuice? Yep, they still make them, and there's one in every March Funpack. I've been trying to work Zagnut bars into the Funpacks for *years* now, because if you're like me, you spent half your life wondering what those candy bars from Beetlejuice actually tasted like. I think it's time for you to find out.
These are full-sized candy bars, not that fun-sized BS. We're talking about 200 calories' worth of peanut butter and coconut. Ready yourselves.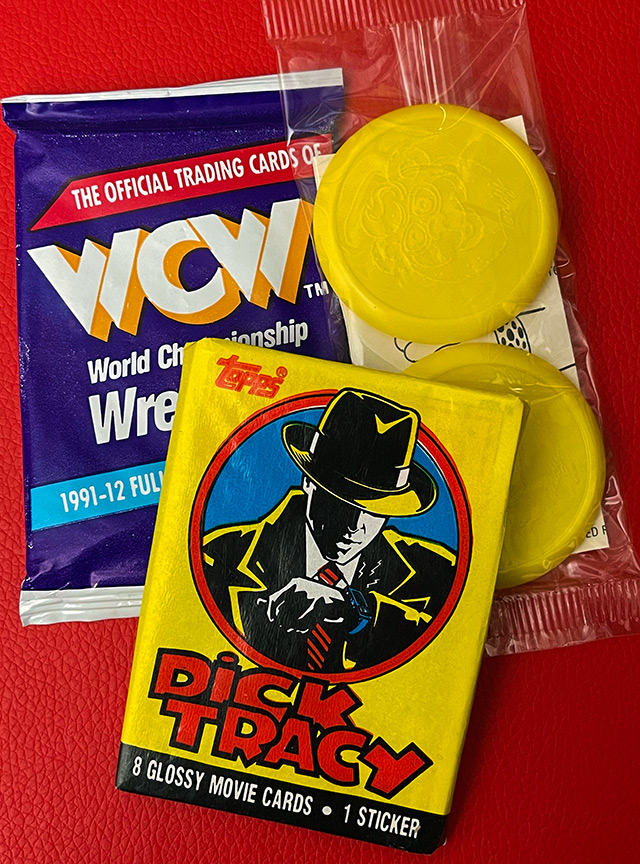 Ah, and then we have a couple of vintage trading card packs, including Dick Tracy from 1990 and World Championship Wrestling from 1991. (Those WCW cards have become pretty rare, so don't sleep on 'em!) Between these two packs, you should get many fine photos of monster mobsters and guys in neon underwear.
I will also include a vintage Teddy Grahams Breakfast Bears yo-yo, still sealed in its original baggie. These are cereal prizes from the late '80s. Each comes with an instruction sheet, because God forbid they include yo-yos that were already assembled.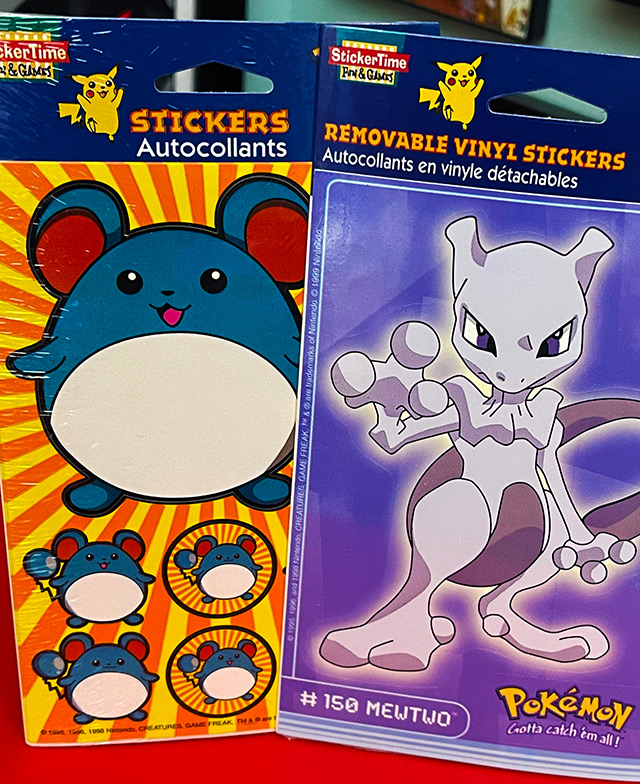 YOU'LL RECEIVE *ONE* PACK!
Jeez, there's still more? This Funpack is loaded! You'll each get ONE of these vintage Pokemon packs. These are from 1999-2000, so by Pokemon standards they're *very* old school.
I have several different pack styles available, each containing either a window cling or sticker sheets. Shown above are just two examples, but all are from the same Pokemon golden era.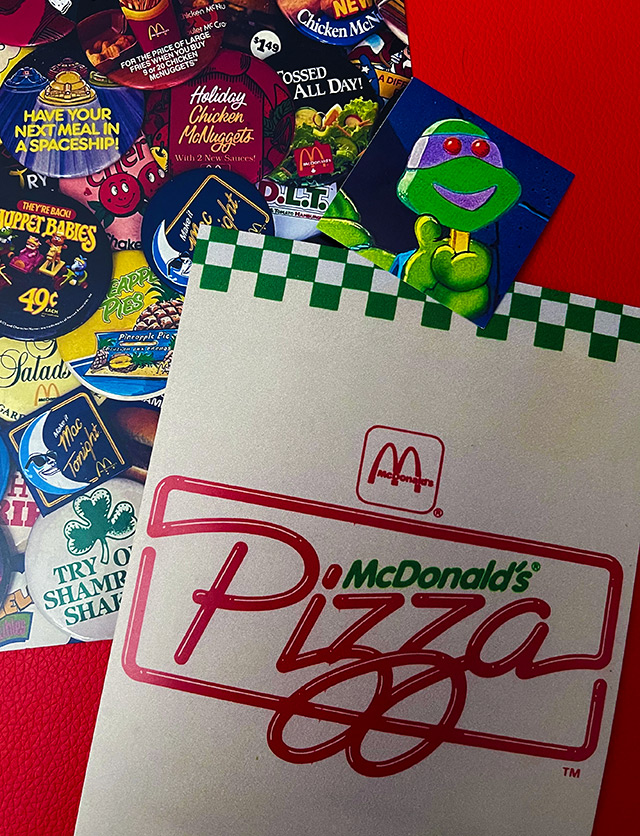 We're doubling down on the artwork this month. In addition to the 2×2" TMNT popsicle sticker, you'll all receive BOTH of those 5×7" cardstock mini-posters!
The mini-posters are both McDonald's-themed. One is a collage of McD's promotional buttons from the '80s, while the other replicates the classic McDonald's Pizza logo. (For those who keep track of such things, the pizza one is this month's "official" poster, and the other one is just a bonus!)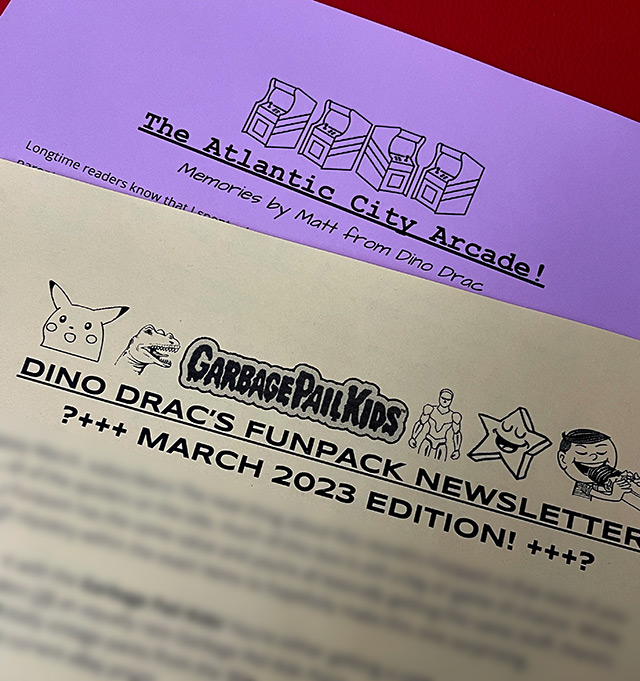 Rounding things out, you'll also receive this month's Funpack Newsletter, plus an exclusive essay that will never be reprinted on the site.
This month's essay is about a certain arcade in Atlantic City that I used to visit during the early '90s. Come for the Street Fighter II memories, stay for the troll-stuffed claw games.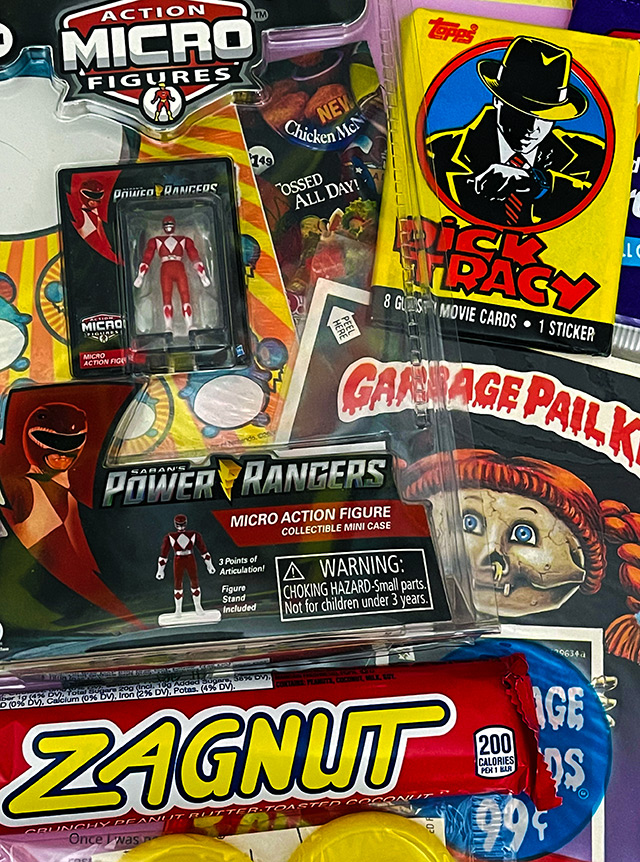 So yep, you'll get everything shown here for $25 shipped!
If you're already a subscriber, do nothing! You're all set!
If you're NOT a subscriber, I have a limited number of March Funpacks that I can offer on a one-time basis. If you'd like one, just click the link below. Once they sell out, they're gone forever!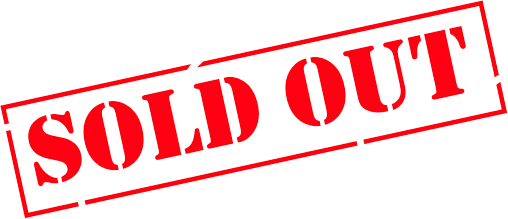 The March Funpacks will all ship on or before Monday, 3/27. Thanks a ton!