I can hardly believe it, but this month marks the Funpacks' seventh anniversary! Freakin' WILD, guys. When I started doing this back in 2014, my initial plan was to only stick with it for a few months. Under no circumstances would I have ever believed that I'd still be at it seven years later!
Thanks to all subscribers, old and new, for keeping the fire burning!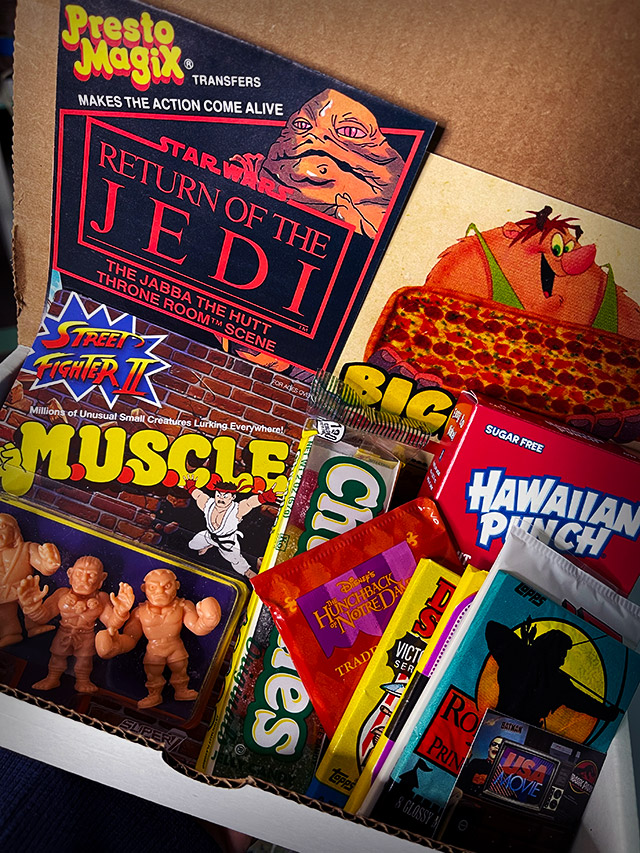 AVAILABLE IN THE UNITED STATES ONLY!
The July 2021 Funpack is a summertime smash of retro collectibles, sweet candy and nifty art, snugly packed into a long white box!
Unfortunately, subscriptions are closed for this month, though I will almost definitely have spares to sell on an individual basis once I complete my counts. If you're not a current subscriber, scroll to the bottom for info on how to get on the waitlist. Otherwise, keep reading to learn about everything in this month's box!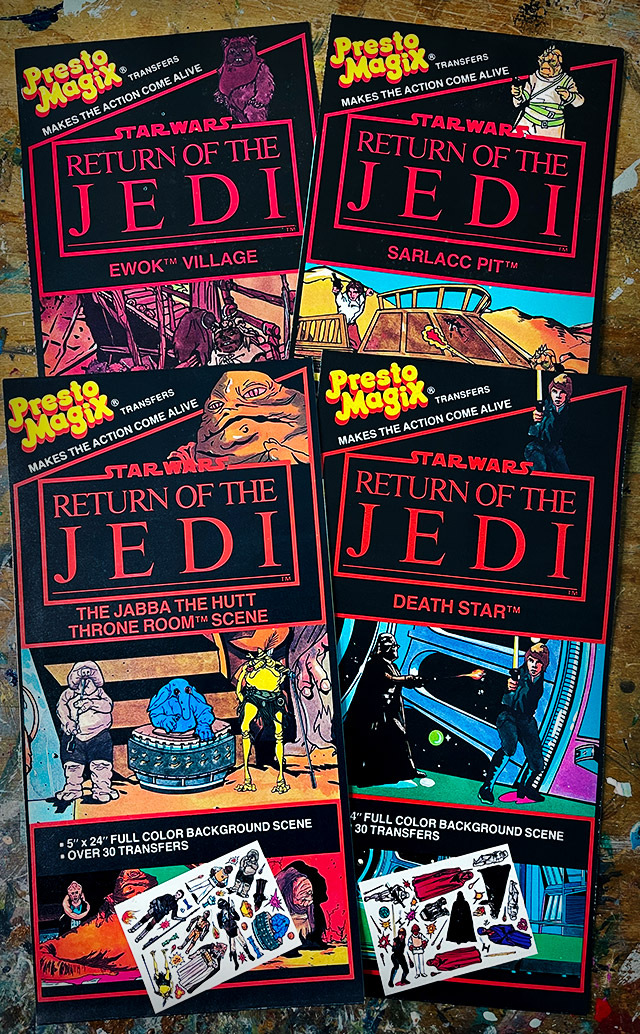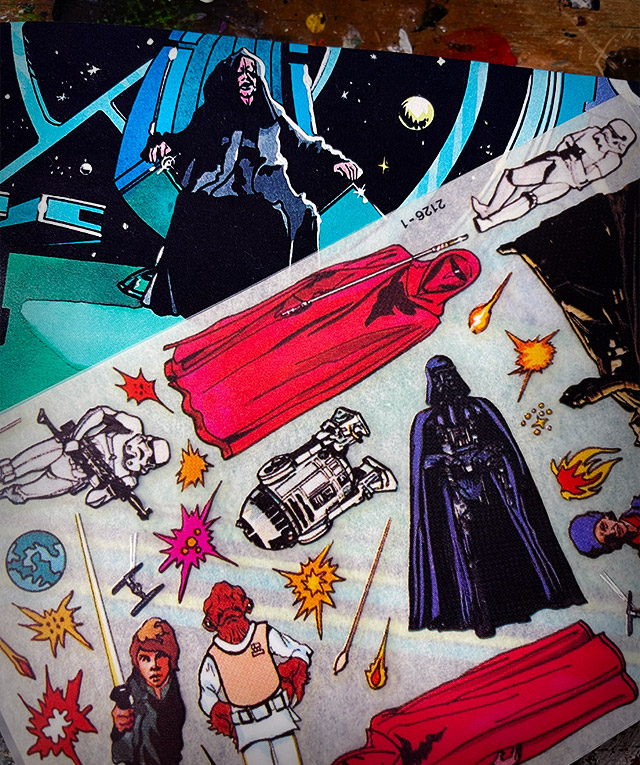 YOU WILL RECEIVE *ONE* OF THESE FOUR KITS!
First up, you'll each receive ONE of these vintage Star Wars: Return of the Jedi Presto Magix sets, from 1983! A few lucky subscribers received a set in the very first Funpack, so I'm thrilled to send them to *everyone* all these years later!
If you've never heard of Presto Magix, they were kits that let you move characters from a transfer sheet onto an action-packed background simply by penciling over them. I absolutely adored these sets as a kid!
You will receive one of the following sets: Death Star, Jabba the Hutt's Throne Room, Ewok Village or the Sarlacc Pit. Each comes with a unique collection of transfers and a unique fold-out background. I've tested them, and they still work just like they did in the '80s!
NOTE: The cellophane wrappers that used to house these sets were disintegrating, so I'm tossing them and moving them into protective plastic sleeves. So while they are technically "loose," they're all in perfect, unused condition!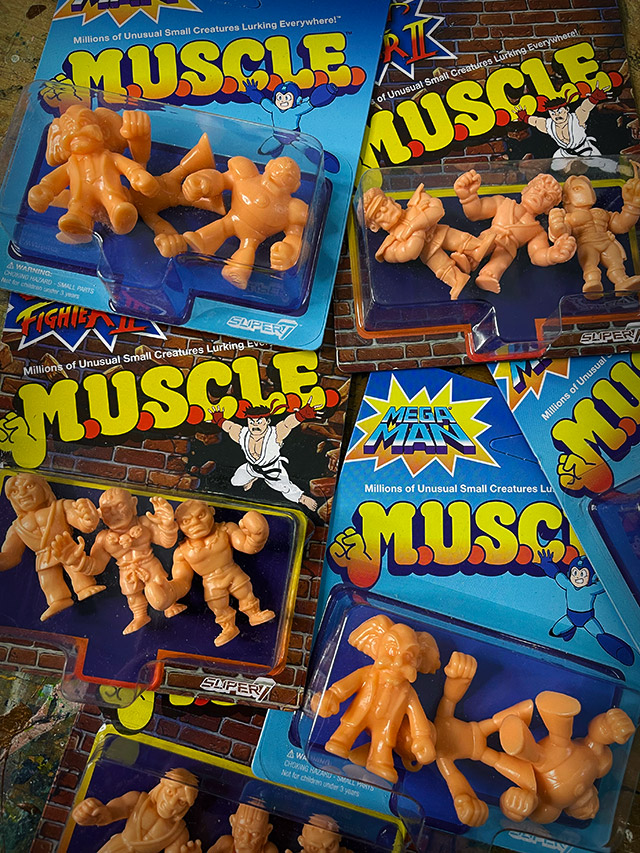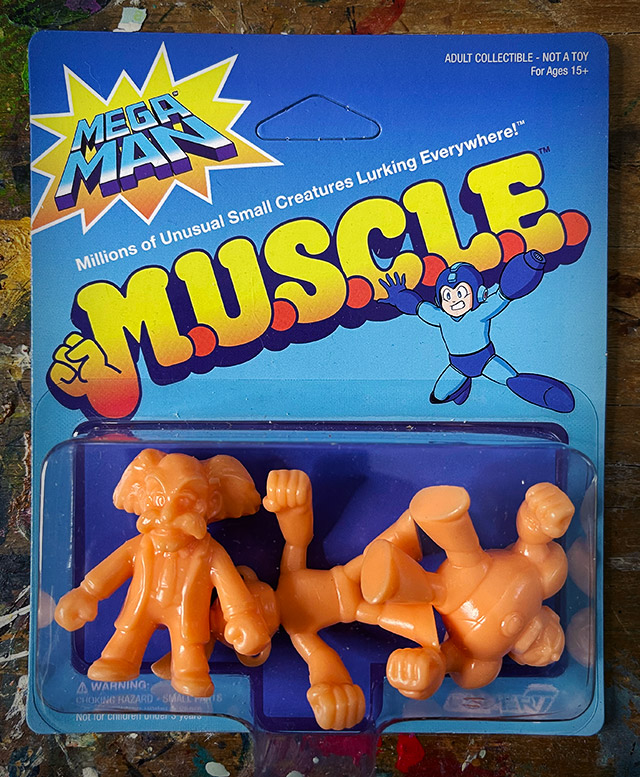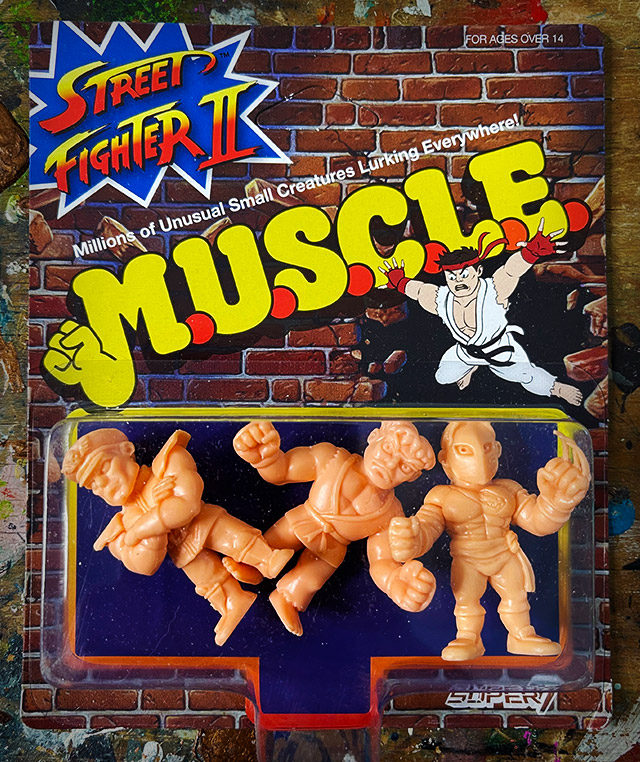 YOU WILL RECEIVE *ONE* M.U.S.C.L.E. SET!
Next up, you'll each receive ONE of these packaged, case-fresh M.U.S.C.L.E. figure sets from Super7, which I believe went out of production several years ago. These are so cool, guys!
You'll either get a set of Mega Man M.U.S.C.L.E. figures, or a set of Street Fighter II M.U.S.C.L.E. figures. No matter which you prefer, you have an equal shot. There are MANY sets in the mix, each with a different trio of figures.
These are being pulled straight from factory cases, and thus are case-fresh. A few might have superficial corner dings to the packaging, but if so, it'll be very light. They're in brand new condition. In fact, many are still on unpunched cards!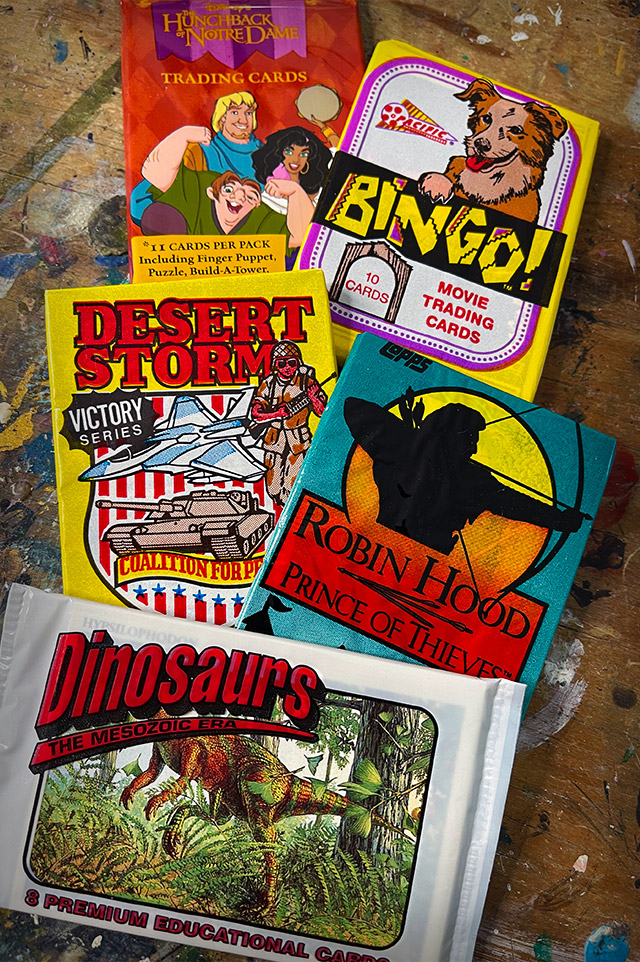 You'll also receive this pile of five vintage trading card packs, mostly featuring old Funpack favorites that deserved another run in the sun. You'll get all five of the packs shown above, including:
– Robin Hood: Prince of Thieves (1991)
– Bingo (1991)
– Desert Storm: Victory Series (1991)
– Dinosaurs: The Mesozoic Era (1993)
– Disney's Hunchback of Notre Dame (1996)
If you tear 'em all open, you'll have over 40 old trading cards to ogle. Maybe you'll even score some stickers for your next marble notebook!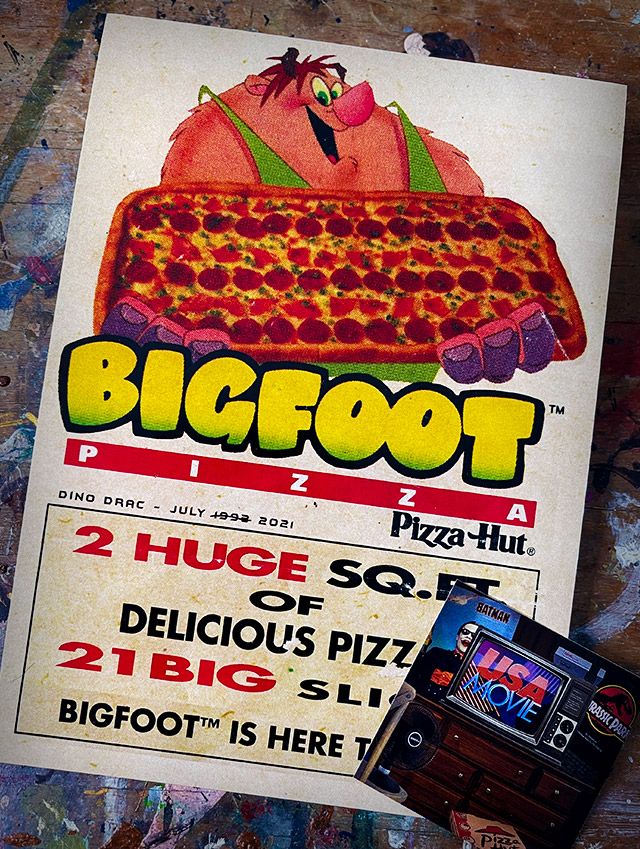 This month's 5×7" mini-poster is sure to be a crowd-pleaser. I scanned an old advertisement for Pizza Hut's legendary Bigfoot Pizza, from 1993. Had to frick around with the artwork to make the key components fit on the poster, but it came out great. I've done a lot of mini-posters over the years, and this is one of my favorites!
Poster is printed on something resembling cardstock. You'll also receive this month's exclusive 2×2" sticker, which recreates a typical summer afternoon in my middle school bedroom.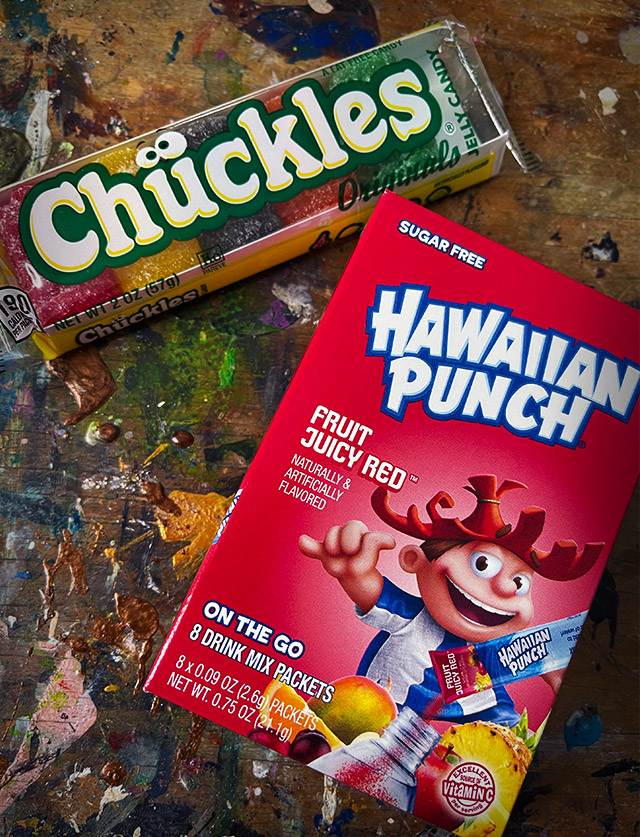 Oh, and let's not forget the sweets! Each of you will receive a full-sized retail pack of Chuckles jelly candy, which, yes, is still being made! You probably haven't eaten those since Grandma pulled 'em out of her purse when you were six. They taste exactly the same as they always did, and bonus points: They're some of the only candies negotiably safe to mail in the July heat!
You'll also get a full box of eight Hawaiian Punch On-The-Go Packets, in the classic Fruit Juicy Red flavor. Sugar free and super low in calories, but still packin' that beloved Hawaiian Punch flavor. These are totally Matt-approved, evidenced by the fact that I've been dumping them into water bottles constantly.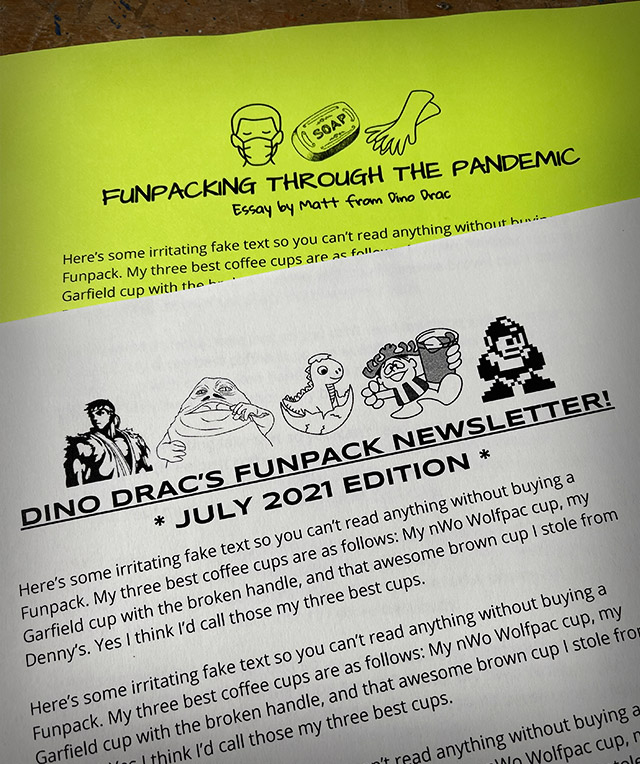 Rounding things out, you'll also receive this month's Funpack Newsletter, plus an exclusive essay that will never be reprinted on the site.
This month's essay details what it was like to do this little Funpack biz at the start of the pandemic, when everything was so upside-down, we didn't even know if the postal service would keep its doors open. It's a little self-indulgent, sure, but cut me some slack, it's the seventh anniversary!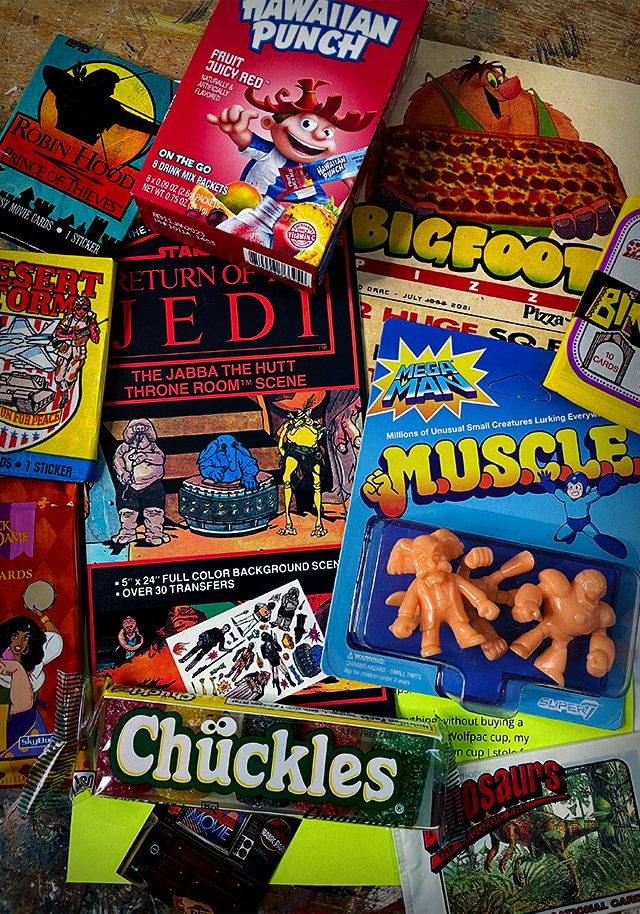 So yep, you'll get all of the above for $25 shipped!
If you're already a subscriber, do nothing! You're all set! The July 2021 Funpacks will ship on or before Friday 7/23.
If you're interested in purchasing a July 2021 Funpack, they are currently waitlist-only. Please email me (dinosaurdracula on gmail) to get on the waitlist, and I'll be in touch once I do my final counts. There will definitely be some left, so if you want one, make sure ya email me! 🙂
Thanks so much, and I hope everyone enjoys this month's box!