It sure doesn't feel like it, but we're about to enter the summer season. Kinda feels like it'll be a wash in 2020, which was why I wanted to give this month's Funpack a decidedly summery flavor. You may not be able to hit many arcades this year, but at least you'll get this!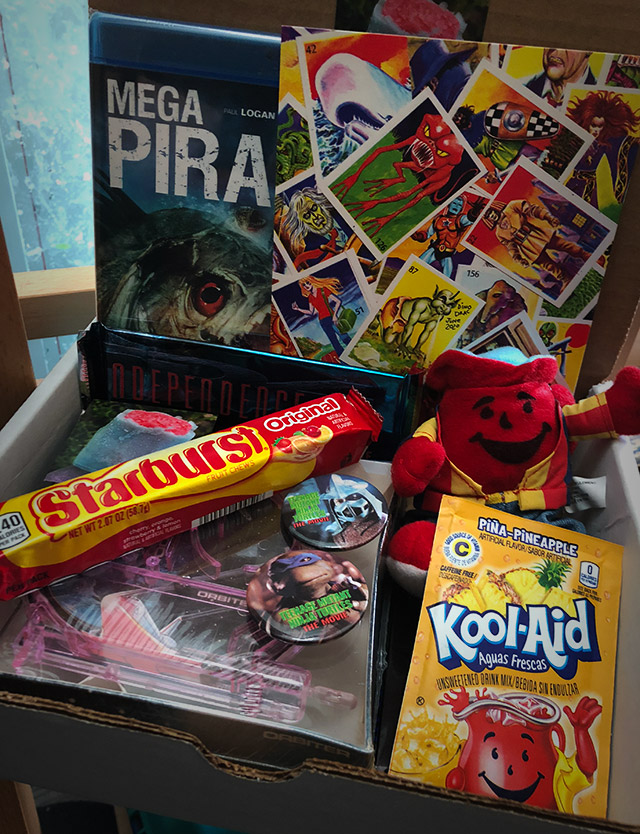 U.S. ONLY! LIMITED SUPPLY! ONE DAY ONLY!
With around a dozen items in all, the June 2020 Funpack is summer in a box. You'll get everything from a weird movie to awesome candy to old school collectibles, and — if you're lucky — something with a Ninja Turtle on it.
You know the deal by now. The Funpacks are $25 a month (including shipping), and for as long as you remain subscribed, you'll keep getting boxes of old-and-new goodies each and every month. (You can cancel anytime without penalty, of course!)
Scroll to the bottom for ordering info, or keep reading to learn about everything in the June Funpack!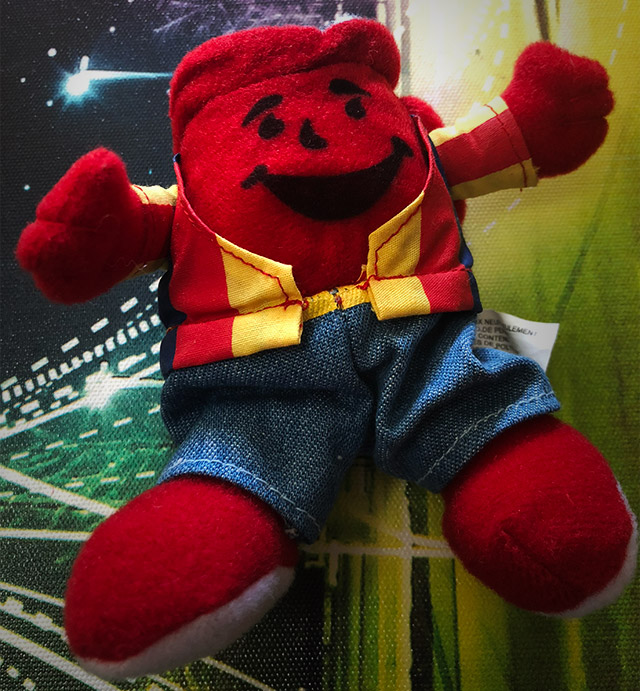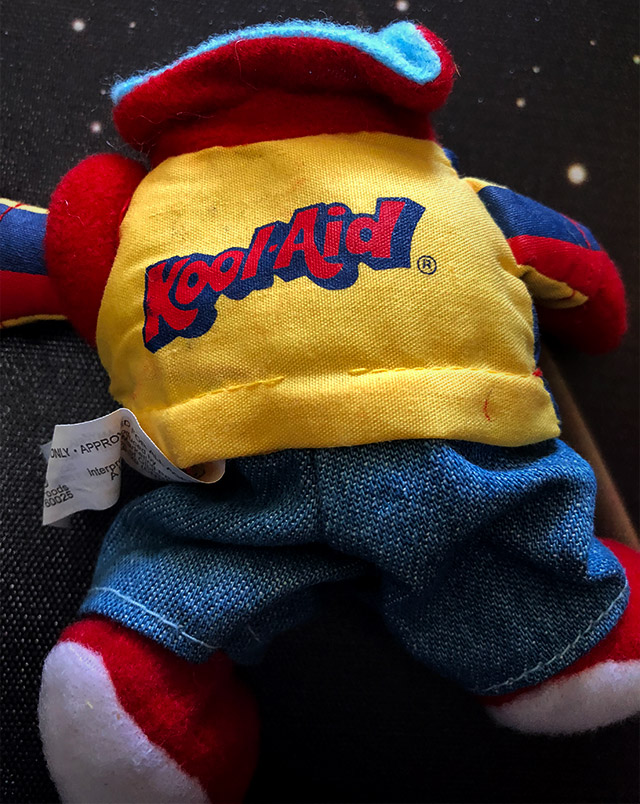 Hey, Kool-Aid! Leading the charge this month is your very own Kool-Aid Man plush doll, made way back in 2000. I'm pretty sure that these were originally Wacky Warehouse prizes that you had to save up points for.
These beanbag-style dolls stand at around five inches tall and are completely adorable. Look at the Kool-Aid Man in his super hip turn-of-the-century outfit. Only he could pull off the jeans and shirtless vest combo without looking like a jerk. I love him, and so will you!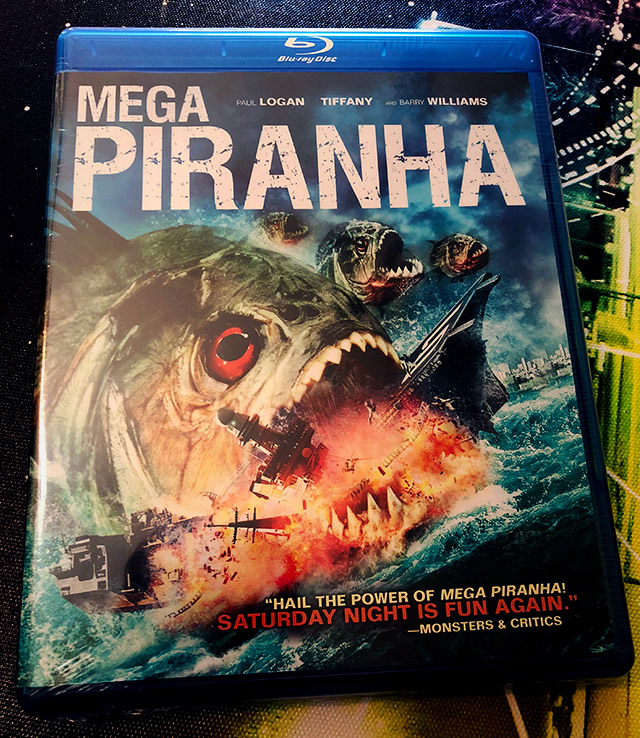 Next up, you'll each receive a sealed copy of Mega Piranha on Blu-ray. Yep, another "classic" from Asylum! This premiered as a TV movie in 2010, and it has a little bit of everything. Lemme swipe the synopsis from Google:
"A school of giant mutated piranha escapes from the Amazon, destroying everything in their path. As the creatures make their way to the Florida coastline, a special agent and a professor must discover how to stop them before it's too late."
Don't you dare pretend that you don't want to see this movie, which not only stars killer piranhas, but also Paul Logan, Greg Brady and motherfreakin' TIFFANY!
Content advisory: I believe it's unrated but consider this one R-rated and for mature audiences!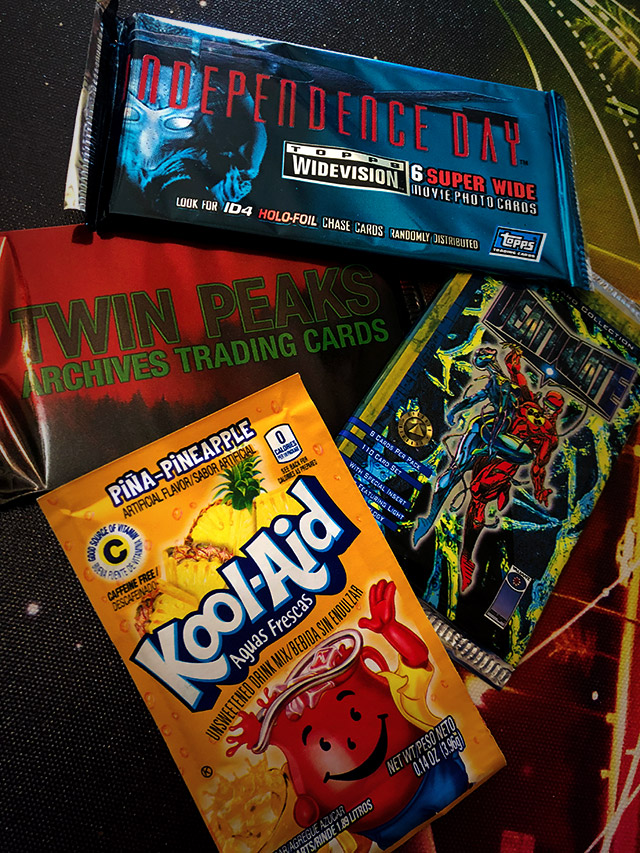 Next up is a little pile of vintage trading card packs, including:
– Deathmate (1993)
– Independence Day (1996)
– Twin Peaks (2019)
Have fun tearing 'em open and ogling the cool art. When you're done, go make yourself a kickass pitcher of Pina-Pineapple Kool-Aid, because I'm throwing in a packet of that, too!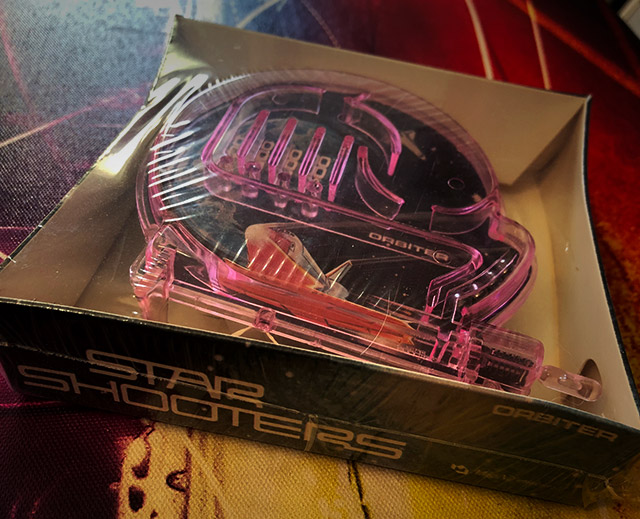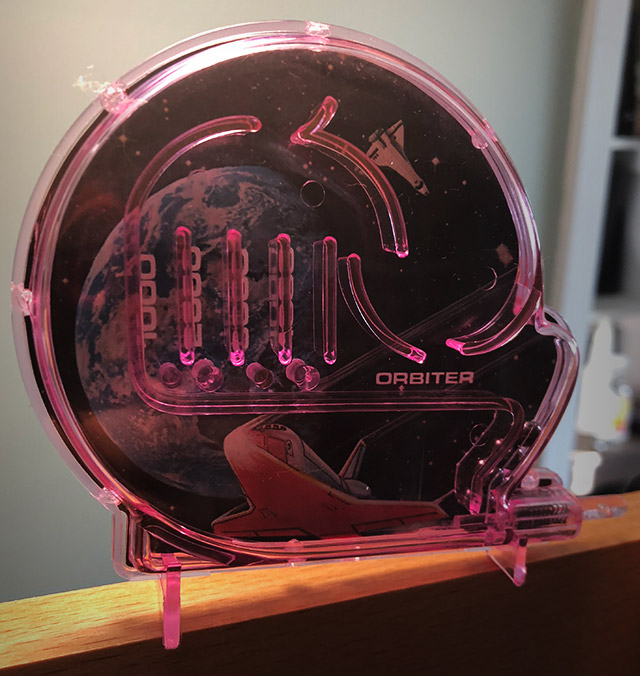 Since you probably won't be hitting many arcades this summer, here's something to help fill the void. Behold, THE ORBITER, one of those old school plastic marble-shooting games. Part of the Star Shooters collection, these babies were released back in *1983*, making them one of the oldest inclusions in Funpack history!
Each Orbiter game is still in its original display box. (Some boxes lack shrink-wrap, but all are unused.) It's one of those cheap games that you might've picked up with leftover points from a casino arcade, but it's oh-so-nostalgic and displays quite nicely. The photos really aren't doing this one justice!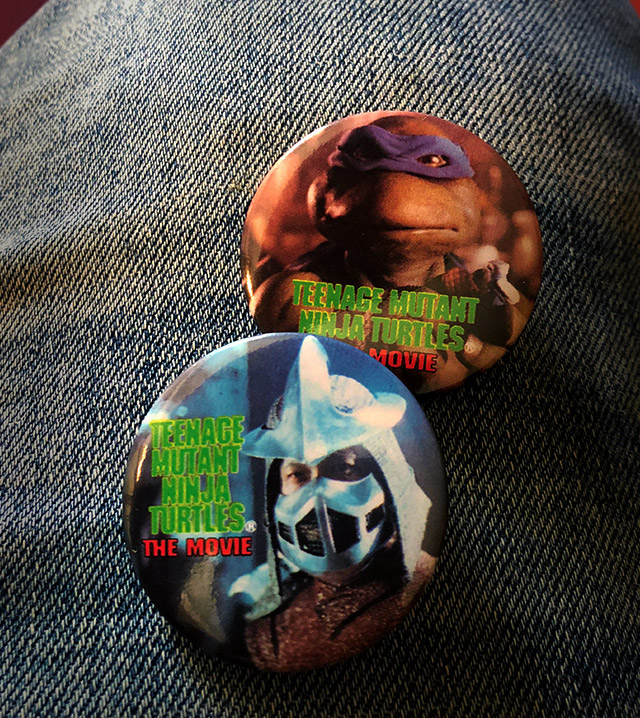 Oh, and then there are these! You'll each receive a pair of vintage Teenage Mutant Ninja Turtles: The Movie buttons, officially licensed and released back in 1990. These are the real deal originals — not some lame homemade versions that people charge too much for.
You'll get the exact pair shown above. One button shows Leonardo, but you'll probably be more excited about that swank Shredder button. I don't care if it's been 30 years, I will absolutely still rock Movie Shredder out in public.
They are in unused condition, but please note that the metal backs have slightly "oxidized" on some of the buttons. Just slightly. Hey, if you want these boxes stuffed with vintage collectibles, you gotta roll with the punches.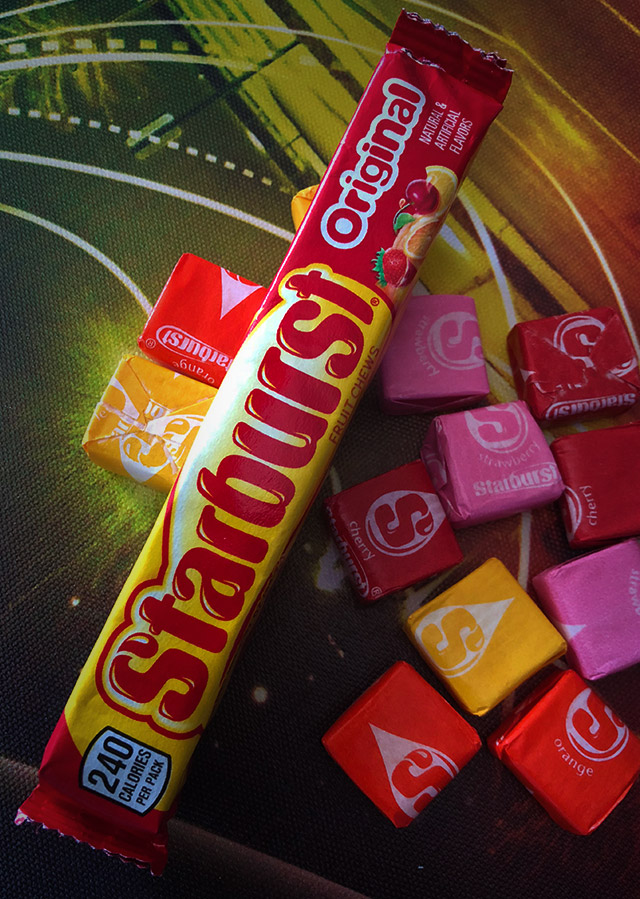 You'll also receive a full-sized pack of Starburst, which I'd considered a summer treat even before discovering that many people roast them like s'mores.
This is a true full-sizer, too — over two ounces of fruity goodness in all. Hope you get lots of reds and pinks!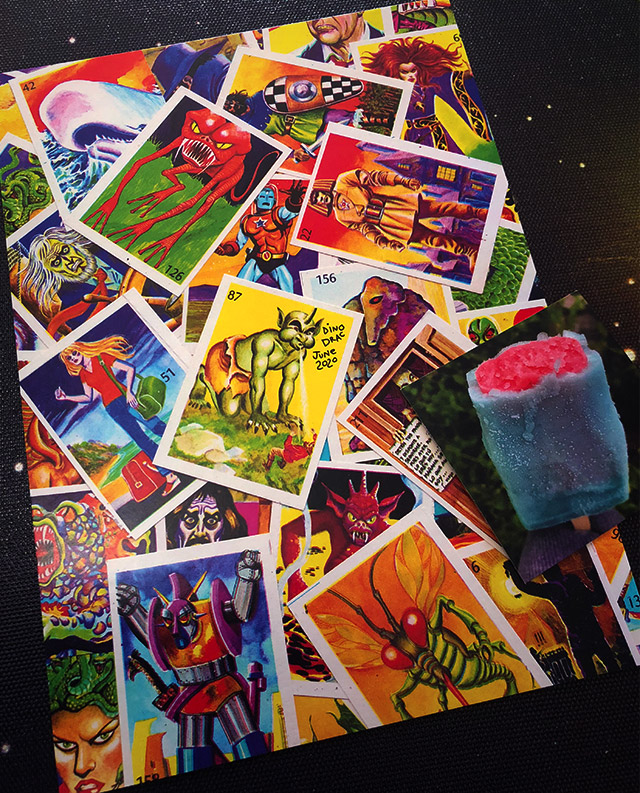 This month's Funpack includes one of the best 5×7" Mini Posters I've ever created. It's a collage of awesomely quirky Venezuelan horror stickers from the 1980s, featuring everything from demons to giant bugs to a hitchhiking vampire. You will dig this one, trust me.
Also included is this month's 2×2" sticker, which features a Jaws Ice Bar with a huge bite taken out of it. A weird choice for a sticker, I know, but it's really colorful and will make you happy.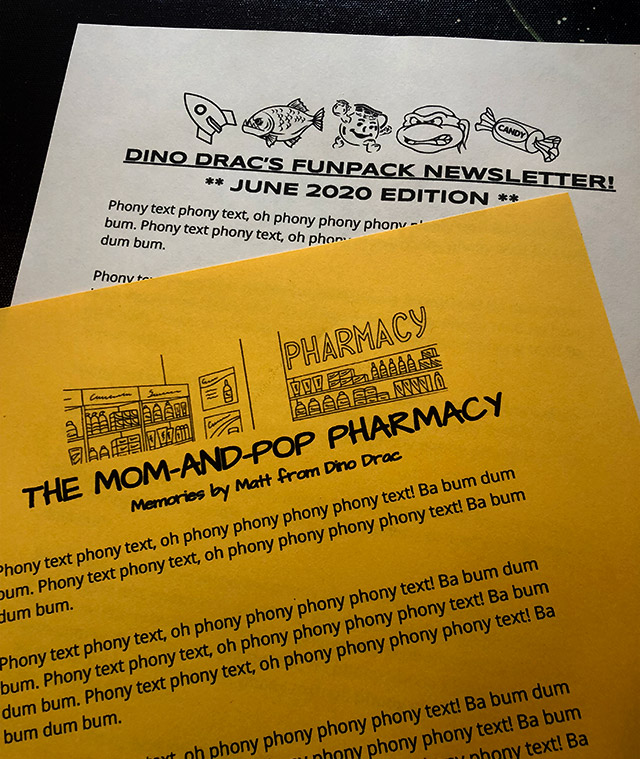 Rounding things out, you'll also get this month's Funpack Newsletter, plus an exclusive essay that will never be reprinted on the site.
This month's essay is a love letter to my old neighborhood pharmacy, where I learned to love wrestling magazines and Almond Joy bars. I'm still a sucker for mom-and-pop pharmacies, and it all started with this one!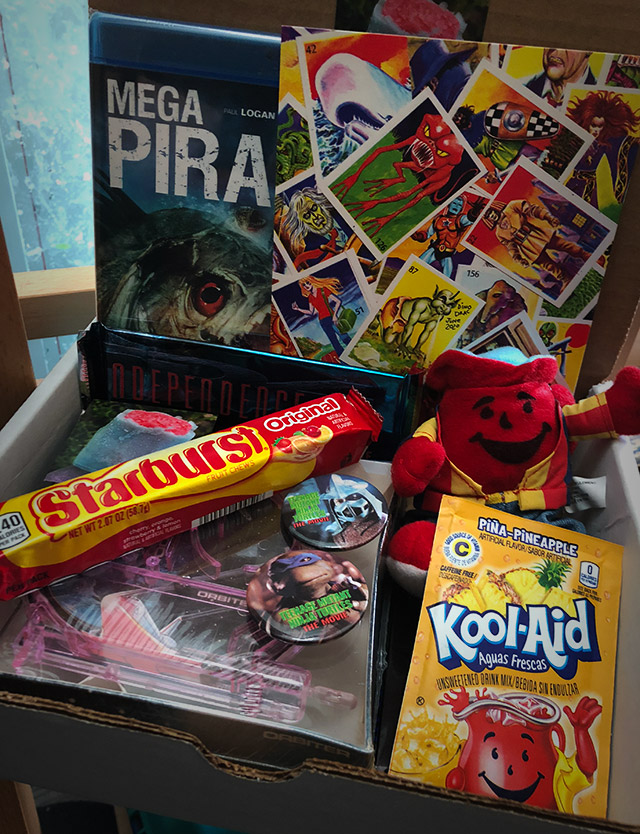 Yep, you'll receive everything shown above, for $25 shipped!
If you're already a Funpack subscriber and you'd like to stay that way… do nothing! You're all set!
If you want to subscribe, please read the following, and then click the button at the bottom of this page!
1. Funpacks are available in the United States only. Sorry!
2. Subscriptions are handled via Paypal. If you don't have an account, it's very easy to make one!
3. Funpacks will be shipped to the address listed on your Paypal account. If you need to change your shipping address, or if you'd like for your Funpacks to be shipped to someone else, simply email me!
4. You will be automatically billed $25 every month. (Yes, that price includes shipping.) If you subscribe today, you'll pay today, and then again in exactly one month. For as long as you remain subscribed, you'll keep getting Funpacks!
5. You can cancel at anytime. (You could subscribe today and cancel today!) If you cancel after you've already been charged for the following month's Funpack, you'll of course receive it just the same as any current subscriber would. (You can cancel via Paypal, or by emailing me.)
6. The June 2020 Funpacks will ship on or before Friday 6/19.
Remember, the Funpacks allow me to keep doing the site… thanks so much to all who help to keep it/me going!
To get your subscription started, click the button below!
To get your subscription started, click the button below!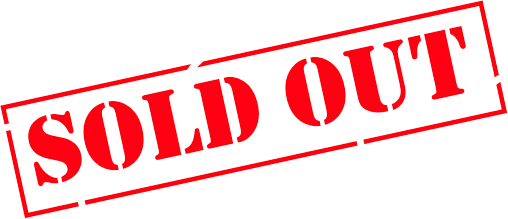 Subscriptions for this month are sold out, but there may be some spares left for me to sell on an individual basis. If interested, email me! (dinosaurdracula on gmail) Thanks!