If you're not already a Funpack subscriber, the bad news is that I don't have space for any additional subscriptions at this time. The GOOD news, though, is that I have a solid amount of June 2021 Funpack spares that I can offer as one-time sales — so if you're seeing this post early enough, you have a shot at it! (That is, assuming you want one!)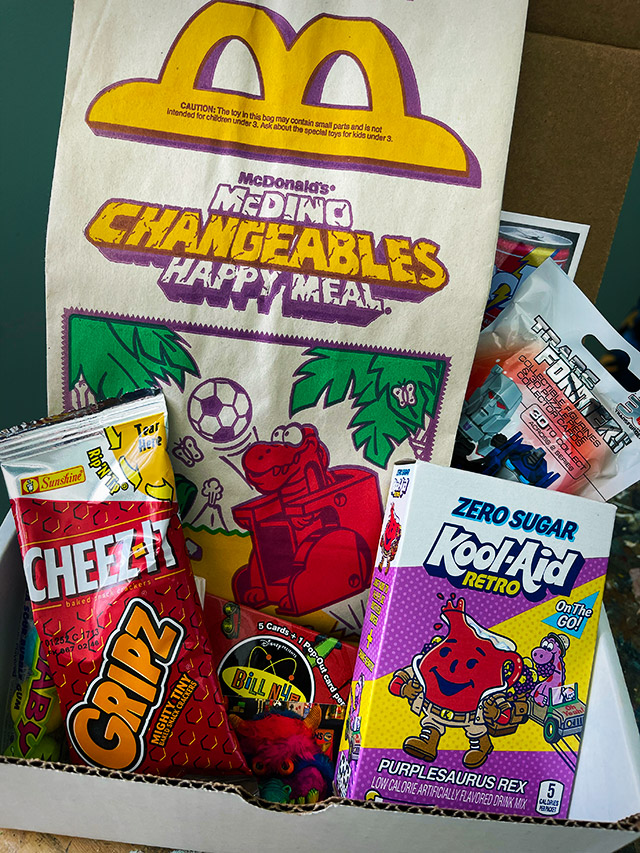 LIMITED SUPPLY! U.S. ONLY!
Dino Drac's June 2021 Funpack blasts into summer with a hot hot hot mix of nostalgia bombs and edible delights, all packed in a box that I'm told can withstand 200 pounds of pressure.
It's a good one, folks. Scroll to the bottom for ordering info, or keep reading to learn about everything in this month's pack!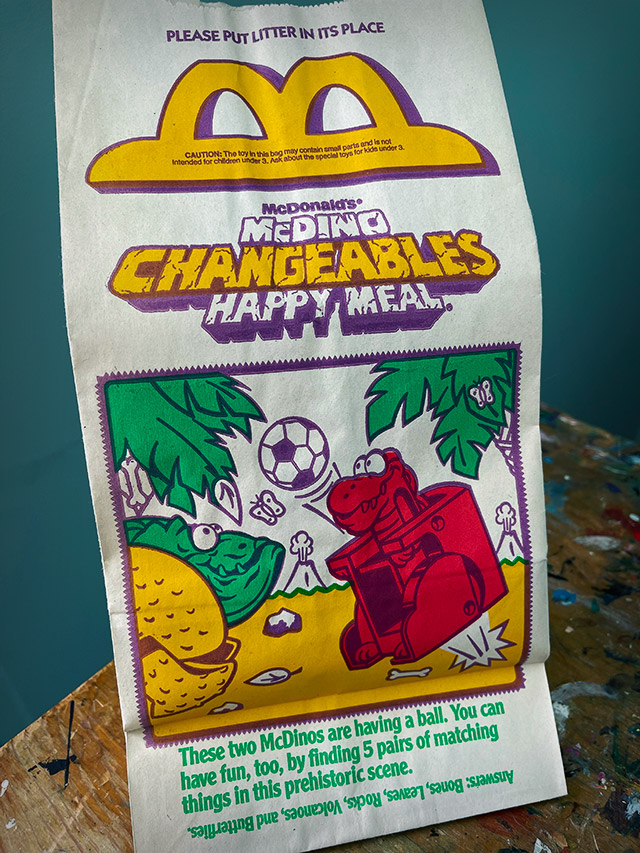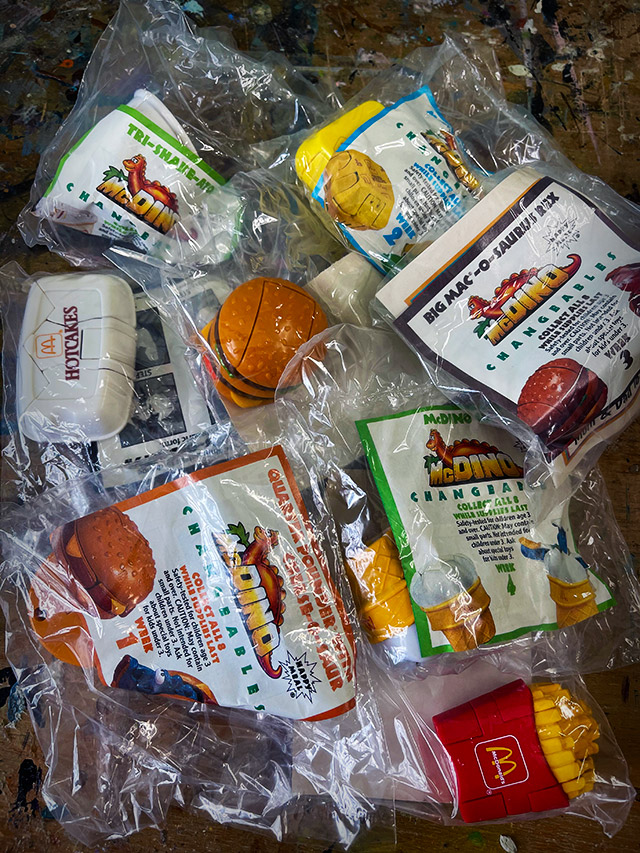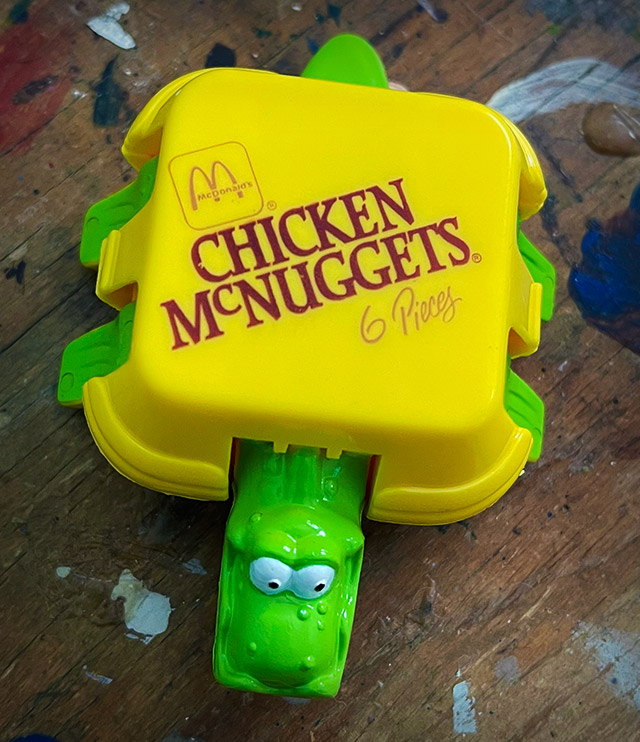 *ONE* MCDINO PER FUNPACK!
Oh, wow. Yes, we are DOING THIS. You will each receive ONE vintage McDonald's Happy Meal McDino Changeables figure, from 1991! Omg omg omg!
You'll get one random figure from the original collection of eight different McDinos, which transform from McDonald's foodstuffs into adorably weird dinosaurs! Best of all, every figure is still sealed in its original Happy Meal baggie, and on top of that, every bagged figure will come in its ORIGINAL McDino Happy Meal paper sack! (Gently curled to fit in the box, of course!)
This was an incredible score for me, and I'm SO thrilled to share these figures with you. They're some of the best Happy Meal toys EVER. You'll get ONE of the following figures, inserted at random:
1) Milkshake / "Tri-Shake-Atops"
2) Big Mac / "Big Mac-O-Saurus Rex"
3) Ice Cream / "McDino Cone"
4) Happy Meal Box / "Happy Meal-O-Don"
5) Quarter Pounder / "Quarter Pounder With Cheese-O-Saur"
6) Large Fries / "Fry-Ceratops"
7) Chicken McNuggets / "McNuggets-O-Saurus"
8) Hotcakes / "Hot Cakes-O-Dactyl"
So cool! Figures are in mint and unused condition. Bags and the paperwork inside the bags are a little scrunched up from storage, but these are in AMAZING condition — dust-free and ready to rock. Even the paper sacks are case-fresh! (Just to cover myself, some of the plastic baggies may have minor splits from storage, though I've not yet found any that do!)
I have an even amount of each figure to work with, so no matter which one you want, you have a 1-in-8 chance!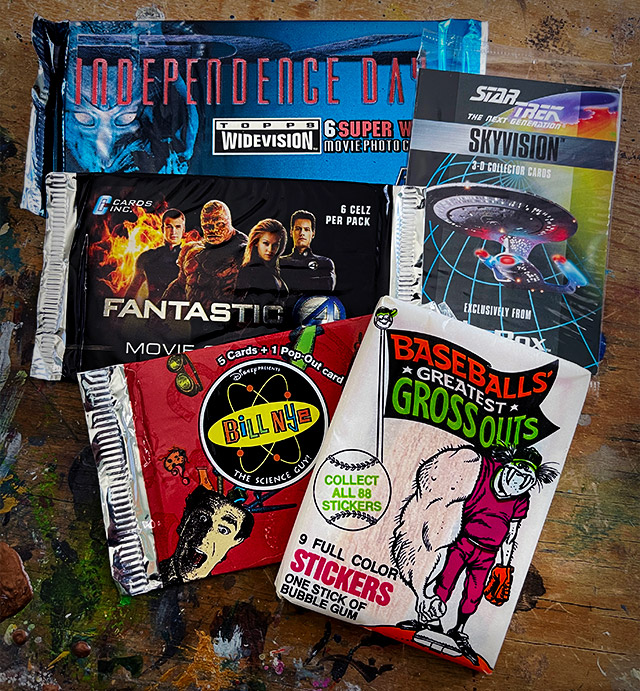 Next up is that generous pile of vintage trading card packs. You're getting FIVE different this month — a mix of old Funpack faves and packs that I've never included before!
You'll get ALL of the following packs:
– Baseball's Greatest Grossouts (1988)
– Star Trek: TNG Skybox Promo Pack (1994)
– Bill Nye: The Science Guy (1995)
– Independence Day (1996)
– Fantastic Four Movie Celz (2005)
Have fun tearing 'em open! (Note that the Greatest Grossouts pack comes with a *very* old stick of bubble gum. Expect that the top card in that pack may have gotten some gum-related wear, but above all else, don't you dare chew that shit!)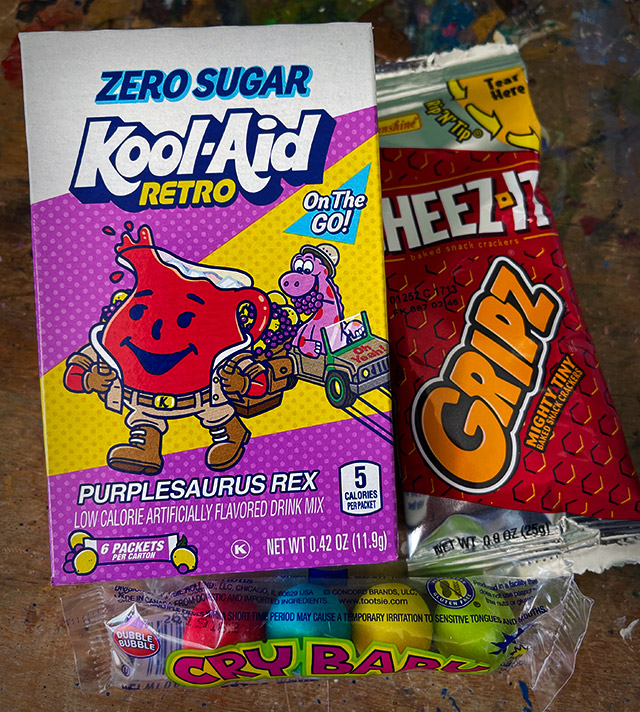 This month's collection of edibles is legendary. First and foremost, you'll each receive a FULL BOX of Kool-Aid Retro Purplesaurus Rex On-The-Go Packs! Each box includes six sugar-free packets, which you can dump into water bottles or whatever.
I've been drinking it constantly, and it's very close to the Purplesaurus Rex of old. (Speaking of which, I love that they used the classic Rex art on the boxes!)
You'll also receive a packet of Cheez-It Gripz, which are absolutely the tiniest Cheez-Its ever produced. Seriously, if you have some NECA figures bouncing around, these would work as in-scale Cheez-Its. Naturally, they're delicious.
I'll also toss in a four-piece pack of Dubble Bubble's Crybaby bubble gum, which is sour as hell but incredibly addictive. Trust me, you'll wish you had more than four pieces!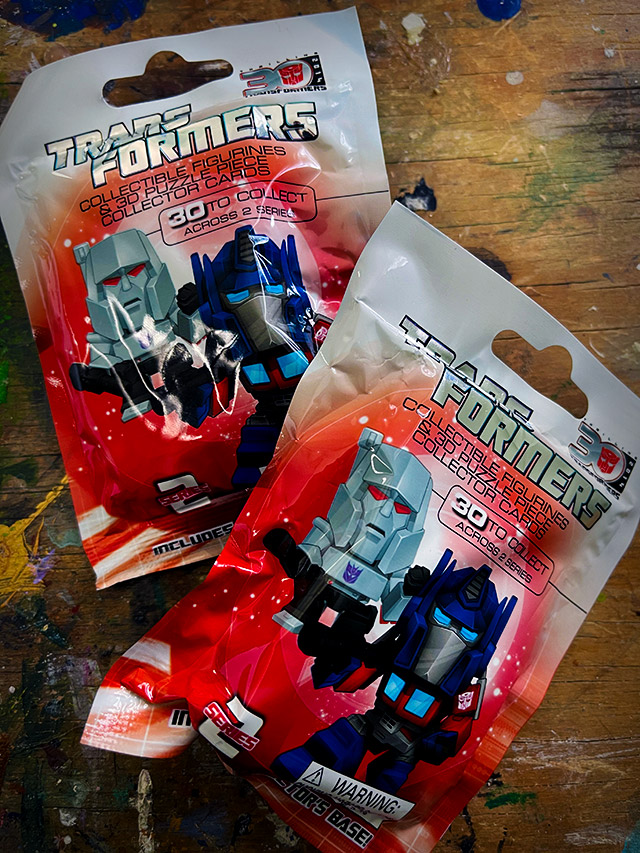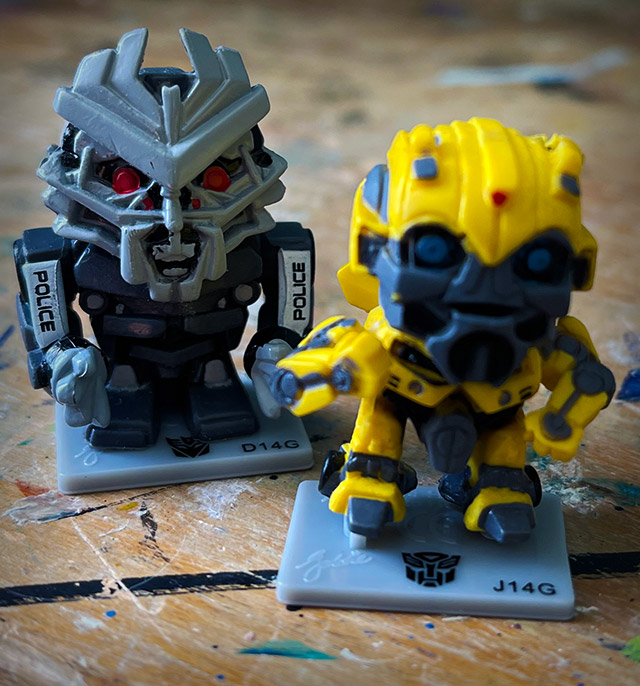 You'll also receive a pair (yes, as in two) of these Transformers Collectible Figurines blind bags, released by Hasbro in 2014!
Each bag contains a teensy tiny Autobot or Decepticon, along with a detachable base for the figure to stand on. These figures are from the 2nd series, which includes 15 possible characters. Don't worry, a solid mix of old school TFs are in the mix, too!
You'll each receive TWO of these blind bags. Please keep in mind that I have no way of knowing which figures are inside the bags, so there is definitely a possibility that some folks will end up with two of the same figure. Are you willing to gamble? I think you are!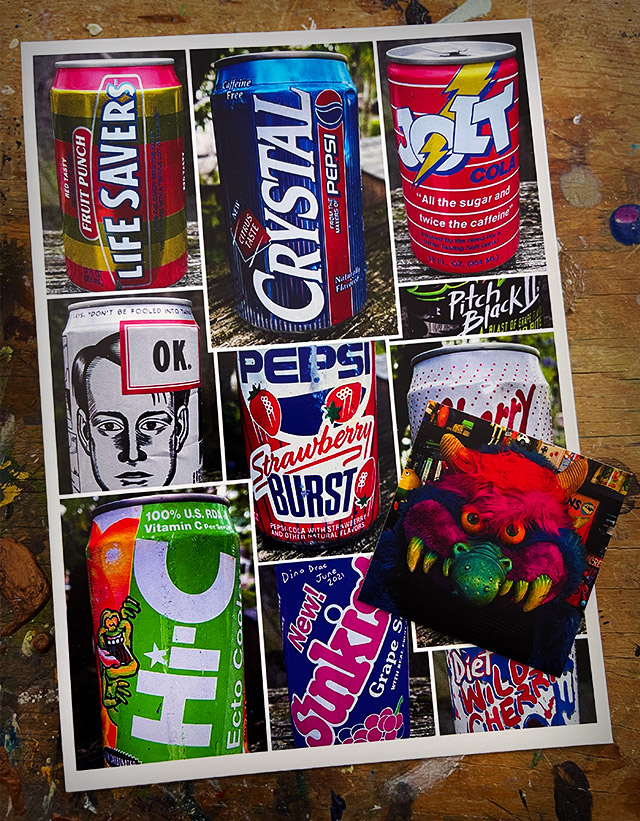 This month's exclusive 5×7" mini-poster features assorted specimens from my collection of ancient soda cans. I always get lots of heart-eyed emojis when I post those photos on social media, so I figured you'd get a kick out of owning some hard copies. Printed on something resembling cardstock!
I'll also include this month's exclusive 2×2" sticker, featuring My Pet Monster. (Who is sitting behind me as I type this, like always.)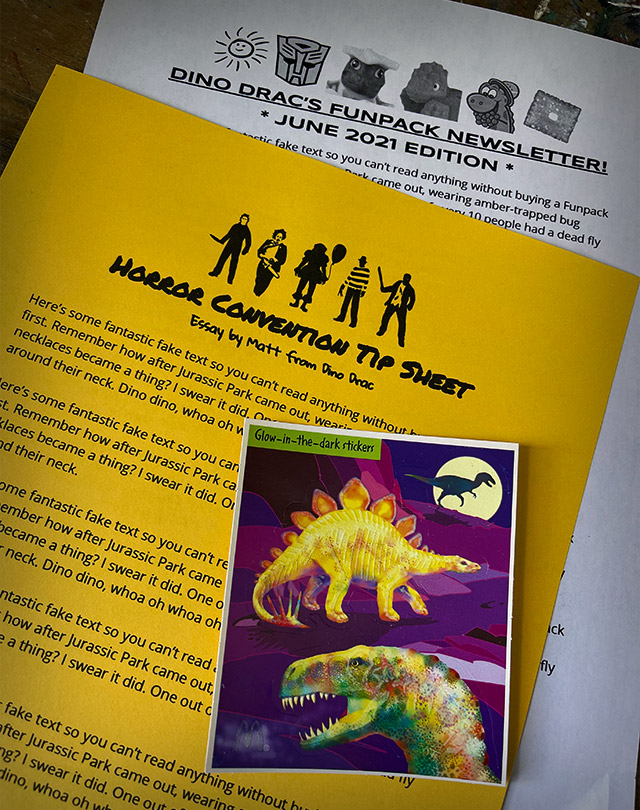 Rounding things out, you'll also get this month's Funpack Newsletter, plus an exclusive essay that will never be reprinted on the site!
This month's essay throws ya some tips about attending horror conventions. It's nothing someone who goes to them all the time needs to read, but if you've been wanting to try one out, it may be helpful!
Oh, and I'll toss in a random glow-in-the-dark dinosaur sticker, too — those are from an obscure McDonald's promotion from the early 2000s!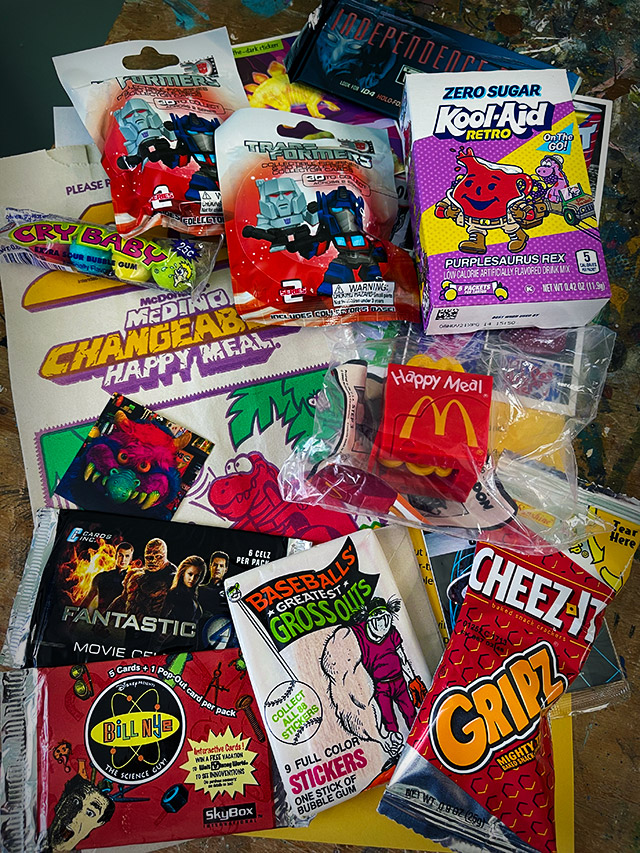 So you'll get all of the above sent directly to your door for $25 shipped!
If you're already a subscriber, do nothing! You're all set!
If you're not a subscriber and you want the June 2021 Funpack, I have a limited number that I can sell. Please note that these are NOT recurring subscriptions — you will just be buying this one Funpack, and that's it. (Hopefully subs will open back up in the near future!)
The June Funpacks will ship on or before Wednesday 6/23!
To purchase a June Funpack, click the button below.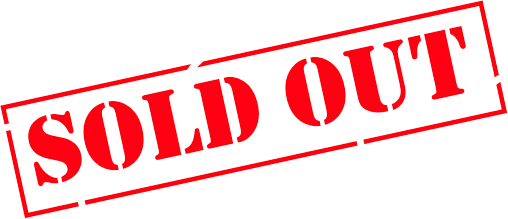 The June 2021 Funpacks are *close* to sold out, but there is a chance I will have a few remaining once I do my final counts. If you'd like to get on the waiting list, shoot me an email — I'm dinosaurdracula on gmail. Thanks!!