Guys, it's time! Dino Drac's November Funpack is here, and it's fueled with ho ho hot holiday power!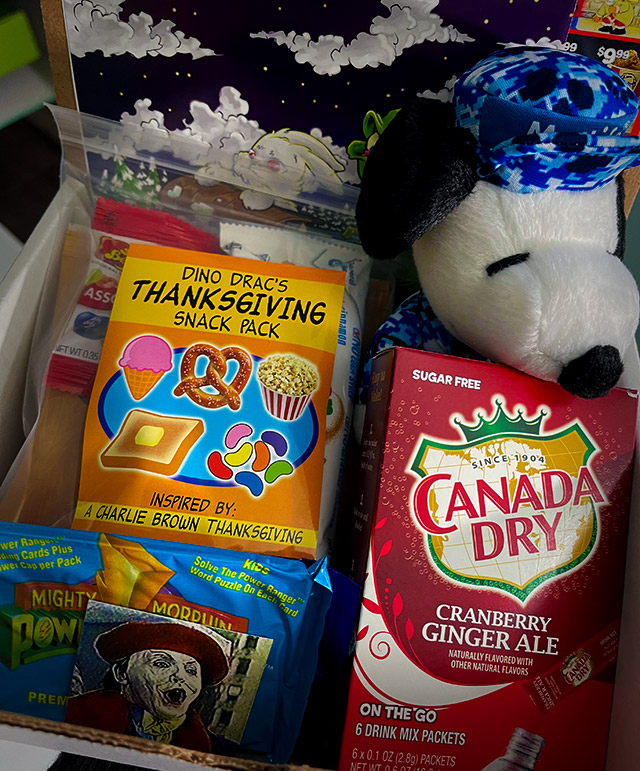 U.S. ONLY! LIMITED SUPPLY!
I'll show you the goodies in a sec, but first, here's the scoop!
Subscriptions are currently maxed out, so if you're already subscribed, congrats, you're definitely getting one!
To everyone else, I have a limited number of spares to sell on an individual, non-subscription basis. The cost is $25, shipped anywhere in the United States. Scroll to the bottom for ordering info, or keep reading to learn about everything in this month's Funpack!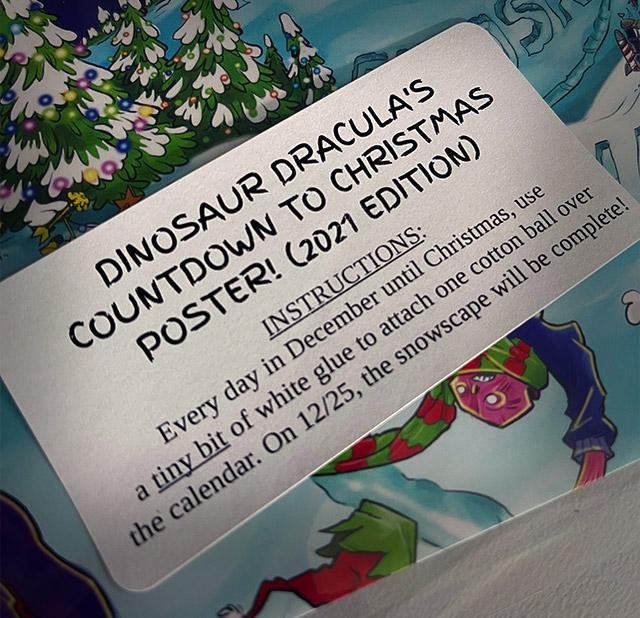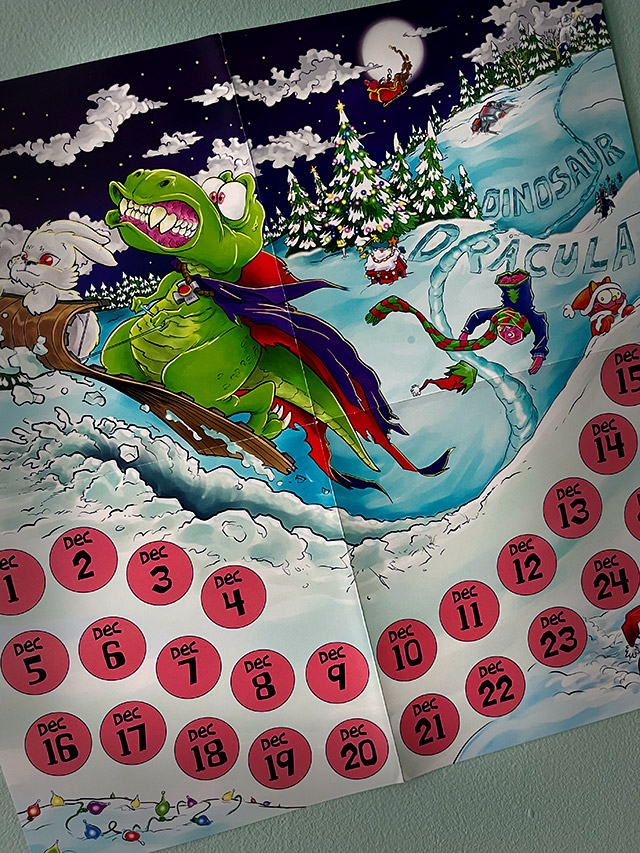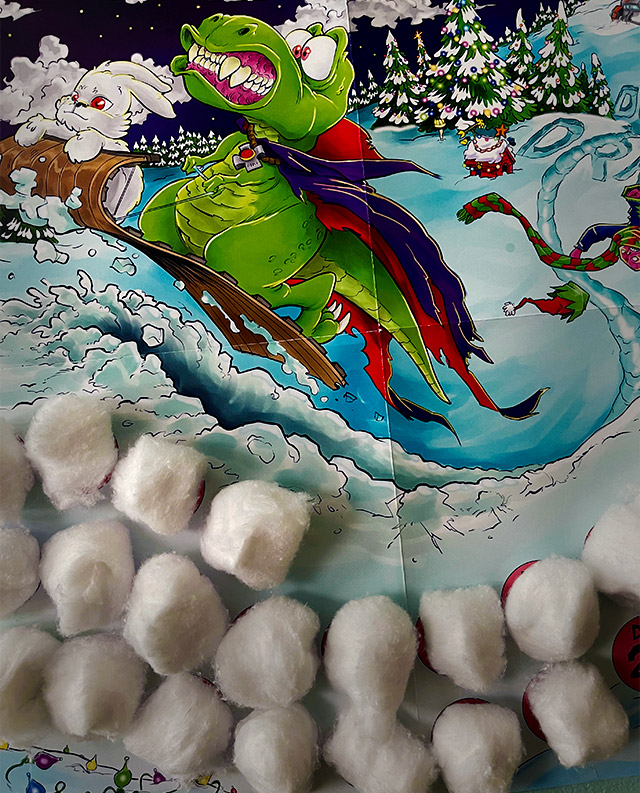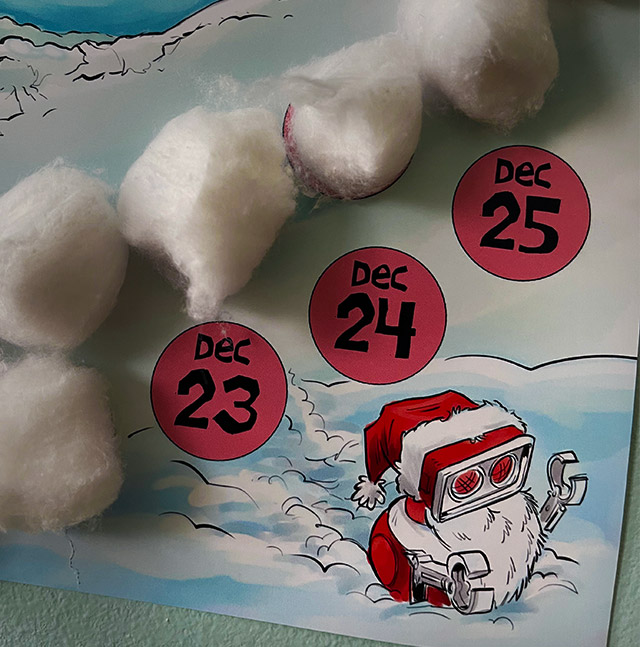 Oh yes, we're doing this again! Time for Dino Drac's third annual Countdown to Christmas poster, inspired by those 7UP promo posters from the '80s. Designed by Jason Week, the 2021 version has a totally new vibe. Every day in December until Christmas, glue a cotton ball over the calendar. When the big day hits, Dino Drac and Leviathan will have a completed snowscape to sled over!
These foldout posters are 13.25″ x 13.25″, and are professionally machine-folded. Each will be shipped in a protective sleeve. The photos don't do these things justice. They're really pretty, and stuffed with a bunch of Christmassy pop culture references. These'll give ya something to do every morning during the heat of the holiday season!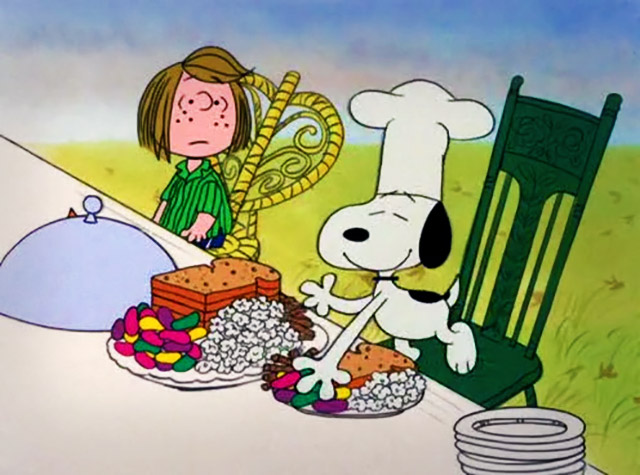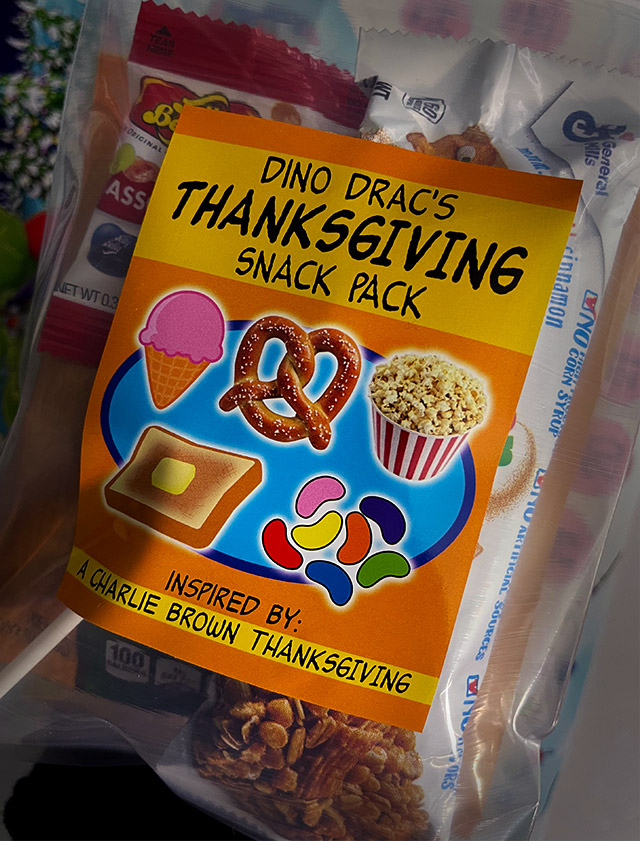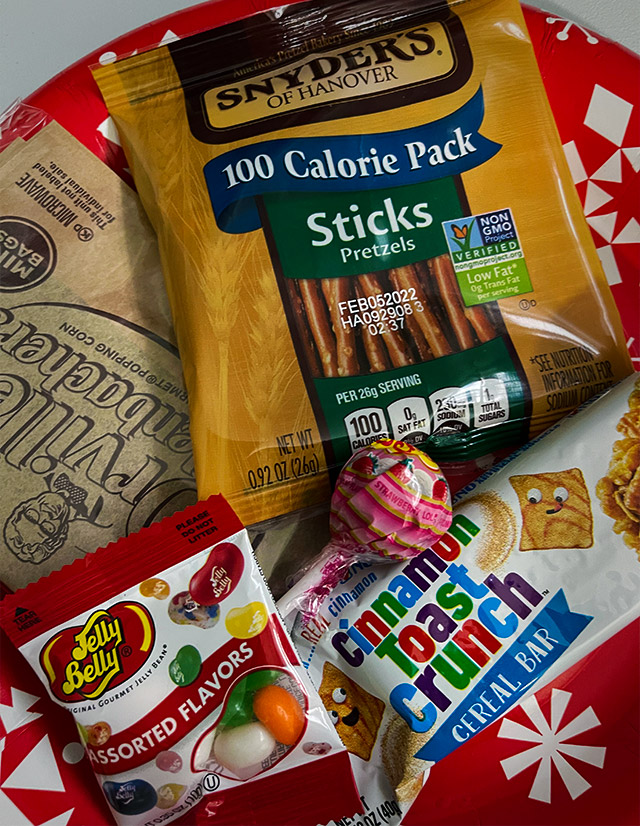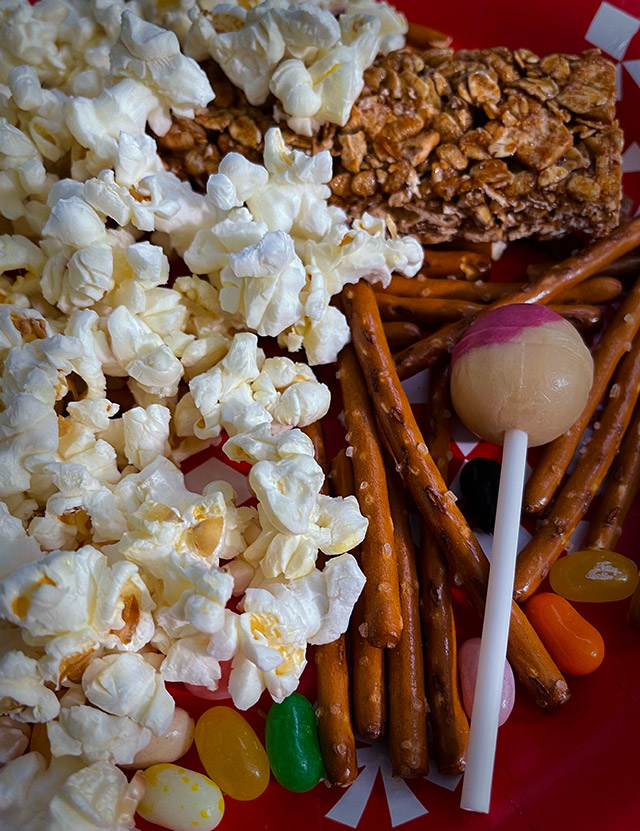 …but don't think I'm skipping right past Thanksgiving, because I'm definitely not! By popular demand, it's the return of Dino Drac's Thanksgiving Snack Pack, a full meal of junk food directly inspired by the dinner scene from A Charlie Brown Thanksgiving.
I did my best to include EVERYTHING Charlie Brown did, albeit with some adjustments since I can't mail ya ice cream or actual toast. In a large, custom Dino Drac baggie, your Thanksgiving Snack Pack will include:
– Bag of microwave popcorn!
– Package of pretzel sticks!
– Cinnamon Toast Crunch cereal bar!
– Teensy bag of Jelly Belly Jelly Beans!
– Chupa Chups Ice Cream lollipop!
Please note that specific brands may vary, but you'll get all of those items snugly packed in a custom bag. Save 'em for Thanksgiving morning, and celebrate the holiday the Charlie Brown way!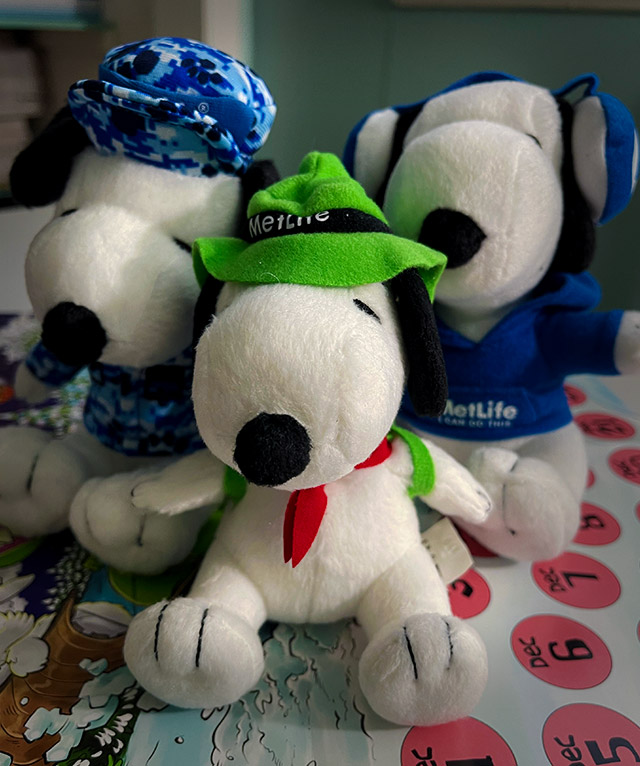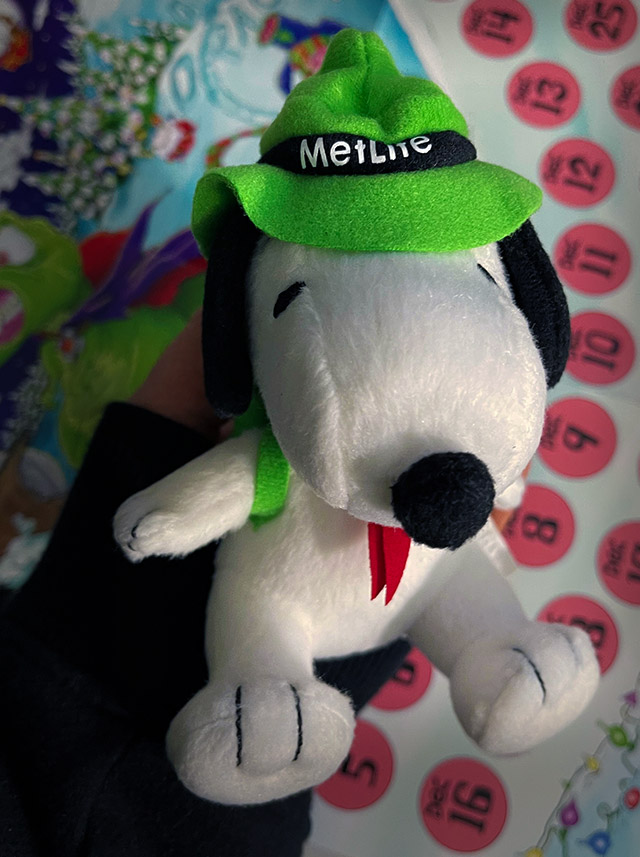 *ONE* SNOOPY DOLL PER FUNPACK!
Oh, and speaking of Charlie Brown! Snoopy was the one who actually "cooked" that Thanksgiving dinner, so it's only fitting that he'd be included in this month's Funpack!
You'll each receive ONE of these three Snoopy promotional dolls, made by MetLife several years back. These are freakin' ADORABLE and in absolutely mint, unused condition. I'm showing them loose, but yours will arrive still sealed in its factory baggie!
You'll get one of the three Snoopy dolls shown above: Sergeant Snoopy, Scout Snoopy or Tech Snoopy. MetLife branding aside, they're all so amazingly cute. I know you're gonna love your new Snoop Dog!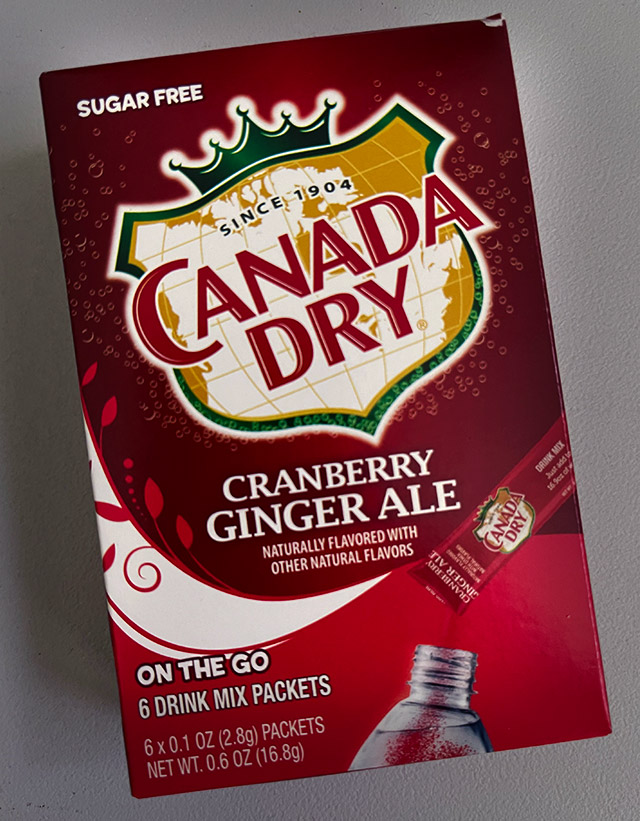 Since this month's Funpack includes so many salty snacks, I figured you'd need something to drink. Included with every package is this VERY seasonally-appropriate box of Canada Dry Cranberry Ginger Ale On-The-Go Packets!
Each box contains six packets that'll let you bless everything from water to seltzer with the sweet flavor of Thanksgiving's OFFICIAL soda! This mix is Matt-tested and Matt-approved. I've been drinking this stuff nonstop! It's a great way to work a little holiday fun into your daily routine — just dump a packet into a bottle of water, and suddenly you're Bing F'n Crosby.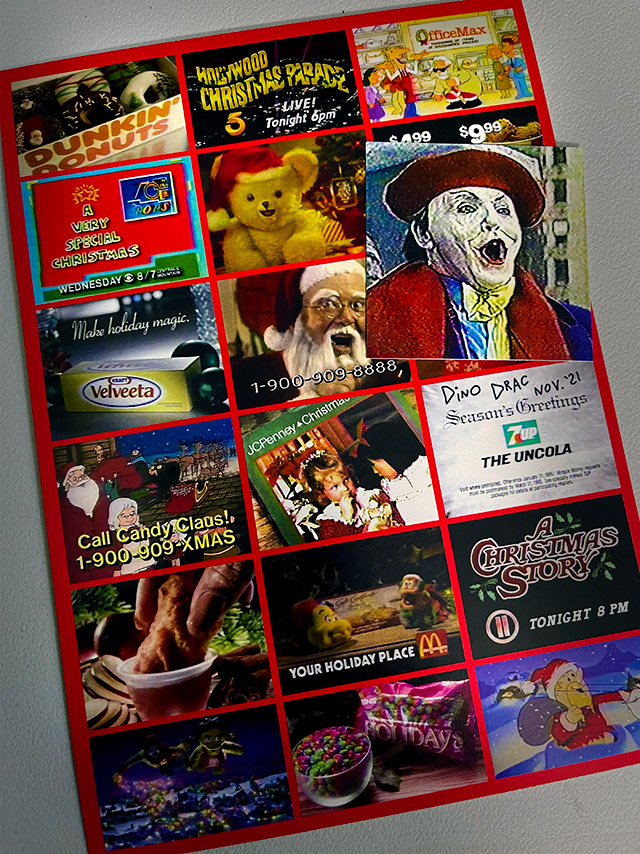 This month's 5×7″ cardstock mini-poster features another of my patented TV commercial collages, this time pulling imagery from '80s and '80s holiday ads. It'll give you the warm fuzzies for sure. You'll also get this month's exclusive 2×2″ sticker, featuring the infamous "Fred Travalena Joker" from the 1989 Macy's Thanksgiving Day Parade!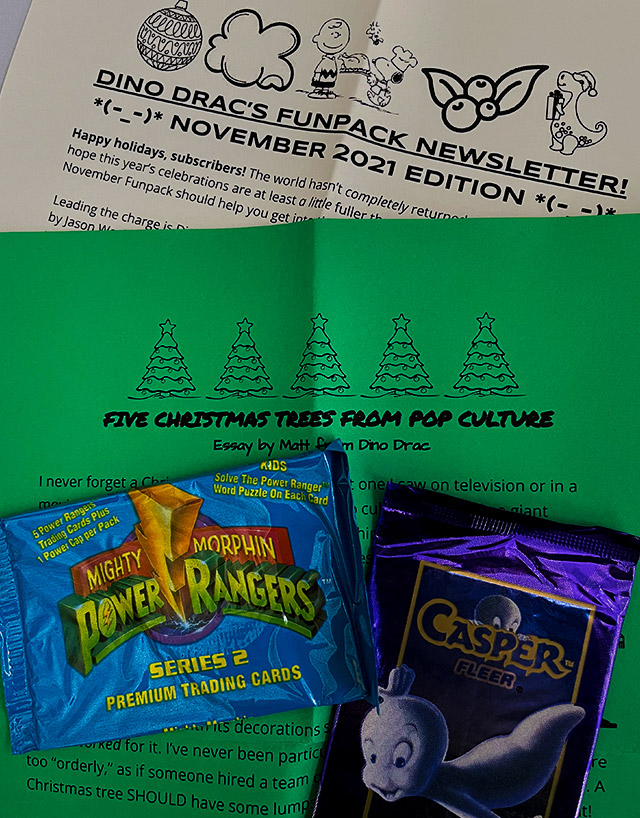 Rounding things out, you'll also get this month's Funpack Newsletter, plus an exclusive essay that will never be reprinted on the site. This month's essay is about some of my favorite Christmas trees from television and movies, covering everything from A Christmas Story to some old Disney short.
And what the hey, I'll also toss in those two vintage trading card packs, for Mighty Morphin' Power Rangers and Casper. Think of them as early stocking stuffers.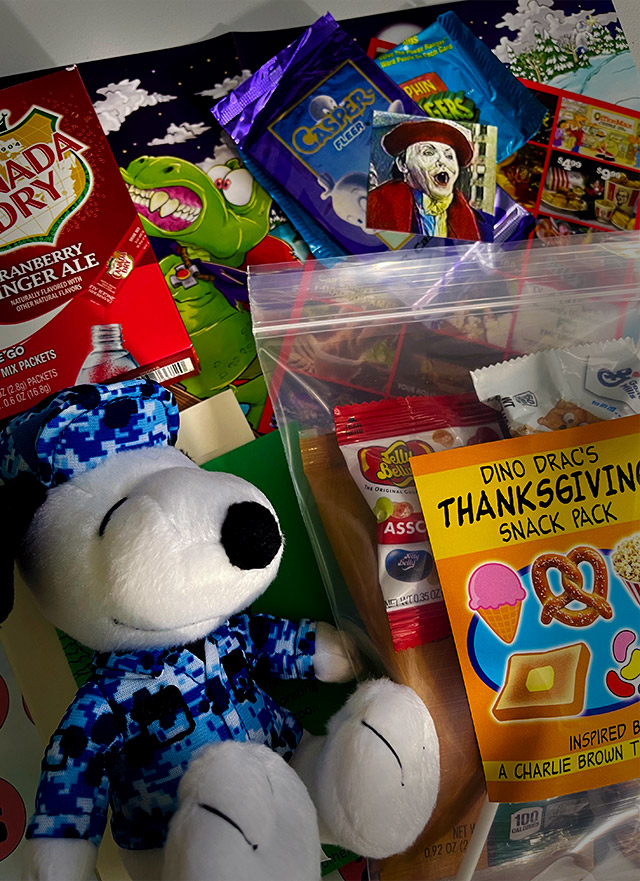 So you'll get all of the above for $25, shipped!
If you're already a subscriber, do nothing, you're all set!
If you're not a subscriber and you want to buy this Funpack, I have a limited number of spares to sell. They're $25 each, shipped anywhere in the United States. You can purchase one by clicking the button below. (I'd act quick if I were you… there aren't many to go around!)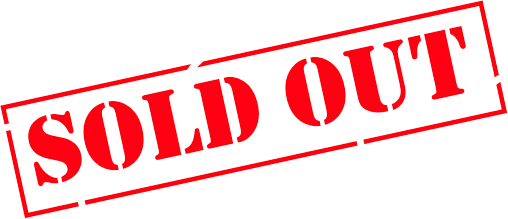 The November Funpack is SOLD OUT! I may have a few more after doing my final counts — if you want to get on the waitlist, email me!
The November 2021 Funpacks will ship on or before Tuesday 11/16 and will arrive before Thanksgiving!