As I write this, Christmas Eve is mere hours away. I still have sooo many things left to do. Gotta wrap the presents. Gotta make a billion stuffed mushrooms. Gotta figure out if I have even one single outfit that doesn't make me look like a gothic mechanic. Gotta finish that bottle of Fireball, so I can open the next one without guilt.
Thank you x1000 for being a part of Dinosaur Dracula's 2015 holiday celebration, which started way back in late August. I hate to see it end, but it wouldn't be so special if it didn't. The good news is, I'm not going anywhere. Regularly scheduled Dino Drac programming will resume right after Christmas!
Consider this next part my official thank-you for keeping the site — and by extension, me — going. Your endless support deserves so many trophies. You're the best audience a person can hope for, and I'll never take the fact that you're all into the same weird shit as me for granted.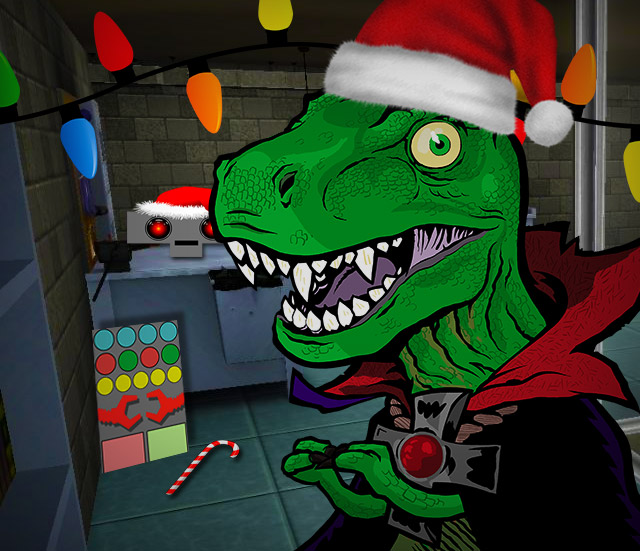 I'm very lucky to have places to go this Christmas, where I'll be surrounded by friends and family. There won't be a dull moment.
But not everyone is so lucky. Some of you will be working. Others won't have big plans, and some will have no plans. Whether a person celebrates Christmas or not, I hate the idea of anyone spending this part of the year feeling lonely or bored.
So I challenged Dino Drac — meaning the site's mascot, not the site — to try to help. If your Christmas isn't shaping up to be too stellar, I hope this will make it at least 5% better.
It took Dino Drac weeks to complete him, but he's finally ready to take the stage. Presenting, THE SANTATRON 5000:
SANTATRON 5000 is a skyscraper-sized robot filled with Christmas wonders. See all of the buttons littering his metal flesh? Each one is clickable, and will send you to some fun little Christmas article or video from across the web. There's everything from old movie trailers to history lessons to video games, plus a sampling of my own holiday reviews.
By my math, SANTATRON 5000 features more than 60 buttons — which means that you now have over 60 Christmas things to read, watch and play!
Enjoy!
This will double as the Christmas Eve and Christmas thread. Feel free to trade stories about what you'll be doing in the comments. Over the next day or two, I'll drop by to give live updates on how drunk I am and which foods I regret eating.
If you celebrate it, I hope you have a killer Christmas.
If you don't, I hope your day off rocks.
Love you, strangers.