If rummaging through old stuff while eating salty chips is your idea of a good time, I have something for YOU!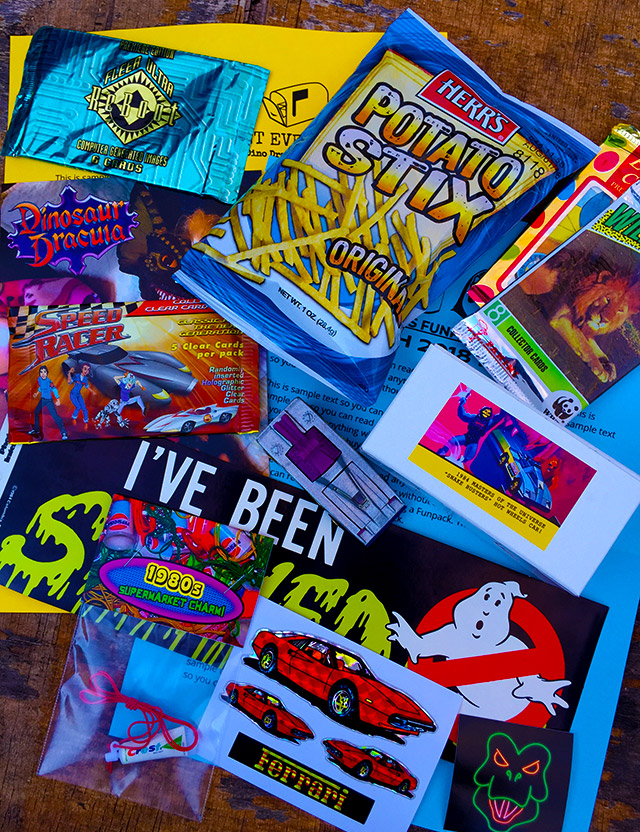 UNITED STATES ONLY! AVAILABLE FOR 3 DAYS!
Dino Drac's March 2018 Funpack is now available, but it will only be around for a couple of days!
Usual spiel: Funpack subscriptions are $25 a month (including shipping), and for as long as you remain subscribed, you'll get a new box filled with old junk every single month! You can cancel at any time without penalty, of course!
There wouldn't be a Dino Drac without your subscriptions, so on top of getting a bunch of fun things, you're also helping to keep the site going!
Scroll to the bottom for more info, or keep reading to see everything you'll get in the March box!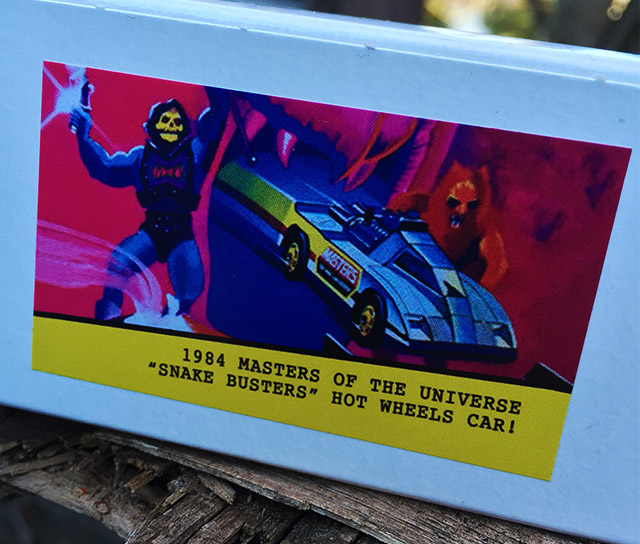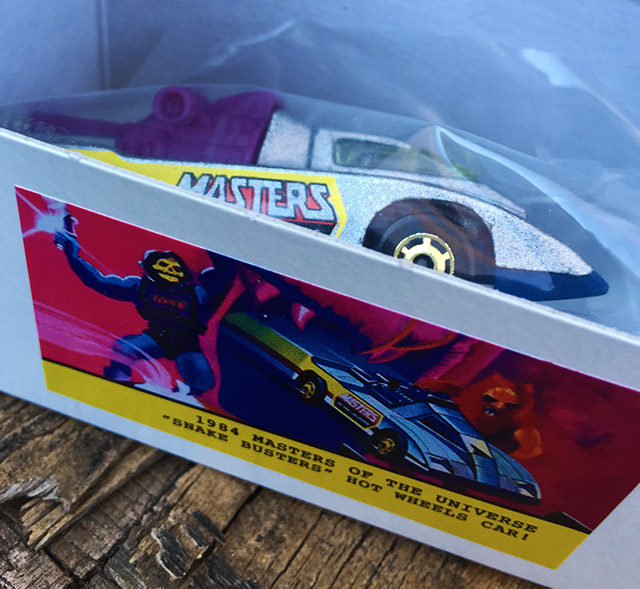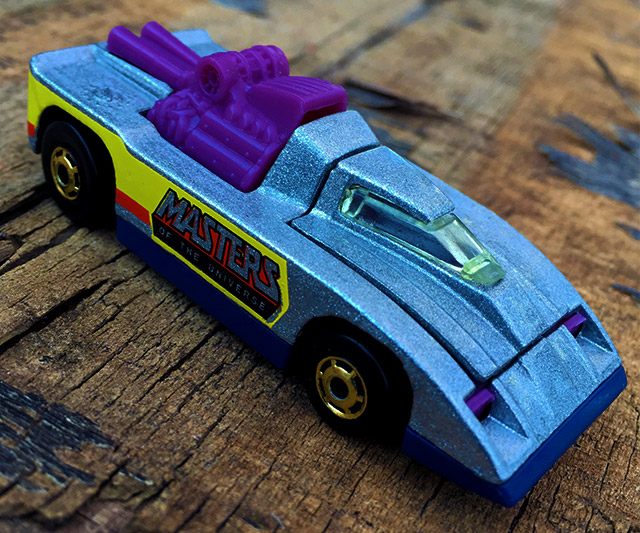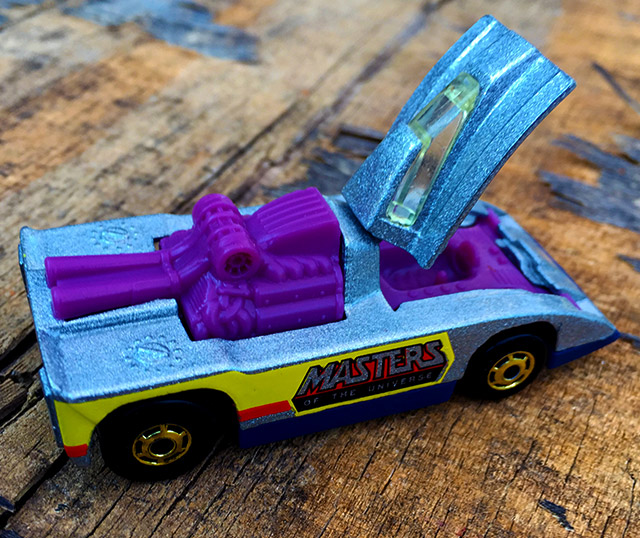 Oof, this one is special! Every subscriber will receive a 1984 Masters of the Universe "Snake Busters" Hot Wheels car, neatly trapped in a custom Dino Drac gift box!
These cars were never sold individually. You could only get one by purchasing the ancient MOTU Snake Mountain Challenge Hot Wheels set! Each swanky silver car has the Masters of the Universe logo on both sides, and a neat flip-open hood.
Yours will arrive in GREAT shape! The cars have never been touched — they're still in their (unsealed) factory baggies. This is one of my all-time favorite Funpack inclusions, and if you're anything like me, you'll love it just as much!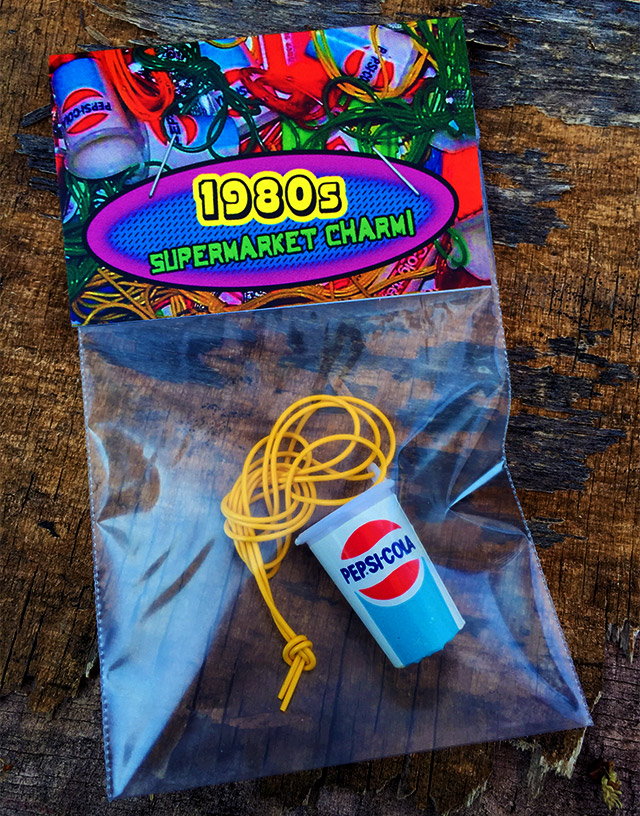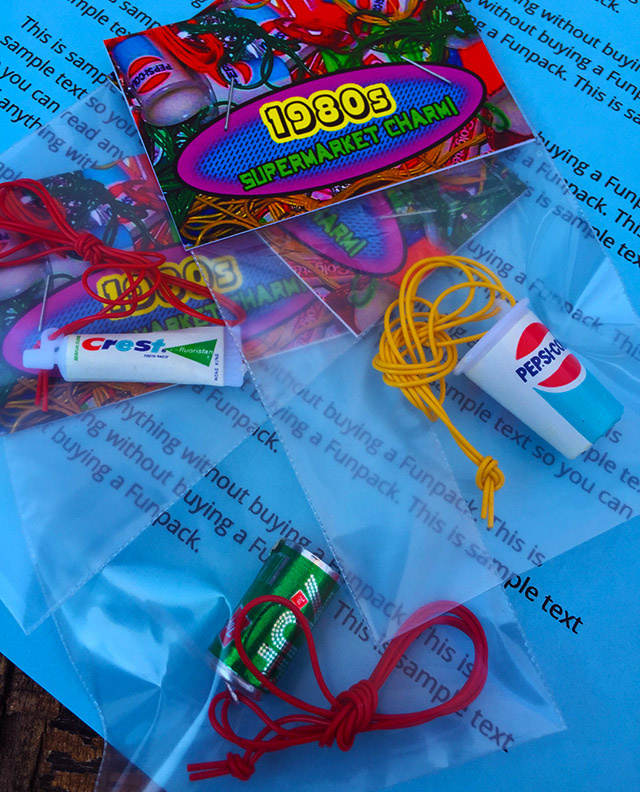 This month's Dino Drac Specimen is an honest-to-goodness 1980s Supermarket Charm, neatly packed in a custom Dino Drac baggie!
These charms (well, necklaces) were commonly found as vending machine prizes back in the mid '80s. The companies behind them used real life products for inspiration, so the charms are based on everything from Pepsi to Crest toothpaste. You'll get ONE, picked at random!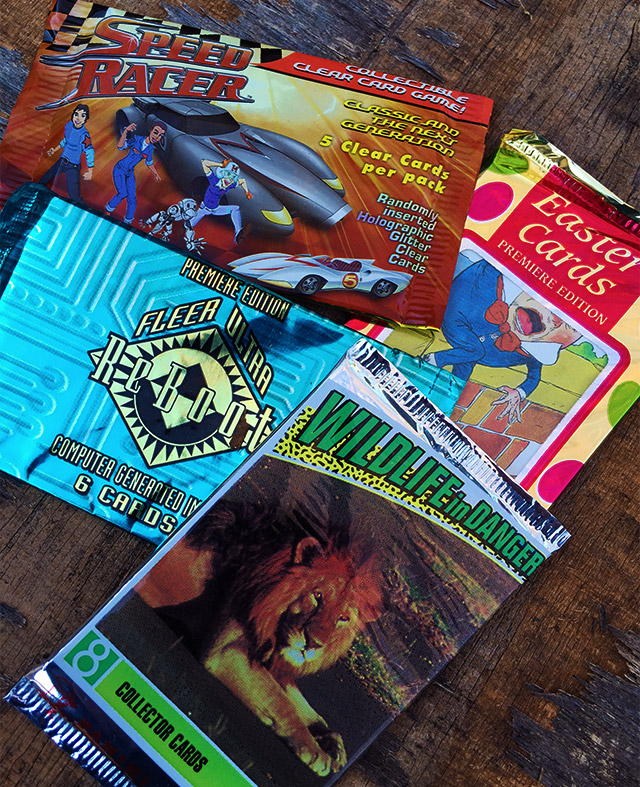 Next is an assortment of vintage trading card packs. You're getting FOUR different packs this month, including Speed Racer, Easter Cards, ReBoot and Wildlife in Danger. You know what those four packs have in common? NOTHING!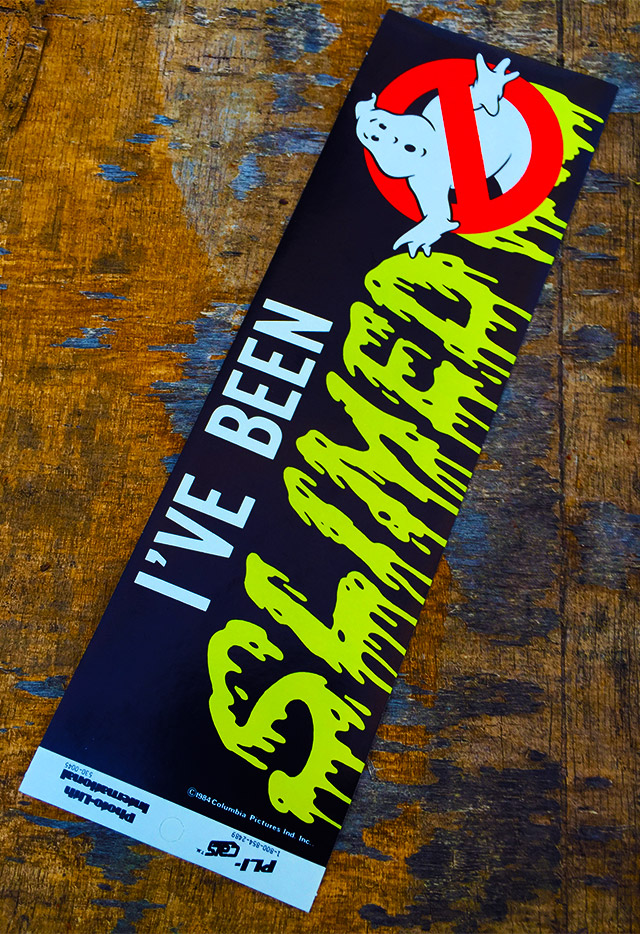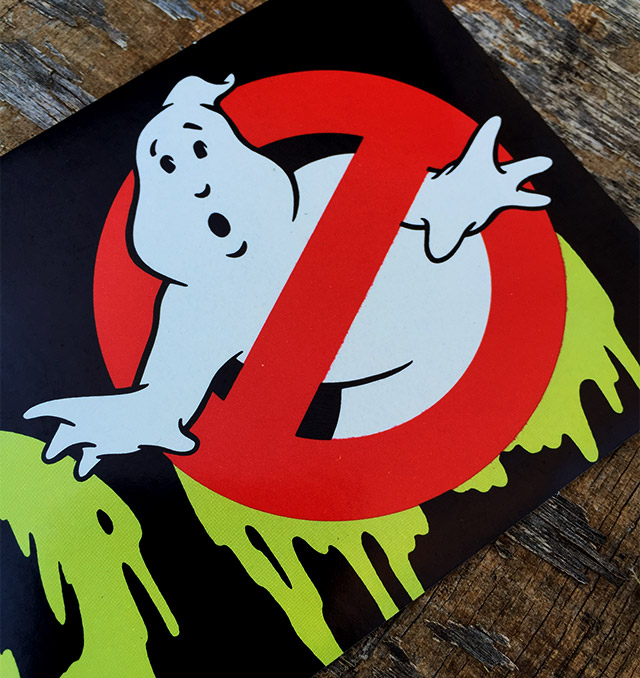 Here's another big draw: A vintage Ghostbusters bumper sticker! This full-sized bumper sticker is a 1980s original — not a repro, nor anything you could find in stores today.
You're gonna love this thing. I could stare at those slimy graphics all day. Sticker is completely unused and in great shape!
NOTE: Due to the sticker's impressive length, I'll need to gently curl it to fit it inside your Funpack box. I'll be careful not to actually fold it, of course!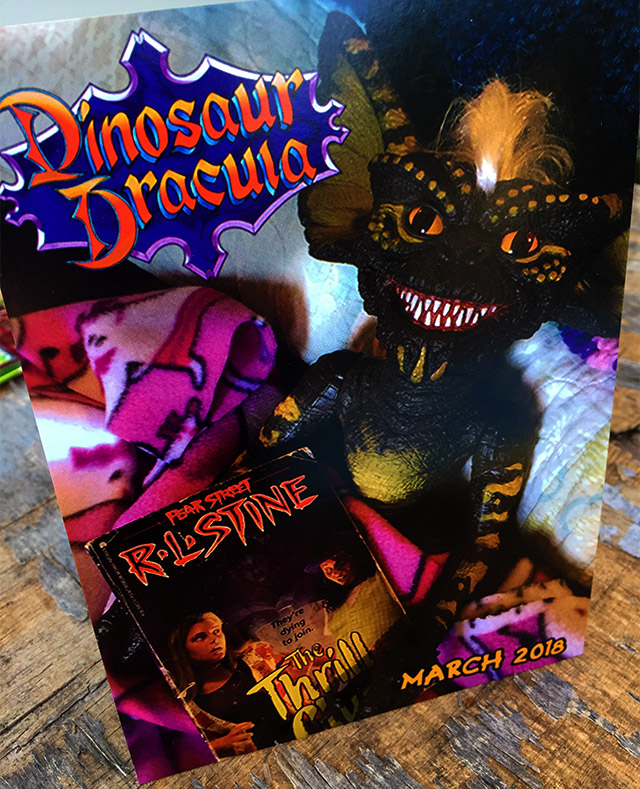 This month's Dino Drac Mini-Poster stars Stripe the Gremlin relaxing with a Fear Street book and a pink blanket. Stripe will inspire you to do the same.
Posters are 5×7" and printed on cardstock. (And look nicer in person than in this photo, because sunglare is my sworn enemy.)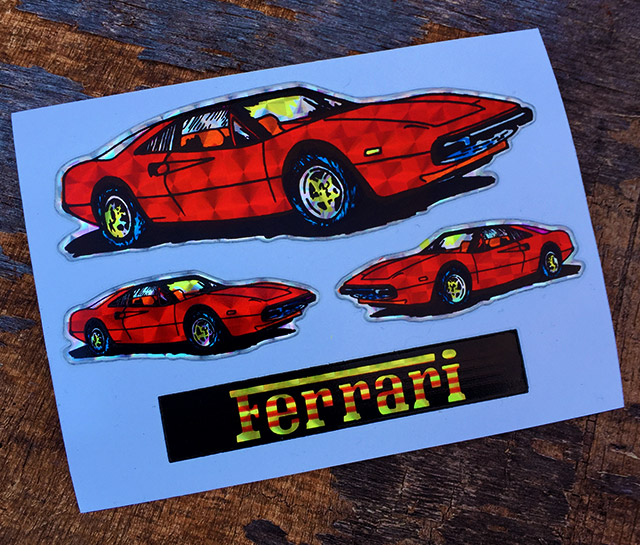 To continue this month's subtle vending machine theme, I'll also toss in one vintage prismatic car-themed vending machine sticker. (There are a few different cars in the set; the others are just as cool and possibly cooler than this Ferrari!)
Surely some of you remember these stickers, or others like them. We sometimes had to pony up whole dollars to grab them from vending machines, where they'd slide out of a tiny slot, wrapped in thin cardboard. They made trips to grocery stores worth tagging along on!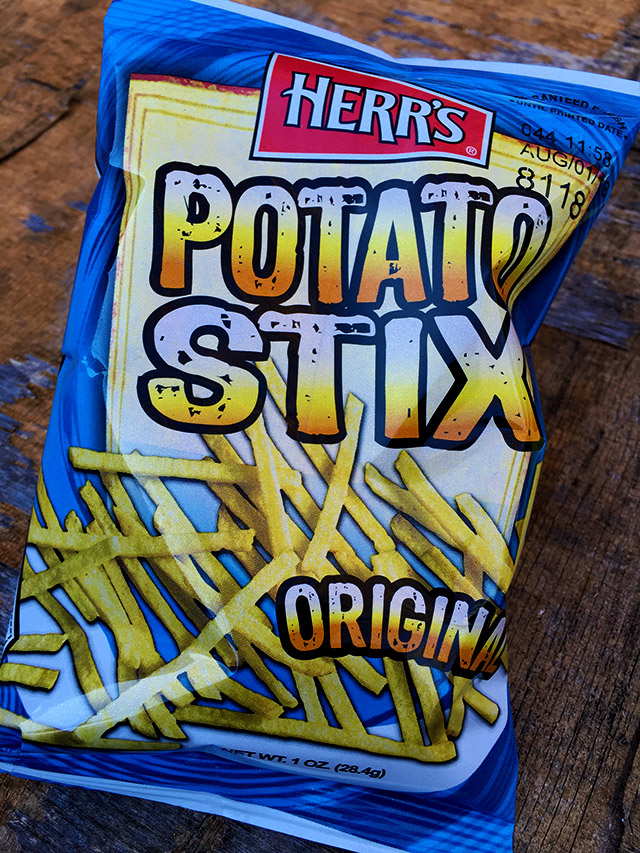 Next is a little bag of Herr's Potato Stix, because my Funpacks are extra fun when you get to eat part of them.
I've been trying to work Potato Stix into a Funpack for years. For me, they're one of those inherently nostalgic junk foods — not something I ever purchase nowadays, but used to live on as a kid. If you're in the same boat, it's time to get reacquainted. They're delicious. Like freeze-dried french fries.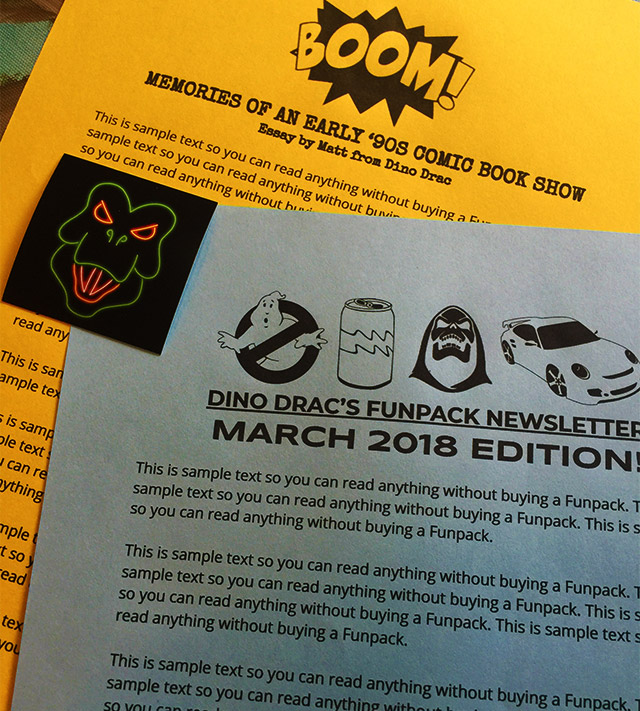 Rounding things out, you'll also receive this month's Funpack Newsletter, this month's exclusive Dino Drac (After Dark) sticker, and an exclusive essay that will never be reprinted on the site.
(This month's essay is about a particular comic book show I visited in the early '90s, and how it ended up shaping so many of my obsessions.)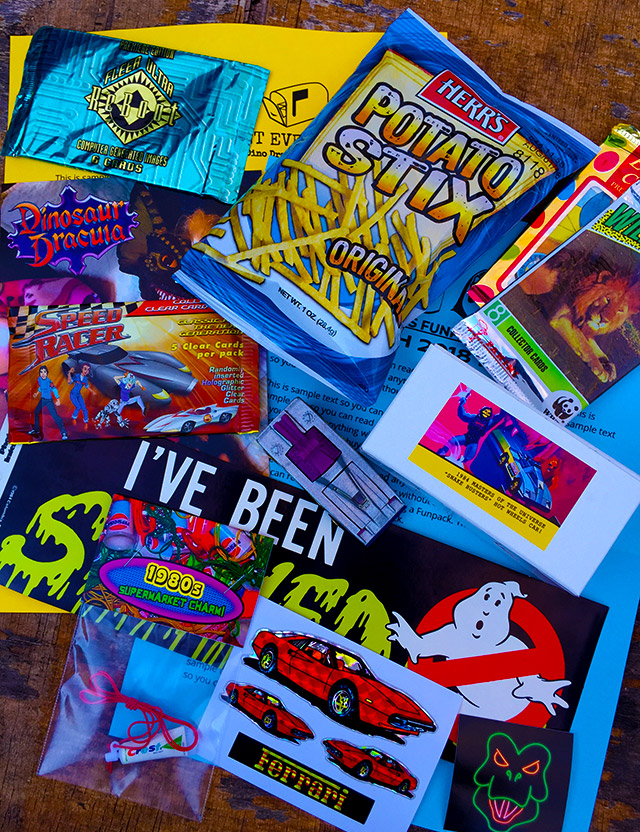 Yep, you'll get EVERYTHING shown above for $25, shipped!
If you're already a Funpack subscriber and you'd like to stay that way… do nothing! You're all set!
If you want to subscribe, please read the following, and then click the button at the bottom of this page!
1. Funpacks are available in the United States only. Sorry!
2. Subscriptions are handled via Paypal. If you don't have an account, it's very easy to make one!
3. Funpacks will be shipped to the address listed on your Paypal account. If you need to change your shipping address, or if you'd like for your Funpacks to be shipped to someone else, simply email me!
4. You will be automatically billed $25 every month. (Yes, that price includes shipping.) If you subscribe today, you'll pay today, and then again in exactly one month. For as long as you remain subscribed, you'll keep getting Funpacks!
5. You can cancel at anytime. (You could subscribe today and cancel today!) If you cancel after you've already been charged for the following month's Funpack, you'll of course receive it just the same as any current subscriber would. (You can cancel via Paypal, or by emailing me.)
6. The March 2018 Funpacks will ship on or before 3/20!
Remember, the Funpacks allow me to keep doing the site… thanks so much to all who help to keep it/me going!
To get your subscription started, click the button below!
SOLD OUT!