Wellp, time to unleash Dino Drac's March Funpack!
Subscriptions are currently closed, but I do have a small amount that I can sell on an individual basis. Scroll to the bottom if you're interested — but be warned, they will probably go quick!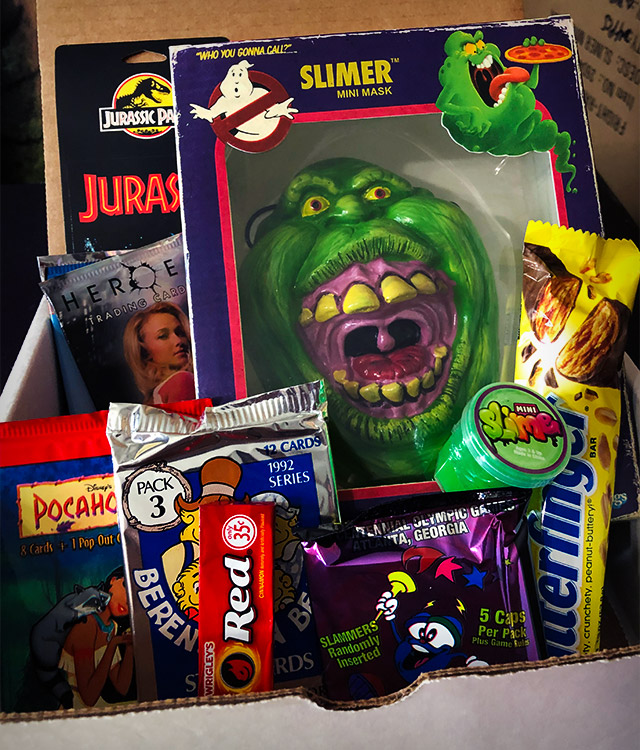 If you're already locked in for this month's Funpack, I think you're gonna be pleased! In addition to the usual suspects like sweet candy and old trading cards, this one includes one of the all-time best items from *any* Funpack ever.
Keep scrolling to learn about everything in this month's box!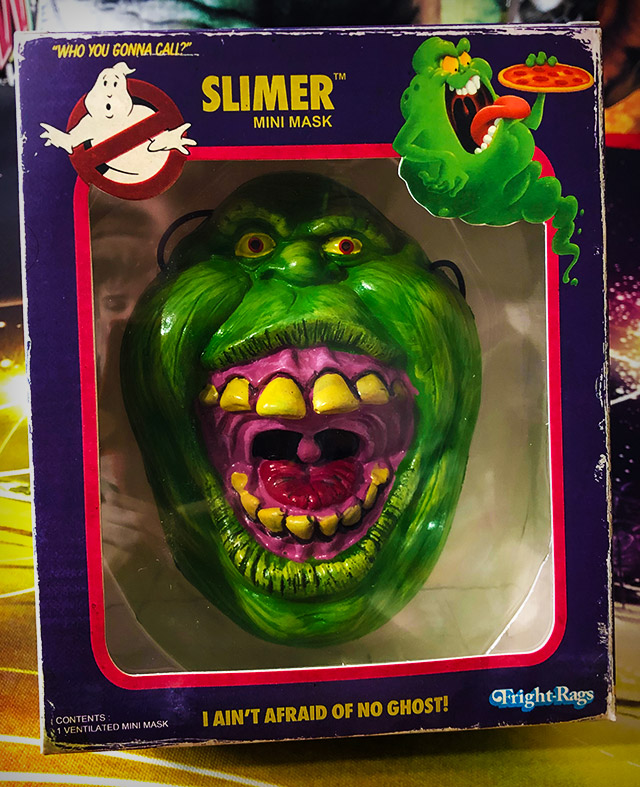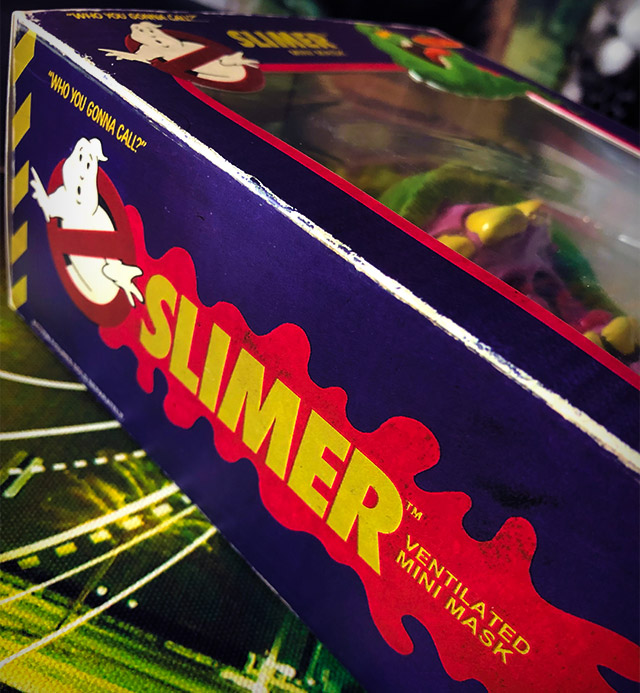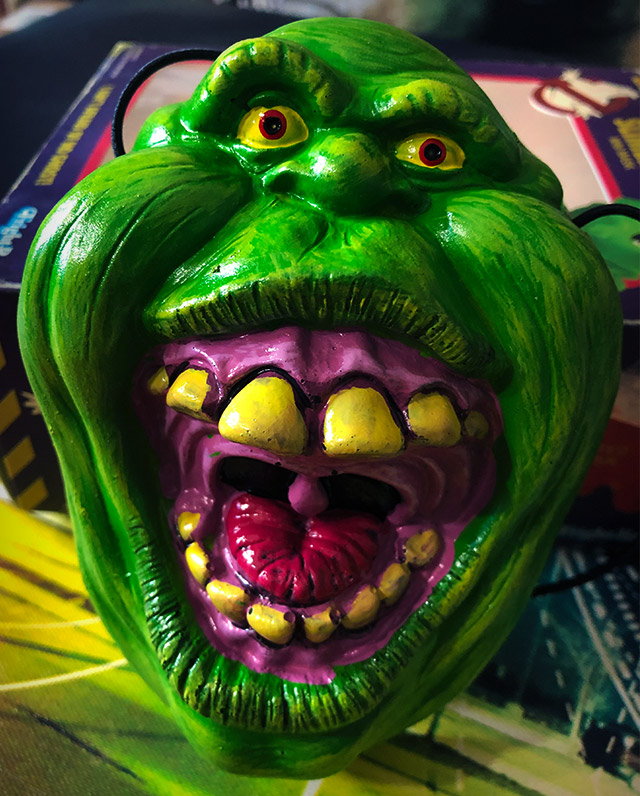 Ohhhhh my, would you look at this beauty?! Each of you will receive this Ghostbusters Slimer Mini Mask, officially licensed and made exclusively by Fright-Rags a few years ago.
I've been a fan of Fright-Rags forever, and was all too happy to work out a deal for these gems. This six-inch vacuform mask is virtually indestructible, though I doubt you'll want to remove it from that swank Kenner-inspired packaging, anyway. (Note the distressed design — it's like 1986 up in here.)
These window-boxed mini masks — meant to stir up memories of our childhood Halloween costumes — originally sold for $20! They're legit beautiful, and I cannot imagine a scenario wherein a person who reads this website wouldn't want one on their shelf. (Masks aren't big enough for regular human faces — they're just for decoration!)
Your Slimer Mini Mask will arrive in-box and never-touched! Big thanks to the suave crew at Fright-Rags for working with me on this!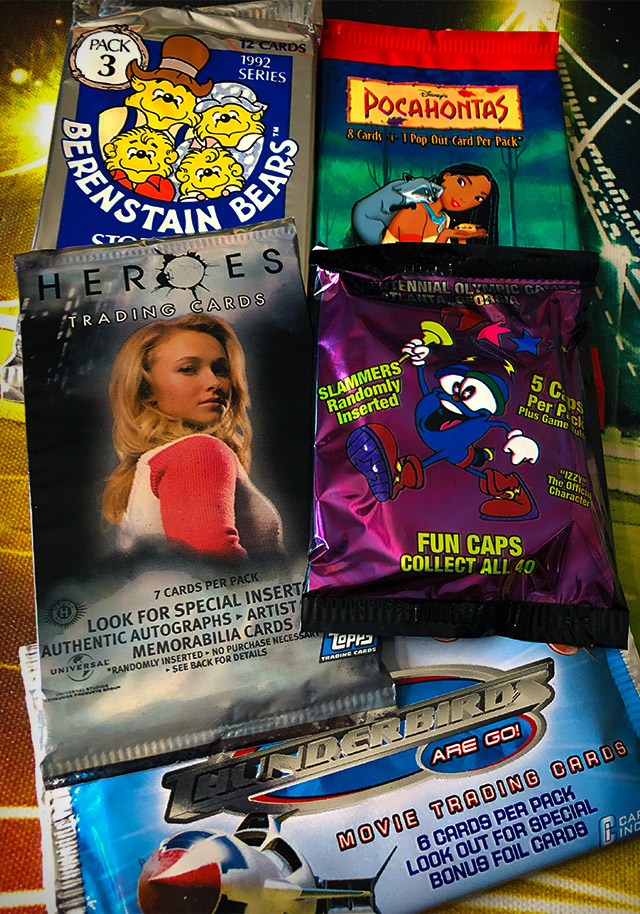 Next up is a generous pile of trading card packs. You'll get ALL FIVE of the packs shown above, including:
– Disney's Pocahontas (1996)
– Heroes (2007)
– Thunderbirds (2004)
– Izzy Olympics Fun Caps (1996)
– Berenstain Bears (1992)
Some very obscure packs in this month's mix — like to the point where I'm sure many of you were unaware that those sets even existed. This seemed like the right month to throw you some curveballs, so embrace the cards and let 'em guide you to different movies, shows, and, uh, discarded Olympic mascots.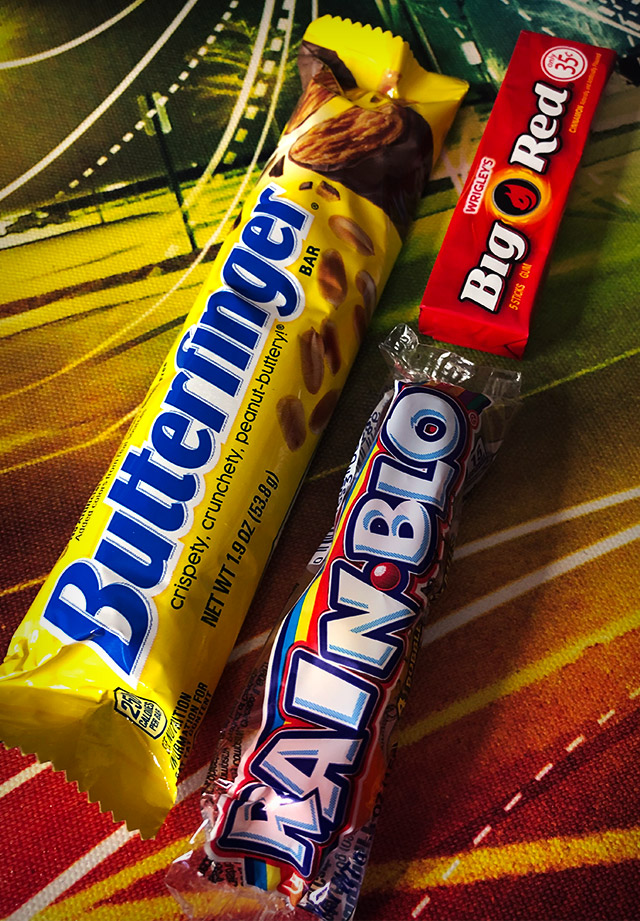 Then we have this bounty of snacks, including a beautiful full-sized Butterfinger bar.
I realized that I haven't eaten a regular Butterfinger bar since the '90s, when Bart and Homer pitched them to me 10x daily. I've had the fun-sized Halloween versions once or twice, but that's not the same. If you're in the same boat, maybe it's time to give them another go? C'mon, you know you want that chocolatey peanut butter gunk stuck to your teeth for two days.
I'll also throw in two packs of gum, including a pack of Rain-Blo gumballs and a pack of Big Red. Think of them as Sugar and Spice from Batman Forever, in gum form.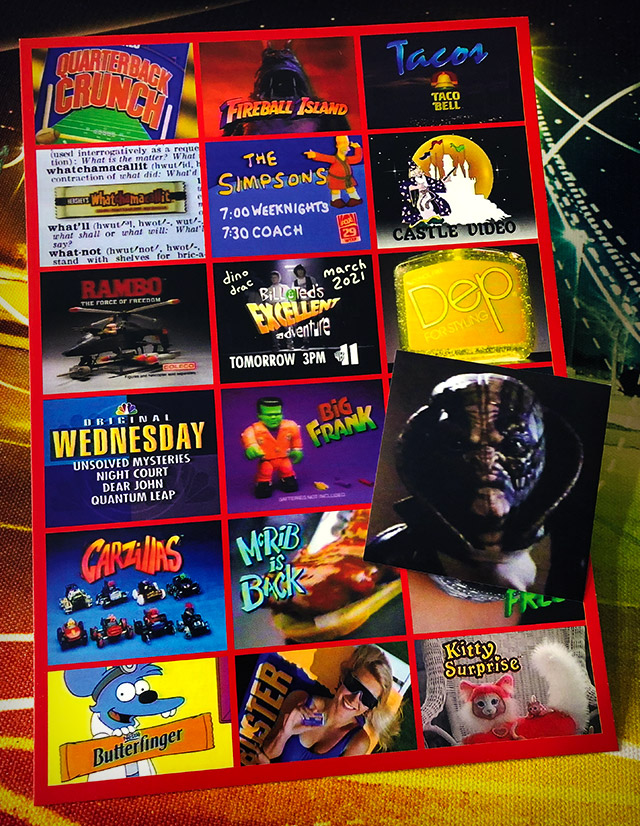 This month's 5×7" Dino Drac Mini-Poster features another mega-collage with screens pulled from oodles of '80s and '90s television commercials. Stare at it long enough and you'll be positively drunk with nostalgia. These mini-posters are printed on something resembling cardstock.
For this month's exclusive 2×2" sticker, I grabbed our monster snake pal from one of the scariest anti-drug PSAs of the '90s. Good luck figuring out where to stick that.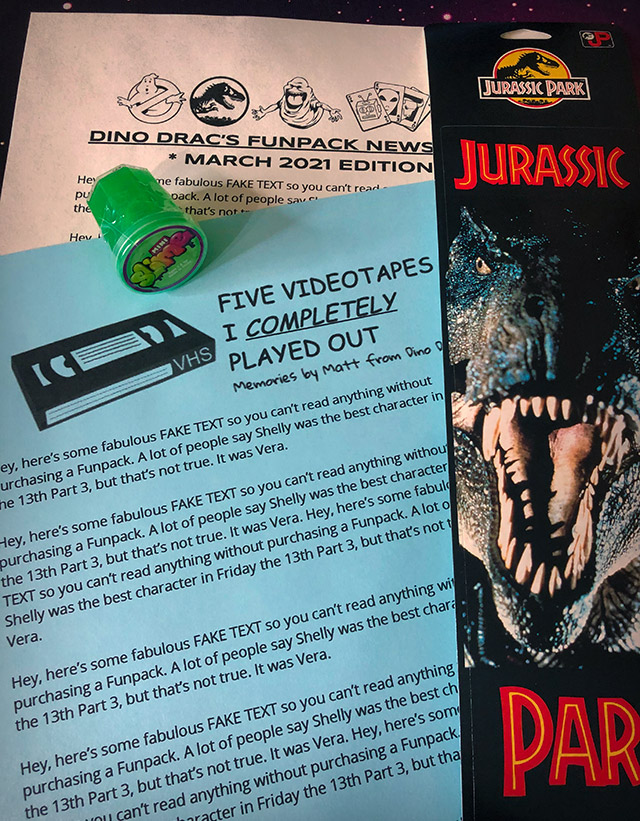 Wait, there's still more! In addition to this month's Funpack Newsletter, you'll also get an exclusive essay that will never be reprinted on the site.
This month's essay is about five particular videocassettes that I used to put on CONSTANTLY. Some pretty unusual tapes, too — not the ones you'd probably guess!
Oh, and since you can't have a Slimer without some slime, I'll toss in that tiny tub of toy slime, too. And yep, you'll also get that vintage Jurassic Park sticker, which is basically the same size as a bumper sticker. (I'll have to gently curl it to make it fit inside the box, but you're tough — I know you can handle it.)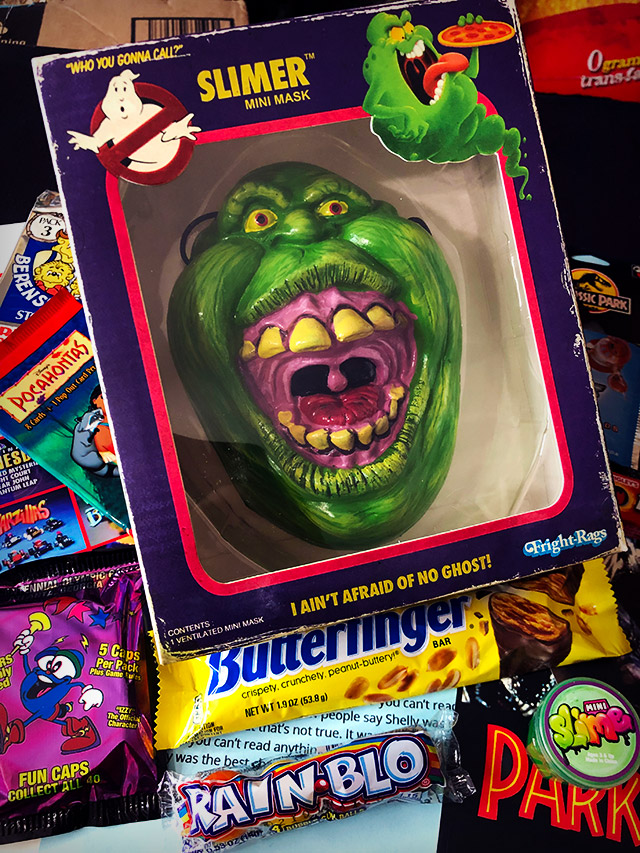 So you'll get allllll of the above for $25 shipped, to anywhere in the United States.
While ongoing subscriptions are currently closed, you can purchase one of the March 2021 Funpacks by following the link below. These are unlikely to last long, so apologies in advance if they're sold out!
The March 2021 Funpacks will ship out on or before Monday, 3/23. Please be patient, as the USPS is still a bit behind after a crazy few months. Thank you!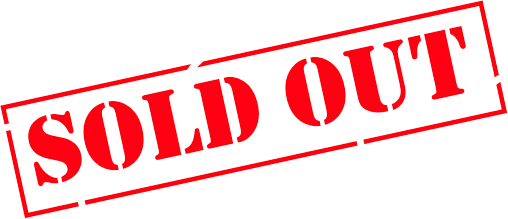 The March Funpacks are close to sold out, though I may have a few leftover once I do my final counts. To get on the wait-list, please email me. (dinosaurdracula on gmail) Thanks again!