In keeping with my recent tradition of posting Funpack info way too late into the month, Dino Drac's March Funpack is FINALLY here! If you want in, you only have a short time to order… and I think you'll want to, because this one is loaded.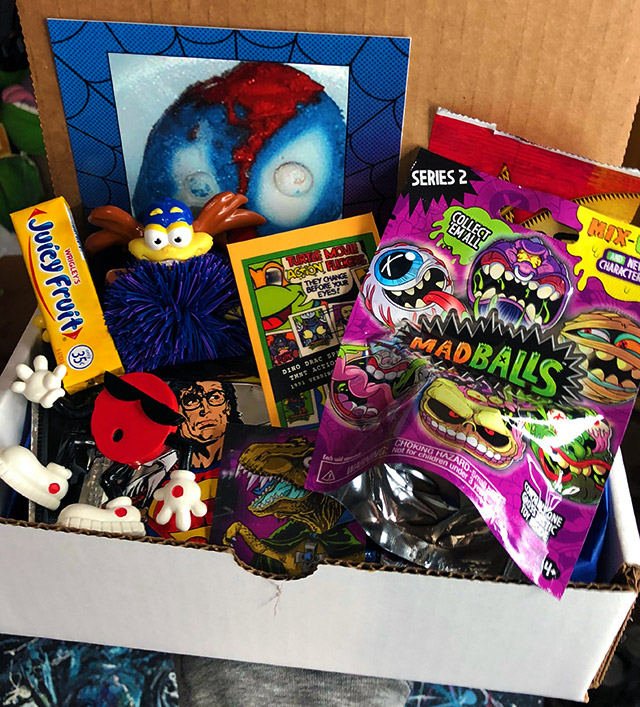 THREE DAYS ONLY! ACT FAST! U.S. ONLY!
You know the score. The Funpacks are available on a subscription basis, and for as long as you remain subscribed, you'll keep getting new boxes of retro nonsense each and every month. It's $25 per month, and that price includes shipping. (You can cancel at any time without penalty, too — so if you just wanna order this one and immediately cancel, that's your call!)
The March 2019 Funpack is stuffed with more than a dozen items, covering all walks of pop culture. I seriously love this box. Scroll to the bottom for ordering info, or keep reading to learn about everything you'll receive in this month's pack!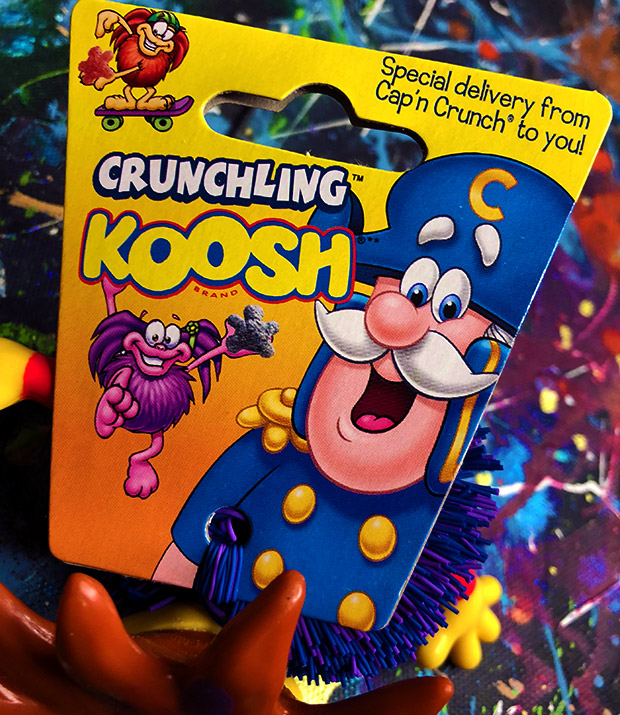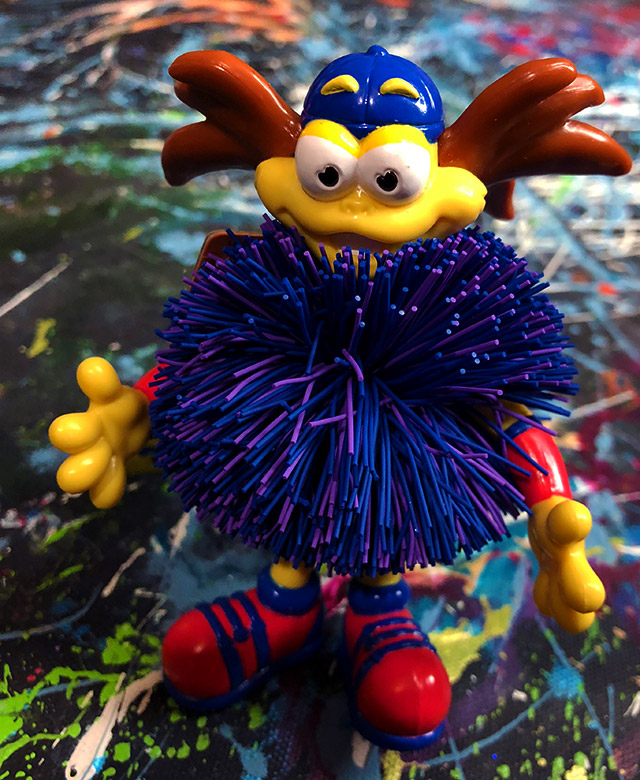 First up is this incredible Crunchling Koosh figure — a special edition Cap'n Crunch mail-away toy from way back in 2000! It's basically a bendy alien figurine with the body of a Koosh ball. Man, this thing hits so many of my nostalgia buttons.
Your Crunchling Koosh will arrive in gem-mint condition. These monsters are absolutely case-fresh, with their original header cards still attached. They're almost 20 years old, but look like they were born yesterday!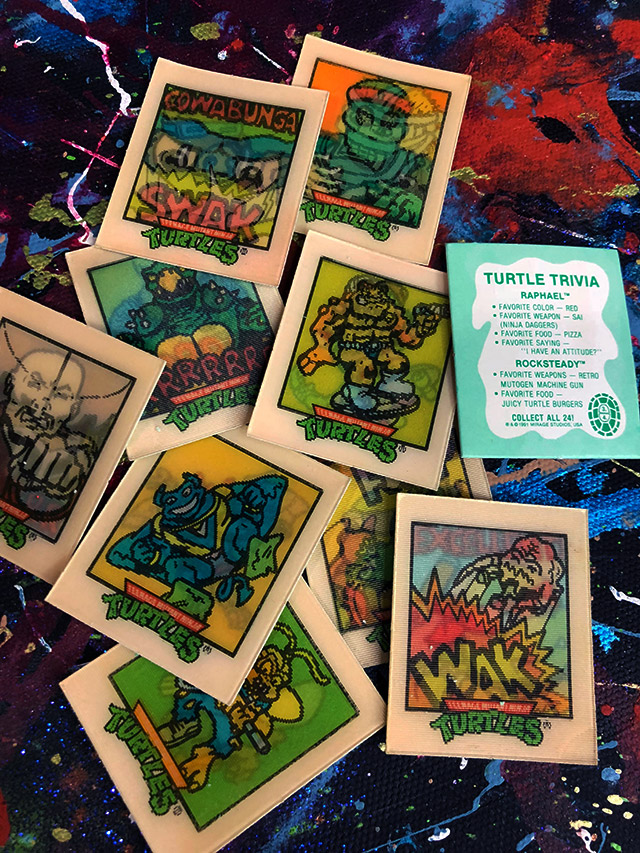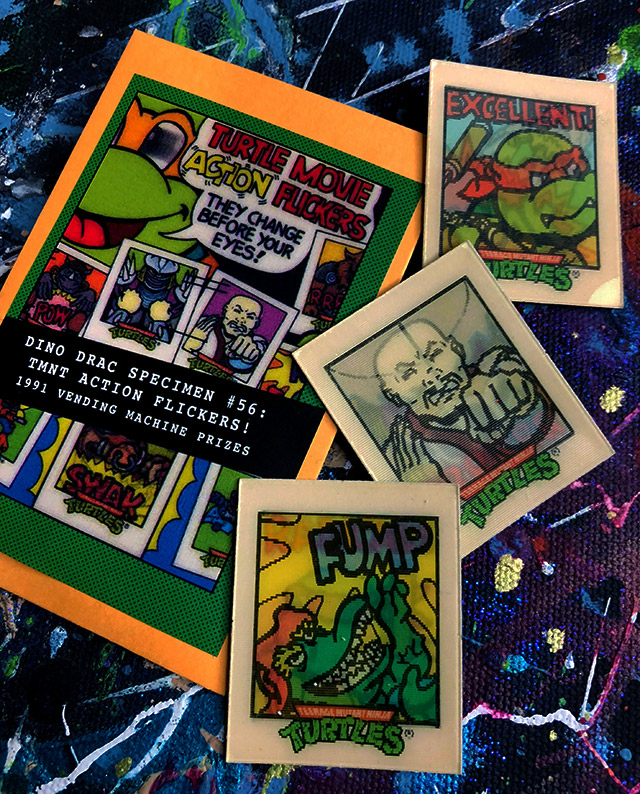 *THREE* ACTION FLICKERS PER FUNPACK!
This month's Dino Drac Specimen is a rare treat for Ninja Turtles fans. You'll each receive three super obscure TMNT Action Flickers — little tiny motion cards that were meant to be sold in vending machines back in 1991. As legend has it, they never actually made it into those machines, so they are not easy to find!
Each card features a lenticular image that swaps between two different characters — everyone from Baxter Stockman to Rahzar to the Turtles themselves! You'll each receive THREE random Action Flickers, neatly stuffed into an adorable Dino Drac envelope. So cool!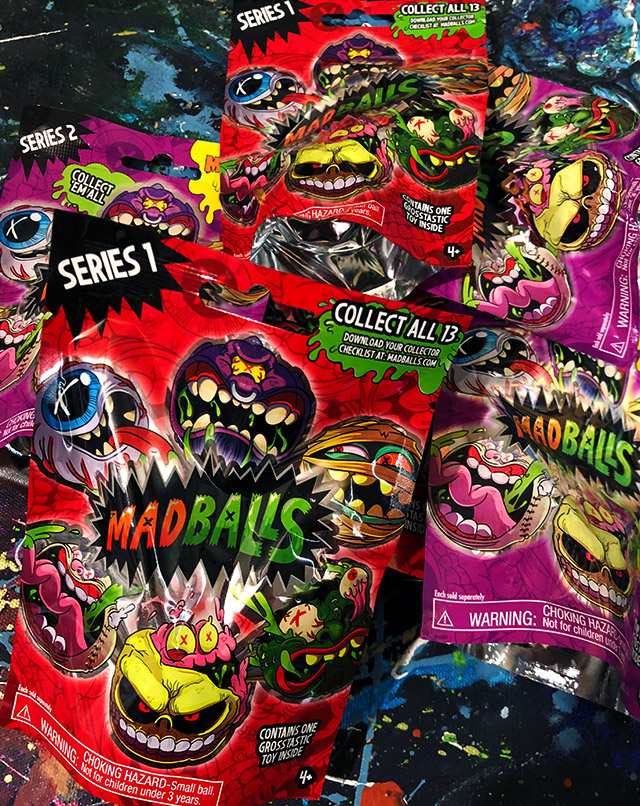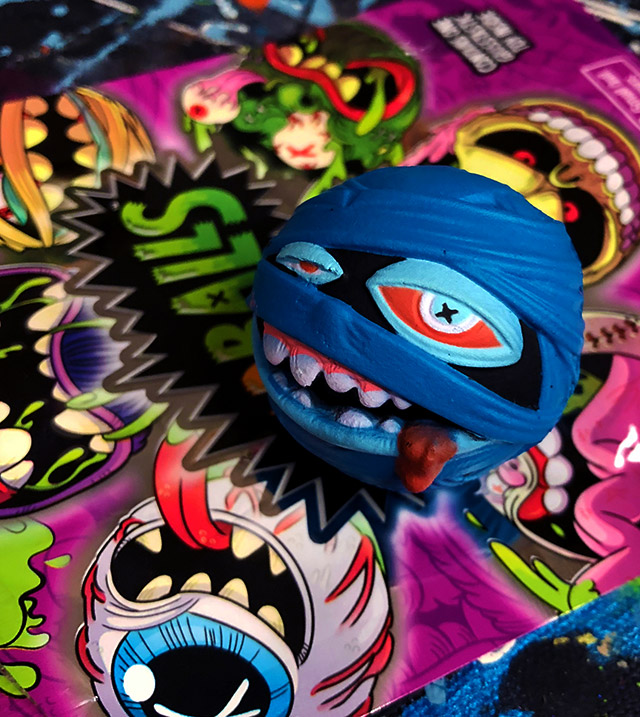 *ONE* BLIND BAG PER FUNPACK!
And oh hey, Madballs fans! If you wouldn't let yourself pull the trigger on those swank blind bags that came out a few years ago, good news: There's one in each of this month's Funpacks!
Yep, you'll receive one Madballs Blind Bag, each containing one "grosstastic" Madball! I have an even amount of Series 1 and Series 2 blind bags, so you'll get one of those, picked randomly. Between the two series, there are 26 different monsters in the collection, including a few rare chaser editions! Hope you get the one you want!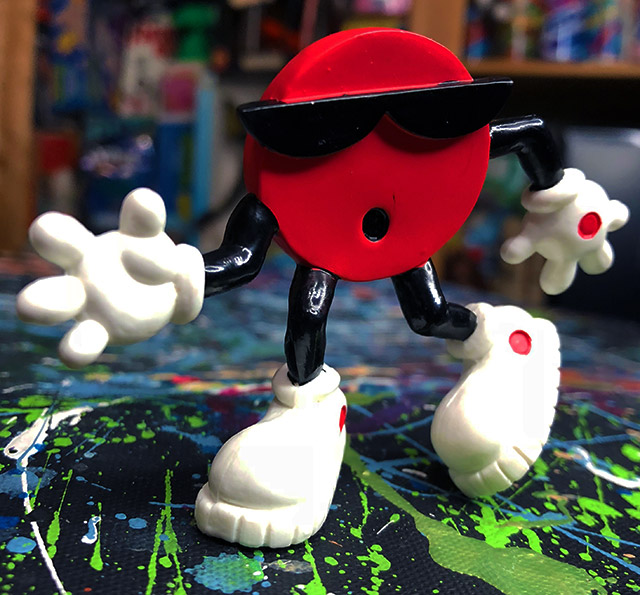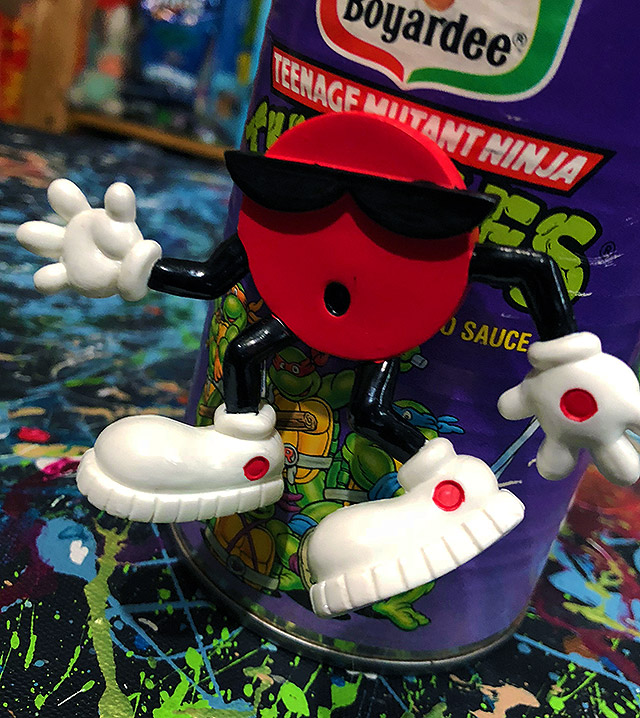 And the hits keep on comin'! You'll also receive one of these super cool 7UP Spot figural magnets from way back in 1988. I'm confident that there isn't a single person reading this who doesn't love Spot, so if you miss those little guys, this is a great way to make 'em a permanent part of your life!
Each figural magnet will stand freely or cling to any metal surface. Like everything else in this month's Funpack, Spot is case-fresh and will arrive still sealed in its factory baggie!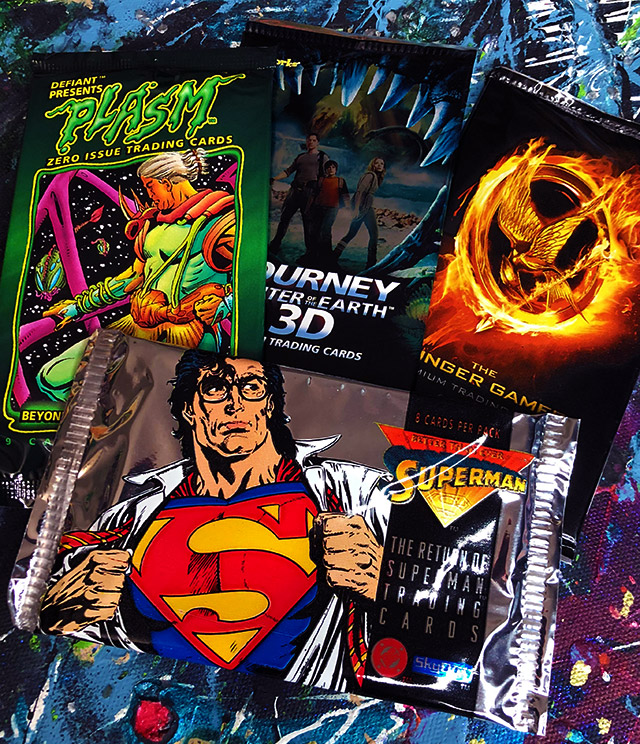 Then there's a pile of four different trading card packs! Since this Funpack was so loaded already, I rolled the dice on some more recent and unusual packs. I figured this was a good month to get everyone outside of their comfort zone.
You'll each receive all of the following packs:
– The Return of Superman (1993)
– Plasm (1993)
– Journey to the Center of the Earth 3D (2008)
– The Hunger Games (2012)
Have fun ripping 'em open!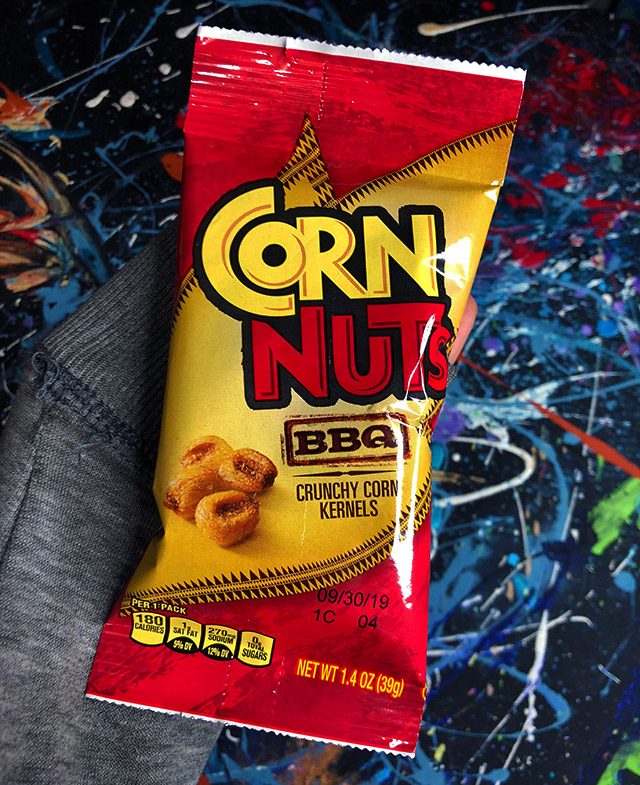 No Funpack is complete without a snack, so here you go — a generous pouch of BBQ Corn Nuts, partly for the Heathers reference, and partly because they're extraordinarily delicious. They won't expire until September, so take your time!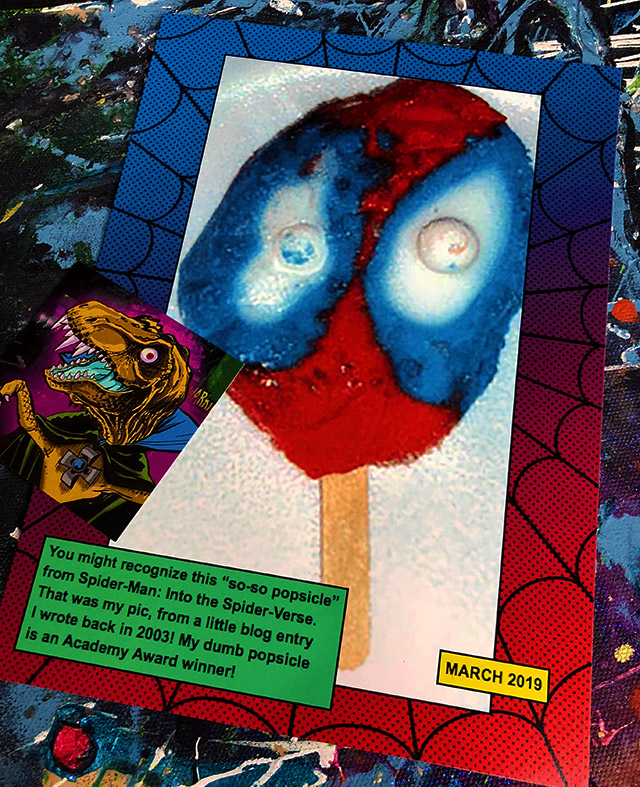 By popular request (seriously), this month's Dino Drac Mini-Poster celebrates my old popsicle's surprise appearance in Spider-Man: Into the Spider-Verse! If you don't follow me on social media and haven't heard the story, yeah, the popsicle image in that movie is from one of my reallllly old blog reviews. It's still my pic, though, so I have every right to make a poster out of it!
You'll also receive this month's exclusive Dino Drac sticker. Stickers are 2×2", and the cardstock posters are 5×7". Enjoy!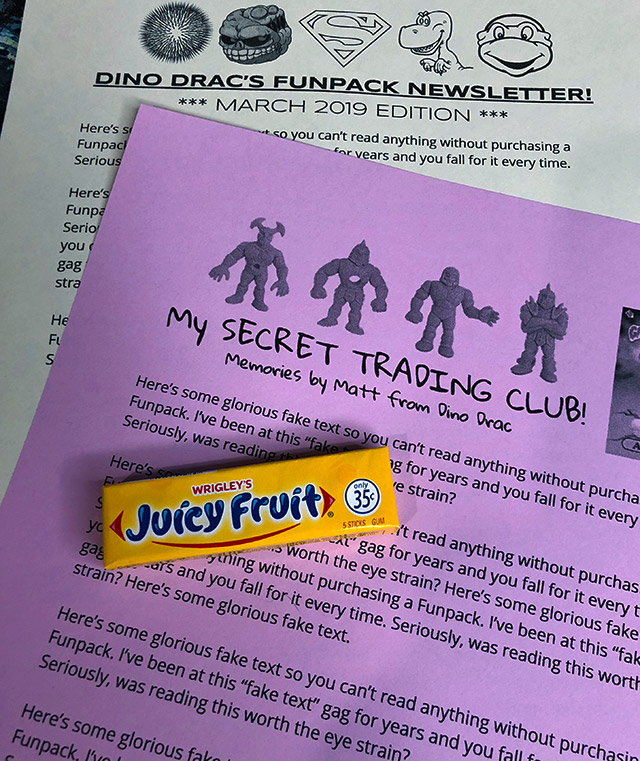 Rounding things out, you'll also receive this month's Dino Drac Funpack Newsletter, plus an exclusive essay that will never be reprinted on the site.
This month's essay is about my secret childhood trading club, where me and some other kids made a mutant form of currency out of M.U.S.C.L.E. figures and Garbage Pail Kids stickers. I think you'll dig it.
Oh, and I'll also toss in a pack of Juicy Fruit gum, because you haven't chewed it in 15 years and it's time to get back on the saddle.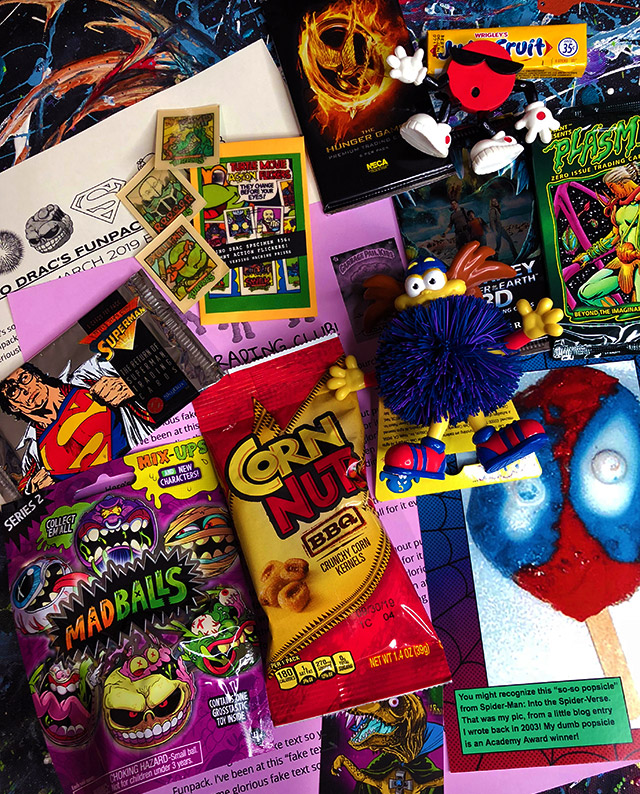 Yep, you'll get EVERYTHING above for $25 shipped!
If you're already a Funpack subscriber and you'd like to stay that way… do nothing! You're all set!
If you want to subscribe, please read the following, and then click the button at the bottom of this page!
1. Funpacks are available in the United States only. Sorry!
2. Subscriptions are handled via Paypal. If you don't have an account, it's very easy to make one!
3. Funpacks will be shipped to the address listed on your Paypal account. If you need to change your shipping address, or if you'd like for your Funpacks to be shipped to someone else, simply email me!
4. You will be automatically billed $25 every month. (Yes, that price includes shipping.) If you subscribe today, you'll pay today, and then again in exactly one month. For as long as you remain subscribed, you'll keep getting Funpacks!
5. You can cancel at anytime. (You could subscribe today and cancel today!) If you cancel after you've already been charged for the following month's Funpack, you'll of course receive it just the same as any current subscriber would. (You can cancel via Paypal, or by emailing me.)
6. The March 2019 Funpacks will ship on or before Thursday 3/21.
Remember, the Funpacks allow me to keep doing the site… thanks so much to all who help to keep it/me going!
To get your subscription started, click the button below!
SOLD OUT!