Dino Drac's May Funpack has arrived, and if you're lucky, you found out about it just in time to grab one!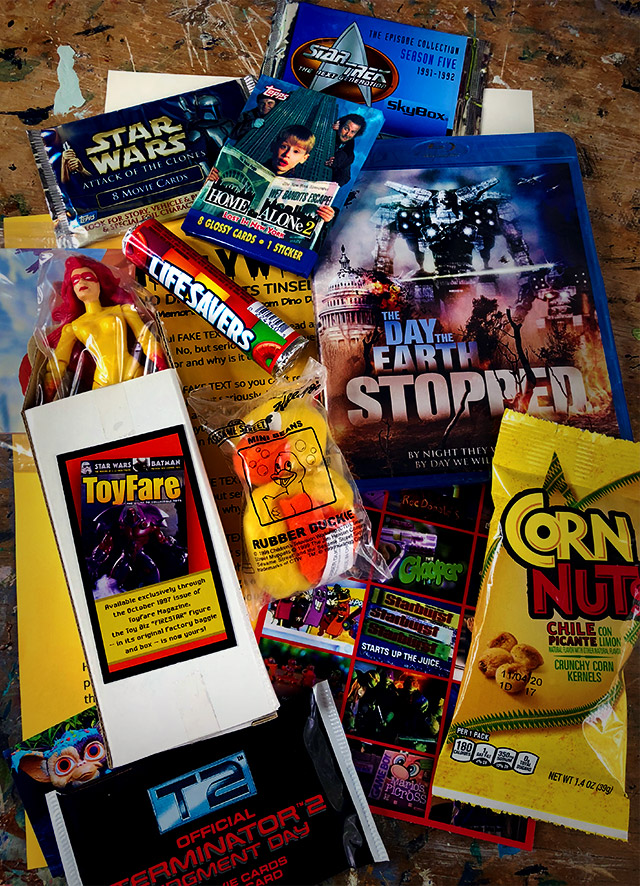 UNITED STATES ONLY! 2 DAYS ONLY!
This month's box is loaded with hardcore collectibles, stuff to keep you busy, shit to read, and of course, delicious junk food. I'm assuming y'all know the score by now, but if not, here you go:
The Funpacks are sold on a subscription basis. The cost is $25 a month, and that price includes shipping. For as long as you remain subscribed, you'll keep getting boxes of old-and-new nonsense, each and every month. (And of course, you can cancel whenever you want without penalty!)
Scroll to the bottom for ordering info, or keep reading to learn about everything in the May Funpack!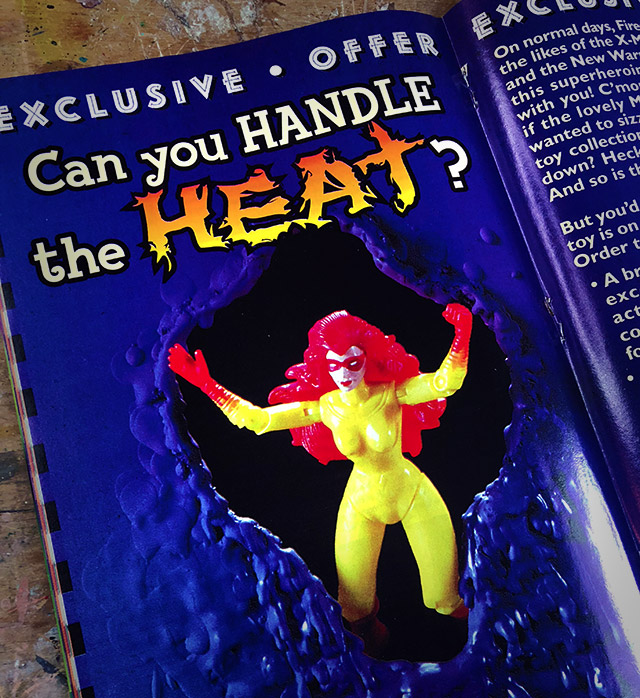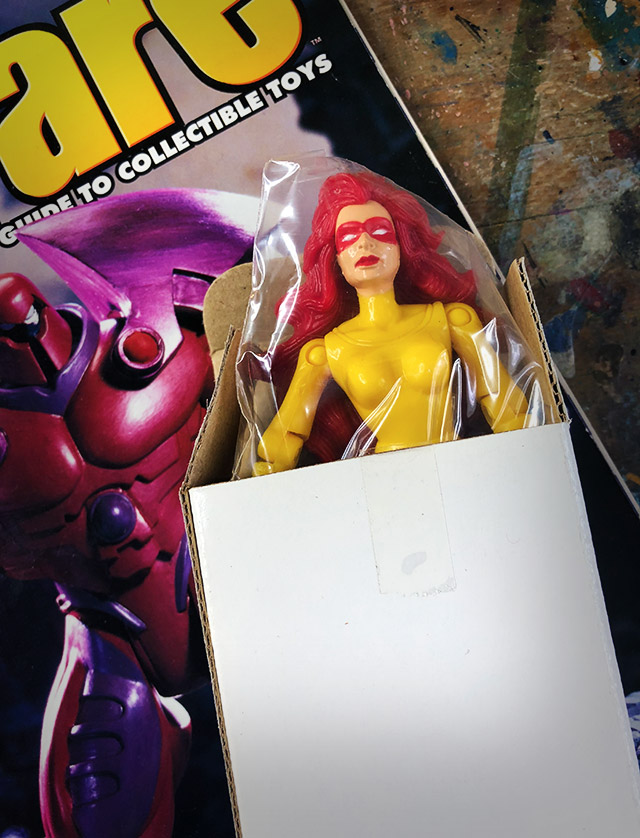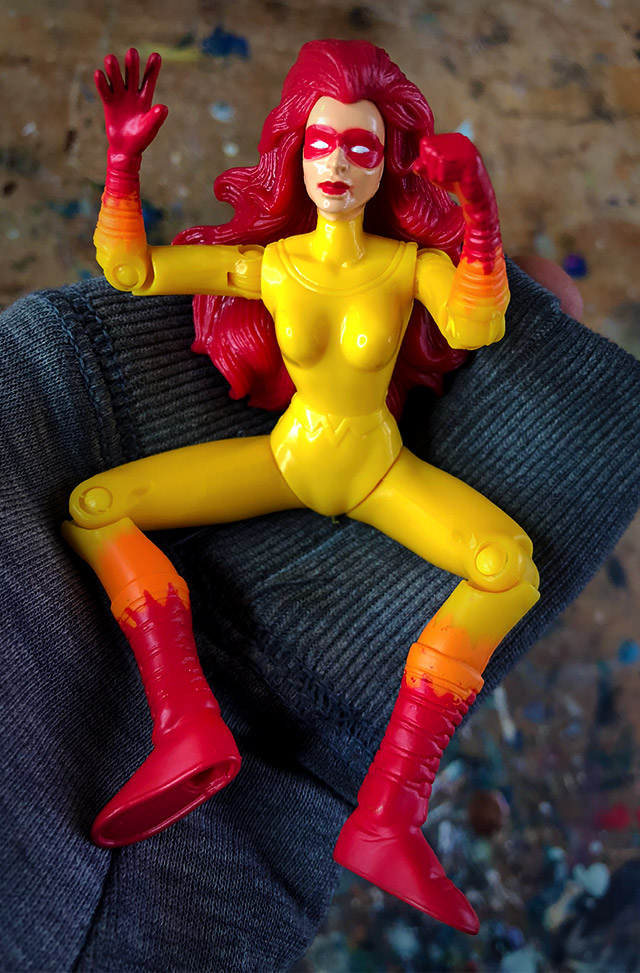 FIGURE STILL SEALED IN BOX!
Oh, lordy. This is a good one. Way back in 1997, ToyFare Magazine partnered with Toy Biz to offer an exclusive Marvel Comics FIRESTAR figure. You could only get it by mailing a check with a special order form from the second issue of ToyFare… until now.
Yes indeed, you will each receive one of these gorgeous ToyFare-exclusive Firestar figures. She's still sealed in her original factory baggie and still trapped in her white factory box! Totally real-deal collectible here, and a kickass figure to boot!
NOTE: Your boxed figures are being pulled straight from the case. They have never been distributed. The figures inside are in mint condition. In some cases, the boxes may have some minor dings and scuffing, and the tape seals may have lost their adhesiveness. This is common for mail-away figure boxes, but thought I should mention it!
Your boxed figure will arrive safely tucked into a bubble bag, along with a special Dino Drac card explaining the figure's history. You're gonna love this gal. (I'm counting this as May's Dino Drac Specimen, btw!)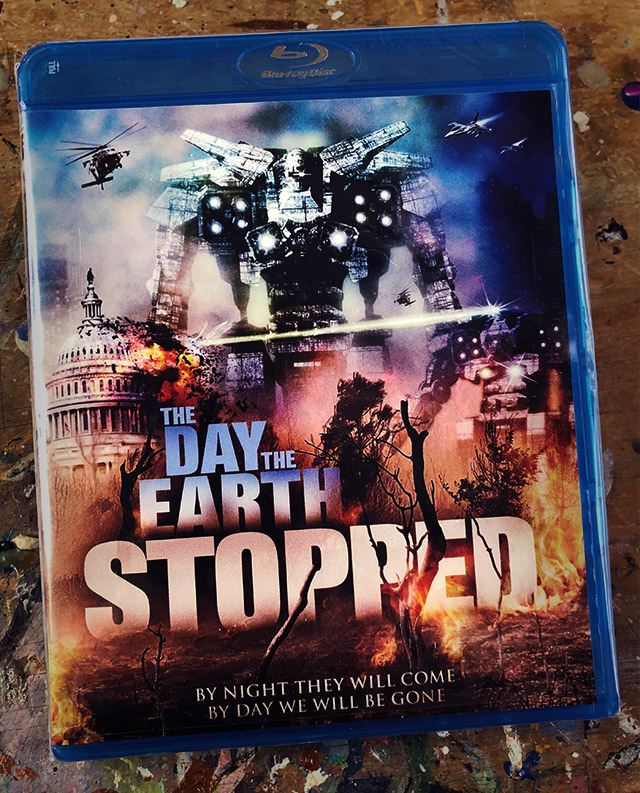 Next up, you'll each receive this totally sealed, totally new copy of The Day the Earth Stopped, on Blu-ray! It's an Asylum film from 2008 that at heart is a "homage" to The Day the Earth Stood Still, but manages to spoof everything from Transformers to ID4 in the process.
Lemme swipe the summary from Google: "Intergalactic robots threaten to destroy the Earth unless they are shown the value of humanity. Can anyone restore order before the planet is blasted to smithereens?"
C'mon, guys. It's a movie about six hundred and sixty-six giant robots landing on Earth. It can't be that bad, right? Wait until the skies are grey and make a night out of this one.
Note: There may be old price stickers on the outer-wrap on some of these. (I haven't encountered any like that yet, but covering myself just in case!) The film is unrated so you may wanna scope out its content before passing around!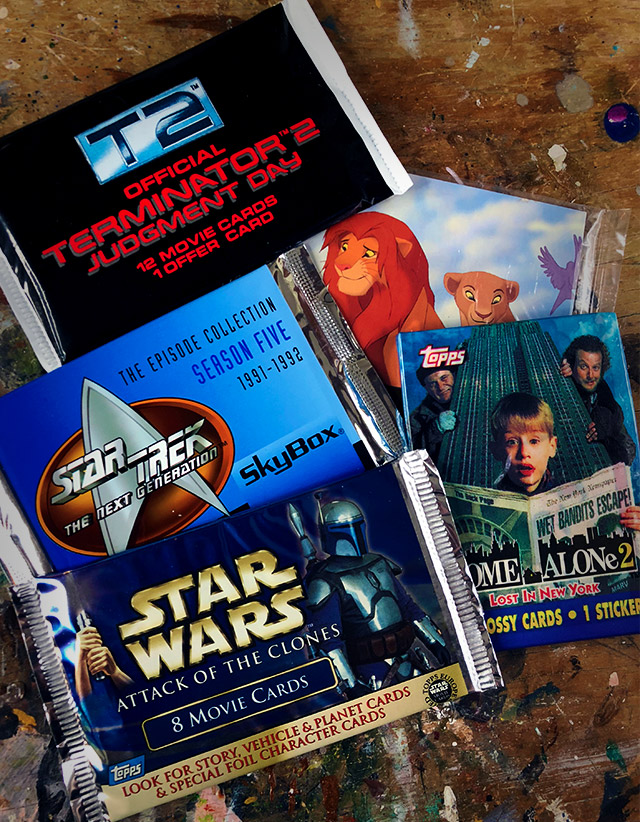 And then we have a generous pile of vintage trading card packs. You'll receive ALL FIVE of the packs shown above, including:
– Terminator 2 (1991)
– Home Alone 2 (1992)
– Lion King AMC Theaters Promo Pack (1994)
– Star Trek TNG: Season Five (1996)
– Star Wars: Attack of the Clones (2002)
Pretty strong assortment of cards this month, IMO! You should be able to kill a good bit of time admiring the art and gobbling up whatever trivia is on the backs. Have fun tearing 'em open, if you can stand to shred the wrappers!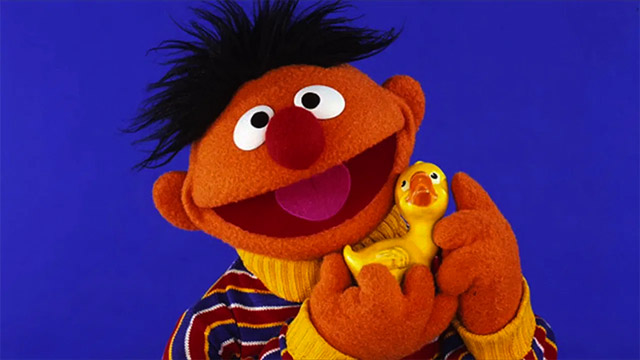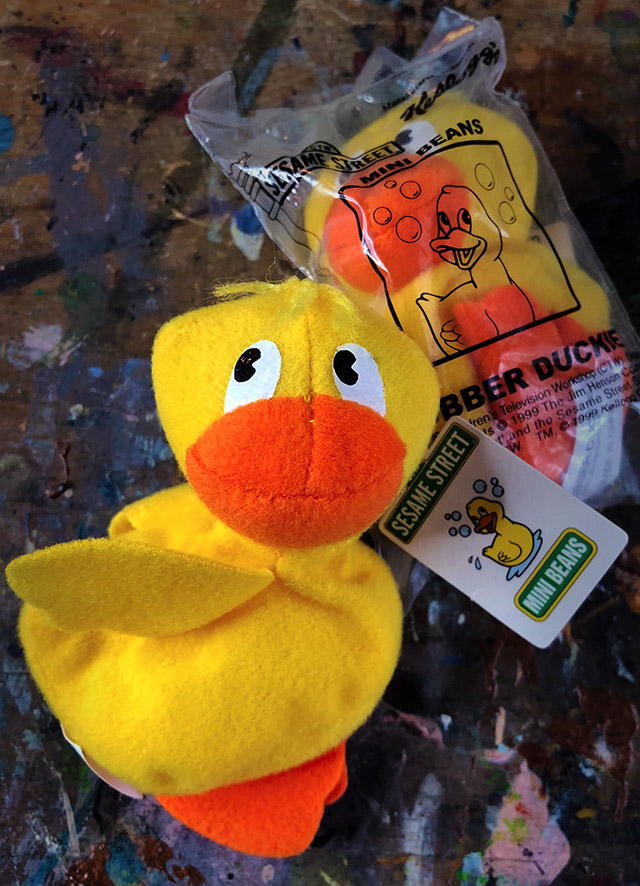 Okay, FINE, I'll also throw in Ernie's Rubber Duckie. This is a Kellogg's-exclusive Mini-Beans doll from 1999, and it's freakin' adorable.
I suppose I can't claim that you have any immense "need" for a twenty-year-old duck doll, but I'm confident that once he's in your hands, he'll never not be in your hands. Yours will arrive still sealed in its factory baggie, in never-touched condition!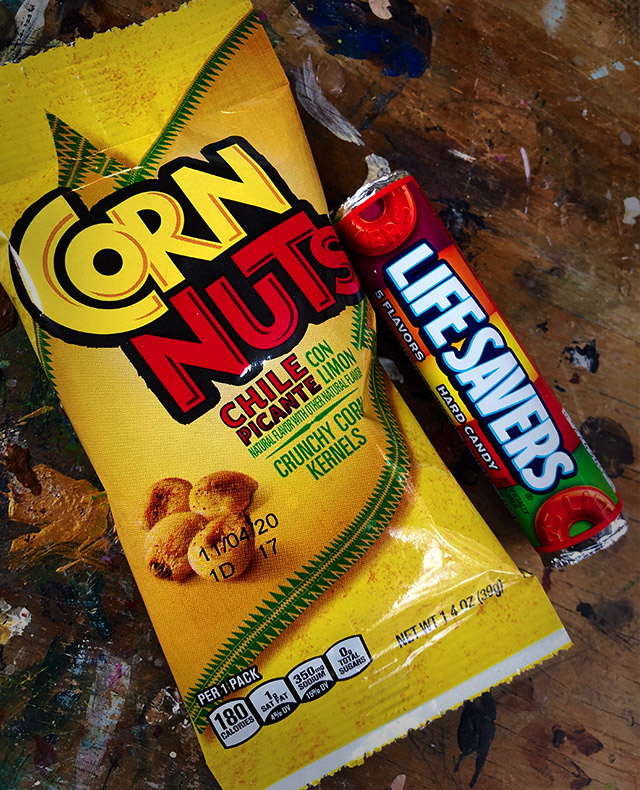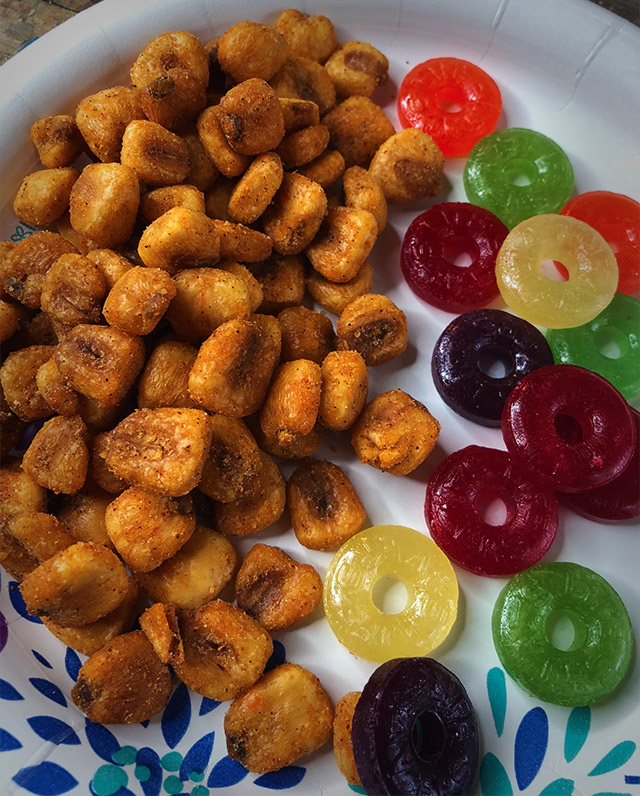 Since most of us are still doing the stay-at-home thing, I wanted to make sure you had the right snacks to keep soldiering on. You'll receive a generous pack of Chile Picante Corn Nuts, and a full-sized pack of five-flavor Life Savers!
Ideally, you'd eat these while watching The Day the Earth Stopped. More likely, you'll eat them while flipping through the old trading cards. Look, to each their own, but just be careful not to get Corn Nut dust all over the vintage T2 cards, okay?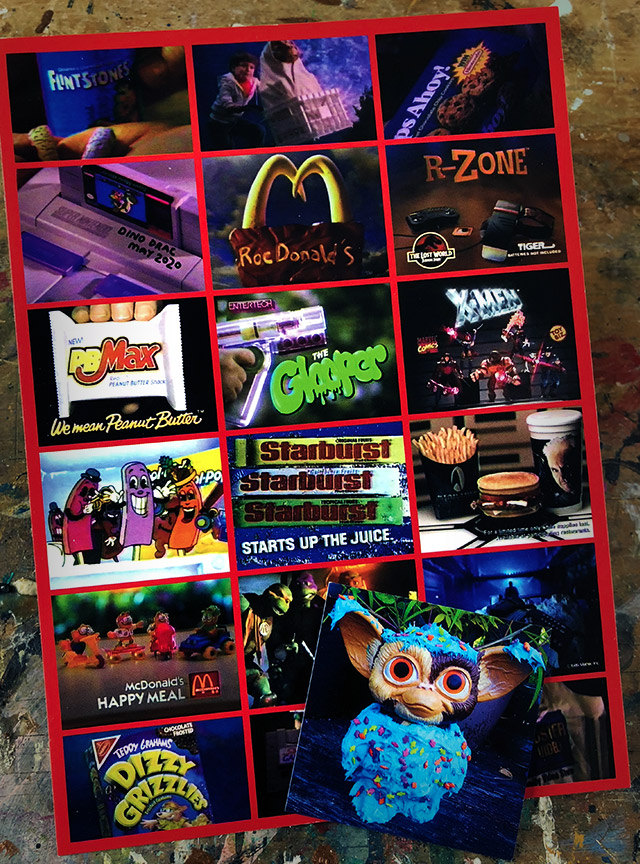 This month's 5×7″ Mini-Poster is another of my patented collages, using images from old TV commercials. Lose yourself in a sea of old junk food, video games, toys and more!
The poster is printed on something resembling cardstock. You'll also receive this month's exclusive 2×2" sticker, featuring an old Gizmo figure smothered with cake frosting. I don't know, it's just where my brain went.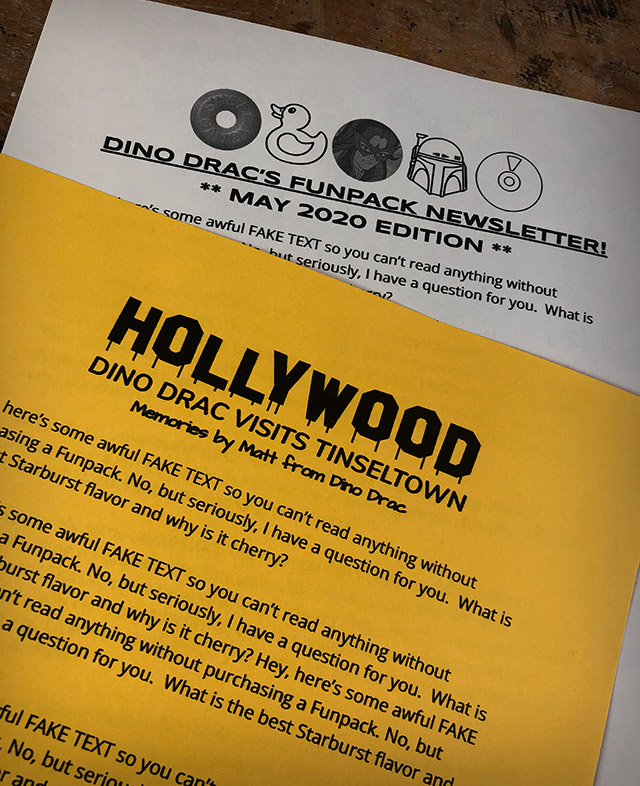 Rounding things out, you'll also receive this month's Funpack Newsletter, plus an exclusive essay that will never be reprinted on the site.
This month's essay is about our family vacation to Hollywood back in 1987. I kinda hinted at this in a recent article, which conjured up so many other memories of that trip. It's the story of a boy who thought Hollywood was exactly the way it was presented on television, and refused to shake that notion even when he was… you know, actually there.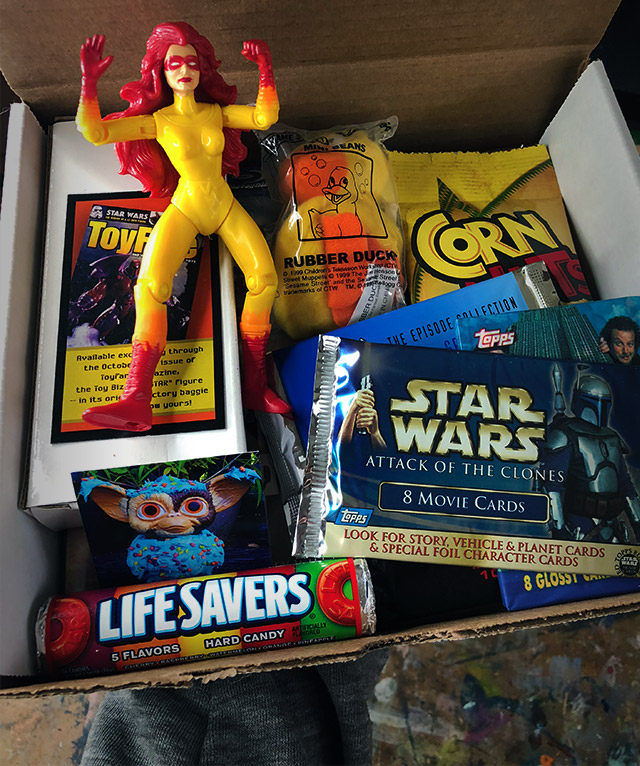 Yep, you'll receive everything shown above, for $25 shipped!
If you're already a Funpack subscriber and you'd like to stay that way… do nothing! You're all set!
If you want to subscribe, please read the following, and then click the button at the bottom of this page!
1. Funpacks are available in the United States only. Sorry!
2. Subscriptions are handled via Paypal. If you don't have an account, it's very easy to make one!
3. Funpacks will be shipped to the address listed on your Paypal account. If you need to change your shipping address, or if you'd like for your Funpacks to be shipped to someone else, simply email me!
4. You will be automatically billed $25 every month. (Yes, that price includes shipping.) If you subscribe today, you'll pay today, and then again in exactly one month. For as long as you remain subscribed, you'll keep getting Funpacks!
5. You can cancel at anytime. (You could subscribe today and cancel today!) If you cancel after you've already been charged for the following month's Funpack, you'll of course receive it just the same as any current subscriber would. (You can cancel via Paypal, or by emailing me.)
6. The May 2020 Funpacks will ship on or before Thursday 5/21.
Remember, the Funpacks allow me to keep doing the site… thanks so much to all who help to keep it/me going!
To get your subscription started, click the button below!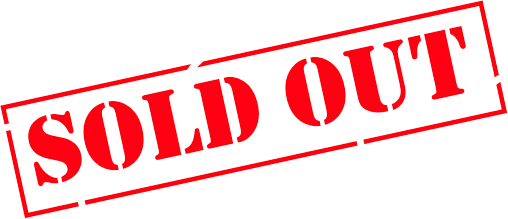 Subscriptions for this month are sold out, but there may be some spares left for me to sell on an individual basis. If interested, email me! (dinosaurdracula on gmail) Thanks!