Dino Drac's November Funpack is here! And full of holiday cheer! Take a gander, why don't you: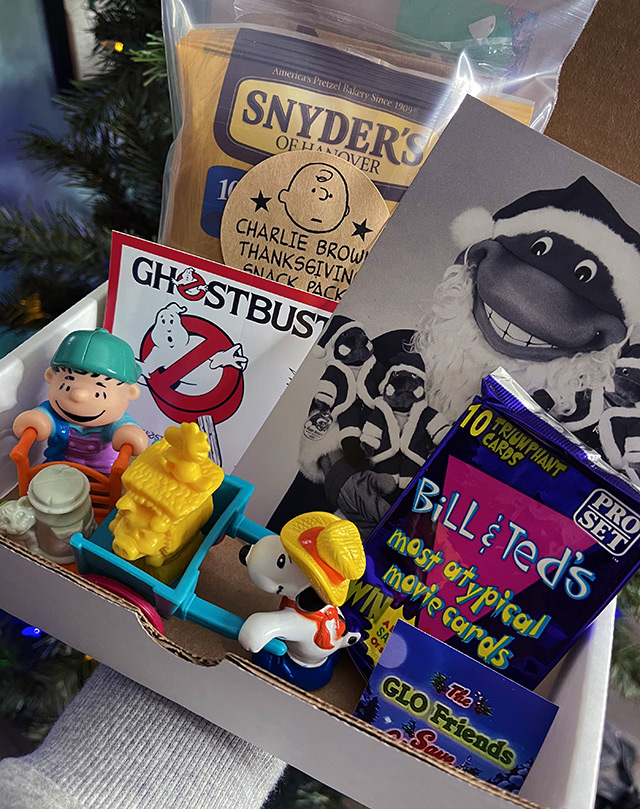 UNITED STATES ONLY! LIMITED SUPPLY!
Let's talk turkey. Official subscriptions are currently maxed out, so if you're a current subscriber, congrats, you're locked in! If you're NOT a current subscriber, I have a very limited number of spares to sell on an individual basis. Skip to the bottom for ordering info, and be quick!
Everyone else, keep on reading to learn about everything in this month's box!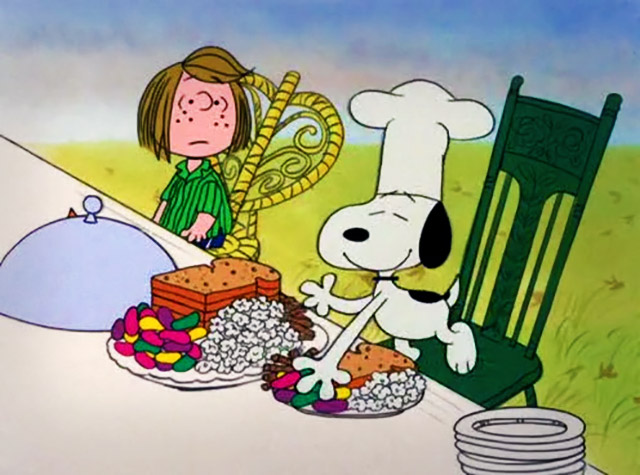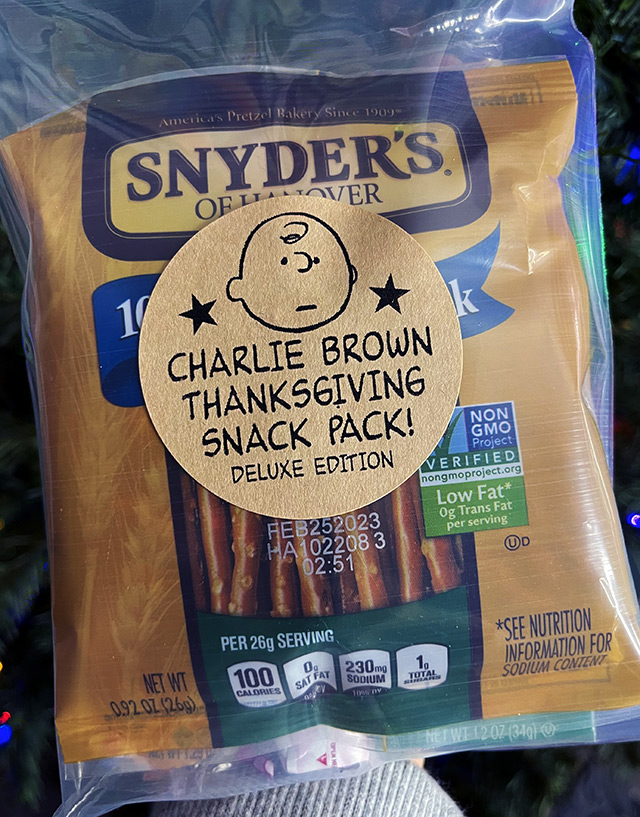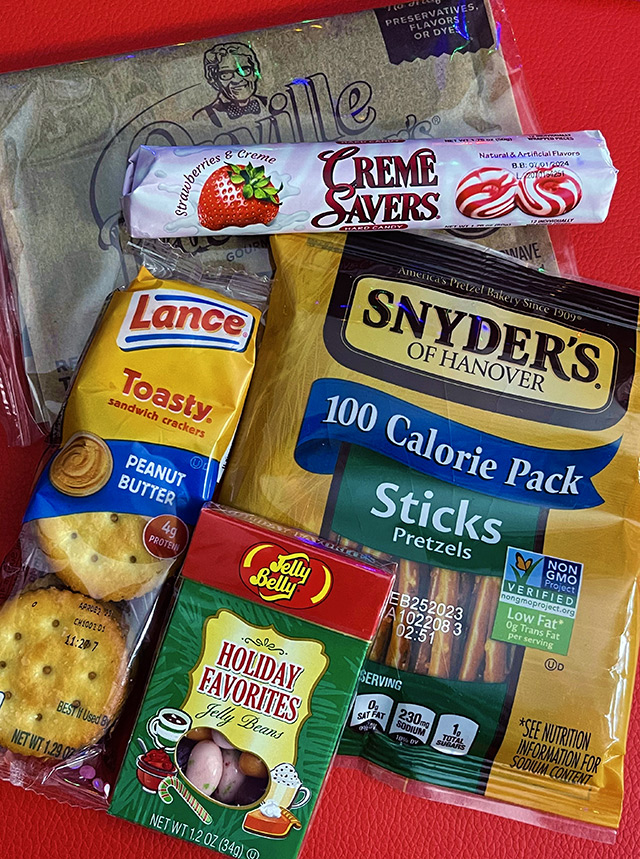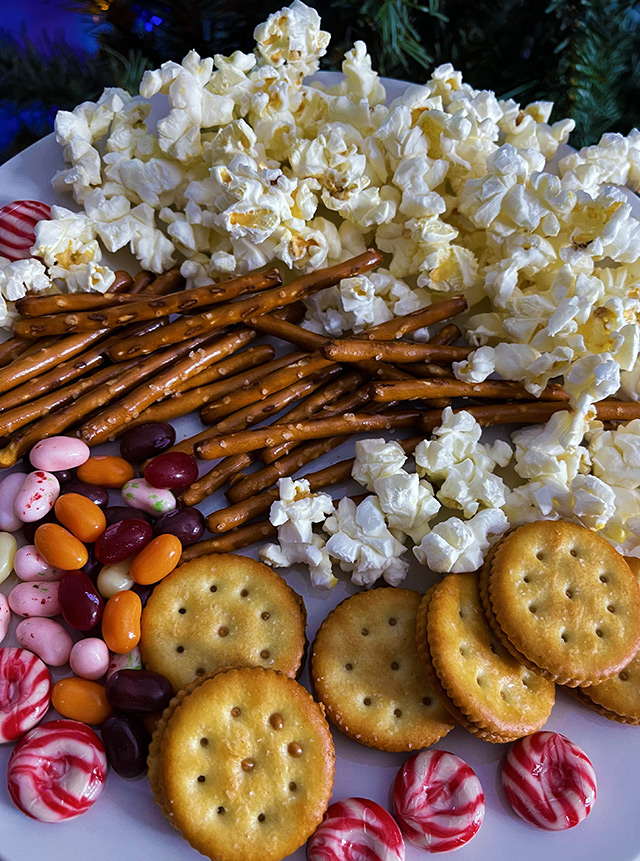 You had to know this was coming. Leading the charge this month is Dino Drac's unofficial Charlie Brown Thanksgiving Snack Pack – a bag of goodies that'll let you recreate the wackadoo junk food dinner from the classic animated special.
I've included these Snack Packs in prior November Funpacks, but never quite like this. This is the DELUXE edition, with several new inclusions!
You'll get the requisite bags of microwave popcorn and pretzel sticks, because those are the must-haves. The dinner from the cartoon also included jelly beans, and this year I'm upgrading the Snack Pack with a sealed box of Jelly Belly's Holiday Favorites, which includes awesome flavors like hot chocolate, eggnog and cranberry sauce! (Honestly, the jelly beans are like a whole meal on their own!)
Chuck, Snoopy and Linus also served up toast, so I'm giving y'all packs of Lance's Toasty Peanut Butter Sandwich Crackers, which are basically guaranteed to make you feel like a big fat happy mess.
The famous dinner also included strawberry ice cream sundaes, so to satisfy that element, I'm tossing in full-sized retail packs of Strawberries & Creme Creme Savers! (Yes, they're back!) These are generously sized rolls with a ton of Creme Savers in each!
Spread it all out on a plate and celebrate Thanksgiving just like the Peanuts gang did. Recreating this meal has long been one of my favorite parts of the holiday season, and I'm thrilled to share the magic with you!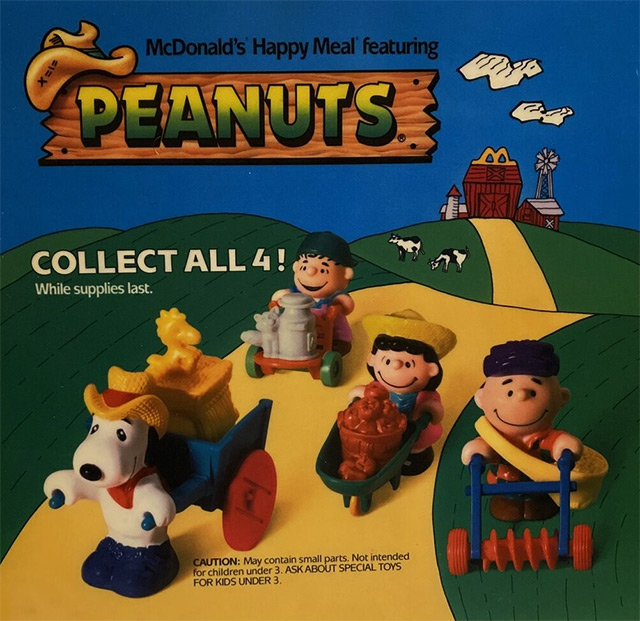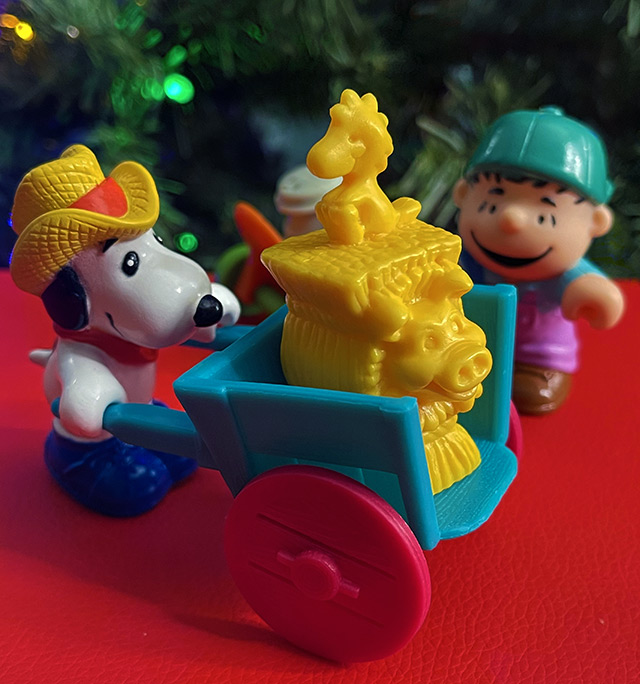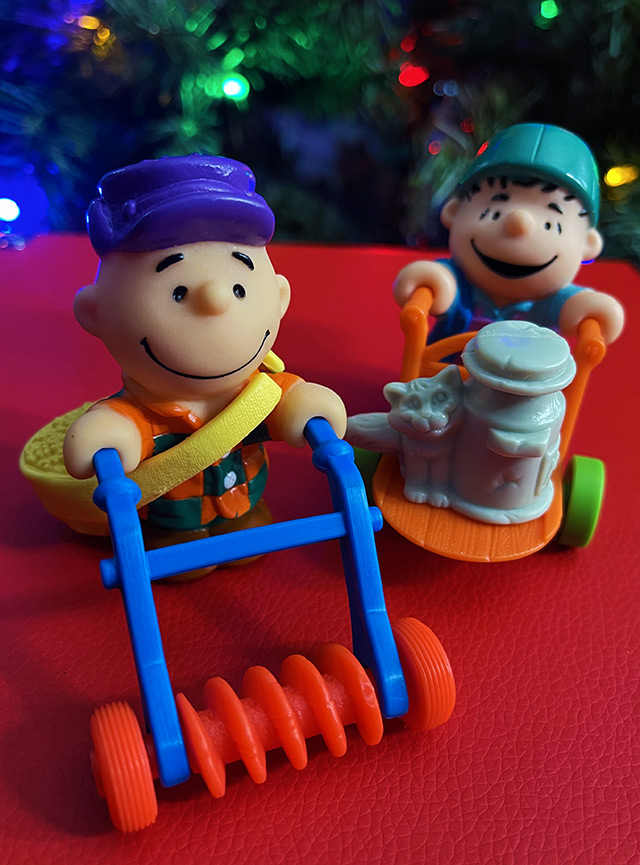 EACH FUNPACK INCLUDES *TWO* FIGURES!
Wait, wait, there's more Snoopy stuff! In addition to the Charlie Brown Thanksgiving Snack Pack, you'll also get a pair of these vintage Peanuts Farm Happy Meal toys, released by McDonald's way back in 1989!
These toys are adorable. Each includes a Peanuts figurine with some kind of farming tool. You'll get *TWO* of the three shown above. In the mix are Charlie Brown, Linus and Snoopy, so no matter which two you want most, you're at least guaranteed to get one of them!
These figures are UNUSED and are coming straight out of their factory cases. In fact, most will still be in their original Happy Meal baggies. The reason I'm not showing them is because some of the bags disintegrated from age, so I had to put certain figures in plain baggies instead. So while you're likely to get one or both of your figures in the OG baggies, let's be fair and call that a bonus.
While I can't accurately call them "holiday" toys, I think these characters are inherently Christmassy. If you're gonna do one of those sacrilegious mangers with a Baby Yoda in place of Jesus or whatever, don't forget to make these your Wise Men.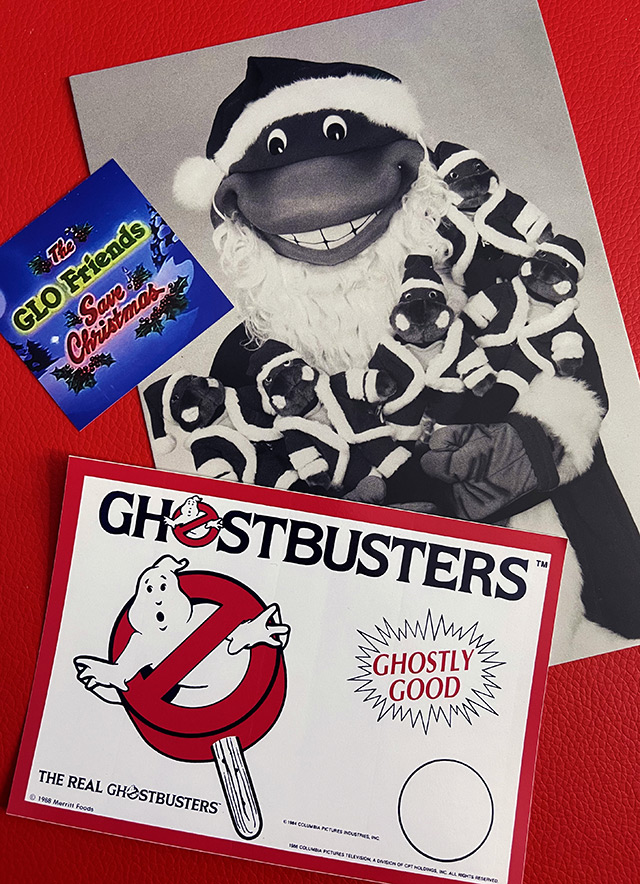 How about a little art to spice up your season? Included in every November Funpack is this month's 5×7" cardstock mini-poster, which was made from an old press photo of a Santa Ninja Turtle (Raph, I think?) holding an army of Ninja Turtle dolls. You never expected to own that photo, but I know you're excited.
You'll also receive a five-inch reproduction of a 1980s Ghostbusters popsicle decal, which was originally seen exclusively on ice cream trucks. These high quality vinyl stickers are smaller than the OG versions, but they're otherwise an *exact* match, right down to the red border.
Oh, and this month's exclusive 2×2" sticker features the title card from The Glo Friends Save Christmas, because I still can't believe that's a thing that really exists.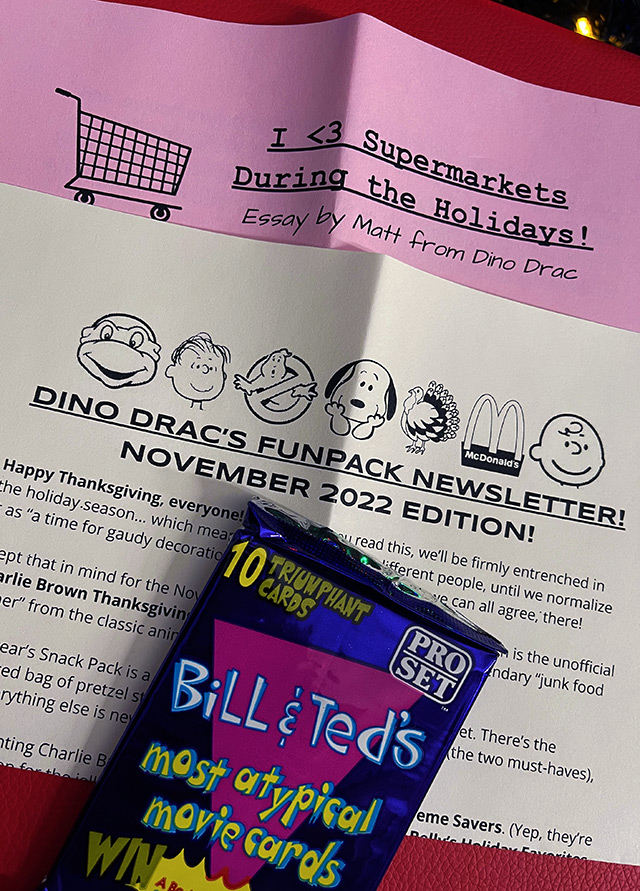 Rounding things out, you'll also receive this month's Funpack Newsletter, plus an exclusive essay that will never be reprinted on the site.
This month's essay is all about my love for supermarkets during the holiday season. No, really, that's what it's about. I love having a captive audience! Next month's essay is gonna be about my favorite shoelace colors.
Oh, and what the heck – I'll also toss in a vintage pack of Bill & Ted's Bogus Journey trading cards, OR a similarly-valued pack if I run out of those. You'll get a pack of something, that much I can promise you.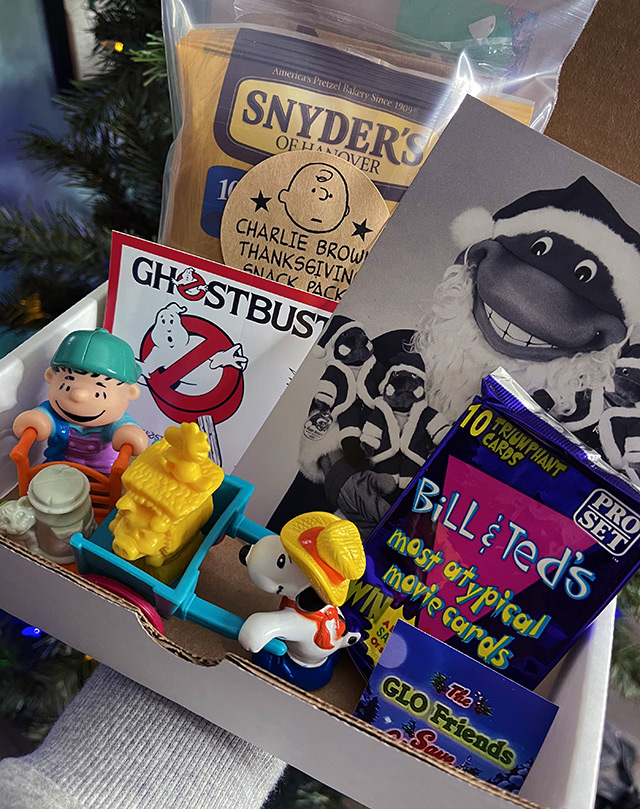 So, you'll get all of that for $25 *shipped*, to anywhere in the United States!
If you're already a subscriber… do nothing, you're all set!
If you're not a subscriber and you want this Funpack, click the button below to buy one. Please note that you will ONLY be buying this one Funpack, NOT subscribing for future ones. Supplies are very limited!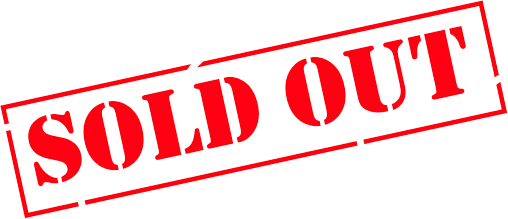 The November 2022 Funpacks will all be shipping out by Thursday, November 17th!