Dino Drac's November Funpack is here, and I'm so excited about this one. The November pack is always one of my favorites to do, even if it's probably the most labor-intensive box every year. A lot of work goes into these babies!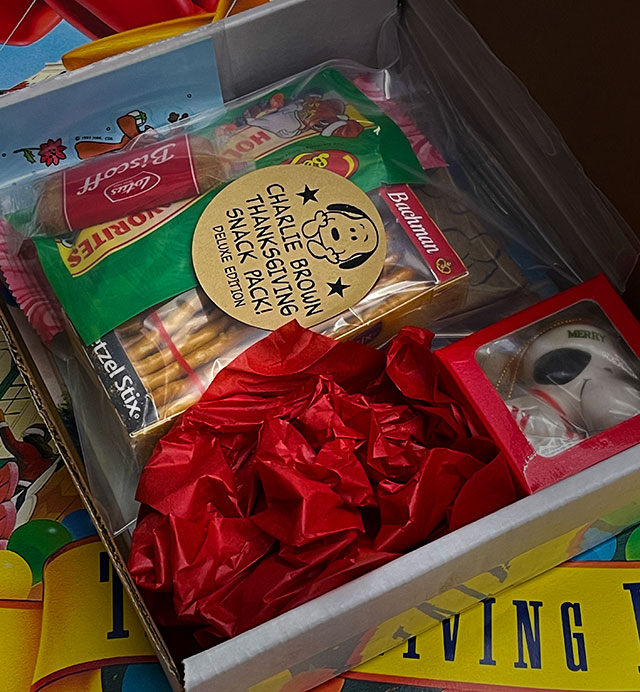 It's an extremely festive holiday-charged box, and if you're a current subscriber, good news: You're locked in!
Subscriptions are currently closed, but I do have a small number of spares that I can sell on an individual basis. The price is $25, shipped anywhere in the United States. Skip to the bottom for ordering info (and please read the fine print), or keep reading to learn about everything in this month's box!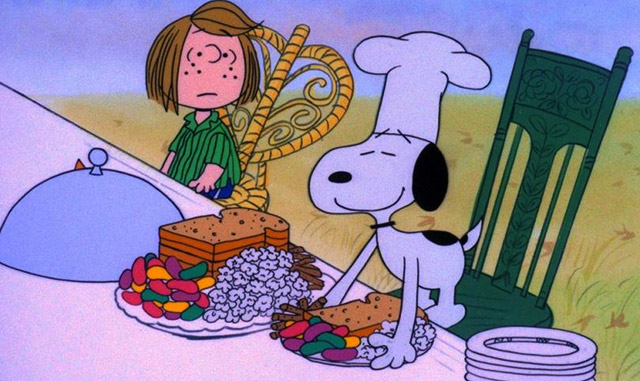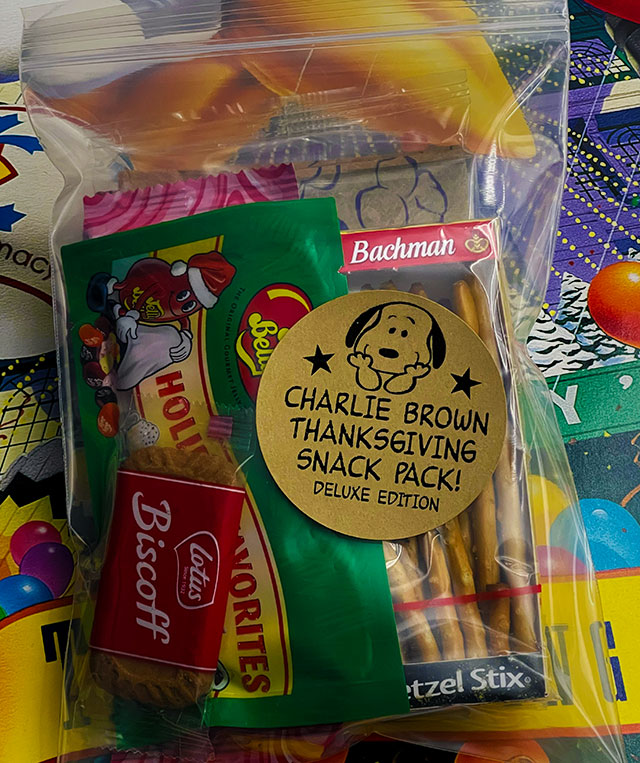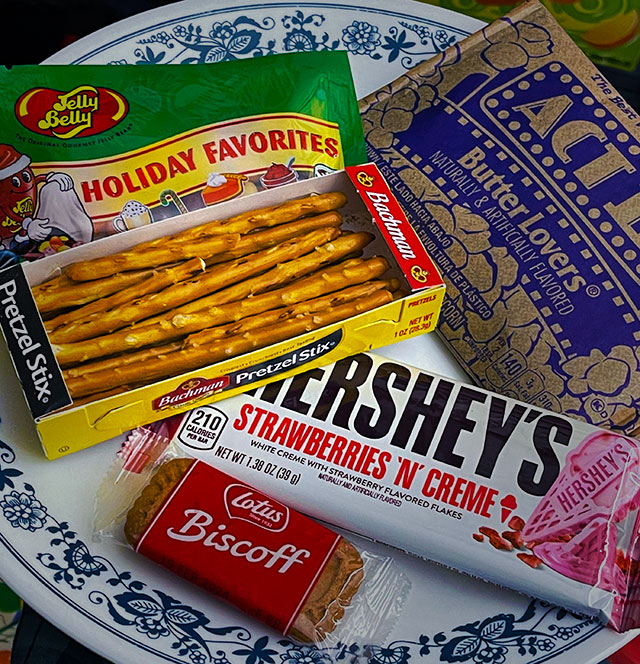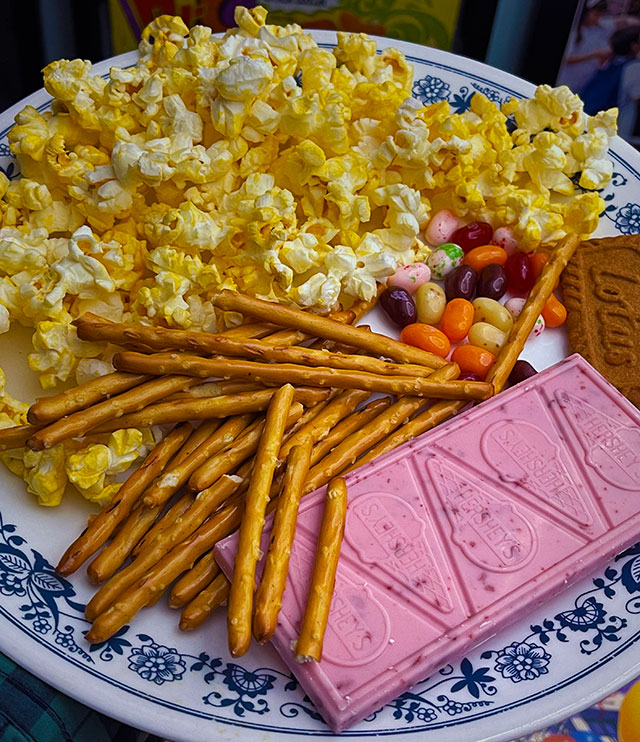 Oh, it's back – and better than ever! By popular demand, it's the return of Dino Drac's Charlie Brown Thanksgiving Snack Pack, a faithful recreation of the famous junk food dinner from the 1973 classic, A Charlie Brown Thanksgiving!
I've lost count of how many times I've done the Snack Pack over the years, but I always try to tweak the ingredients to keep it fresh. I'm really happy with how the 2023 edition came out, and I think you will be, too!
We've got a bag of buttery microwave popcorn. A box of Utz Pretzel Stix. A fancy schmancy pack of Jelly Belly Holiday Favorites, with jelly beans flavored like everything from pumpkin pie to cranberry sauce.
Then there's a little Lotus Biscoff cookie to stand in for toast, and last but not least, I'm reppin' Chuck's strawberry ice cream sundaes with a full-sized Hershey's Strawberries 'n Cream bar! (Those bars are WONDERFUL, and you're not gonna believe how much they smell and taste like ice cream!)
Everything will be safely packed in a (very) thick reclosable bag. Do keep in mind that the candy bars may break in shipment, as the post office likes to play volleyball with packages before delivering them. Don't worry, though – they'll taste just as good, even if they arrive in pieces.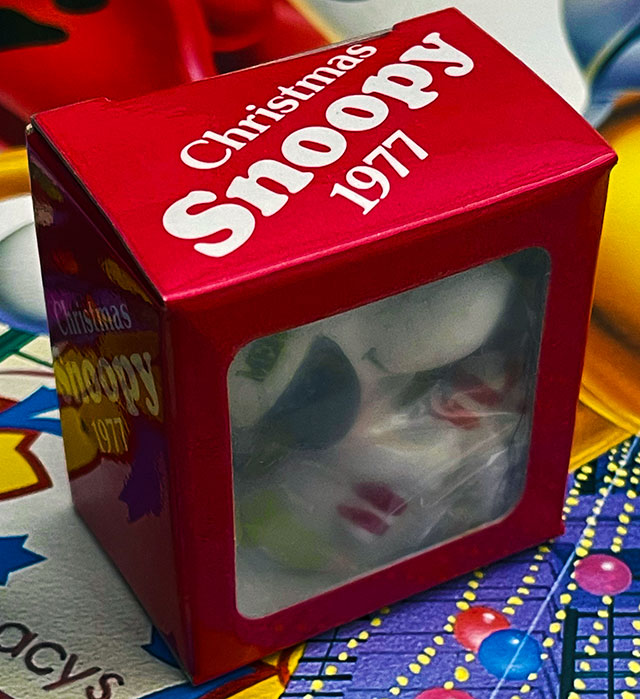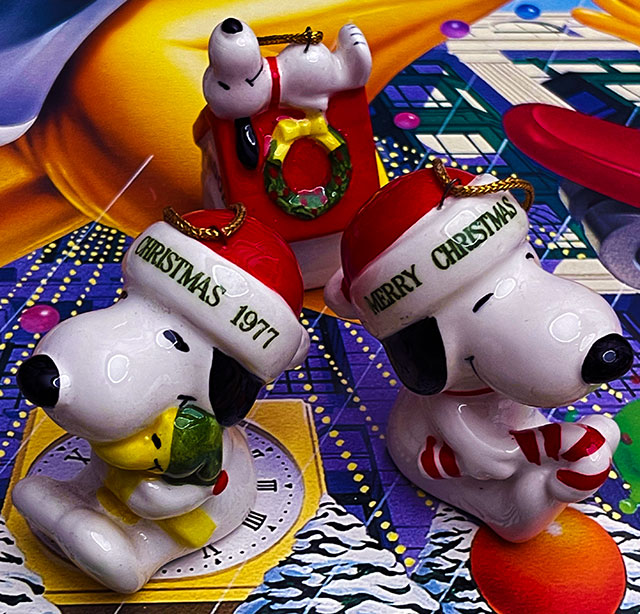 The Peanuts fun continues with one of the coolest (and oldest) collectibles I've ever managed to find for the Funpacks. From 1977 (!!!), you'll each receive ONE of these awesome ceramic Snoopy Christmas ornaments!
These are SUPER nice, and extremely nostalgic. I know my family's old trees had a few of these beauts on them. It's more than a minor miracle that I was able to find enough of these for the Funpacks, and given what they usually cost on the collectors' market, you're definitely getting a bargain!
There were several styles made, and you'll receive one of them at random. (I honestly don't have a favorite – it's too hard to pick!)
IMPORTANT CONDITION NOTE: All ornaments are unused, but please keep in mind that they are *45* years old. Copyright stickers on the bottom may have fallen off on some. The boxes range in condition. All current subscribers will get the best boxes, but please expect some wear to those. If you are buying a spare, do keep in mind that while the ornament will be in nice shape, the box won't be. I'm down to my last boxes, and they may have dents, stains or mild moisture damage. The ornaments inside are fine, but if you're ordering a spare, plan on tossing the box!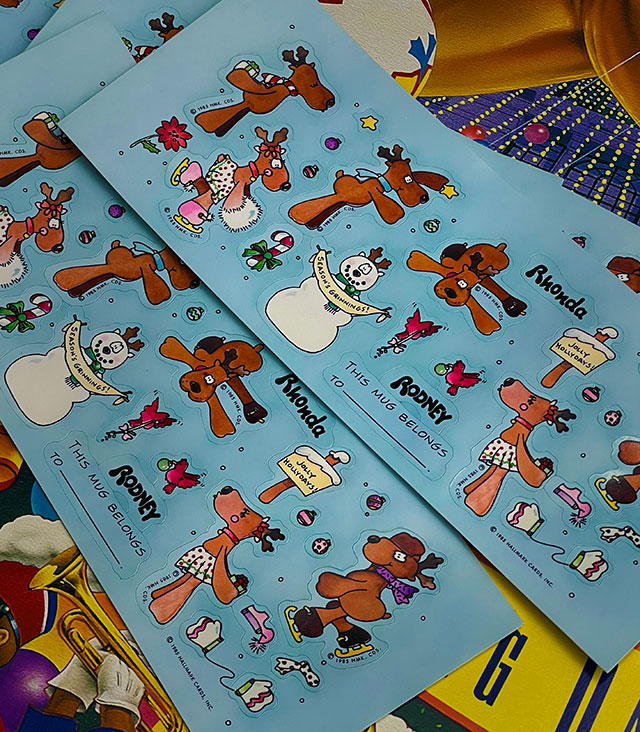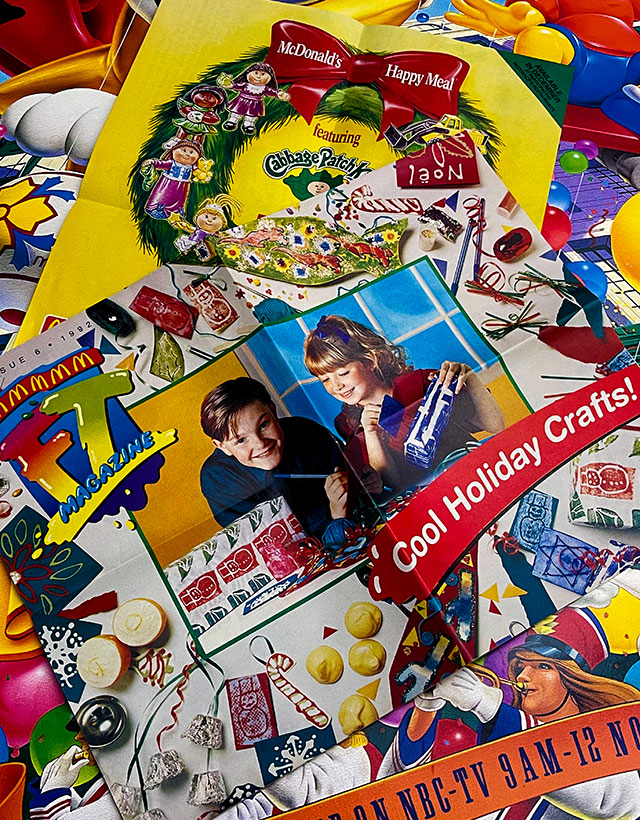 But wait! I have more vintage holiday collectibles to throw your way!
You'll each receive a super vintage pack of Rodney Reindeer stickers, made by Hallmark in 1983! Each pack contains four long sheets, with over ten stickers on each sheet.
These stickers were originally packed with ceramic mugs and were meant to be used to decorate them, but you can use them for whatever you want. I've tested them, and despite their advanced age, they still stick just fine!
And then you'll ALSO receive the Winter 1992 issue of McDonald's Fun Times Magazine, which features eight pages of holiday craft ideas – not to mention a swank advertisement featuring that year's Christmassy Happy Meal.
These little magazines will need to be four-way folded to fit in the boxes (as pictured above), but they unfold nicely and will be perfectly readable. They will definitely make you feel like a kid for a few minutes!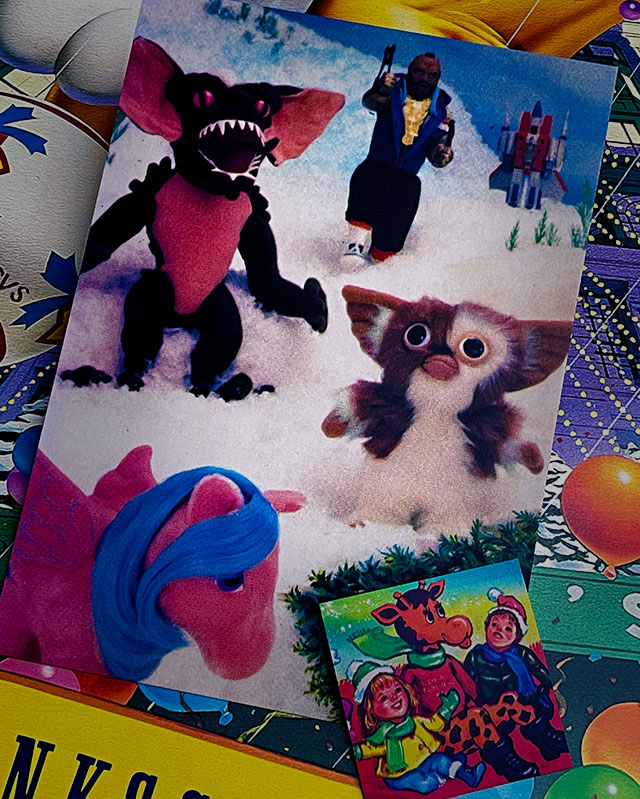 This month's 5×7" cardstock mini-poster shows a beautiful spread of toys from a 1980s Montgomery Ward Christmas catalog, while this month's 2×2" sticker depicts Geoffrey the Giraffe getting into the holiday spirit. Both of these items will make you crave fireplaces and hot cocoa.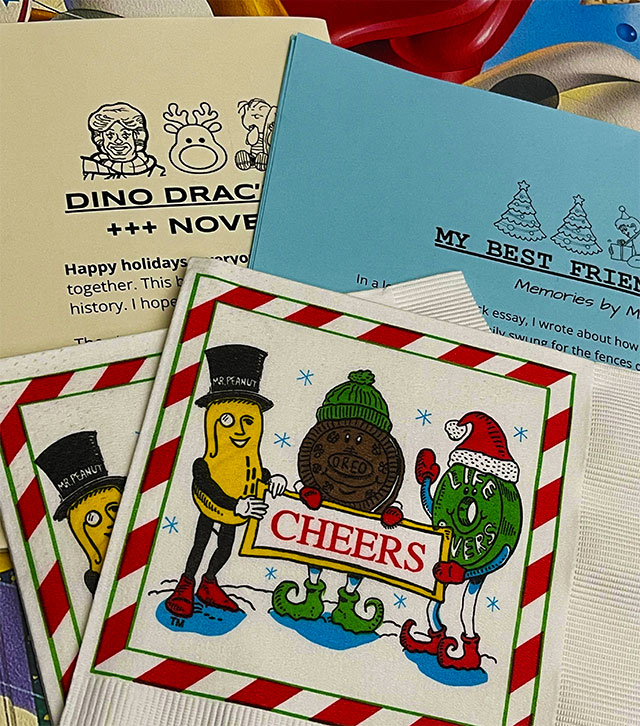 Rounding things out, you'll also receive this month's Funpack Newsletter, plus an exclusive essay that will never be reprinted on the site!
This month's essay is about my childhood best friend's Christmas presents. No, seriously, that's what it's about. I spent many Christmases at his house as a kid, so I had a bird's eye view as he unwrapped everything from the Toy Biz Batcave to the Sega CD.
Oh, and why not? I'll also toss in a pair of vintage 1980s Christmas cocktail napkins, featuring anthropomorphized food mascots. You know you need those.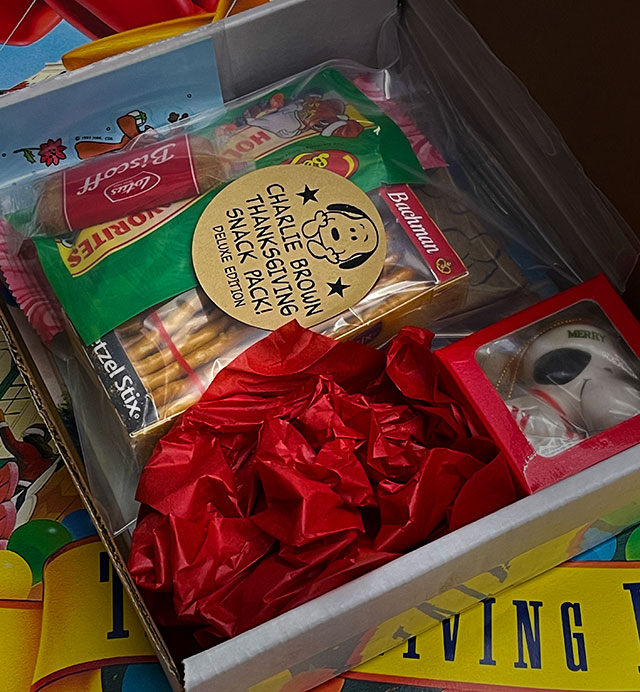 So yep, you'll get everything shown above for $25 shipped! (United States only, please!)
If you're already a subscriber… do nothing! You're all set!
If you're not a subscriber but you still want the November Funpack, you can purchase one while supplies last by clicking the link below. Remember, most of my remaining Snoopy ornaments have ratty boxes, so *please* be aware that while the ornaments will be fine, the boxes they come in will probably need to be trashed.
Thanks so much! All of the November Funpacks will be shipped by Wednesday, November 15th!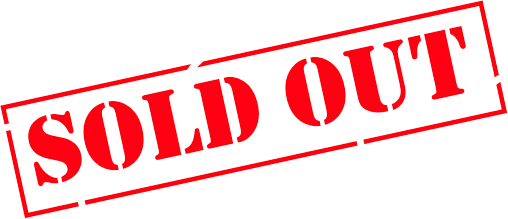 The November Funpacks are sold out. Thanks all!