Be afraid, be very afraid… of missing out on Dino Drac's HAUNTED HALLOWEEN Funpack! The last of three all-spooky Funpacks for the 2022 season is finally here, and if you act fast, you just might get one!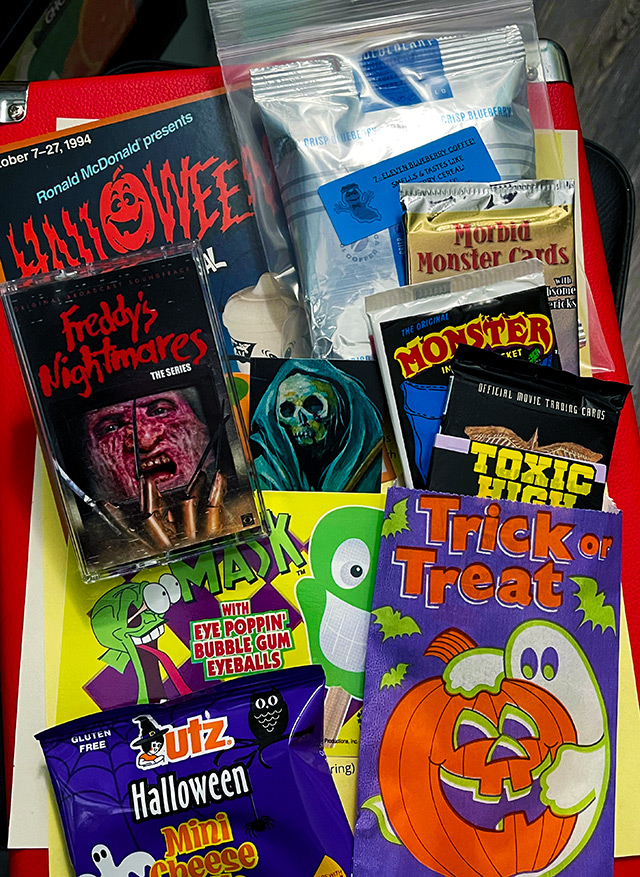 U.S. ONLY! LIMITED SUPPLY!
From spooky sounds to creepy coffee to sinister stickers to terrifying trading cards, there's something for everyone in the October Funpack.
Subscriptions are currently closed, but I do have a fair amount of spares to sell on an individual, non-subscription basis. Once these are gone, they're gone forever. Jump to the bottom to order one while supplies last, or keep reading to learn about everything in this month's box!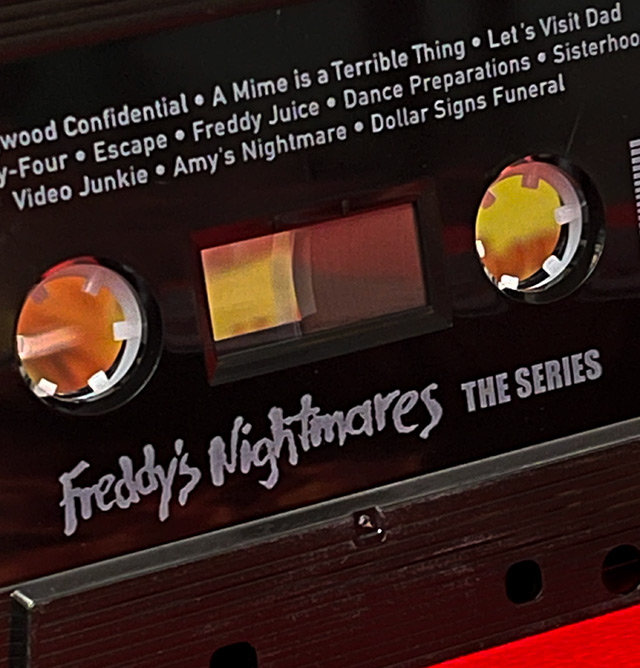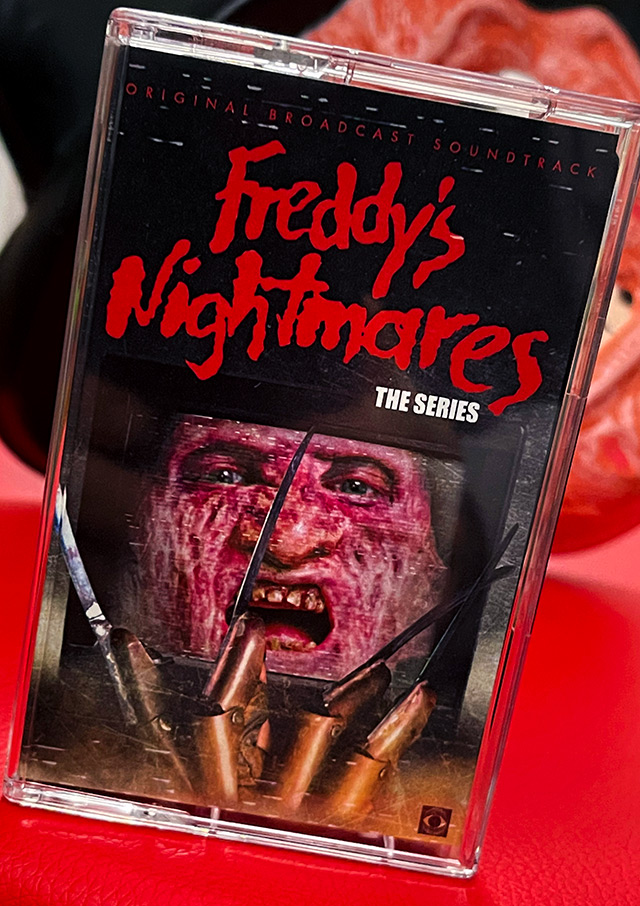 It is my great/grave honor to announce that everyone who receives this Funpack will walk away with a brand new, factory-sealed copy of the FREDDY'S NIGHTMARES soundtrack, courtesy of those macabre magicians at Terror-Vision Records.
I've worked with Terror-Vision for Funpack stuff before, but folks, this is the big one. Freddy's Nightmares! An officially licensed audio cassette tied to Freddy Krueger himself.
Should you choose to actually listen to the tape, you'll be rewarded with what's become one of my all-time favorite scores. Seriously, I listen to it *constantly*. Everyone knows how rockin' that show's main theme was, but it goes way beyond that!
Produced in a never-before-sold slick black color, your cassettes will arrive in case-fresh, unused condition. Even if you never play the thing, what a great decoration! (But really, you gotta play it. Go find your old boombox.)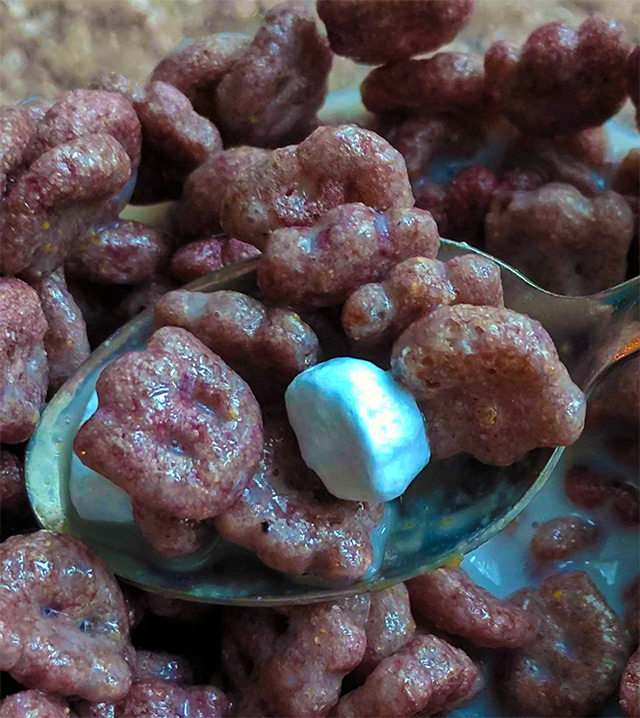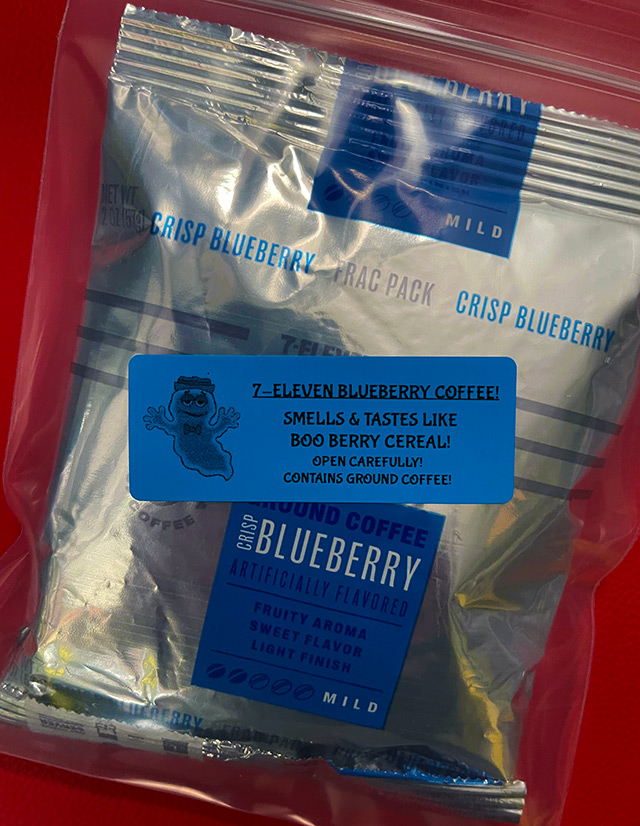 After spending the last several Halloween seasons imploring y'all to find a 7-Eleven that sells blueberry coffee, I'm cutting out the middleman. You will each receive a two-ounce bag of *official* 7-Eleven Blueberry Coffee, which IMO smells and tastes exactly like Boo Berry cereal!
Yep, it's finally time to force this stuff on you. These packs are NOT sold in stores, and they're actually what 7-Eleven uses to brew their own pots. (Each two-ounce bag is more than enough for whatever coffee pot you use at home. Unless you're some kind of rich freak.)
All packs are well within their expiration dates, which are printed on each one. (Expect that yours will remain fresh until early February. You'll have plenty of time!) I will be placing each in a thick reclosable bag for extra protection!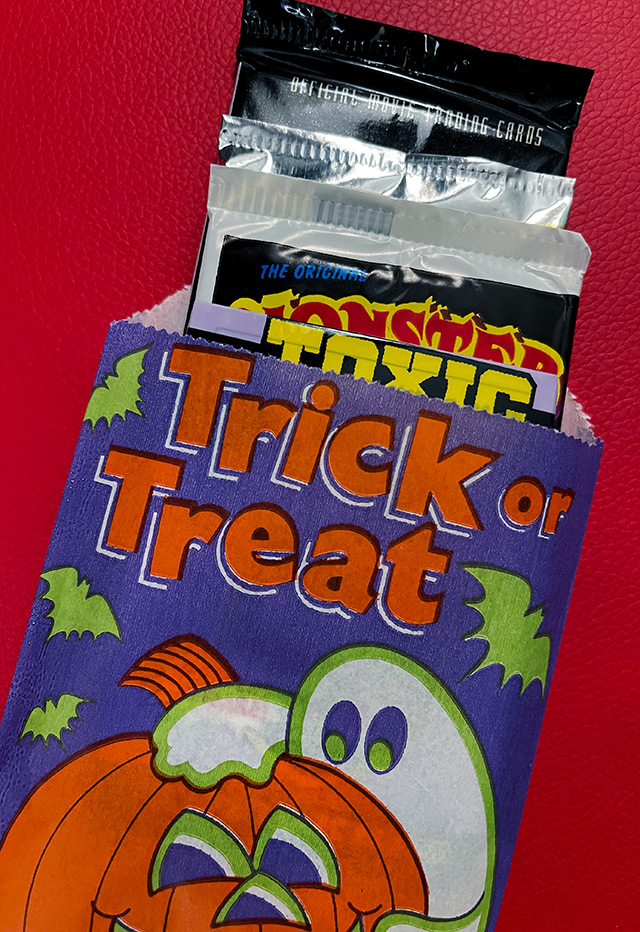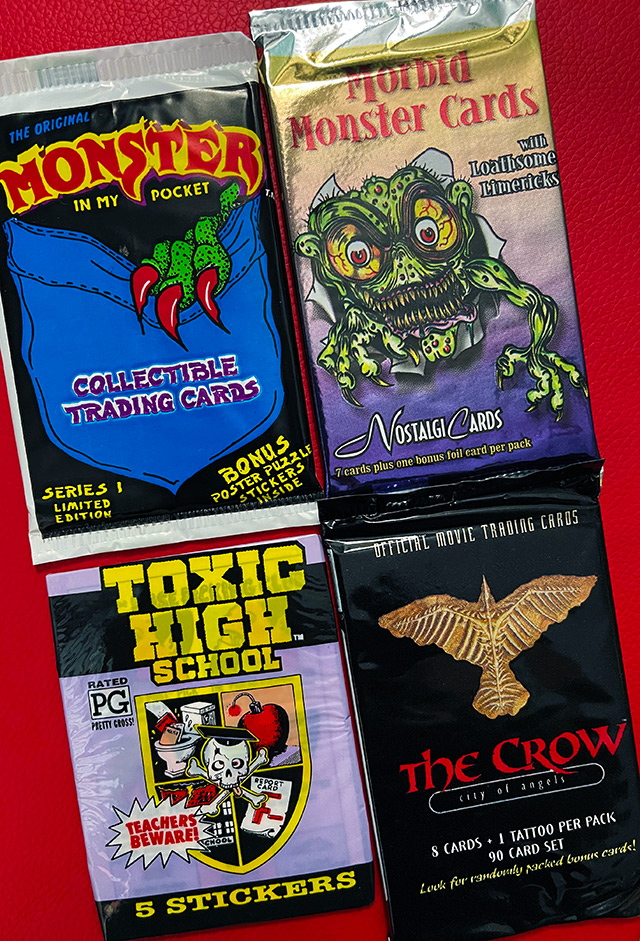 Keep on diggin' and you'll find a treat bag stuffed with spooky trading card packs from the '90s. Brother, I've got some GOOD ones for you this month. You'll get all four of the following:
1. Monster in My Pocket! (1991)
2. Morbid Monster Cards! (1999)
3. The Crow: City of Angels! (1996)
4. Toxic High School! (1991)
Those first two packs in particular have become pretty hard to find over the years, so this is a sweet pile!
NOTE: All current subscribers will get these four packs. MOST people who purchase the spares will also get these exact four. I may have to do light substitutions on some spares, but if I do, the value will be equal to or greater.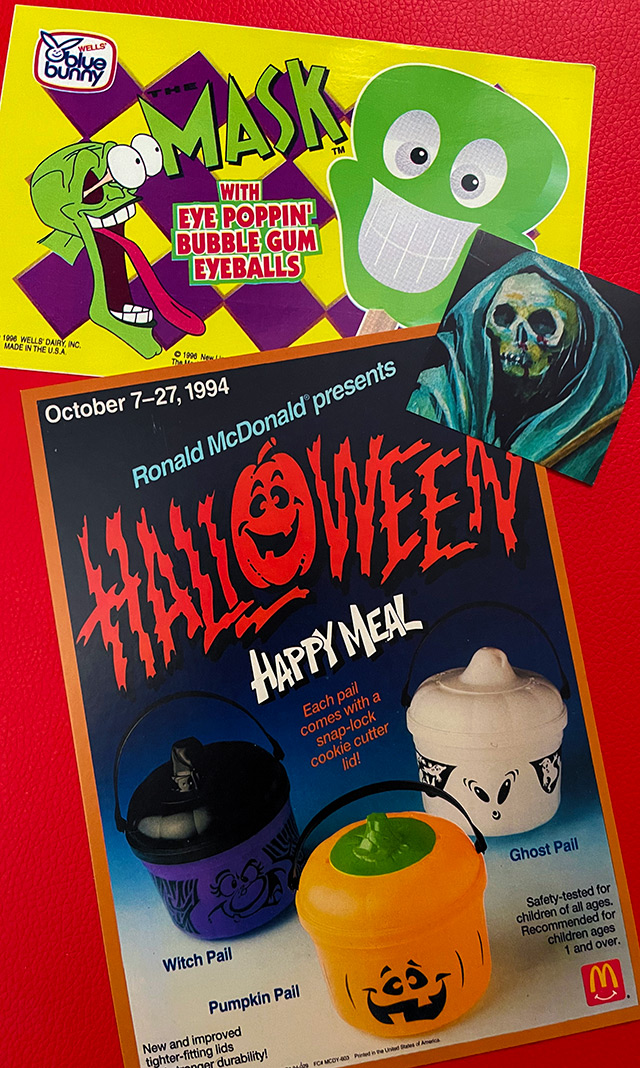 Now how about some eerie art?
First up, you'll each receive a stunning *reproduction* of the vinyl stickers used by ice cream trucks to promote The Mask popsicles back in '96! (This one was made from a sticker in my own collection, which is a pretty rare find.) Sticker is approximately 6×4".
Then there's that swank cardstock 5×7" mini-poster featuring a rare internal-use-only image of the 1994 McDonald's Halloween Buckets — a set that deserves more love than it gets! This one came out great, and I've little doubt that you'll leave it on your fridge long past Halloween.
And what the hell, let's toss in that 2×2" sticker featuring a ghoulish grim reaper. You've earned it, I'm sure.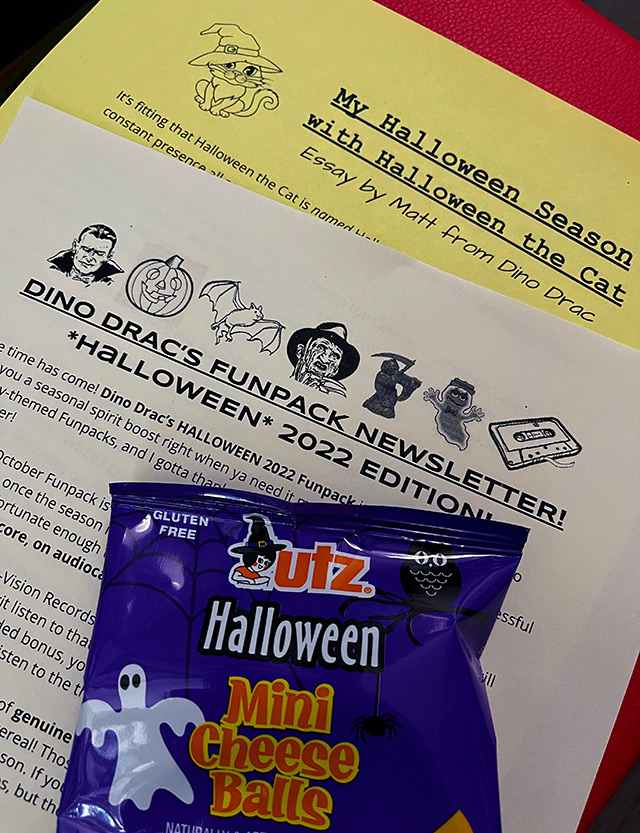 Rounding things out, you'll also receive this month's Funpack Newsletter, plus an exclusive essay that will never be reprinted on the site.
Since you're a captive audience and I could make these essays about socks if I wanted to, this month's is all about how I spent 90% of the Halloween season with my cat. Don't like it? Too bad!
Oh, and I'll toss in the world's smallest bag of Halloween Cheese Balls, too. Can't call it a Halloween Funpack if I don't rot your teeth somehow.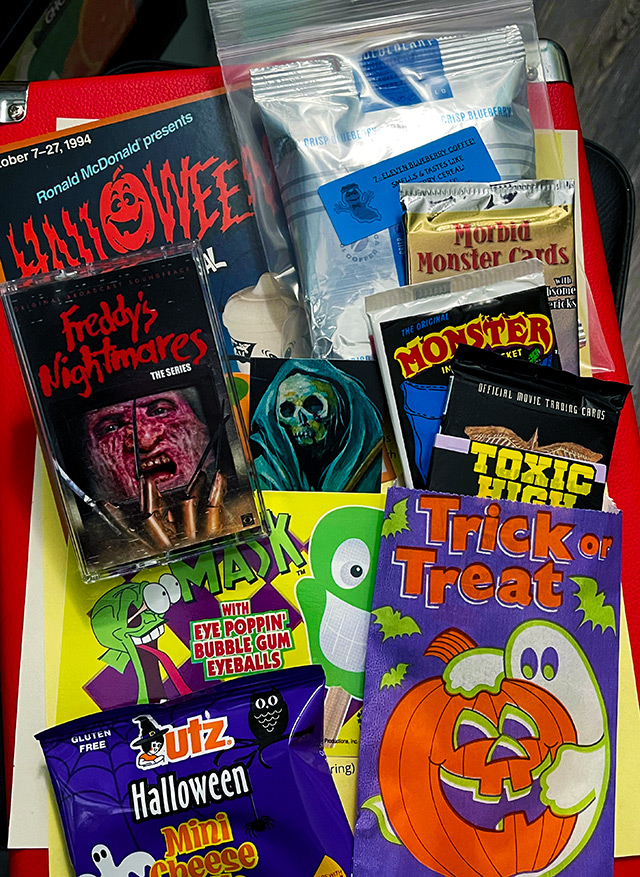 So you'll get everything above, for $25 shipped! (United States only, please!)
If you're already a subscriber and you'd like to stay that way, do nothing, you're all set!
If you would like to buy the October Funpack, you can do so by clicking the button below, while supplies last. Remember, you will just be buying this one Funpack, *not* starting an ongoing subscription! The October 2022 Funpacks will ship on or before October 19th!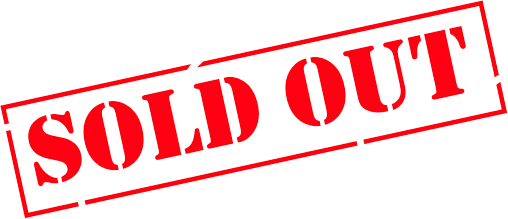 Wow, that was fast! The October Funpacks are very close to sold out, but I should have a few leftover when I do my final counts. If you'd like to get on the waitlist, just email me. (dinosaurdracula on gmail) No guarantees, but I'll get in touch if I have any left! To everyone else, thanks so much!!