Cure your post-holiday blues with Dino Drac's first Funpack of the new year!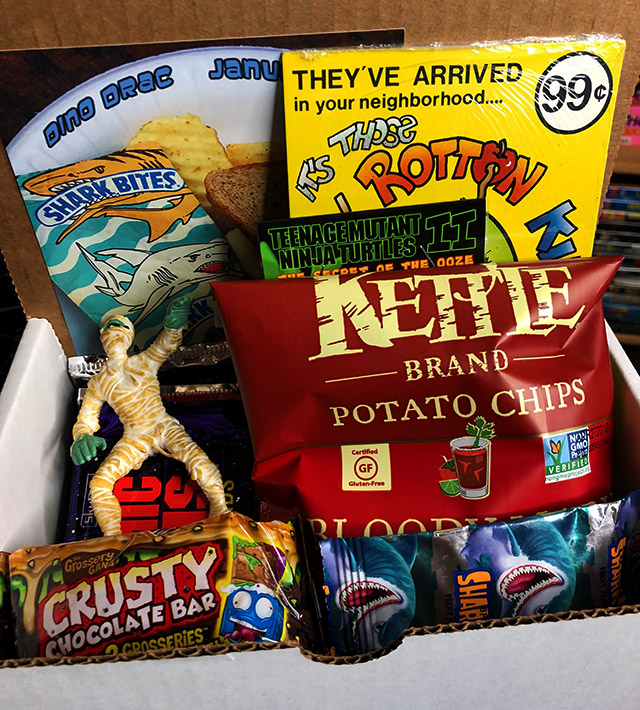 AVAILABLE FOR THREE DAYS ONLY! UNITED STATES ONLY!
You know the drill by now! Funpack subscriptions are $25 a month (including shipping), and for as long as you remain subscribed, you'll keep getting new boxes filled with retro nonsense each and every month!
The January 2019 Funpack includes around a dozen items, ranging from rare old toys to awesome trading cards to delicious snacks. As always, my goal is to provide you with (at least) one night's worth of weird entertainment, where you can spread out on the living room floor and revel in trivial bliss.
Scroll to the bottom for ordering info, or keep reading to learn about EVERYTHING you'll receive in this month's box!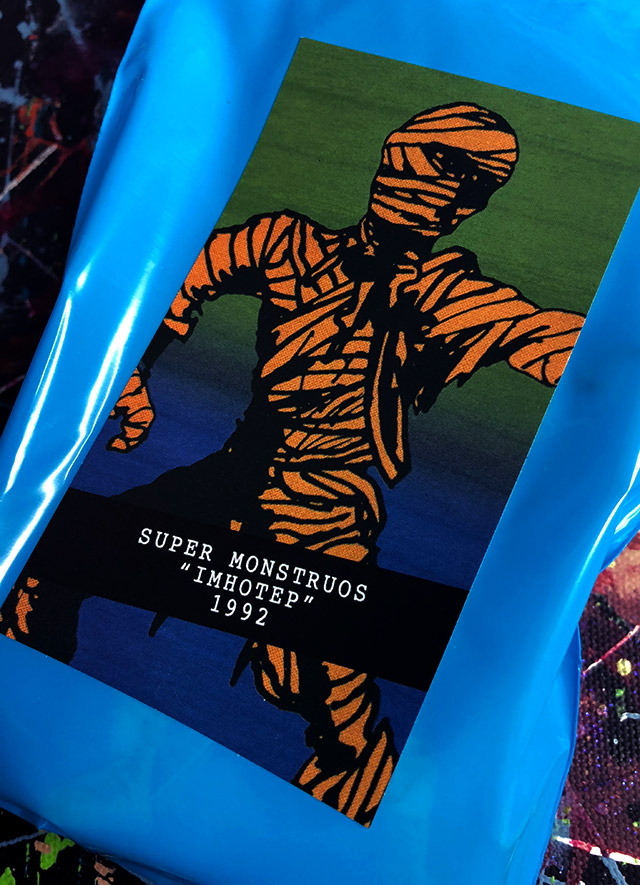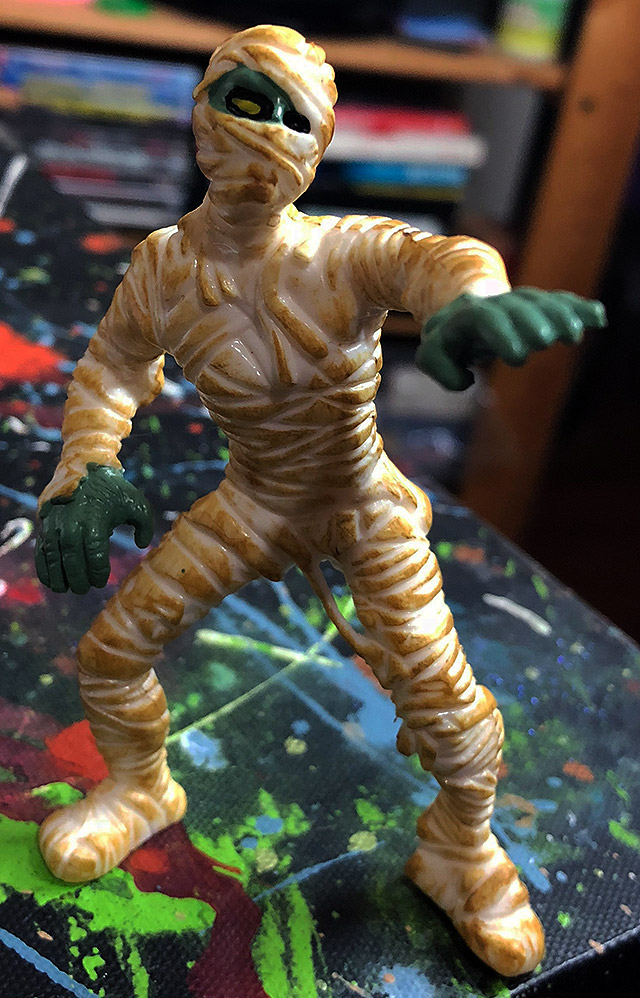 First up is yet another creature from the infamous Super Monstruos collection, made in Spain back in 1992. Get a load of THE MUMMY, or as he's formally known in the collection, IMHOTEP!
This killer Imhotep figure was never available in the States. These figures are in amazing condition considering their age. Each will come trapped inside a custom Dino Drac baggie. Sweet collectible if you're a horror fan or if you just like strange action figures. This dude is over 25 years old!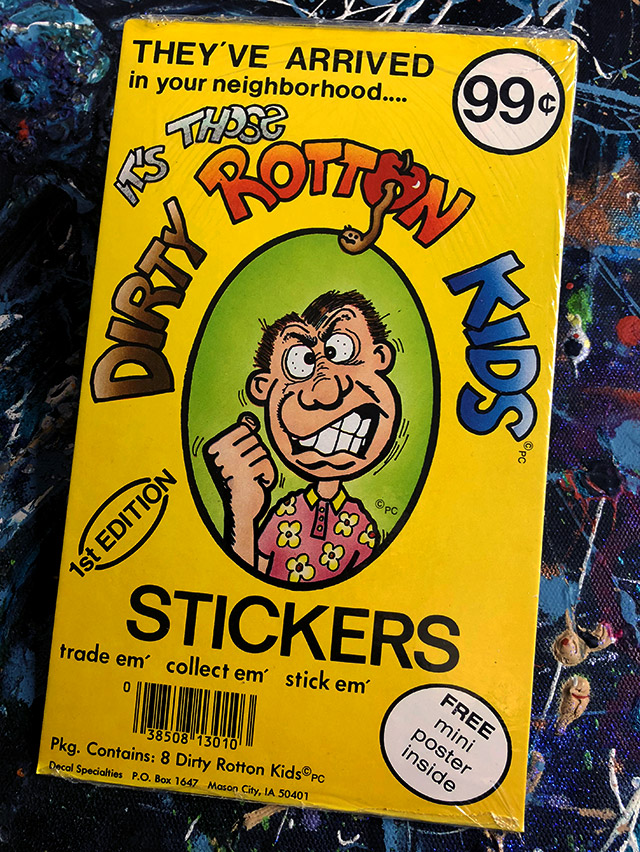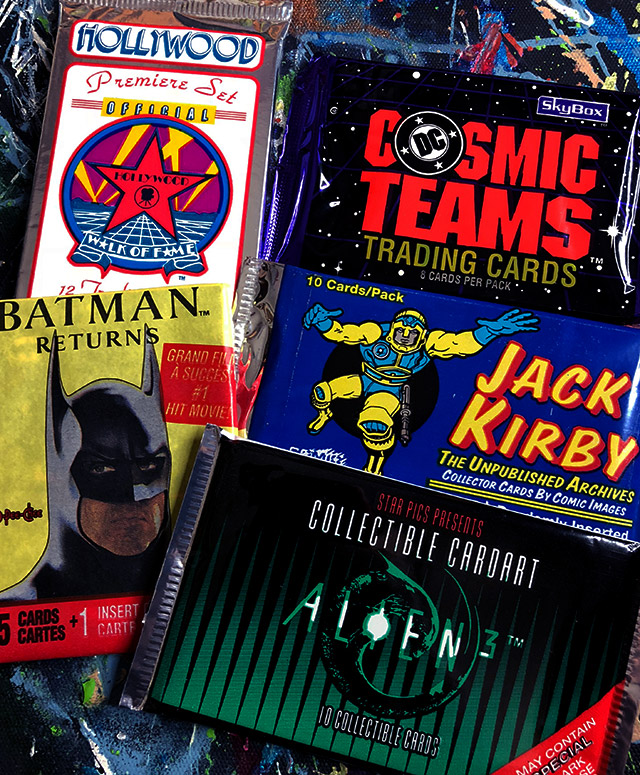 Next is the largest pile of vintage trading card packs ever assembled for a Funpack. This month, you'll be receiving SIX different packs!
Included are all of the following packs:
– Alien 3 (1992)
– O-Pee-Chee Batman Returns (1992)
– Hollywood Walk of Fame (1992)
– DC Cosmic Teams (1993)
– Jack Kirby: The Unpublished Archives (1994)
– Dirty Rotten Kids (1980s?)
Amazing assortment this month. That Dirty Rotten Kids pack is a super obscure Garbage Pail Kids ripoff, likely from the '80s. The cards are as gross as you'd expect!
Have fun tearing 'em all open… if you can bear to shred their pretty wrappers!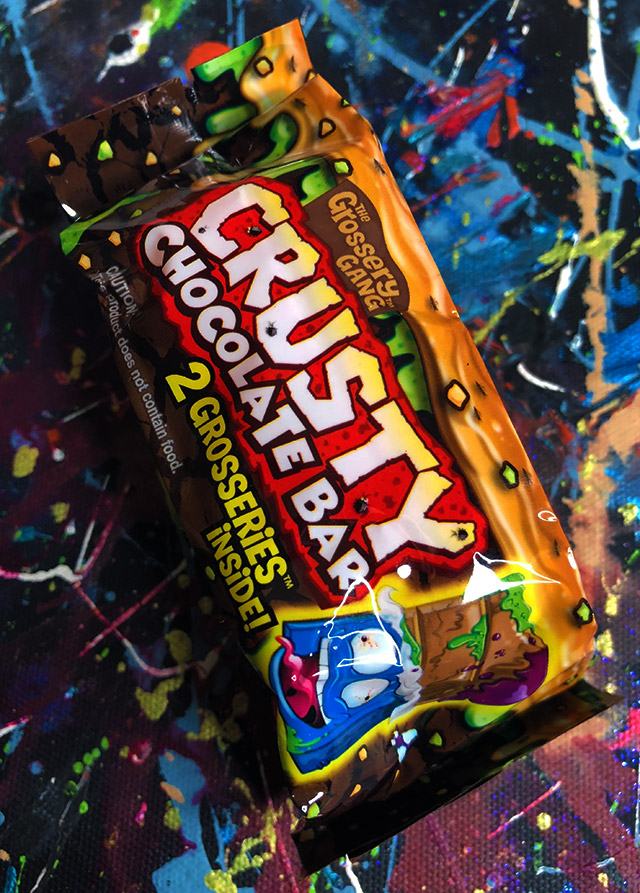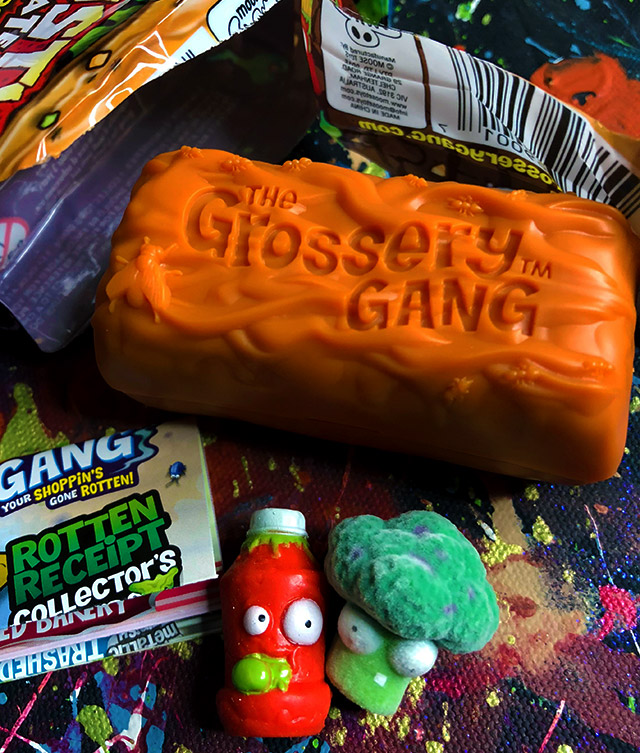 Then we have an official Grossery Gang Crusty Chocolate Bar, made by Moose Toys in 2015. I freakin' LOVE this line. If you never paid attention to The Grossery Gang in its original incarnation, it was very similar to The Trash Pack, but with a firm focus on food-based monsters.
These bars are no longer sold in stores. In each package is a chocolate bar treasure chest, containing two random Grossery Gang figures. (You might get the two shown above, but you'll more likely find entirely different creatures in your bar!)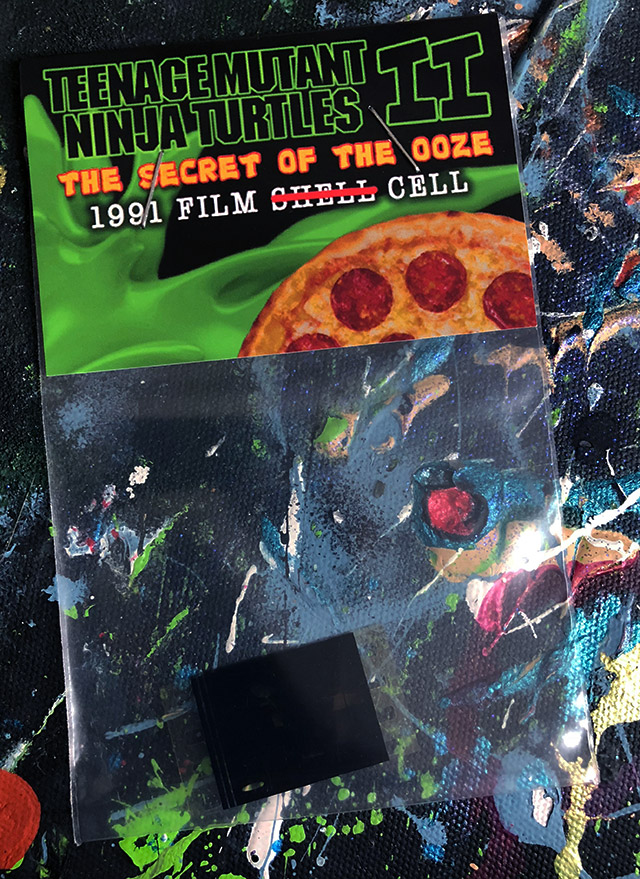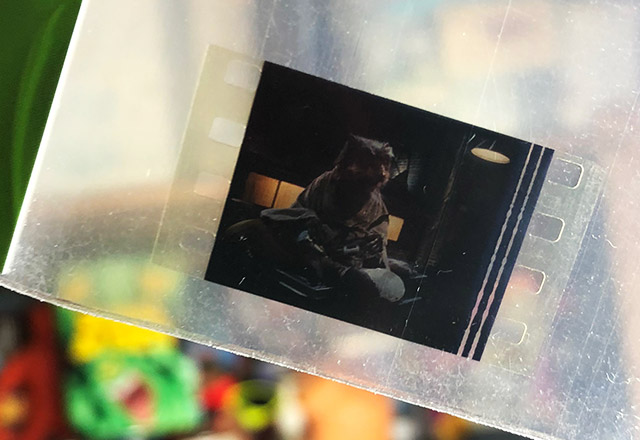 This month's Dino Drac specimen is an honest-to-goodness TMNT II: The Secret of the Ooze film cell, from 1991. These cells were either pulled from actual film reels or possibly trailer reels. I can't be sure, so just consider them a fun novelty and we'll all be better off.
The cells don't have exacting cuts and may be a little dark, but I'll do my best to ensure that all frames show a decipherable image. (Like this one, of Master Splinter!) Each is protected in custom Dino Drac packaging!
PS: The Secret of the Ooze rules. If you haven't seen it, change that.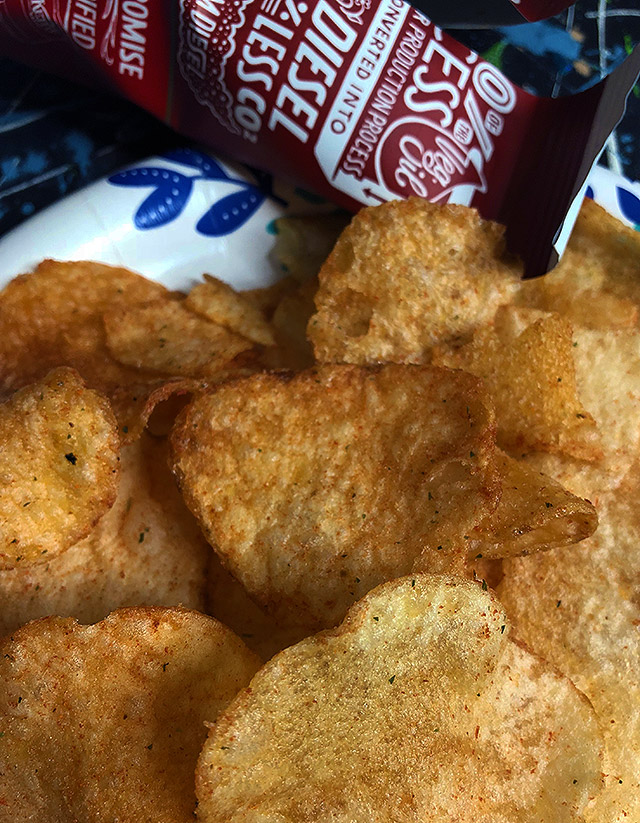 Next is a little bag of Kettle's Bloody Mary Potato Chips, and guys, I have been trying to get these into a Funpack for at least six months. It's one of Kettle's hardest-to-find flavors, and in my opinion, the best of them all!
If you're having trouble envisioning a Bloody Mary potato chip, it's mostly just spicy, but with hints of lime and tomato. SO good. You'll wish you had two bags.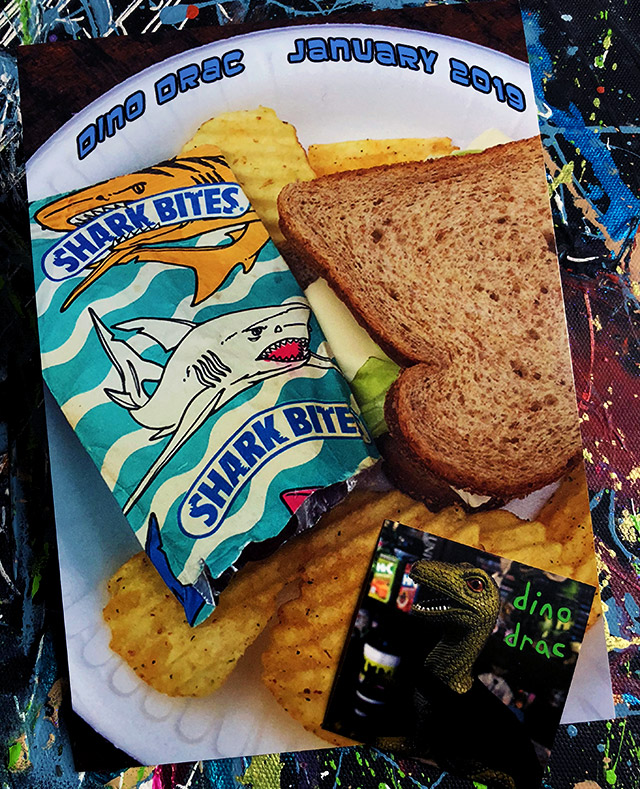 This month's Dino Drac Mini-Poster recreates the best-possible lunch of the '90s, with an old school pack of Shark Bites as the star. You'll also receive this month's exclusive Dino Drac Sticker, featuring the site's mascot as a dollar store dino.
Posters are 5×7" and printed on something resembling cardstock. Stickers are 2×2".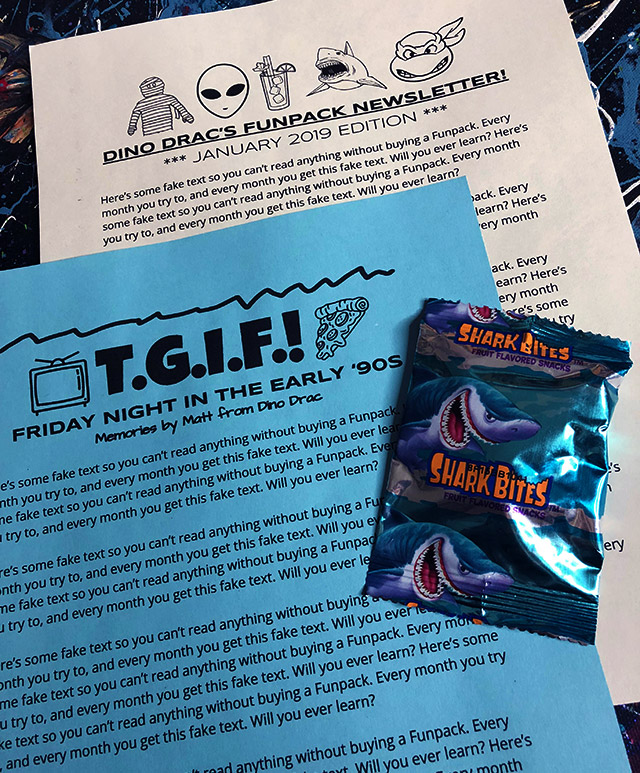 Rounding things out, you'll also receive this month's Dino Drac Funpack Newsletter, plus an exclusive essay that will never be reprinted on the site.
This month's essay reexamines my Friday nights during the early '90s, and how they were lonely-but-blessed events marked by microwave pizza and Uncle Jesse. If you're near my age, you're gonna relate to it.
Oh, and I'll also toss in a fresh pack of modern day Shark Bites fruit snacks, just for fun!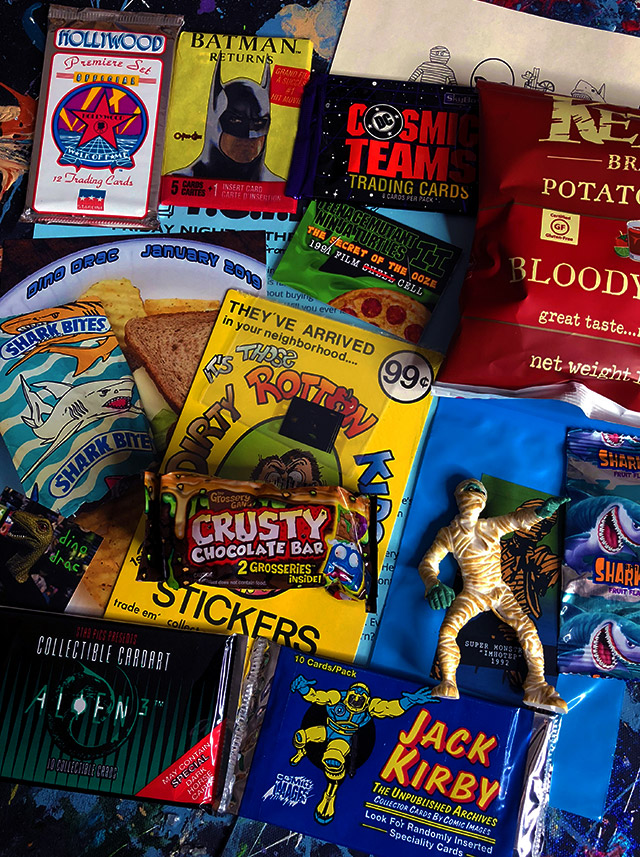 Yep, you'll get EVERYTHING above for $25 shipped!
If you're already a Funpack subscriber and you'd like to stay that way… do nothing! You're all set!
If you want to subscribe, please read the following, and then click the button at the bottom of this page!
1. Funpacks are available in the United States only. Sorry!
2. Subscriptions are handled via Paypal. If you don't have an account, it's very easy to make one!
3. Funpacks will be shipped to the address listed on your Paypal account. If you need to change your shipping address, or if you'd like for your Funpacks to be shipped to someone else, simply email me!
4. You will be automatically billed $25 every month. (Yes, that price includes shipping.) If you subscribe today, you'll pay today, and then again in exactly one month. For as long as you remain subscribed, you'll keep getting Funpacks!
5. You can cancel at anytime. (You could subscribe today and cancel today!) If you cancel after you've already been charged for the following month's Funpack, you'll of course receive it just the same as any current subscriber would. (You can cancel via Paypal, or by emailing me.)
6. The January 2019 Funpacks will ship on or before Tuesday 1/22.
Remember, the Funpacks allow me to keep doing the site… thanks so much to all who help to keep it/me going!
To get your subscription started, click the button below!
SOLD OUT!