Okay guys, I'm ready to drop Dino Drac's March Funpack! It's a hot one, too!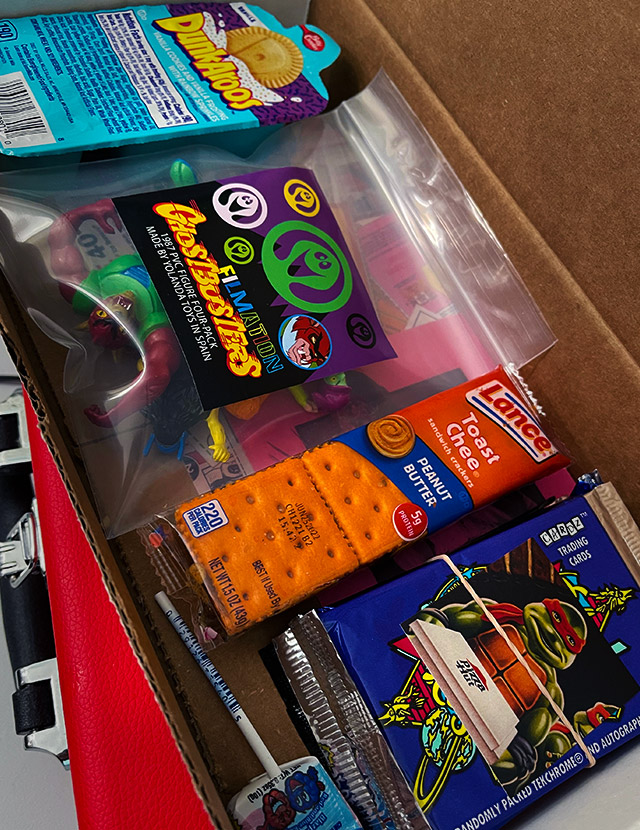 LIMITED SUPPLY! UNITED STATES ONLY!
Served up in a loooong box, the March 2022 Funpack is loaded with everything from ancient action figures to swank art to a whole ass package of Dunkaroos! I'm very happy with how this one turned out!
Ongoing subscriptions are currently maxed out, but if you want to buy just this one, I have a limited number that I can sell on an individual basis. Scroll to the bottom to order one, or keep reading to learn about everything in this month's box!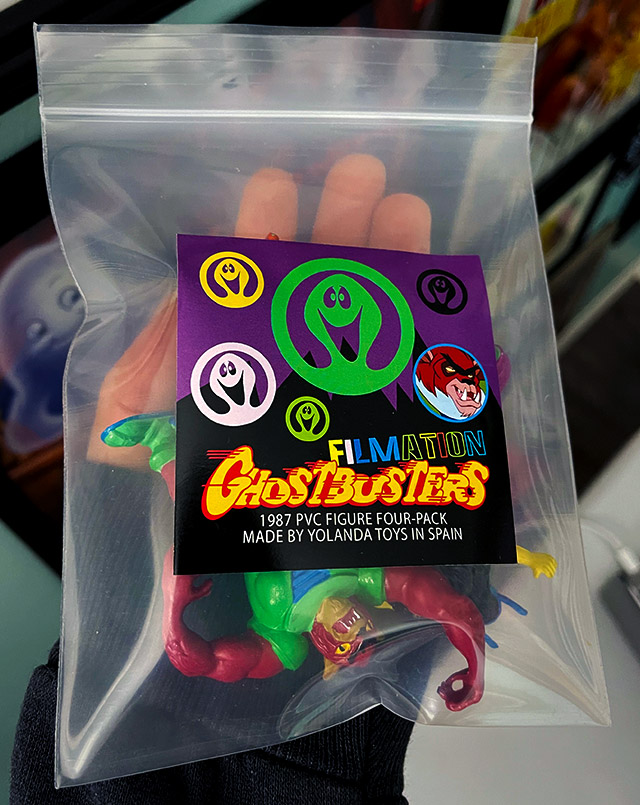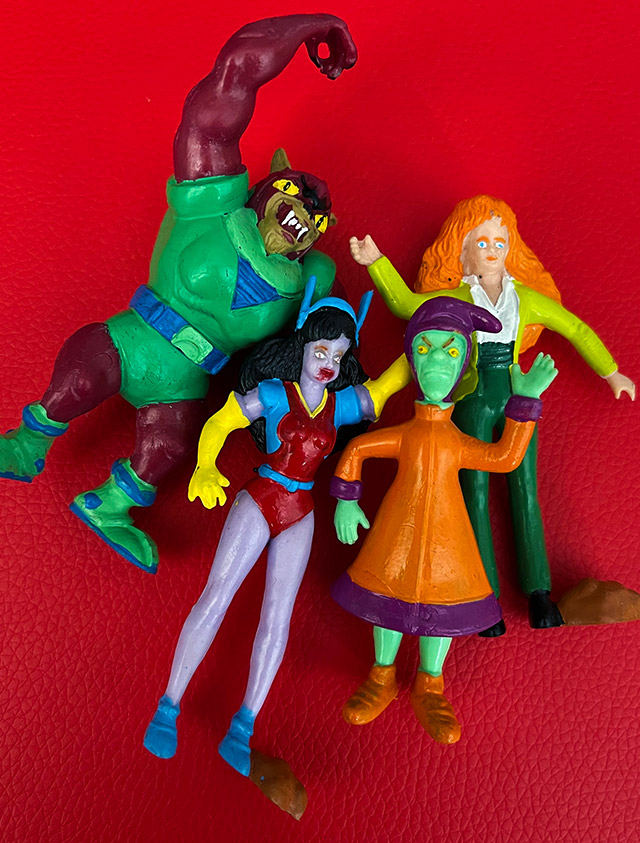 Oh yes, it's time for another four-pack of vintage Filmation Ghostbusters figures, made by Yolanda way back in 1987. The previous quartet that I included a few months ago was a big hit, and this time you're getting four completely different figures!
These crude-but-licensed PVC figures were never available in the States, to my knowledge. In fact, I imported these from halfway across the planet! Nestled snugly in a custom Dino Drac baggie, you'll get ALL FOUR of the figures shown, including the heroic Jessica Wray and Futura, and the dastardly Fangster and Fib-Face!
These are so cool, and I know you're gonna love 'em. Almost eight years deep into doing these Funpacks, and I'm proud to still be sending ya some legit vintage collectibles.
Please expect some paint and storage wear – these are EXTREMELY old figures, after all. Some of them aren't experts at standing, but you can probably coax them to do so with a little elbow grease. Enjoy the lovely ladies and vile villains!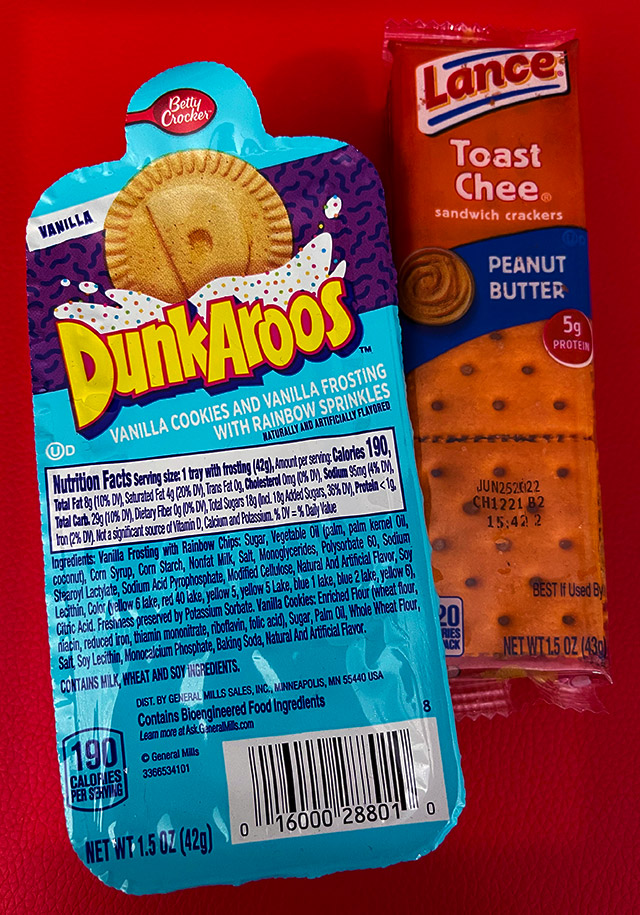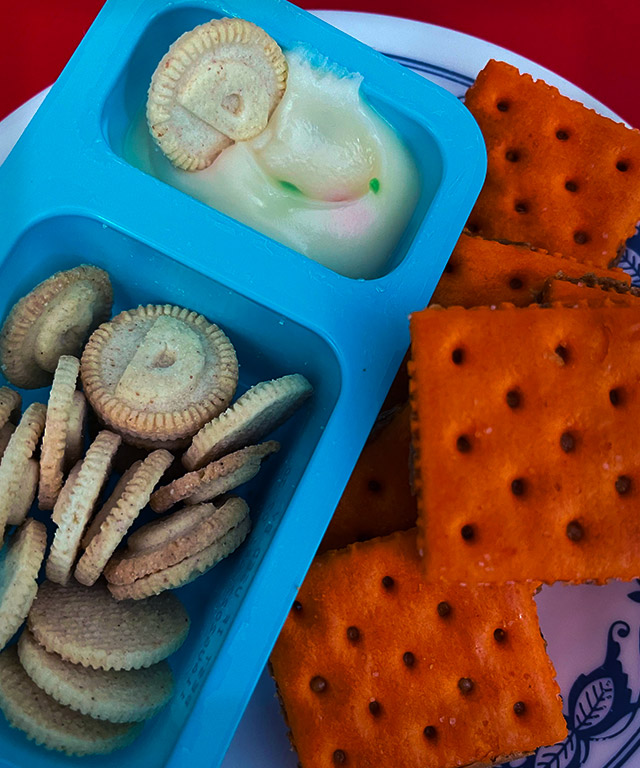 Next up is this generous pile of snacks, including a full-sized sealed package of the resurgent Dunkaroos! I've been trying to work those into the Funpacks ever since they returned!
I know some people gripe about missing kangaroos and changed flavors, but I dunno, they still taste great to me, and there's something so charming about eating teensy tiny cookies out of a spacey blue snack tray.
I'll also include a six-pack of Lance's Toast Chee Crackers, where peanut butter is (very messily) sandwiched between the most impossibly orange cheese crackers ever. There's no way to eat them without getting peanut butter all over your face, but it's so worth it!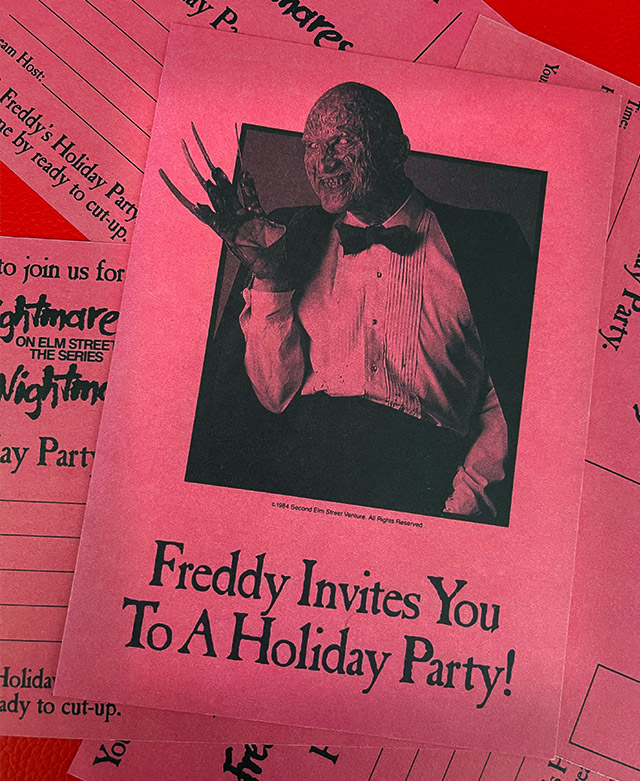 Next we have this stunning reproduction of a Freddy Krueger Holiday Party Invite, and yeah, I guess I should explain what that is.
To promote Freddy's Nightmares back in 1989, they came up with this cockamamie sweepstakes where a few lucky winners would receive Freddy-themed party kits, including everything from hats to banners to a copy of Elm Street 4 on VHS. And also a few of these pink party invitations, which were postcard-sized and meant to be mailed to your friends.
Naturally, those postcard invites are hella rare today, and almost never pop up for sale. Well, no need to search, because I used mine to create these extremely faithful reproductions. You will receive one of these double-sided postcards, which are pretty much a dead-on match for the originals, right up to the uncoated pink cardstock. Frame it, baby!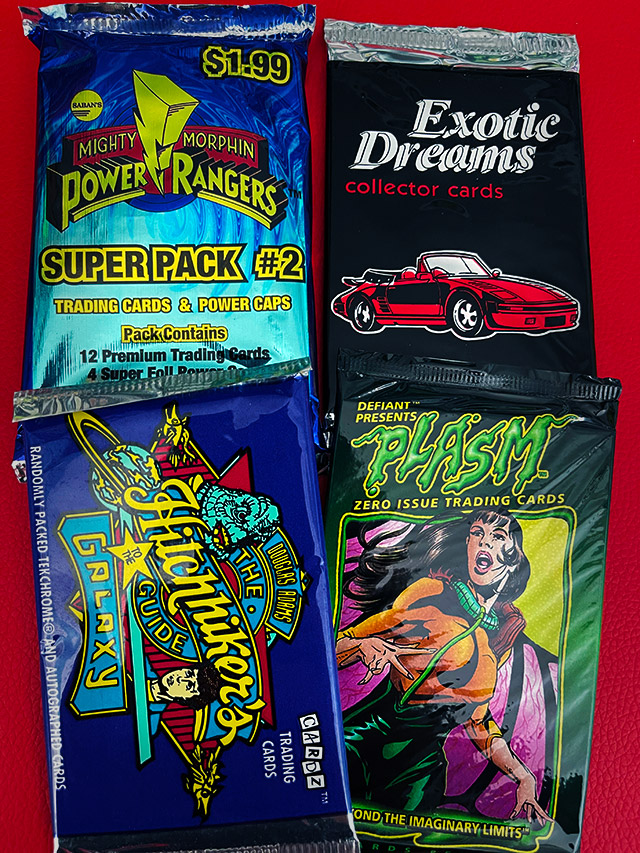 And then there's this meaty stack of vintage trading card packs! I'm thrilled with the assortment, and I hope you will be, too. You'll get ALL FOUR of the packs shown above, including:
– Power Rangers Super Pack! (1994)
– Hitchhikers' Guide to the Galaxy! (1994)
– Plasm! (1993)
– Exotic Dreams! (1992)
Those Power Rangers packs are something special. Each contains 12 cards and 4 Power Caps! The Exotic Dreams cards depict various sports cars, with some chase cards in the mix featuring bikini-clad women standing next to them. So '90s. Have fun tearing 'em all open!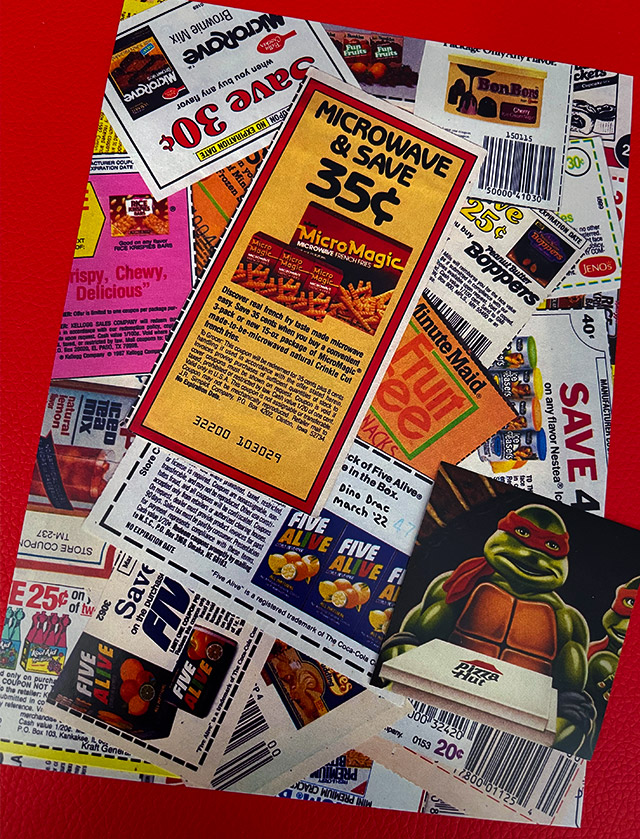 This month's 5×7" cardstock mini-poster is one of my all-time favorites, collaging a metric ton of 1980s grocery coupons! There are so many gems hiding in there, from Micro Magic fries to Minute Maid's Fruit Juicee pops!
You'll also receive this month's exclusive 2×2" sticker, featuring Raph carting around boxes from Pizza Hut. You know you love it.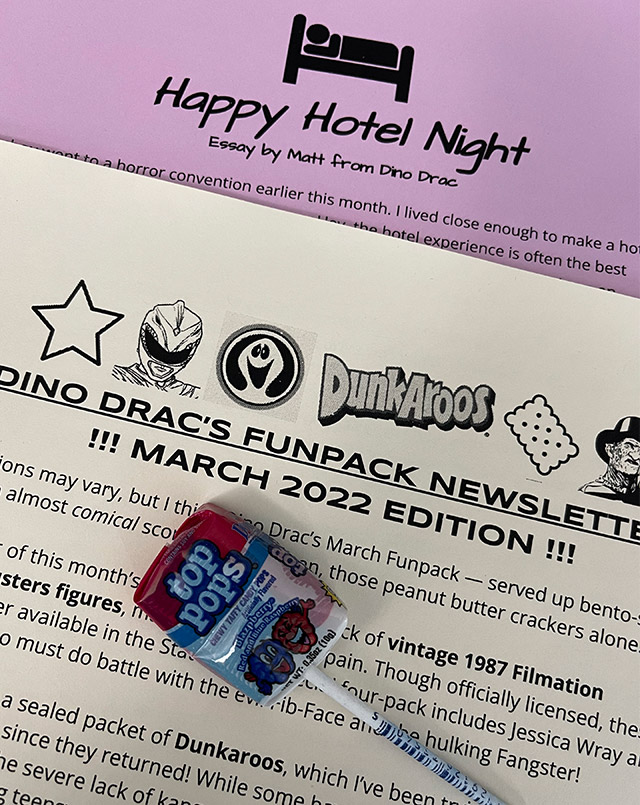 Rounding things out, you'll also get this month's Funpack Newsletter, plus an exclusive essay that will never be reprinted on the site!
This month's essay is about my recent hotel stay during a New Jersey horror con. You'll learn more about the convention on Dino Drac later this week, but the essay is specifically about the hotel experience, and how much I adore it.
(And yeah, I'll probably throw in that random lollipop, but let's call that a bonus just in case I hit any snags on the weight limit. You should receive one, tho!)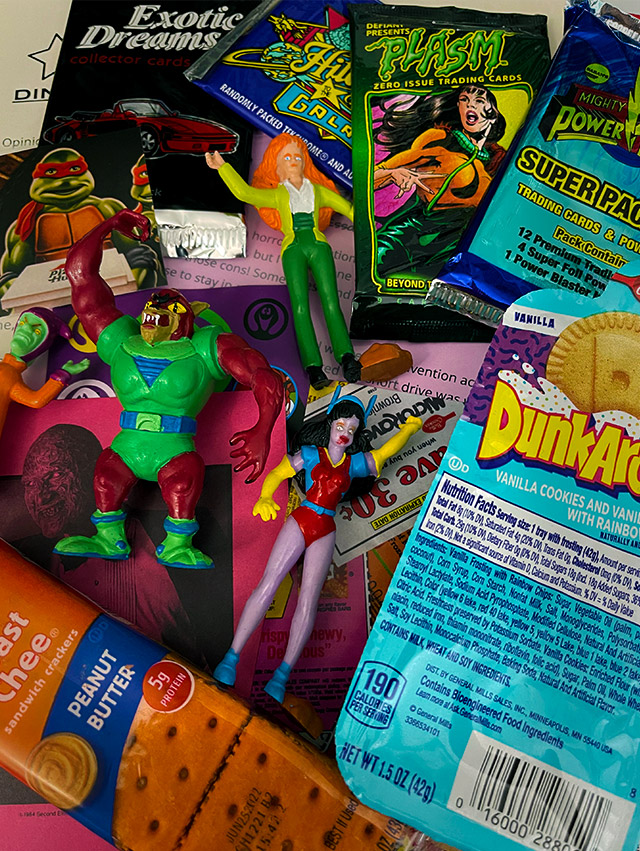 So yep, you'll get everything shown above for $25 shipped!
If you're already a subscriber, do nothing! You're all set!
If you're NOT a subscriber, here's the scoop. I don't have any slots left open for ongoing subscriptions, but I do have a number of extra March Funpacks that I can sell on an individual basis. You can grab one by clicking the button below, while supplies last!
SOLD OUT!