Dino Drac's May Funpack is here, and there's never been one like this before!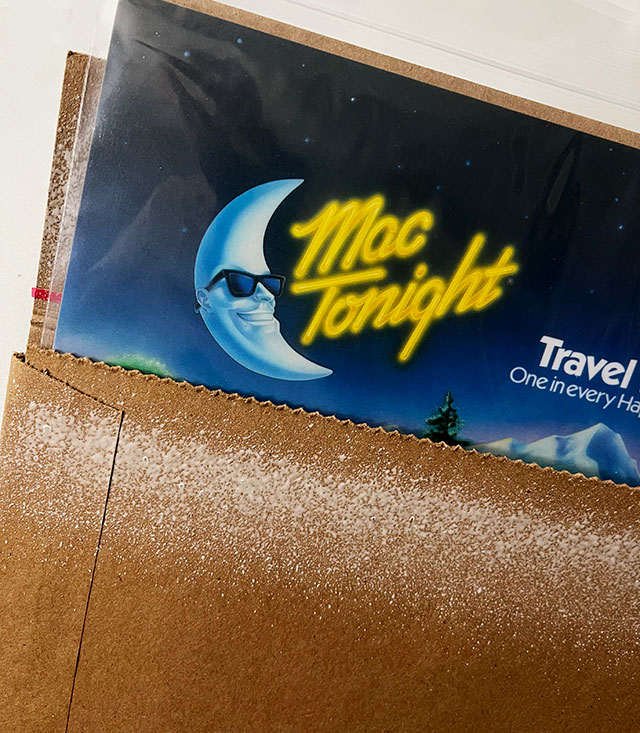 UNITED STATES ONLY! LIMITED QUANTITY!
This is an ALL-ART FUNPACK, with several exquisitely strange pieces stuffed into a gigantic envelope and mailed directly to your door for $25 shipped. I can't wait to show you what's in there!
Subscriptions are currently maxed out, but I have a solid number of spares to sell on a one-time basis. If you're already a subscriber, you're all set. If you want to get *just* this one Funpack, zip to the bottom for info on how to do it!
Otherwise, keep reading to learn about everything in the May 2022 Funpack!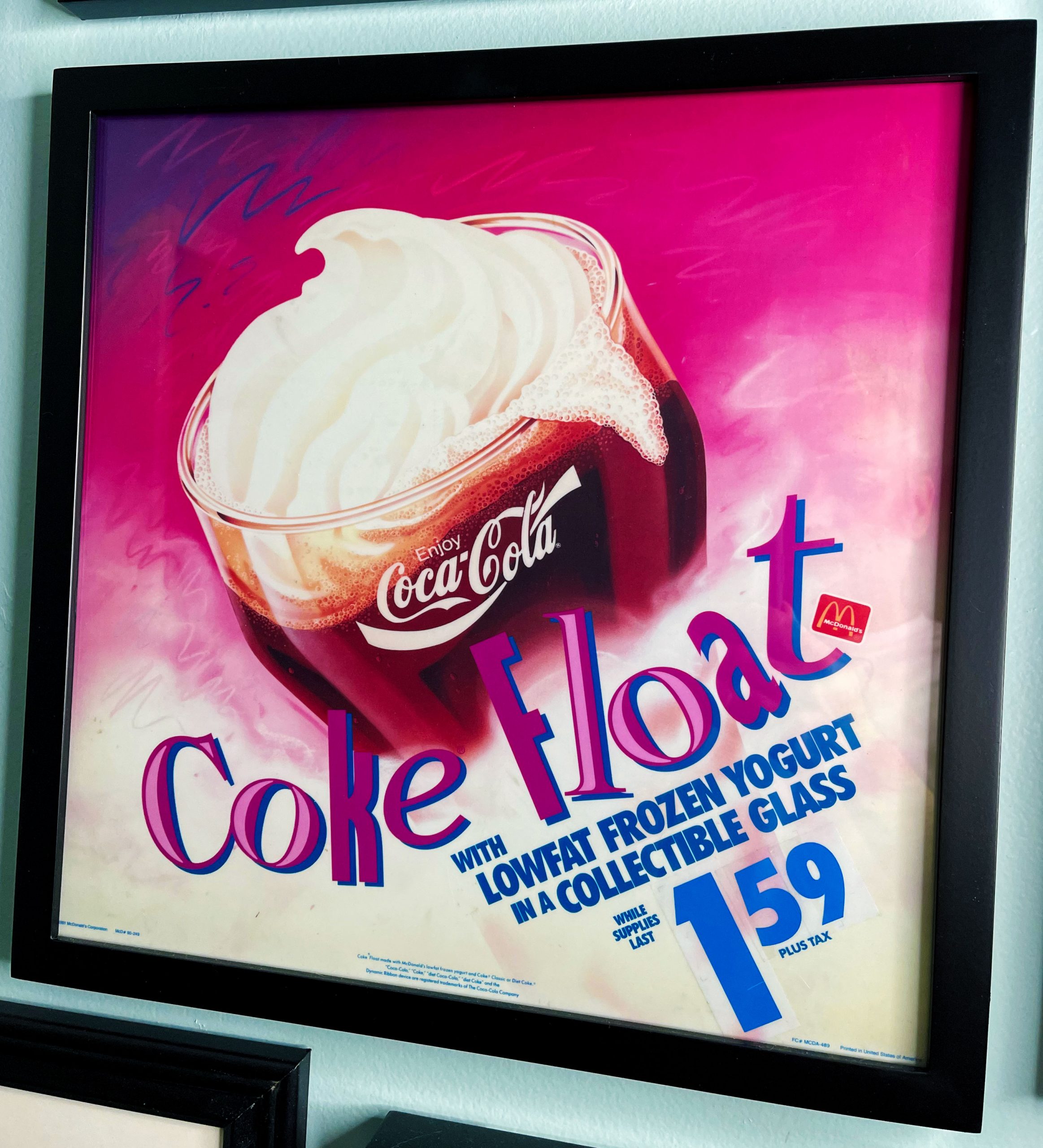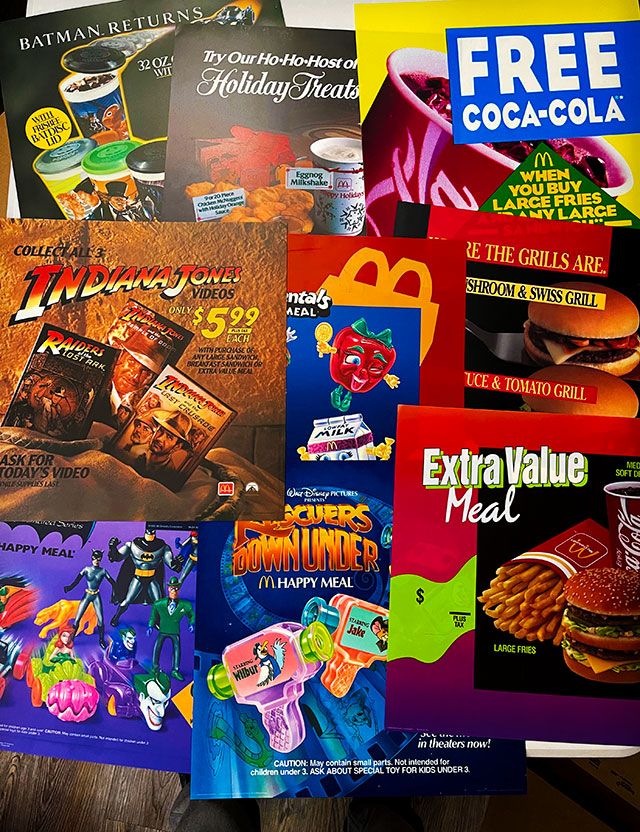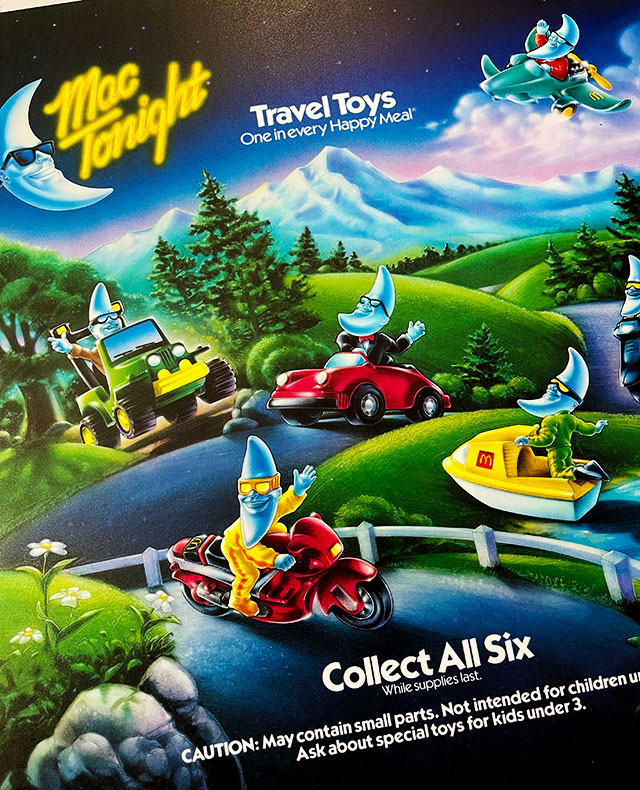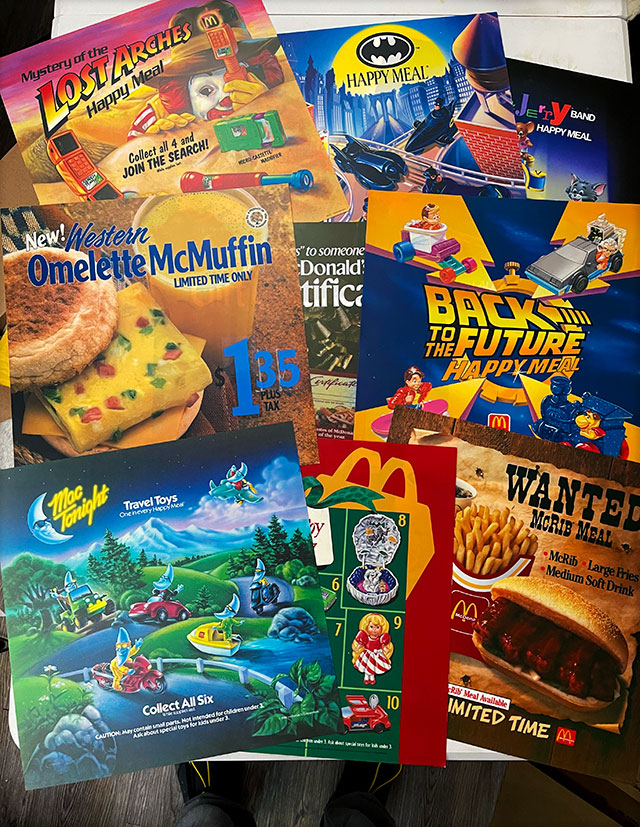 *ONE* VINTAGE MCD'S TRANSLITE PER FUNPACK!
Okay, this one is big time. Many of you know that I've become a pretty serious collector of vintage McDonald's translites, which were the flexible plastic signs that used to hang in McD's restaurants to highlight food promos and Happy Meal toys.
Well, this month, you're each getting one!
Yep, every Funpack includes a genuine vintage McDonald's translite, roughly 14" square. It took a lot of time and effort to make this possible, but it was so worth it. I know you're gonna love these.
There are *a lot* of translites in the mix, covering all sorts of things. I can't make any promises as to which one you'll get, but in my opinion, they're all very cool.
The photos above are just a sampling of the mix of translites I'm working with. While I will warn you that there are no Halloween-related translites in the mix, pretty much every other facet of McDonald's history is covered. Some feature big, beautiful shots of discontinued food items. Others highlight assorted Happy Meals. A few are tied to the holidays. It's quite an assortment!
Most of them are in very nice shape. A few here and there show a little more wear, or a dinged corner. (FWIW, I only let a translite with noticeable wear slip through if it was too good to pass up.)
While it's impossible to say how every subscriber will feel about their randomly-selected translite, I am very confident that these are going to be a hit. (In fact, a solid number of you will be getting quite a deal, as there are plenty of translites in the mix that are arguably worth the entire purchase price of the Funpack on their own!)
These will be mailed FLAT to keep them in good condition! (Yes, the envelopes I'm using are actually large enough for these!)
Remember, there is just ONE translite in every Funpack!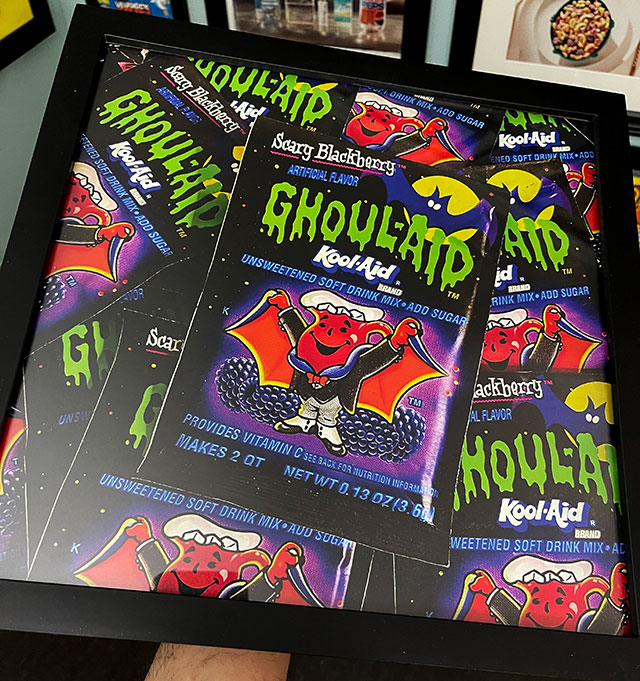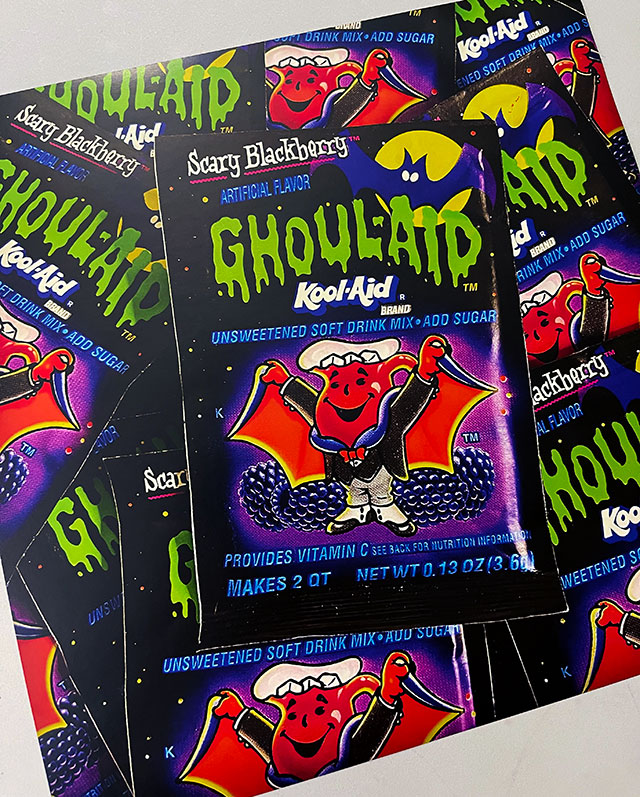 Next up, you'll each receive this custom 12×12" print of my vintage Ghoul-Aid collection, suitable for framing! (And I'm not just saying that. See how good it looks framed in that first photo?)
Long before the Jammers era, Kool-Aid's Ghoul-Aid flavor came in the standard drink mix envelopes. It's one of the best-designed packages in Kool-Aid history, if not THE best. This 12×12" print blows 'em up to giant sizes, and it'll be your way to grab a little Halloween joy no matter if it's October or the dead of May.
These prints will arrive unfolded and unrolled, just as you see them!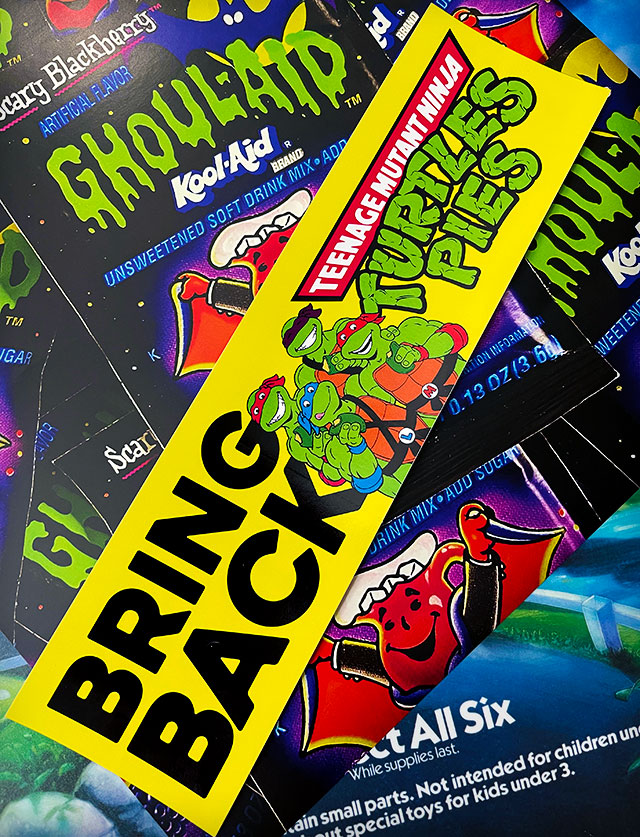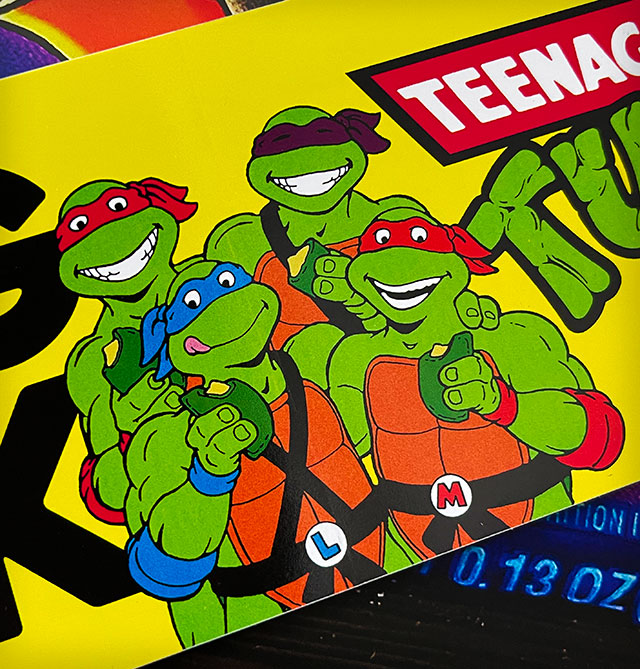 Then there's a full-sized 11.5 x 3" vinyl bumper sticker calling for the return of our beloved Hostess Ninja Turtles Pies! Yessss!
This was designed by my pal Mike – ninjaturtlepies on IG – the world's leading authority on those disgustingly great snacks. Remember: They're mondo delicious, you know that's true… because they're filled with mutagen goo! (That's vanilla puddin' dudes!)
The photos don't do these justice. They're so shiny and super sleek. One in every Funpack, and again, it's being mailed flat, just as you see it!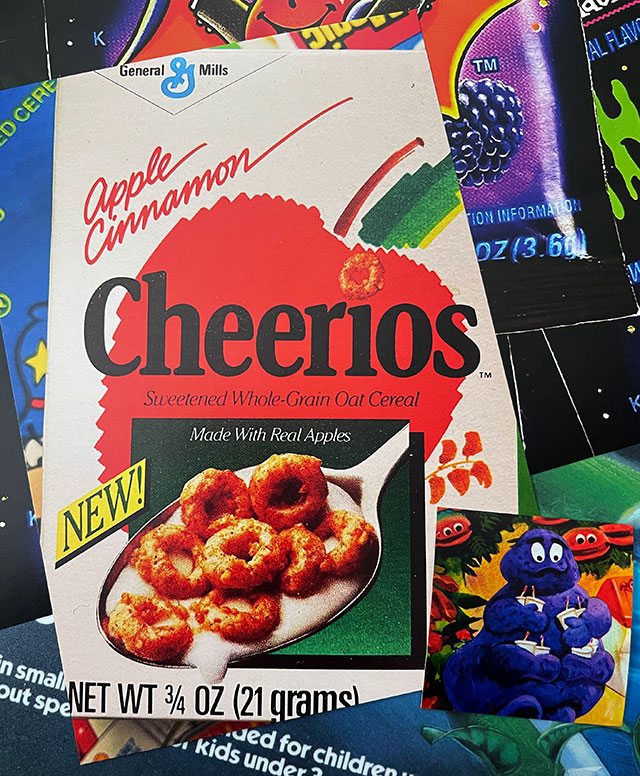 This month's 5×7" cardstock mini-poster features the beloved classic Apple Cinnamon Cheerios box, which despite arriving in the late '80s captures that early '90s aesthetic better than pretty much anything else. Love this one.
You'll also get this month's exclusive 2×2" sticker, featuring Grimace from back when he was evil and had four arms. (Did I never do this sticker before? I feel like I might've. If I did, oh well, you're getting another Grimace.)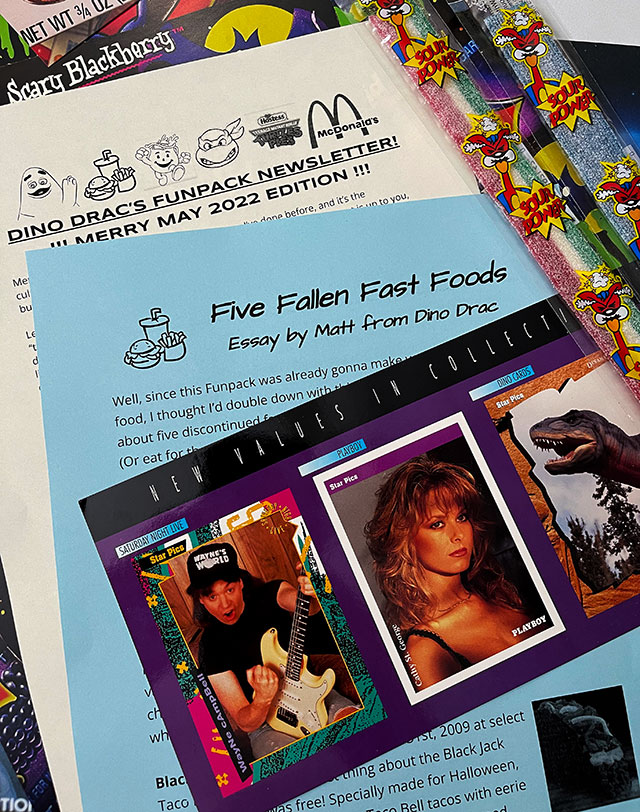 Rounding things out, you'll also receive this month's Funpack Newsletter, plus an exclusive essay that will never be reprinted on the site!
This month's essay details some of my favorite discontinued fast foods, because this is definitely the right Funpack to tackle that topic.
Oh, and I'll also toss in a couple of Sour Power Belts (assorted flavors), and a rare 1992 Star Pics trading card promo sheet, with cards featuring a model, an actress, a dinosaur and Wayne Campbell.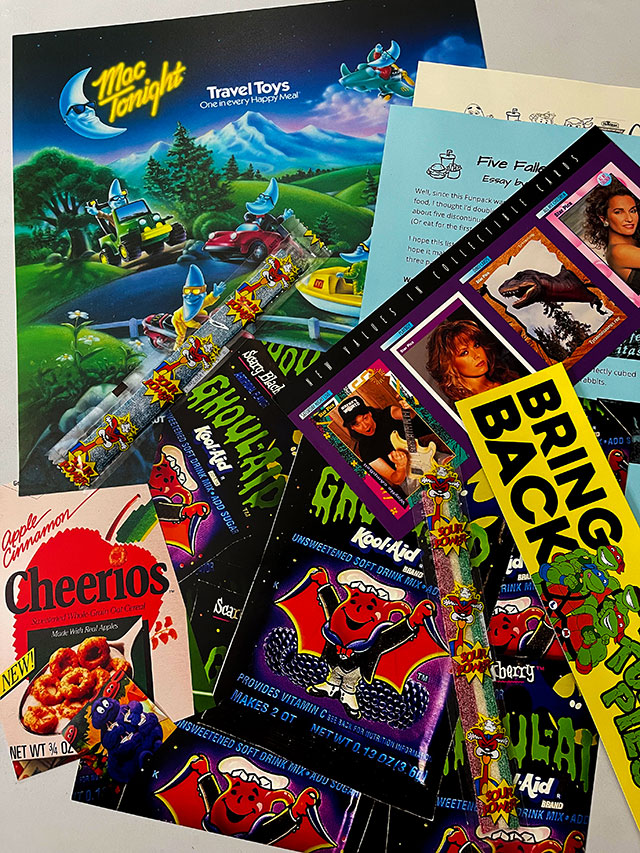 Whew. So you'll get that hot mess carefully bagged and placed in an oversized rigid envelope, for $25 shipped anywhere in the United States.
If you're already a subscriber, you're all set! If not, and you want JUST this Funpack, you can click the button below to purchase one. Limited time, limited quantity!
Thanks a ton! The May 2022 Funpacks will all ship out on or before Monday, May 23rd.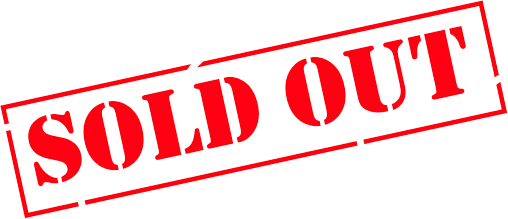 The May 2022 Funpacks are *basically* sold out, but I may have some additional packs I can sell once I do my final counts. To get on the waitlist, email me. (dinosaurdracula at gmail.) I'll get in touch if any are left in a few days!