Welcome to Dino Drac's Daily Halloween Thing — an old school blog-within-a-blog! Updated every day between now and October 31st! Hang out in the comments and make this one of your daily Halloween pitstops.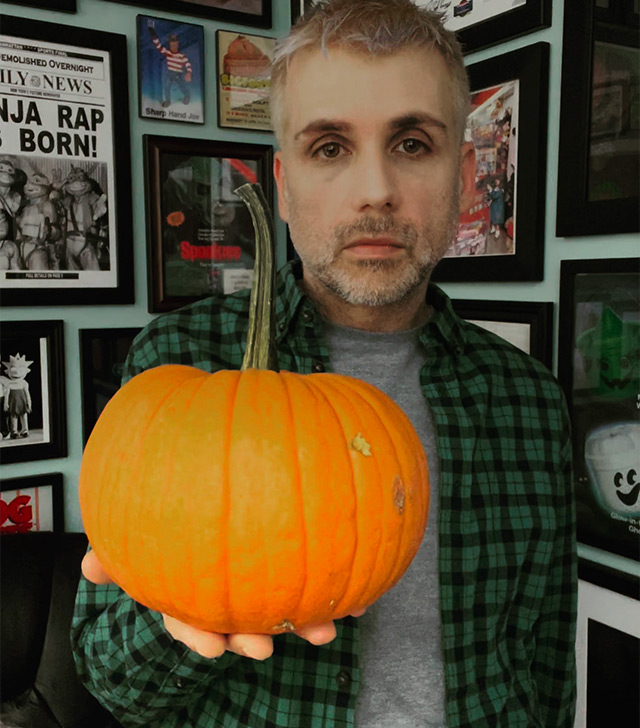 Monday, October 31st:
Happy Halloween, everyone!
Thanks for spending another Halloween season with me. I'm just now realizing that this was the TWENTIETH annual Countdown, which is insane for many reasons, not the least of which being that some of you have been around for all of them!
It's not empty positivity when I say that this was probably the strongest Halloween season in the past 20 years. Frankly, we were overserved! I remember the too-early sightings of things like Frute Brute and Mtn Dew VooDew 4, and how worried I was that frontloading the season would make for a flat October.
How wrong I was! Even after an absolute onslaught of foods, movies and promos, we got hit with the 1-2 punch of major promotions from McDonald's and Burger King. Hell, even Sonic came in under the buzzer with those Ghostbusters spoons.
As for this year's Countdown, I hope you all enjoyed it. I know it was a much different format, and I'm sure that some folks missed the "old way." At this stage of doing this, when I obviously have less years in front of me than behind, it's important to trust my instincts and passions and let them guide me. That's what this year was all about.
Aside from the five videos I created and the several podcasts I cohosted, I felt very fulfilled by Dino Drac's Daily Halloween Thing. I want to thank everyone who continually dropped by, with an extra special thanks to those of you who commented along with it. I can't remember the last time I checked the site's traffic, so it's really the interactions that let me know if anything I'm doing is landing.
What's next? Well, the holiday season, of course! I'm going to take a few days to catch my bearings as these past few months have truly been a whirlwind, but I plan to do a version of this Daily Thing for November & December, too. Stay tuned for word on that, and for more new videos that are already kinda/sorta underway!
For now, though, go grab some peanut butter cups and throw on Dream Warriors. Make what's left of the Halloween season count. You'll miss it when it's over!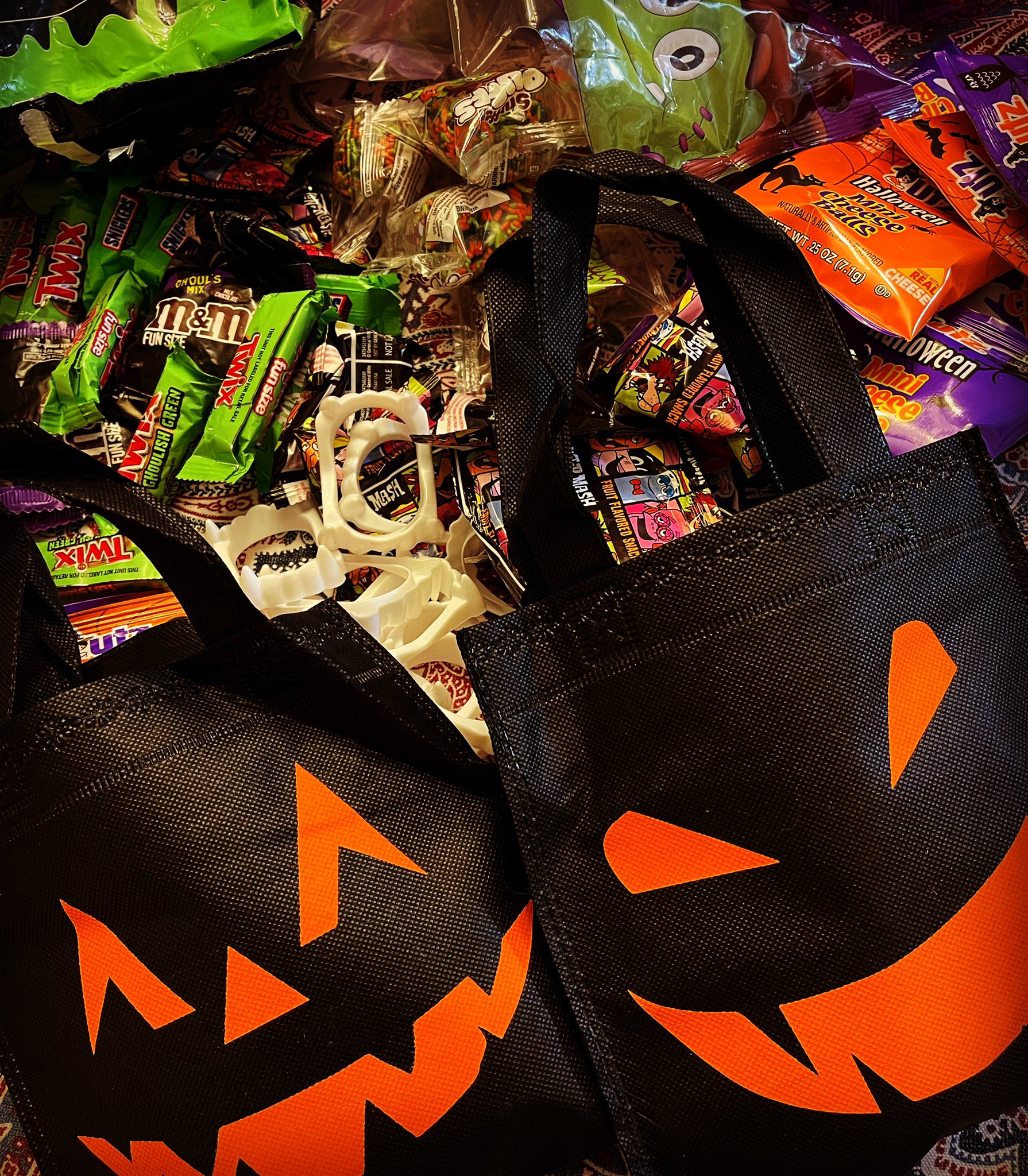 Sunday, October 30th:
I'm spending Devil's Night making goodie bags for tomorrow's trick-or-treaters… assuming we get any, since we're due to get rain and Monday isn't exactly the best day for Halloween to begin with.
This has been an annual tradition for a while now. To this day, I can still remember the exact houses that gave me something extra special back when I was still trick-or-treating. I'd like to think that I'm passing along those same vibes. What kid will forget getting a black pumpkin bag stuffed to the brim with candy? Hell, I even threw in a pair of plastic vampire fangs!
Happy Halloween Eve, all!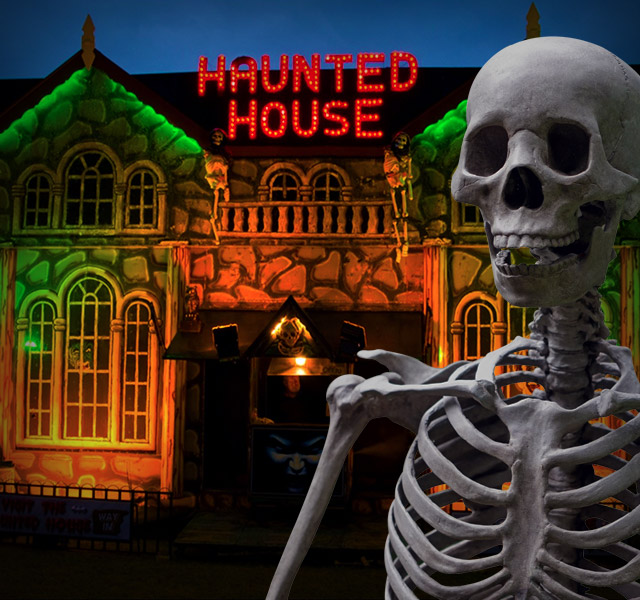 Saturday, October 29th:
Now that 99% of it is in the rearview mirror, I've been reflecting on the 2022 Halloween season. Challenged myself to come up with five personal highlights. They're not wildly exciting, but here we go!
1) Seeing Halloween III on the big screen during its retro run at Alamo Drafthouse. The way I've beamed over that movie was never a bit. I really do love it that much, and getting to experience it in a real theater was such a blast.
2) Getting that Boo Buckets gift box from McDonald's. Shallow, I know, but I've been writing about those things for 20 years now, so it meant a lot to me. Probably the single biggest rush of the season.
3) Meeting up with the peeps behind the WNUF Halloween Sequel after we supplied a podcast for the DVD's special features. (Still tickled that we're in any way associated with that movie – which is a lot of fun, if you haven't seen it yet!)
4) Getting five videos done for Dino Drac, which were all longer than usual, and with a different vibe that felt more "me" – or at least more like the me-of-now. I'm proud of those videos and think some of them will still have value even years after I stop making this stuff.
5) What I'm doing right now! Which is sitting on my couch with a cup of coffee, spooky tunes in the background, and an autumn candle burning nearby. My girl cat (Storm) recently warmed up to Halloween the Cat, at least to the point where she'll stay on the couch with us. We've had plenty of these bonding sessions throughout the season.
It's been a hectic yet low-key kind of season. Overall, I feel good about it. How about you? What were some of your season's highlights?
Friday, October 28th:
Since it came up on the latest Purple Stuff Podcast, here's Hobgoblins, the 1988 horror/comedy that I'm newly obsessed with. Seriously, HOW did I never watch this before?!
Hobgoblins is the story of fairly inanimate fuzzy aliens who run around trying to kill people because… well, just because, I guess. The lines are sketchy, the plot is nonsensical, and the cinematography is on par with your family's old home movies.
It's beautiful!
While Hobgoblins is thematically closest to films like Gremlins, Ghoulies and Critters, the vibe is much more in line with Troll 2. I completely fell in love with it, and I hope you will too.
PHYSICAL CHALLENGE: This will be the final physical challenge of the season! Between now and the end of Sunday, watch an ANIMATED Halloween special, show or movie. Could be a classic, or could be something new. (CG, stop-motion and whatever the hell else counts, too.)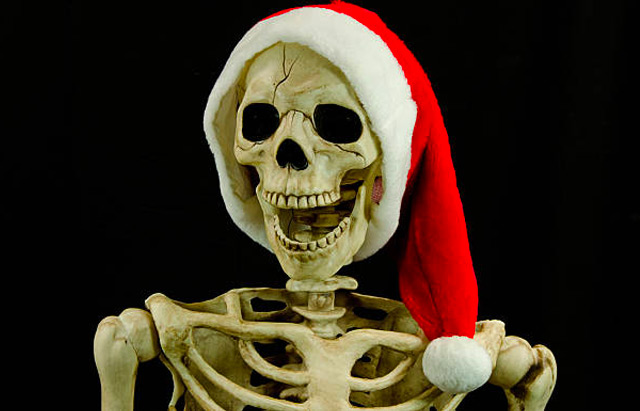 Thursday, October 27th:
One of my dark secrets throughout these many years of doing the Halloween Countdown is that at some point in October, my brain usually tiptoes towards Thanksgiving and Christmas.
I've gotten much better about it in recent times, if only because opening that door early just ends up hurting both the Halloween and holiday seasons – robbing Halloween of its rightful finale, and robbing November of its rightful blank slate.
No shade if you're already stringing up the lights, by the way. Celebrate however feels right for you! BUT, if you are starting to get a little antsy, might I suggest splitting the difference and working a holiday-themed horror movie into the mix for this final week?
From Christmas Evil to Nightmare Before Christmas to that one where Bill Goldberg plays a killer Santa or whatever, there are plenty to choose from. It's a neat way to bridge the seasons without trampling on either of them. Just a thought!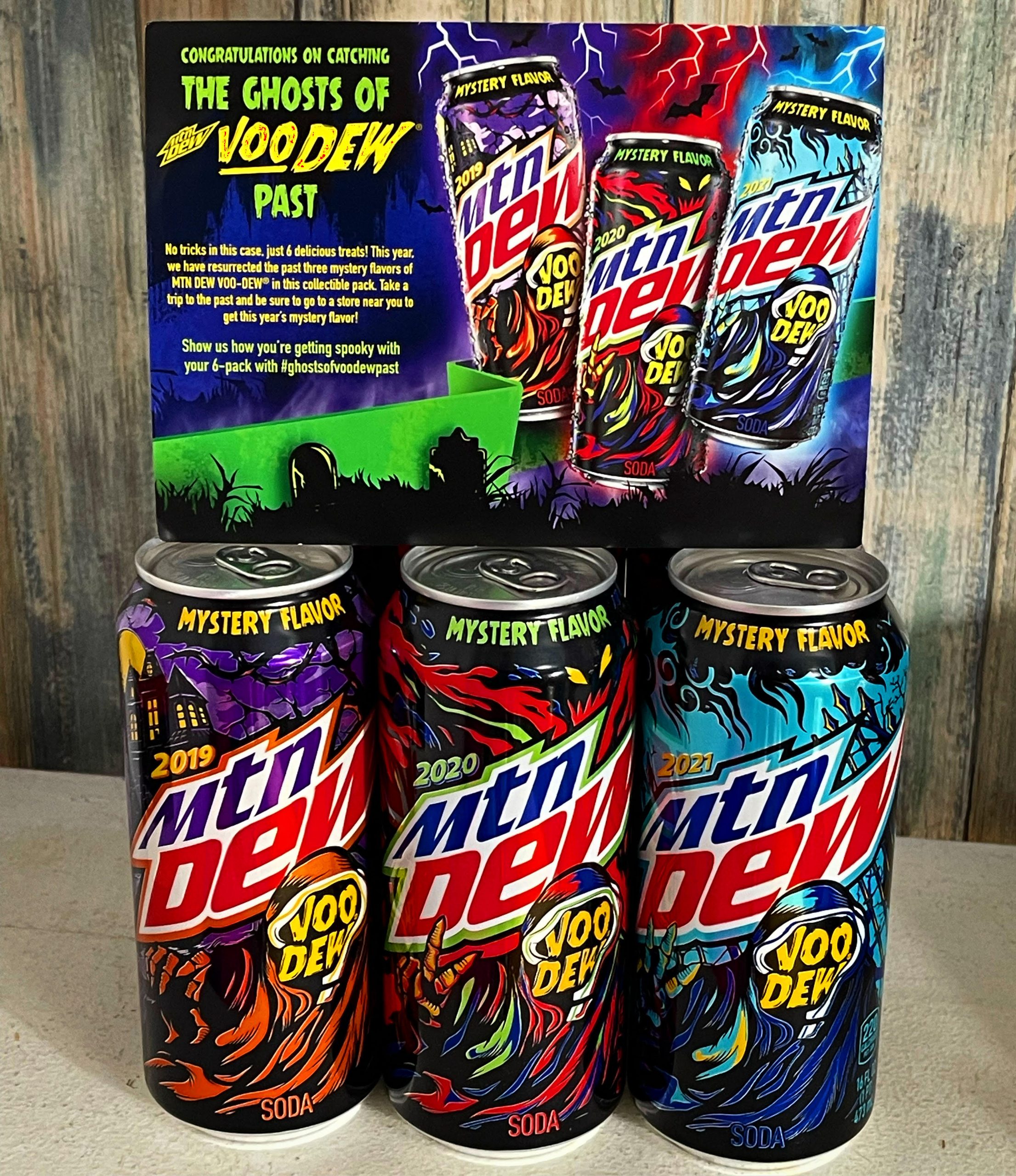 Wednesday, October 26th:
I ordered one of those Ghosts of VooDew Past six-packs from the Mtn Dew store, to the shock of no one. I don't know why they waited until late October to release a mail-order item, but to their credit, they got that stuff here hella fast.
I'm fascinated by the strangeness of it all. The six-pack features the three prior VooDew mystery flavors from 2019, 2020 and 2021. With a six-pack, you'd expect you'd get two of each, right? Wrong!
For whatever reason, the six-packs include two cans from 2019, three cans from 2020 and one can from 2021. There's no logical explanation for that! Stronger minds than mine were bent trying to solve far easier riddles.
The cans are packaged well, but don't have any special box. Honestly, I would've preferred one of each can in a cool box, but for $20 shipped, I can't complain. There was no reason to ever expect that we'd have a chance to taste the older VooDew flavors again, so this is definitely one for the win column!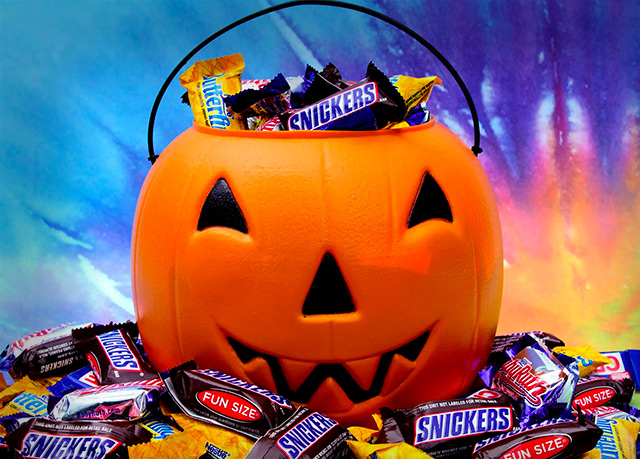 Tuesday, October 25th:
We're at that point in the season where you think about all of the Halloweeny stuff you're gonna wanna stock up on for the rest of the year.
Conventional wisdom says you should wait until after Halloween for the big sales, but that's a crapshoot. You'll probably score some bargains, but I doubt they'll be for the exact items you're looking for.
With most stores already halfway onto Christmas, the time is NOW if there are spooky things you're gonna need in, say, March or April. I'm talking about autumn candles, Count Chocula cereal, pumpkin spice coffee, or whatever branded doodad you've been putting off buying from Spirit Halloween.
Just something to keep in mind! This has been a public service announcement from Dinosaur Dracula.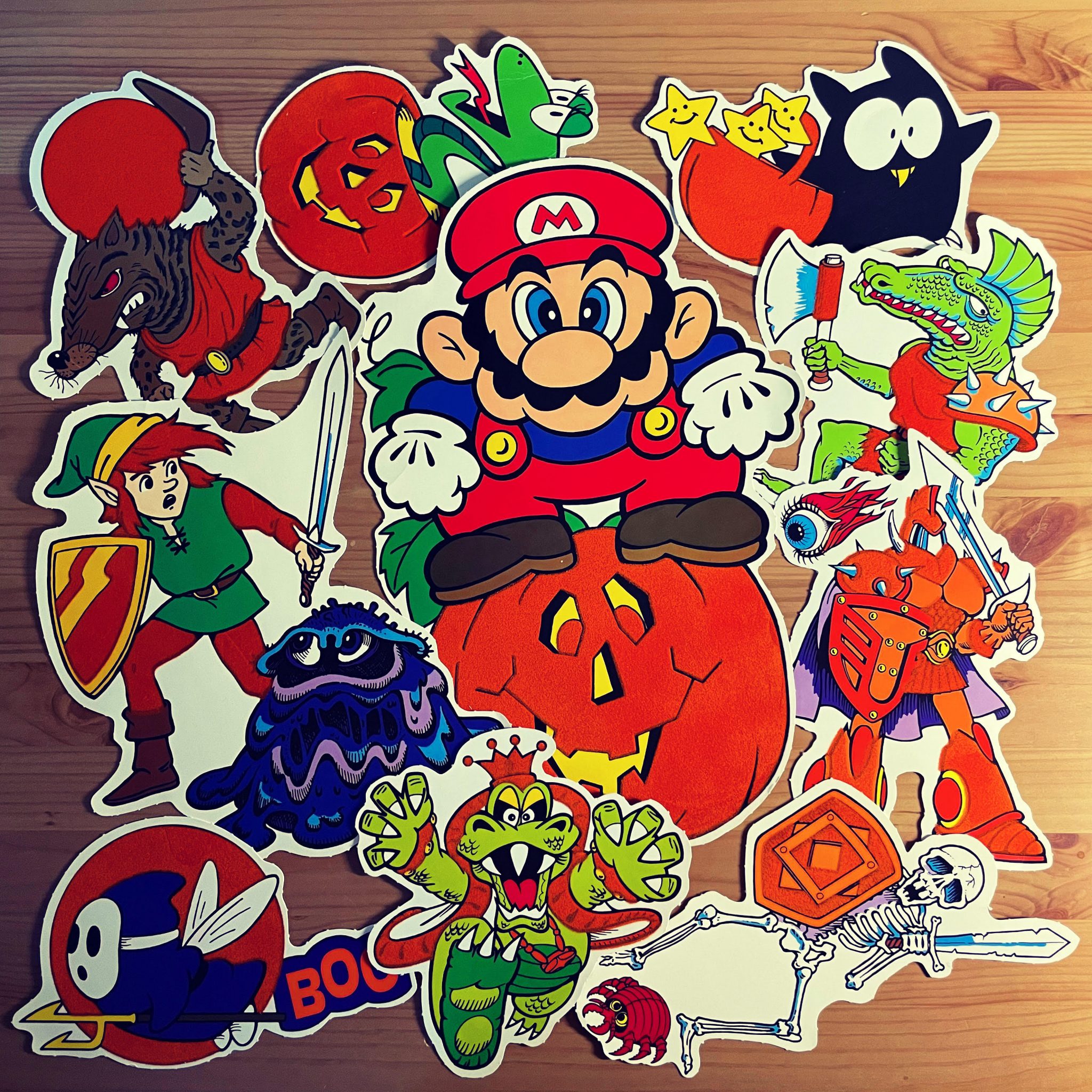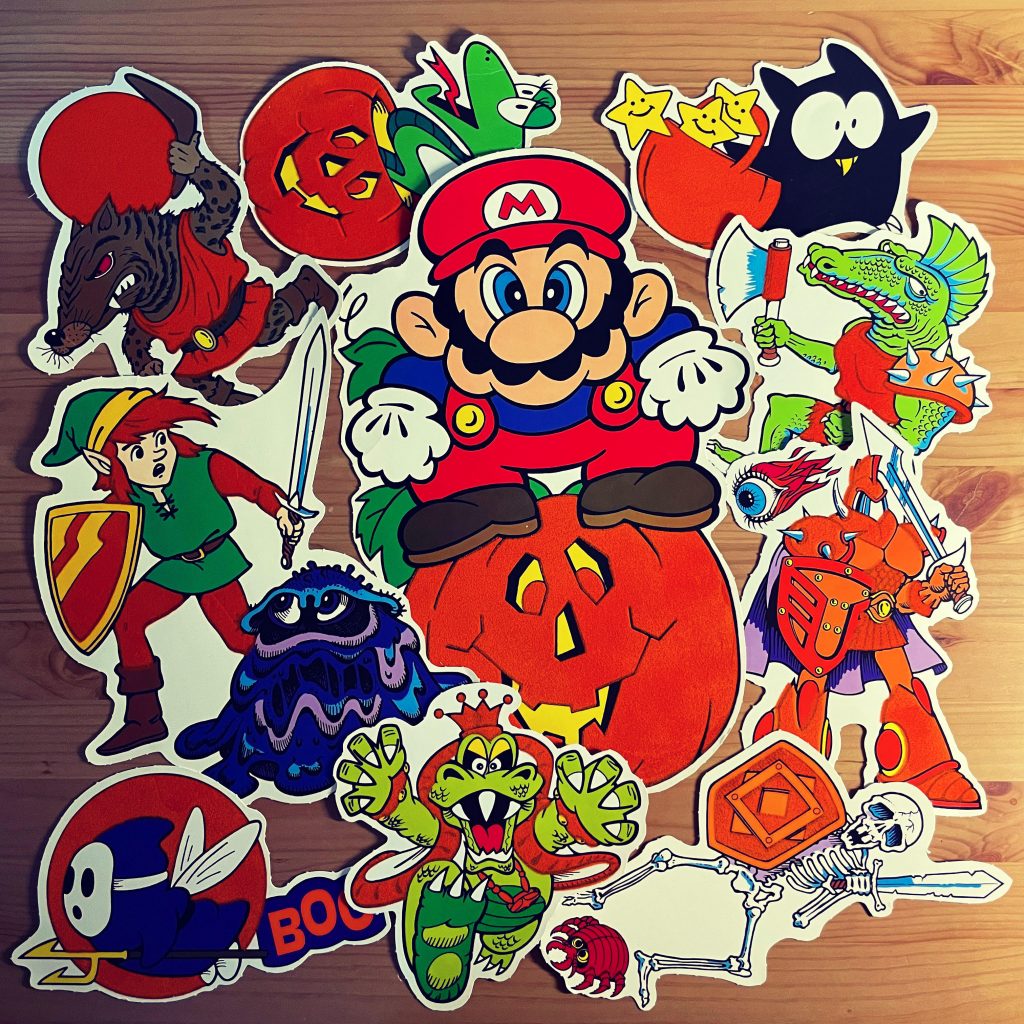 Monday, October 24th:
My friend Mike sent me this photo, and I just had to share it. He's managed to hold onto these Nintendo Halloween decorations since the late '80s, and I can't get over how great they are.
Bright colors and cool art aside, I'm loving that they're specifically tied to SMB 2 and Zelda II. Those sequels had far less merch than their predecessors, despite being full of great character designs that were begging to be exploited.
These decorations aren't cheap, but the eBay prices do seem arguably manageable. If you can't live without a die-cut Stalfos, have at it.
While I'm here, a confession. Remember those random towns from Zelda II, where you'd basically just "talk" to people? I used to spend hours doing that. I'd pretend Link was visiting faraway cities for kicks. Me and him had fun back then.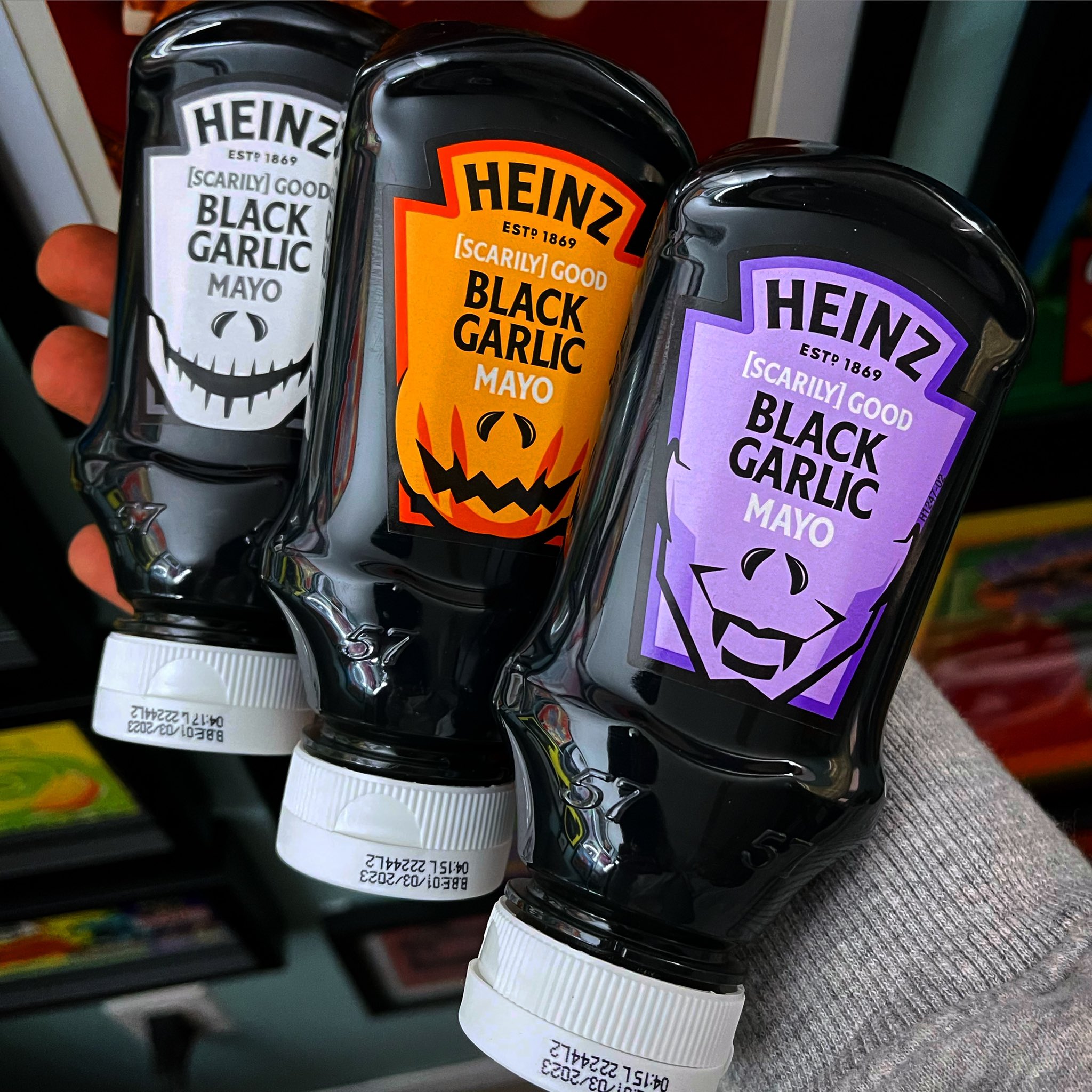 Sunday, October 23rd:
Did a junk food trade with my friend to get a set of the UK-exclusive bottles of Heinz Black Garlic Mayo. Yes, that's a thing that exists.
Don't bother asking me what it tastes like. I don't do mayo, and even if I did, I'd never open these HIGHLY COLLECTIBLE bottles of spooky black mayo. They are for display only! I am disturbed!
In other news, I did manage to get that video shot, and looking at the calendar, it'll probably be my last one for the season. It's a solid subject, so I think I'll be going out on a high note. We'll also be working on the regular and bonus episodes of the podcast between now and the 31st, so it's gonna be a busy freakin' week.
I plan to enjoy every drop of this season, but I can't lie: Those first few days of November nothingness are looking awfully appealing right about now!