The wait is over! It's time to unveil Dino Drac's Spooky September Funpack – the second of three Halloween-themed Funpacks for the 2022 season!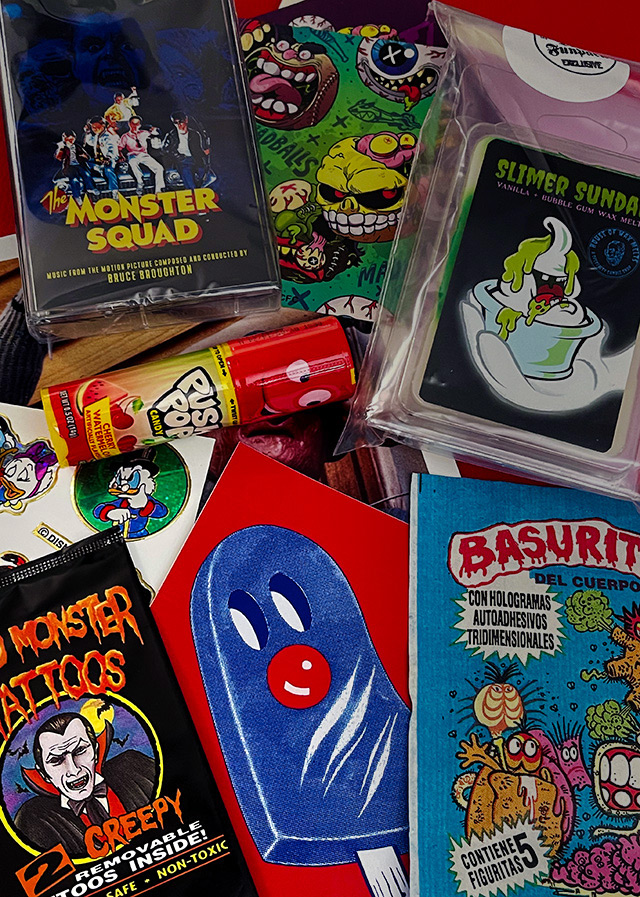 $25 SHIPPED ANYWHERE IN THE UNITED STATES!
Subscriptions are currently closed, but I have a fair number of spares that I can sell on an individual basis. The September Funpacks usually sell out quickly, so if you're interested, rush to the bottom of this post to see if there are any left!
Now let's talk about this month's box! It's a banger, IMO, with two key items sharing top billing that arguably cover the purchase price all on their own. And then there's still a pile of goodies beyond them! Let's dive in…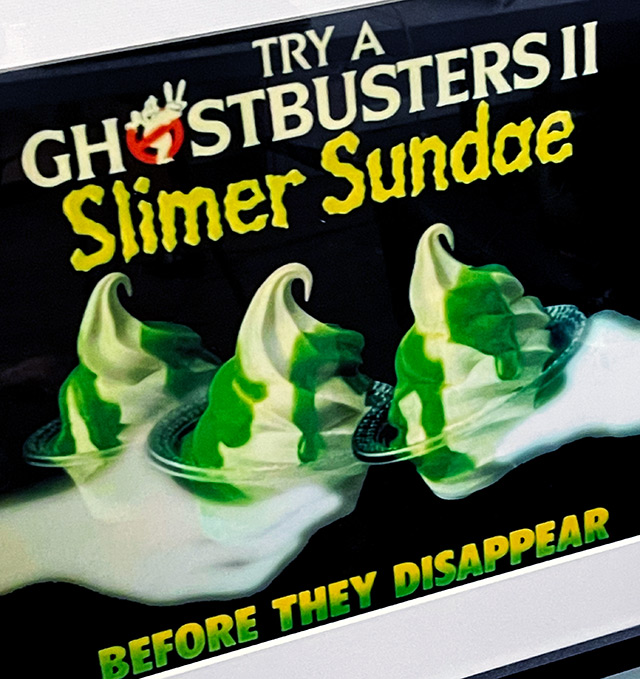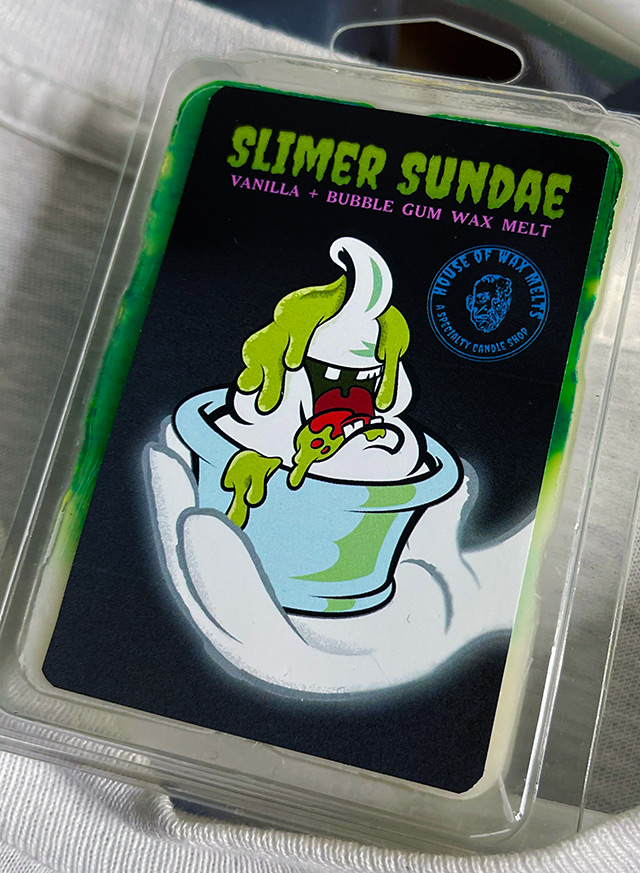 Oh yes, this is really happening. Everyone on the list will receive a SLIMER SUNDAE WAX MELT, courtesy of the magicians at House of Wax Melts!
Longtime subscribers know that I'm a huge fan of House of Wax Melts – so much so that I've included their stuff in several past Funpacks. Well, to make this Halloween season extra special, I worked with them to create an ALL-NEW, never-before-released scent based on the legendary SLIMER SUNDAE!
What's that, you ask? Back in 1989, Hardee's added the SLIMER SUNDAE to their menu to help promote Ghostbusters 2. This consisted of vanilla ice cream with a generous dose of bubble gum-flavored "slime" syrup. House of Wax Melts managed to perfectly capture the spirit of that fallen treat. These melts smell like the perfect blend of vanilla ice cream and bubble gum!
They're even the right colors, and the white and green parts blend together beautifully when heated – just like a melting Slimer Sundae! Plus, each package is topped with a slick & slimy vinyl sticker! I'm so proud to have had some small part in the creation of these, and I know you're gonna love 'em… even if you never actually melt the wax!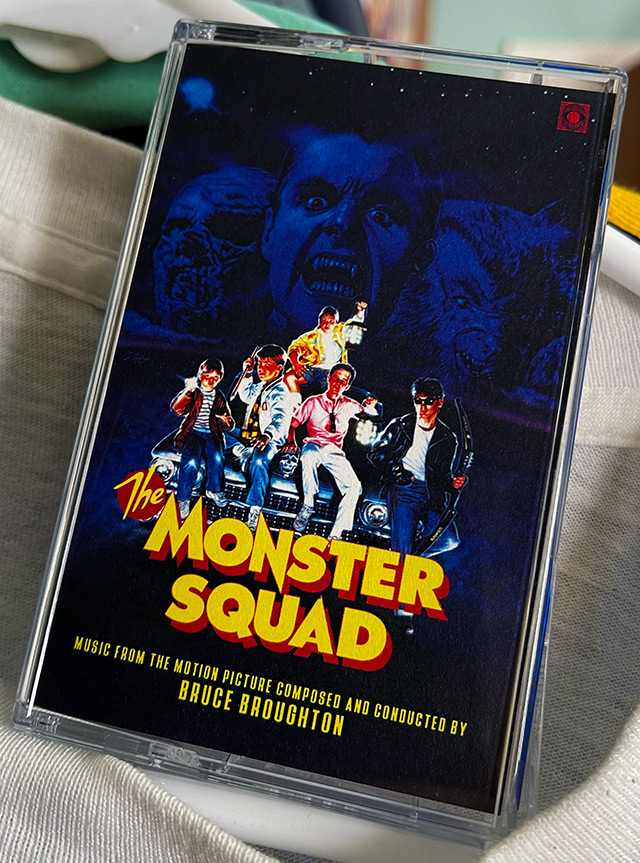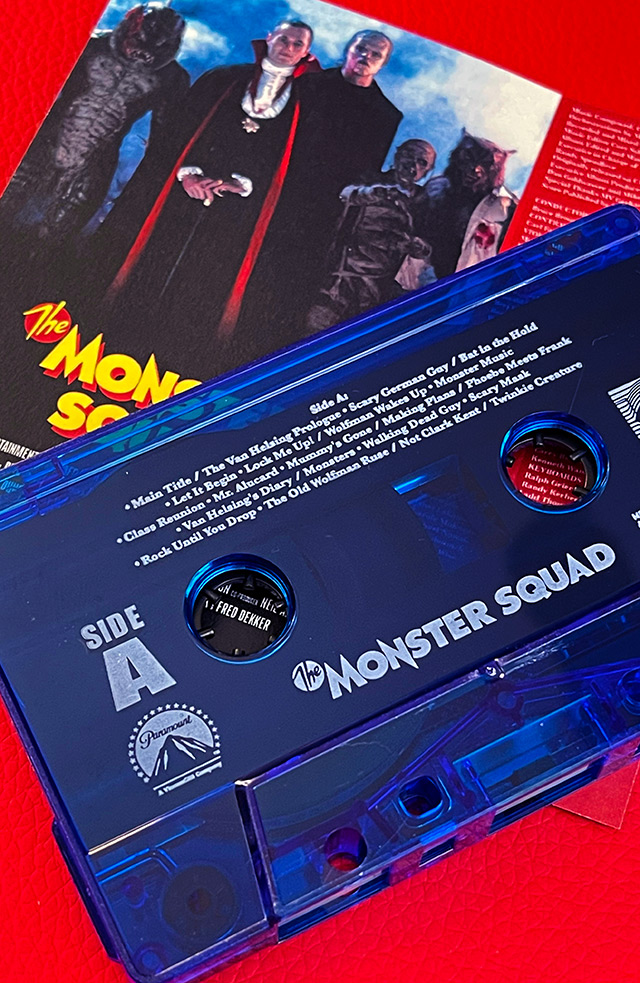 And then we have THIS beautiful thang. From the ever-amazing wizards at Terror-Vision Records, you'll each get a sealed copy of THE MONSTER SQUAD score on audiocassette, factory sealed and officially licensed!
Terror-Vision is such a great company, and I'm honored to be working with them again. These aren't "gag" tapes — they're real deal soundtracks that will play in a cassette deck, if you still own one! Course, many of you will just use the tape to pretty up a shelf, and that's fine too, because it's a BEAUT. Look at that artwork!
Bonus points: The actual cassettes were forged in a cool blue color that Terror-Vision has never used for The Monster Squad before. So, if you're on this month's list, it's currently the only way to get this precise version of the soundtrack! Yessss!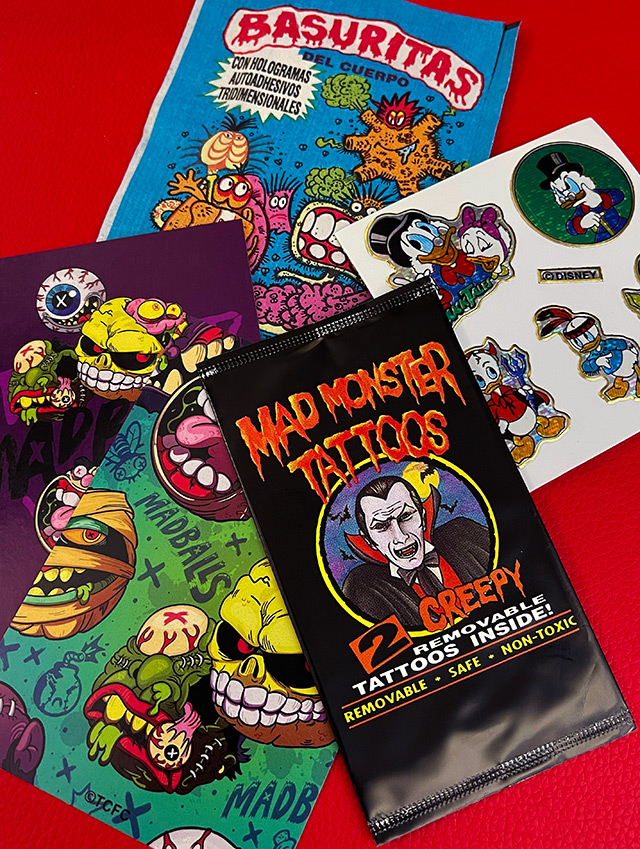 I could arguably get away with stopping there, but nah, let's keep going. You'll ALSO receive this glorious pile of spooky-themed stuff. Most of it is pretty damn RARE, too. The pile includes:
1) A vintage '90s pack of MAD MONSTER TATTOOS. These are *very* hard to find, and I believe come from Australia. Each pack contains two cool temporary monster tattoos. If you end up opening yours, be careful with the wrapper… you won't wanna rip the front!
IMPORTANT NOTE: All current subscribers will receive the Mad Monster Tattoos. Some folks who buy the spares may receive a substitute item (or a duplicate of a different item from this photo) if I run out of stock. If you're buying one of the spares, keep that in mind!
2) A vintage sheet of DuckTales stickers, plucked (hey now) from a 1990s vending machine. If you look close at these foil stickers, you'll notice that they're Halloween-themed!
3) A *very* vintage pack of Basuritas del Cuerpo stickers, or maybe just they're pieces of paper that look like stickers? I dunno, but they're rare! These were only available in Argentina and were meant to go in a sticker album. The characters in this set were based on germs or viruses or something.
4) A pair of Madballs vending machine stickers from 2017, and I'll do my best to ensure that you get two different ones. These are the sorts of stickers you would expect to spend a dollar on if you could even find a vending machine that still carried them.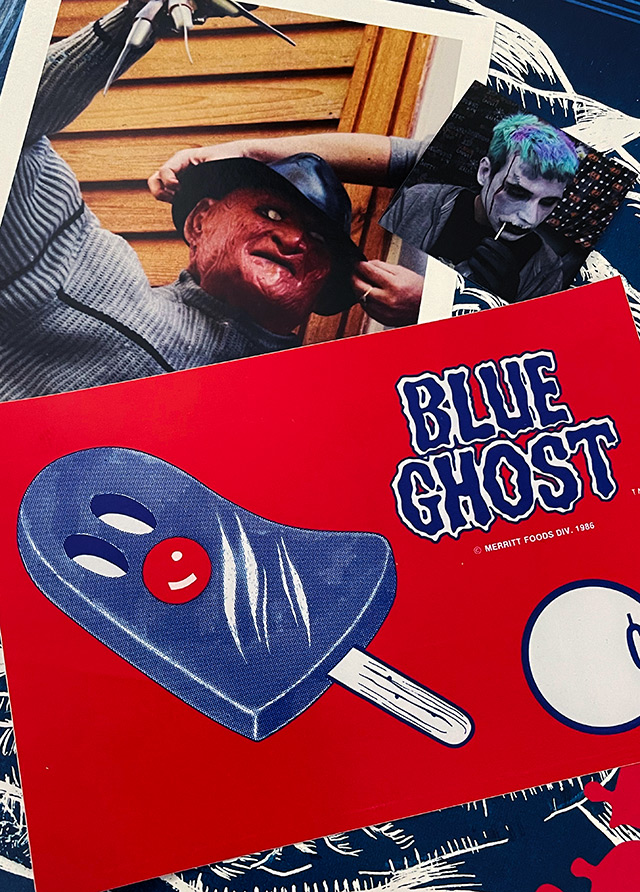 The hits keep on coming! MORE SPOOKY STUFF FOR YOU, including:
1) A *reproduction* of the classic Blue Ghost ice cream truck sticker, which, yes, absolutely was a real thing. I made this vinyl sticker using the original from my collection, and it's pretty stunning. It isn't quite as big as the OG sticker, but at 6.5×4.5", it's still LARGE!
2) This month's exclusive 5×7" cardstock mini-poster, featuring an unseen person hanging up their Freddy Krueger decoration in the 1980s. This Mini-Poster was made from an ancient press photo, and in its own weird way, it absolutely screams "old school Halloween."
3) This month's exclusive 2×2" sticker, starring Madd Matt with his new blue hair. I wish I could say this was by popular request, but that'd be a lie.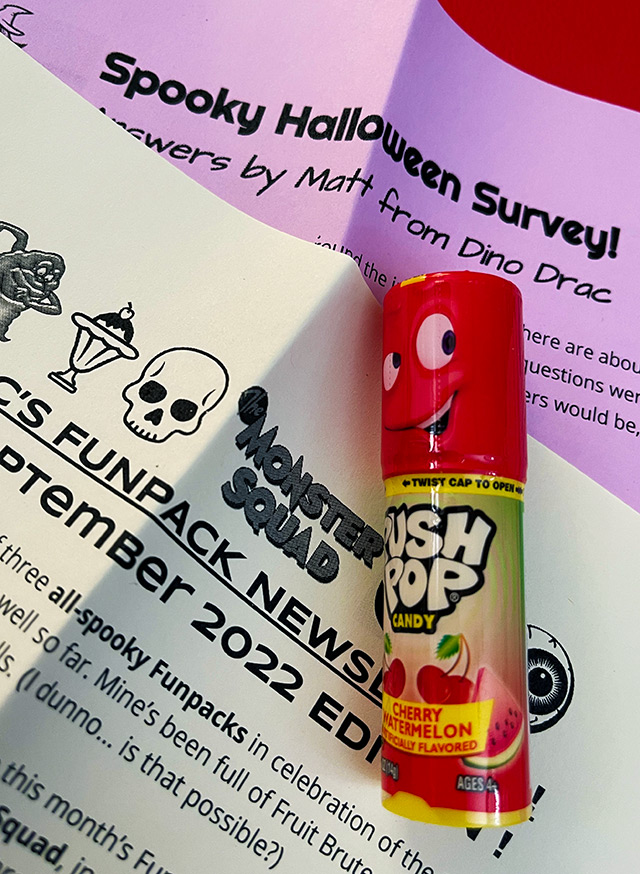 Rounding things out, you'll get this month's Funpack Newsletter, plus an exclusive essay that will never be reprinted on the site.
This month's "essay" is more like a mid-2000s Blogspot entry. I dug up one of those random Halloween surveys and answered 13 spooky questions. As you follow along, think about what your answers would be!
Oh, and you'll ALSO each receive a tube of Push-Pops candy. (Various flavors!) I'm like that cool house on the block, giving trick-or-treaters real retail candy instead of a tiny pack of Sixlets. Go me.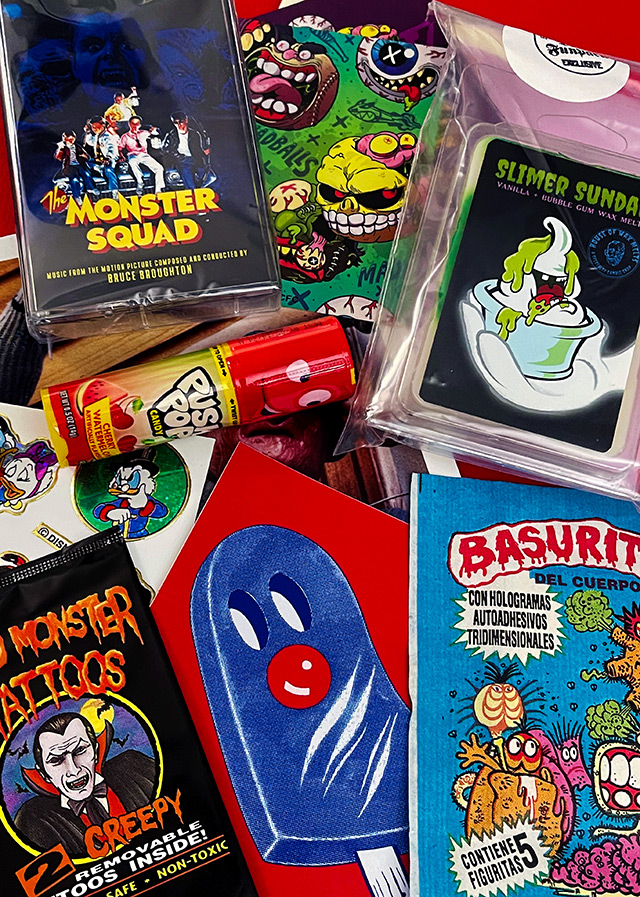 So yep, you'll get everything shown above for $25, shipped anywhere in the United States! (Sorry, U.S. only!)
If you're already a subscriber, do nothing! You're all set!
If you're *not* a subscriber and you want this box, click the button below to purchase. Remember, you will only be purchasing this one box, NOT an ongoing subscription!
Thanks in advance! The Spooky September Funpacks will ship by Friday 9/23!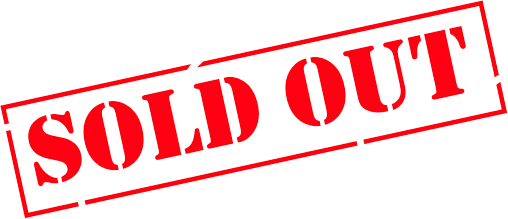 Sorry, the Spooky September Funpacks are sold out!