I'm crazy late in premiering the September Funpack, but you can take that as a good sign. I was confident enough to believe that it wouldn't take long for this one to sell out. Let's see if I'm right!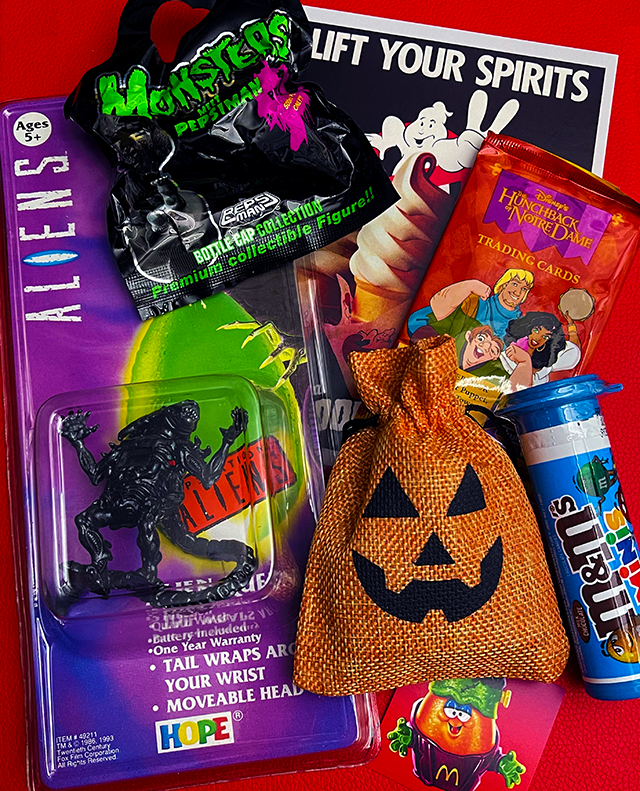 (LIMITED SUPPLY! U.S. ONLY!)
Dino Drac's Spooky September Funpack is here, and it's the second of three ALL-HALLOWEEN Funpacks, filled with eerie treasures that are sure to give your season a big spirit boost.
It's one of my all-time favorite Funpacks, and if you know a thing or two about collectibles, it's also one of the most valuable. If I may say so, you're getting quite a deal with this baby.
Subscriptions are currently maxed out, but I have a number of September Funpacks that I can sell on an individual basis. The cost is $25, and that includes shipping to anywhere in the United States. (Sorry, I can't ship internationally!)
Zip to the bottom for ordering info, or keep reading to learn about everything in this month's box!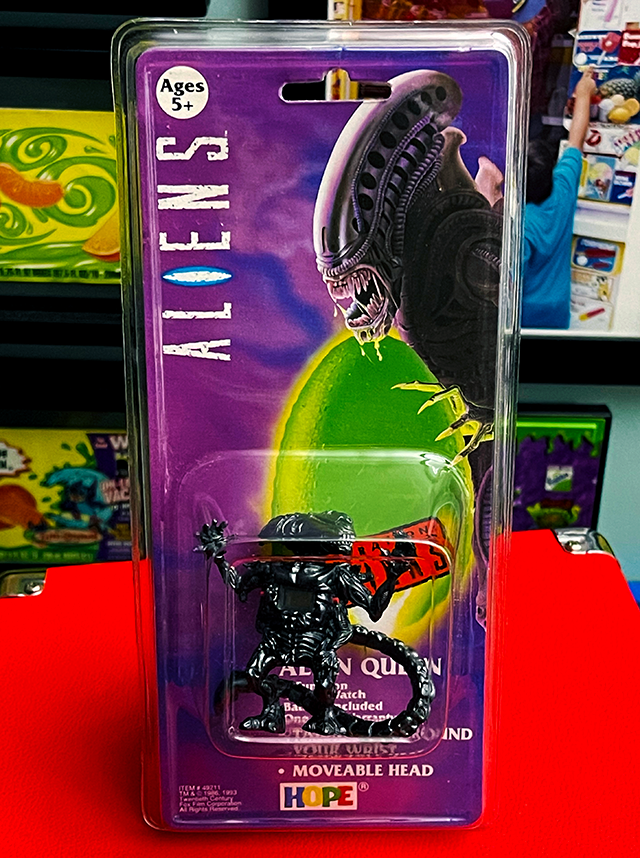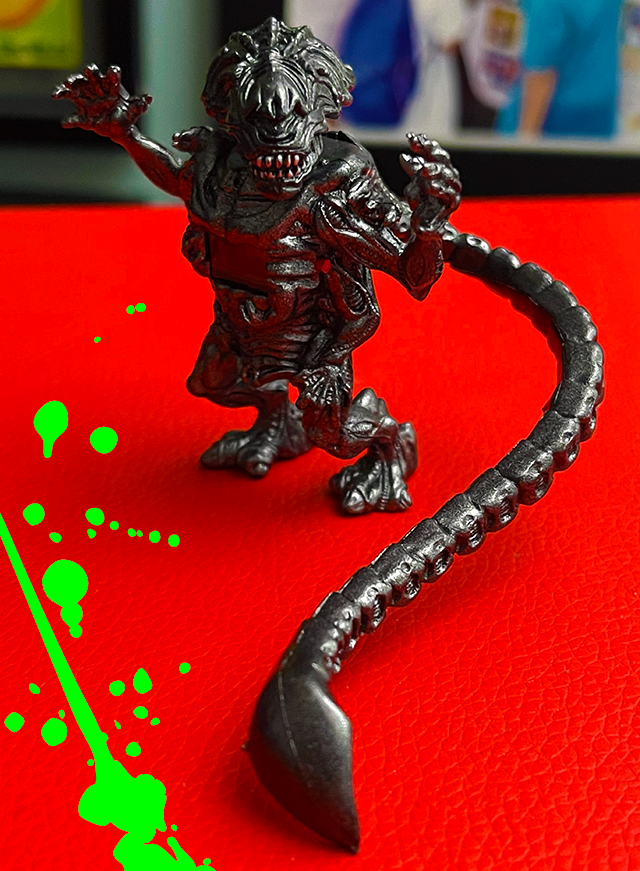 Good lord, this is a mega item. You'll each receive a case-fresh, never-used Aliens digital watch, from 1993! The batteries are long dead, but even if you never replace them, you're still getting an articulated Queen Alien action figure that somehow doubles as a wristwatch. (Or a bracelet, if you wanna ignore the dead clock on her chest.)
These things are absolutely gorgeous. What an amazing score! For full disclosure, I should point out that these same watches were included in the second-ever Funpack, back in 2014. Which means that a couple of you might already have one. But I didn't think you'd mind having two of these.
CONDITION NOTE: All are case-fresh and all Aliens watches are in mint condition. A few packages might have a dented bubble, but if you plan to open yours, that shouldn't be an issue!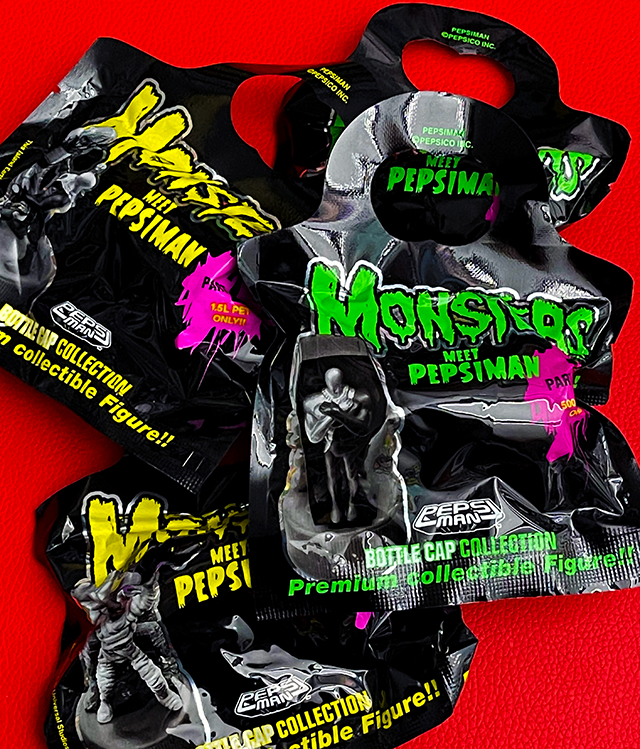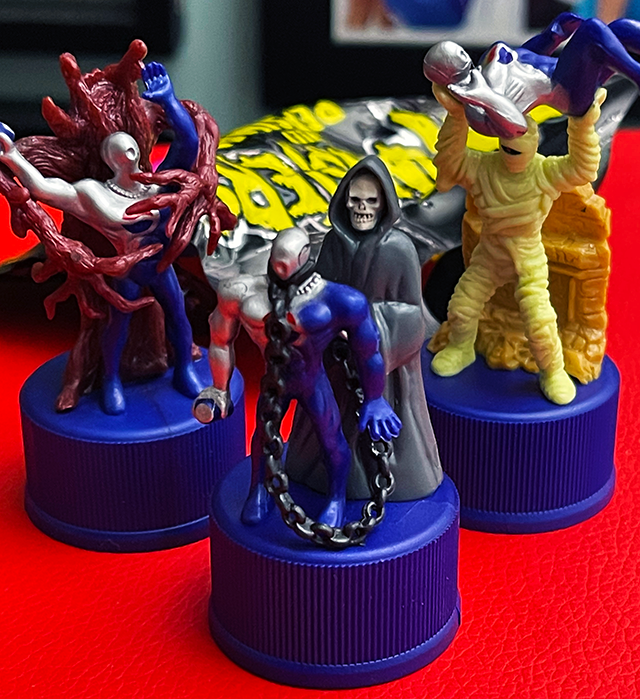 (*ONE* FIGURE PER FUNPACK!)
…and here's another big one. From the very early 2000s, you'll each receive ONE of these Japan-exclusive Monsters Meet Pepsiman blind bags, containing an absolutely bitchin' "bottle cap figure" featuring Pepsiman matching wits with a classic monster!
Words fail to describe the majesty of this set. Both Series 1 and Series 2 are in the mix, which means that literally every figure in the entire collection is a potential grab. There are some INSANE figures in this line, from Gill-man to Jaws to the Grim Reaper. It's just WILD.
Pepsiman, of course, is the silvery Pepsi mascot who has a much richer history in Japan. These figures are tough enough to find loose, but you're getting one that's still sealed in its way-cool blind bag. Those are MUCH harder to locate. I know most of you don't dwell in ephemera to the extent that I do, but trust me, these are a MAJOR get for the Funpacks!
You'll each receive ONE blind bag. Not that I would ever do it anyway, but I have absolutely no way to tell which figures are in which bags. EVERY figure in the set is in play, and none are being held back. (There are around twenty different figures in total, plus a few color variants.)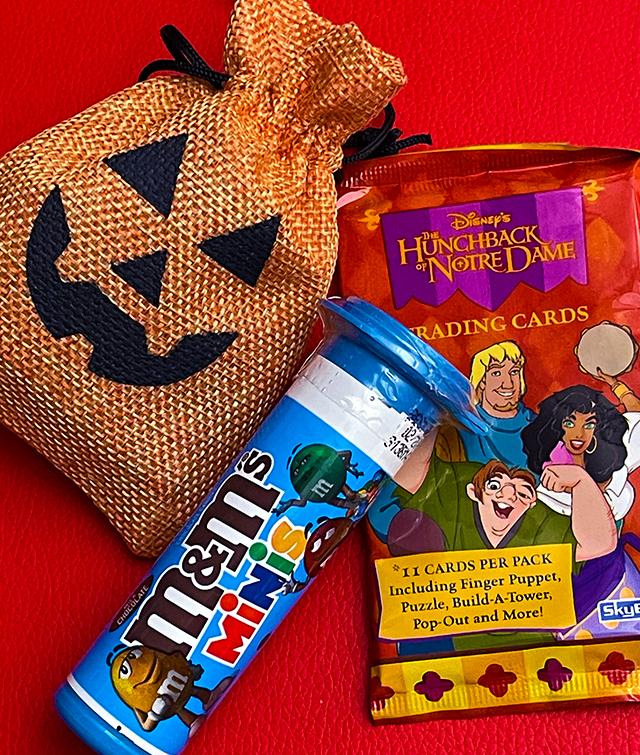 Whew. The aforementioned items are the stars, but I still have some more goodies for ya.
You'll each get an adorable tube filled with M&M's Minis, a vintage pack of Disney's Hunchback of Notre Dame trading cards, and a fetching Halloween treat sack stuffed with some extras candies and surprises.
(I don't want to spoil what's inside the treat sacks… it's nothing major, but I like the idea of giving y'all a "surprise element." Plus, they're not all exactly alike, so it's best to just keep the contents a mystery!)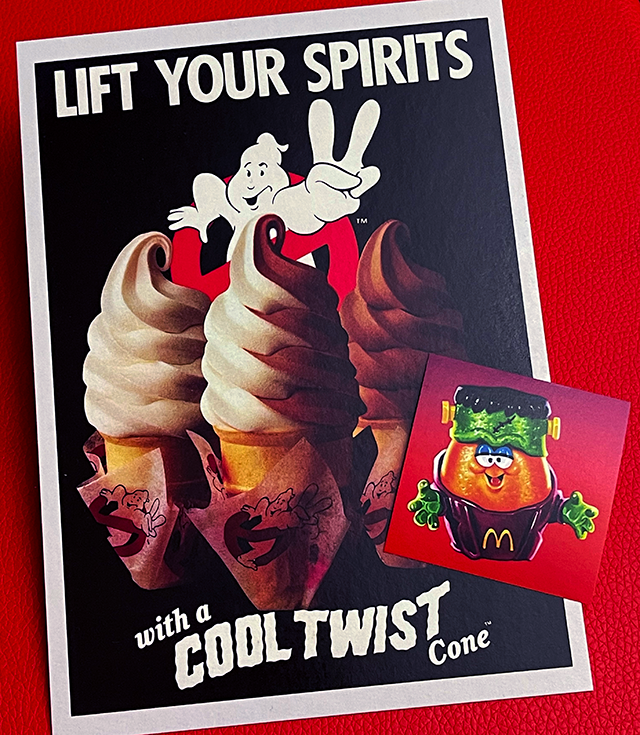 This month's 5×7" cardstock mini-poster is a direct sequel to last month's. These "Cool Twists" cones were another part of the Ghostbusters 2 brouhaha at Hardee's back in 1989, and for this month's mini-poster, I'm giving you a scan of an extremely rare advertisement for them. Absolutely suitable for framing!
Oh, and you'll also get a 2×2" sticker featuring the classic Frankenstein-themed Monster McNugget Buddy. He's cute, you can admit it.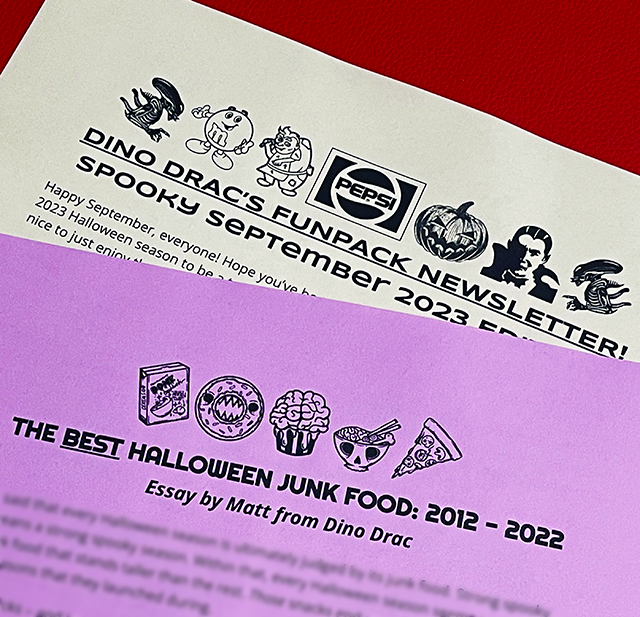 Rounding things out, you'll also receive this month's Funpack Newsletter, plus an exclusive essay that will never be reprinted on the site.
Actually, this month's essay kind of started on the site. I'm expanding upon a recent blog topic and making my case for the best Halloween junk foods from 2012 – 2022. Come for the Halloween Whopper, stay for the Cadbury Screme Eggs.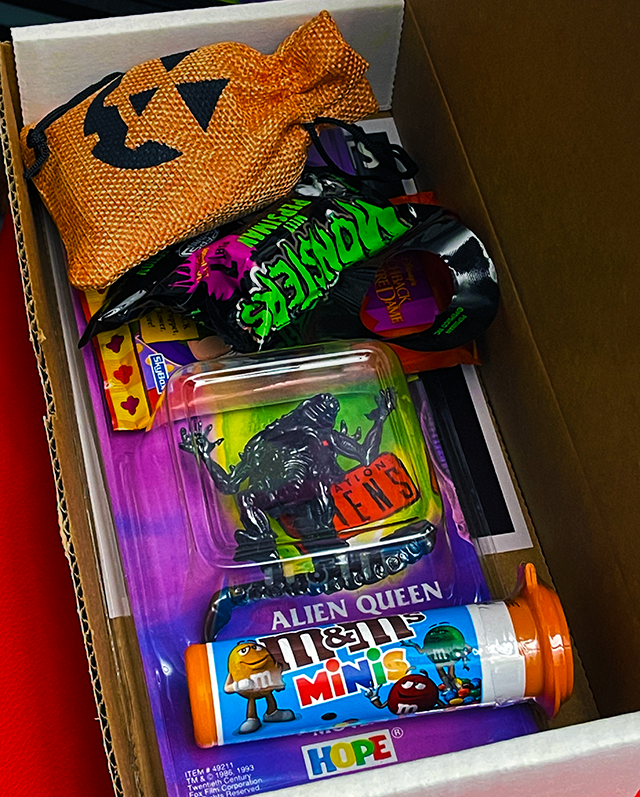 So yep, you'll get all of the above, carefully packed into a sturdy box and sent directly to your door, for $25 shipped.
If you're already a subscriber and you'd like to stay that way… do nothing, you're all set!
If you're NOT a subscriber and you want just this one Funpack, please click the button below to grab one! Supplies are limited!
SHIPPING NOTE: All subscriber Funpacks will ship by Monday 9/25. All other Funpacks will ship by Tuesday 9/26. Please be aware that your box may arrive a couple of days into October, depending on the USPS's speed. Apologies in advance for that; I lost a little time this month to an unexpected issue.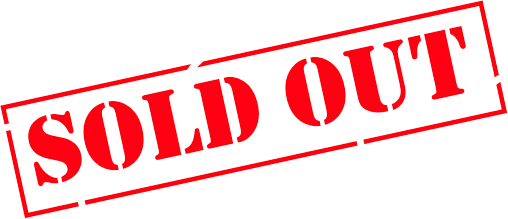 The Funpacks are completely sold out. Thanks all!