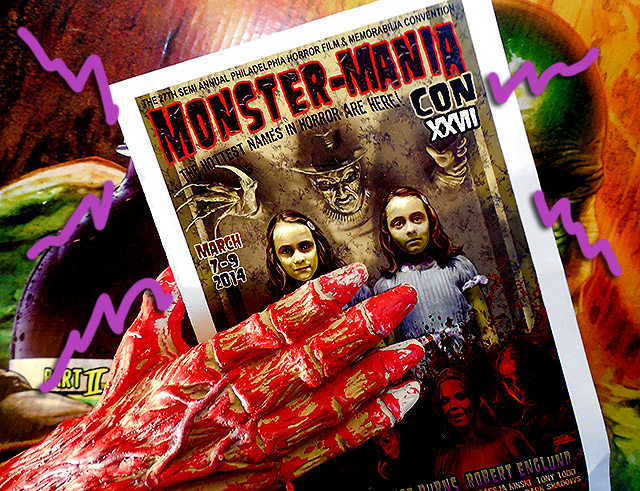 On Friday, we found ourselves back on the familiar floors of Cherry Hill's Crowne Plaza, ready to drink through the latest Monster-Mania convention.
This was the 27th Monster-Mania. The first one I went to was only their third ever. Almost ten years later, and I still get a kick out it. I don't know whether to find comfort or shame in the idea that I might still be going to these things twenty years from now.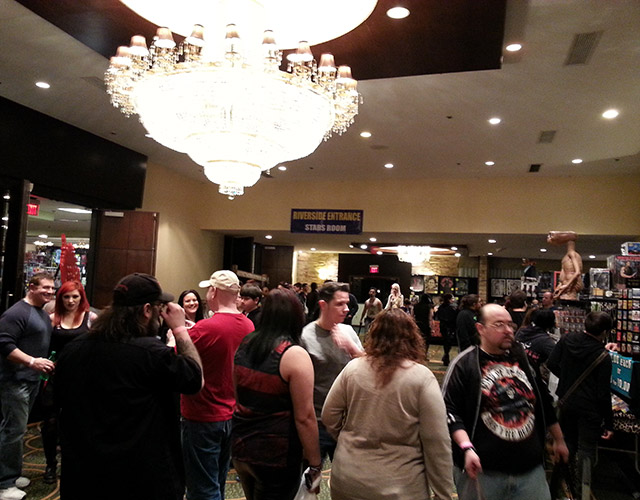 I can't give you a full convention report, because we were only there for a day, and we barely scratched the surface of what Monster-Mania has to offer. After meeting John and Jay at last August's convention, we all became fast friends, and heading back on Friday was mainly an excuse to hang with them — albeit with the neat backdrop of total strangers wearing scary clown costumes.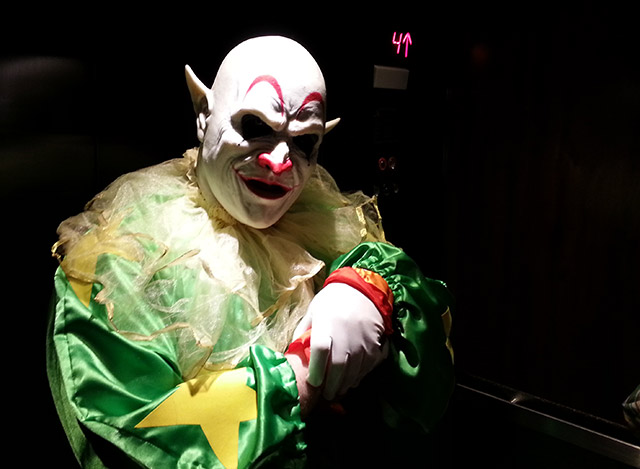 See? (more…)
The rumors are true. I have eight balls.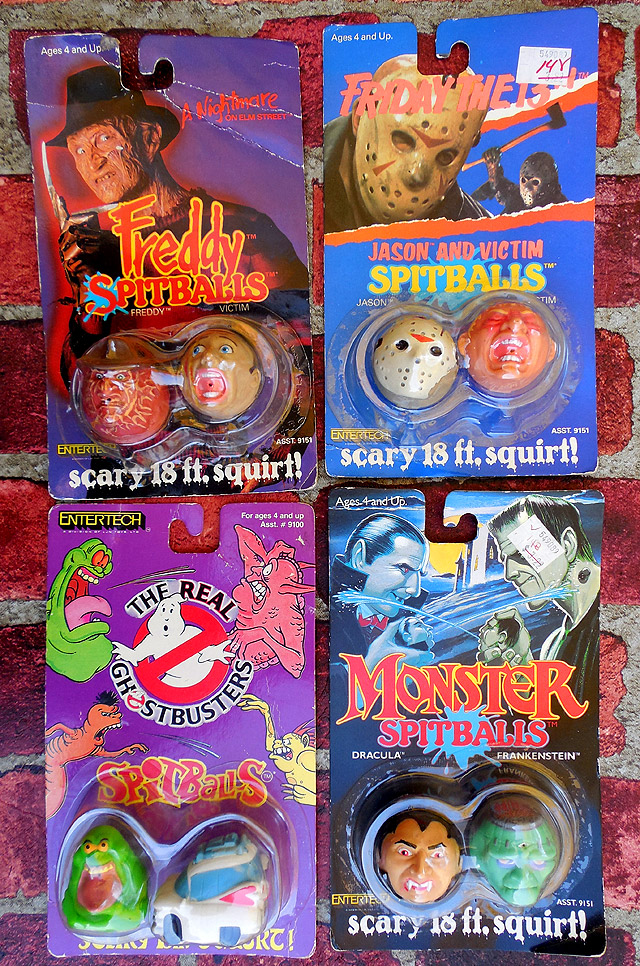 Made by Entertech in 1989, the SPITBALLS collection turned our favorite slashers, monsters and ghosts into… well, spitballs.
Each set came with two hollow rubber heads, with pinholes in the mouths. Squeeze 'em underwater to fill 'em up, and squeeze 'em again to make 'em… Jesus Christ, that's too many 'ems. What I'm trying to say is that they SHOOT WATER, over a purported distance of eighteen feet. I don't think I need to test that; Entertech was clearly exaggerating.
Would you look at this lot? Freddy Krueger! Jason Voorhees! Slimer! Dracula! Turning such beloved murderers into tiny squirt heads might seem like a waste of the licensing fees, but I look at it like this: While there are plenty of action figures for each of these characters, there's only one Spitball. (more…)
Madd Matt sure spent a long time making this video!
Never heard of Spider Bites? Made by Topps in 1990, it was a collection of ghoulish spider figurines that dispensed awful, colorful candy.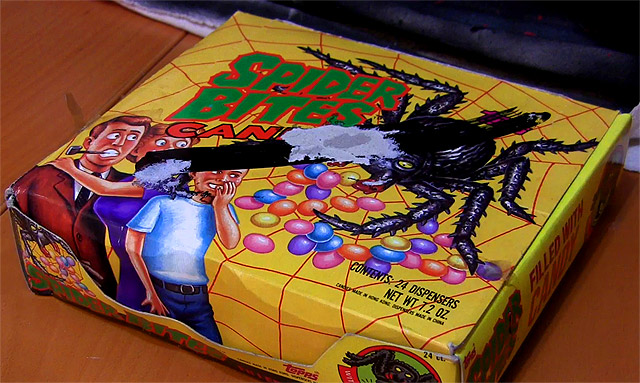 They came in a really great box!
Thank you.
I'm back with another edition of "hey here are some videos sitting around the house that are tangentially related to Halloween."
Enjoy, and make sure you've read parts one and two!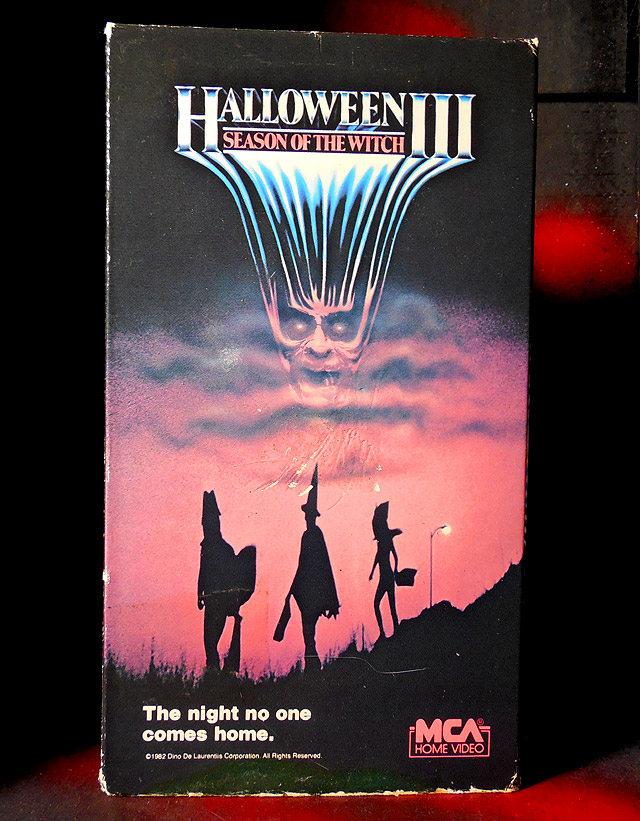 #11: Halloween III: The Season of the Witch (1982)
Watch the trailer!
Halloween III spent most of its life as the franchise's laughingstock. Slowly but surely, fans have warmed up to it. In truth, it was never a bad movie (don't confuse "ridiculous" with "bad"), and much of its negative reputation stemmed from its earliest audiences – people who just couldn't accept a Halloween movie without Michael Myers.
Many of us adopted the same opinion because that's all we'd ever read, and it took me several viewings to realize that the movie had merit. A LOT of merit, actually.
It's hard to put its story in a nutshell, but I'll try: Some crazy novelty kingpin sells thousands of Halloween masks, which are supernaturally rigged to turn their wearers' heads into big heaping piles of bugs and snakes. I don't know how anyone could read that and not want to see this film. I haven't researched, but it wouldn't surprise me to learn that the story was conceived in the '70s, because it fits right in with that decade's lean on "global damnation" in horror movies.
The film was a failed attempt to turn the Halloween franchise into a series of disconnected films tied only by title, or so the legend goes. Had it been successful, it's possible that Michael Myers would've never returned. In that way, we can be glad it tanked – but we should be thankful that we got such a wonderfully screwy movie in the process. See it! (more…)