Some of horror's best-ever action figures came from an unexpected source!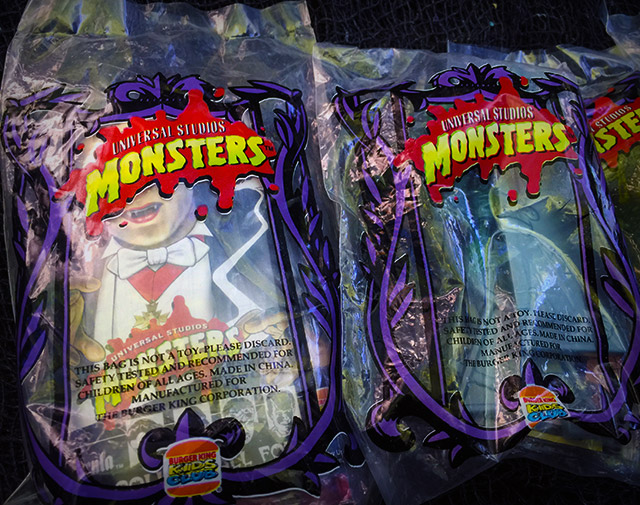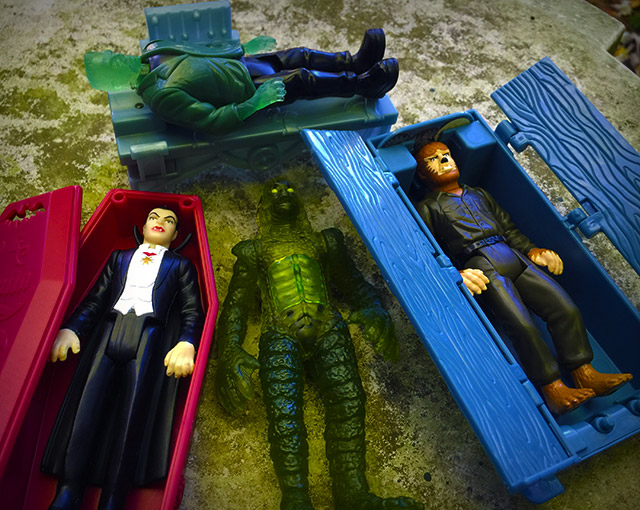 Part of a 1997 Burger King promotion, I hope some of you remember this quartet of positively kickass Universal Monsters figures. They deserve to be remembered!
Officially licensed (meaning, the figures weren't simply meant to resemble the classic characters — they were them), I'm still not entirely sure how these figures came to be.
The late '90s did have that quiet Universal Monsters boom with the postage stamps and all, but considering the quality of these toys, and the fact that they seemingly weren't made to promote anything, I guess it was just one of those blessed anomalies that boosted nationwide belief in holy spirits.
They're great figures even by today's standards, albeit not very important ones. It was much different in 1997! Funko's ReAction line didn't yet exist, and we hadn't seen straight-up Universal Monsters figures in years. These toys seem like throwbacks when you look at them now, but they felt the same way back in '97!
Read on for a closer look at each of the four figures, and note how they were all retail-quality. I'm still so amazed that they lived and died as Burger King premiums! (more…)
Your new Saturday night tradition continues. (Well, I hope it's your new Saturday night tradition, at least.) Time for the latest Purple Stuff Podcast!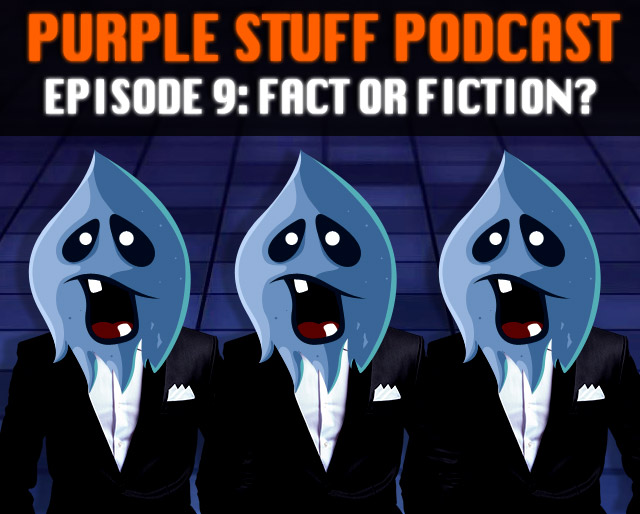 In tonight's episode, me and Jay from The Sexy Armpit play a five round game of FACT OR FICTION. Each of us makes two statements, and it's up to the other one to determine which is true and which is false. Feel free to play along!
(And yes, the game is completely drenched with Halloween and horror stuff. Duh!)
You can listen through the player above, or access the MP3 directly over here. The Purple Stuff Podcast can also be found on iTunes and Stitcher!
Tonight's episode is a little on the short side, mainly so we'd leave ourselves with enough time to watch Brock kill the Big Show.
Thanks for listening, as always! (more…)
Here's the second edition of Dino Drac's new series, OLD NEWS!
This time, I'll be examining a bunch newspaper ads & articles concerning A Nightmare on Elm Street, from an era when Freddy Krueger was — for lack of a better term — hot shit.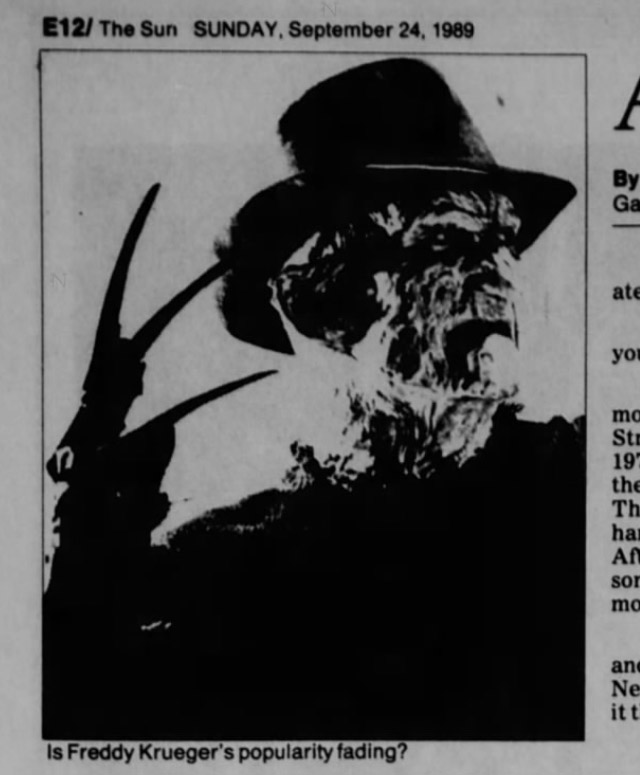 (September 1989)
Really, he was! Don't pay attention to that shitty caption.
As the following clippings will show, Freddy Krueger's celebrity status extended far past horror circles. Spanning more than a decade, several of these articles had no reason to mention Freddy Krueger, but did anyway. Dude had serious name value! (more…)
I pride myself on being on top of the many nutty Halloween food promotions, but every now and again, I'm thrown a delicious curveball.
Earlier today, someone from Twitter informed me that there was a special Goosebumps Shake, and I'll repeat that in all caps, GOOSEBUMPS SHAKE, at participating Johnny Rockets restaurants. (…to promote the upcoming movie, which looks phenomenal.)
I absolutely flew there, propelled as if by supernatural means. Three red light cameras are now spreading photos of my junky car.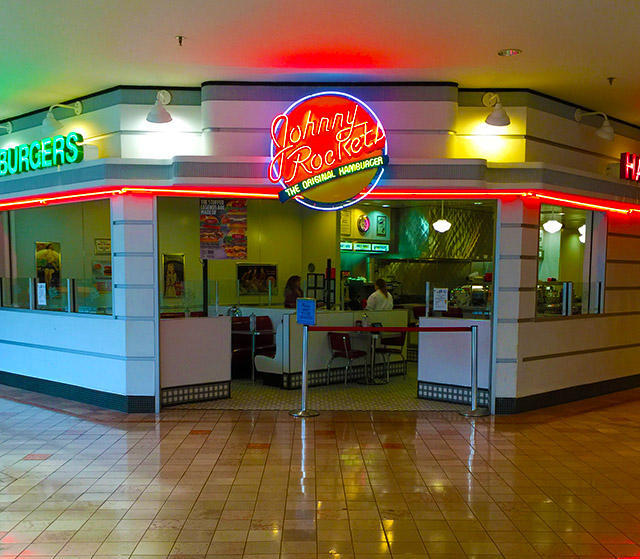 The nearest Johnny Rockets was over in Jersey, which, considering bridge tolls, raised the price of my shake from $5.99 to $17.74. Wonderful!
Until today, I'd actually never been inside a Johnny Rockets restaurant. Too much movement and too many bright lights. To me it seemed like the savage marriage of a discotheque and a dentist's office. No amount of hamburgers could make me put up with that, but the promise of an official GOOSEBUMPS SHAKE did the trick. (more…)
It's the first day of autumn! (Or the second, depending on when you read this.)
What better way to celebrate than with another edition of Classic Creepy Commercials, featuring all sorts of eerie ads from the '80s and '90s? (I mean besides a cool walk under moonlight scored by the sweet sounds of Ministry.)
The first four commercials were donated by Larry P., friend to fiends. The last one's from me.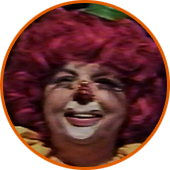 Bartz Displays Halloween Sale! (1982)
Oh boy. Before you skip this one on account of the not-so-catchy title, know that it's easily in the top five Halloween commercials that I've ever featured on Dino Drac. No, I'm not overselling it. Just click play.
The commercial, which plays out like a fever dream from an Alan Ball drama, promotes the big Halloween sale at Bartz Displays. Chiefly featuring Bartz's costume collection, we intrude on balls-out bizarre Halloween party, where dozens of weirdos in wildly disparate disguises bop around a dark, dank parallel dimension.
Since gory and monstrous costumes were there in such volume, it's oddly the squeaky clean ones that'll make you shiver. Watch this commercial, and then tell me you weren't just a wee bit unsettled by Donald Duck and Yoda. Holy shit, this one would've been nightmare fuel even without the ersatz Madd Matt on voice-over duty. (more…)
Put simply, a yard haunt refers to the assemblage of Halloween decorations on one's front lawn. Media attention focuses on those who go all-out, with thousands of dollars' worth of spooky scenery. In truth, you could put two plastic skulls on your stoop and call it a "yard haunt." That's the beauty of it!
Yard haunts are quietly one of the best things about this season. Who hasn't driven around their neighborhood on some October evening, marveling at everyone's macabre creations? It's Halloween in its purest form.
I'm impressed when a family takes their decorating to theme park levels, but I'm even more charmed by the "simpler" yard haunts, which utilize found or homemade items, and nail a certain "crude charm" better than anything else on the goddamned planet.
You should know the type, because so many of us grew up making them. Between the slapdash scarecrows and the cardboard tombstones, they were testaments to our creativity… and to our general unwillingness to spend more than a half hour doing anything.
Those sorts of yard haunts looked — and still look — something like this: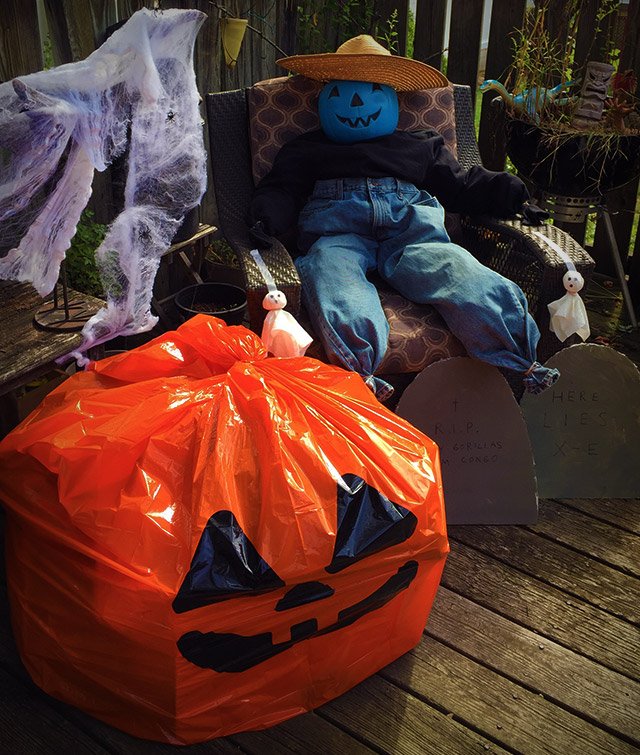 Granted, that's staged from my back deck, but had I assembled it on the front lawn, it'd look no different. My spread includes all of the major yard haunt bullet points, and best of all, I couldn't have spent more than five bucks on it.
Mileages vary, but as I see it, the classic, screwy, cheapo yard haunt primarily consists of five items. If you'd like to make your own, start with this junk: (more…)
Apparently, my new thing is posting ten seconds before midnight. I've decided to roll with it!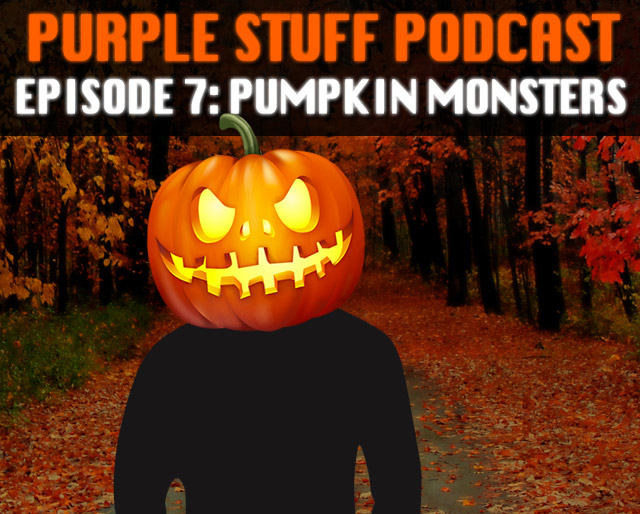 It's time for the latest episode of The Purple Stuff Podcast, with me and Jay from The Sexy Armpit. In tonight's show, we're talking about all sorts of PUMPKIN MONSTERS from all walks of pop culture. Basically, any character that can be perceived — however loosely — to be part pumpkin.
From Sam of Trick 'r Treat fame to Blobkin the Halloween Boglin, I think we hit all of the major ones. Know of any more? Tell us in the comments… or just discuss the weird creatures mentioned in this episode!
You can listen on the player above, or access the MP3 directly over here. As a reminder, The Purple Stuff Podcast is also on iTunes and Stitcher!
Thanks so much for listening! (more…)