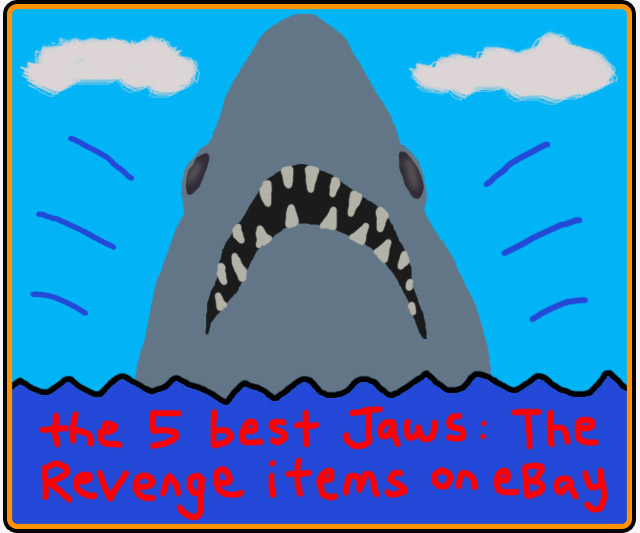 Released in 1987, Jaws: The Revenge was the final and least-liked of the four Jaws films. And that's a major understatement. The movie's legendary stupidity transcended mere comparisons with the previous chapters, and it's in fact regarded as one of the worst movies of all time.
See it once and you'll understand why. The story is just absurd, changing Jaws from a natural predator to an almost supernatural killer. Among other feats, the shark could roar, not to mention travel from Massachusetts to the Bahamas just as fast as an airplane.
Set completely within the previous films' universe, Jaws: The Revenge basically treats the "new" shark like it's the same one from the original. During key moments, star Lorraine Gary has flashbacks to Roy Schneider scenes that her character wasn't even present for.
I love the film, but I can't be a contrarian. By any objective measure, it's really, really bad.
Thing is, I saw it as a kid, and my critical brain wasn't mature enough to catch (or care about) the goofs and oversights. I spent too many years loving this film to ever hate it now.
It may have set a "zero star" review record, but bad movies can be fun. Drink once whenever the shark does something a real shark never could! Drink twice whenever Lorraine Gary makes fun of her sex appeal, which for some reason happens every ten minutes!
And now, apropos of nothing, here are the five best Jaws: The Revenge items currently on eBay! (more…)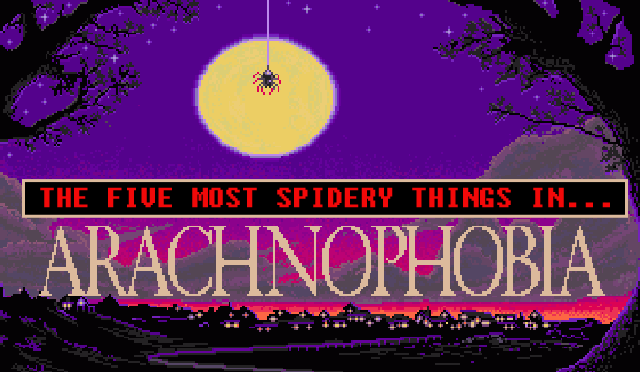 I wouldn't call Arachnophobia one of my favorite movies, but I do love it. What's not to love? Jeff Daniels and John Goodman square off against displaced killer spiders, which quickly turn a small California town into a human graveyard!
The film has a memorable flavor, and not just because it's about spiders that kill people. It's a horror movie, of course, but it's a weirdly friendly one. Arachnophobia wasn't targeted at the same audiences who might see a Friday the 13th movie. Its producers wanted everyone. From cast to script to music, Arachnophobia is surprisingly smart and thoughtful. At least, it's smarter and more thoughtful than a film about murderous spiders has any right to be.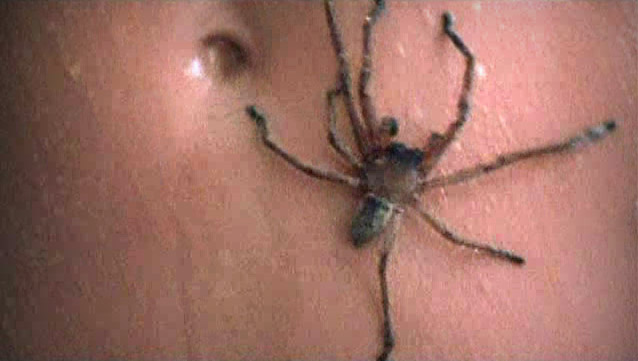 Even with my own arachnophobic tendencies, I've always been a spider nut, and I totally saw this on the big screen back in 1990. I sat through most of the movie with my knees against my chest, and believe me, I wasn't only one. (Leaving your feet on the ground was as good as taping a "LADDER FOR SPIDERS" sign on your leg.)
Below are my five favorite "spider moments" from Arachnophobia. Admittedly, this post works better if you've already seen the movie. If you haven't, give it a shot. Even if you're not particularly interested in maniacal spiders, it's worth it for the random music that accompanies John Goodman whenever he walks onscreen. Over twenty years later, and I still get a kick out of John Goodman's stupid entrance theme. (more…)

Tonight, you're going to the movies! Whether you want to or not!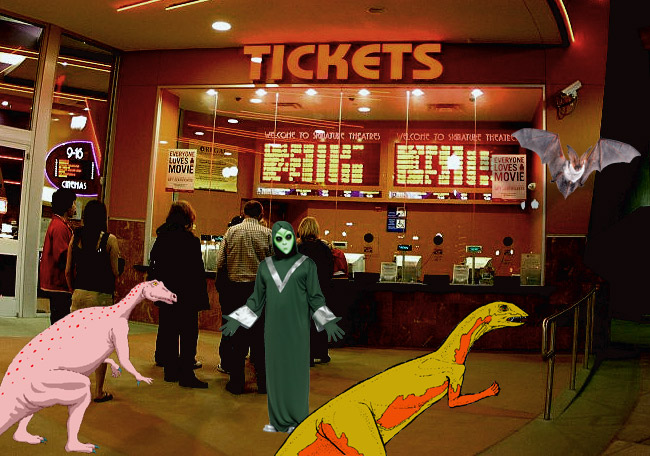 As if by some unseen force, you are escorted to Dinosaur Dracula's Superstar Theater.
While waiting for your turn at the ticket counter, you realize that this is no ordinary theater. Mingling with your fellow humans are all sorts of monsters and dinosaurs!
Apprehensive as you may be, there is no denying the hand fate has dealt you. You purchase your ticket and head inside… (more…)

My friend Paul from the new and improved Wrestlecrap shot me a tip about this one. Thank you, Paul! You made my week.
I'm not going to dig up the half-broken old article, but back in 2005, I wrote about my experiences with the Freddy Krueger hotline. It was just one of the many 900 numbers from the late '80s that had something to do with scaring children. I wasn't seriously into Freddy at that point, and dialing his number was mostly a case of my curiosity getting the better of me.
I can't remember the exact details of Freddy's message, but I clearly remember the details of that night.
I was young. My parents were out of town. My sister was supposed to be watching me, but she'd gotten into a tremendous battle with her then-boyfriend, and spent the evening hours locked in her bedroom.
Left to my own devices, I made the huge mistake of calling Freddy Krueger. The damn commercial kept coming on, and I just couldn't resist forever. I doubt I allowed myself more than five minutes before hanging up, but that was all it took to make it "that kind" of a night. Suddenly, I was petrified of everything. Every creak, every shadow. Of course, it didn't help that there was a television special about the Elm Street movies on at the time. I would've turned it off, but God knows what sorts of monsters might've grabbed me as I walked across the living room to fetch the remote.
The night ended with me falling asleep under a crude blanket tent. It sounds miserable, but it was actually kind of exciting. I wouldn't have admitted it at the time, but the fear was exhilarating, and at core, perfectly safe. The thrill of horror movies works similarly to roller coasters, and I got the same jollies from listening to Freddy Krueger babble on at 35 cents a minute.
But Freddy wasn't the only one with a spooky hotline back then…
I don't recall seeing this Creep Phone ad back in 1988, but man, I can so imagine what my reaction would've been. Absolute motherfucking FEAR.
Look, Freddy was one thing. I hadn't fully embraced him, but I'd been through enough shoddy Halloween makeup kits to know that he was "scary with an asterisk." This Creep Phone thing was something far, far different.
Some of you will immediately recognize the clips used in the ad, but let's put that aside for a minute. In 1988, I would've had no idea what those clips were from. I would've assumed that the people behind the hotline built ugly puppets for a custom shoot. For unknown reasons, that makes the visuals a thousand times scarier.
Watch the ad through the eyes of a nine-year-old, and take it at face value. OH GOD, THE MONSTERS. Cheesy as they seem now, those demons would've left me more than a little unsettled. They look like blackly religious devil paintings come to life. It's like we went to Hell but didn't yet know it was Hell, and blindly followed the "MUPPETS THIS WAY" sign. (more…)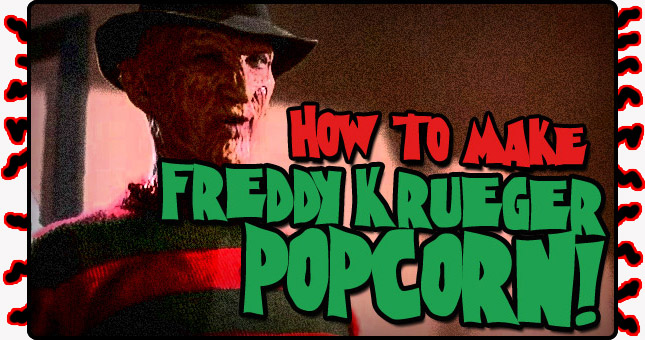 I just published an enormous feature, listing ten reasons for you to watch A Nightmare on Elm Street 3: Dream Warriors. Even though 90% of you have seen it a thousand times. Oh well. Maybe the feature will inspire you to make it a thousand and one?
If it does, it's important to do it right. You gotta set the mood, dude. Wait until it's dark, dim the lights, and find some candles. If the candles smell like autumn, that's even better.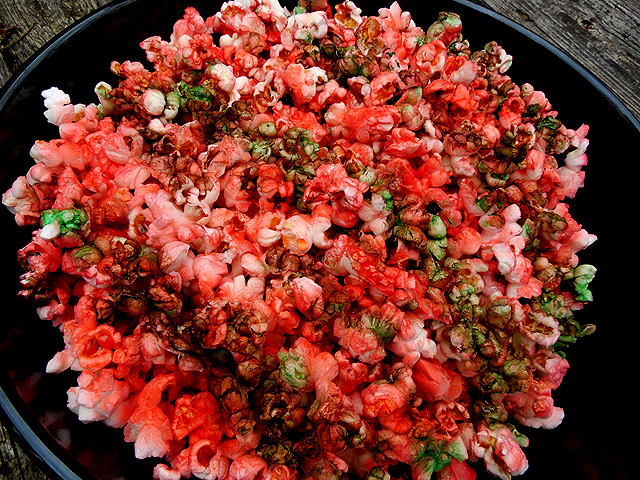 You're also going to need popcorn. If you're looking to give the experience an extra spark, here's how to make popcorn that looks like Freddy Krueger.
His clothes, at least.
Now, this lesson comes with the admission that I did it the hard way. The Super Super Hard Way, actually. If you can find red and green popcorn, I guess that's all you really need.
But let's assume that you can't find it. Let's also assume that you're willing to spend more than ten bucks for gross popcorn that looks a tiny bit like Freddy's sweater. If I may borrow a phrase from the incomparable Montell Jordan, this is how we do it: (more…)