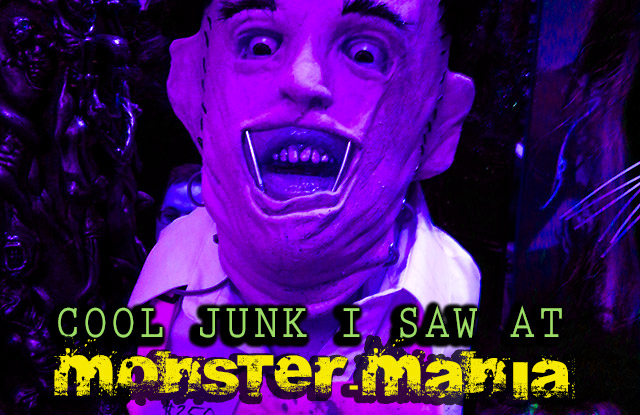 "Came, saw, bought a few things, made a fool of myself, went home."
That would be the summary of my experiences at the 28th Monster-Mania horror convention, which took place in Cherry Hill last weekend.
I fear I'm not in any position to give you a full report, since we spent so much of the evening away from the convention areas. The closest I came to celebrity hobnobbing was sharing an elevator with Hacksaw Jim Duggan.
Actually, I wasn't planning to write anything about Monster-Mania. We were mostly there to reconnect with friends, and so I could pay too much for "zombie red" contact lenses. (Both missions were accomplished.)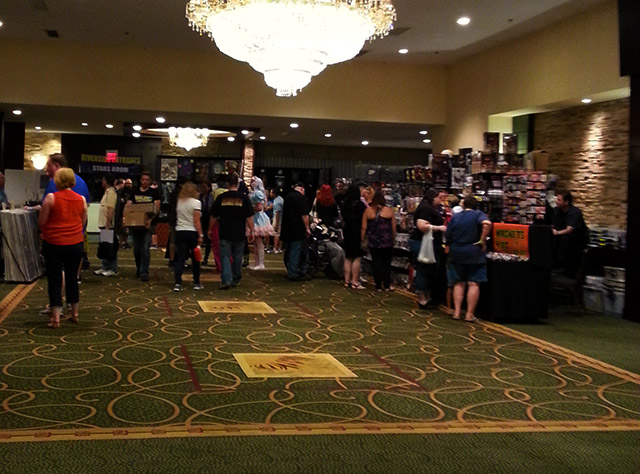 …but when I got home, several readers asked for a review, having come to rely on Dino Drac for some small glimpse into this long-running and now practically legendary horror convention.
So FINE. I'll play your game.
While I can't give you many specifics about the guests or the events or even the gory cosplayers, I at least took enough photos to provide highlights of the best part of any Monster-Mania: The dealer rooms.
I've trained myself to treat those rooms like a museums. Convention swag rarely comes cheap, and too often, I've come home with a pile of unneeded stuff that I could've bought online for less. After all, the thrill isn't in the prices, but in the hands-on exposure. It's one thing to see a bunch of old toys and new memorabilia when you're browsing websites, but it can be downright intoxicating when you're surrounded by it in person.
I picked up a few choice items for future posts, but here are the best things I didn't buy at Monster-Mania 28: (more…)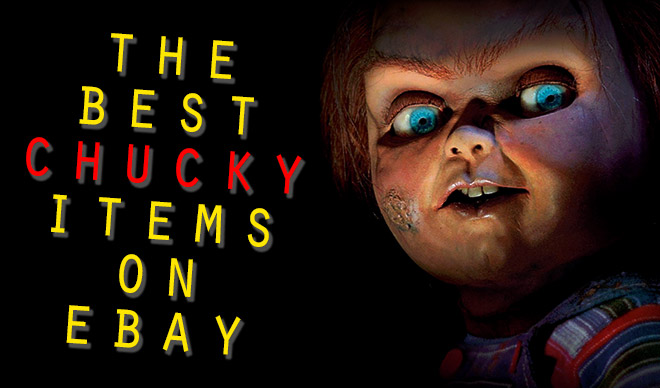 Hi, I'm Matt. Child's Play fan.
I was a late bloomer with horror, but Chucky was an exception. From Day One, I was on his side. Of the right age to clearly recognize him as a riff on Hasbro's My Buddy dolls, I stupidly assumed that the Child's Play franchise was at least partially targeted at kids. It wasn't, but I fell in love all the same. My earliest memories of horror movies come in blips and bleeps, but with Child's Play, I was all-in.
In my mind, there's no bad Child's Play movie. The second one is my favorite, but even the more polarizing fourth and fifth films worked for me. Chucky started as a straight-up slasher, evolved into a sort of cartoon, and eventually settled into something approaching "outsider art." I adored all of it.
To celebrate Chucky — because that's what we're doing today — I thought I'd dust off an abandoned Dino Drac series. Below are the five best Child's Play items currently on eBay.
(And when I say "best," I usually mean "weirdest.") (more…)
I've been dancing around this subject for years, referencing it in throwaway paragraphs that have done little to capture its supreme mega greatness. Today, finally, I'm going to give Dinosaurs Attack cards everything they're owed.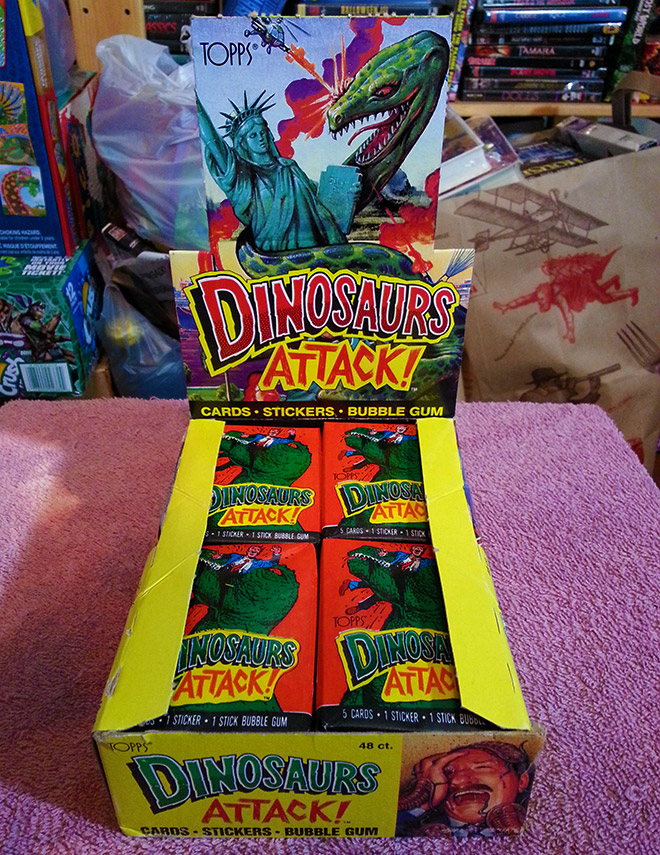 Dinosaurs Attack (formally styled with an exclamation point, but we'll ignore that) was released by Topps in 1988. To this day, I can't think of another trading card series that's nearly as gripping — or gory.
The 55-card set told the terrible tale of dinosaurs accidentally summoned from prehistoric times to present day. Instead of being the dangerous but "natural" nuisances you might expect them to be, the dinosaurs in this card set were singularly focused on the bloody annihilation of the human race. As the title suggests, all they did was attack, in unforgettably macabre fashion. It wasn't just the story of dinosaurs set loose in modern times – it was the absolute worst case scenario.
Cited as a parody of decades-old creature features, the gore was heavier here than in any movie I've ever seen. It's not so shocking now, but as a nine-year-old who hid under the pillow at the first sight of an Elm Street promo, these cards seemed downright EVIL. (Of course, that only made them all the more interesting!) (more…)