It snowed yesterday. Just a little.
I guess there was around an inch of it, but only in the spots where it decided to stick. This wasn't the kind of snow that would last the night, and sure enough, there's almost no evidence left of it as I write this.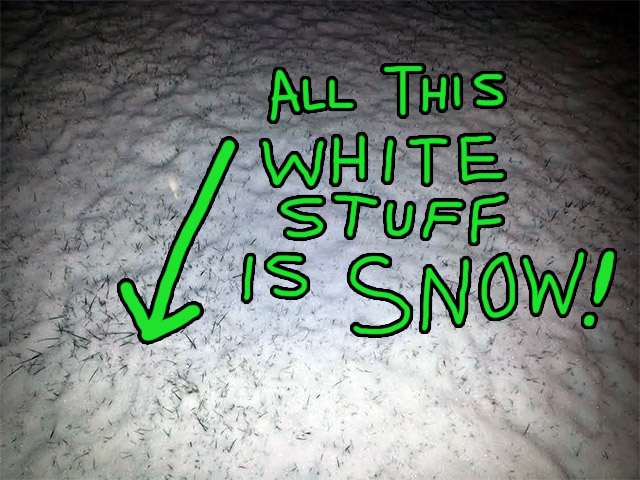 The weathermen say we're due for another storm, but weathermen are pathological liars. Fortunately, when I see snow, my impulse is to make the most of it as soon as possible. So that's what I did. (more…)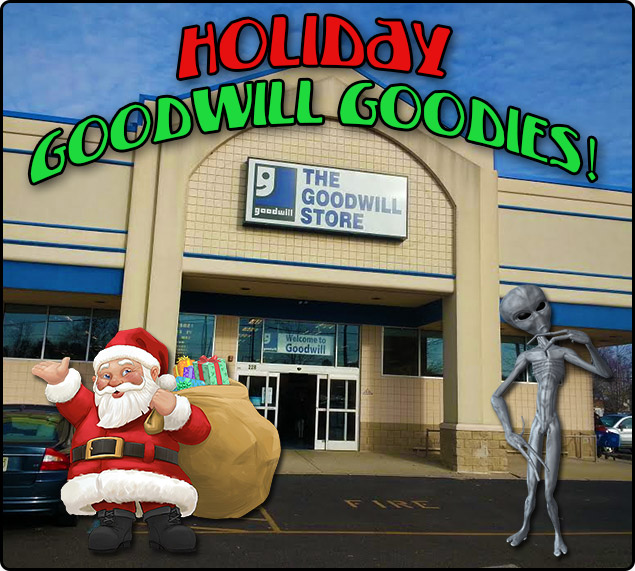 Remember when I went to Goodwill to find Halloween goodies?
I thought it would be interesting to do the same for Christmas, so on Sunday, I went to that very same Goodwill store – the one with the stupid address that always makes my GPS explode.
The results were… mixed.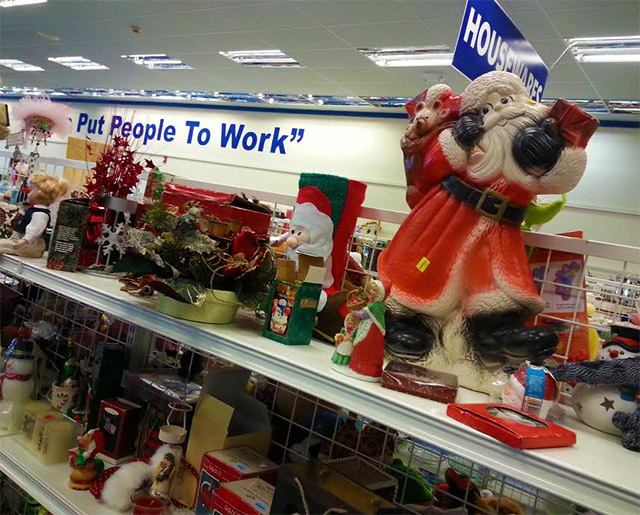 They did have lots of Christmas stuff, but the prices were nuts. Three dollars for untested strands of lights! Four dollars for a dusty, half-melted candle that once bore the shape of a gingerbread house! SEVEN dollars for an armless nutcracker!
I was a yard sale/thrift store junkie back in the day, and Christmas decorations were always super cheap. People would do anything to get rid of them. Most of Goodwill's holiday fare was the same kind of stuff. Things I would've expected to trade loose change for.
It's worth noting that only the Christmas items were affected. I could've bought a desk, a chair and three lamps for fifteen bucks, but it would've cost just as much for a couple of junky poinsettia centerpieces. (You know the kind. They're made for comically small tables.)
But whatever. I didn't drive to Jersey to go home empty-handed. I was willing to suffer for this post! Here's four dollars worth of crap that I somehow spent twenty dollars on! (more…)
…that's the short version. I won a giant gingerbread house.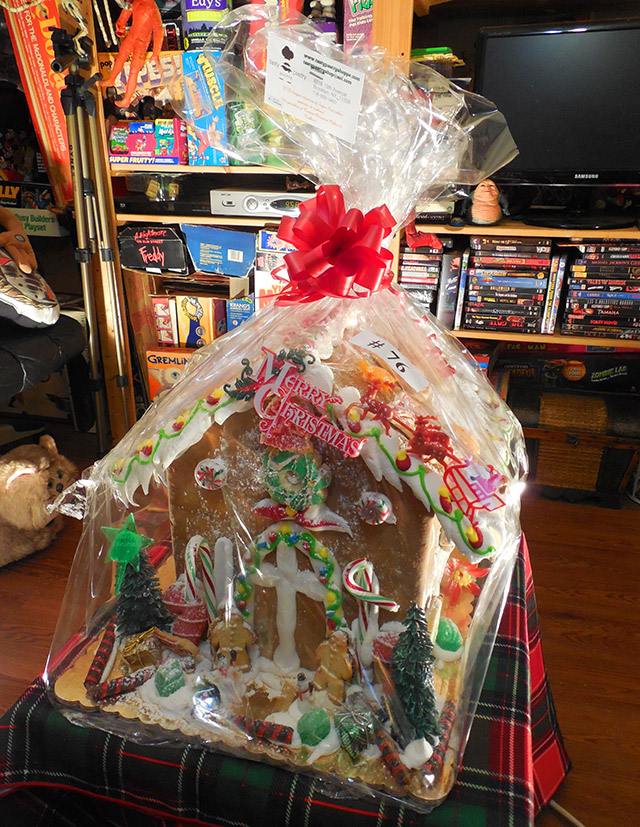 It's huge, it's delicate, and it smells so sincere. Good God, the smell! Glade might try to make it into an aerosol mist, but only the genuine articles smell like this.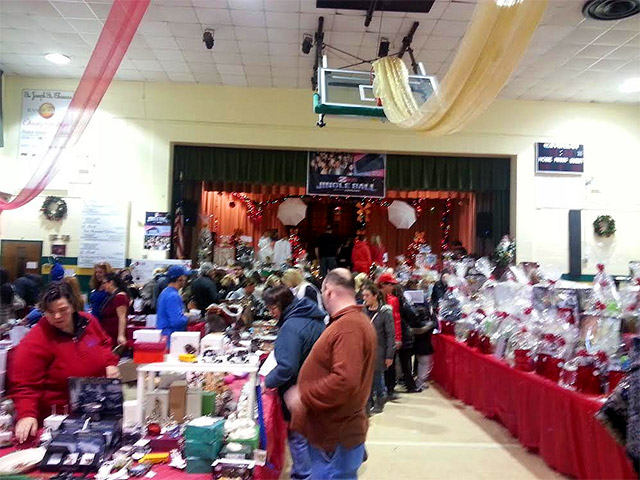 I won it from that Christmas fair. The one I've been going to since childhood. The one I wrote about last year. The one I wrote about almost a decade ago.
If you've been reading me, you know the drill. The star of the fair is its parade of "raffle baskets." You buy tickets and trade them for chances at various gift baskets, donated by presumed Catholics and filled with all sorts of prizes.
One basket might have a few LEGO sets. Another might come with a serving dish and a certificate to score ten free pounds of calamari from a nearby seafood market. Still another might include a teddy bear, warm cheese and a gravy boat. You generally wouldn't waste tickets on that one. (more…)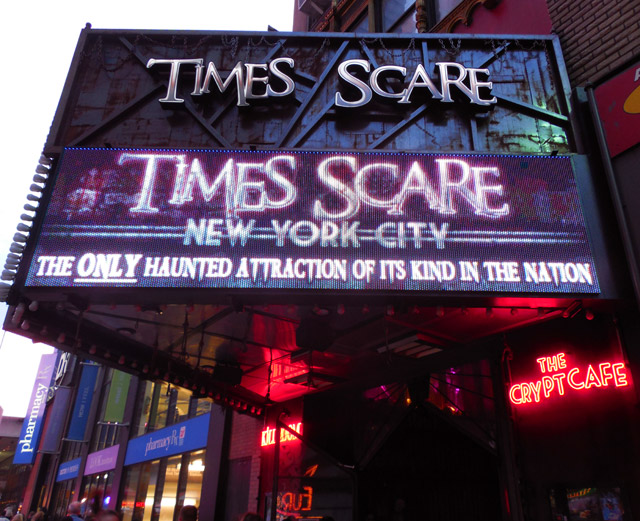 On Saturday night, a bunch of us went to Times Scare New York City, a restaurant slash haunted house that I've been spying on for years. This group also included my friends from Freddy in Space and The Sexy Armpit, so before I get too deep into the more boring parts of this review, let me apologize to them for getting everyone thrown out. Oops! More on that later!
Going in, we all knew what to expect: Tourist trap trappings with the bill to match. That was no big deal, and I don't want to let WHAT HAPPENED LATER (!!!) spoil the good parts of our experience. If nothing else, Times Scare looked the part! (more…)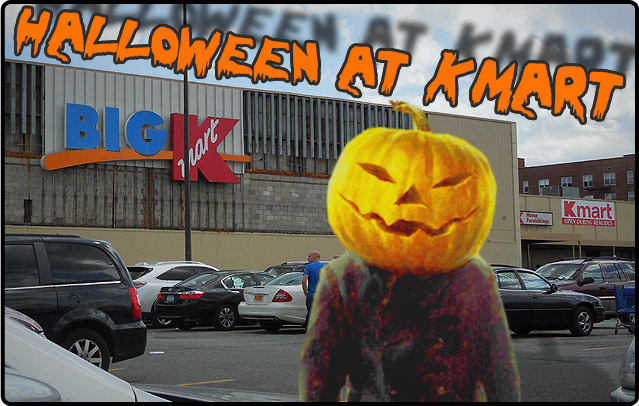 Doing the Halloween Countdown involves a lot of hunting. It always has. I can't rely on any one or two stores to "fill the tank" for two months' worth of posts, so I'm constantly searching for more, and my core base of "retail hot spots" is always growing.
For the first several Countdowns, Kmart was one of those spots. Our local store was just a short drive away, and what it lacked in pizzazz was made up for in its… what can I call it? Genuineness? Trashy genuineness?
While other department stores kept evolving – or at least made efforts to – Kmart stayed the same. Come September, its Halloween aisles were organized just like they were when I was a kid. There was something comforting about that.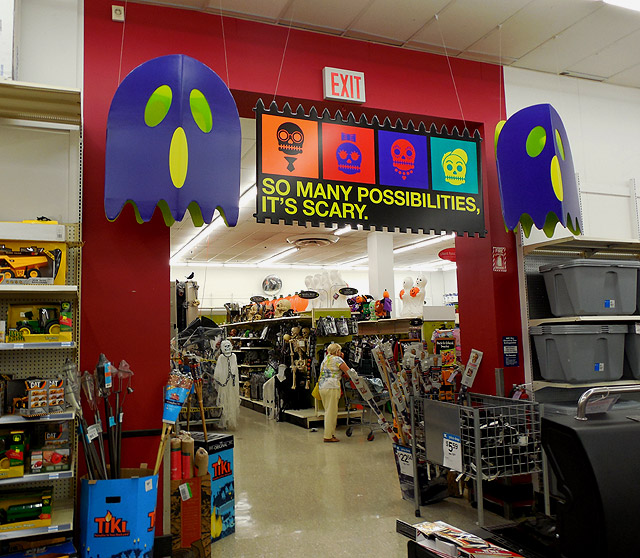 That store eventually closed (it's slated to become a Target next month), leaving us with only one other Kmart in negotiable driving distance. It's a longer and much more annoying drive, so while I may hit our nearest Target another hundred times before October 31st, I probably won't see this Kmart again for eight months.
I think I've mentioned this store before. It hasn't been remodeled since the '80s, and I'm not exaggerating at all. The layout makes no sense, the staff is comfortably apathetic, and nearly half the people who shop there are always tossing footballs to someone else, clear across the store. Whatever you imagine when you think of "old cake," that's this Kmart. 100%.
But, as you can tell by the photo, even the most dilapidated Kmart stores know how to work it for Halloween. This one rededicated its entire lawn and garden center (or whatever is normally back there) to spooky goodies. The Halloween section exists as a store-within-a-store, and since I seemed to be one of the very few people interested in plastic Draculas so early in the season, I had a clear stage for lots and lots of photos. (more…)