Prior to yesterday, I hadn't been to Seaside Heights since my sophomore year of high school. A friend invited me to stay with him and his extended family at some rented beach house. Never one to miss a chance at crane games and funnel cake, I jumped at the chance.
The night before we left, I dyed my hair green. I probably should've waited, given that I was about to spend three days with total strangers, but they were nice people. (And they remained nice people until they saw the house's single shower, stained with still-fresh puke-green Manic Panic. Oops.)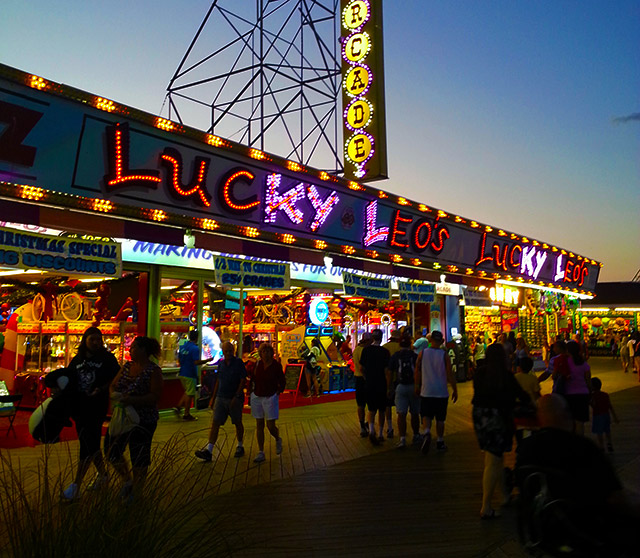 Now roughly twenty years later, I've finally returned. With Jay from The Sexy Armpit and our better halves, we walked up and down the boardwalk looking for every stupid photo worth taking. We ate pizza, too!
Back in the day, I considered Seaside Heights a "poor man's Wildwood" — way smaller, and with far fewer neon lights. These things are still true, but here's the difference: Wildwood has changed a lot since the '90s, while the vibe at Seaside Heights has hardly changed at all. I may actually prefer Seaside, now. If you know what you're looking for, it's as much a joyous relic as a place to play Frog Bog.
Here are the highlights!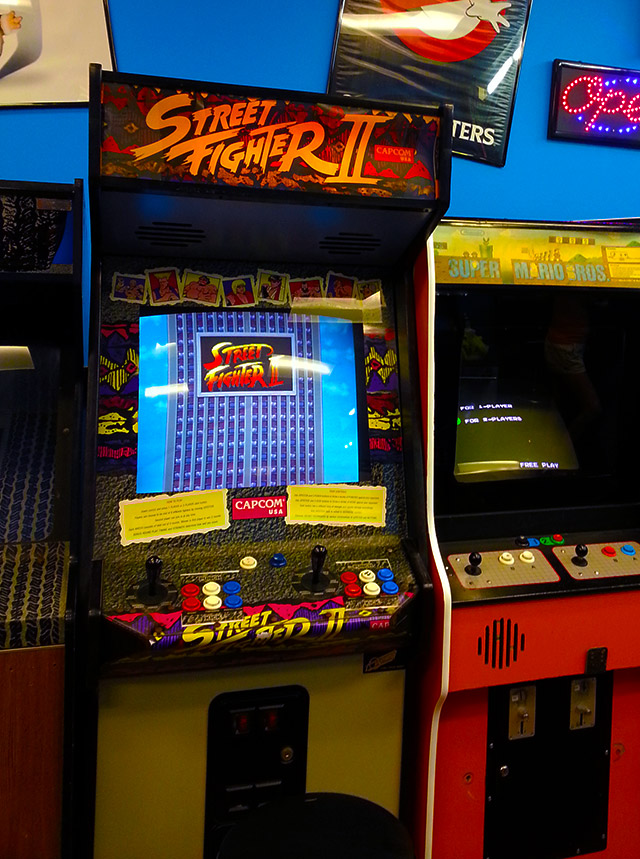 RETRO ARCADE!
One of the boardwalk "booths" — which has doubtlessly spent former lives as everything from a souvenir shop to a tattoo parlor — now plays home to a small "retro arcade." Pay a modest fee, and play away!
It's nothing compared to a place like Yestercades, but as just one of a million stops on a New Jersey boardwalk, it's so cool. With around 15 arcade cabinets and a couple of pinball games, I loved the aesthetic touches as much as the coin-ops. Those '80s posters in cheap frames, the liberal use of billiards-blue paint… they're tacky attributes to be sure, but when you're on a boardwalk, you WANT tacky.
(And don't get me started on Street Fighter II. An identical cabinet used to live at the Trump Taj Mahal in Atlantic City. For a certain period of time, it was practically my altar at which to worship.) (more…)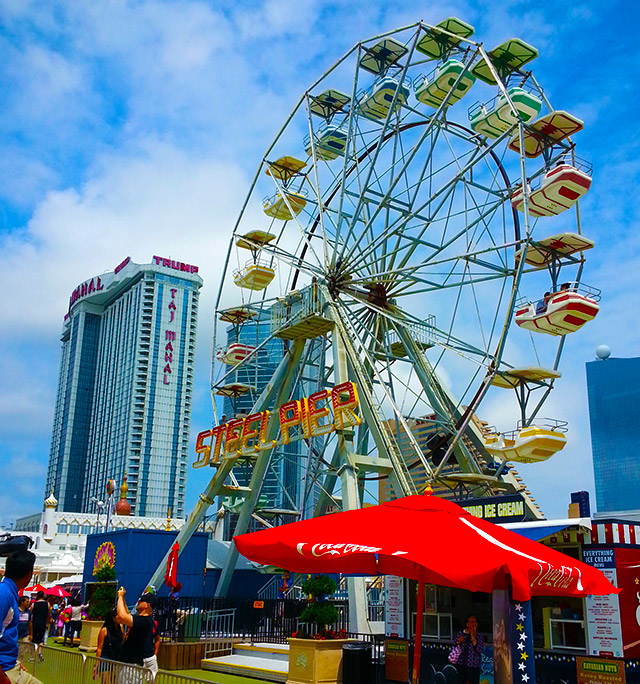 We celebrated Independence Day in Atlantic City, joining Mr. and Ms. Sexy Armpit for two days' worth of tequila and gambling and fireworks. (In that order, come to think of it.)
Between the blue skies and the straight flushes, it was an amazing weekend. Of course, we spent many hours on the famously infamous Atlantic City boardwalk, searching for post-worthy treasures. Here are some of the highlights: (more…)
On Saturday, me and Jay from The Sexy Armpit visited the first-ever Atlantic City Boardwalk Con, a sort of generalized pop culture celebration that to me felt like a delightfully miniaturized version of SDCC.
Held at the still-sparkly Atlantic City Convention Center, "ACBC" was my best con experience in a long time. Big enough to feel like a major event but still intimate enough to not overwhelm anyone, I was impressed with everything from the layout to the variety of attractions to the damn parking garage.
The convention's main draw was a number of big (and several not-so-big) stars doing autograph sessions, which I gleefully ignored in favor of simply exploring the floor and maybe buying some old toys. I did hear that the autograph portions of the show came with a few headaches, but for someone like me — someone who just wanted to roam free for a couple of hours while adding comics and action figures to an increasingly heavy bag — it was close to perfect.
Below are my eleven favorite things about ACBC. Here's to hoping it returns next year!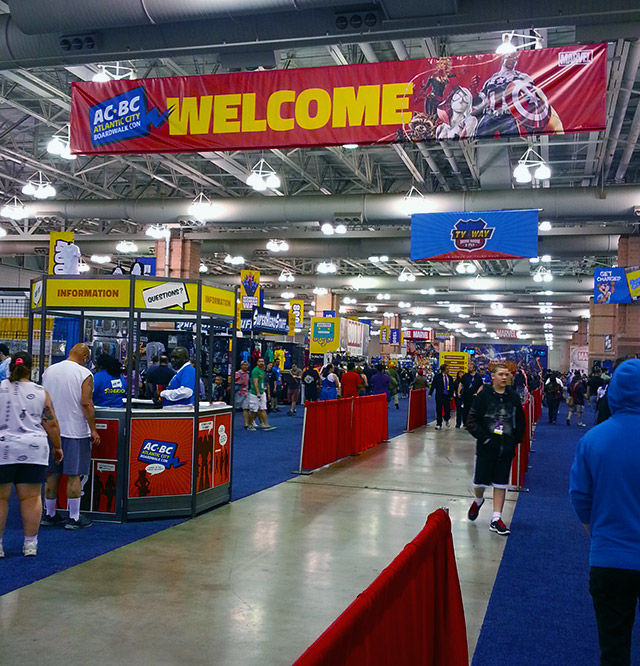 #1: The Atmosphere.
We went on Saturday morning, and while there were a lot of people there, the convention could've comfortably fit twice as many visitors. I suppose that could mean that the show didn't perform quite as well as its backers were hoping, but I prefer to think that they just invested in the right venue.
The Atlantic City Convention Center is huuuuuge. The ceiling was out of reach for anyone smaller than the Cloverfield monster. There were tons of vendors, but they weren't sardine-packed.
This made for a great atmosphere. You didn't need push or shove to get from Point A to Point B. You could mindlessly stop to adore some cool thing without being immediately trampled by the ten people who were secretly one foot behind you. Everyone seemed to be in a good mood, and I think the extra space had a lot to do with it. (more…)
Over the weekend, me and Jay from The Sexy Armpit found ourselves in a church, or maybe an event center, or perhaps some kind of school. I'm not exactly sure, but some building in Clifton NJ had been commandeered for a comic book convention.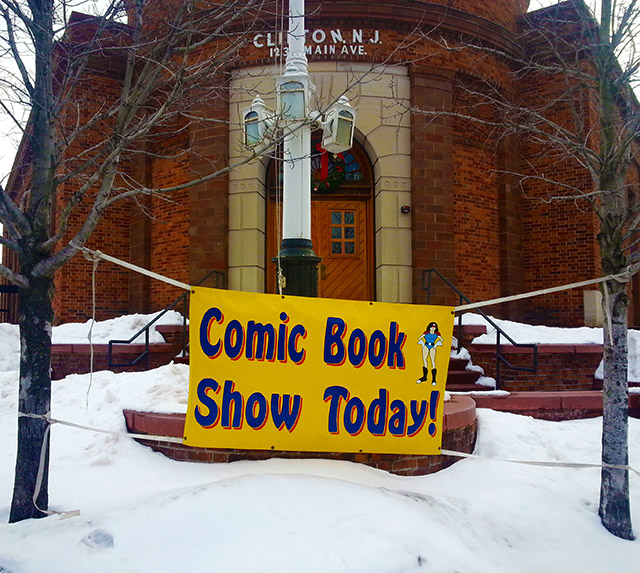 A small comic book convention, I mean. This wasn't NYCC, and it certainly wasn't SDCC. No celebrities, no major press, no cosplayers and no freebies from Sony. Just a few dozen people selling comic books off of well-worn folding tables. It was exactly what I wanted it to be. (more…)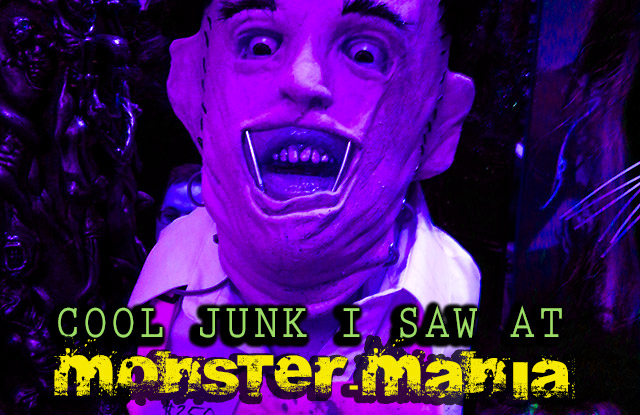 "Came, saw, bought a few things, made a fool of myself, went home."
That would be the summary of my experiences at the 28th Monster-Mania horror convention, which took place in Cherry Hill last weekend.
I fear I'm not in any position to give you a full report, since we spent so much of the evening away from the convention areas. The closest I came to celebrity hobnobbing was sharing an elevator with Hacksaw Jim Duggan.
Actually, I wasn't planning to write anything about Monster-Mania. We were mostly there to reconnect with friends, and so I could pay too much for "zombie red" contact lenses. (Both missions were accomplished.)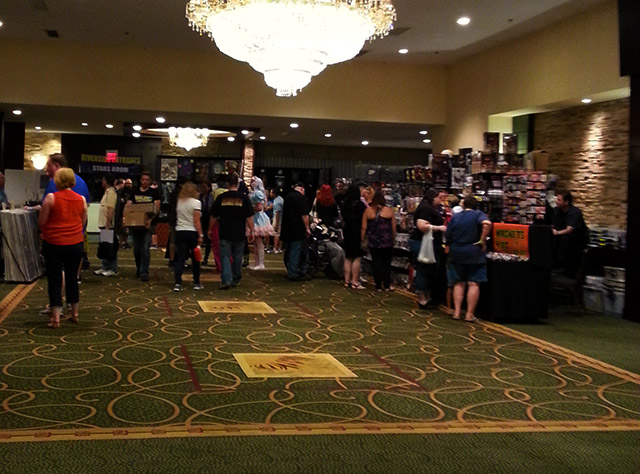 …but when I got home, several readers asked for a review, having come to rely on Dino Drac for some small glimpse into this long-running and now practically legendary horror convention.
So FINE. I'll play your game.
While I can't give you many specifics about the guests or the events or even the gory cosplayers, I at least took enough photos to provide highlights of the best part of any Monster-Mania: The dealer rooms.
I've trained myself to treat those rooms like a museums. Convention swag rarely comes cheap, and too often, I've come home with a pile of unneeded stuff that I could've bought online for less. After all, the thrill isn't in the prices, but in the hands-on exposure. It's one thing to see a bunch of old toys and new memorabilia when you're browsing websites, but it can be downright intoxicating when you're surrounded by it in person.
I picked up a few choice items for future posts, but here are the best things I didn't buy at Monster-Mania 28: (more…)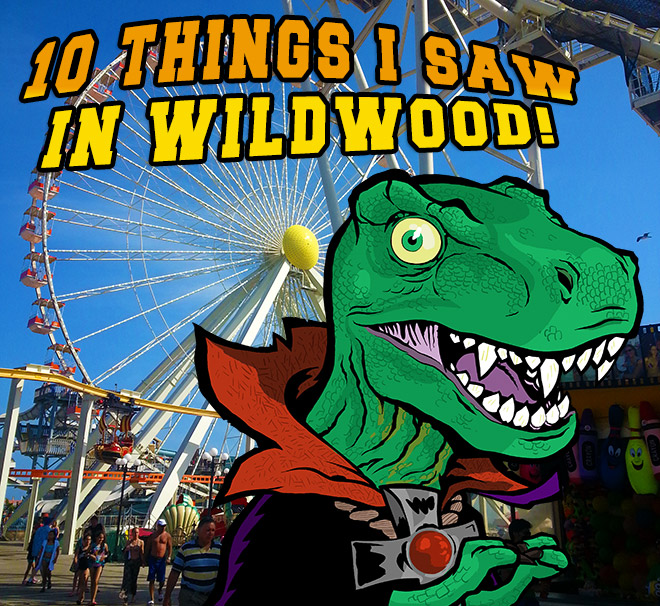 After more than ten years, I finally made it back to Wildwood.
Well, for a few hours, at least! We spent the 4th in Atlantic City with Mr. and Mrs. Sexy Armpit, but on Thursday, the four of us did a quick hit-and-run at the negotiably-nearby Wildwood boardwalk. If you've been with me since the beginning, you know that Wildwood is basically my Disney World.
For the clueless: Wildwood is a vacation spot on the Jersey shore, famous (and infamous) for its insanely long and insanely spirited boardwalk, stuffed with roller coasters, bad t-shirts and six thousand types of french fries.
For me, it is home.
This was a very short trip, so I can't give you a full blow-by-blow on everything Wildwood has to offer. (Actually, even if I spent two weeks there, I still wouldn't be able to.) Even so, it seems I took just enough pictures and saw just enough interesting things to spend the next four hours writing loving tributes to dark rides and cereal-infused ice cream sundaes.
Here are ten things I saw in Wildwood. Enjoy them as I did.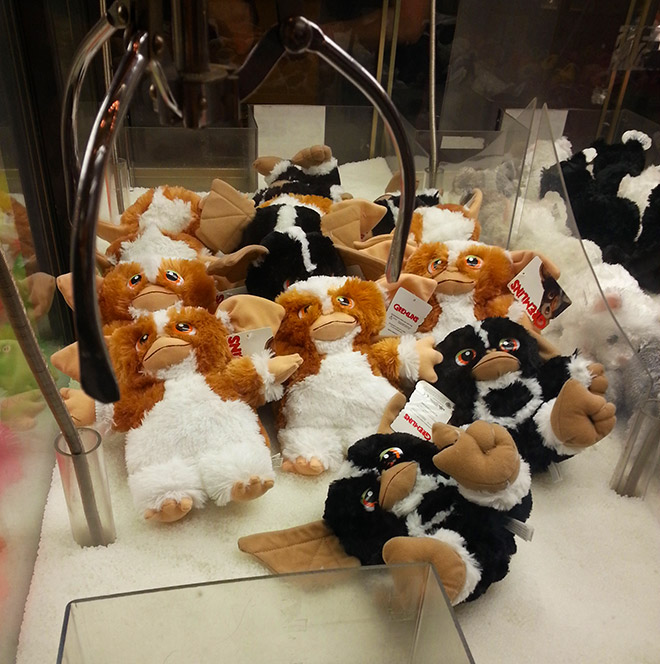 I was pleasantly surprised to see officially licensed Gremlins dolls in one of Wildwood's 150+ crane machines, but outright shocked to see MOHAWK included. In his adorably skunky mogwai form, no less!
Characters exclusive to Gremlins 2 are less often mined for things like this, and as cool as it was to see the original movie's Stripe lurking in crane machines a few years ago, this is even better. Mohawk was the sequel's Big Bad, and to date, the ONLY character in the Gremlins universe to be seen in three forms. (The last of which being a gremlin/spider hybrid!)
I somehow managed to win three Mohawk dolls, a miracle that only barely falls short of Moses parting the Red Sea. I freakin' love them. They look totally bootleg in the best way possible. (more…)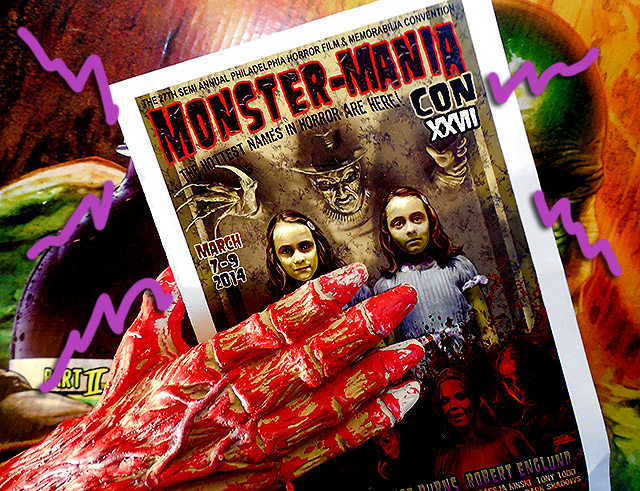 On Friday, we found ourselves back on the familiar floors of Cherry Hill's Crowne Plaza, ready to drink through the latest Monster-Mania convention.
This was the 27th Monster-Mania. The first one I went to was only their third ever. Almost ten years later, and I still get a kick out it. I don't know whether to find comfort or shame in the idea that I might still be going to these things twenty years from now.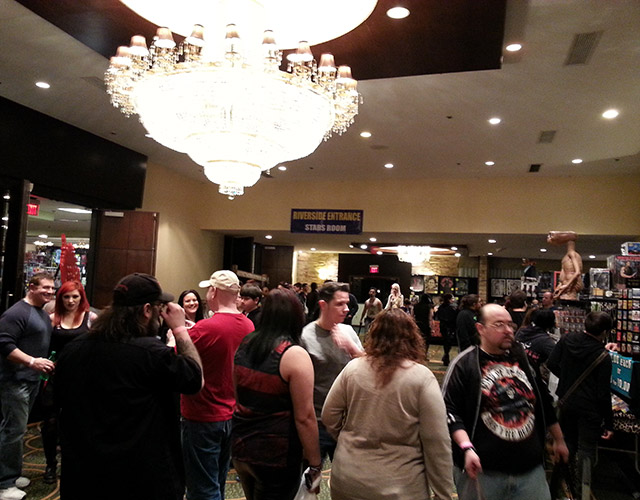 I can't give you a full convention report, because we were only there for a day, and we barely scratched the surface of what Monster-Mania has to offer. After meeting John and Jay at last August's convention, we all became fast friends, and heading back on Friday was mainly an excuse to hang with them — albeit with the neat backdrop of total strangers wearing scary clown costumes.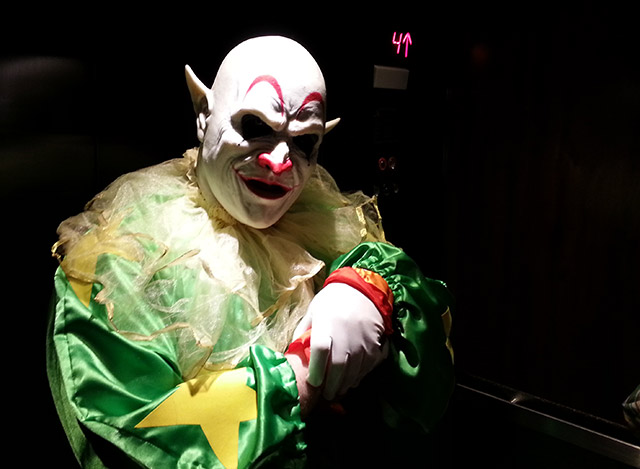 See? (more…)