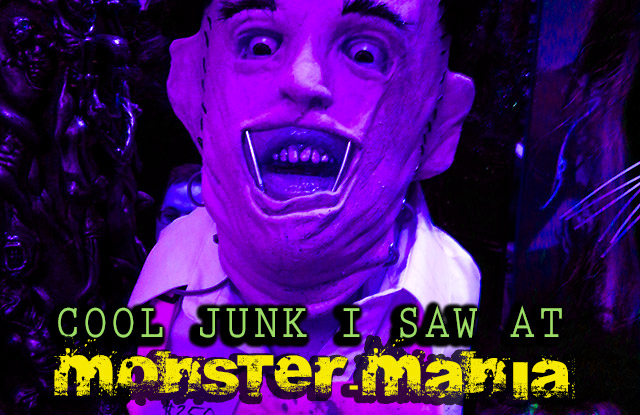 "Came, saw, bought a few things, made a fool of myself, went home."
That would be the summary of my experiences at the 28th Monster-Mania horror convention, which took place in Cherry Hill last weekend.
I fear I'm not in any position to give you a full report, since we spent so much of the evening away from the convention areas. The closest I came to celebrity hobnobbing was sharing an elevator with Hacksaw Jim Duggan.
Actually, I wasn't planning to write anything about Monster-Mania. We were mostly there to reconnect with friends, and so I could pay too much for "zombie red" contact lenses. (Both missions were accomplished.)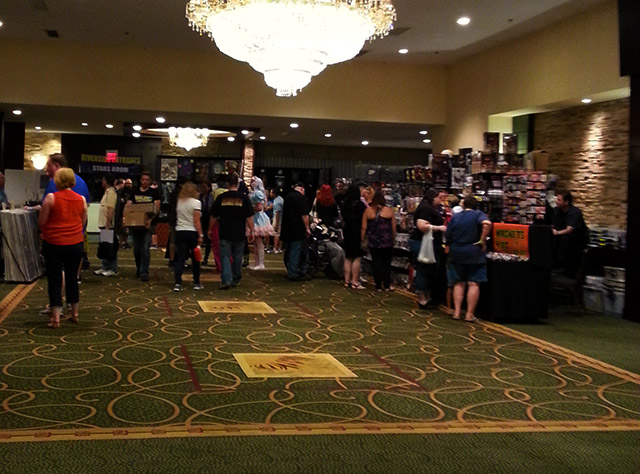 …but when I got home, several readers asked for a review, having come to rely on Dino Drac for some small glimpse into this long-running and now practically legendary horror convention.
So FINE. I'll play your game.
While I can't give you many specifics about the guests or the events or even the gory cosplayers, I at least took enough photos to provide highlights of the best part of any Monster-Mania: The dealer rooms.
I've trained myself to treat those rooms like a museums. Convention swag rarely comes cheap, and too often, I've come home with a pile of unneeded stuff that I could've bought online for less. After all, the thrill isn't in the prices, but in the hands-on exposure. It's one thing to see a bunch of old toys and new memorabilia when you're browsing websites, but it can be downright intoxicating when you're surrounded by it in person.
I picked up a few choice items for future posts, but here are the best things I didn't buy at Monster-Mania 28: (more…)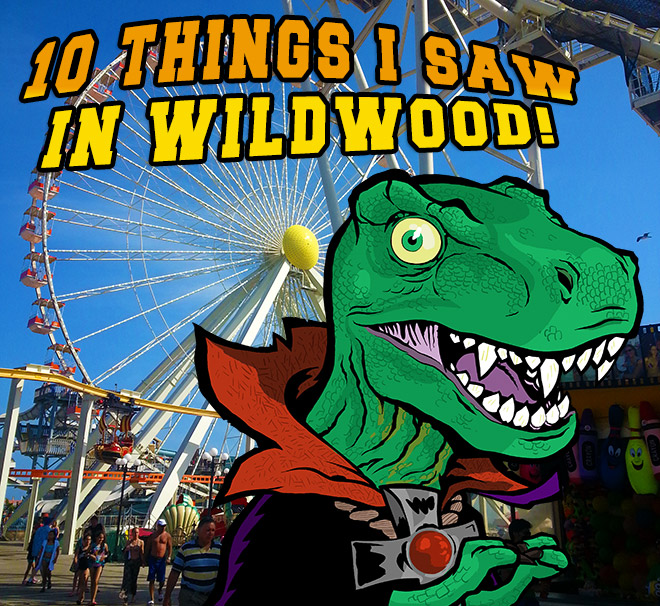 After more than ten years, I finally made it back to Wildwood.
Well, for a few hours, at least! We spent the 4th in Atlantic City with Mr. and Mrs. Sexy Armpit, but on Thursday, the four of us did a quick hit-and-run at the negotiably-nearby Wildwood boardwalk. If you've been with me since the beginning, you know that Wildwood is basically my Disney World.
For the clueless: Wildwood is a vacation spot on the Jersey shore, famous (and infamous) for its insanely long and insanely spirited boardwalk, stuffed with roller coasters, bad t-shirts and six thousand types of french fries.
For me, it is home.
This was a very short trip, so I can't give you a full blow-by-blow on everything Wildwood has to offer. (Actually, even if I spent two weeks there, I still wouldn't be able to.) Even so, it seems I took just enough pictures and saw just enough interesting things to spend the next four hours writing loving tributes to dark rides and cereal-infused ice cream sundaes.
Here are ten things I saw in Wildwood. Enjoy them as I did.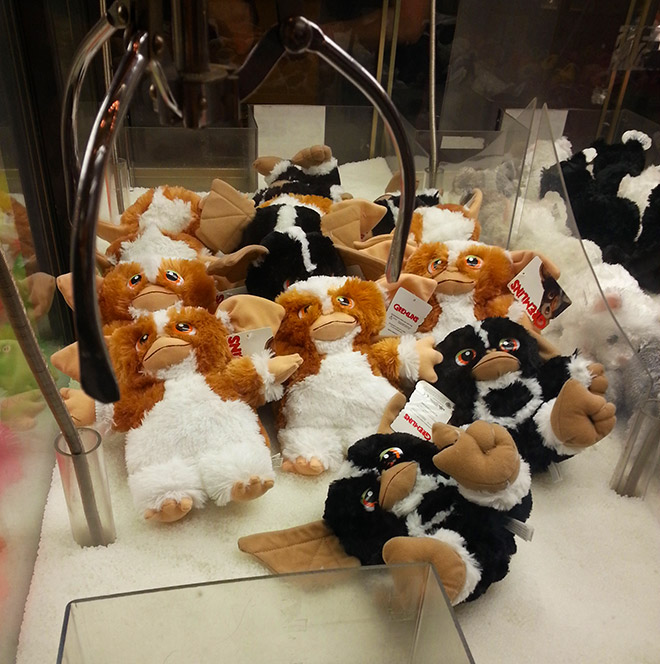 I was pleasantly surprised to see officially licensed Gremlins dolls in one of Wildwood's 150+ crane machines, but outright shocked to see MOHAWK included. In his adorably skunky mogwai form, no less!
Characters exclusive to Gremlins 2 are less often mined for things like this, and as cool as it was to see the original movie's Stripe lurking in crane machines a few years ago, this is even better. Mohawk was the sequel's Big Bad, and to date, the ONLY character in the Gremlins universe to be seen in three forms. (The last of which being a gremlin/spider hybrid!)
I somehow managed to win three Mohawk dolls, a miracle that only barely falls short of Moses parting the Red Sea. I freakin' love them. They look totally bootleg in the best way possible. (more…)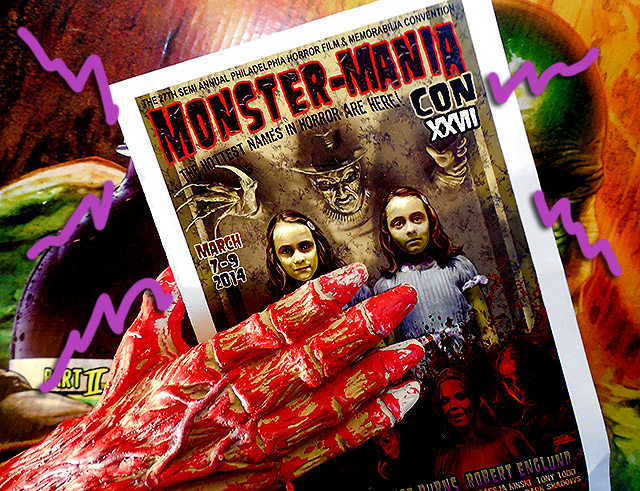 On Friday, we found ourselves back on the familiar floors of Cherry Hill's Crowne Plaza, ready to drink through the latest Monster-Mania convention.
This was the 27th Monster-Mania. The first one I went to was only their third ever. Almost ten years later, and I still get a kick out it. I don't know whether to find comfort or shame in the idea that I might still be going to these things twenty years from now.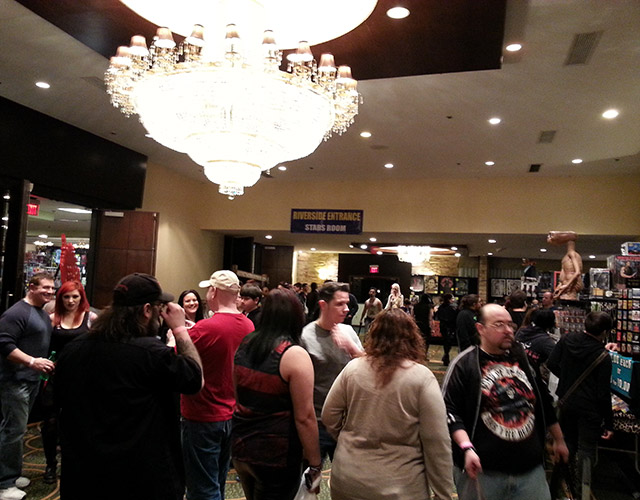 I can't give you a full convention report, because we were only there for a day, and we barely scratched the surface of what Monster-Mania has to offer. After meeting John and Jay at last August's convention, we all became fast friends, and heading back on Friday was mainly an excuse to hang with them — albeit with the neat backdrop of total strangers wearing scary clown costumes.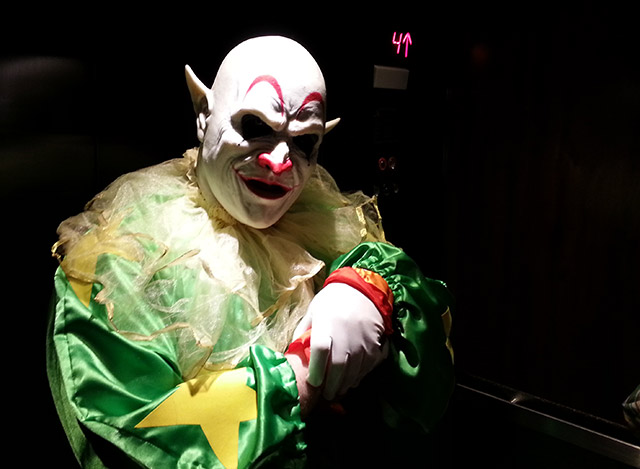 See? (more…)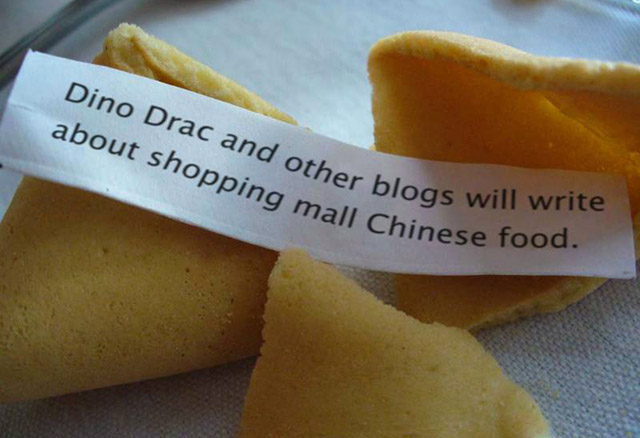 Me and four other bloggers visited the food courts in our local malls. Our mission was to review the Chinese food joints that are always a part of those food courts.
I bet you didn't expect me to open with that paragraph today.
We had good reasons to do this. Shopping mall food courts are bizarre and beautiful. They exist more as entities than mere "places," and the hearts of these entities are always the Chinese food joints. Most of the establishments at food courts come and go with alarming frequency, but the ones that sell Chinese food are blessed and cursed to be a part of them for as long as they stand.
They are constants. Magical constants bathed in twenty-year-old neon lights. (more…)

We spent New Year's Eve in Atlantic City, with The Sexy Armpit's Jay and his girlfriend Corinne. All I really remember is punching balloons and getting my ass handed to me at three card poker. And walking past some guy that I swore was Johnny Torrio from Boardwalk Empire, even if, in my heart, I knew he wasn't.
The trip was a private misadventure amongst friends — not something I planned to write about. That all changed in the morning hours. Curing our hangovers with cherry Powerade, we attacked the boardwalk with just one thing in mind:
CRAP SHOPS.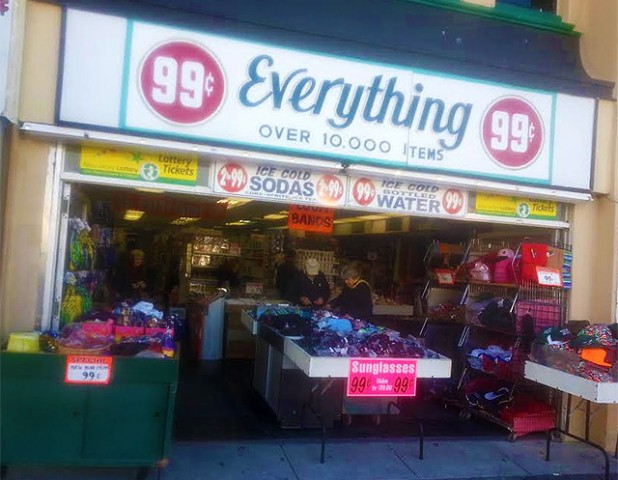 The Atlantic City boardwalk is full of incredible crap shops. I've been providing proof of this for more than a dozen years. This time, though, we landed at the crap shop to end all crap shops. The ULTIMATE crap shop..
Or, more accurately… THE BEST 99 CENT STORE EVER.
I recognized it straight away. It was the same 99 cent store that I used to go to as a newly minted teenager, back when my parents practically lived at the Trump Taj Mahal. It hadn't changed at all, and I cannot mean that more literally. The stuff that was inside this store… was the same stuff that was inside this store twenty fucking years ago.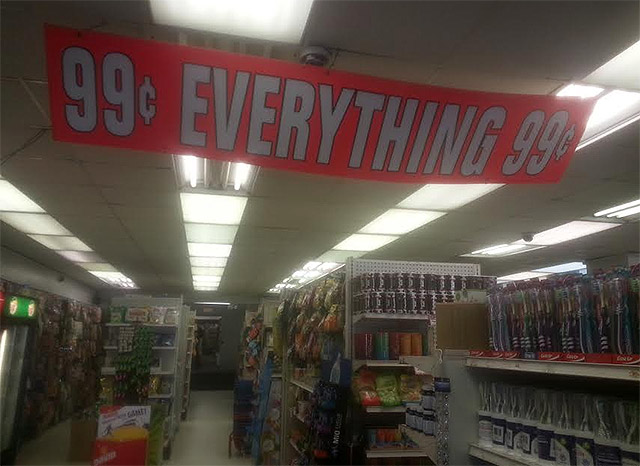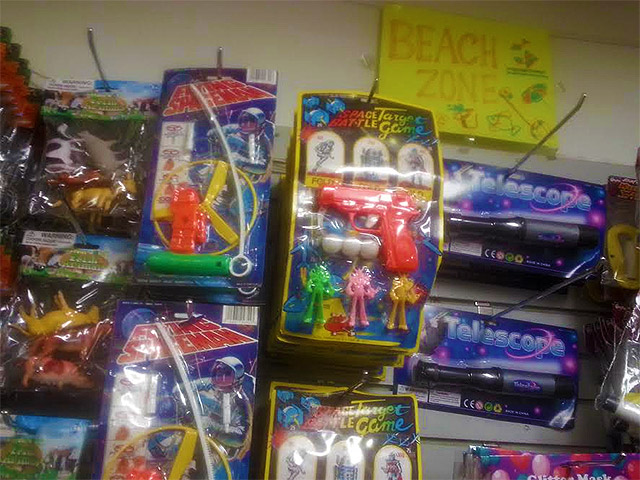 At first, none of us realized that we were surrounded by treasure. We were finding good things, but nothing terribly outrageous. Fifteen minutes must have passed when Jay casually announced that they were selling Dennis the Menace pinball games from 1986. Moments later, I found a Kevin Nash air freshener from 1998.
From that point on, it was complete joyous lunacy. Our eyes were open and we were ready to see the truth. This place was COVERED with amazing shit. Everywhere we turned, there was a new reason to scream.
I think this photo sums it up: (more…)