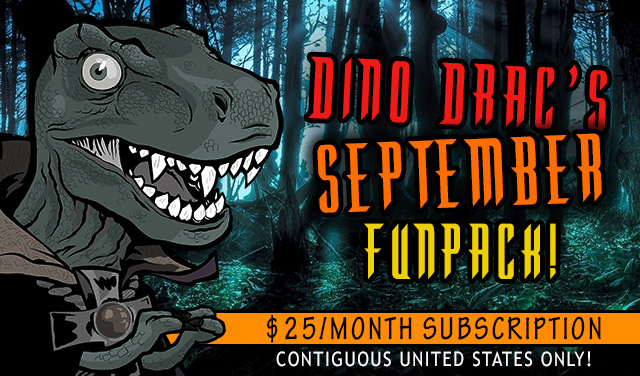 Dino Drac Funpack subscriptions are back on sale! $25 a month, for a new box of weird junk, every month!
Subscribe now and you'll start with the SEPTEMBER 2014 FUNPACK — which, since the site will be firmly entrenched in the Halloween Countdown by then, has a nice dose of scares!
If you're already subscribed and would like to stay that way — do nothing! You're all set.
If you're NOT subscribed and you're pretty sure you want to be, I would advise you not to wait too long. Subscriptions starting with the September Funpack are available through 9/7, but there is a pretty fair chance that they will sell out before then. (Once I'm out of supplies, I'm out of supplies, and you'll have to wait another month!)
Let's see what September has in store!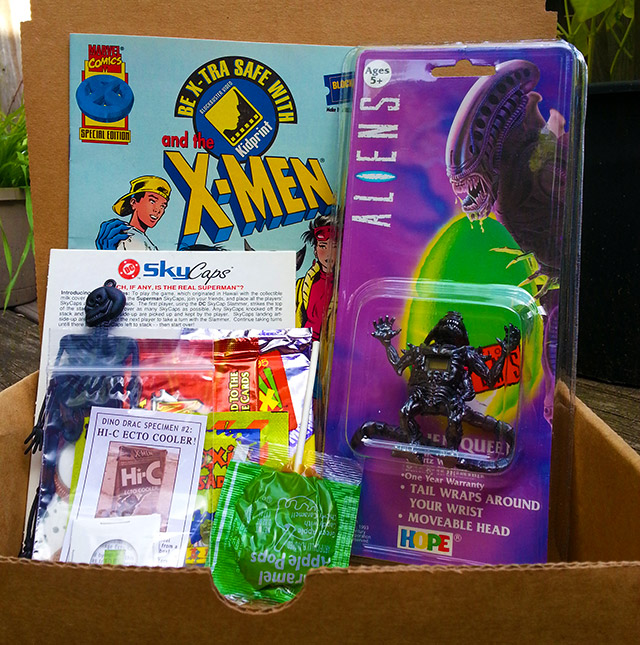 (An almost complete sample of a September Funpack!)
While the Funpack shown here is for example purposes (some contents may vary), ALL existing and new subscribers WILL receive the following:
* The first of two Halloween-themed Ugly Mini Posters! (Not shown in the photo.)
* An all-new DINO DRAC SPECIMEN, which I'll tell you about in a minute!
* An incredible Aliens digital watch from 1993, still in package! Your new Halloween mascot!
* Packs of old trading cards! (Yes, some packs have a spooky theme!)
* And other things that you'll have to wait to see, but the photo above will give you some example of what you may find.
I think these will kick off your Halloween season in excellent fashion.
Oh, and about that specimen… (more…)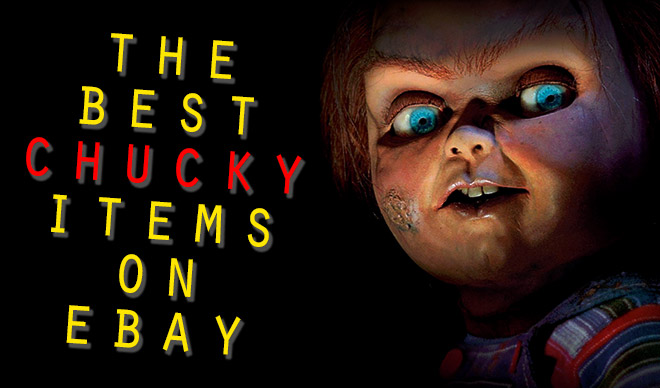 Hi, I'm Matt. Child's Play fan.
I was a late bloomer with horror, but Chucky was an exception. From Day One, I was on his side. Of the right age to clearly recognize him as a riff on Hasbro's My Buddy dolls, I stupidly assumed that the Child's Play franchise was at least partially targeted at kids. It wasn't, but I fell in love all the same. My earliest memories of horror movies come in blips and bleeps, but with Child's Play, I was all-in.
In my mind, there's no bad Child's Play movie. The second one is my favorite, but even the more polarizing fourth and fifth films worked for me. Chucky started as a straight-up slasher, evolved into a sort of cartoon, and eventually settled into something approaching "outsider art." I adored all of it.
To celebrate Chucky — because that's what we're doing today — I thought I'd dust off an abandoned Dino Drac series. Below are the five best Child's Play items currently on eBay.
(And when I say "best," I usually mean "weirdest.") (more…)