Last July, I introduced you to The Ultimate '80s Sticker Album, which originally belonged to a complete stranger. One who really, really liked stickers.
Well, I've found a similar album, which once belonged to another stranger. It's not as jampacked as the album from last summer, but in its way, it's just as awesome: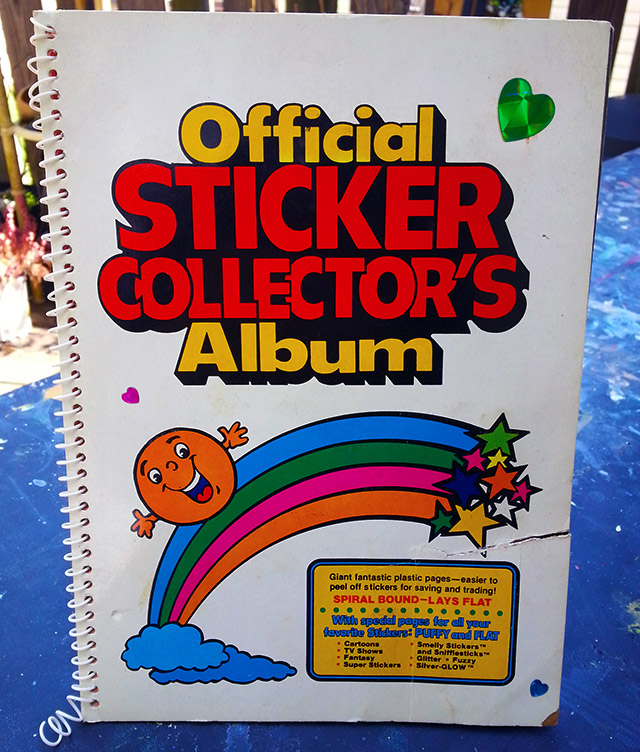 The Official Sticker Collector's Album was released in 1983 by Gordy International, which certainly had a vested interest in making kids obsess over stickers. Gordy International was one of its era's leading sticker companies, offering adhesive versions of everything from legit cartoon characters to anthropomorphized foodstuffs.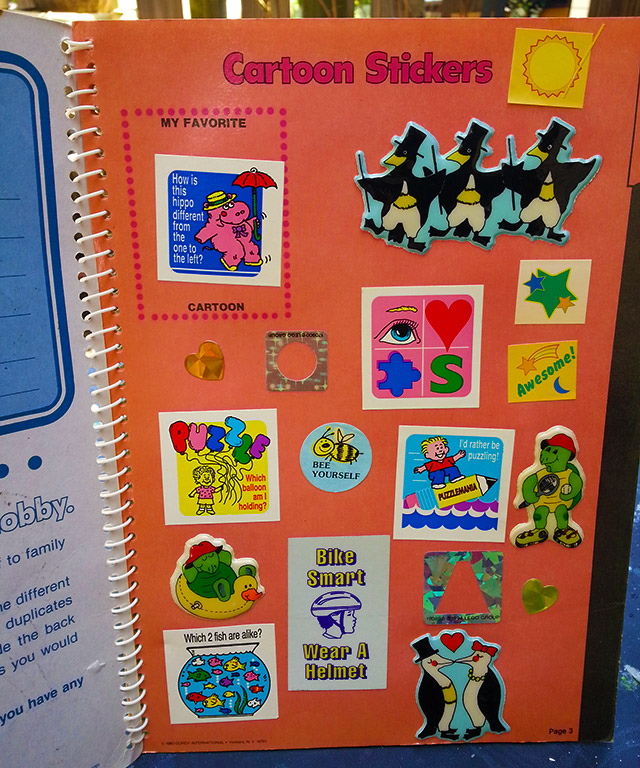 Fortunately, this album's original owner didn't stop at Gordy's stickers. There's a little bit of everything in here, hitting so many subjects and in such random order that it almost feels more like a parody of '80s stickers albums than a "real" one.
What's more interesting is that the stickers aren't only from the '80s. A few Power Ranger appearances suggest that this album was in use until the late '90s. Given that there are stickers here too old for even me to remember, this merits discussion!
My best guess is that someone a little older than me started the album, before passing it down to a much younger brother or sister many years later. I'm rather digging the idea of a messy sticker album becoming a family heirloom. This is the sticker book version of the Winslow quilt from Family Matters. (more…)
I found it, I found it. The most impossibly '80s thing of all impossibly '80s things.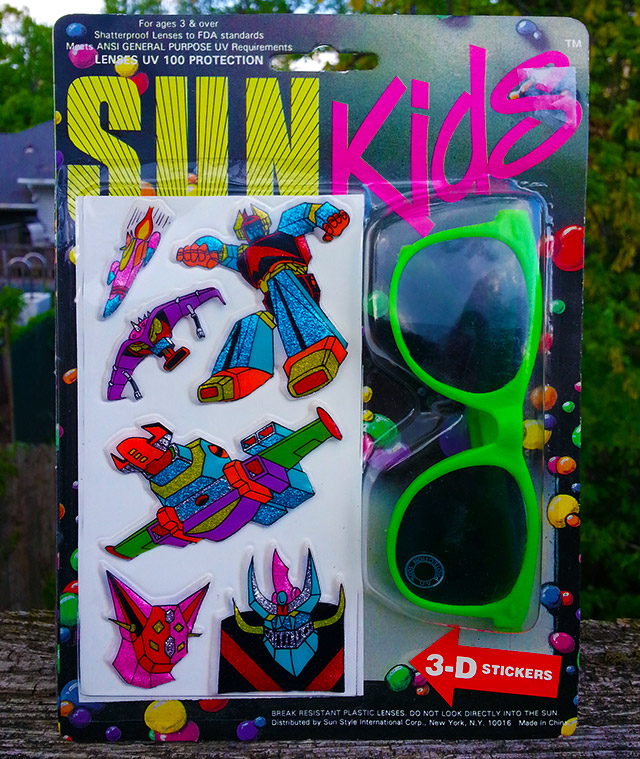 Ironically, for all I know, it might've come out in the '90s.
This Sun Kids combo pack blends two things that perfectly bookend all of my other childhood memories: Cheap sunglasses with neon frames… and puffy stickers. I honestly could not choose a better two items to represent "1986" in the form of meretricious pharmacy toys. (more…)
Today we're gonna get reacquainted with some very special books.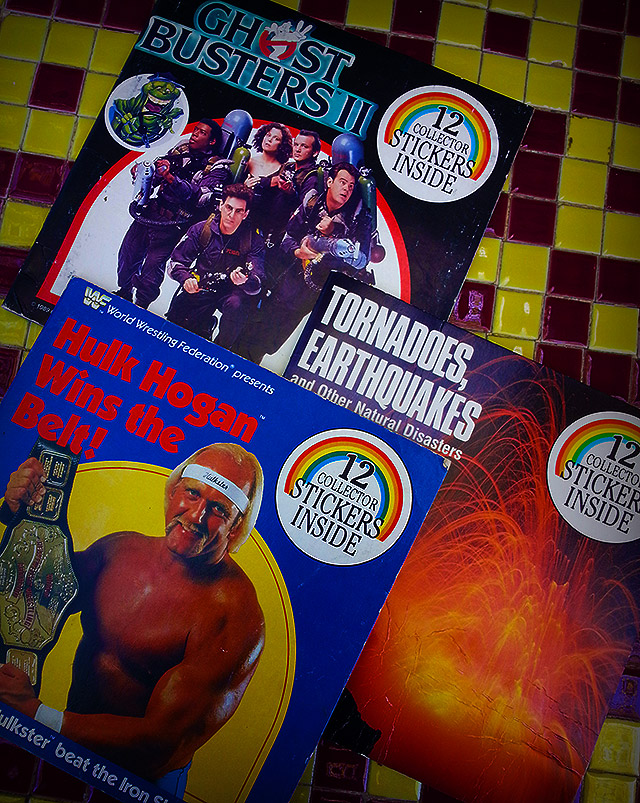 If you're at all familiar with these, you already love them. Published by Antioch in the '80s and '90s, they were commonly found at elementary school book fairs, and on those delightful Scholastic Book Club order forms.
Those were some of the best days of the school year! My book fairs were always held in the library, where hundreds of shiny new books were piled atop borrowed desks, silently spiting the library's ten thousand used books, which ironically went completely ignored on the library's busiest day.
We'd shop with our parents' money, ostensibly there to find motivation to read. Heading home with sticker books and the errant edition of Choose Your Own Adventure, the fairs felt more like school-sanctioned trips to toy stores.
And those book club order forms? Getting them made for great days, too. Filled with everything from Garfield treasuries to puffy sticker sheets, they were again ways to interpret our superiors' encouragement to read as our superiors' encouragement to buy bullshit.
Often enough, the books I'm celebrating today were the stars of both events. While having little to do with one another as far as subject matter, they still shared many traits. One, they were all published by Antioch. Two, they were always perfectly square. Three, THEY CAME WITH 12 COLLECTOR STICKERS.
Yeah, three was the big one. (more…)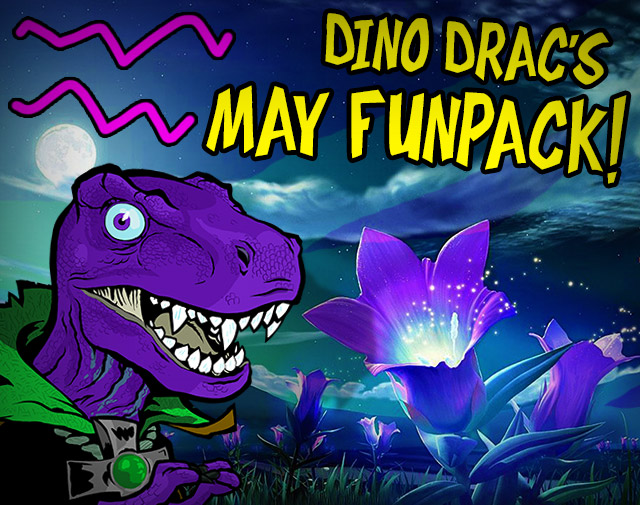 ($25 MONTHLY, SHIPPED! AVAILABLE IN THE U.S. ONLY!)
Dino Drac's May 2015 Funpack is here!
The quick-and-dirty version: Every month, I mail out a new Funpack. Subscriptions cost is $25 per month (that includes shipping), and you can cancel at any time. For as long as you remain subscribed, you'll keep getting more Funpacks!
Without these subscriptions, there'd be no Dino Drac, so many thanks again to all subscribers, old and new!
Before I give you the deets on subscribing, let's take a look at this month's goods!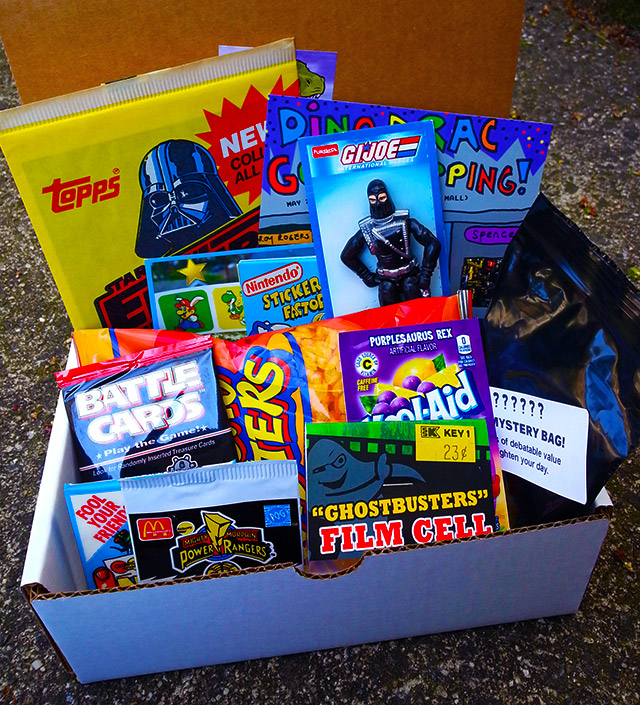 May's Funpack is another 10+ item box, loaded with old-and-new tricks and treats. Each Funpack includes:
– A Playskool G.I. Joe figure from 2002 — part of an old Pepsodent promotion! Whaaat?!
– A sealed pack of Empire Strikes Back Photocards from 1980!
– A honest-to-goodness Ghostbusters film cell, in custom packaging!
– Trading card packs, including Battle Cards and Topps Nasty Tricks!
– A sealed McDonald's Power Rangers "Power Coin Pack" from 1994!
– Dino Drac's May 2015 Ugly Mini Poster!
– The May 2015 Specimen: A 1993 Nintendo Sticker Factory sticker!
– A packet of still-fresh Purplesaurus Rex Kool-Aid!
– A bag of Wise Nacho Twisters!
– A Mystery Bag stuffed with a few more goodies!
– Dino Drac's May 2015 Funpack Newsletter! (Not pictured.)
If you're already sold, skip to the bottom of this post for subscription information. For the rest of you, let's take a closer look at this month's loot! (more…)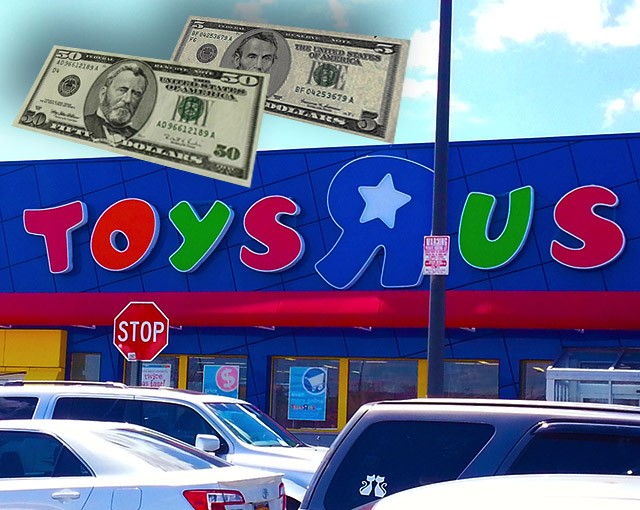 I found an old Toys "R" Us gift card while cleaning, and was happy to discover that it still had 59 bucks left on it. I hope the card enjoyed those eight months under our microwave.
This left me with three options. One, I could save it until the Christmas season, when I'm due to blow hundreds of dollars on gifts anyway. Two, I could put it towards one extravagant item that I wouldn't be able to afford without a 59 dollar assist. Three, I could immediately drive to TRU and blow it all on goofy crap.
An easy decision. Let's go on a shopping spree!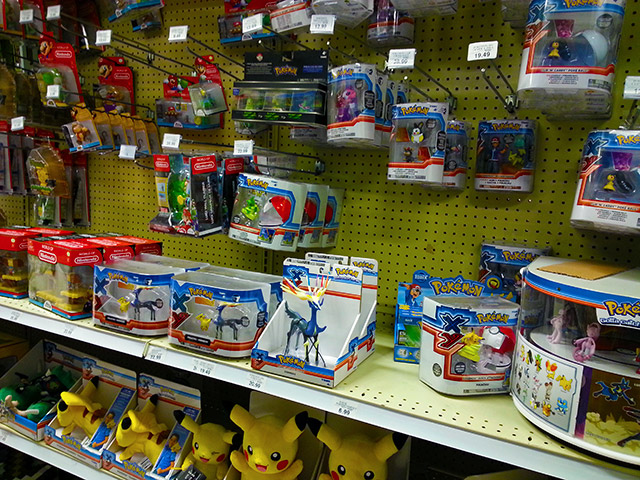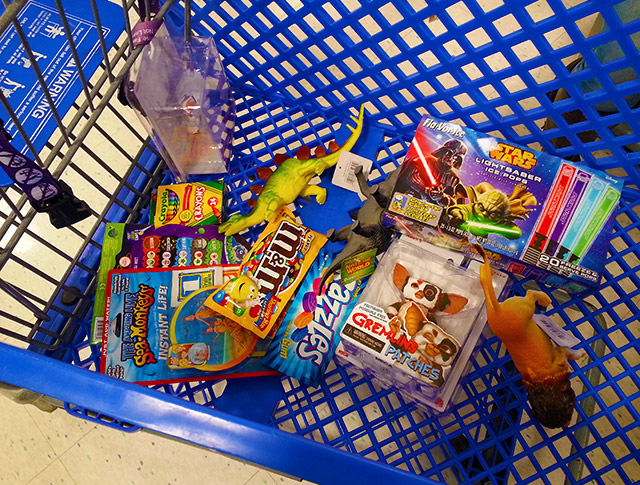 My TRU visits are usually fruitless. I'll go in, look around, want stuff, but ultimately leave empty-handed, confident that groceries and rent are more important than a few extra Ninja Turtles.
By contrast, a gift card shopping spree is an open invitation to be six years old. Even so, fifty bucks doesn't go as far as it used to, and if I wanted an overstuffed shopping bag that fired on every cylinder, I had to play it smart. I had to be choosy.
The hardest part was keeping track of my total. These days, almost nothing in TRU wears a price sticker. I had to continually run back to that little scanning-zapping-thing for mental math. (The reason this became a $55 shopping spree rather than a $59 shopping spree was my own paranoia. I didn't want to spend one cent of my own money, so at the last second, I removed the big bag of Peanut M&M's. As it turned out, I could've bought them and still been under my limit. Damn.)
I didn't just stick with my usual three aisles. I covered every inch of that place, looking for sales and clearances. (And also Sea-Monkeys, which are now so well-hidden that an entire game show could be forged around challenging contestants to find them in TRU.)
The results are below. I wasn't just aiming for cool stuff, but a variety of it.