Hot damn, I finally found it. Photographic evidence of that weird thing I did back in junior high.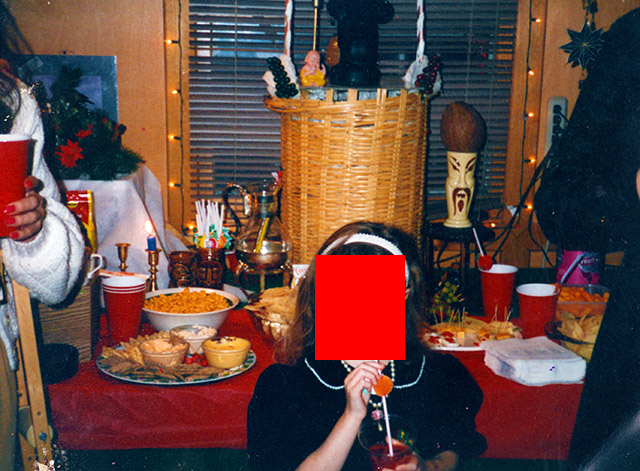 For several years, I used our family's Christmas Eve party as an excuse to throw my own. Guests were encouraged away from the dinner table and into my bedroom, for a look at what I called THE CHRISTMAS TIKI HUT.
Basically, I transformed my bedroom (which by that point was a large room downstairs) into party central. A huge table at the back was covered with all sorts of store-bought snacks and drinks, plus goofy appetizers of my own design. (Uh oh.)
I was big into Tiki culture, owing to Archie McPhee and our one local Polynesian restaurant. Remember the bar from Goodfellas? This was my version of it. Christmas lights mixed with ceramic Tiki tumblers. An ambiance best described as "yard sale with food."
This photo only tells part of the story. My entire bedroom was decorated for the occasion. You know those little Santa hats that they sell for pets? They were all over my action figures. And my God, the entertainment! Christmas movies playing all day long, and by "Christmas movies" I of course mean "Return of the Jedi."
My family indulged me, not because they wanted to eat cheese that had been sitting out for sixteen hours, but because it was obviously so important to me. For a few years, I cared more about my Tiki Hut than any other Christmas-related thing.
The best part might have been the shopping. Every year, I'd beg someone to take me to Price Club, which was the precursor to Costco. Using money that couldn't have been mine, I'd load up on jumbo-sized packages of snacks that only a thirteen-year-old psychopath would dream of serving for Christmas.
People nibbled, but most of the spread was still fully intact by the end of the night. Since much of that spread consisted of the same junk food I already lived on, I didn't mind. During the week between Christmas and New Year's, I was never anything but alarmingly bloated.
The Christmas Tiki Hut worked like a cocktail hour, or maybe a cocktail half an hour. Everyone would pile in. The adults would pretend to eat and drink. The children would actually eat and drink. Soon enough, they'd be back upstairs for the rest of the party. (I took no offense to how long anyone stayed, as long as everyone showed up.)
When I zoom into the stuff on that table, I'm surprised that they were so agreeable. Many of these foods would've been questionable even if they weren't being served in a kid's filthy bedroom. On Christmas Eve.
Let's examine! (more…)

UPDATE: The Big Boxes of Joy sold out in record time. Thanks, all! Still have some Merry Mini Funpacks left — see below! For those
dying
for a Box of Joy, I'll see if I have enough replacements to cover a few extras later this week.
E-mail me
if interested and I'll be in touch!
The holidays are mainly about squeezing everyone dry, so I'm here to sell you random junk!
These occasional sales have become critical for my continued existence as "this blogger guy."  I like to think of them as "donations with benefits." That makes it easier for me to explain why anyone would buy old lunch bags.
This time around, I have two options for ya. First are Dino Drac's BIG BOXES OF JOY, which are kinda expensive and in very limited supply. For those looking for something cheaper, I've also put together a batch of MERRY MINI FUNPACKS.
Details on both are below. Please note that some of these items have appeared in previous Funpacks, so pay close attention to the details. If you've bought something before and hate doubles with a passion, I won't blame you for skipping these!
First up… THE BIG BOXES OF JOY!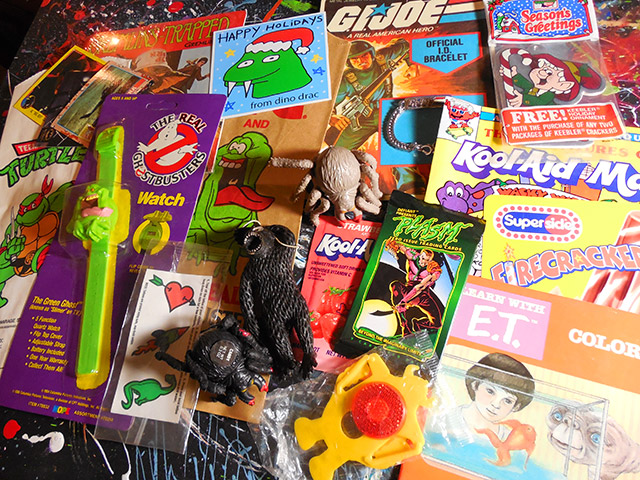 (Sample Box #1)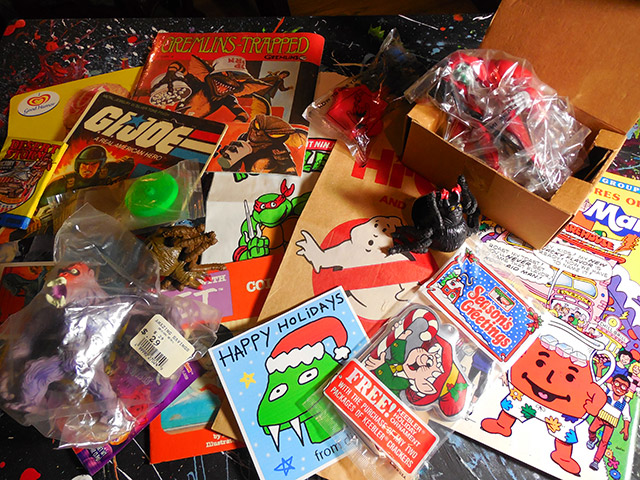 (Sample Box #2)
Dino Drac's Big Box of Joy
Price: $50, shipped anyway in the continental U.S.
(Sorry, U.S. orders only!)
Feeling lucky? Like to gamble? Then this is the thing for you. A whole box of RIDICULOUS STUFF, sure to entertain you for a solid fifteen minutes!
No two boxes are exactly alike, but each *definitely* includes the following:
- A 1982 G.I. Joe ID Bracelet, mint on card!
- One "top shelf" item, such as a Real Ghostbusters Slimer Watch, a Thundercats "Mail-Away Mumm-Ra" figure or something like that!
- A Haunted Luck Monkey *or* a promotional Congo "Grey Gorilla" figure!
- A vintage Real Ghostbusters lunch sack *or* a vintage TMNT lunch sack – and sometimes both!
- A sealed vintage Gremlins Book & Record set!
- An "Adventures of Kool-Aid Man" comic book from 1989!
- A "Learn Colors with E.T." book from 1983!
- Two sealed containers of Spider Bites candy! (Bodies are half-melted – these didn't keep so well!)
- Two vintage cereal prizes!
- A vintage packet of Kool-Aid!
- A random pack of trading cards!
- A random promotional Christmas ornament from the '80s, featuring the likes of the Keebler Elves or the Energizer Bunny!
- Dino Drac's Tiny-Sized Tacky Christmas Photo!
- Plus extra cards/stickers/surprises!
Wow. That's a lot of crap! (more…)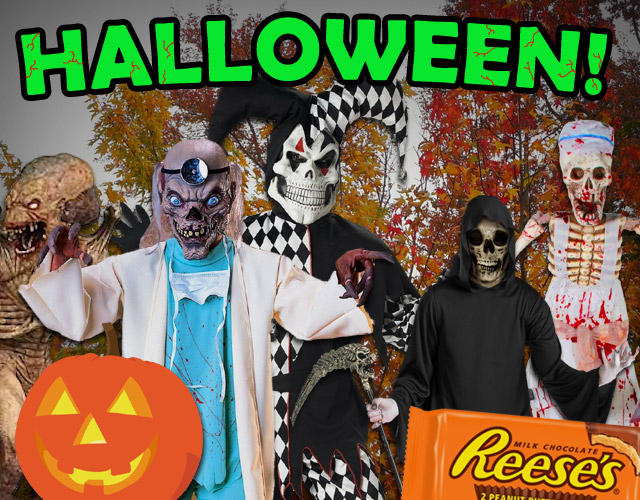 Holy shit, it's Halloween. Finally? Already?!
The 2013 Halloween Countdown isn't over yet (COME BACK TONIGHT!), but I hope you enjoyed it. More importantly, I hope you enjoyed the whole damn season.
I know I have. Usually, Halloween gets here, and there's a tiny voice inside me screaming, "That's it?" Not this year. I may have not been at my prolific peak, but brother, I lived the gimmick. I went to pumpkin patches, a scary amusement park and several costume shops. I saw a horror movie in theaters. (Okay, it was the kinda-sucky Carrie remake, but it still counts.) I partied with friends under the glow of seasonal spirits and Beistle wall decorations. I did it all!
I was close to having no regrets, but the truth is, there was one. I didn't carve a pumpkin this year. It's the one tradition that got away from me, and while I guess there's still time to make it happen, I decided on a different last-minute activity: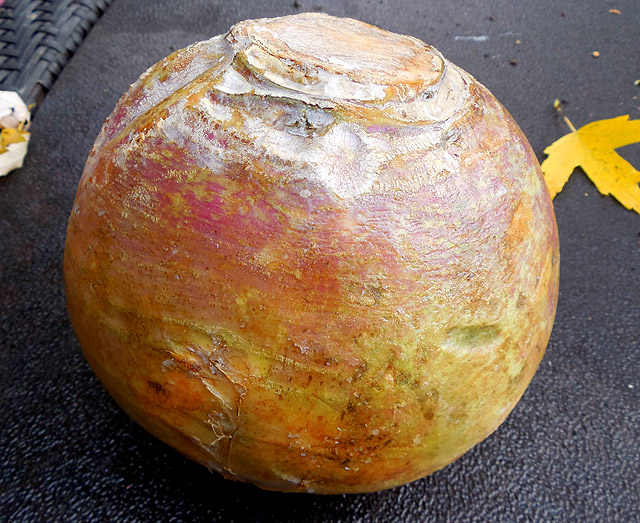 This year, I carved a TURNIP.
This was suggested by Goob over on Dino Drac's Facebook page, and it made perfect sense. Many say that jack 'o lanterns originated in Ireland, where people killed turnips instead of pumpkins. I loved the idea. I also loved how my nearest supermarket actually carried super gigantic turnips suitable for such a task.
We'll get back to the turnip in a few. First, other things! (more…)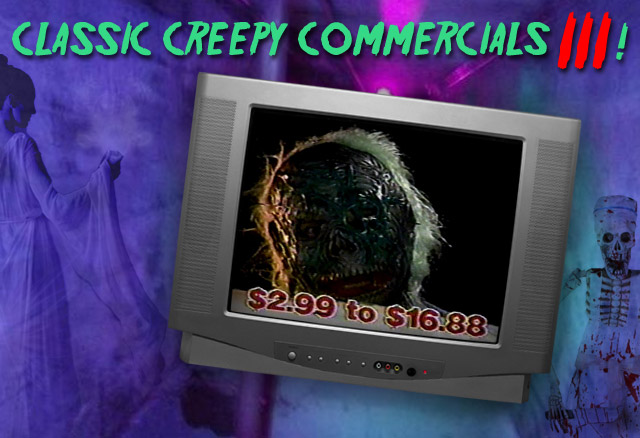 I've been absent for a few days, owing to several minor things that snowballed at the WORST POSSIBLE TIME. The assumption is that life went on without those three or four extra posts about candy and costumes.
In any event, now I'm back, and I have more Classic Creepy Commercials! Here's the third volume, starring Herman Munster, Fred Willard and need I say more?
Beetlejuice Action Figures! (1990)
Neatly, the Beetlejuice toy collection was based on the movie – not the cartoon series. Every figure had a special feature, but most memorable were the several with pop-off heads that revealed SHRUNKEN heads underneath. (In a nod to the "waiting room" scene from the movie's climax, which Kenner was apparently obsessed with.)
The series had an unmistakable Real Ghostbusters vibe, to the point where it's easy to confuse some of the monsters with RGB figures. (Given that both lines were produced by Kenner, I wouldn't be shocked to learn that some Beetlejuice figures were salvaged from RGB concepts.)
In fact, the least-known figures were the best of the bunch. This commercial features characters recognizable to anyone who's seen the film, but even better were the ones exclusive to the toy line. (My favorite was "Street Rat," a gothic punker who could transform into a giant, eyeball-flinging rat!) (more…)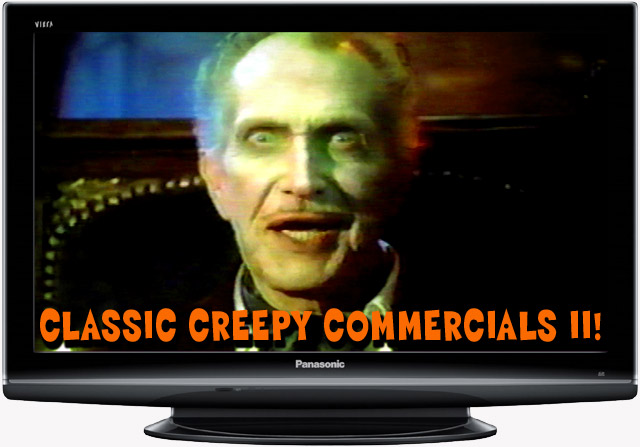 With another assist from Larry P., here's the next batch of Classic Creepy Commercials! (You've read Volume 1, right?)
Exactly zero of these have any clear link to the Halloween season, and yet, all of them are undeniably Halloweeny. If you're in need of a late October spirit boost, these should fix you right up.
Aurora "Ghost Racer" Commercial! (1987)
The appeal of Aurora's Ghost Racer set lied in not needing a friend to race against you. Though the set had everything you needed for a two-player race, you could also opt to go it alone, squaring off against a deadly black car driven by NOBODY.
It wasn't the only set with that gimmick, but no one else packaged it so magnificently. The idea that your "computer" opponent was a spectral entity? That's awesome.
No matter how good the toy was, the commercial made it seem so much better. Between the spooky music, the liberal use of fog, and the interpretation of Ghost Racer as a semi-translucent sneaky bastard with his sights set on imaginary trophies, the ad turned even the most disinterested kids into outright gearheads. (more…)