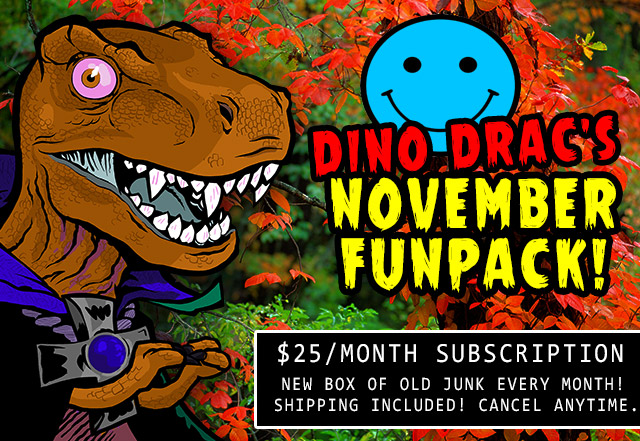 I know we're still in Halloween mode, and thank God for that, but if you'll pardon me this one exception, it's time to debut Dino Drac's NOVEMBER 2014 Funpack! (Available to those living in the United States only.)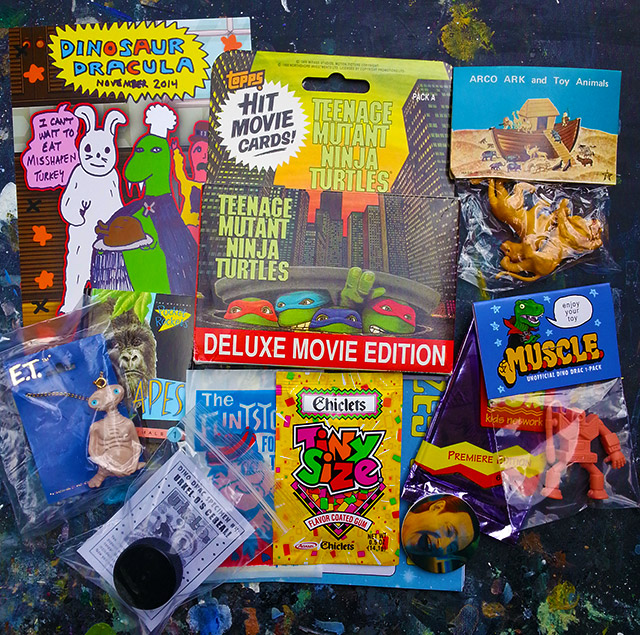 If you're worried about those post-Halloween doldrums, I think November's Funpack will be a great pick-me-up. It's quite possibly my favorite one so far! (more…)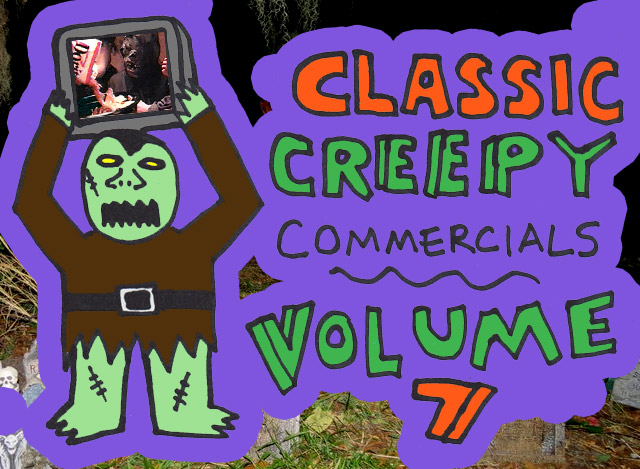 Welcome to Classic Creepy Commercials, Volume 7! (It was either this or another edition of Five Spooky Action Figures. The folks on Twitter voted for more commercials. If you would've preferred to read about plastic Draculas, blame them. #notmyfault)
Larry P. generously provided the first four ads in this batch, while The Mysterious Spencer tossed in the fifth. Thank you, guys!
Coca-Cola "Monsters of the Gridiron" Commercial! (1993)
Oh, boy. If I covered every last nuance of Coca-Cola's sprawling Monsters of the Gridiron campaign, we'd be here forever. Instead, I'll give you the basics.
In Monsters of the Gridiron — at heart a contest but really so much more — various real life football stars were turned into horrible Halloween monsters. And holy cow, they were CREATIVE!
It wasn't just like, "Hey, let's take this quarterback, put him in vampire makeup and call him Vlad Pigskin." There were devils, scarecrows… even giant snakes! All of the actual players took part, and photographs of them in their monster disguises live on in promotional Monsters of the Gridiron trading cards. (Note to self: Find those fuckers on eBay.)
Even if you never dug deep into the promotion, you've gotta remember the TV commercials, which featured football players morphing into macabre creatures. You didn't have to care one bit about football to love this. I sure didn't. (more…)
TELL ME. When you went trick-or-treating, what did you use to hold the candy? A McBoo pail? A pillowcase? A Radio Flyer wagon?
Most often, I'm guessing you used a plastic bag made specifically for that purpose. The "trick-or-treat sack" has historically been just as integral a part of a kid's Halloween experience as his or her costume, so it's no big shock that tons of companies made them for promotional giveaways. Think of the free advertising! If I gave away 50 Dino Drac treat sacks, I'd have effectively turned 50 people in walking billboards.
I've collected five such promotional trick-or-treat sacks from the '80s and '90s, which aren't only windows into Halloweens past, but remembrances of companies as they used to be… or even companies that folded when you were still young enough to go door-to-door for free candy!
Let's take a look. A look at bags.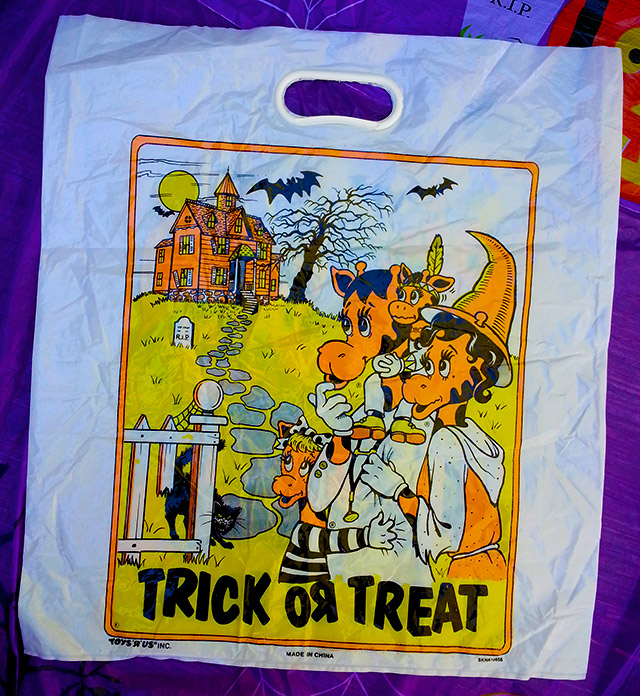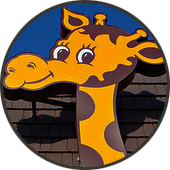 #1: Toys "R" Us Treat Sack!
Based on the art, I'm guessing this is from the mid '80s. I'm also guessing that TRU sold them rather than gave them away, because a free treat sack would not have had that reinforcing hard plastic oval thing lining the handle. (You'll notice that the rest of the bags featured here lack it — and they were all obvious freebies, because nobody would've paid for them.)
Cold, hard truth: '80s kids has the best-ever Geoffrey. Not too creepy, not too sleek, and definitely not too much like a real giraffe… which is good, because real giraffes don't know what's going on, and as mascots for toy stores, they're de facto detached.
Back then, Geoffrey's family was seen much more often, too. I can't remember the last time I saw Geoffrietta or Geoffrey Junior; clearly it's been long enough to forget their real names. Here, the Giraffes (capitalized to denote surname, not species) contemplate trick-or-treating at the scariest house in their neighborhood. Are four fun-sized Almond Joys really worth the risk?
If you look at this bag as a sort of open-ended one-panel comic, it's pretty Creepypastaish. (more…)

Who wants to win a set of Dinosaur Dracula trading cards?
Yes, Dinosaur Dracula trading cards!
After teasing them for over a year, it's finally time to give them away! Between now and Halloween, there will be at least fifteen winners of the full 30-card set!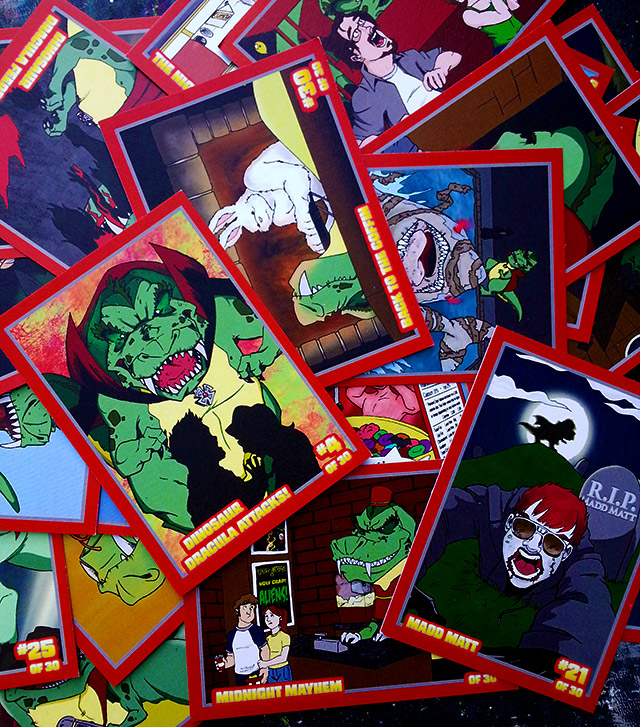 The cards feature gorgeous art, sinister stories and plenty of references to Dino Drac characters and culture, and I… had absolutely nothing to do with them!
The set was the brainchild of my friend Steve, who very casually told me that he and his friends created a Dinosaur Dracula trading card set. Well, holy shit!
Before I tell you more about the cards, let's give kudos to their creators!
Magic Steve – Conception & Story Writer
Wil Brendel – Artist & Inker
Jake Crunk – Colorist
These guys did this totally on the arm and created the whole set before I even knew about it. They asked for absolutely nothing in return, so the least I could do is ask everyone to follow these creative masterminds on Twitter! (Their names link to their accounts!) (more…)
Remember last month, when I went into tremendously long detail about some total stranger's ancient Halloween photo?
Let's do that again!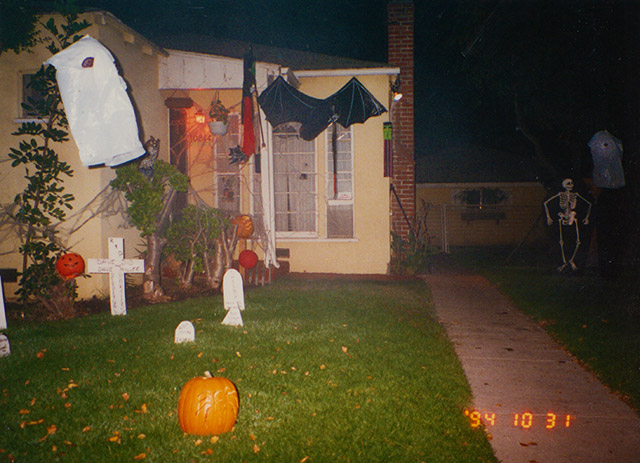 This photo was another eBay find. I don't know who that house belongs to, nor even what part of the country it's from. I suppose some of you are wondering why I'd spend five bucks on a picture of a stranger's Halloween decorations. By the end of this post, I think you'll get it.
Taken on October 31st, 1994, this photo is the perfect encapsulation of the Halloween spirit, or at least, the Halloween spirit as I know it. A crude "yard haunt" hidden somewhere in suburbia! Is there anything more on-point?
When I drive around the neighborhood to look at everyone's decorations, it's setups like this that speak to me most. The ones that seem like true labors of love, no matter how cheesy. Anyone can go to Home Depot and buy a few gaudy lawn inflatables, you know? A setup like this takes more soul. I could've been friends with these people. I wish I had been.
It's an ugly mess, but sometimes, ugly messes work best. Many of the decorations were homemade, marking the house's occupants as true "Halloween people." If the Grinch snuck down and stole everyone's Halloween decorations, this family would still celebrate just as hard. It isn't just "on them" — it's in them. (more…)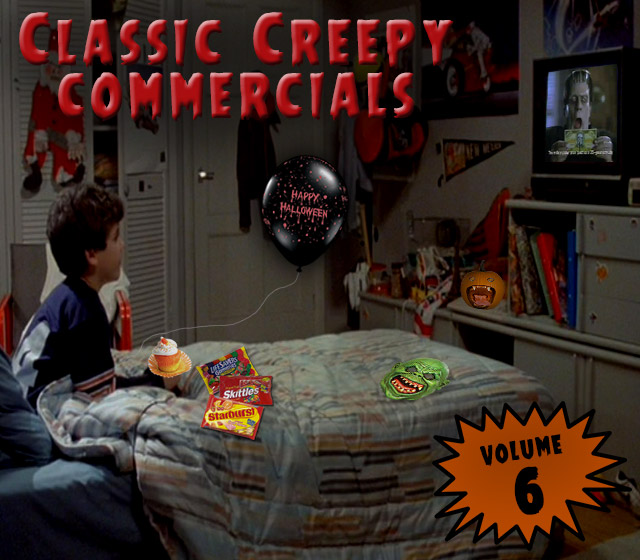 It's time for Volume 6 of Classic Creepy Commercials, and wowza, what a great batch this is! Just a perfect mix of Halloween nostalgia and absurd spookiness, along with at least one instance of Troll dolls shooting missiles at each other. Maybe two.
I'm giving you six ads this time. The first three come from our hero, Larry P, whose collection of spooky commercials never fails to thrill us. The second three come from my buddy Spencer, who so generously dived into his own archive to add to the pile. Thanks, guys!
Meineke "Monsters" Commercial! (1988)
The best thing about this Meineke commercial is that it has absolutely no reason to include monsters. They don't tie in with any weirdly-named promotions, or even a tagline. They're just there. Thank God!
Meineke's countless ads made me aware of mufflers long before I had any idea what purpose they served. It's hard to believe that any kid would pay attention to a muffler commercial, but Meineke's were pretty memorable. And sometimes strange. The ads never reached a Geico-level of irreverence, but the people who made them clearly had bigger aspirations. You don't put movie quality monsters in a muffler commercial unless you're dreaming of the big leagues.
Our monsters include the Invisible Man and a seriously bitchin' mummy. (The mummy is so top notch that I must've been slightly afraid of this commercial back in '88.) Because they were interested in buying mufflers, we must assume that these monsters drove cars. Not such a stretch in the Invisible Man's case, but just imagine that mummy cruising down the interstate, bopping his head to Belinda Carlisle. (more…)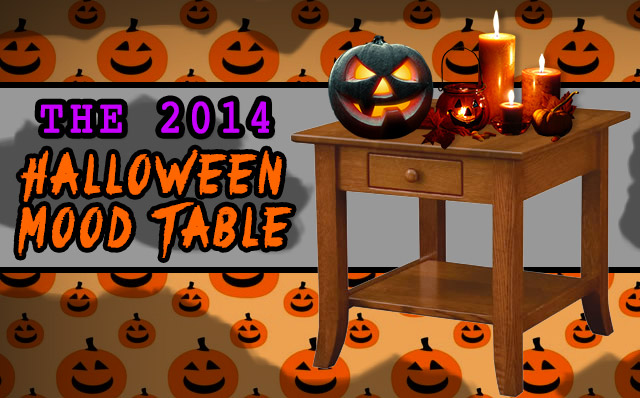 October is here, and you know what that means. MOOD TABLE TIME.
This is a yearly tradition that many of you are aware of, but for the few that aren't, I'll explain.
I've been running the Halloween Countdown since 2003. The only Countdown that I fouled up was in 2007, owing to real life issues that made blogging about Halloween candy the lowest possible priority. In effect, my Halloween spirit was shot.
…but then I discovered a way to get it back.
THE HALLOWEEN MOOD TABLE!
What's a Halloween Mood Table, you ask? It can be a small end table, or a larger coffee table, or a desk, or hell, even a chair. The idea is that you'll saturate "some surface" with Halloween junk, and put it somewhere that you're guaranteed to see it often. You could call it a "shrine to Halloween."
What you put on it is totally up to you. You could mix pumpkins with random horror toys and a bowl of candy. Or you could add a dozen candles and hope you don't burn the whole city down. Whatever!
There is no wrong way to do a Halloween Mood Table. My first one looked like this, and my last one looked like this. Yours might only have a few things on it, or it could have a hundred things on it. It's a fun little art project, sure, but the point is that you'll have an "area of focus" to keep your Halloween spirit in check.
You'll be surprised at how effective it is! Last year's Mood Table article went semi-viral, and dozens of folks posted photos of their own versions. Many confirmed what I've been saying all along: It's fun to make and it's cool to look at, but the Halloween Mood Table really does make Halloween feel like Halloween… even when everything else in your life doesn't.
I specifically save this exercise for October 1st, and with good reason. If you're like me, you've already spent a month "Halloweening." You've been to all of the stores, you've seen all of the movies, you've eaten all of the candy. The problem is that you haven't saved much for October. Sure, things will pick up in the final week, but what about NOW?
THIS is the solution.
So, without further ado, I proudly present Dino Drac's 2014 Halloween Mood Table!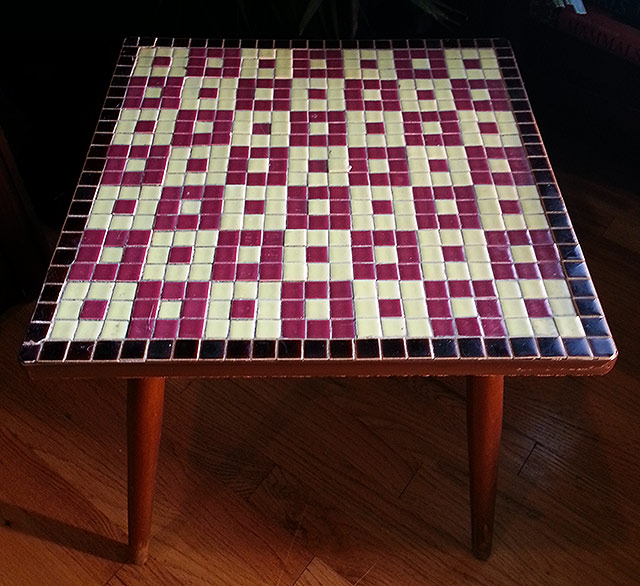 I started with one of those barely-standing, tile-topped tables that I've been using for almost ten years now. This is my canvas.
I knew I'd never top the insanity of last year's Mood Table, and I wasn't about to try. And besides, since our whole apartment is currently overflowing with Halloween stuff, I didn't see much point in localizing everything to one corner of the living room.
Instead, I tried something different — and something I've been wanting to do for a while. This year, my Halloween Mood Table would have all of its usual bells and whistles, but it would also serve a very specific purpose. (more…)