Guys, we need to talk about this Mother's Day card.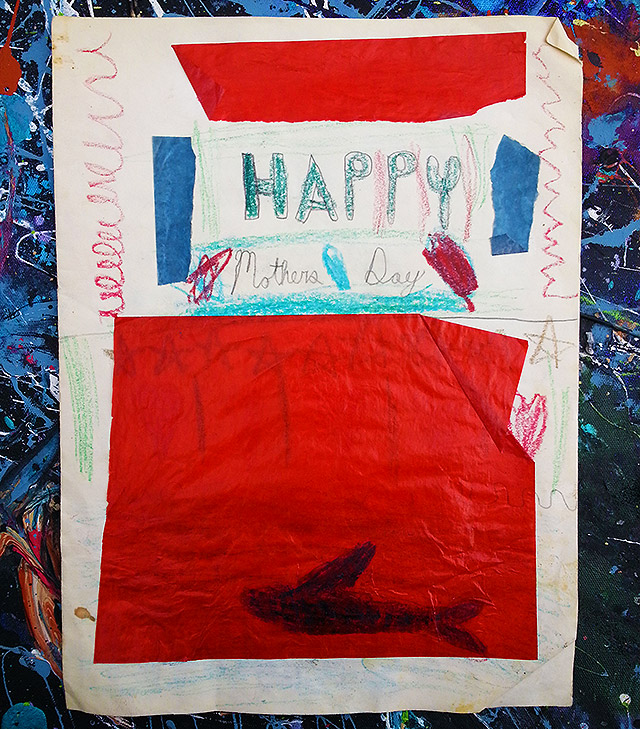 I made it for my mother in 1986. 1987 at the absolute latest. Considering the card's enormous size and use of strange paper, I can only assume it was an art project from grade school.
The cover looks innocent enough, or at least as innocent as a cover featuring a shark swimming through blood could look. It's what inside that troubles me. It's very curious that both my teacher and mother saw this card and never thought, "hmmm the boy needs help."
Who knows, maybe they did. (more…)

This holiday season is going way too fast. Before you know it, it'll be big boring depressing January. Don't waste what little time we have left! Do things! Do stupid things that are only okay to do at this time of year!
I'm here to help. Tonight I'm gonna teach you how to make your own Virtual Christmas Tree. Above all else, it will be an excuse to mess with crayons and glue.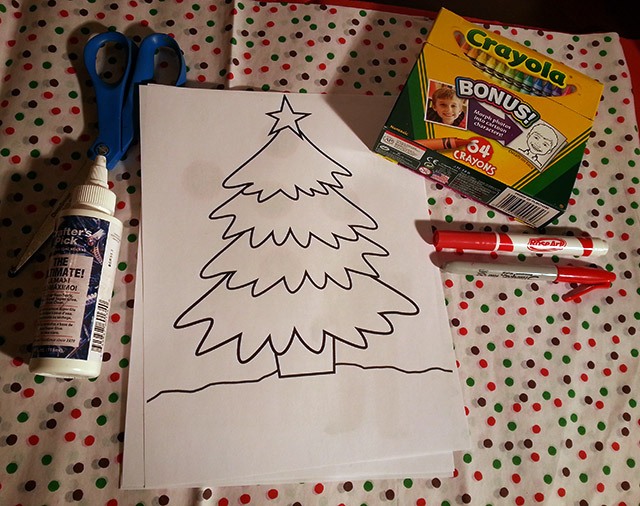 Step 1: Gather the materials!
Most importantly, you'll need this image. Print it. That's your paper tree. You're going to make magic out of that paper tree.
You'll also need crayons, scissors, glue, and access to a color printer. It occurs to me that nearly 40% of the things I do require the exact same set of materials. (more…)
Well, Thanksgiving kicked off with huge news.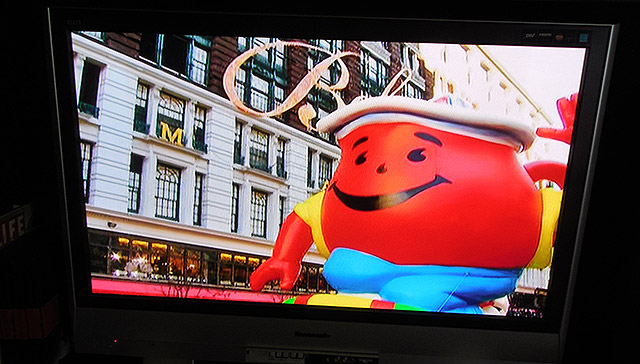 I'm sitting there watching a giant Kool-Aid Man roll by, and what does Matt Lauer announce?
THE PENDING RETURN OF SHARKLEBERRY FIN.
Oh my GOD. YESSSS!
I'll have more to say about this fantastic news later. This post is just meant to be my generalized "hey Happy Thanksgiving" message.
So hey.
Happy Thanksgiving!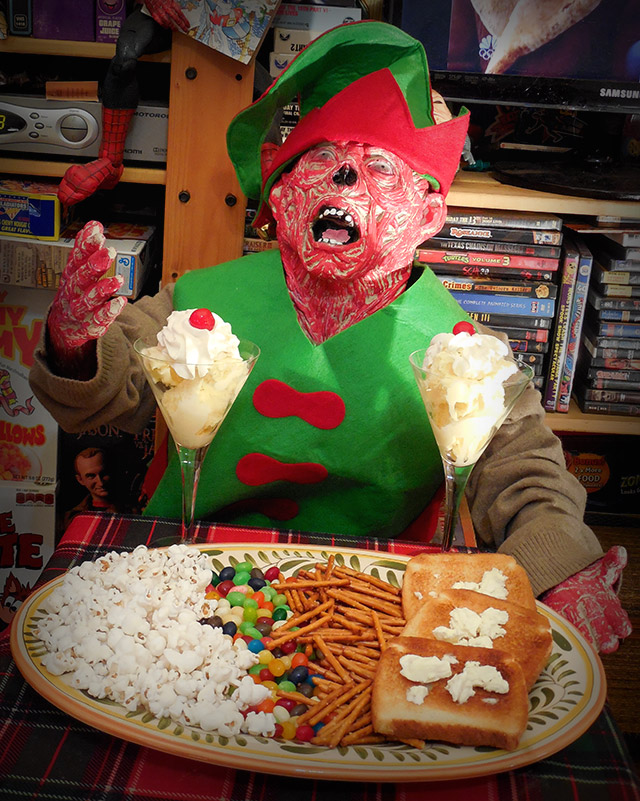 I'm thankful for all of you. I cannot mean that more sincerely. At some point over the past six months, this site turned the corner for me. A while back, it'd evolved into something I did mainly because it was something I always did. Well, NOT NO MORE.
I'd been chasing a "remembered feeling" with this for so many years. It's not something I often mention or could even properly describe, but I've managed to find that feeling again. I truly love the time I spend doing this, and I can't thank you enough for making it worthwhile.
I'll save the heavier sap for my Christmas post, but yeah, y'all are awesome. I've come to feel that my success isn't in the volume of my audience, but the quality of the people within it.
To celebrate, I recreated Charlie Brown's Thanksgiving. Many of you will remember the first time I did this, over ten years ago. It really deserved to be a yearly tradition, and brother, you gotta start somewhere. (more…)

Oof. This one's gonna be bittersweet for me. I'll tell you why in a minute.
Guys, it's Shrunken Apple Head's TENTH birthday!
Shrunken Apple Head first appeared on X-Entertainment in 2003, as part of my ill-fated attempt to review an ancient Vincent Price "Shrunken Head" kit without actually owning one. He came out looking like the corpse of Doc Brown, and I had no reason to suspect that he'd last more than a few months, let alone TEN GODDAMNED YEARS.
I've shown you Shrunken Apple Head nearly every year since, not even letting major hurricanes get in my way. Now here's how our pal looks in 2013: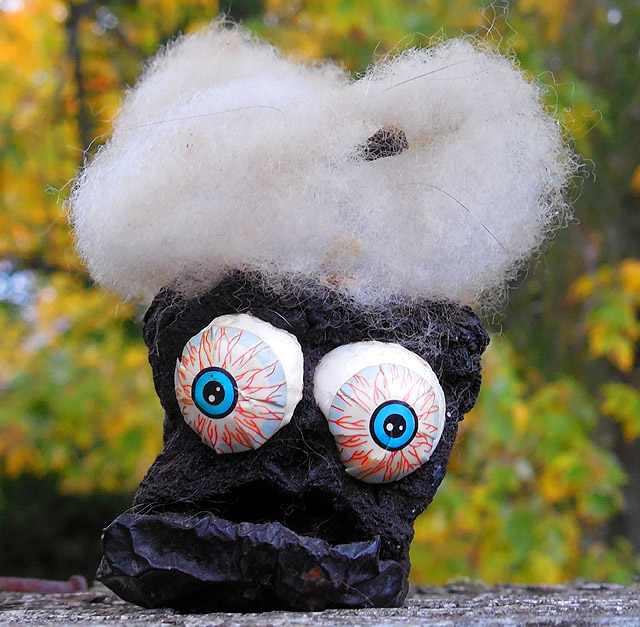 Unfortunately, that's only a recent picture – not one from today.
Which brings me to the "bittersweet" part.
Now that Shrunken Apple Head has matured, he's taken on many new responsibilities. A few months ago, he even got a job. I have no idea what he does, but he's perpetually stressed and almost always traveling.
In fact, he's been gone for nearly a week now, off on another of his mysterious business trips. I hate this. I hate that I'm not spending Halloween with my whole family, and I hate that poor Shrunken Apple Head can't be with us on his tenth birthday.
He hates it, too. I was on the phone with him a few days ago, and he could barely get a word out. Who wants to spend their birthday all alone in some crappy hotel, hundreds of miles from anyone or anything familiar?
But every cloud has a silver lining, even when the cloud is composed of weird things like ten-year-old fruit. A few of Shrunken Apple Head's friends got together and… well, watch this:
Happy birthday, Shrunken Apple Head. Even with all of today's candy and horror movies and costumes and mirth, we're thinking of you.
Dino Drac's 2013 Halloween prints are still on sale!
Click here for the details!
Thanks to everyone who already ordered one. I hope you like pink and rabbits! Happy Halloween to you and yours.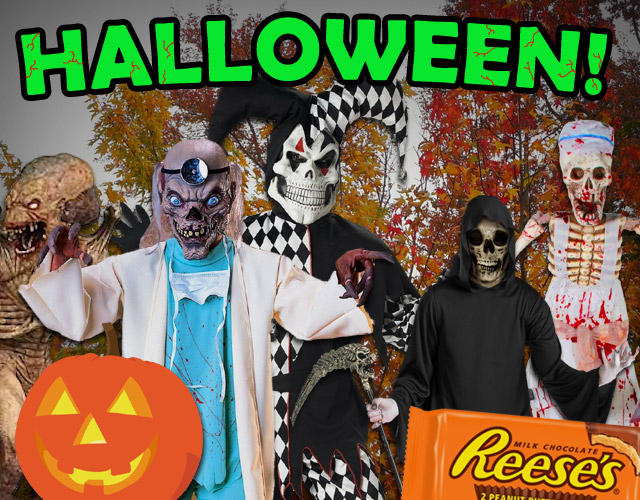 Holy shit, it's Halloween. Finally? Already?!
The 2013 Halloween Countdown isn't over yet (COME BACK TONIGHT!), but I hope you enjoyed it. More importantly, I hope you enjoyed the whole damn season.
I know I have. Usually, Halloween gets here, and there's a tiny voice inside me screaming, "That's it?" Not this year. I may have not been at my prolific peak, but brother, I lived the gimmick. I went to pumpkin patches, a scary amusement park and several costume shops. I saw a horror movie in theaters. (Okay, it was the kinda-sucky Carrie remake, but it still counts.) I partied with friends under the glow of seasonal spirits and Beistle wall decorations. I did it all!
I was close to having no regrets, but the truth is, there was one. I didn't carve a pumpkin this year. It's the one tradition that got away from me, and while I guess there's still time to make it happen, I decided on a different last-minute activity: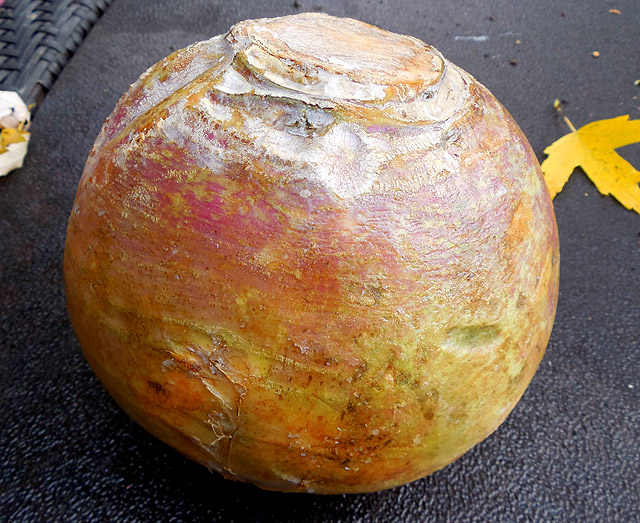 This year, I carved a TURNIP.
This was suggested by Goob over on Dino Drac's Facebook page, and it made perfect sense. Many say that jack 'o lanterns originated in Ireland, where people killed turnips instead of pumpkins. I loved the idea. I also loved how my nearest supermarket actually carried super gigantic turnips suitable for such a task.
We'll get back to the turnip in a few. First, other things! (more…)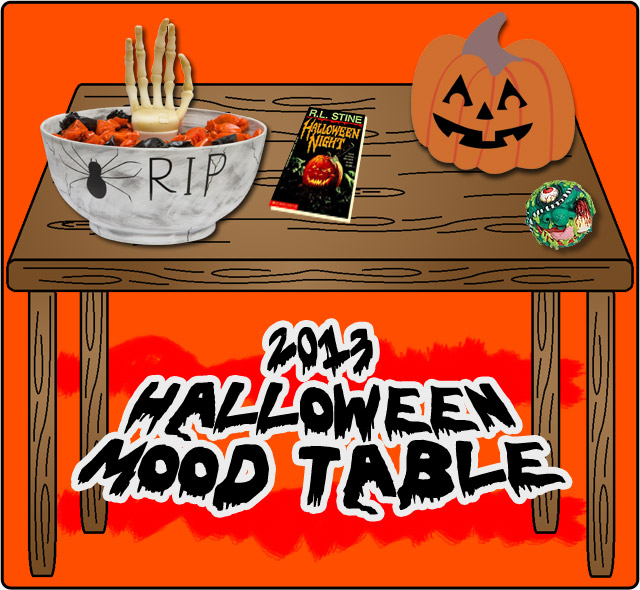 It's October. Officially October. Undeniably October.
I'm happy it's here, but I'm also petrified. The Halloween season is moving so FAST this year! September flew by in what felt like a week, and I'm sure October will be no different. Be sure to make the most of it, guys.
A good way to start? Build your Halloween Mood Table!
Many of you will remember last year's version, but longtime readers know that this tradition started way back in 2007. Life threw me a few curveballs that year, and I just couldn't get into the Halloween spirit. The Halloween Mood Table was my last ditch effort to get back in the groove, and while I won't pretend that it turned rust to gold and made everything in the universe stink of caramel apples, it was an always-present reminder of why Halloween is awesome.
The concept: Grab a small table. Like a coffee table, or something even smaller. Anything, really. Anything that could be loosely construed as a table. Cover it with Halloween shit, and put it in a place of prominence. At heart, that's all it is. A shrine to Halloween. An immediate spirit-booster. A chance to decorate!
Here's what I came up with for this year's Mood Table: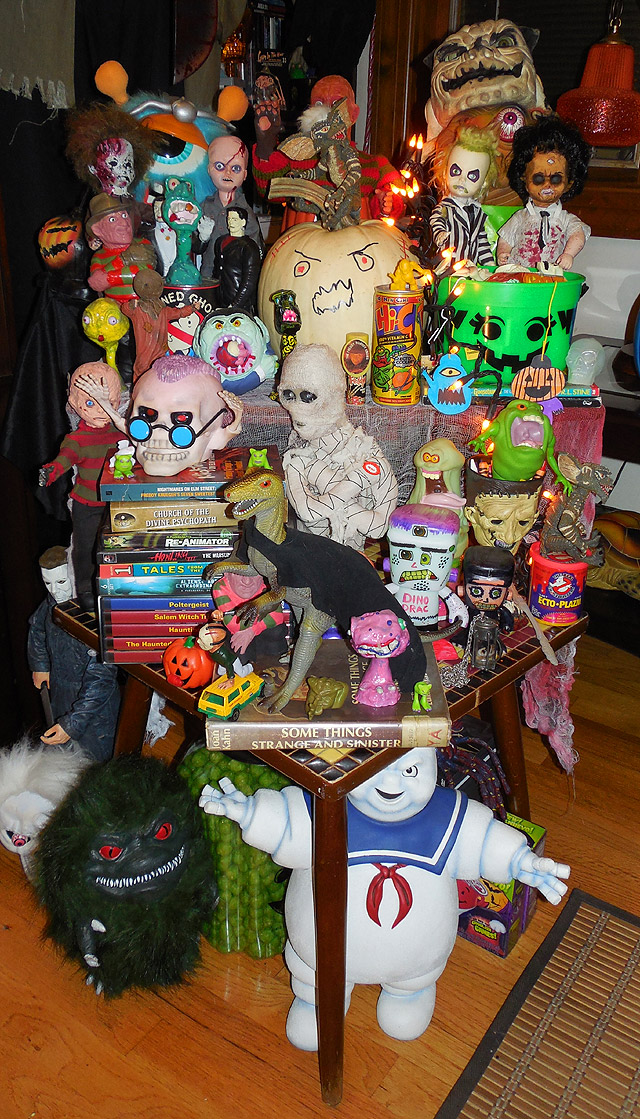 She's a trash heap, but a beautiful one. I wanted to go a bit bigger than usual, so this is actually two tables. (Look close and you'll spot a taller "tray table" behind the standard tiled one I use every year.)
It's loaded with toys, books, DVDs, candy, and all sorts of decorations. You can't look at this and not love Halloween. You also can't walk within five feet of it without somehow knocking half of it over. It's like Mutant Stupid Dominoes.
Thinking about creating your own Halloween Mood Table? Great! I've prepared a FAQ to help guide you through… (more…)