You've been looking for a new place, and that ad in the paper hit all the right notes…
Welcome to Dino Drac's Luxury Apartments!
They're safe, they're spacious, and they're affordable!
The building is still under construction, but it looks like a few tenants have already moved in! See them in the windows? Why don't you click their little heads and pay them each a visit?
Does this seem like a place where you might want to live? Or at least a place where some fictitious character that you've created might want to live?
If so, I've got good news for you! Dino Drac has plenty of apartments left! In fact, since his building is made of magic, he can add additional floors at will!
Curiosity piqued? Head into the lobby for more details!

Guys, I made you lunch. You better eat it. It's a sin to waste food.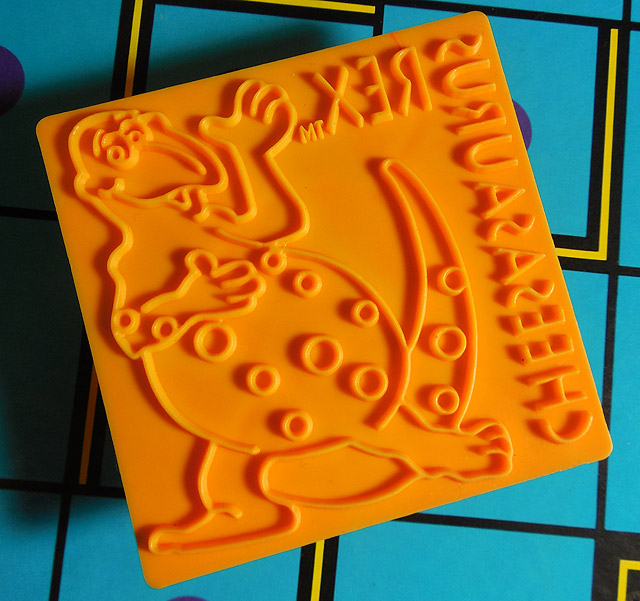 See that? It's a Kraft "Singlestamp" cheese cutter, with a Cheesasaurus Rex theme. If you'll recall, Cheesasaurus Rex was Kraft's beloved Macaroni & Cheese mascot back in the '90s. He was big, he was orange and he was very possibly made of cheese.
I hope you loved him. Your reaction to what I've prepared for you completely depends on it. (more…)
Here's the situation.
Earlier tonight, we were informed of a surprise visit that was going to take place no more than ten minutes after the sudden warning. I had no issue with the person visiting, but since I was grimy, groggy and without time to clean up, I decided to sit this one out. "Tell him I'm sleeping," I said, leaving Ms. X to work on her small-talk prowess while I hid in the bedroom.
I sat on the bed, trying my hardest to stay mouse-quiet. Like it was willed by the gods of spite, as soon as the guy got here, I felt a tickle in my throat. And that's how I came to spend one full hour desperately trying not to cough even as EVERY FIBER OF MY BEING demanded me to. I lost three years of my life tonight.
More to the point, I decided to make the most of this self-imposed exile. It was time to make some MS Paint art on the laptop I so cleverly remembered to take with me.
(Well, it was actually Mac's version of MS Paint, which isn't MS Paint at all, except for the fact that it totally is.)
I asked my friends on Twitter for suggestions. What should be in my masterpiece? Around twenty people replied, but I only had time/room/energy for seventeen elements. These are them, suggested by seventeen people that I will never meet but still quite like: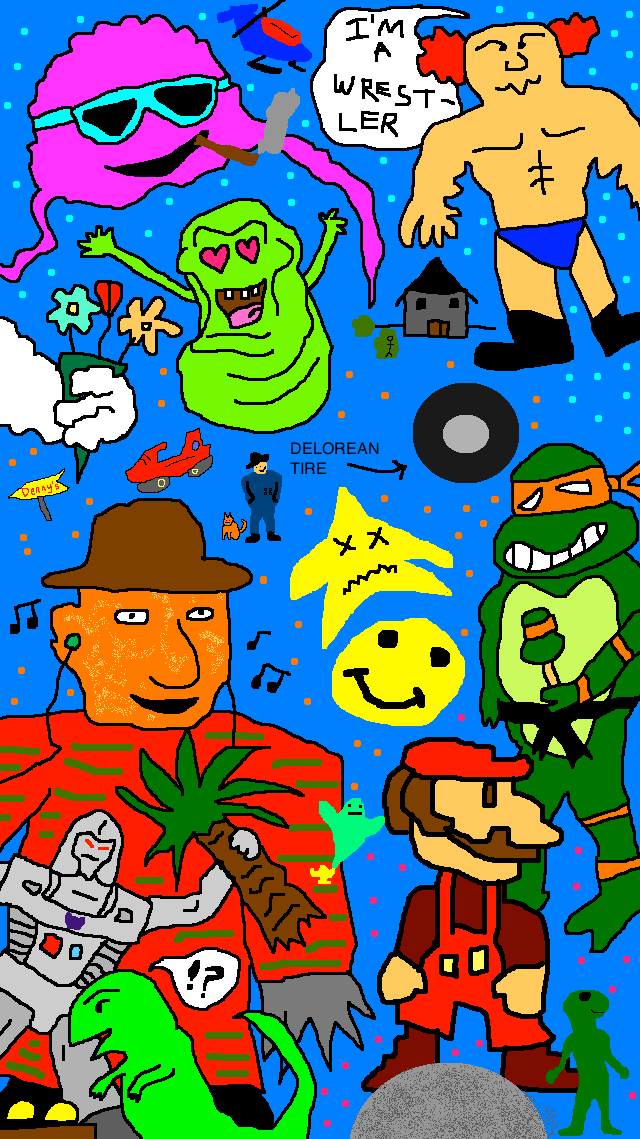 What, you think this is garbage? You try drawing that stuff on a laptop touchpad. I could convince Jupiter to become three smaller Jupiters with less effort.
If you're having trouble figuring out what's what, please see this handy screenshot of everyone's tweets: (more…)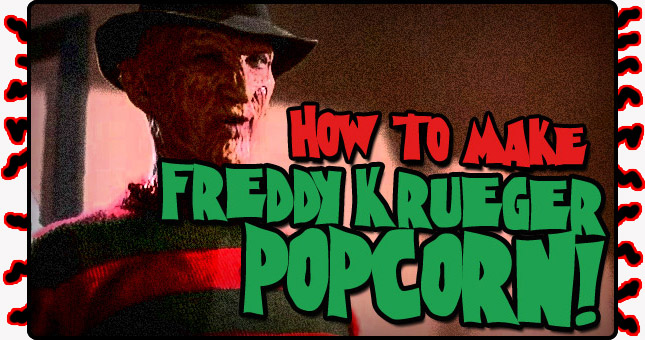 I just published an enormous feature, listing ten reasons for you to watch A Nightmare on Elm Street 3: Dream Warriors. Even though 90% of you have seen it a thousand times. Oh well. Maybe the feature will inspire you to make it a thousand and one?
If it does, it's important to do it right. You gotta set the mood, dude. Wait until it's dark, dim the lights, and find some candles. If the candles smell like autumn, that's even better.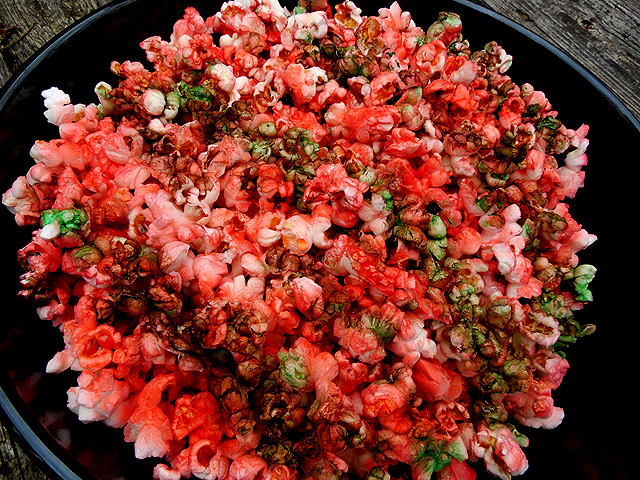 You're also going to need popcorn. If you're looking to give the experience an extra spark, here's how to make popcorn that looks like Freddy Krueger.
His clothes, at least.
Now, this lesson comes with the admission that I did it the hard way. The Super Super Hard Way, actually. If you can find red and green popcorn, I guess that's all you really need.
But let's assume that you can't find it. Let's also assume that you're willing to spend more than ten bucks for gross popcorn that looks a tiny bit like Freddy's sweater. If I may borrow a phrase from the incomparable Montell Jordan, this is how we do it: (more…)

Hello, and welcome to Saturday. It's a lazy one for me. I want to bury myself under ten blankets and do absolutely nothing. Instead I will attempt to write about a song, a video, a plant, a candy and a book. It may prove to be my undoing.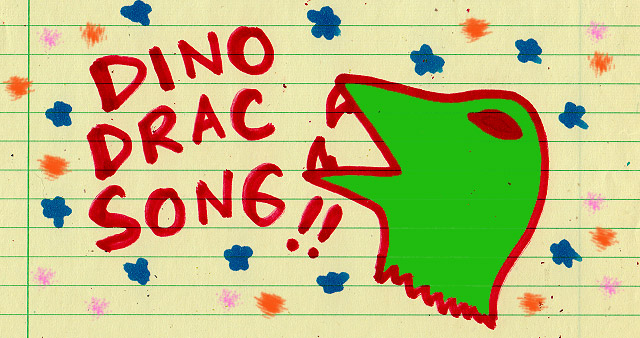 The Dino Drac Song!
My pal Brian Barnes surprised me with an incredible thing. Aside from being a great friend with a knack for throwing life preservers at just the right time, Brian is also a phenomenal musician. He put those talents to good use by creating the first and only Dinosaur Dracula song.
(If you can't see the player, it's because you're viewing the site on something that won't allow Flash.)
It's a thousand times cooler than you're imagining. No, it isn't a song about a blogger and his old candy. It's about Dinosaur Dracula himself, presented as a "seven ton terror" that eats people. Yes!So freakin' good. It sounds like something that'd play over the end credits of a perfect '80s horror flick. Brian, you're amazing, and you've motivated me to figure out why my iTouch hasn't worked in seven months. Thank you thank you thank you. You're in the will. (more…)