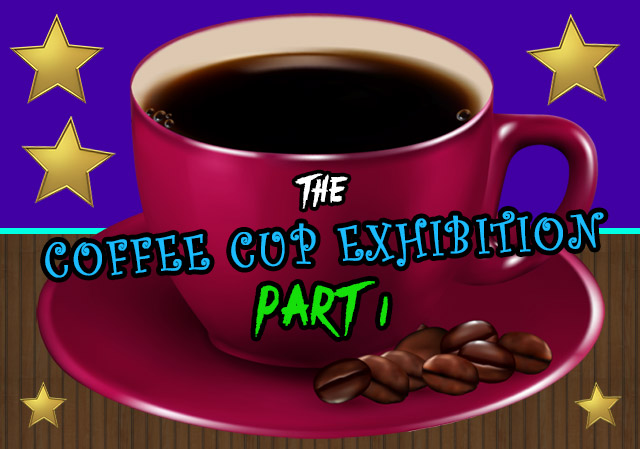 Back in July, I asked everyone to send in photos of their weirdest coffee mugs for an upcoming Dino Drac feature. A whole lotta you did. In fact, I was so daunted by the number of submissions that I shelved the idea for months. During that time, I expertly handled any emailed inquires by pretending I didn't get them.
Tonight, I'm finally gonna make good on the promise. Partially, at least. There are way too many entries for me to tackle all at once, so consider this Part 1 of Dino Drac's Coffee Cup Exhibition, featuring 25 of YOUR very strange mugs.
Of course, some of you may be wondering why I'm doing this at all…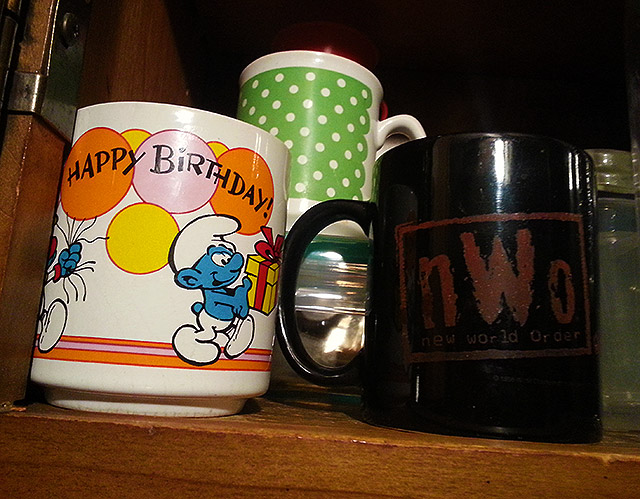 Our story starts with the nWo Wolfpac mug seen above. I drink from it constantly, but I have no idea where it came from. While neither a treasured possession nor something I'd even notice were it to go missing, that dumb cup has quietly become such a comfortable part of my life.
There are many others like it. We have our "standard" coffee cups, sure, but I always find myself reaching for the ones that are loud and obnoxious. The ones that remind me of gift shops from old vacation spots. The ones that were given to me by business owners who no longer own businesses. The ones with Papa Smurf on them.
I suspected that your relationships with coffee cups were similar, and looking over the submissions only proves it. Holy hell, you guys have some AMAZING mugs! Weird mugs, happy mugs, depressing mugs! Mugs rife with nostalgia, mugs plastered with failed product logos! I love them all, and I think the rest of you will, too.
Below are the first 25 coffee cups, complete with notes from the readers who submitted 'em. Get ready for everything from Star Trek to seahorses! (more…)
Guys, we need to talk about this Mother's Day card.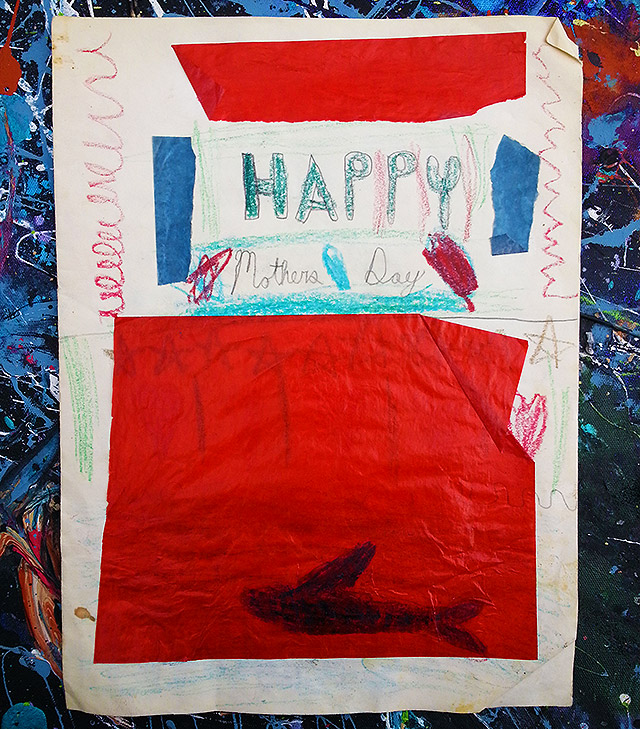 I made it for my mother in 1986. 1987 at the absolute latest. Considering the card's enormous size and use of strange paper, I can only assume it was an art project from grade school.
The cover looks innocent enough, or at least as innocent as a cover featuring a shark swimming through blood could look. It's what inside that troubles me. It's very curious that both my teacher and mother saw this card and never thought, "hmmm the boy needs help."
Who knows, maybe they did. (more…)

This holiday season is going way too fast. Before you know it, it'll be big boring depressing January. Don't waste what little time we have left! Do things! Do stupid things that are only okay to do at this time of year!
I'm here to help. Tonight I'm gonna teach you how to make your own Virtual Christmas Tree. Above all else, it will be an excuse to mess with crayons and glue.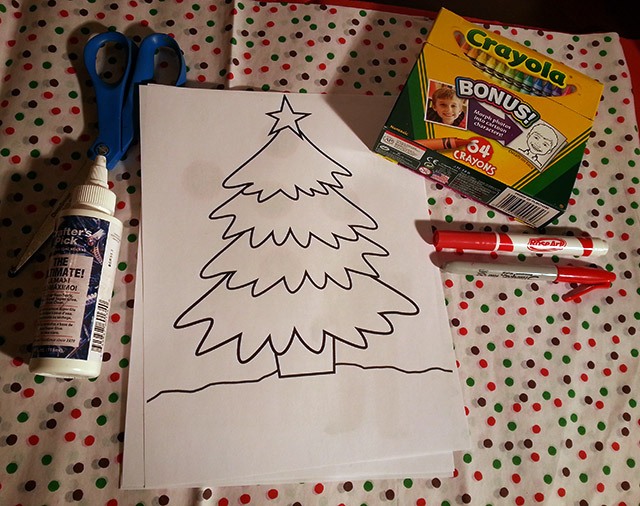 Step 1: Gather the materials!
Most importantly, you'll need this image. Print it. That's your paper tree. You're going to make magic out of that paper tree.
You'll also need crayons, scissors, glue, and access to a color printer. It occurs to me that nearly 40% of the things I do require the exact same set of materials. (more…)
Well, Thanksgiving kicked off with huge news.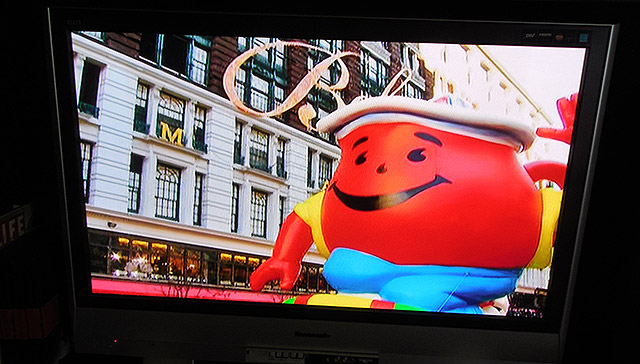 I'm sitting there watching a giant Kool-Aid Man roll by, and what does Matt Lauer announce?
THE PENDING RETURN OF SHARKLEBERRY FIN.
Oh my GOD. YESSSS!
I'll have more to say about this fantastic news later. This post is just meant to be my generalized "hey Happy Thanksgiving" message.
So hey.
Happy Thanksgiving!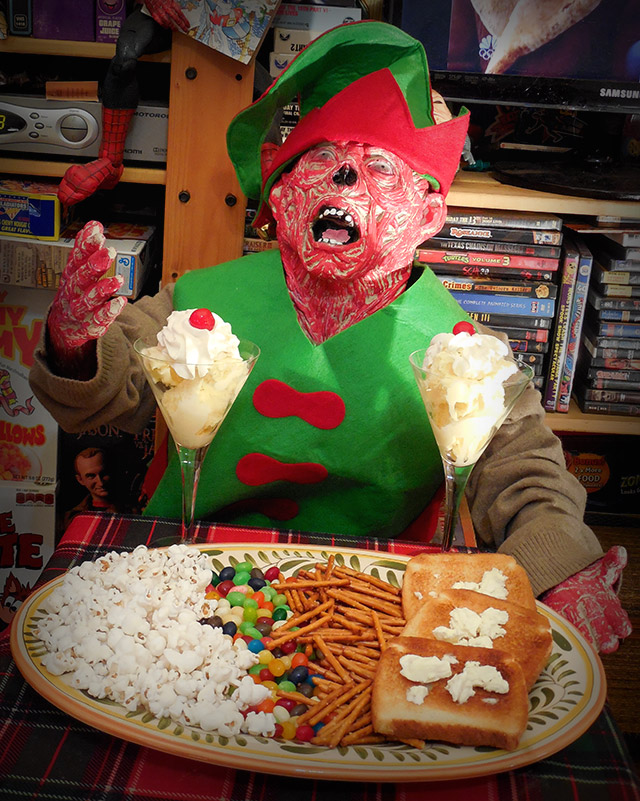 I'm thankful for all of you. I cannot mean that more sincerely. At some point over the past six months, this site turned the corner for me. A while back, it'd evolved into something I did mainly because it was something I always did. Well, NOT NO MORE.
I'd been chasing a "remembered feeling" with this for so many years. It's not something I often mention or could even properly describe, but I've managed to find that feeling again. I truly love the time I spend doing this, and I can't thank you enough for making it worthwhile.
I'll save the heavier sap for my Christmas post, but yeah, y'all are awesome. I've come to feel that my success isn't in the volume of my audience, but the quality of the people within it.
To celebrate, I recreated Charlie Brown's Thanksgiving. Many of you will remember the first time I did this, over ten years ago. It really deserved to be a yearly tradition, and brother, you gotta start somewhere. (more…)

Oof. This one's gonna be bittersweet for me. I'll tell you why in a minute.
Guys, it's Shrunken Apple Head's TENTH birthday!
Shrunken Apple Head first appeared on X-Entertainment in 2003, as part of my ill-fated attempt to review an ancient Vincent Price "Shrunken Head" kit without actually owning one. He came out looking like the corpse of Doc Brown, and I had no reason to suspect that he'd last more than a few months, let alone TEN GODDAMNED YEARS.
I've shown you Shrunken Apple Head nearly every year since, not even letting major hurricanes get in my way. Now here's how our pal looks in 2013: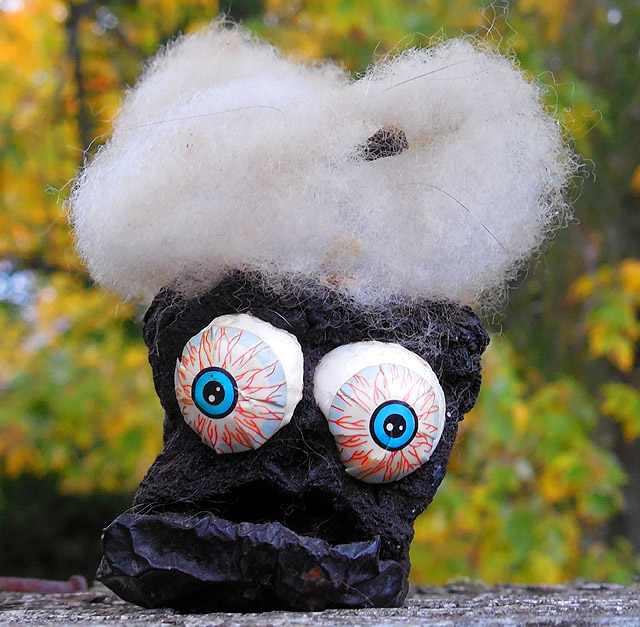 Unfortunately, that's only a recent picture – not one from today.
Which brings me to the "bittersweet" part.
Now that Shrunken Apple Head has matured, he's taken on many new responsibilities. A few months ago, he even got a job. I have no idea what he does, but he's perpetually stressed and almost always traveling.
In fact, he's been gone for nearly a week now, off on another of his mysterious business trips. I hate this. I hate that I'm not spending Halloween with my whole family, and I hate that poor Shrunken Apple Head can't be with us on his tenth birthday.
He hates it, too. I was on the phone with him a few days ago, and he could barely get a word out. Who wants to spend their birthday all alone in some crappy hotel, hundreds of miles from anyone or anything familiar?
But every cloud has a silver lining, even when the cloud is composed of weird things like ten-year-old fruit. A few of Shrunken Apple Head's friends got together and… well, watch this:
Happy birthday, Shrunken Apple Head. Even with all of today's candy and horror movies and costumes and mirth, we're thinking of you.
Dino Drac's 2013 Halloween prints are still on sale!
Click here for the details!
Thanks to everyone who already ordered one. I hope you like pink and rabbits! Happy Halloween to you and yours.