HAPPY HALLOWEEN.
For once in my life, I actually have plans tonight, so you'll forgive me if this post has six more typos than usual.
I hope you've enjoyed Dinosaur Dracula's 2014 Halloween Countdown! To tell you the truth, I'm not at all ready for it to end. Even with over 40 reviews in the can, I'd collected enough goodies for at least 15 more. I mean, I didn't even get to write about the most '80s Halloween commercial ever! (more…)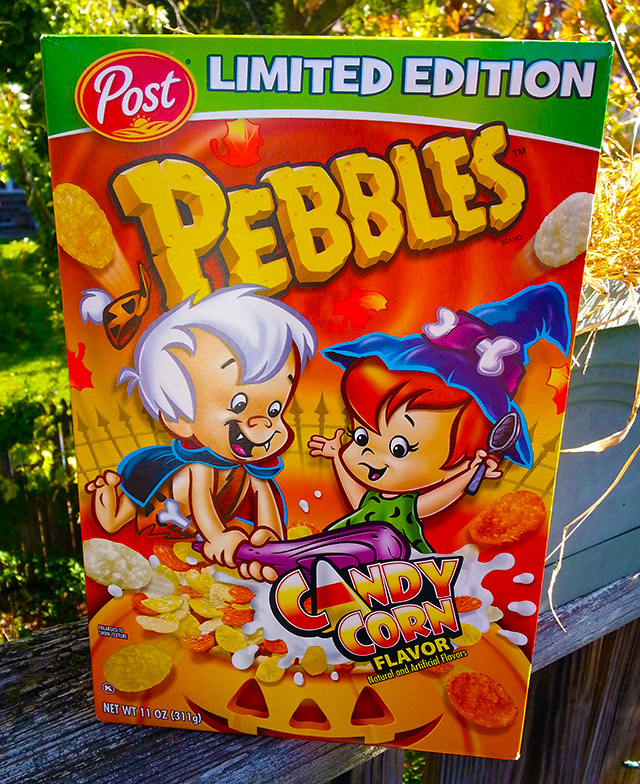 Happy Saturday! With less than a week left before Halloween, I hope you're taking advantage of the weekend by cramming in as many SPOOKY THINGS as possible. Don't dawdle. You're gonna miss it when its gone.
Might I suggest tracking down a box of Post's new Candy Corn Pebbles cereal?
I've been trying to get my hands on this since the start of the Countdown, but around here, it didn't hit stores until this week. I say this with confidence thanks to nigh-daily searches that left me with nothing but anguish. Oh well, it was totally worth the wait! See what I thought in three and a half minutes:
As I mention, the cereal looks and smells like candy corn, but the taste is neutral enough to make it safe for people who hate candy corn. It's basically a less tangy Fruity Pebbles, or perhaps more accurately, a cross between Fruity and Cocoa Pebbles. Which I think is a first? (more…)
Madd Matt is back, and he has a new doll!
Actually, the doll isn't new. It's from 1988. Many of you should recognize this animated vampire figure, which for a time seemed as common a Halloween decoration as fake webs and plastic spider rings.
Part of a larger line of battery-operated monsters, I've long thought of them as cheap imitations of the much nicer Telco figures. (I don't mean "cheap" as an insult. On the collectors' market, those Telco "Motionettes" can go for several hundred dollars apiece, while this cruder Dracula frequently sells for a mere ten bucks. That's how much I paid. Score!) (more…)
I woke up at 4AM. By 5, me and Jay from The Sexy Armpit were on the road. Exhausted and delirious, we drove in darkness, finally reaching our destination around 90 minutes later. This was a big day! A once-in-a-lifetime opportunity!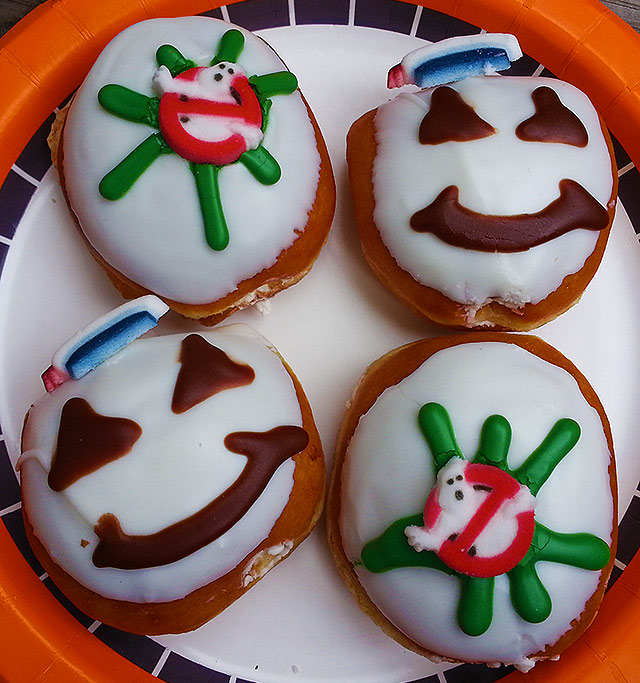 Yes, THE GHOSTBUSTERS DONUTS HAVE FINALLY ARRIVED AT KRISPY KREME.
Sweet Jesus. Two brand new limited edition Ghostbusters donuts, PLUS an amazing plastic Ghostbusters pail! See all of the incredible goodies in today's video, which I shot and edited on ABSOLUTELY NO SLEEP!
Here are the major bullets for people who can't spare four minutes: (more…)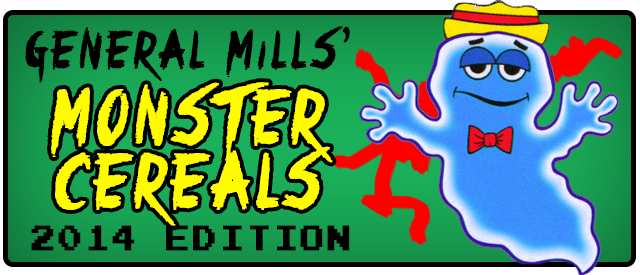 Oh yes, the Monster Cereals are back. After last year's legendary haul, can General Mills top themselves? Probably not, but find out in this video review, covering both the "regular" AND Target-exclusive "retro" boxes!
(Special thanks to 2 Cool Ghouls for sending the "regular" boxes my way! You're the best!)
Okay, so the bad news is that Frute Brute and Fruity Yummy Mummy are back in the vault. A lot of folks are pissed about that, but I'm not. From a reasonable business perspective, it was tough to imagine General Mills dusting off FIVE cereals, each in two different boxes, for a second year in a row. There's a law of diminishing returns with this sort of thing, after all. (more…)
My time management skills are really sucking today, but it isn't midnight yet! I have fulfilled my obligations! Here's a new video:
Tonight I'm reviewing the 2014 Halloween Lunchables dessert packs, which include "S'mores Dippers" and "Dirt Cakes." They're actually modified versions of things Kraft sells all year long, but the new spooky packaging is to die for.
As is typical for me, I recorded an entire food review without telling you what anything actually tastes like. So, the lowdown:
S'mores Dippers: My favorite of the two. They're basically inside-out s'mores.
Dirt Cake: It works, but I'd rather eat the components separately on this one. Gummy worms are already perfection, y'know? I look at this less like a "kit" and more like a "TV dinner."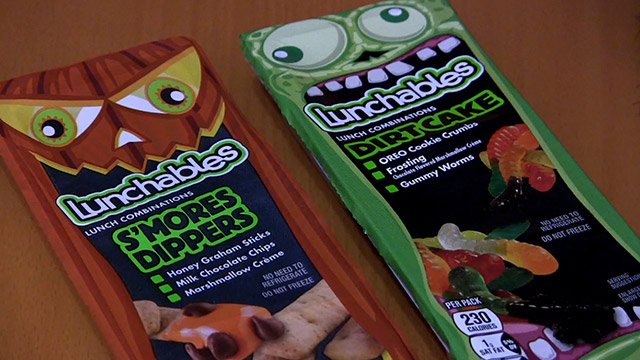 I have a vague recollection of Lunchables sneaking these out late last year, but the packaging is definitely all new. Love that Kraft is continuing this new tradition of "holiday Lunchables," but I do hope we get a proper "lunch kit" to go with them!
Thanks for watching. (more…)
I'm getting a good feeling about this year's Halloween candy haul…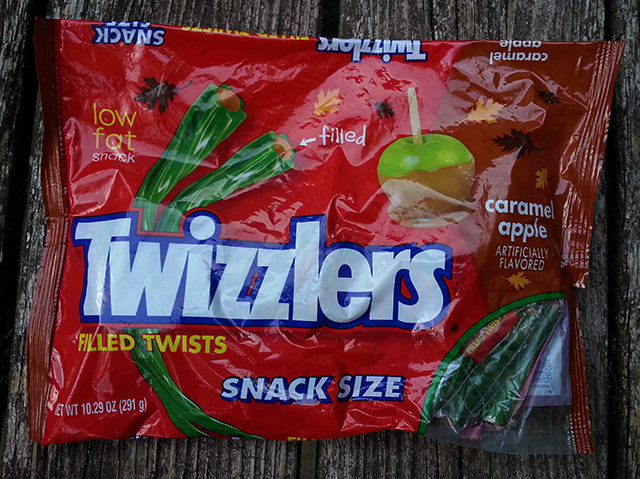 New for 2014, it's Caramel Apple Twizzlers! They're apple twists filled with caramel goo! I'd tell you more, but that's what the video is for. Watch my review, below!
You are subscribed to Dino Drac on YouTube, right?
I can't say that I prefer them over normal strawberry Twizzlers, but they're still pretty good. And way strange. I wasn't familiar with these "filled" Twizzlers before today, and, uh… yeah, they're definitely strange.
As I mention in the video, it's nice to see Twizzlers do something different this year. "Everyday" Twizzlers are always going to be a Halloween staple, but if Hershey wanted internet weirdos to make a fuss about the brand, this was a great step.
And now, some extra photos, for no good reason. (more…)