New video!
Back in 1994, Wrigley teamed up with Sega to bring us SONIC THE HEDGEHOG LIFE SAVERS.
There were two types. "Blue Rad" was a tongue-coloring raspberry flavor, while "Hot Rings" was a spicy beast that I actually still had a pack of.
This is their story, complete with a Hot Rings taste test:
And now I'm once again dying for a pet hedgehog.
Remember to subscribe to Dino Drac on YouTube!

Me and two buddies thought it might be fun to do a project together, and since gabbing about bullshit from dollar stores is so easy, I'm guessing that was my contribution to our process.
Teaming with Billy from VeggieMacabre and Brian from Review the World, we were each challenged to find the best "dollar store junk" possible on strict five dollar budgets. (Well, kind of strict. I don't think any of us factored tax into the equation.)
In Typical Me fashion, I held up the process for way too long, only to make the plainest vid of the trio!
Cool, you watched it. Or maybe you didn't. Check out Billy and Brian's versions, after the jump! (more…)

Easter is tomorrow. May those who celebrate spend tonight dyeing eggs and fiddling with phony grass.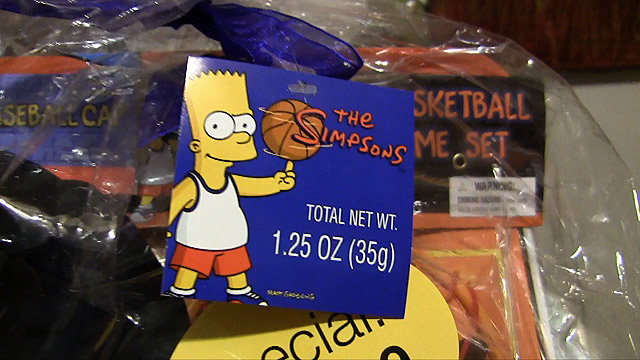 I went to our city's last remaining K-Mart yesterday. The place was a wreck. Looked like it hadn't been remodeled since 1982. Still had an "Eatery" and everything. Smelled like bad milk.
They must have had over a hundred different prepackaged Easter baskets. You know, the ones with the generic superheroes, and plastic dinosaurs that look more like tigers. 95% of them were hilariously terrible, which is exactly what I wanted to see.
I did find one lone Simpsons basket hiding in the mix, though. Here's a video detailing its contents!
Who wouldn't love a bouncy Bart Simpson ball and two and a half Lemonheads?
Remember to subscribe to Dino Drac on YouTube!